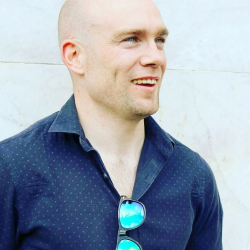 Latest posts by Joe Elvin
(see all)
Leo Messi is a football icon. He is one of the prominent stars of Barcelona FC, Argentina, and arguably the sport itself. 
But what is the story behind this global superstar?
Undoubtedly, Leo has given much to talk about his achievements as a footballer and his personal life.
In this Lionel Messi Bio, we will take you on a tour of the most relevant moments of this gifted player, considered by many as the greatest of all time. 
Lionel Messi Quick Facts
Full Name

– Lionel

Andrés Messi Cuccittini

Birth Date

– June 24, 1987

BirthPlace

–

Rosario

, Argentina Spanish Nationality (2005)

Nick Name

– Leo Messi

Nationality

– Argentine

Siblings

– Matías Messi, María Sol Messi, Rodrigo Martín Messi

Children –

Mateo Messi, Thiago Messi, Ciro Messi Roccuzzo

Partner/Spouse

– Antonela Roccuzzo

Profession

– Professional footballer

Salary –

41 Million USD

Net Worth

– 420 million USD

Social Media –

Facebook – Leo Messi,

Instagram – @leomessi,

Twitter – @Ieomessiok

Notable Personal Awards: 

7 Ballon d'Or (2009, 2010, 2011, 2012, 2015, 2019, 2021)

6 La Liga Golden Boot Winner (2009/10, 2011/12, 2012/13, 2016/17, 2017/18, 2018/19)

8 La Liga Pichichi (2009/10, 2011/12, 2012/13, 2016/17, 2017/18, 2018/19, 2019/20, 2020/21)

9 La Liga MVP (2008/09, 2009/10, 2010/11, 2011/12, 2012/13, 2014/15, 2016/17, 2018/19)

2005 Golden Boy

4 Onze d'Or (2009, 2011, 2012, 2018)
Lionel Messi Birthplace and Early Life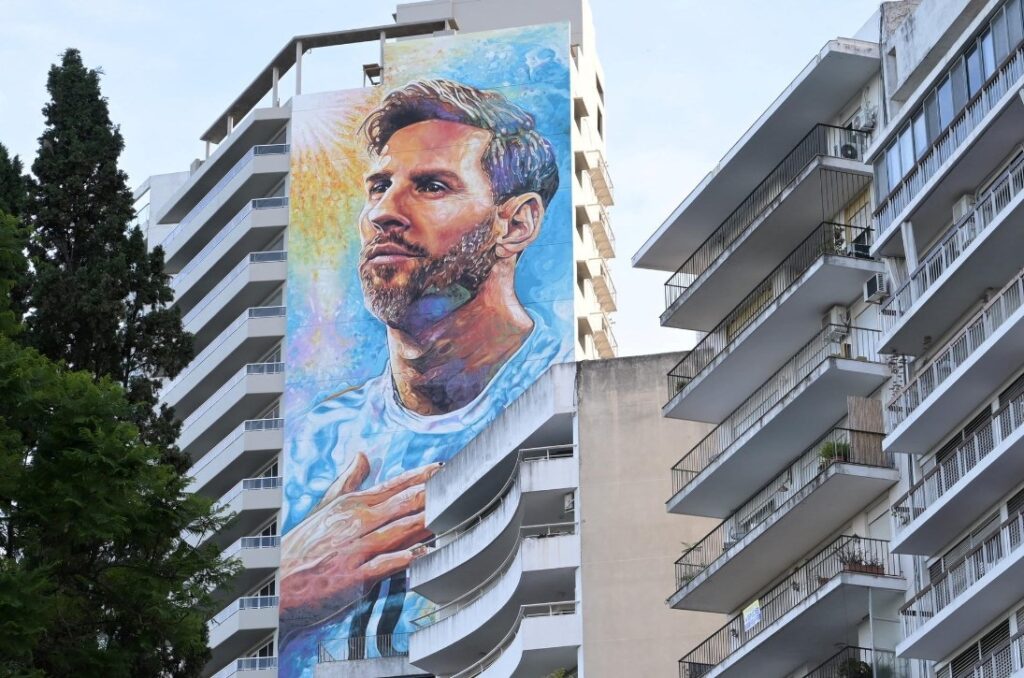 Leo played soccer with his family from a very young age since his brothers and father were great fans of this sport. Leo is the third son of Jorge Horacio Messi and Celia María Cuccittini. They were instrumental in his pursuit of a professional football career.  
However, his maternal grandmother, Celia Olivera de Cuccittini, also followed him step by step. She played a massive role in encouraging Leo to dedicate himself to football. 
To this day, Leo points to the sky with both hands in gratitude and dedication to her after every goal.
At only four years old, Leo was making his debut at Club Abanderado Grandoli, south of Rosario, Argentina.
At the age of eight, he was diagnosed with a hormonal deficiency that interfered with his growth, which is why in the beginning, he was not as tall as his peers. He would grow but at a slower pace, for which he required special treatment based on painful injections. 
In 1994, he began training with Newell's Old Boys. In 1995, he played his first unofficial tournament in Centra Córdoba for them. In 2000, he made his debut for River Plate's youth team. Unfortunately, a professional contract never materialized from that partnership. 
On September 17, 2000, at the age of 13, Leo traveled with his father to Barcelona to enroll in Barcelona's youth academy, La Masia. In this youth team, he would play alongside Gerard Pique, Cesc Fabregas, and Víctor Vázquez, among other future superstars of the game. 
Who would have imagined this little boy who needed growth hormones would grow up to become one of the world's most talented and celebrated football players and an icon and brand who would captivate millions of fans? 
Lionel Messi Professional Career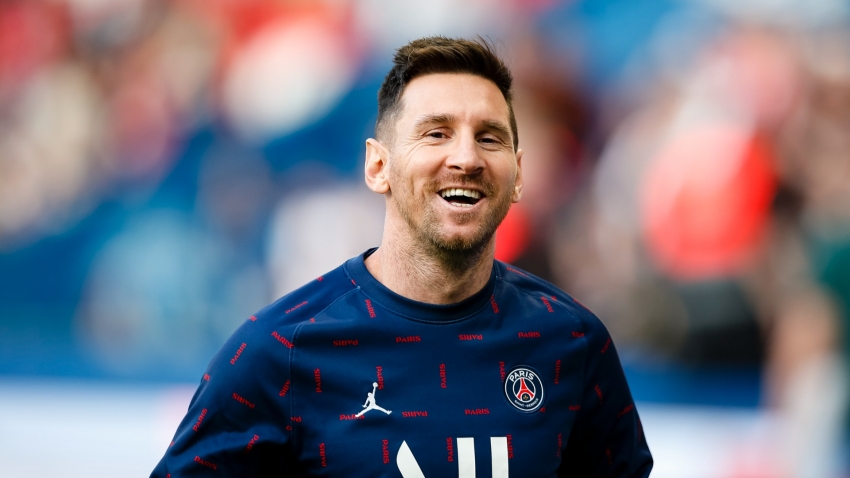 Messi made his debut with the Barcelona first team in December 2003, at the age of 16, in a friendly match against FC Porto. In the 2004/2005 season, his competitive debut was in a league match against local rival RCD Espanyol. At that time, he became the youngest player in the history of the FC Barcelona first team.
In the 2005/2006 season, Messi had become an essential part of the starting eleven. This season he scored his first official goal in the league against Albacete Balompié, becoming the youngest player to achieve a goal for Barcelona. This year, the team won the UEFA Champions League, although Messi picked up a knock before the final and wasn't fit enough to play in that deciding match. 
Messi managed to concentrate his ownership in the elite in the 2006-2007 season. In this same season, the renowned Diego Maradona indicated him as his successor in an interview for the BBC. He played his first final in the Spanish Super Cup, where Barcelona won against RCD Espanyol.
In March 2007, he became the youngest player to have scored a hat-trick in El Clásico, leaving the score tied 3-3. Messi scored 11 of his 14 goals this season in just 13 games. Due to his excellent, unparalleled performance this season, he is considered by the press to be the "new Maradona," also baptizing him as "Messidona." Also, in this same season, he managed to be considered for the first time in the FIFA/FIFPro World XI as a striker.
In the summer of 2008, Messi was part of the Argentina team that picked up a gold medal at the Beijing Olympics. This was his first international honor. In June 2008, his fourth contract for a salary of 8.5 million euros led him to position himself as one of the highest-paid players in the club. In this season, Messi earned second place in the Ballon d'Or and the FIFA World Player of the Year prize.
Messi picked up his second Champions League winners medal this season. The team beat Manchester United 2-0 in the final. Messi planted an iconic header into the opponent's net to kill off the game in the second half. He picked up his first Ballon d'Or in December 2009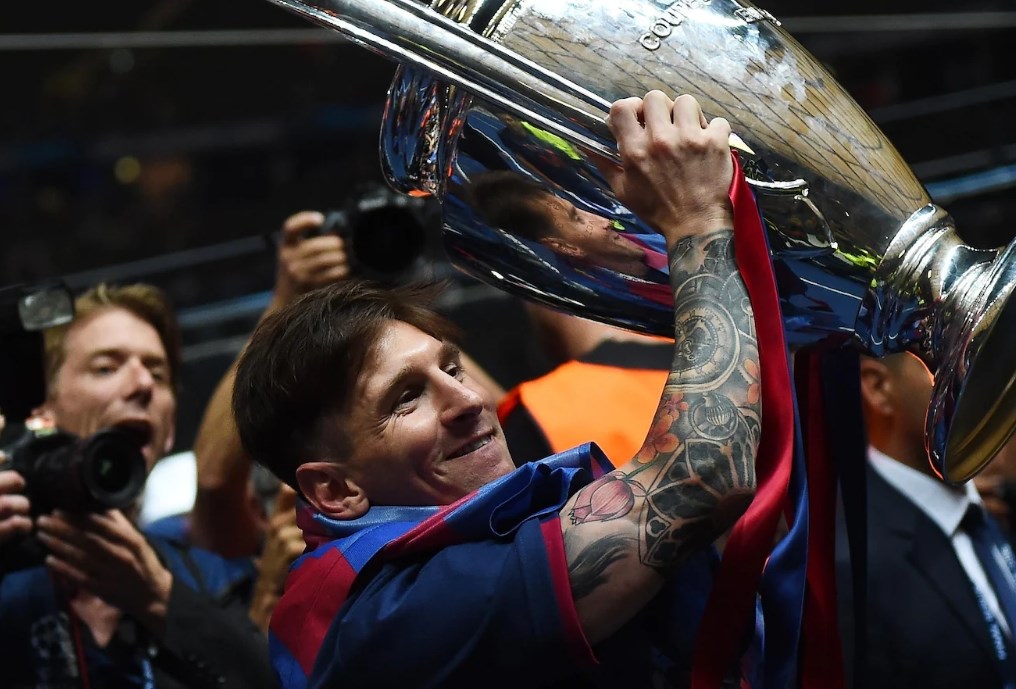 In the 2009-2010 season, he added 47 goals to his record to help Barcelona finish top of La Liga again. That summer, he represented Argentina at the World Cup. The team dropped out in the quarter-finals after losing 4-0 to Germany. 
In 2010-11, Messi helped the team to another La Liga triumph and picked up his third Champions League medal. Messi scored a goal and was named Man Of The Match in the final after Barcelona triumphed 3-1 against Manchester United.    
The 2011-2012 season started a peak period for Messi. Although Barcelona ended the season only with a Copa Del Rey title, Messi's goalscoring form was off the charts. In fact, he ended the calendar year of 2012 with 91 goals, imposing a new world record, surpassing Gerard Müller's 85-goal mark. Messi picked up the Ballon d'Or award in 2011 and 2012; such was his unmatched goalscoring dominance in these years. Messi helped Barca to La Liga in 2012/13 once again. 
Messi picked up his fourth Ballon d'Or in 2013, his third in a row, but the Barcelona team began to fall behind their rivals in the upcoming years. Messi ended up trophyless in the 2013-2014 season, although he did help Argentina reach the final of the FIFA World Cup. After extra time, the team lost 1-0 in the final to Germany.  
However, he lifted the La Liga title and earned his fourth Champions League medal in his 2014-2015 season. He helped the team to the La Liga title again In 2015-16. 
In 2016-17, Real Madrid began a period of dominance in La Liga and the Champions League. However, Barca would win the Copa Del Rey this year. Also, in 2016, Messi set a mark of 500 official goals with Barcelona and Argentina, in addition to equaling Riquelme's world record of 247 assists. Messi won his fifth Ballon d'Or this year as well. 
In his 2017-2018 season, he became the first player in the league's history to score at least 320 goals in seven editions. At the end of the season, with 34 goals, he was worthy of his fifth golden boot and the top scorer.
Messi had his clear goals, managing to pick his seventh La Liga media in his 2018-2019 season and his sixth Ballon d'Or in 2019. That's despite the Barcelona team ending up trophyless in 2019-20.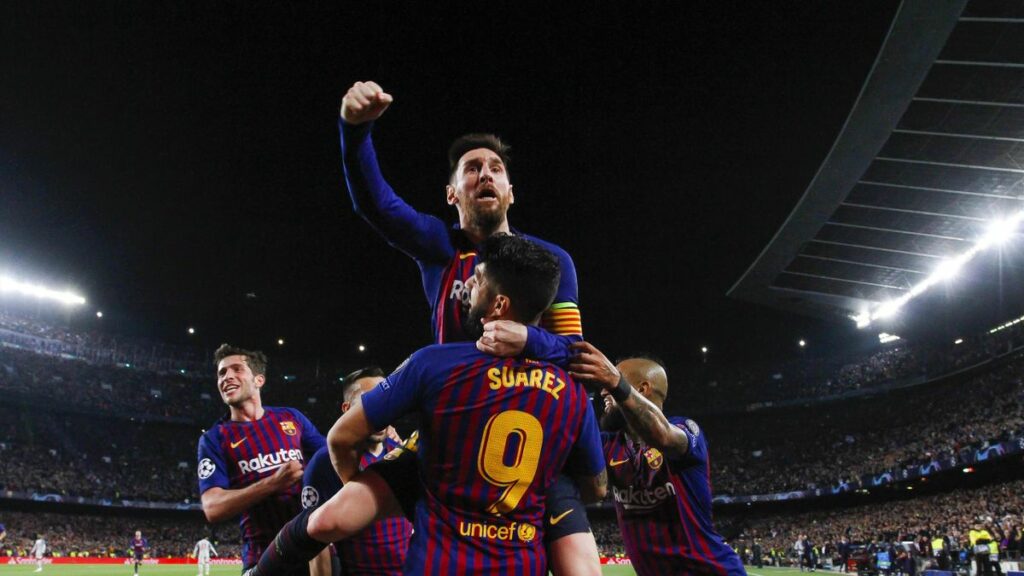 In 2020-21, Messi helped Barcelona to another Copa Del Rey trophy. Still, this season is seen as one of his most controversial. In August, the club announced that Messi had sent a document expressing his wishes to leave the club after certain disagreements by the player regarding the team's direction. However, in September, this was seemingly resolved. Messi announced, "I would never go to trial against the Club of my life."
The summer of 2021 saw Lionel Messi reach a personal goal that must have been one of the most important for him. He picked up a major trophy – the Copa America title – with his native Argentina. However, weeks later, he was forced to leave FC Barcelona, arguably against the will of himself and the team. Barcelona was in severe financial trouble and was even accused of breaking La Liga's financial rules. The club was forced to make serious financial cutbacks to be able to compete in the league in the following year.  
Messi had reportedly agreed to reduce his salary to remain at the club until 2026. Even so, Barca's budget was supposedly exceeded. Despite the will of both parties, a fair deal couldn't be agreed on, and Messi would join the ranks of  Paris St Germain in France. The Argentine was in tears during his final Barcelona press conference. He explained his desire to remain with the team. He vowed to return to the club in some capacity one day. 
He signed a two-year contract worth 40 million Euros for Paris. He did not shine the way he often did with the Barcelona club his first year. He scored just nine goals in 30 appearances, despite the French League being regarded as easier than La Liga. With that said, he did help Paris St Germain to the Ligue 1 title.  
Messi has a record of 764 goals, 329 assists, 971 games played, 38 titles, and 78 awards. And he's surely not finished yet. 
Lionel Messi Videos
Lionel Messi Family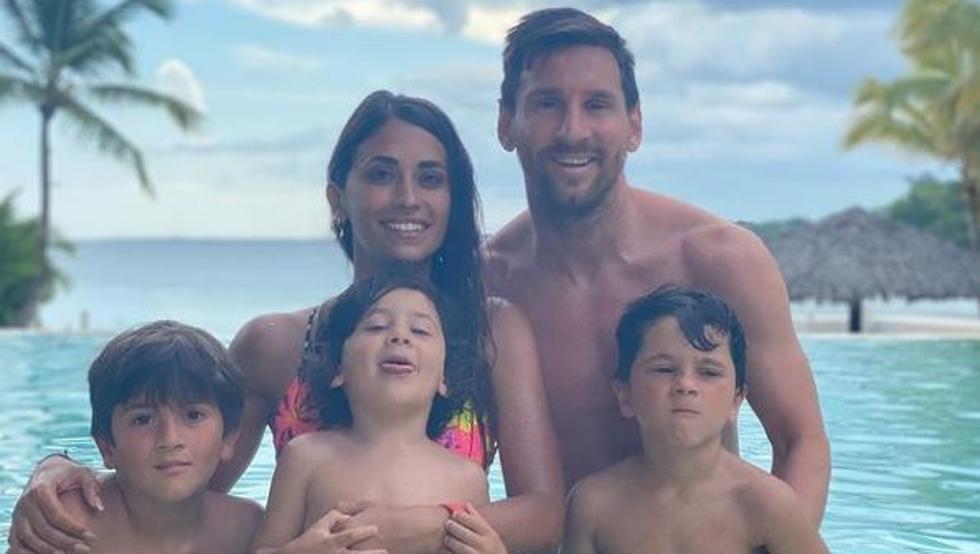 Lionel Messi prefers to keep himself and his family outside of the spotlight compared to other superstars of the global game. With that said, he does over 332 million followers on Instagram.
His family comprises his wife Antonela Roccuzzo, whom he married in his homeland of Rosario in June 2017. Leo and Antonella have known each other since Leo was eight years old. They have three children; 
Thiago Messi Roccuzzo was born in November 2012 

Mateo Messi Roccuzzo was born in September 2015 

Ciro Messi Roccuzzo was born in March 2018
Messi also runs his own foundation, created in 2007 to support underprivileged children and adolescents. 
He is also a UNICEF Goodwill Ambassador since March 2010 and a Responsible Tourism Ambassador since 2018.
Lionel Messi's Net Worth and Career Earnings
Lionel Messi stayed for a long time at FC Barcelona. Before leaving, his final salary was a reported 71 million euros per year, plus bonuses. The Spanish newspaper El Mundo reported that Messi took 555 million Euros from Barcelona in four years. Many sources have reported him to be the highest-paid sportsperson in the world during this time.  
His current salary at Paris St Germain is a comparatively measly 40 million Euros per year. 
Lionel Messi's Famous Quotes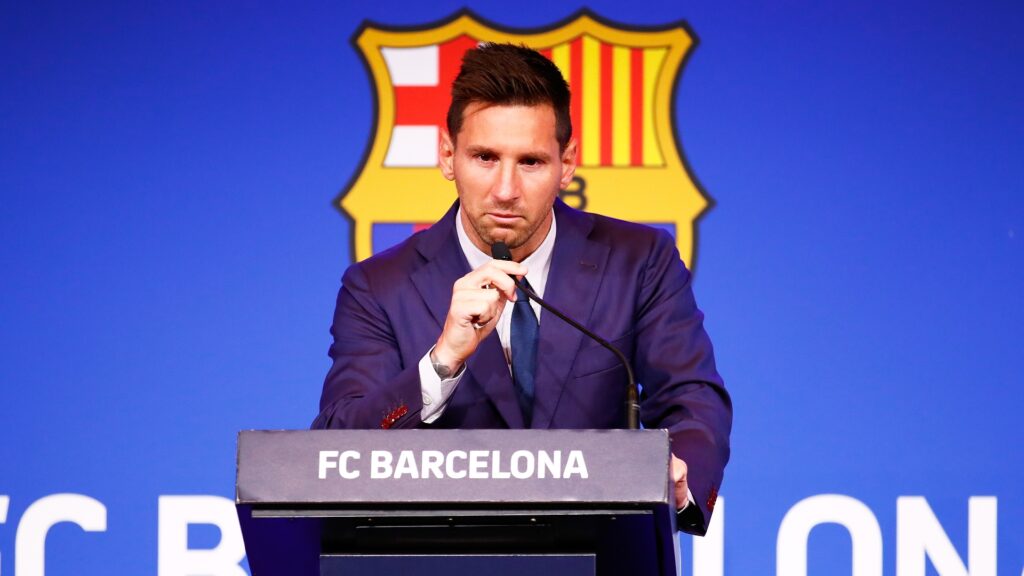 "Thanks to the sacrifice, to giving my best and thanks to the support of my family."

"I am more concerned about being a good person than being the best player in the world."

"The day I don't enjoy playing on the pitch, I'm going to quit football."

"I have never stopped being Argentine, and I have never wanted to stop being one. I feel very proud to be Argentine."

"Barcelona is my home. Both the people and the club have given me everything."

"I love football, but the family is above everything."
Continue reading more soccer star bios: