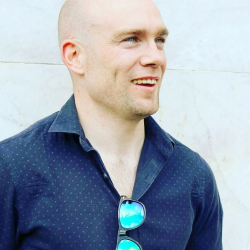 Latest posts by Joe Elvin
(see all)
If there is one person who has left their mark on the Olympic Games in recent history, it is surely the former athlete Usain Bolt. 
The Jamaican is the fastest sprinter in history, with eight Olympic medals to his name. Bolt has also won over the spectators of the Olympic Games with his natural charm and charisma. 
Despite retiring from athletics, Bolt is still present in some events, so we will surely have more to tell about him in the future.
For now, let's begin our Usain Bolt Bio and learn more about the life and career of the athlete who set new standards for sprinting. 
Usain Bolt Quick Facts
Full Name: 

Usain Bolt

Date of birth:

August 21, 1986

Place of birth: 

Sherwood Content, Trelawny Parish, Jamaica

Nickname:

Lightning Bolt

Nationality:

Jamaican

Siblings:

Sadiki Bolt and Sherine Bolt

Children:

Olympia Lightning Bolt, Thunder Bolt, Saint Leo Bolt

Partner/Spouse:

Kasi Bennett

Profession:

Professional athlete

Salary:

$31 million dollars

Net worth:

$90 million dollars

Social Media:

Facebook – Usain Bolt, Instagram – @usainbolt, Twitter: @usainbolt

Notable Personal Awards:

11 World Titles

8 Olympic Gold Medals 

3 Laureus Awards
Usain Bolt Birthplace and Early Life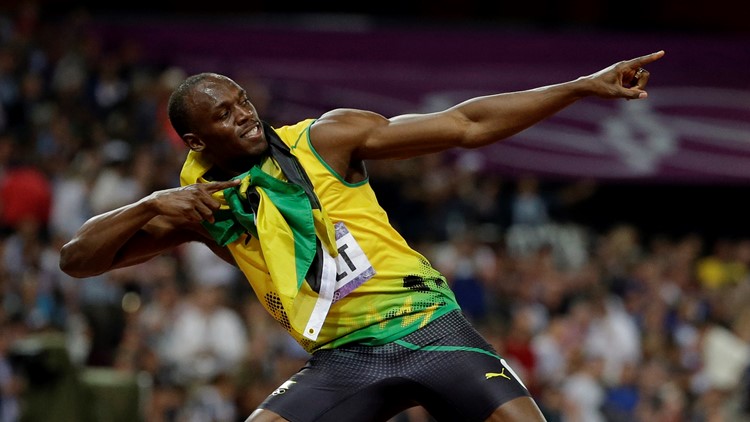 Bolt was born in a small town of Sherwood Content in Jamaica. He grew up with his parents Wellesley and Jennifer Bolt, and his brothers Sadeeki and Sherin. Compared to the economic situation of many other Jamaican families, Bolt's family had a good economic position. They ran a store in a rural area.
Since he was a child, Usain showed his interest in sports, but it was at the age of 12 when he showed his talent and great speed when running. Despite having a deviation in the spine, derived from a poor diet, this did not stop him from continuing on his way.
At William Knibb High School, he practiced cricket. However, his coach recommended that he follow the path of athletics, as his talent on the courts was brilliant. He won his first medal in the High School Championship, clocking 22.04 seconds in the 200 meters to earn silver.
His talent was noticed. His friend and coach Pablo McNeil would be the one to accompany him.
It is said that Usain was an undisciplined boy when it came to training during his early years. He thanks figures such as Asafa Powell and his idol Don Quarrie for inspiring him not to waste his skills and talent.
In 2001, aged 14, he participated in the CARIFTA games, registering a personal best of 48.28 seconds in the 400-meter dash and taking a silver medal.
A few months later, his first world opportunity was presented to him during the Junior Championships in Hungary. However, his rebellious streak took over on the day of the 200m final with Bolt hiding in the back of the minibus and missing the race.  
Following this act, his coaches made the decision to take him to Kingston with Jermaine Gonzalez, to begin more rigorous training at the Jamaica Athletics Association.
Undoubtedly, this decision bore fruit since 15-year-old Bolt managed to concrete himself as the youngest to win a gold medal in the junior category at the 2002 World Junior Athletics Championships.
In 2003, with impeccable participation, Bolt managed to win three gold medals in the CARIFTA games, plus one more gold at the World Junior Athletics Championships. Here, he set a record of 20.40 seconds on the 200-meter track. Word was beginning to spread about this young athlete, even at this incredibly early stage in his career. 
Usain Bolt Professional Career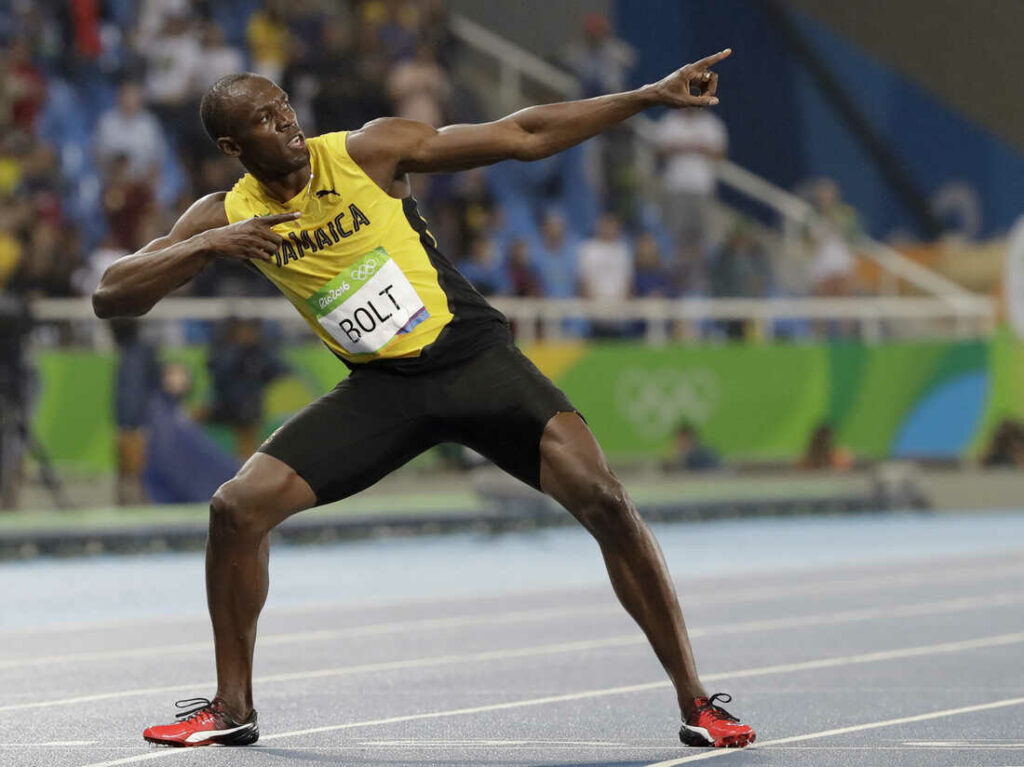 Bolt turned professional in 2004 and represented his native Jamacia at the Athens Olympic. However, an injury to his right leg hampered his performance and he was eliminated in the first heats of the 200m.
With a new coach, Glen Mills, by his side, Bolt was ready to compete in the 2005 World Championships. He qualified for the final of 200 meters with times under 21 seconds, but an injury in the final race led him to finish last with a time of 26.27s.
Due to his injuries, he was unable to participate in the 2006 Melbourne Commonwealth Games. However, some time later, he set a new record in the 200-meter event with a time of 19.88s at the Lausanne Grand Prix in Switzerland. In 2007, at the World Athletics Championships that took place in Japan, he won the silver medal in the 200 meter event with a mark of 19.91s.
This streak of success continued in his participation in the Beijing Olympic Games in 2008. Here, Bolt managed to take home three gold medals, winning the first with a world record of 9.69 in the 100-meter track. He also excelled in the 200-meter race and as part of the 4 x 100m relay team. Upon returning to his country cheered by his people, he receives a special award for his achievements in the Olympic Games and is recognized as the Athlete of the Year.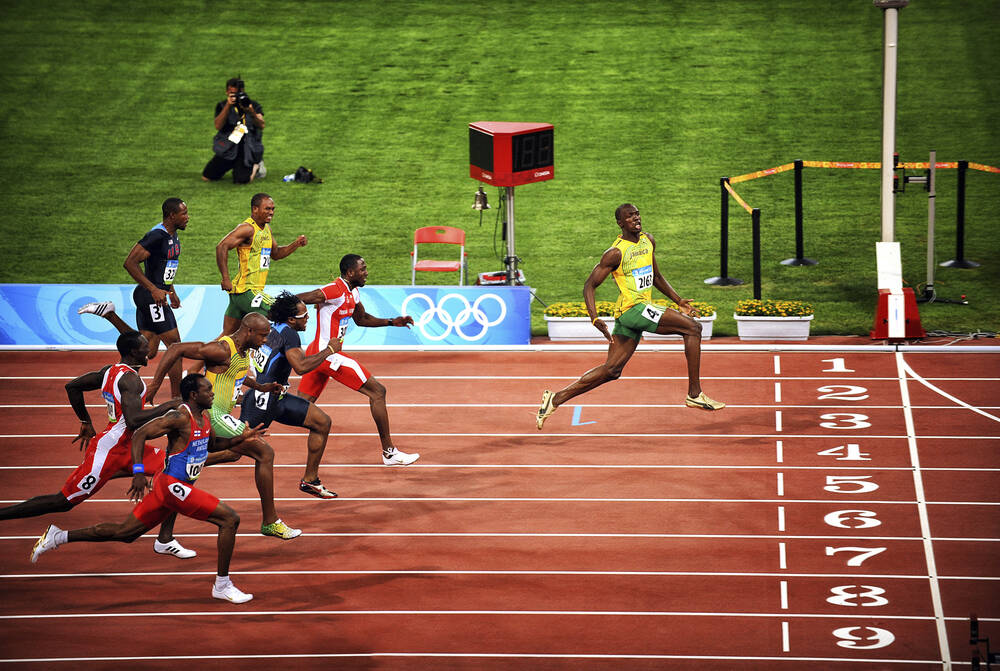 Note: In a moment of great controversy, Bolt had his gold medal for the 4x100m relay taken away, after a team-mate tested positive for doping.   
In 2009, he returned recharged to participate in the World Championship in Berlin, winning all three events and setting world records, running the 100 meters in a time of 9.58 and the 200 meters in 19.19.
In 2010, Bolt set a new record by running the 200-meter event in just 19.56s. 
In the 2012 London Olympics, Bolt manages to become the first track athlete to win three Olympic gold medals in two consecutive participations. A highlight of his career, for sure. It was at this moment that the name Usain Bolt truly became world-famous. 
In his 2014 season, he participated in the Jamaican 4×100 team relay at the Glasgow Commonwealth Games, winning the gold medal with a record of 37.58s, being the last runner. However, this season in his career was again hampered by injuries. 
In the 2016 Rio Olympics, Bolt took three medals again. The triple-triple! He took the 100-meter gold with a time of 9.81s, the 200-meter with a time of 19.78s and the 4x100m relay gold as well. This was Usain's final Olympics, but what a way to bow out!
In 2017, he announced his final retirement from athletics, after various injuries kept him from competing in events again this year. 
Throughout his career, his personal bests were: 9.58s for 100 meters and 19.19s for the 200 meters. These were both set in 2009 and remain world records to this day!
Usain Bolt Best Moments Caught On Camera
Usain Bolt – a 200-meter dash world record – Berlin 2009:
Bolt: new world record 9,58!!!
Top Moments in Adidas Grand Prix History – Usain Bolt 2008:
London 2017, men's 4 x 100m final GB Gold:
Usain Bolt Family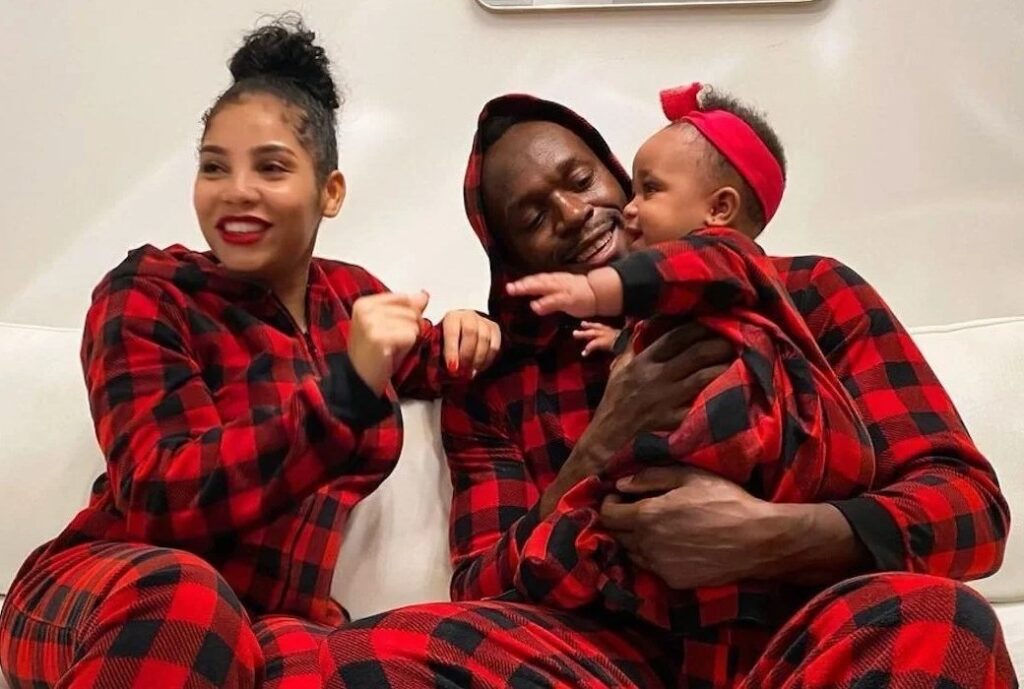 Usain Bolt formed a family next to Kasi Bennett, named the "Kardashian of Jamaica". Despite some sexual scandals and infidelities, she agreed to be the sprinter's wife after five years of dating. They have three children. A daughter named Olympia Lightning Bolt who was born in May 2020, plus twin sons, Saint Leo and Thunder who were born in 2021.
Bolt has a big personality which is part of what made him so beloved by sports fans. He has loved cricket since he was a child, but he is also a football fan and a fan of Manchester United.
Usain Bolt Net Worth and Career Earnings
Usain Bolt holds official world records in the men's 100m, 200m and 4x100m relay. He is the winner of eight Olympic gold medals and holder of 19 Guinness World Records. 
He has an estimated net worth of $90 million, and was the 45th highest-earning athlete in 2018, according to Forbes magazine. He has been the face of renowned brands such as Visa, Gatorade, Hublot, Virgin Media, and All Nippon.
Bolt's first contract with a sports company PUMA, earned him  $10 million per year. He has won cash prizes of up to $400,000 just for participating in some events. 
He is the founder of the razor brand Champions Shave, located in Miami.
In 2010, he signed a contract for the publisher HarperCollins to write an autobiography, the work called "Faster Than Lightning" launched in September 2013. 
In 2015, he donated $1.3 million to his childhood school that was about to go bankrupt.
Usain Bolt Famous Quotes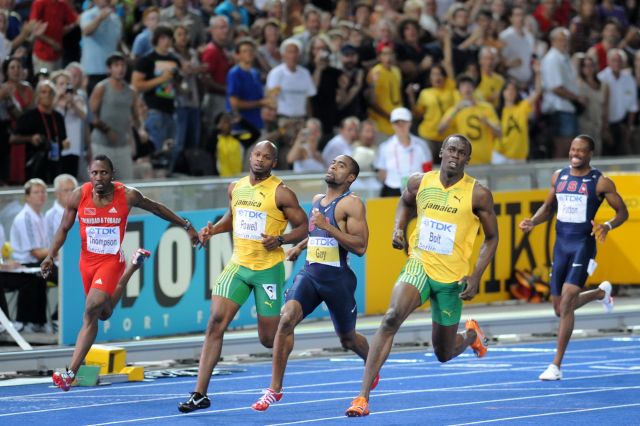 "When I was young, I didn't think about anything other than sports"
"Someone said that I am immortal, two more gold medals and I will confirm it. Athletics needs me to win in Rio and to be the best."
"I stopped worrying about the beginning, the most important thing is the end"
"I want to thank the support of all my followers, but also to all those who doubted me, they have encouraged me more"
"I imagine that the other runners are big spiders, it scared me and I try to escape from them"
"One thing is certain, as long as I am healthy there is no one who can beat me"
"Everything is possible, I don't think about limits"
"Now I am a legend and the best athlete in the world"
Frequently Asked Questions About Usain Bolt
Question: How many gold medals does Usain Bolt have? 
Answer: Bolt famously earned the "triple triple", when he ran nine finals and won them all across the 2008, 2012 and 2016 Olympics.
However, the record books will always state that he has eight Gold medals, not nine. That's because his gold medal from the 2008 4 x 100m relay was taken away from him, after a team-mate tested positive for doping. 
Question: Is Usain Bolt the fastest man in the world?
Answer: Usain Bolt holds the world record for both the 100m and 200m sprints. This is as good evidence as you'll find that he is the fastest man in the world. 
Question: Why Did Bolt retire?
Answer: Usain Bolt retired shortly after the 2017 World Championships in London. At this event, he sustained a serious hamstring injury and this is believed to be a key factor in his decision to retire at this time.