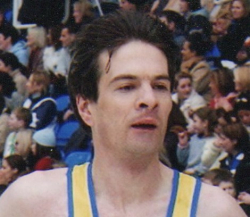 Latest posts by Stephen Hands
(see all)
Diego Simeone is a retired international football player and the manager of Spanish La Liga side Atletico Madrid. Simeone was a tenacious and gifted midfielder who made over 100 appearances for his country, Argentina. Following a successful playing career in Argentina, Spain, and Italy, Simeone turned to coach and has been the manager of Atletico Madrid since 2011. He is said to be the highest-earning manager in the game, with a reported salary of $49.28 million a year.
Diego Simeone Quick Facts
Full Name

 Diego Pablo Simeone Gonzalez

Birth Date 

April 28th, 1970

Birth Place

 Buenos Aires, Argentina

Nick Name

 El Cholo

Nationality

 Argentinian

Siblings

 Natalia Simeone

Children 

Giovanni, Gianluca, Giuliano, Francesca, Valentina

Spouse

 Carla Pereyra

Profession 

Football manager

Salary

 $49.28 million

Net Worth 

$130 million

Social Media 

Twitter

Awards 

European coach of the season 2011-12, La Liga coach of the year 2012-13, 2013-14, and 2015-16

Last Updated

 October 2021

Diego Simeone Birthplace and Early Life
Diego Simeone was born April 28th, 1970 in Buenos Aires to parents Don Carlos Alberto Simeone and Maria Pablo Simeone. He was brought up in the Palermo district of Buenos Aires, where his passion for football was first formed. His father was an amateur footballer and a salesman in later life, while his mother, Maria, was a hairdresser.
Simeone's education and upbringing remain very private with little known. However, he has made it clear that he credits his parents for instilling in him the importance of hard work. This is reflected in Simeone's early football life, where he was turning out for three separate teams as a youngster, sometimes shuttling between them on the same day to play.
Simeone grew up watching Argentina win the World Cup in 1978 and again in 1986 with a team inspired by the all-time great Diego Maradona. He joined the youth system at the Argentinian club, Valez Sarsfield. This was where he was given his nickname El Choro, as his style of play reminded his coach of a Boca Juniors player called Carmela Simeone, who possessed this nickname.
Diego Simeone Professional Career
Diego Simeone progressed through the youth set-up at Valez Sarsfield to make his full senior debut in 1987, at the age of 17. Although on the losing side that day, the young midfielder made enough of an impression to make 28 appearances for the club that season in the Argentine Primera Division, notching four goals along the way.
By 1990 Simeone was attracting attention from Europe, and he left Argentina to join Pisa, playing in Serie A in Italy. The top-flight in Italy was considered one of, if not the best league in Europe at the time and would be pitting Simeone against some of the best players in the world. However, it was not a successful period for Pisa, who was relegated in the same year Simeone joined the club.
Pisa hoped to bounce straight back up to Serie A. However, when they failed to win promotion the year following relegation, the club sold Simeone to the Spanish club Sevilla in the summer of 1992. During his time at Sevilla, Simeone briefly played under the coach Carlos Bilardi, who had led Argentina to World Cup glory in 1986. He was also in the Sevilla team for the season Diego Maradona spent there late in his career.
Diego Simeone would spend two seasons with Sevilla before joining another La Liga club, Atletico Madrid. This was the start of Simeone's attachment to the Spanish club, helping them win La Liga and the Copa del Ray in the 1995-96 season. However, in 1997 Simeone would return to Serie A in Italy when he signed for Inter Milan. The move would see him pick up further silverware as Inter Milan won the 1997-98 UEFA Cup, beating fellow Italian side Lazio 3-0, with the great Brazilian Ronaldo scoring the third goal.
Flipping the expression if you can't beat them, join them on its head, Simeone's next move was to join Lazio, coached by Sven Goran Eriksson. Replicating his earlier success in winning the Spanish double, Simeone helped Lazio to the Italian double in the 1999-00 season. Lazio edged the Serie A title from Juventus by a single point before completing the double with a 4-3 win over his old club Inter Milan in the final of the Coppa Italia.
In 2003 Diego Simeone was back at Atletico Madrid for his second spell as a player, where he remained for two seasons, although only making four starts in the second of those. In 2005, Simeone made the final move in his playing career, heading back to Argentina to join Racing Club in the Primera Division. In 2006 Simeone called time on his playing career, having made over 500 appearances and scoring 84 goals.
International Career
Diego Simeone was first selected to play for Argentina in 1988. Over the course of an international playing career lasting 14 years, he would collect over 100 caps and score 11 goals. He played for his country at three World Cups, reaching the quarter-final stage at the 1998 tournament before losing to a last-minute Dennis Bergkamp goal against the Netherlands.
For all his 100 plus caps, Simeone's international career is often best remembered by those outside of Argentina for his involvement in David Beckham's sending off in the 1998 World Cup. England's Beckham flicked out a boot in retaliation following a tackle by Simeone and was shown the red card. Argentina went on to beat England in this round of 16 matches after a penalty shoot-out.
Simeone saw international success when helping Argentina win the Copa America in 1991 and 1993. For a time, he was Argentina's most capped player, having surpassed the previous holder of the title, Diego Maradona. However, since then, a number of players, including Lionel Messi and Roberto Ayala, have passed Simeone.
Management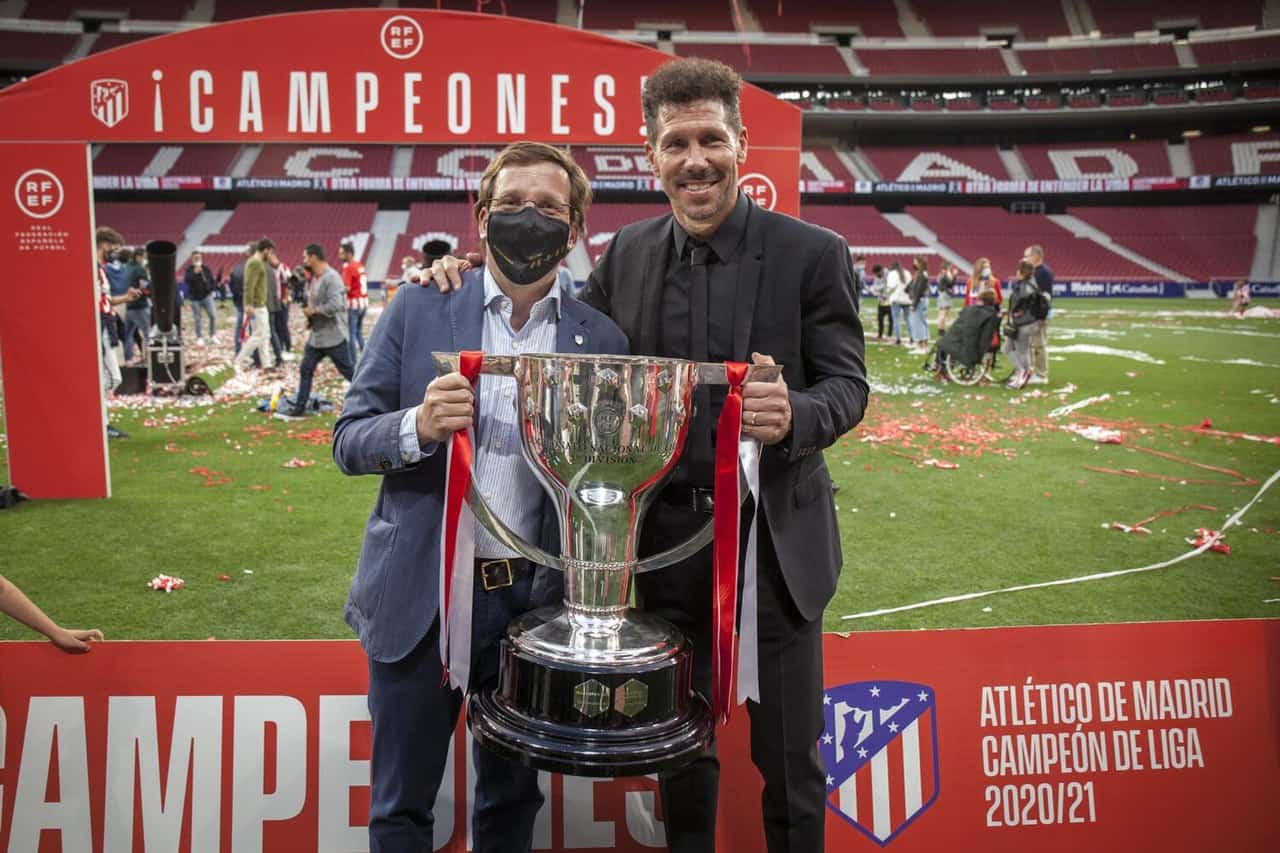 Diego Simeone began his management career where he finished his playing career at Racing Club in Argentina. In 2006 Simeone joined Estudiantes, where under his management, the club won the Championship play-off final against Boca Juniors. After leaving Estudiantes in 2007, he had further management spells at River Plate and San Lorenzo.
In early 2011, Diego Simeone returned to European football to take up the management job at Italian side Catania, where he helped the club avoid relegation. He would then make a brief return for a second management stint at River Plate before taking on the job at Atletico Madrid in December 2011. In his first season, he guided the team to victory in the UEFA Europa League final before following this up by claiming the 2012 UEFA Super Cup with an emphatic 4-1 win over Chelsea.
This marked the start of a golden era for Atletico Madrid as they muscled in on Barcelona and Real Madrid's habitual dominance by winning La Liga in the 2013-14 season. Simeone also saw his team take to the field for the final of the UEFA Champions League that season, but his hopes of winning this prestigious title were dashed by their city rivals Real Madrid, who won 4-1 after extra time.
Atletico Madrid again went agonizingly close to winning the UEFA Champions League in 2016, being undone once again in the final by Real Madrid, this time after a penalty shoot-out. However, Simeone would again taste European success in 2018 when his side beat Marseilles 3-0 in the final of the UEFA Europa League.
More domestic glory was still to come for Atletico Madrid, who had been consistently challenging for La Liga. In the 2020-21 season, they won their second La Liga title under Simeone's management, denying Real Madrid the title by two points as a reward. Diego Simeone is now believed to be the highest-paid manager in world football, with a reported salary of $49.28 million. He also signed a contract to keep him at the club until at least 2024.
Diego Simeone Video
A selection of Diego Simeone's best goals while playing for Inter Milan in Serie A.
The infamous moment with David Beckham at the 1998 World Cup.
Diego Simeone showing why he was adored as a player by the Atletico Madrid fans.
There is no denying Diego Simeone is just as passionate as a manager as he was when a player.
Diego Simeone Family
Diego Simeone is married to model and TV presenter Carla Pereyra. They met in 2014 and married in June 2019. Pereyra is also Argentinian and was born on 9th July 1987. The couple has two daughters, Francesca, born in September 2016, and Valentina, who was born in February 2019.
Carla Pereyra is Diego Simeone's second wife, having previously been married to Carolina Baldini, a former model. The pair met in Buenos Aires in 1992 and dated for two years before marrying in a lavish ceremony in 1994. However, they divorced in 2014. Diego Simeone has three sons with Carolina Baldini.
Simeone's sons have followed their father into professional football. Giovanni Simeone is signed for Cagliari in Italy but has been loaned out to fellow Serie A side Verona. Giovanni has also played a handful of games for Argentina. Gianluca plays his trade for Club Deportiva Ibiza in Spain, who play in group three of the Segunda Division RFEF, the fourth tier of Spanish football. Meanwhile, Giuliano has signed for his father's club Atletico Madrid, although he currently plays for the B side in Tercera Division RFEF, group 7.
Diego Simeone also has a sister, Natalia Simeone, a professional football agent who helps manage her brother's career.
Diego Simeone Net Worth and Career Earnings
Diego Simeone is reportedly the highest-paid football manager, with an eye-watering salary of $49.28 million. This is almost double the salary of Manchester City's Pep Guardiola, the second-highest-paid manager. Simone has signed a contract extension at Atletico Madrid until 2024, which would see him managing the same club for 13 years. The huge salary is a massive 'hands off' sign to other clubs who may want Simeone as their manager.
During the suspension of La Liga due to Covid restrictions, Simeone and his players took a 70% reduction in their wages to ensure the club could pay the rest of the backroom staff, over 400 employees in total. As drastic a cut and as significant a gesture as this was, Simeone will still earn $14.8 million in the Covid hit season.
Diego Simeone's net worth is estimated to be around $130 million. His earnings have come from a successful career as a football player and manager, stretching back to his professional debut in 1987.
Diego Simeone Famous Quotes
"There is no such thing as revenge in football, or in life for that matter, just new opportunities."
"I think talk is cheap – when I hear people say what they'd like to happen, I think it's empty. You have to live in the present."
"Football is wonderful because no one is right: there's no absolute truth."
"Motivation should come from within each player; if not, it's difficult to get results."
"Effort is non-negotiable."
FAQs
Question: How Old Is Diego Simeone?
Answer: Diego Simeone is 51 years old. He was born on 24th April 1970.
Question:
Can Diego Simeone Speak English?
Answer: Diego Simeone speaks little English and would require a translator to communicate at least initially if he was to manage in an English-speaking country. However, Simeone is a very expressive character, and this is something you can not get across so well through a translator.
Question:
Was Diego Simeone a Good Player?
Answer: Yes, Simeone was an exceptional player who played over 100 games at the international level for Argentina. He was a tenacious, combative midfielder, playing with the 100% commitment he expects from the players he now manages. As a midfield player, he was good defensively and in attack, someone who could win the ball, win headers, set up attacks, and score goals.
Question:
Which Club Did Diego Simeone Play For?
Answer: After starting his professional career in Argentina, Diego Simeone went on to play for a number of top European clubs, including Sevilla, Atletico Madrid, Lazio, and Inter Milan, before returning to Argentina to end his playing days. Simeone played at the highest level for almost two decades, playing over 500 senior club matches and scoring 84 goals, an impressive return for a midfield player.
Research