Latest posts by Matthew Du
(see all)
If you've been an NBA fan for the last decade, you'll know the two names we'll discuss in this article: Damian Lillard and Kyrie Irving. 
Perhaps what sparked this debate was Damian Lillard being added to the NBA's 75th-anniversary team, which named and honored the top 75 players in NBA history, whereas Kyrie was not. 
Regardless of what you think, and we'll get to that selection in a minute, the two guards have been dominating other guards at their position since they entered the league, and it's finally time to see how the two stack up against one another. 
Bottom Line Up Front
As the statistics will show, the two players have the same impact on the floor. Their differences lie in their gameplay and how they get their buckets. 
Perhaps the better question is: who would you build a franchise around?
In that scenario, Dame comes out slightly on top as he's proven yearly that he has the loyalty and mentality to see your team through regardless of last year's performance.
Main Differences Between Damian Lillard and Kyrie Irving
Here are the differences between Damian Lillard and Kyrie Irving:
Whereas Kyrie Irving is better at taking his man one-on-one, Damian Lillard is better at playing the pick-and-roll.

Whereas Damian Lillard is much more capable of shooting the three, Kyrie is better at finishing at the rim. 

Whereas Damian Lillard has had better counting stats throughout his career, Kyrie Irving has been much more efficient.
Damian Lillard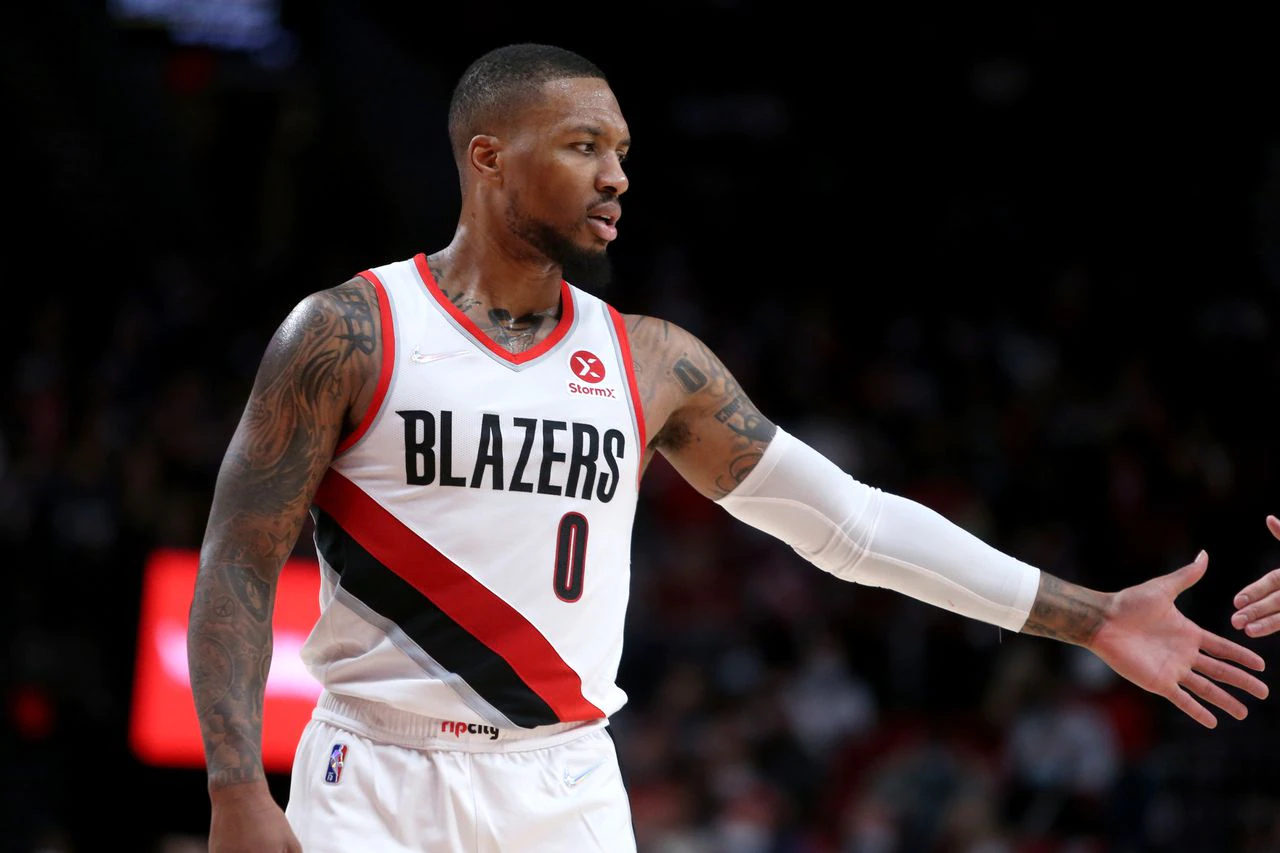 Damian Lillard's life is a classic underdog story. Coming out of high school, Lillard was a two-star prospect without much college interest. However, he accepted a scholarship to play for Weber State in Utah. 
In the Big Sky conference, Lillard would average 11.5 points per game in his freshman year, a statistic that spearheaded his campaign for the Big Sky Conference Freshman of the Year award.
By his junior year in the 2011 season, Lillard would average 24.5 points and be considered a top point guard prospect in the country. In 2012, he was selected as the sixth overall pick by the Portland Trail Blazers, where he would spend most of his career.
Dame's Key Features
It's interesting to read about Dame's history as an underrated player because, looking at how he plays now, there's no scent of shyness, fear, or cowardice in his game. I'd argue against it. 
Not when he hit the shot to send the Rockets home in the 6th game of the first round in the 2014 playoffs. Not when he shot a 27-foot BOMB to clinch the first-round win over the Oklahoma City Thunder in the 2019 season. Dame launched that from near the Blazer's half-court logo over Paul George, one of the league's best defenders.
There is no sense of fear in Damian Lillard's game.
From a more technical perspective, Dame is one of the quickest shooters in the league – mostly because he's capable of pounding the ball directly into what is known as a "shooter's pocket." Despite a relatively low release, Dame is strong enough to fade away slightly on many of his shots. This simple act throws off the defender and allows his shot to go over his man's hand.
Dame is also a prolific shooter. He's second behind Stephen Curry (of course) on three-point attempts and third behind Curry and Hield on makes in the 2020-2021 season. Damian Lillard would shoot 782 and make 275 of those. Because we were all wondering, Stephen Curry would shoot 825 and make 337. 
We use this year as a standard due to Damian Lillard's injury the year after. 
In the NBA's history, Damian Lillard is 9th on the all-time three-pointers made a list with 2172. His shot from deep is deadly, often requiring defenders to guard him the moment he reaches the half-court mark. 
A simple solution to this would be to close out as a defender, but in doing so, you open yourself up to another world of hurt as Lillard is one of the best in the NBA at changing speeds and could blow right by you with a quick first step. 
Lillard's exceptional capability to go one-on-one can also be attributed to his ability to create separation, whether off-the-dribble or off-the-screen. 
Kyrie Irving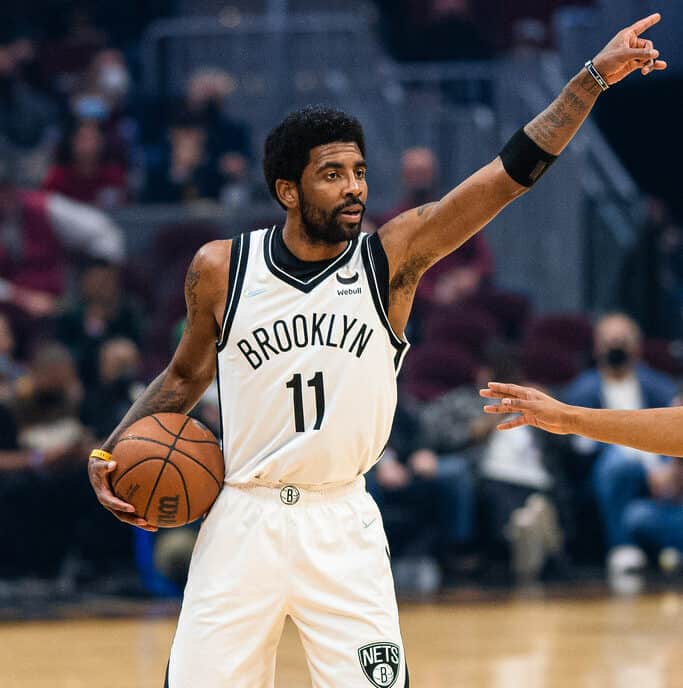 In stark contrast to Damian Lillard's underdog story, Kyrie Irving had always been a top talent and 5-star recruit. In his senior year with St. Patrick, Irving would average twenty-four points, five rebounds, and seven assists per game. More notably, his high-school career was peppered with national selections for the Nike Hoop Summit, McDonald's All-American Game, the Jordan Brand Classic, and the US Under-18 national team. 
His NBA career has been anything but ordinary. Drafted first overall by the Cleveland Cavaliers, Kyrie Irving became the focal point of the Cleveland offense. That is until Lebron James joined the Cavaliers in the 2014-2015 pre-season. Alongside James and Love, Kyrie would help the Cavaliers win the 2015-2016 NBA Championship after going down 3-1 against the Golden State Warriors. 
Aside from being a phenomenal player throughout his career, Kyrie Irving has received a lot of flak for being vocal about his beliefs. On more than one occasion, Kyrie Irving stated that he believes the Earth is flat. He hesitated to receive a vaccine against the COVID-19 virus and missed 35 home games. Now, he's facing a five-game suspension after sharing a link to an antisemitic film. 
Kyrie's Key Features
Yet Kyrie's skills on the court remain undeniable; Kyrie remains a dazzling ball handler and not to mention extremely capable of finishing around the ring.
Hands down, the best ball handler the league has ever seen, Kyrie Irving is a basketball savant with the way he can read defenses, read individual defenders, and create no matter where he is on the court. 
Kyrie is perhaps the NBA's most creative point guard, with his capability to finish from anywhere on the court. No matter what opening the defense gives him, Kyrie can find a way to give his team a bucket. 
Apart from his lighting-fast dribble, Kyrie Irving is an absolute wizard regarding finishing at the rim. Whether it's over, through, or around a defender, the way, Kyrie is capable of finishing around the perimeter using every available basketball move is phenomenal. His finishing shows a great understanding and mastery of the fundamentals and his body's capacity. 
Pound for pound, inch for inch, Kyrie Irving is potentially the most terrific finishing guard. There's not a single move that Kyrie Irving can't do. From English off the glass to euros and ball shows to acrobatic finishes, Kyrie Irving is the greatest at-the-rim finisher on this side of the universe. 
Something key that I've noticed about his game is his ability to show the ball to the defender and pull it back for the finish. This is especially evident in this section of the highlight video above. He might show the ball to the side to get his defender off-balance or upward to get his defender to jump early while maintaining focus and attacking his body for the and-1. There are instances where he doesn't necessarily have to do this, but he does it anyway to keep the defender guessing. 
Whereas Lillard is great at changing speeds, Kyrie is better at planting his foot to change directions. It's easy for him to feign going one direction and launch himself in another – quickly losing his defender. This becomes especially deadly when paired with a lightning-fast crossover. The man is gone before you even know it. 
Regarding footwork, Kyrie is undoubtedly the most skilled player since Kobe. Kyrie can finish off two feet and controls his body much better than most other players. To throw his defenders off their timing, he uses a mixture of off-foot finishes and quick spin pivots to shake the defender off him. 
Check out his footwork in the video below:
If you pair this with his ability to use misdirection to get his defenders off balance and out of position, you can see why Kyrie is almost impossible to guard. 
By The Numbers
For the analytics heads out there, this section is for you. Here are the career statistics of the two players in question:

They have pretty similar numbers. 
While Dame may be ahead against Kyrie in counting stats, Kyrie is much more efficient than Kyrie, shooting from the floor and the three better. Regarding the percentages, Kyrie shoots 3.2% better from the field and 1.8% better than their career. 
This tells me that Kyrie does not get the same number of attempts as Damian Lillard. If Kyrie has better percentages than Dame but fewer counting stats, then clearly, he's not getting the same number of looks.
This could simply be a case of having spent most of his career playing alongside the game's brightest stars. Whether it's Lebron in Cleveland or Kevin Durant in Brooklyn, there's hardly ever been seasons where Kyrie was the primary and sole option in the same way that Dame had been his whole career.
It's hard to draw any meaningful conclusions from the statistics; they give your team the same statistics in different ways.  
Comparing the two players head to head won't do you much better:

It seems there's a pattern of players stepping up their game against other stars. We noticed the same thing when we took a look at Larry Bird vs. Michael Jordan. It just goes to show the ultra-competitive fire that these guys have. 
Just look at this: when the Cavs played the Trail Blazers on Jan 28. 2015, Kyrie Irving dropped a 55-piece on Lillard's head while locking him up to 14 points at 21.1% shooting. 
Five years later, Kyrie dropped 33 against the Blazers as a Net but was outshined by Dame, who dropped 60 at 61.5% three-point shooting.
With similar statistics and the ability to drop 50 on anyone's head, perhaps the best way to determine the better player is by looking at the players and understanding what they can bring to your team. 
Pros and Cons
Damian Lillard

Strengths

Weaknesses

Loyalty/Tireless Work Ethic/ Mentality

Lacks Hustle When Fighting Through Screens or On Help Plays

Great Finisher and Ball Handler

Abdominal Injury

Size

 
Damian Lillard's biggest strength as a player is his ability to create separation as an offensive first option, regardless of who's on him. The man was voted in as one of the NBA's top 75 players for a reason, as he's arguably the greatest player in Blazers franchise history alongside Clyde "The Glide" Drexler.
Lillard has consistently shot around 47% from the three-point line, even when the opponent's best defender is on him, and this number can even go up to 40% in his best years of 2019-2020.
Yet he lacks the hustle on the defensive end to fight through screens or help his teammates on plays. Perhaps last season's abdominal injury led to him slacking on the defensive end, but I've noticed this to be the case throughout his career. Heck, even scouts called him out on it. 
Kyrie Irving
Strengths
Weaknesses

At The Rim Finishing

Durability

Lightning Quick Reflexes

Availability

Solid Defender

 
Moving on to Kyrie Irving, the future hall of Famer virtually has no weaknesses on the offensive end. We've discussed this thoroughly in his critical features section. 
Defensively, he's solid. Nothing to write home about but nothing spectacular either. He could guard your opponent's best guard, no problem. 
However, Kyrie Irving has been known to put his personal views on full display, often to the dismay of league officials whose hands he forces to suspend his case in point: the November 2022 debacle wherein Kyrie shared a link to an antisemitic film that had him arrested for at least five games. 
When comparing the two, perhaps a fair question would be: who would you build an entire franchise around?
Kyrie Irving is arguably the better player – when he's on the court.
Damian Lillard's greatest asset is his unwavering loyalty and work ethic. For the past decade, Damian Lillard has dedicated his heart and soul to the Trail Blazers, even going through entire seasons with only 33 wins (2012-2013). Yet, Damian Lillard's loyalty and mental fortitude never waned. As many would say, "his greatest ability is availability."
FAQs
Question: Who's Better: Kyrie or Lillard?
Answer: While Kyrie is arguably the more skilled ball-handler, Damian Lillard excels at finishing at the rim in the same way that Kyrie does. He can do virtually everything Kyrie can while being more available to the team. 
Question: Is Damian Lillard A Top 10 Shooter of All Time?
Answer: Not many people would agree with this, but the statistics seem to say that Dame is a top 10 shooter of all time. He's arguably the second-best shooter behind Stephen Curry, though Buddy Hield is quickly coming up behind him. 
Question: Is Damian Lillard The Best Point Guard In The NBA?
Answer: It's challenging to give Damian Lillard the best point guard in the NBA while Stephen Curry and Luka Doncic are in the league. One is a Finals MVP, whereas the other is making a strong case for MVP this year.
Conclusion
Kyrie Irving – excellent ball handling, great at-the-rim-finishing, the ability to beat you off the dribble or just pull up in your face.
Damian Lillard – deep range, strength to finish through contact, a maestro off the pick-and-roll.
Whichever player you support as the better player, it's challenging to fault you for making the "wrong" choice.