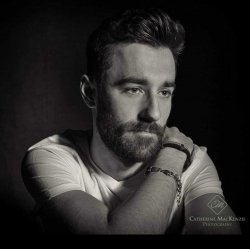 Latest posts by Callum Marshall
(see all)
While I cannot claim to be a huge wrestling man deep into my twenties, I can say that it was something that captivated me in my childhood, and even teenage years. The WWF and WWE were a huge part of my life growing up. Vince Mcmahon's band of burly wrestlers would effectively babysit me as I watched the highlights of the week way too close to the screen on a Sunday morning, and I as grew up with these superstars; I held them very close to my heart, heralding them as my heroes. There are so many that I could mention in that vain. The likes of Rey Mysterio, Batista, Stone Cold, Shawn Michaels, Rob Van Dam, and the list goes on. However, if you wanted me to give you a definitive favorite of all time. Then there is only one man in contention, Eddie Guerrero. 
Eddie's lying, cheating, and stealing were something that I would tune in for every week. Whether he was battling for the US Championship against the behemoth that is Brock Lesnar, or he was dominating Tag Team Championship matches with his nephew, Chavo Guerrero, I was there with my nose pressed to the screen. His high-flying antics, his underhand tactics, and his genuine likability and charisma in, and out of the ring, made him a fan favorite and a hall of famer, and even though he's not with us now, his legacy within the WWE is ever-present, especially now in the form of Dominick Guerrero and Rhea Ripley. 
However, you may be wondering about how Eddie rose to fame through the path of Lucha Libre. You may be wondering what his best moments within the ring were, and you may be wondering how this beloved superstar met such a tragic end at such a young age. Well, I think I owe it to one of my heroes to tell his story. So without further delay, here is our Eddie Guerrero bio. Viva La Raza. 
Quick Facts
Name: 

Eduardo Gory Guerrero Llanes

Birth Date: 

09/10/1967

Nicknames: 

Papi, Latino Heat, El Caliente

Nationality: 

American/Mexican

Birth Place:

 El Paso, Texas, USA

Siblings: 

Hector Guerrero , Armando Guerrero, Chavo Guerrero Sr, Maria Guerrero, Linda Guerrero

Spouse: 

Vickie Guerrero 

Children: 

Sherilyn Amber Guerrero, Shaul Marie Guerrero

Profession: 

Professional Wrestler

Net Worth: 

Estimated $6 million

Awards: 

AAA World Tag Team Championship, ECW World Television Championship x2, IWA Mid-South Heavyweight Championship, LAWA Heavyweight Championship, PWF World Tag Team Championship, WCW Cruiserweight Championship x2, WCW US Heavyweight Championship, WWA International Cruiserweight Championship, WWA Trios Championship, WWE Championship, WWF European Championship x2, WWE United States Championship, WWE Intercontinental Championship x2, WWE Tag Team Championships x4
Early Life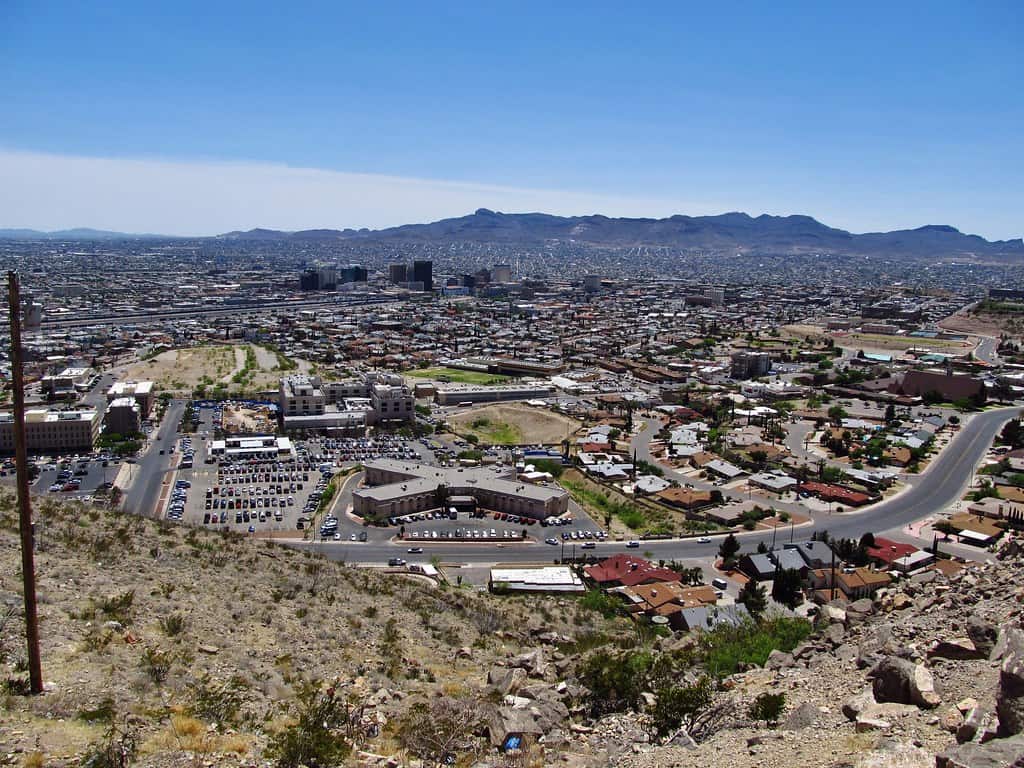 Eddie Guerrero always had wrestling in his blood. It was practically written that this man would end up in the ring at some point. He was born in El Paso, Texas, in 1967 to his father, Salvador Guerrero Quesada (Gory Guerrero), and his mother, Herlinda Guerrero, on 09/10/1967. He was the youngest of all his siblings, including Hector, Chavo Sr, Linda, Maria, and Armando, all of which would go on to be professional wrestlers in their own right. He would often be paired against his brothers and nephew Chavo Jr in backyard matches and matches during intermissions of Gory's productions. All of which would make him into the star he would become.
Outside of the world of wrestling, Eddie's younger years were fairly conventional. He grew up in a Latin American household with strong Christian values, attended and graduated from Thomas Jefferson High School, and then went on to study at New Mexico Highlands University, where he would gain entry on an athletic scholarship so he could participate in collegiate wrestling. However, he soon turned his back on the regulated sport, for the lofty heights of professional wrestling, and more specifically, Lucha Libre. 
Early Career – Lucha Libre and Beyond
Eddie's career took a little while to get off the ground, as natural ability and a highly regarded father will only get you so far. You need to get the fans behind you, and you need a little bit of luck too. Eddie didn't leave things up to chance, though, and after a few matches within the EMLL, as well as a few for WCW and NWA, which were effectively, off the books, he then headed off to Asia in the hope of making a name for himself. He competed in the JPW (Japan Pro Wrestling) promotion, one that he would return to later, but due to the pitiful paychecks, he decided to return to Lucha Libre, where he would debut his first persona, Máscara Mágica. However, this would be on a new promotion known as Asistencia Asesoría y Administración. 
This persona would actually change the course of Lucha Libre because Eddie had it written within the script that he would have his mask removed in combat. Mainly because he hated performing in a mask which was Lucha tradition. However, the only time a mask is removed in this iteration of wrestling is after a defeat. However, Eddie decided to perform without the mask, using his family's reputation as a swaying factor, and fans seemed to accept that. From then on, he was simply Eddie Guerrero. 
This move put some eyes on Eddie, but he still needed to cement his place on the roster. He did that by using a skill he would utilize throughout most of his career, playing the heel. After a period of success in a tag team with Mexican favorite El Hijo del Santo, Eddie would turn on him, teaming up with Art Barr to form the stable, Los Gringos Locos, a team that would rile up Mexican fans due to their American roots. This would be a fruitful partnership for Eddie. Sadly, this pairing would be tragically torn apart as Art Barr passed away shortly after their match at 'When Worlds Collide. This news would rattle Eddie, and eventually led to his transfer to ECW. 
ECW was a rather short-lived venture for Eddie, but one that gave him a lot more exposure to American audiences, and allowed him to showcase that he was a performer in Hardcore matches too, which was the niche of ECW at the time. The time he spent on ECW is most fondly remembered for his matches and rivalry with Dean Malenko, as the two shared the ring for some iconic matches in the 1990s. Including a best two of three falls match in Philadelphia and a couple of ECW Television Championship bouts. However, ECW eventually reverted to type when they failed to cash in on the technical prowess of their roster, and instead decided to lean into the world of hardcore wrestling once again. Which led to Eddie's departure to WCW, along with other strong performers. This was where Eddie's career really began to take off. 
It is also worth noting that Eddie also intermittently would travel to Japan to wrestle in the JPW during his period at AAA and ECW. He performed under the alias Black Tiger during this time, and this is where he would first come into contact with lifelong friend, Chris Benoit. 
The WCW Years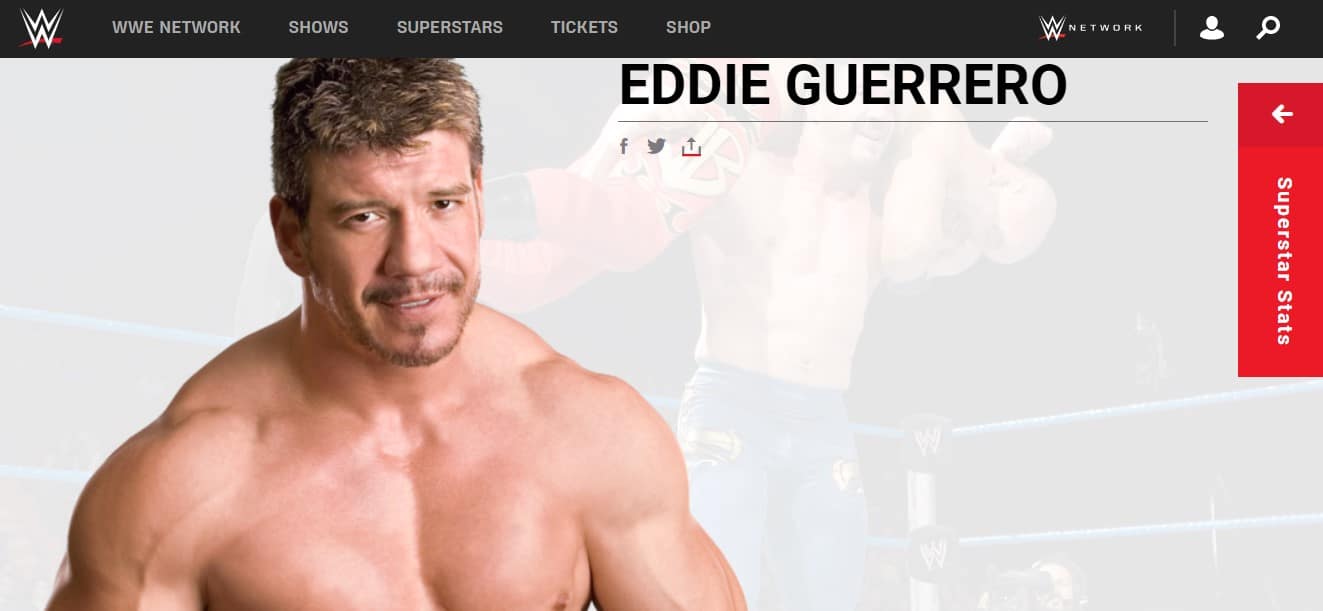 WCW decided to rub their new acquisitions in the face of ECW with Eddie wrestling fellow acquisition Dean Malenko in his debut match, and this immediately showcased to fans that this guy was a star performer. It would be a full year before Latino Heat would earn his first title, defeating Diamond Dallas Page for the US Championship, but he was involved in plenty of feuds, key matches, and stories along the way. He was part of nine-man battle royales with the Four Horsemen, he would compete in the WCW vs. NJPW series, he shared the ring with Ric Flair and Randy Savage, and he when he got hold of the US title, he defended it admirably against Scott Norton. 
However, the highlight of his WCW career has to be his storyline with a young Rey Mysterio, a man that he would become synonymous with throughout his career. Their rivalry would come to a boil at Haloween Havoc, where they would battle for the Cruiserweight title, a title that Eddie had taken from the legend, Chris Jericho. This would be the pinnacle of his WCW run, as it hit a literal bump in the road, as Eddie would be involved in a car crash that would set his career on a downward trajectory for years to come. 
Eddie, after a heated argument involving his wife Vickie Guerrero and WCW general manager Eric Bischoff, decided to drive to the local store after taking a Renutrient, which is another form of GHB. This led to him careening off the road and into an embankment, which led to his vehicle taking flight and leaving him severely injured. He would eventually recover and get back into the world of wrestling, but he decided to can it quits at WCW despite a new deal being on the table. 
The Big Move to WWF
The move to WWF for Eddie looked for all the world like a nailed-on success, and don't get me wrong; there were some incredible highs. However, the lows would see Eddie all but bottom out of wrestling's professional scene. His time in the WWF started with the creation of a stable called, The Radicalz. Consisting of himself, Dean Malenko, Perry Saturn, and Chris Benoit. However, this storyline was sent off-script after Eddie dislocated his shoulder after an awkward landing as he attempted a Frog Splash, and this meant that rivals The New Age Outlaws would end up the victors. However, upon his return, he would revert to type, aligning himself with Triple H and making the faction the heel in this story. This pathed the way for his iconic partnership with Chyna. 
Eddie Guerrero was aligned with Amy Dumas (Lita) at the time, but it wouldn't be long before Chyna would fall for his Latino Heat, and he dumped Lita for his 'Mamacita.' They would form a lasting partnership as they paired off against Lita and Essa Rios, in a feud that would come to an end when Eddie would defeat him for the European Championship in what he staged as his 'Prom Night' after earning his GED outside the ring, arriving in a 1957 Chevrolet and a full tuxedo to complete the gimmick. 
This partnership would become one of the most iconic in WWF/WWE history thanks to the rather toxic relationship of distrust they developed. Over the course of this relationship, Eddie would help her win the Intercontinental Championship from Val Venis. Then come to her aid in the defense against Kurt Angle, only to cheat the system and win the belt for himself. Then the story would jump to Chyna's photo shoots with Playboy, including an out-of-ring invasion of the Playboy mansion. This all seemed to be coming to an end when Chyna tried to leave Eddie, only for him to make a last-ditch proposal to her, which she accepted. 
This paid dividends for Eddie, as she would play a part in his defense of the Intercontinental championship against Rikishi, but soon after, their relationship reached an abrupt end when Eddie was caught showering with two of Charles Wright's Hos. This cemented Eddie as a lying, cheating, and underhanded heel that no one could trust. A character trait that would take him far within the industry. Eddie would be part of feuds with Jericho, Benoit, Test, X-Pac, and The Hardy Boyz, before problems outside of the ring became too prevalent to ignore. 
The Fall of Eddie Guerrero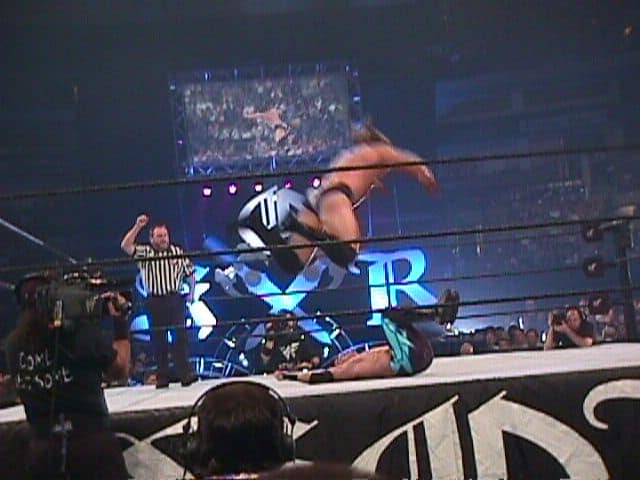 Outside of the ring during his time with the WWF, Eddie was battling a lot of demons, most notably an addiction to pain pills and alcohol. After the accident during his time at ECW, Eddie was left with constant pain due to a reconstructed ankle and three fractured vertebrae. It simply wasn't an injury that he could shake off, especially when performing consistently at the pinnacle of Wrestling Entertainment. So he resorted to pain pills and alcohol to numb the pain, allowing him to continue his work in the ring. However, this only put a bandaid over a gaping wound, and this would eventually become too big of a problem to ignore. 
His wife Vickie could not deal with the irritability and the unpredictable nature of Eddie Guerrero and decided to leave him shortly after Wrestlemania Seventeen. Which then led to this behavior becoming a liability for McMahon and his WWF colleagues. Stars such as Benoit, Saturn, Malenko, and Jim Ross staged an intervention of sorts after he arrived in a particularly bad way, in which they told Eddie that he would either need to go seek help in rehab, or stop wrestling. 
To Eddie's credit, he did take them up on this offer and admitted himself to rehab. However, after two stints in rehab, and AA, he would relapse for a second time and get arrested for drunk driving. This would see McMahon call time on Eddie's WWF career, and his contract was terminated. This was a turning point for Guerrero, who rediscovered his faith, and aimed to claw his way back to the top by taking the independent circuit by storm. 
The Comeback to WWE
The road back to the big time would be a long and arduous road for Latino Heat, as a battle with addiction tends to be. However, other promotions saw this as an opportunity to get their hands on one of the most talented performers around. In their eyes, even a second-rate Eddie Guerrero was better than almost anything they could find elsewhere. So after a short, while wrestling on the independent circuit to pay the bills, he was picked up by Ring of Honor, where he eventually won the IWA Heavyweight championship in a triple threat match against soon-to-be big-timers CM Punk and Rey Mysterio. 
He would also return to Asia to compete at the JPW, where he would abandon the Black Tiger persona, as his own name carried much more weight at this point. It was his tenacity and determination to forge a path back to the WWE, as well as his efforts out of the ring to mend his relationships with his daughters Shaul and Sherilyn, as well as his wife Vickie, that impressed Vince McMahon, and after careful consideration, he was awarded a contract with the WWE and returned to the big time. 
Eddie's Finest Hour
His return to the WWE was the making of Eddie Guerrero, who was adamant that he would not let the chance slip through his fingers again, and after a year-long period where he would be paired with long-time friend Chris Benoit as a way to offer stability and support during what was a vulnerable period for the high-flying superstar. He would eventually be let off the leash, so to speak, and would form the iconic tag team 'Los Guerreros' with nephew Chavo Guerrero. Who would have fought that those two kids wresting in a backyard in El Paso would share the ring on that scale?
The duo would have to work hard for their first reign as Tag Team champs after being stopped by the team of Chirs Benoit and Kurt Angle in an eight-man tag series. However, they would get their shot against Edge and Rey Mysterio, which they would take full advantage of, submitting Rey Mysterio with the Lasso from El Paso. However, with the introduction of Team Angle, which consisted of Shelton Benjamin and Charlie Haas, this reign was short-lived. He would hold the Tag Team belt a further three times with Tajiri, Chavo again, and Rey Mysterio, but this is not what Eddie's time on the WWE is best remembered for. He would also win and defend the US championship, but this was only building fanfare for his finest hour. 
The road to his WWE championship win began when he was entered into a 15-man Royal Rumble on Smackdown, which would take place in tandem with another 15-man Royal Rumble over on RAW. Eddie Guerrero would come out on top in that event, tossing Kurt Angle over the ropes to become the number one contender, and earn his title shot at No Way Out. The only problem was that this would mean he needed to overcome the man mountain in the form of Brock Lesnar. This feud would become the main point of interest for fans, as real-life issues such as Eddie's struggles with addiction were incorporated into the events that transpired, and as such, was appointed the Main Event at No Way Out. It was a rare time when Eddie played the face, and looked convincing in the role, and that was purely because he was just being genuine.
This meant that the fans were firmly on his side as he faced up against Brock. This is a match that I still find myself watching once a year at least, as it sends goosebumps through my body with every watch. Eddie played the role of the plucky underdog expertly, and despite enduring Brock's barrage of powerbombs and his signature F5, he would not be beaten. Then after a shock interference from Goldberg, who speared Brock, Eddie saw an opportunity, landed a Frog Splash, and claimed the WWE Championship. It was a David versus Goliath story, and the redemption of Eddie Guerrero. 
With Eddie serving as the new WWE Champion, it meant that he would have to defend his title at Wrestlemania XX against the very man he cost a title shot at the Royal Rumble, Kurt Angle. It was a mismatch in a lot of ways, and much like against Brock, Eddie was very much the underdog. However, in another shocking turn of events, after a dominating display from Angle, where we would relentlessly twist and contort Eddie's ankle. He managed to slip out by slipping off his boot, and then quickly rolling up the Olympic gold medalist in a pin, successfully defending his title on the biggest stage in wrestling. 
This event is marred slightly by its close proximity to Chris Benoit's Heavyweight championship win, and the two sharing the ring holding their belts aloft. It was a genuinely touching story then, but after the tragic story that unfolded involving Benoit and his family, the WWE tries to bury any link to Chris Benoit, including this moment. Eddie's final storyline of note would involve Rey Mysterio and would see Eddie turn heel one last time. After a successful reign as Tag Team Champions, Eddie would urge Rey to stage a match at Wrestlemania XXI, which would be a showcase of the two finest cruiserweights. However, when Rey came out on top, their relationship began to turn sour. 
Eddie would abandon Rey and eventually attacked him, ensuring that the pair would once again turn from friends to rivals. This would lead to a long feud where it would be revealed that Rey's son Dominick was actually Eddie's biological son. This would end with Rey and Eddie battling it out in a Steel cage match, with Rey would come out the victor. Eddie would have other run-ins, most notably a pairing with 'The Animal' Batista, but despite claims that he was destined to win the WWE heavyweight Championship, this was all cut short tragically. 
Eddie's Shock Death
Eddie, on the night of his death, was scheduled to participate in a triple threat match with Batista and Randy Orton for the WWE Heavyweight Championship. However, as WWE now know, Eddie would never appear for this match. He was sharing a hotel with Chavo Guerrero ahead of that match, and when they went their separate ways to their rooms, Chavo later got a call from hotel staff. Eddie had reportedly lost consciousness in his room. Chavo rushed to the room, and when the lock was disengaged, he found his uncle on the floor. He had suffered from Acute Heart failure, and effectively died in Chavo's arms. 
The cause of death was supposedly the long-term effects of substance abuse from his addiction to narcotics and pain pills. Chavo said later that Vicodins and Somas cause scar tissue and wreak havoc on your heart, and sadly, Eddie's heart couldn't take the strain of being a top-tier performer any longer. It was a tragic end for such an amazing superstar, and if only he wasn't so married to the sport, he might have told someone that he just wasn't feeling right. The signs were there. Kurt Angle was one wrestler that spoke out on this, saying that in the last match they fought in, Eddie didn't seem himself. He was weak, he wasn't performing at his usual level, and he regrets not doing something then. 
Close Relationships
Chris Benoit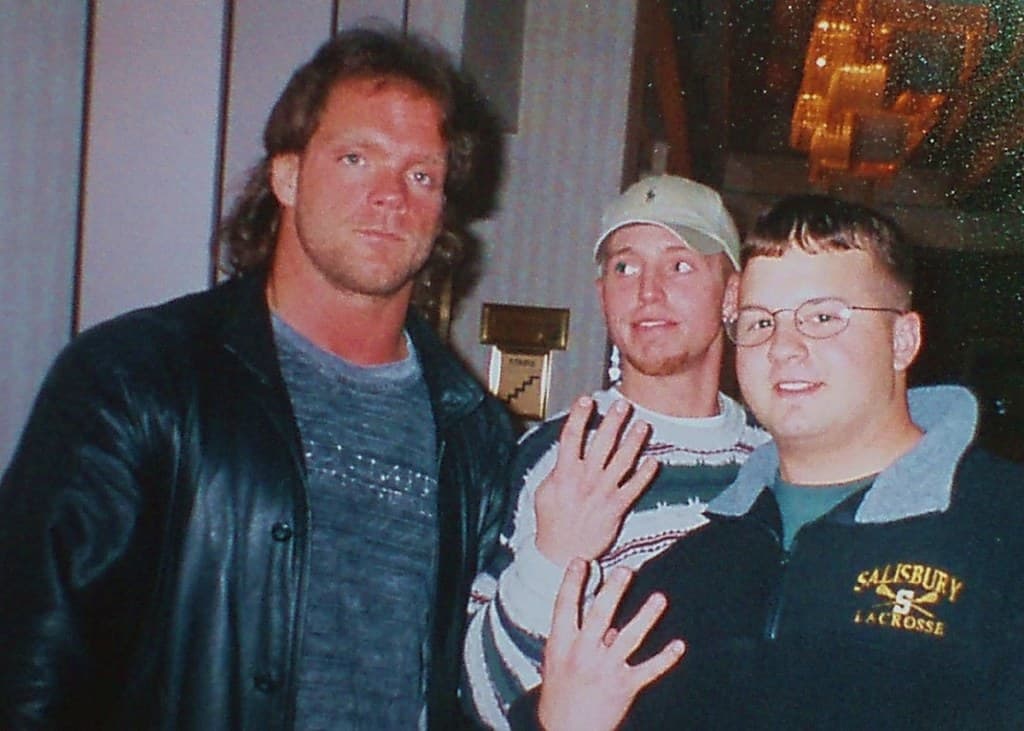 While the WWE would love to push this under the rug, Chris Benoit was an incredible wrestler, and a top performer, not to mention a close ally of Eddie Guerrero from the start of his career in Japan, right through to his death. Chris leaned on Eddie quite a lot, introducing him to the Christian faith and being a genuine part of the family. Then in return, Benoit would be a person to lean on when times got tough regarding Eddie's addiction. This relationship was a key reason why Eddie remained clean for four years before his death. 
The story got much darker when Eddie passed away. Chris spiraled, having lost his best friend, and despite being a constant performer for the WWE after this, he became a much more volatile and unpredictable entity when at home., often becoming violent. To give this as little coverage as possible, Chris would kill his wife and child, before eventually committing suicide in their family home. It was later put forward that his actions were largely due to the effects of CTE from repeated head trauma. However, many believe that this was an act of pure evil that cannot be reasoned away with this illness. If you want to find out more about this, I would urge you to watch this documentary on Benoit's life and career. 
Vickie Guerrero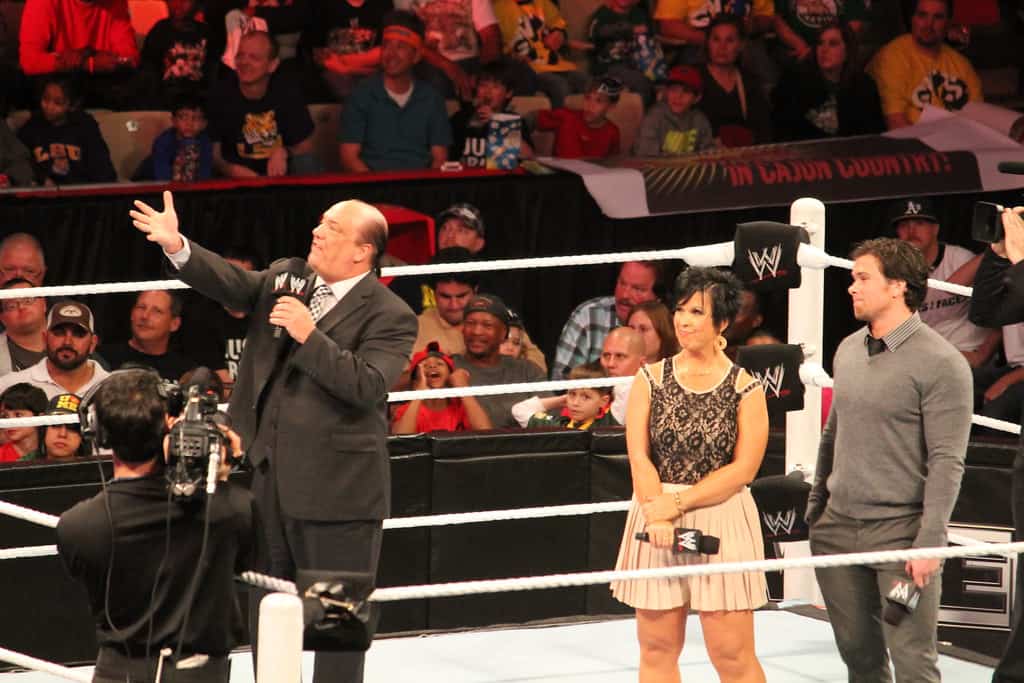 While Eddie and Vickie's relationship was a rather turbulent one, she was ever-present in his life. Even when she left him after his second relapse, she was always hopeful that he could turn things around, and when he did, they shared a loving relationship right up until his eventual passing. Vickie would eventually begin working for the WWE and would be involved in storylines where she would turn heel and (for the cameras) desecrate her marriage and relationship with Eddie. However, if you take the time to read her autobiography, or watch any intimate interviews, you see just how much she loved and admired her husband.
Chavo Guerrero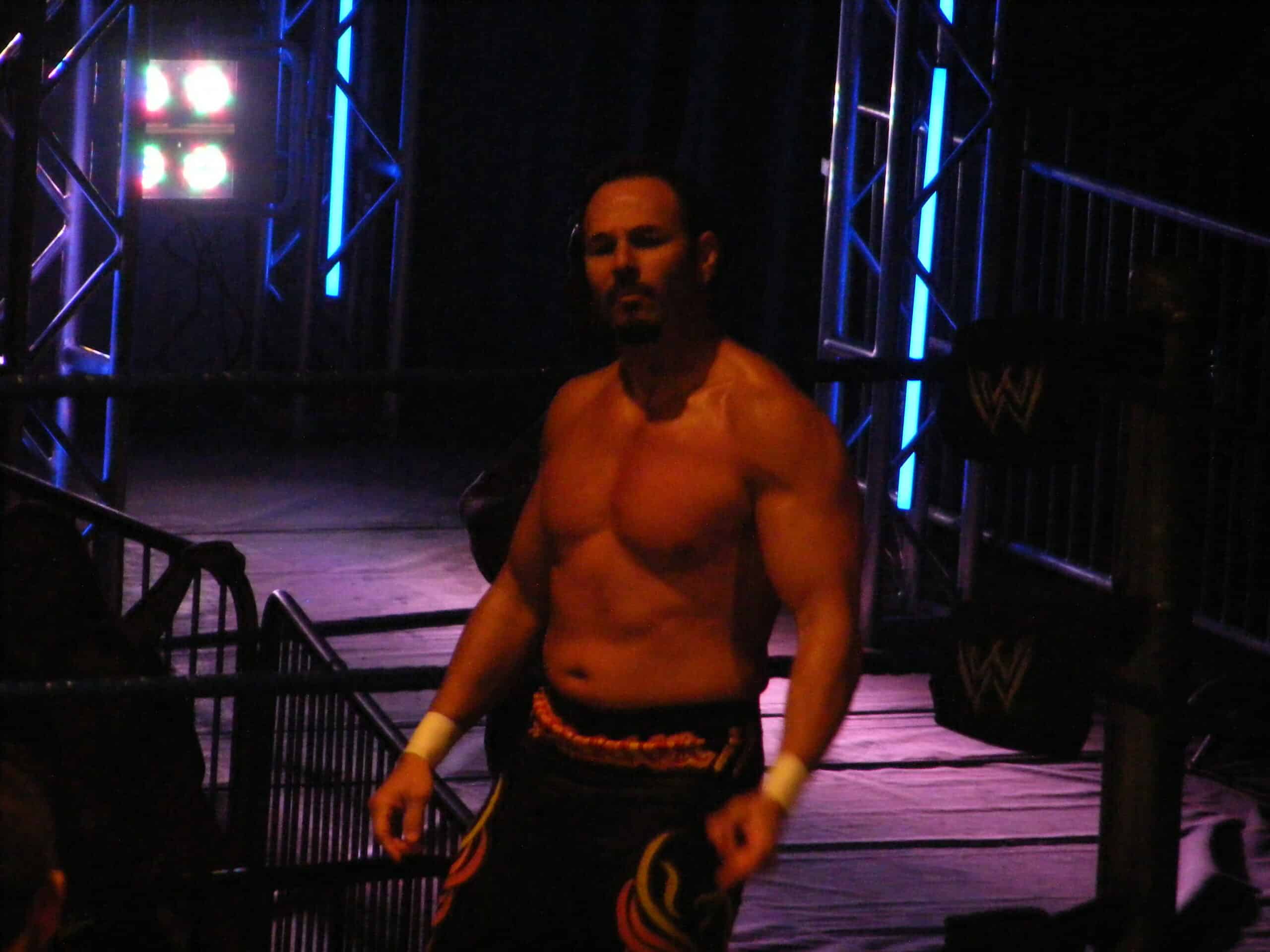 Of all his family, Eddie was probably closest to his nephew Chavo. This was because they grew up together, they entered wrestling at roughly the same time, and they managed to form a strong bond by working for the same wrestling brand in the form of the WWE. They were often on different shows during this time, but the time they spent together in and out of the ring was special to each of them. This much is clear in the anecdote Chavo told about the day of Eddie's death. When they flew out to the hotel, Eddie had a first-class ticket, and he traded it away just so that he could sit with Chavo in coach. They lived the dream and shared the stage together, it was a beautiful thing, and they both did the Guerrero name proud, as Gory had done before. 
Videos of Eddie in Action 
Eddie Guerrero vs. Brock Lesnar – No Way out
Eddie Guerrero vs. Kurt Angle – Wrestlemania XX
Eddie Guerrero vs. Rey Mysterio – Wrestlemania XXI
Eddie's Last Match vs. Mr. Kennedy
Net Worth
While it is a hard question to answer now, as far fewer eyes are on the Guerrero family and, by extension, the Guerrero estate. However, at the time of Eddie's death, it was estimated that Eddie was worth approximately $6 million. 
Call Him Papi
As you can see from the incredible rise to the top of the wrestling food chain, Eddie's story is the epitome of a good underdog tale. A plucky young star paying his dues before getting his break and taking it with both hands. Whether it was the Lasso From El Paso, or the signature Flog Splash, Eddie was a born performer and always gave the fans everything. He will forever be remembered as one of the best wrestlers of his generation, and one of the most agile, spontaneous, and talented cruiserweights the sport will ever see. I hope that this bio has done justice to the great man, and as always, thank you for reading Pro Sports Bio. 
FAQ Section
Question: How Many Belts Did Eddie Win?
Answer: If you are counting the same belt multiple times, then Eddie managed to win a grand total of twenty-one titles during his illustrious career. The pinnacle of which was his win against Brock Lesnar to claim the WWE Championship. However, he was also fondly remembered for his spells as US champ, and as WWE Tag Team Champion.
Question: Who Was Eddie's Last Opponent?
Answer: That honor fell to one Mr. Kennedy, a man best known for his bleach-blonde hair, and for shouting his own name into a microphone. This match took place on the 11th of November 2005. Eddie passed away just two days later.
Question: Do Eddie's Daughters Wrestle?
Answer: Yes, both of Eddie's daughters have had wrestling careers. Shaul has wrestled for the WWE, NXT, AEW, and on the independent circuit, as well as performing as a burlesque dancer. Whereas Sherilyn has wrestled, most notably for NXT.