Latest posts by Matthew Du
(see all)
March 31, 1991, is not a memorable date. To the best of my knowledge, nothing explicable happened – unless you count that one of the most awesome head-to-head basketball games took place.
In a double overtime THRILLER, Larry Bird's Boston Celtics beat out Michael Jordan's Bulls 135 to 132 in their last head-to-head game of the season. In that game, the two stars absolutely balled out. Larry Legend dropped 34 points with 15 boards and eight assists. Michael Jordan played like himself and dropped 37 points alongside seven rebounds and nine assists. 
It was a message to the rest of the league: Michael Jordan and the iconic legend that he would eventually leave had begun. 
It wasn't the last time the two faced one another, but it was symbolic. The 1990 – 91 season was a transitory period in the league. His Airness may have been gracing the hardwood floors for half a decade now, but it wasn't until the 1990s that he found team success. 
Instead, the 80s were ruled by Bird and Magic. Larry Legend vs. The Showtime Lakers. They propelled the NBA to insane levels of popularity. 
The early 90s were entirely different. Bird's back was killing him, and Magic, by 1992, would have announced his retirement. Who'd be left to rule the league if that's the case? And is he really up to the task? Some would respond with a resounding yes but is that the case?
Bottom Line Up Front
If you were asking about a one-on-one game, then in a Larry Bird vs. Michael Jordan situation, the win goes to Michael, no matter what year or age you pick. Michael Jordan would go airwalk over Larry Bird all day long; I don't think anyone could dispute that. 
But basketball is a team sport, and the answer isn't as evident in a team setting.
Michael Jordan may have been a better scorer and defender, but Larry Bird is better at everything else. He's a better rebounder, assist man, and, just maybe, floor general. Though Michael may have more championship rings, a solid argument could be made about Larry's leadership and ability to bring out the best in his teammates on the court. 
The Main Differences Between The Two Players
Moving forward, I want to focus on two main points in comparing the two halls of Famers.
Larry Bird was a fundamental player and used a series of jab steps and fakes to get to his position. In contrast, Michael Jordan had unparalleled athleticism, which he used to blow past the defender and get the bucket.
Larry Bird looked for ways to involve his teammates and often got into fights to defend himself or his teammates, whereas Michael Jordan believed in tough love and was often competitive even within his team.
But first, a little history.
Larry Bird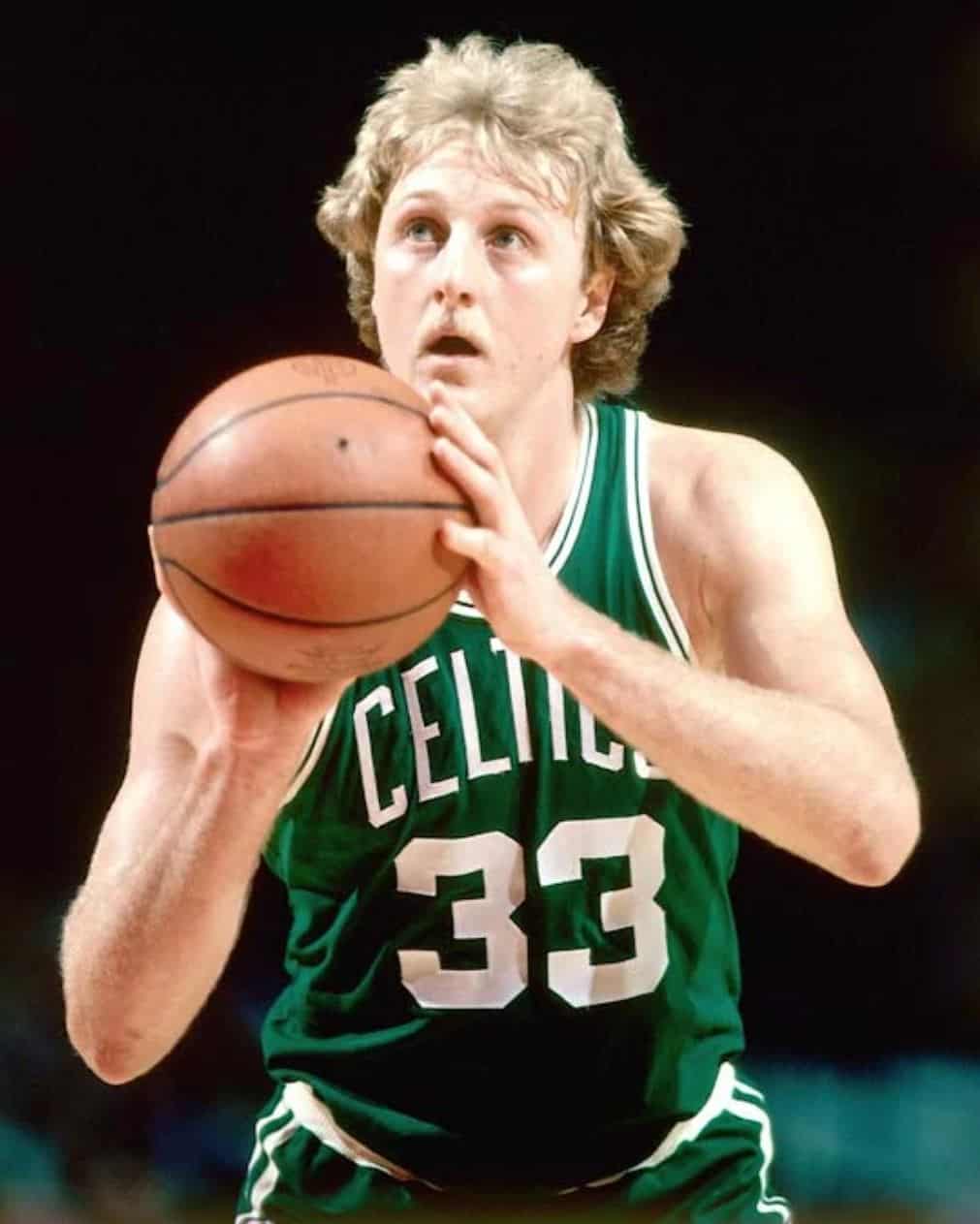 Larry Bird grew up in French Lick, Indiana. Growing up, he idolized coach Bobby Knight and the Indiana Hoosiers. As fate would have it, he never got to play with them for more than a month. He went back and attended a local community college, Indiana State University. 
He entered the league in 1979-1980 and immediately made an impact – leading the Celtics to 32 more wins than the year before. He played 13 years with the team and led them to five NBA finals, of which he'd win three NBA championships. 
A championship is a team effort, but it was clear that an enigmatic Larry Bird led the team. The dude just wouldn't talk much to the media – but that never took away from what he could do on the court. 
In his 13 years in the NBA, Bird was named a 12-time NBA All-Star, won two Finals NBA MBP awards, and became the league MVP three consecutive times. He was part of the 1992 United States Men's Olympic Basketball team, popularly known as "The Dream Team."
His life's work culminated in an induction into the Hall of Fame in 1998. 
Today, Bird enjoys his days in retirement after having worked for the Boston Celtics and Indiana Pacers for some time. 
Michael Jordan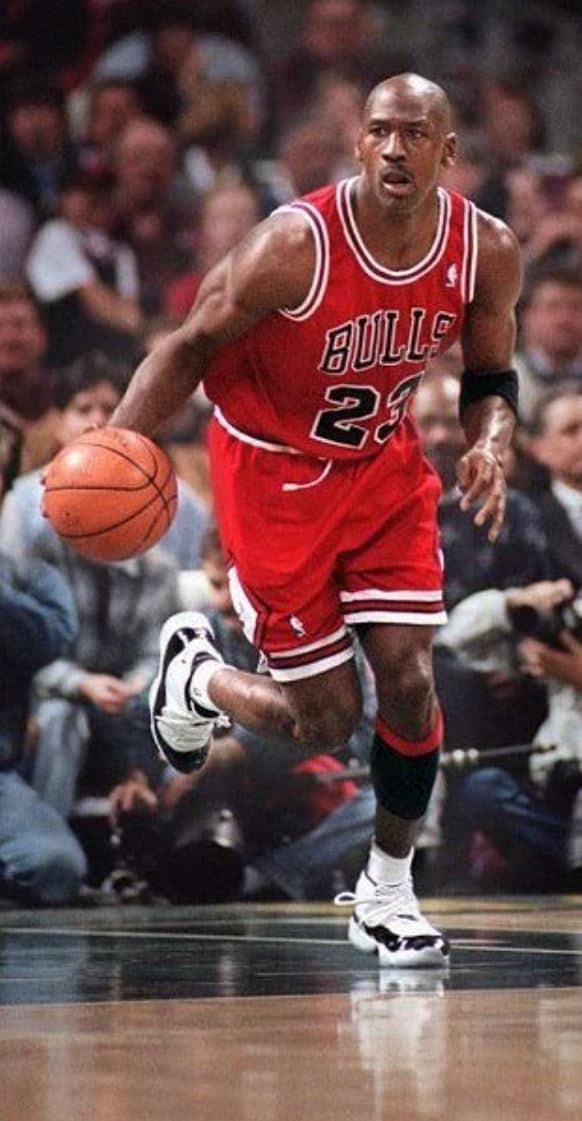 Here comes Michael. His Airness. Gliding through the air with his tongue out, wobbling. 
Michael Jordan is hailed by many to be the greatest basketball player of all time. Growing up in North Carolina and, very famously, having been cut from his school basketball team, Michael Jordan dedicated his life to the sport and became world-renowned.
He played 15 seasons in the league and won six NBA championships, never losing a series so long as he got to the finals. It's one of the most amazing feats in sports history and a key argument that so many MJ fans hold over Lebron James.
Like Bird, Jordan spent his whole career with one team, The Chicago Bulls. As mentioned, he won 6 championships with the team, winning 6 NBA Finals MVP Awards alongside them. In his 15 years, he won ten scoring titles, five NBA MB\VP awards, ten All-NBA First Team designations, nine All-Defensive First Team honors, fourteen All-Star selections, three NBA All-Star Game MVP awards, three NBA Steals Titles, and one NBA Defensive Player of the Year Award.
He's an all-around player and undoubtedly one of his generation's most heavily-marketed athletes, perhaps any generation. 
So how does he stack up against Bird?
By the Numbers
Everyone says Michael is the GOAT and that Larry bird doesn't hold a candle to him. Why has Michael never beaten Larry in the playoffs if that were the case?
You heard that right. In the 34 games played between the two Hall of Famers, Michael Jordan only beat Larry 11 times – with none of those wins coming in the playoffs. Michael got swept in the playoffs, 0-3, twice.
But that's probably a team thing, right? 
Let's pause and take a look at their numbers. Their career averages for both the regular season and the playoffs
Larry Bird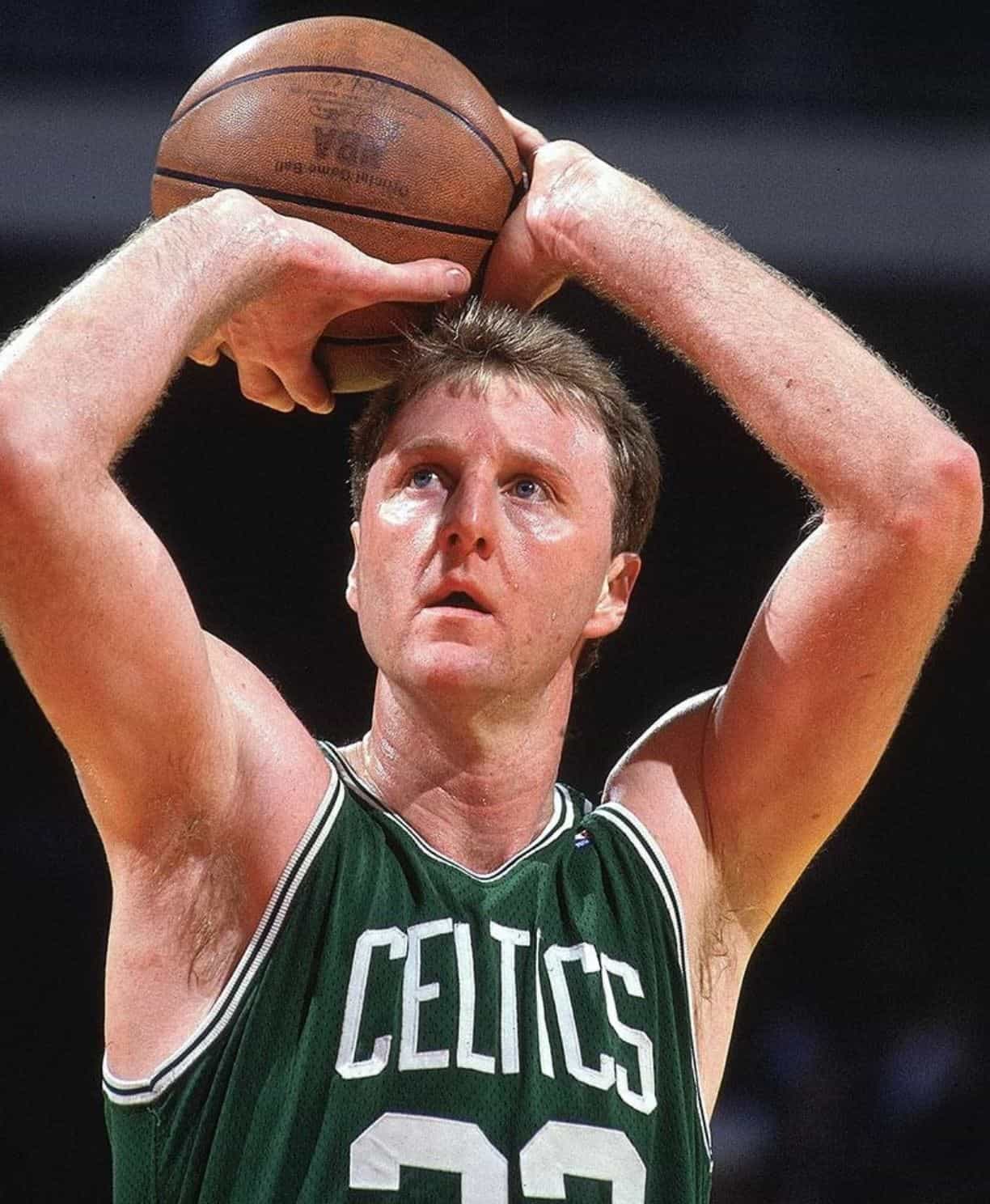 Points: 24.3 ppg

Rebounds: 10 rpg

Assists: 6.3 apg

Steals: 1.7 spg

Blocks: 0.8 bpg

Turnovers: 3.1 tov

Effective Field Goal Percentage: 51.4%fg

Free Throw Percentage: 88.6%
Michael Jordan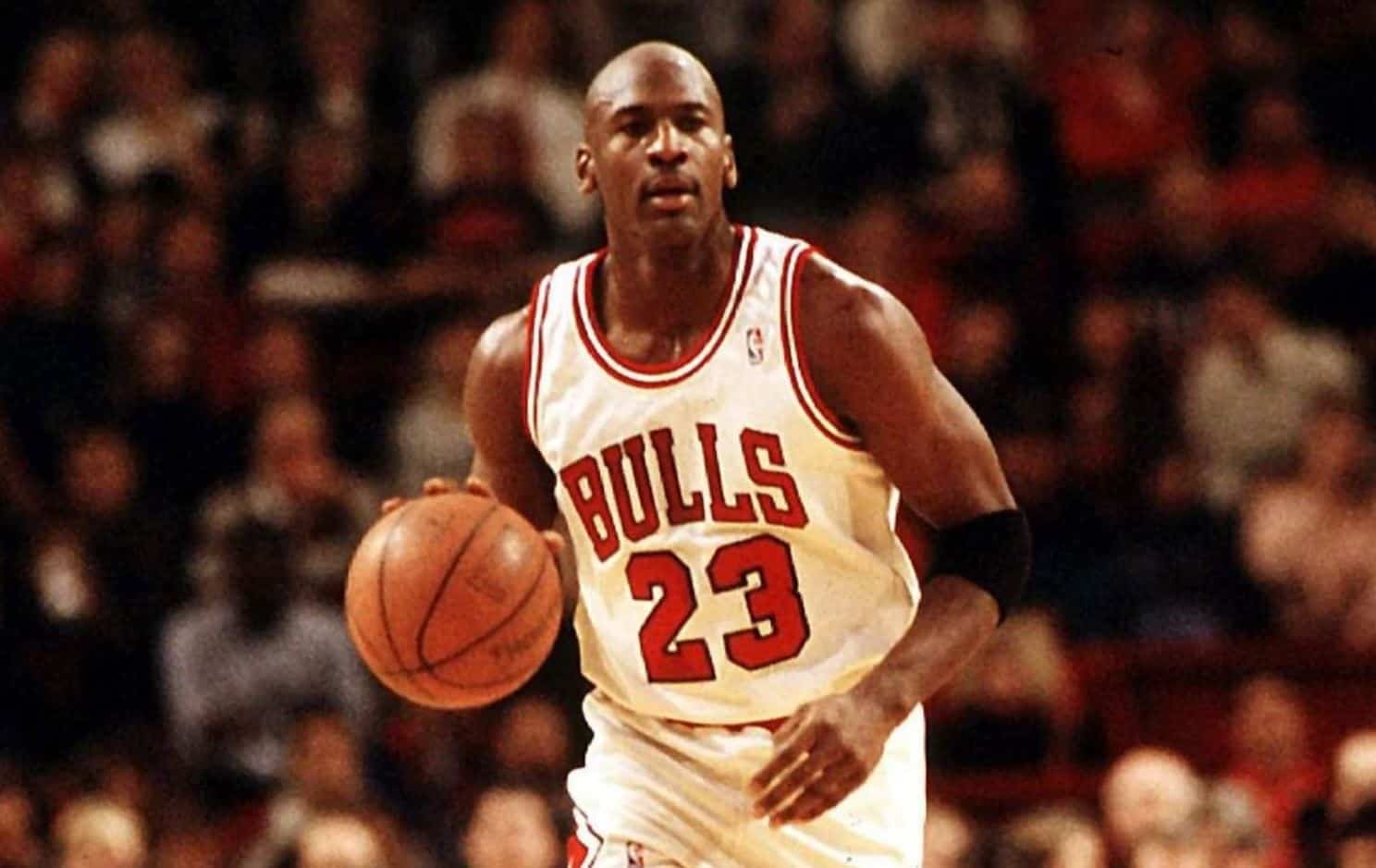 Points: 30.1 ppg

Rebounds: 5.9 rpg

Assists: 4.4 apg

Steals: 2.3 spg

Blocks: 0.8 bpg

Turnovers: 2.7 tov

Effective Field Goal Percentage: 50.9%fg

Free Throw Percentage: 83.5%fg
Comparing the Two, they were Both Superstars
Larry Bird may have more rebounds and assists, but Michael Jordan outscored the man. Jordan could do whatever he wanted as an individual scorer to the defender. These days, we praise Kevin Durant for his capability to score and average 30 points per game for a season.
Now, imagine doing that your entire career. Jordan even went up and averaged 37 points a game at some point. Let me repeat that so it may fully settle in. 
37 points a game
Michael Jordan was a prolific scorer – and judging by his accolades as a defender, he wasn't doing too bad on the defensive end either.
On the other hand, Larry Bird seemed more interested in bringing a complete game to the court. Whether that's a product of having a better, more reliable team is an argument you could make. 
But you know, what's interesting is that Bird was praised as a team player his entire career. Bird is different from other superstars in that he never cared much about scoring: how his whole schtick revolved around team play.
Larry's greatness lies in his ability to look past the statistics: to do what it takes to win, even if it means you don't get the spotlight.
But when the lights get a little brighter, we all know where the ball is going on that Celtics roster.
No matter which way you put it, Larry Bird and Michael Jordan are two phenomenal superstars. Deciding who's better, however, is a much more challenging task.
Head-to-Head Stats
One way we could do it is by looking at their head-to-head stats. Whenever they play against each other, their stats bloat.
Larry Bird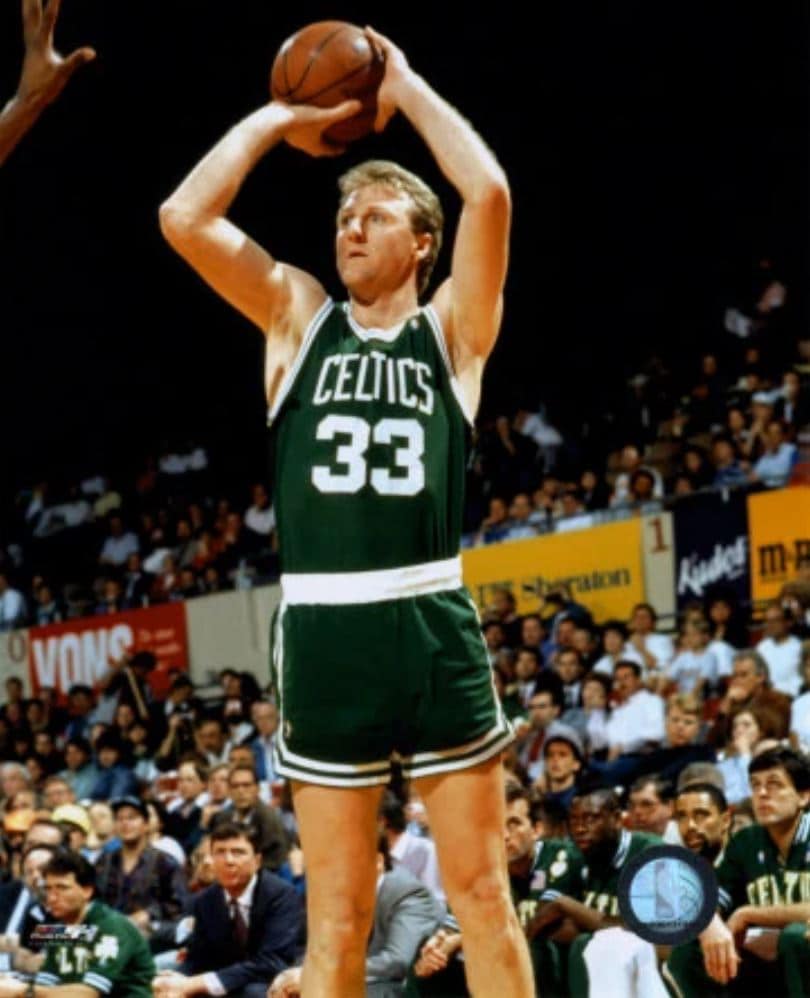 Points: 27.0 ppg

Rebounds: 8.6rpg

Assists:6.7 apg

Steals: 1.4 spg

Blocks: 0.9 bpg
Michael Jordan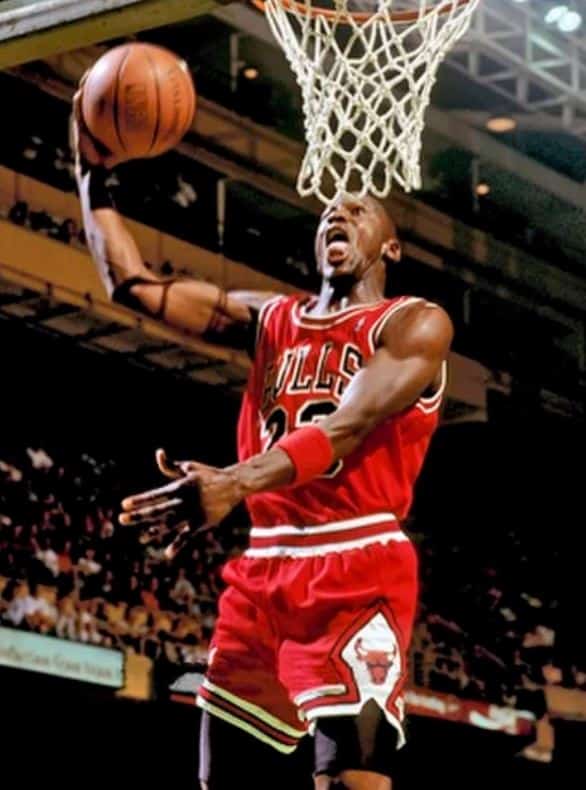 Points: 34.6 ppg

Rebounds: 6.2 rpg

Assits: 5.8 apg

Steals: 2.6 spg

Blocks: 1.2 bpg
Whenever these two play head-to-head, their statistics rise to meet the challenge, especially defensively. 
Jordan would average nearly three steals a game in his matchups against Bird. Pair that with his one block, and you'd think you were looking at the DPOY (which he was for a year). Mike was a seriously underrated defender.
On the offensive end, Michael balled out against the Celtics. He scored a career-high 63 points against Bird though Bird would out-rebound and out-assist Michael Jordan in 23 and 17 games, respectively. 
Where Michael would brute-force the ball into the hoop, Larry Bird utilized his teammates and brought out the best in them. 
The statistics prove this claim. Larry Bird is a much better all-around player than Jordan. He makes up for what he (marginally) lacks in scoring in every other aspect of the offensive end. 
Defensively, Larry Bird simply did the intangibles. He may not have been credited with the steals or blocks, but if you've ever seen him play, then you'll know that Larry had a knack for sending the offensive player any which way he wanted – often into the loving and very long arms of Kevin Mchale or Robert Parish. He was a smart defender.
Did that make him better than Michael? Not necessarily. 
Strengths and Weaknesses
We're trying to figure out who's better, right? We can't do that without going over the strengths and weaknesses of each player; let's get into it. 
Larry Bird

Larry Bird was a sensational player, and we wouldn't be comparing him to Michael Joran if he weren't. If people had any difficulty with Bird, it would have to be his athleticism. 
While the man couldn't jump out of the roof, he could do everything else from the ground. The best way to put his game is versatile. He was a polarizing figure because of the multi-faceted way he played the game. Jordan could win the game purely with his scoring, but in the very, VERY rare case that he had an off-shooting night, he'd often have trouble getting his teammates into the action. 
Larry Bird did not share the same predicament. If he was having an off-shooting night, he'd simply pass the ball or rebound better. Larry Bird could do virtually anything he wanted to do on that court. He had great instincts and could dominate without scoring – how many all-time greats do you know could do that?
Michael Jordan

Michael has a ton of pros and not many, if any, cons. Many critics would argue that 3-point shooting was a deficiency in his game, but a game against Clyde Drexler in 1992 proved otherwise. In that game, he shot a then-record six three-pointers in one NBA half. 
Safe to say, the man had no apparent deficiency. He was an exceptional defender and an even better scorer. It's not fair. In comparison to Bird, Michael was slightly worse off getting his teammates in the game as he had only averaged 4.4 assists in his career vs. Bird's 6.3 assists. 
Though when you had a symbolic bag as deep as Michael's, who could blame him? 
With Jordan, you will not find an apparent weakness in any facet of his game – even in the intangibles. He's a stone-cold assassin who does not shine away from the spotlight. 
Michael Jordan was a pure two-way player, and he could shut you down both offensively and defensively. If you add his 48-inch vertical, still the highest-recorded vertical in NBA history, how do you stop him from walking all over your team's best player? One-on-one, I don't think anyone could take on Michael, not even Shaq. The man was just different.
They Act Like Two Legends Cannot Co-Exist 
If we can't decide who the better player between the two is, we can at least know their differences.
The first part introduced Larry bird's fundamentals and team play vs. Michael's athleticism and fiery passion. Let's break down what this means in greater detail.
The Way They Approached The Game
Larry bird was a more fundamental player than Michael early on in his career. Whereas Michael would often beat players off the dribble, Larry simply broke them down with a series of pump fakes, jab steps, and passes. Even amidst the backdrop of Steph Curry's shooting, many would still argue that Larry Bird was the greatest shooter ever. The man would just destroy you without having to sprint past the defender.
On the other hand, Michael Jordan was jumping right out the gate. The man's athleticism was out of this earth. His ability to soar out of the basket and do things that were never seen before had helped take the game's popularity to the next level. I mean, the man had a 48-inch vertical. We've never seen that before in the NBA, and we likely never will.
Michael Jordan understood his athletic advantage and abused that early on in his career. But as he aged, you could see a shift in his attitude to the game. He eventually took on a more cerebral approach to the game, and understanding the angles and positioning became a core pillar in his post-up game. Eventually, he developed his patented fadeaway. Unfortunately, we never saw the same shift of gameplay in Larry Bird.
Likely because he never had to; he simply didn't play long enough to have to. His back injury, which was caused while he was shoveling gravel in his driveway, by the way, was too much for him to bear. It happened in 1985, early on in his career, but it caused problems throughout the remainder of his life.
Attitude
Larry Bird was an absolute menace on the court – but only to the opposing team.
Michael Jordan, on the other hand, was a menace to anybody, even if you were on the same team. Remember that time he punched Steve Kerr in the face? Yeah, that was during practice. Michael Jordan motivates his team to be better, even at the risk of coming off as a bad teammate.
Did this translate to better success? I suppose you could say that. I mean, the Bulls did win six championships in an 8-year stretch.
FAQs
Question: Did Larry Bird Ever Play Against Michael Jordan?
Answer: While they never played one on 1, Larry Bird and Michael Jordan played against one another a total of 34 times throughout their careers. Of those 34 games, Larry won 23, with six coming in the playoffs after having swept Michael twice. 
Question: Who is better, Michael Jordan or Larry Bird?
Answer: In a one-on-one setting, Michael Jordan would have to be crowned as better than Larry Bird. In an actual game, the intangibles become so much more important. 
Question: What did Michael Jordan think about Larry Bird?
Answer: Michael Jordan respected every aspect of Larry Bird. He respected his game, his work ethic, and, most of all, his attitude. Larry bird was an exceptional trash-talker and often liked to play mind games with his opponents. 
Conclusion
Larry Bird vs. Michael Jordan is not a debate topic often held among basketball fans. Mostly because no one usually holds Larry Bird in their top 3.
However, the comparison isn't as one-sided as many would think. Larry Bird was an exceptional facilitator and floor general. Whether that makes him a better player is entirely up to debate. 
I do know one thing. 
If I needed a leader on the floor to bring out the best in every one of my players, I'd pick Larry. If I needed someone to take over and win me the game, I'd pick Michael.