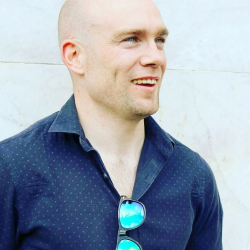 Latest posts by Joe Elvin
(see all)
Erling Haaland is regarded as one of the best young talents in world football. 
At the age of 22, he has already broken so many records for being the youngest and fastest player to reach certain goal-scoring milestones. 
Now, after signing for Premier League champions Manchester City, the world is waiting to see what he can do at the highest level. 
Let's explore how Erling Haaland became the incredible striker he is today in this extensive Erling Haaland bio. 
Erling Haaland Quick Facts
Full Name

– Erling Braut Haaland 

Birth Date

– July  21, 2000

Birth Place

–

Leeds, England

Nick Name

– The Terminator 

Nationality

– Norweigan

Siblings

– Astor Haaland (brother) Gabrielle Haaland (sister).

Profession

– Professional footballer

Salary

–

£19.5 million

Net Worth

– £9 million

Social Media –

Facebook – Erling Haaland

Instagram – @

erling.haaland

Twitter – @

ErlingHaaland

Notable Personal Achievements

Youngest and fastest player to reach 50 Bundesliga Goals

Youngest and fastest player to reach 20 UEFA Champions League Goals

Bundesliga Player Of The Season 2020-21

Golden Boy Award 2020
Erling Haaland Birthplace and Early Life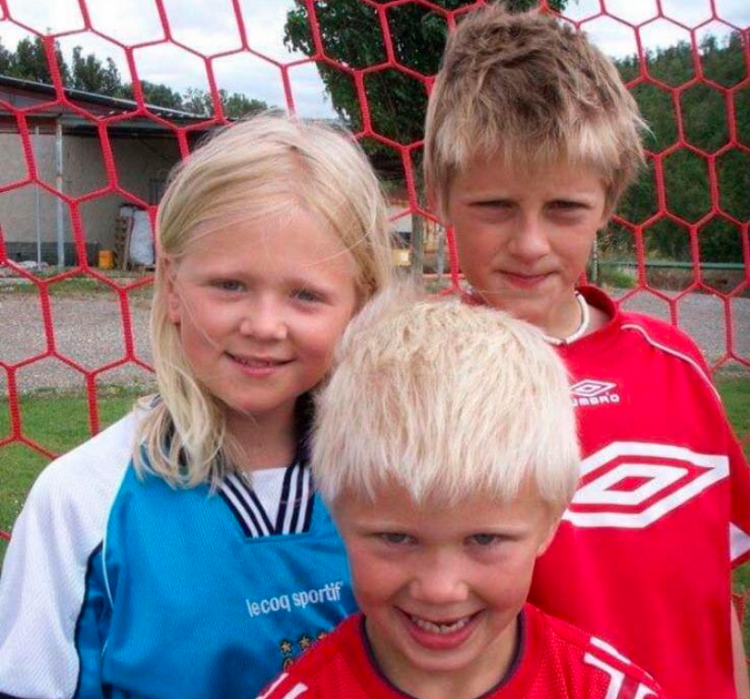 Erling Haaland was born in Leeds, England on July 21, 2000, to two extremely athletic Norweigan parents. His father Alf Inge Haaland was a professional footballer who was playing for Leeds United at the time of Erling's birth.
His mother Gry Marita Braut was a former champion heptathlete. It's little wonder then that Erling grew up to be one hell of a physical specimen himself. 
As is the case for most offspring of professional footballers, Erling was on the move whenever his father was transferred.
Before his 1st birthday, Alf Inge Haaland moved to Manchester City and took the whole family to Manchester with him. In 2001, he suffered an infamous career-halting injury following a horror tackle from Manchester United captain Roy Keane.
He barely played another game after that tackle, and that's why Erling spent most of his childhood in Bryne, Norway. 
Bryne is a tiny town with a population of around 12,000 people. It's reasonably famous for football though (in Norway, at least) because the local team Bryne FK had some notable UEFA Cup runs in the 1980s. Nowadays, they're languishing in the third tier of Norweigan football. 
Erling was a sporty kid from a young age, riding his bicycle to school every day and playing football from the age of 6.
He would soon begin training with the Bryne FK youth team and would start to turn heads soon enough, not just due to his famous father but his natural goal-scoring ability.
Having scored 18 goals in 14 matches for Bryne's reserve team, he was handed his senior debut just before his 16th birthday. 
Although he didn't score a goal in his 16 senior appearances for Bryne, he made an impression and was signed by Molde, one of the most successful clubs in the top division of Norweigan football.
Those who knew Erling at Molde report how he enjoyed an incredible growth spurt between the ages of 16 and 18. He worked closely with the club's fitness coaches to become the tall and muscular striker he is today.
Although he began his Molde career alongside the other teenagers in the youth team, it wouldn't be long until he was making an impression on the senior side here as well.      
Erling Haaland Professional Career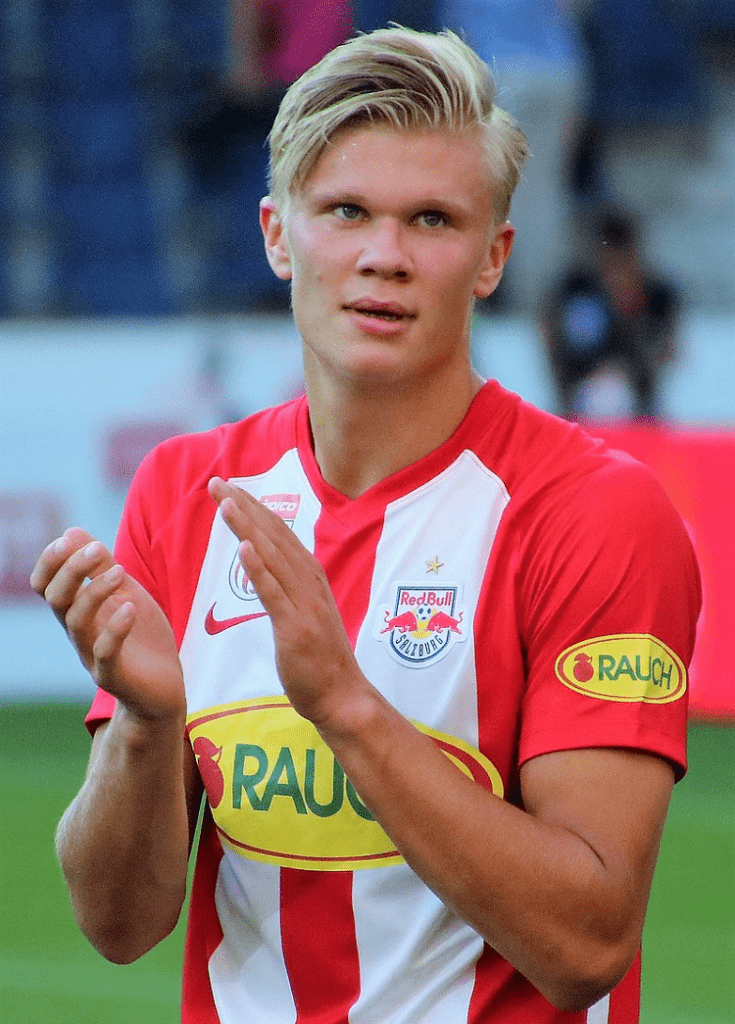 Erling Haaland has been banging in goals ever since his first-team debut for Molde – and he's barely stopped. He first appeared for the senior team on 26 April 2017 in a Norweigan Cup match against Volda TI and scored in a 3-2 victory.
He scored the winner on his league debut in June of that year, netting the winner after coming on as a substitute against Sarpsborg '08.
The next season 2017-18 was his breakthrough year. Haaland was Molde's top scorer, netting 16 goals in 30 matches and earning the Eliteserien Breakthrough of the Year award for his performances. 
Many people suggest his performance against Brann – in which he scored four goals in the opening 17 minutes – put Erling Haaland's name on the football radar. However, after this game, Molde's manager Ole Gunnar Solksjaer revealed that the club had already turned down several offers to buy the young striker. 
Haaland Leaves Norway and Lights up Salzburg
It wouldn't be long until Erling Haaland moved on to bigger and better things. In August 2018, it was announced that the teenager would transfer to the Austrian club Red Bull Salzburg on 1 January 2019.
Looking back, it was an interesting move as Austrian football is not too much of a step up in terms of glamour, wealth, and prestige to Norweigan football – and it's reported that bigger more financially enticing clubs were interested in obtaining Haaland's signature at this time. 
Still, he decided to take baby steps in his career and the plan has served him well.
He made a huge impact in his first full season (2019-20), scoring four hat-tricks in the opening eight weeks. This included one hat-trick in Salzburg's opening UEFA Champions League fixture against Belgian side Genk.
He would go on to score in Salzburg's next four Champions League group fixtures, becoming the first teenager to score in five consecutive Champions League games.
Haaland made his debut for the Norweigan national team during this season and finished with 17 goals for Salzburg in 16 appearances.
Long before the season ended, the media hype surrounding Haaland was red-hot. With all due respect, he was too much of a hotshot for the Austrian league.
There were rumors of him signing for some of Europe's elite clubs in the transfer window. Juventus, Manchester United, and Real Madrid were supposedly among the clubs that wanted him, but he ultimately decided to sign for Borussia Dortmund.
An Instant Success at Borussia Dortmund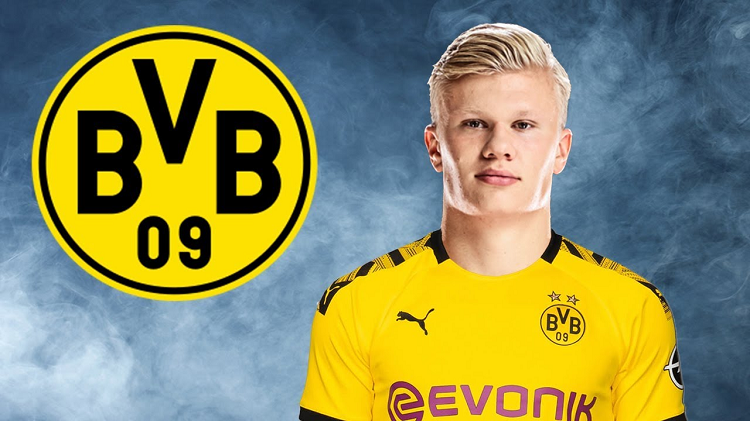 Borussia Dortmund is regarded among the best clubs in Europe for developing young talent, and so it proved to be for Haaland during the 2019-2020 season. The striker would score a hat-trick in 23 minutes on his Dortmund debut, after coming on as a substitute against Augsburg.
After the match, he said he was pleased because he only scored two in his dreams. This is a glimpse of the cheeky/arrogant Haaland we would begin to see in the media more often.
A week later, he came off the bench again to score another two against FC Koln. Then, he scored another brace against Union Berlin. A total of seven goals in his first three games. 
Erling cemented his reputation as a goal machine during his breakthrough season in the Bundesliga. He scored 44 goals in 40 appearances that season – and was beginning to draw comparisons with a robot, such was his consistency. This is why he has been nicknamed The Terminator. 
The low point for Haaland came in Dortmund's UEFA Champions League, in which they were eliminated in the last 16 knockout stage by Paris St Germain.
Erling Haaland scored both goals in Dortmund's 2-1 victory in the first leg and celebrated by sitting down in a now infamous 'Zen' meditation pose. On the eve of the return fixture, he posted a photo of this celebration with the caption "Paris Is My City". 
I think this type of shithousery is incredibly entertaining, but it backfired against Haaland on this occasion. Paris won the second leg 2-0, advancing to the quarter-finals at Dortmund's expense, and the whole team mocked Haaland by posing in the same 'Zen' fashion on the pitch after the game.
Still, despite the egg on his face, his performance in the first leg and his seemingly unlimited confidence at 19 years old was making the world talk about this young Norweigan striker.
In the 2020-2021 season, Haaland continued his goalscoring exploits for Dortmund at an astonishing rate, netting 41 goals in all competitions, including 10 in the Champions League. He was the top scorer in the Champions League that season, despite Dortmund crashing out in the quarter-finals.
These ten goals made him the youngest player to reach 20 Champions League goals in his career (20 years, 231 days). He played just 14 games in the competition for Salzburg and Dortmund to make that happen. 
Haaland did win his first silverware that season, as Dortmund lifted the DFB-Pokal cup, with the Norweigan scoring a brace in the final. He was awarded the 2020 Golden Boy award and was also voted as the 2020-21 Bundesliga player of the season. 
The 2021-22 campaign was spoiled by a range of injuries for Haaland, but that didn't stop becoming the youngest person to reach 50 Bundesliga goals in this season (21 years, 129 days).
He also broke the record for the fewest games needed to reach the milestone (50 games). He scored 22 goals in 24 games this season, but Dortmund finished runners-up in the league and was dumped out of the Champions League in the group stages.
Another amazing season individually, but somewhat of a low point in Haaland's Dortmund career. 
Haaland Signs for Manchester City
At this point in his career, Haaland was already being discussed as the best young player in the world. With Lionel Messi and Cristiano Ronaldo soon to retire, it's arguably Haaland and Kylian Mbappe who look best prepared to take their thrones as the world's best players.
The interesting thing about the 2021-22 season is that both Haaland and Mbappe were believed to be seeking new clubs. For months before the transfer window opened, the rumors were running wild about where these two prize strikers would move.
Ultimately, Mbappe remained in Paris and Haaland signed for his father's former club Manchester City. The club reportedly stumped up a transfer fee matching the release clause in Haaland's Dortmund contract, a reported £51 million.
While time will tell whether Haaland is a success at Manchester City, that fee looks like an absolute bargain when you consider his age and what the world's best players are moving for these days.   
Erling Haaland's Best Moments Caught on Camera
When Erling Haaland scored NINE goals in one game at the FIFA Under-20 World Cup
Erling Haaland's hat-trick on Dortmund debut in 23 minutes
Erling Haaland: All Bundesliga goals
Haaland scores two goals in his 2022/2023 Manchester City debut
Erling Haaland Family
Erling Haaland's family has an incredible sporting pedigree. 
Erling's father Alf Inge Haaland was a professional footballer, most well-known for playing for Nottingham Forest, Leeds United and Manchester City in the Premier League, although he started at Bryne FK as well. He earned 34 caps for Norway too.
His father now serves as his advisor when it comes to transfers and negotiations, so we've seen a lot more of him in the English media ever since his transfer to Manchester City. 
Sadly for Alf, he was more or less retired by 2001 when Erling was just a year old. This allowed him to play a greater role in raising his son to follow in his footsteps.
Erling's great uncle Gabriel Høyland is arguably the biggest legend in the history of Bryne FK. He is the club's record appearance-holder, having turned out for the team 596 times between 1970 and 1986.
Meanwhile, Erling has two cousins who both play professional football as strikers. Jonatan Braut Brunes is the same age as Erling and currently plays for Strømsgodset, having originally played with Erling at Bryne FK. Albert Tjaland is four years younger. He's currently contracted to Molde, but playing on loan at Bryne FK. 
Erling is a middle child with two siblings; Astor Haaland and Gabrielle Haaland. There's not too much known about his mother Gry Marita Braut, other than she was a successful heptathlete in the 1990s. 
Erling Haaland Net Worth and Career Earnings
In January 2022, Haaland was estimated to have a net worth of around £9 million, although that might have spiked up somewhat higher following his transfer to Manchester City.
The striker is rumored to be earning £375,000 a week with his new club, which would make him the joint-highest earner in the team.     
Erling Haaland Famous Quotes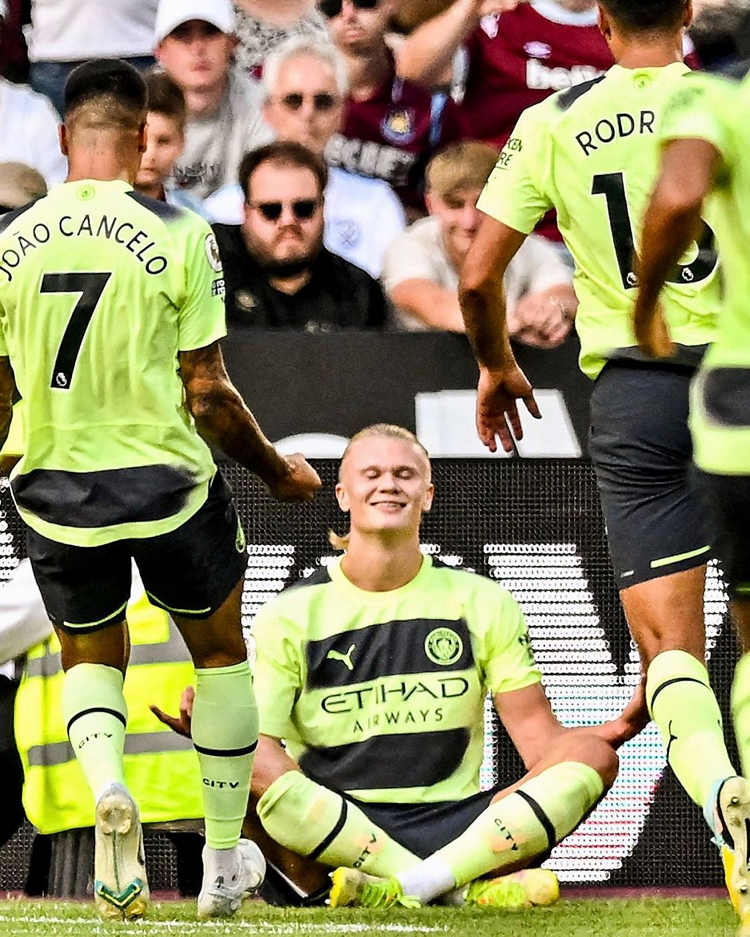 "I knew when I was young that I was good but it's also a long way to go because my dream is to become one of the best players in the world."
"The day I do an interview over one minute will be the day I quit football."
"After the match, I want to hit the showers, and crack a few cold ones with the boys – not answer questions reporters already know the answers to."
"I have five hat-trick balls in my bed and I sleep well with them. They are my girlfriends."
"For me, Zlatan [Ibrahimovic] is the biggest. He is from Scandinavia, so someone has to take over from him."
"I think I can improve everything. I miss chances with my left foot all the time. I have to improve my left foot, my right foot, my headers."
Erling Haaland Frequently Asked Questions
Question: How Tall is Erling Haaland?
Answer: Erling Haaland is 6 feet 5 inches, making him one of the tallest strikers in the Premier League.
Question: How much was Erling Haaland Bought for?
Answer: Manchester City signed Erling Haaland after matching the release clause from his Borussia Dortmund contract; a total of £51 million.
Question: Could Erling Haaland Play for England?
Answer: Erling Haaland was born in Leeds, so he would have been eligible to play for England. However, since he's already played for Norway's senior team, there's no chance of this happening now. 
Sources: