Latest posts by Marjorie Herrera
(see all)
Servando Carrasco is an American soccer player with Mexican roots who has played in the MLS in the United States for 8 years. He is a midfielder, and his professional career started in 2011 with the Seattle sounders. He has also played for Houston Dynamo, Sporting Kansas City, Orlando City, LA Galaxy, and Fort Lauderdale CF — a USL League One team.
Carrasco is mostly known for his relationship with one of the most famous athletes in women's soccer: Alex Morgan.
Servando Carrasco Quick Facts
Full Name: Servando Carrasco
Birth Date:

August 13, 1988

Birthplace

: San Diego, California

Nickname:

Mr. Morgan

Nationality:

American

Siblings:

1 – 1 sister

Children:

1 daughter

Spouse:

Alex Morgan

Profession:

Soccer player

Salary:

70.25K (2019)

Net worth:

300K

Social media:

@servacarrasco (Instagram)

Awards:

Lamar Hunt US Open Cup (2011),

Last Updated: 06/15/2021
Servando Carrasco's Birthplace and Early life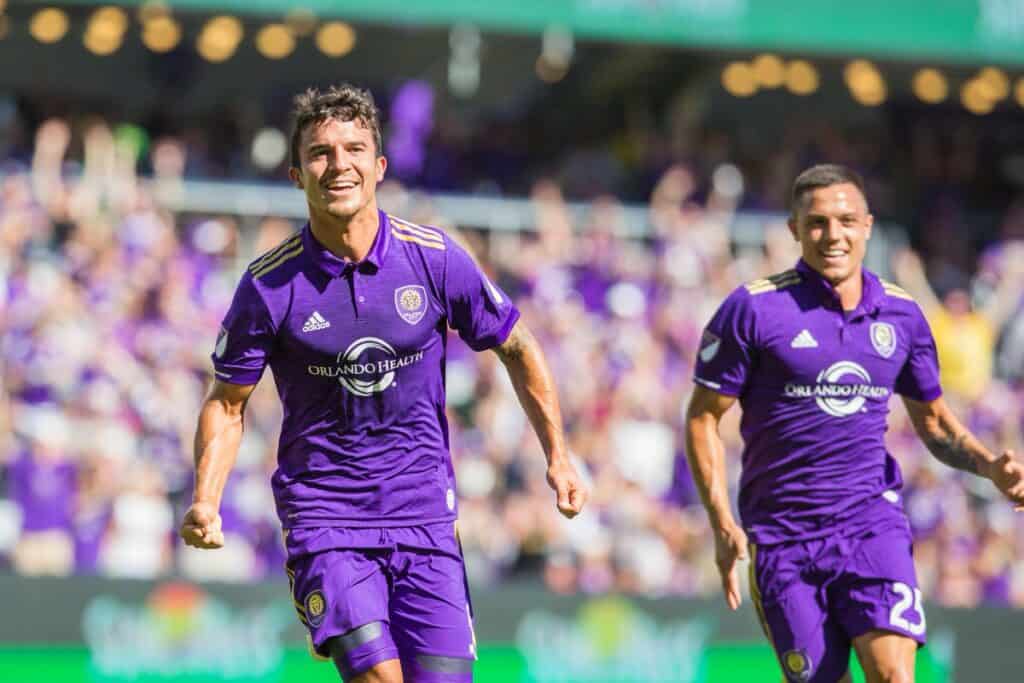 Servando Carrasco's background comes from Tijuana, Mexico. His mother, Gloria, Servando Carrasco Sr, and the rest of his family lived in this city for several years during his childhood. Striving for better education and life for his son, Gloria decided that Servando had to be born on American soil, specifically in Coronado, California.
According to an interview the Carrascos held with Joshua Mayers from the Seattle Times, Servando's early life wasn't easy. He needed to mature faster than any other kid his age, mostly due to the poor and crimeful city they lived in. Servando and his family had to endure long-daily commutes across the border and unbearable traffic to get him to school and soccer training. Soccer became an escape to the now 32-year-old American midfielder.
Servando played for St Augustine high school and for San Diego Soccer Club. He played for 10 years in the latter. When adult life came for Servando, he decided to start making a career for himself. He went to different tryouts and camps to get prepared, but due to his mother's sudden cancer diagnosis, he took a break from soccer.
But soccer found a way back to him: Through the Olympic development program and the Premier development program, Carrasco earned a scholarship from the University of California Berkeley, for which he played from 2007 to 2010. This was the scenery in which he and his tremendously successful and famous wife Alex Morgan met. He was known for his assists and his leadership skills. Even as a midfielder, he managed to score 13 goals during his time with the Golden Bears.
Servando Carrasco's Professional Career
Seattle Sounders FC
Football takes another level in Servando's life once the Seattle Sounders drafted him to play for the team from 2011 to 2013. He played for a total of 40 games. The goals were not on his side this time, as he was just able to score one — a penalty kick in June 2013 — and assisted on 1. Something every Sounders fan could miss from this player is his passing accuracy. He achieved an average of 81.8% pass accuracy during his 3 years on the team. His elegance, precision, and delicacy when passing the ball made the team have a natural flow and a very aggressive one.
Houston Dynamo
In September 2013, Seattle Sounders said goodbye to Carrasco in a trade that the team made with Houston Dynamo. The Texan team welcomed Servando until the following year came. He played in 20 games — 19 in the regular season and 1 in the MLS Cup Playoffs — but his time with the team was not as bright as he and the fans had expected.
Sporting Kansas City
Another rough patch came when Sporting Kansas City acquired his rights from Houston Dynamo in 2015. He only got to play for 9 matches before Orlando City took him under its wing in that same year.
Orlando City SC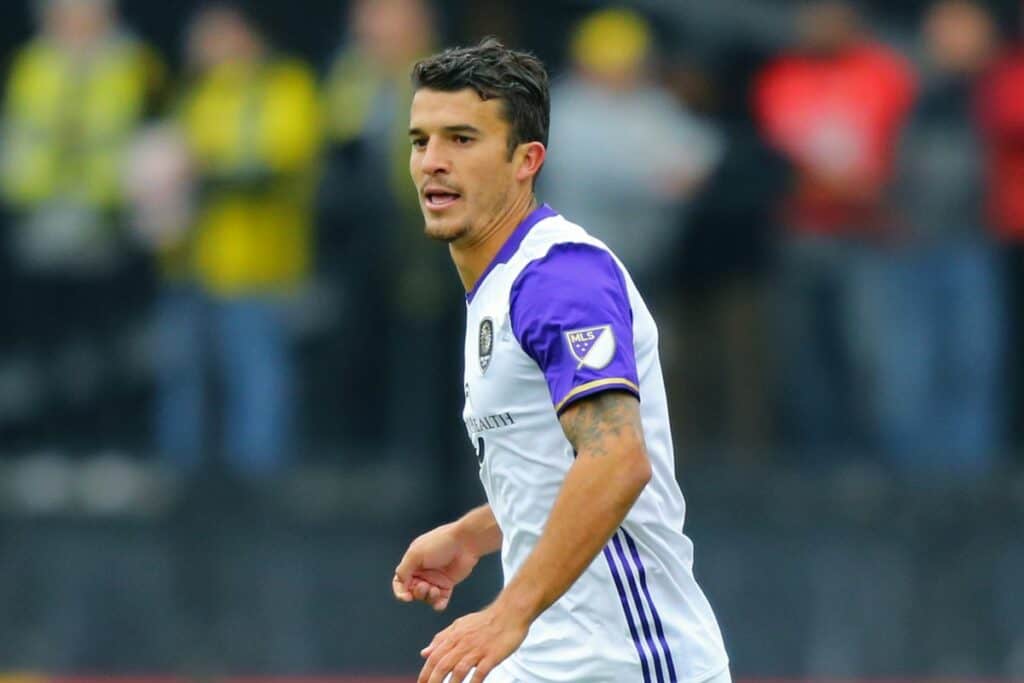 Orlando City was a better match for Servando in terms of the number of games played and pass accuracy. He started to earn the coach's trust and was a starter in 40 games out of the 58 in which he got to play for the team.  He even scored one goal, a rare header that ended up giving his team a win over the New York Red Bulls. His time on the team matched perfectly with his wife's soccer schedule. At that time, Morgan happened to play for the Orlando Pride, the women's team affiliated to Orlando City.
LA Galaxy
Eventually, The American midfielder's time in Orlando came to an end. Sigi Schmid and the LA Galaxy squad came to his rescue in 2018. Schmid had already coached Servando during his time in Seattle Sounders. The German remembered the depth the midfielder used to provide for Seattle and wanted to bring exactly that to his team.  Carrasco played for Los Angeles from 2018-2019 in a total of 36 games. He got to play alongside and even assist the Swedish sensation, Zlatan Ibrahimović.
Fort Lauderdale CF
Servando's last history with soccer was brief and uneventful. It happened in 2020, from July to December to be precise, when he was signed by Fort Lauderdale CF, the USL League One team. He played in 13 games for a total of 1118 minutes.
Servando Carrasco's Plays
Now, few Servando Carrasco's highlights during his time in Seattle Sounders. His long passes, delicacy, and stealthiness across the midfield were key to the team and his personal improvement. When Carrasco made a pass, it was certain that the play would end in an aggressive attack or goal.
Carrasco's first goal in his professional career with the Seattle Sounders: a penalty kick as cold and accurate as his passing skills in the midfield. 
No one is offside when Carrasco makes a pass. The LA Galaxy created this video with the midfielder's best appearances while playing for Seattle Sounders and Orlando City. His precision and style really made him stand out to the crowd.
Servando Carrasco's retirement and post professional
It is not entirely known if Servando Carrasco has chosen to retire from playing soccer at a professional level. After his time with Fort Lauderdale CF, he has not played for any other team.
Servando Carrasco's family: Spouse and kids
Servando Carrascos wife is widely known and especially talented womens world cup winning Football player Alex Morgan. They have known each other since their time playing college soccer at UC Berkeley. They got married in 2014 in a beautiful ceremony on the beach. His relationship to the World Cup and Champions League winner Alex Morgan is what gave birth to his "Mr. Morgan" nickname. Even though the critics and comparisons between them are hard to stand and are scattered all over social media, they keep growing stronger as a couple. Carrasco and Morgan had baby Charlie Elena Carrasco in May 2020.
Servando Carrasco's net worth and career earnings
The midfielder's net worth is estimated to be USD 300,000.00. According to the MLSPA, the democratic organization run by MLS players, his career earnings from all the seasons he played on the MLS are distributed as follows:
Team
Year
Guaranteed salary
per year
Seattle
Sounders
2011
USD 42,000.00
2012
USD 44,100.00
2013
USD 46,500.00
Houston
Dynamo
2014
USD 48,825.00
Orlando City
2015
USD 85,375.00
2016
USD 99,625.00
2017
USD 114,996.00
La Galaxy
2018
USD 67,500.00
2019
USD 70,250.04
Total
USD 619,171.04
No information regarding his salary was found for his brief moment with Fort Lauderdale CF. Since Carrasco keeps his affairs quite private, there is nothing certain known about his professional future since his last team.
Frequently asked questions
Question: Does Servando Carrasco still play soccer?
Answer: Servando Carrasco currently has no team, and it is not entirely known if he will continue to play soccer at a professional level. His last team was Fort Lauderdale CF, from the USL League One.
Question: How much does Servando Carrasco make?
Answer: Servando Carrasco made an average of USD 68,796.78 per year —taking into consideration his professional career in the MLS from 2011 to 2019. His lowest salary was USD 42,000.00 — when he started playing for the Seattle Sounders in 2011 —and his highest was USD 114,996.00 — in 2017 when he played for Orlando City.
Question: Where is Servando Carrasco from?
Answer: Servando Carrasco is American, born in San Diego, California. His family comes from Tijuana, Mexico.
Question: Does Servando Carrasco speak Spanish?
Answer: Servando Carrasco speaks Spanish since he has a Spanish-speaking family and spent most of his childhood in Tijuana, Mexico. He is even interviewed in Spanish sometimes.
Question: What team does Servando Carrasco play for?
Answer: Servando currently has no team, but he has played for Seattle Sounders, Houston Dynamo, Sporting Kansas City, Orlando City, LA Galaxy, and Fort Lauderdale CF.
Question: How tall is Servando Carrasco?
Answer: Servando Carrasco is 5'11" (1.8 m)
Question: What number is Servando Carrasco?
Answer: Servando Carrasco usually gets #5 on all his shirts.
References
Continue reading related bios of soccer personalities: