Latest posts by Matthew Du
(see all)
Any NBA fan would know Kevin Durant and Scottie Pippen. Comparing teams and players from different eras have always been a hot topic in basketball.
Is it Jordan or Lebron? Is it Jordan and his Bulls or Steph and his Warriors?
No matter, today we'll be directly comparing two key components of the 90's Bulls and 2016 Warriors: Scottie Pippen and Kevin Durant.
Let's get right into it.
Bottom Line Up Front
Scottie Pippen and Kevin Durant are two talented players who dominated different court sides. Whereas Scottie Pippen was one of the NBA's greatest defenders, Kevin Durant is a transcendent offensive talent. As a leader, I'll have to give a slight edge to Scottie Pippen, though that remains debatable.
Regarding their overall impact on the game, I have to give Kevin Durant his roses.
Main Differences Between Kevin Durant and Scottie Pippen
Here are the main differences between Kevin Durant and Scottie Pippen:
Kevin Durant is more offensively-inclined, whereas Scottie Pippen shines brighter on defense.
Kevin Durant requires the ball to create impact, whereas Scottie Pippen can impact the game with or without the ball.
Kevin Durant is a transcendent offensive talent, and Scottie Pippen is one of the greatest defenders the world has seen.
Kevin Durant
Kevin Durant was born in Washington, D.C., but grew up in Maryland. Throughout his entire high school career, much of what separated Kevin Durant from his peers was his length. Before his senior year, Durant would grow 5 inches before the start of the season and begin the year as a 6'7″ small forward.
Looking back, Kevin Durant must have been considered the first coming off a basketball unicorn, the nickname for players with a unique blend of size, skill, and athleticism. It's the player archetype that NBA fans and management have obsessed about for the past decade – and Kevin Durant was arguably the first.
High School and Draft
At his draft combine, Kevin Durant stood at 6'9″, 215 lbs with a 7'4.75″ wingspan and a standing reach of 9'2″ inches. You can imagine how tall and skinny Durant must have appeared to GMs and scouts as he stood as tall as many power forwards while only weighing as much as a guard.
When the draft time came, Kevin Durant was selected second overall behind Greg Oden. At the time, Oden was considered a can't-miss prospect – someone similar to Dwight Howard or Shaquille O'neal all those years ago. He was a talented big man on the defensive end with an NBA-ready body that league officials believed would translate to an offensive skillset in the post.
Kevin Durant was tall and lanky. Sure, he was an offensively skilled debut though not many teams were sold on his being a great offensive player.
Career
Kevin's career would prove the doubters wrong. Kevin would win Rookie of the Year after averaging 20.3 points, 4.4 rebounds, and 2.4 assists for the Seattle SuperSonics (remember that team?). His coming out party would come a couple of seasons later as he would appear at his first NBA finals as a member of the Oklahoma City Thunder in the 2011-2012 season.
The rest of the decade would see Kevin Durant's rise to stardom. He'd win the MVP with the Thunder for the 2014 season, winning two NBA championships and two Finals MVPs with the Warriors from 2017 to 2019.
He'd cap off the decade by signing with the Brooklyn Nets alongside Kyrie Irving and James Harden.
This season, Durant looks to chase for his third ring alongside Kyrie Irving and Ben Simmons, though rough waters continue to rock the ship as the Brooklyn Nets started the season with a 5-7 record.
Kevin's Keys
Many would agree that Durant is the most prolific scorer the league has ever seen. It's challenging to argue against this, given everything he's done throughout his career.
He's currently 19th on the NBA All-Time list with 25,896 points in only 951 games. Everyone ahead of him has at least 1000 games played, so it's not too far-fetched to imagine Kevin Durant ending up at least 5th on the NBA All-Time Leading Scorers List, ahead of the likes of NBA legends Dirk Nowitzki, Wilt Chamberlain, and Shaquille O'Neal.
From an offensive perspective, he can do everything offensively to put the ball in the rim. His 3-point shot is lethal and almost unblockable. His release point is more than 11+ feet in the air when he rises for a three. Not many guards could reach that from a triple-threat position.
When against a big man, Kevin Durant has the agility and handles to beat him off the dribble. Whereas he initially had problems coming into the league when it came to dribbling to his left, he worked on it till he had virtually no issues. Here's Kobe repeating the same thing:
But that doesn't mean that KD is even so good at creating separation most of the time that he can shoot over virtually anybody. He understands his rhythm and uncanny ability to get the ball into his shot pocket for the pull-up.
Defensively, Kevin Durant is no slouch. Though we may expect more from a guy with his body type: long and agile, he's definitely above average on the defensive end. He has the potential to be better, but you'll hear no complaints during crunch time, as we've seen him come up defensively time and time again.
KD's defense may sometimes go overlooked, but that's likely because we expect guys with his build to be much more defensively talented than he is.
Scottie Pippen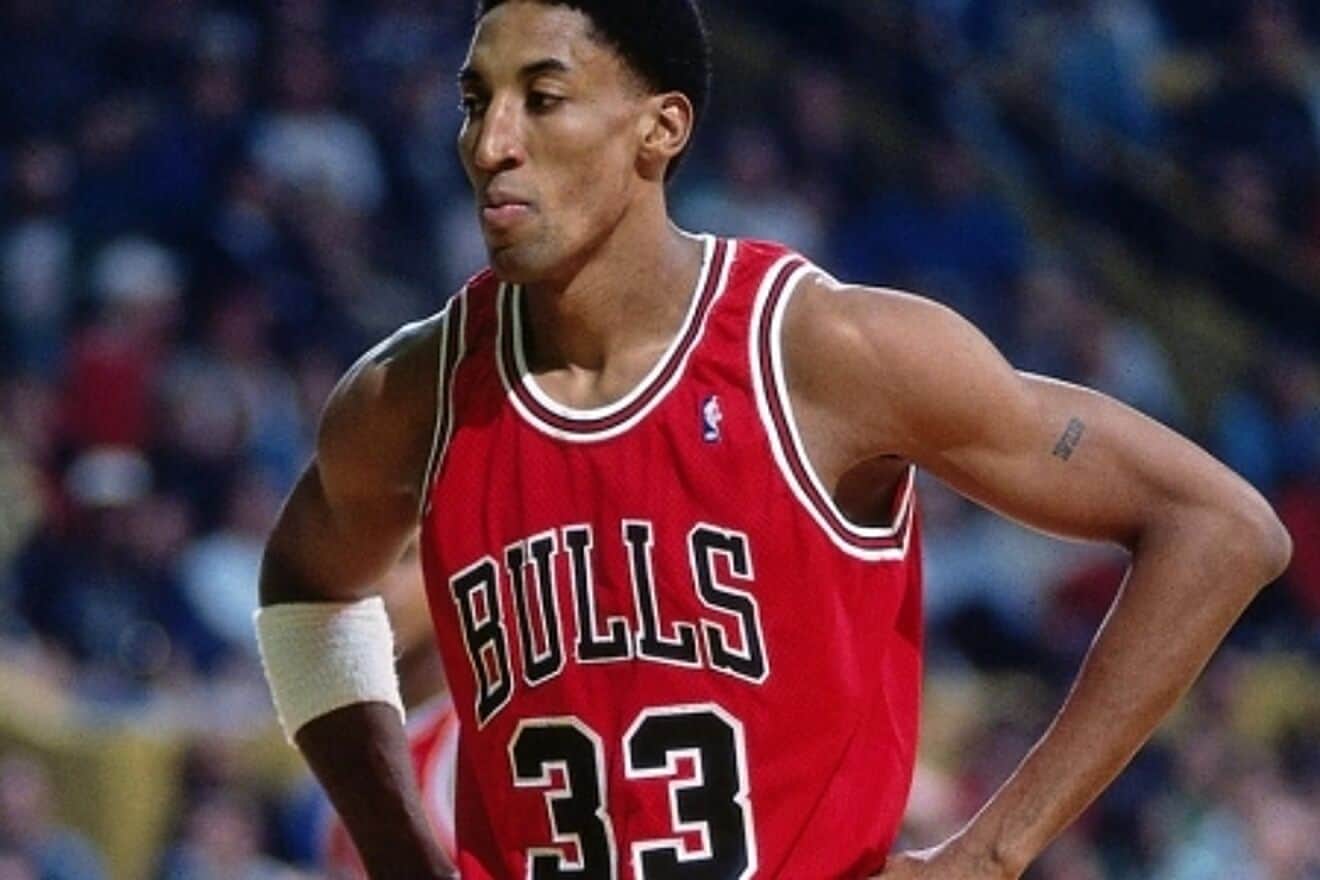 Scottie Pippen is arguably one of the best two-way players ever graced the NBA hardwood. Scottie Pippen often orchestrated the offense like a point guard and has the defensive versatility of a small forward, all while having the scoring prowess of the best shooting guards.
High School, College, and Draft
Entering his sophomore season, Scottie Pippen stood 6'0″ and would leave a 6'1″ senior. Nothing impressive. Not much was known of his statistics as a high school prospect, likely because there weren't many colleges interested in Pippen. Entering college at the University of Central Arkansas, a scrawny Pippen would stand as a 6'3″ point guard, which is very likely where he would learn to control the game's tempo as a playmaker.
Pippen would continue to grow throughout his college career until he'd left a 6'7″ point guard. In his senior year, Pippen averaged 23.6 points and 10.0 rebounds.
His height and build drew attention from the NBA's top scouts despite his apparent lack of basketball talent, and the Bulls would draft Pippen in 1987 with the 5th pick.
Looking back at his story, Pippen's growth spurt honestly closely resembles that of Giannis Antetokounmpo. Both extremely athletic players who NBA teams took a chance on purely because of their potential. The result? Rings.
Career
Pippen would play much of his 17-year career with the Chicago Bulls. Often referred to as Michael Jordan's right-hand man, Pippen would come in and fill in any gaps required by the team.
Throughout his career, Pippen would always be regarded as a top-10 player. His game then would closely resemble that of Kawhi Leonard's today if Kawhi Leonard was a better playmaker.
His best season would arguably come in the Bull's 1992 run for a second championship title as he averaged 21.0 ppg, 7.7 rpg, 7.0 apg, 1.89 steals, and 1.13 blocks per game. If you played fantasy basketball during this time, these stats would have you drooling.
By his retirement, Scottie Pippen would be a 6-time NBA Champion, 7-time NBA All-Star, a 1-time NBA Steals Leader, and named to 8 NBA All-Defensive First Teams.
Scottie Pippen was an underrated talent – likely because he would spend most of his career playing under the shadow of Michael Jordan.
Scottie's Keys
As an offensive talent, Scottie is much more similar to Lebron than Jordan. He's a tall forward capable of bringing the ball up the floor, keeping his head on a swivel, and finding the best option for his team.
When compared to Kevin Durant, I would say he is a much more fundamental player, like Lebron. He's not the best shooter, not the best one-on-one scorer, nor is he the best post player. He's exceptional at everything but a master at nothing. He can't pull up the same way Michael or Kevin Durant can, but he can finish through contact. One of his career highlights, after all, is a vicious slam over Patrick Ewing in 1994. It's often touted as one of the most disrespectful dunks to have ever been thrown down.
As a basketball fan, watching Scottie Pippen play is like watching the game in its purest form. He does everything he's supposed to, whether on offense or on defense.
The defensive end is where Scottie Pippen shines. He's long and athletic. Pippen would average 2.9 steals every 100 possessions for his career, and he did all that while staying in front of his man. Night in and night out, Pippen could guard the opponent's best player and shut them down for 15 points while scoring 20-25 for himself on the other end.
By The Numbers

Take note that Kevin Durant's career is still ongoing, and some would even argue that KD is still in his prime. As such, his statistics may be higher than expected – though it'd be hard to imagine KD's career scoring average falling to the high teens.
Looking at the numbers, we can see a wide disparity between Kevin's and Scottie's offensive prowess. KD is more of a pure scorer with better efficiency, whereas Scottie is a better facilitator for his team, as seen by his greater assists.
Pippen is a much better defender than Kevin Durant, as he averaged 2.0 steals per game throughout his entire career. Despite Kevin Durant having more blocks, the difference is rather negligible.
Pros and Cons
Kevin Durant

Strengths

Weaknesses

Automatic From Anywhere

High Dribble

Length

Off-Ball Movement

Athleticism

 
Kevin Durant is a transcendent NBA player. He can score from virtually anywhere on the court, and no one defender can really stop Kevin Durant on the offensive end (anyone who says he can, is lying).
His one weakness (if you could even call it that) is his high-dribble. This allows smaller players with quick hands to reach in and pick their pockets. Guys like Tony Allen and Andre Iguodala abused this fact and used it to force turnovers.
His off-ball movement is something that leaves something to be desired as well. As great of an offensive talent, as he is, he's a ball-dominant player and isn't known for his ability to make plays for others and himself through off-ball screens in the same way that guys like Curry and Klay Thompson can.
Scottie Pippen
Strengths
Weaknesses

Versatile Athleticism

3 Point Shooting

Best Defenders

 

Underrated Playmaker

 
On the other hand, Scottie Pippen is better known as a two-way player rather than an offensive talent. Think of him as an upgraded version of Kawhi Leonard. He's a versatile athlete who's proven himself time and time again as one of the NBA's best defenders.
Of course, a lot of his talents were overshadowed by Michael Jordan. With Basketball Jesus on his team, Scottie wasn't tasked with carrying a huge offensive burden in the same way that guys like Kevin Durant are.
That doesn't take away much from Scottie Pippen anyway, as you could see his playmaking ability shine in MJ's absence.
It's hard to point out any weaknesses in Scottie Pippen's game, but if you had to: you'd likely look toward his three-point shooting. It's not that much of a weakness, as he shot 32.6% from the three throughout his entire career. For context, Damian Lillard is considered one of the best shooters and has a career shooting percentage of 37.3%.
This is actually an interesting statistic to consider, given that during his time, the three-pointer was not revered the same way it is in today's game.
Whether this adds to or takes away from his game, it's up to critics to decide.
FAQs
Question: Is Scottie Pippen one of the greatest of all time?
Answer: Scottie Pippen is one of the greatest defenders we have ever seen. As a nominated member of the NBA's 75th-anniversary team, there's no doubt that Scottie Pippen should be considered one of the greatest of all time.
Question: Is Scottie Pippen better than Kevin Durant?
Answer: Scottie Pippen is better than Kevin Durant on the defensive end – no doubt about it. Offensively, Kevin Durant is much better than Scottie Pippen. As a leader, there is a genuine argument for both, but Scottie Pippen has to be given a slight edge here, given his history as a facilitator.
Question: Was Scottie Pippen a Top 5 Player in The 90s?
Answer: There were many great players in the 1990s, so it'd be hard to place Scottie Pippen as one of the top 5 players for the decade with players like Shaquille O'Neal, Hakeem Olajuwon, John Stockton, Karl Malone, Chris Mullin, Reggie Miller, David Robinson, Patrick Ewing, and Clyde Drexler all dominating the hardwood.