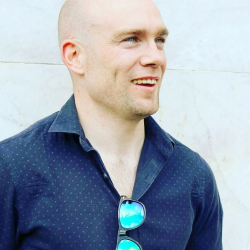 Latest posts by Joe Elvin
(see all)
Christian Eriksen is a Danish footballer and arguably one of the most talented of his generation. 
Infamously, his most famous moment on a football pitch came when he suffered a cardiac arrest in the middle of a Euro 2020 match for Denmark against Finland.
That would discredit his wonderful footballing talent though. He has been a key player for every club team he's played for, as well as his native Denmark.
Eriksen has continued to revel in the Premier League since this incident where the footballing world feared for his life.
So, let's explore the highs and lows of his career in this extensive biography.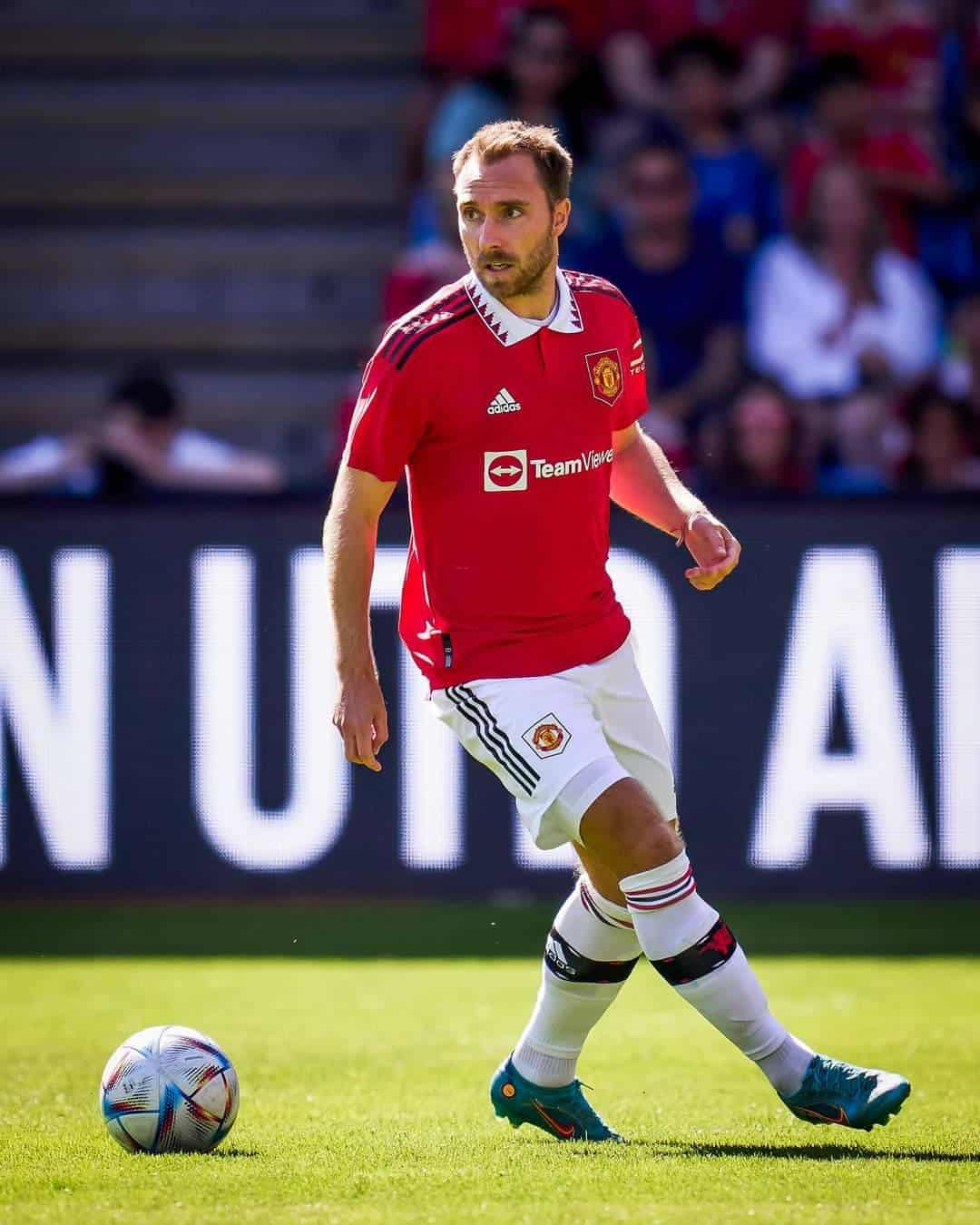 Christian Eriksen Quick Facts 
Full Name:

Christian Dannemann Eriksen

Birth Date:

February 14, 1992

Birth Place:

Middelfart, Denmark

Nationality:

Danish

Partner:

Sabrina Kvist Jensen

Profession:

Football player 

Social Media:

 

Facebook /ChrEri8 

Instagram @Chriseriksen8 

Twitter @ChrisEriksen8 

Notable Personal Awards:

5x Danish Footballer Of The Year, 

2017 PFA Premier League Team of the Year
Christian Eriksen Birthplace and Early Life
Christian was born on February 14, 1992, in Middelfart, Denmark. His parents are Dorthe Eriksen and Thomas Eriksen, who have always supported his dreams of becoming an incredible and world-famous football star. He started playing football at the tiny age of three years old, where he would compete with his sister Louise Eriksen around the house. 
Indeed, his sister would grow up to adore football as much as he did. She now participates in women's football in Denmark. This shows the power of passion and dedication for your hobby from a very young age.
Anyway, Christian would compete soon enough in youth football for a club called Middelfart G&BK. Here, he would build his talent and would soon attract attention from scouts of various clubs.
In 2005, he was signed on a youth contract to train with the Danish club Odense Boldklub.
Then, at the age of 16, he left Denmark to live in Holland and play for the Ajax Amsterdam youth team. 
At this time, Ajax may have had the best reputation in the whole of Europe for developing youth players into world-famous professionals. So, it made a lot of sense for a young Christian to make this decision.
Still, it says a lot about his character and ambition at this early age that he was willing to leave his friends and family to pursue his dream at just age 16.
Eriksen has listed creative midfield superstars such as Zinedine Zidane, Ryan Giggs and David Beckham as his childhood idols. Indeed, it wouldn't be long until he was competing on the same level as these global midfield superstars.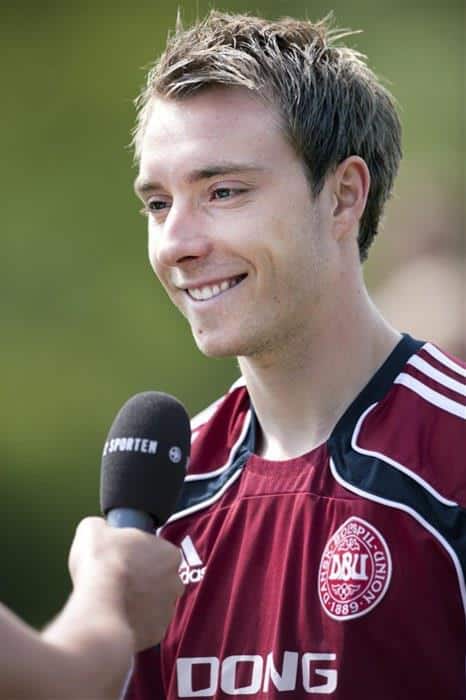 Christian Eriksen Professional Career
After two years on their books as a youth player, Eriksen signed a professional contract and made his full debut in January 2010 in a 1-1 Eredivisie draw against NAC Breda. He featured regularly for the rest of the season, appearing in 21 matches and scoring one goal in a 6-0 Dutch Cup thrashing of Go Ahead Eagles.
It's rare for a teenager to remain in the team so consistently for a top club like Ajax, who went on to win the Eredivisie that year, but Eriksen earned his place. He even earned his first cap for Denmark that season in a friendly against Austria, making him the fourth youngest international – and impressed enough to land a spot in Denmark's 2010 World Cup squad.  
The 18-year-old Eriksen was the youngest player in the 2010 FIFA World Cup in South Africa and made three appearances from the substitutes bench, but couldn't stop Denmark from crashing out in the group stages.
Eriksen would continue to be a key part of Ajax's squad for the next two seasons, helping the team earn two more Eredivisie titles. In his first three seasons, he racked up 113 club appearances and 25 goals, while also becoming a star of the national team. That's what you call bursting onto the scene. Eriksen would star for Denmark again in Euro 2012, but couldn't prevent the team from crashing out in a difficult group stage once again.   
Eriksen Signs for Spurs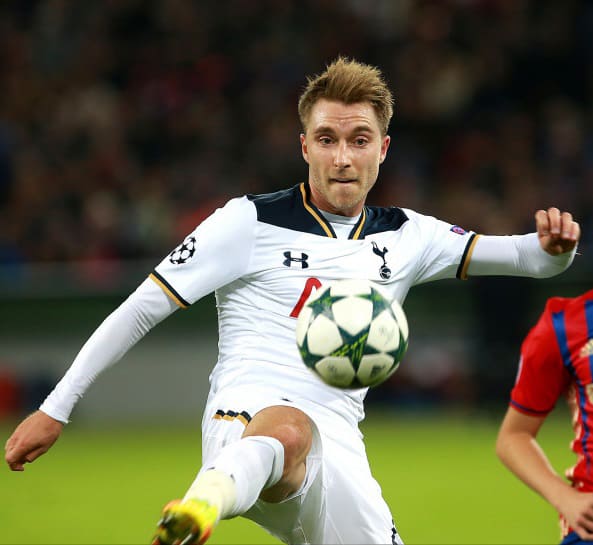 In 2013, he made an £11 million switch to Tottenham Hotspur to start playing in the Premier League, notching ten goals and 13 assists in all competitions. Once again, he burst onto the scene immediately despite a somewhat difficult season for Spurs that saw manager Andre Villas-Boas sacked. Once again, Eriksen received the Danish Footballer of the Year award for his efforts this season. 
In 2014-15, it's fair to say Eriksen established himself as one of the most consistent creative midfielders in the league. Mauricio Pochettino took the job as Spurs manager and managed to get the best out of the Dane. This was Harry Kane's breakthrough year at Spurs, in which he bagged 24 goals.
Many of these were assisted by Eriksen and the Dane picked up 12 goals himself. Spurs finished 5th in the Premier League and were runners-up in the League Cup, but there was a lot of optimism as far as the team that Pochettino was building. 
That summer, there were rumors that Manchester United wanted to poach Eriksen just as they had done for many of Spurs' best players in the past. However, this paper talk didn't last long, as the Dane quickly came out and said that he would stay at Tottenham because he felt good and did not even think about leaving. This helped build his reputation as a fan favorite, for sure. 
In 2015-16, Spurs defied all expectations by coming closer than ever to winning the Premier League. With Harry Kane banging in the goals and Eriksen running the midfield, it looked like the title could be coming back to Tottenham for the first time since the early 1960s.
In a season where all the big guns underperformed, Spurs were competing with huge underdogs Leicester for the Premier League trophy. In the end, though, Spurs fell short at the last hurdle and couldn't even claim the runners-up spot. They finished 3rd behind Arsenal in 2nd, while Leicester claimed the championship.  
Despite that disappointment, Spurs were going somewhere under Pochettino. This team would become Champions League regulars and develop a consistency in the Premier League which had never been witnessed before. The team finished runners-up in 2016-17, although never truly challenging the champions Chelsea. Crucially though, they finished above Arsenal for the first time in 22 years. Eriksen chipped in with 12 goals this season. 
Eriksen would add another 14 goals in 2017-18, where Spurs would finish third (and above bitter rivals Arsenal again). Then in 2018-19, Spurs and Eriksen would come within a whisker of lifting the greatest club trophy on offer; the Uefa Champions League. Spurs surprised everyone by reaching the final of the competition, but they were well beaten in the final by Liverpool 2-0.
As a consolation they finished fourth to qualify for the tournament again, once again finishing above Arsenal to deny them a spot. Eriksen contributed 10 goals this season.  
Inter Milan and a Heart Attack on the Pitch
Tottenham began the 2019-20 season poorly, suffering a hangover from coming so close to Champions League glory. This resulted in Pochettino losing his job and being replaced by Jose Mourinho. This was the last season on Eriksen's Spurs contract – and the Dane would agree on a move away from London in the January transfer window.
Eriksen claimed that he wanted a new challenge and he found a satisfying one by moving to Inter Milan for a reported transfer fee of £16.9m. In his opening interview, the Dane said he was excited to play for manager Antonio Conte and compete for the Serie A title, as Inter were just three points behind leaders Juventus at the time.
Inter would only finish runners-up in Eriksen's first season, but they went one step better the following year, with Eriksen providing assists for the likes of Romelu Lukaku and Alexis Sanchez to bang in the goals.  
However, Eriksen's career and life would be threatened during the Euro 2020 tournament. In Denmark's opening game against Finland, 
Eriksen collapsed on the field shortly before the end of the first half. It was immediately clear that something was wrong. It was a terrifying moment for Eriksen and his teammates. Danish captain Simon Kjaer was the first teammate to run toward Eriksen and potentially saved his life. He was quick to check Eriksen's pulse, stabilize him on his back and make sure his tongue was not blocking his airways.
The medical team then ran onto the scene to give CPR to the midfielder, while the Danish players surrounded him to give him as much privacy as possible. Kjaer and the Danish medical team would later receive the 2021 UEFA President's Award for their quick thinking in these desperate times.
Kjaer was spotted comforting Eriksen's wife during these stressful scenes. This incident shook the world and the game was abandoned. Thankfully, news quickly spread that Eriksen was going to be OK, although there were severe doubts whether he'd play football again. 
Christian was hospitalized at 29 years old because he suffered a cardiac arrest. He had heart surgery where he was given an implantable cardioverter defibrillator, a device with the function to detect an abnormality in the patient's regular pulse. The device sends a shock proportional to the stimulus that the heart needs to return to stabilize.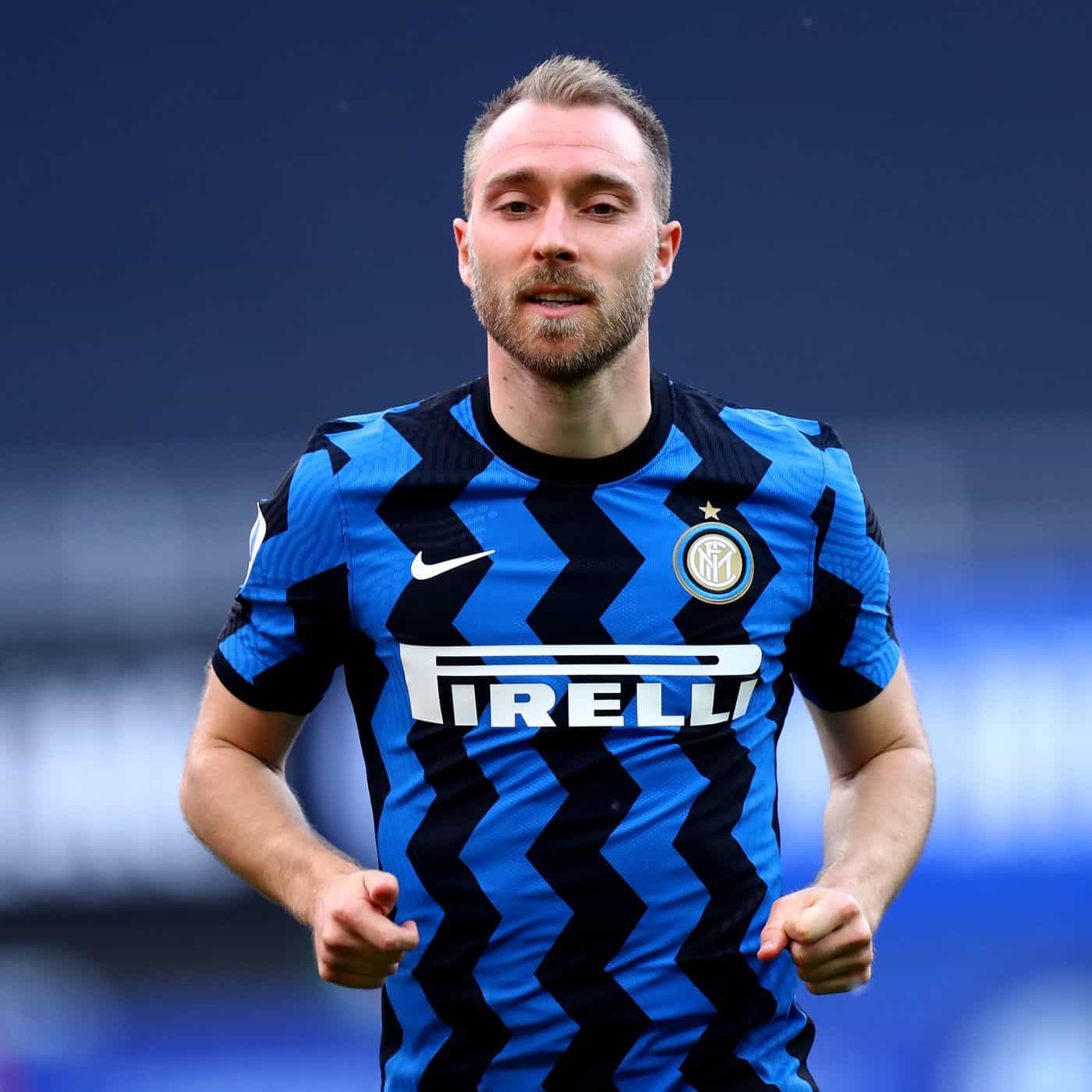 Eriksen Returns to the Field
Inter Milan canceled its contract with Christian after the incident at the European Championship because Italian football laws did not allow any athlete to compete with an ICD. However, he would continue training at Ajax in Amsterdam until he found a new club. He said at this time that his goal was to play in the Qatar 2022 World Cup with Denmark, 
Ajax was delighted to have Christian training with them again. 
At the time, Ajax subsidiary coach John Heitinga said: "Christian is an example for other boys, a source of inspiration for the youth to improve." 
It was Brentford that would eventually take the gamble on Christian Eriksen, as no such laws were preventing Eriksen from playing in England. The small West London side would hire Christian Eriksen on a six-month contract, to aid their battle to stay in the Premier League. It required a cardiologist to declare him fit for enrolment, but he was granted this and passed the medical at Brentford.
This was a gamble that paid off for both parties. Brentford survived in the Premier League that season and Eriksen's performances in midfield played an instrumental role in keeping the Bees up. Not only that, but he scored two minutes into his return to the Danish national team, bagging a goal with his first touch after appearing as a substitute in a friendly against The Netherlands. This was just nine months after he was fighting for his life. If this was a Hollywood script, surely nobody would believe it.  
Brentford was keen to re-sign Christian Eriksen after his six-month contract expired. However, as a free agent, he was free to speak to other clubs and instead opted to sign for Manchester United. 
This was a clear step up for Eriksen, although some in the media questioned whether Eriksen should have remained loyal to Brentford for taking a chance on him when no other clubs would. The opposite argument says that Brentford should have offered him more than six months if they didn't want to lose him. I'm pretty sure Brentford wouldn't have remained loyal if he had failed to replicate his amazing form during that initial six-month period. 
Anyway, it's an exciting time for Christian Eriksen as he prepares for a new season at Manchester United. Still just 30 years old, he has time to try and replicate the achievements of his childhood heroes Ryan Giggs and David Beckham in the United midfield. At the very least, he'll be hoping to continue his good form at the start of the 2022-23 season, so he can meet his goal of representing Denmark at the 2022 World Cup.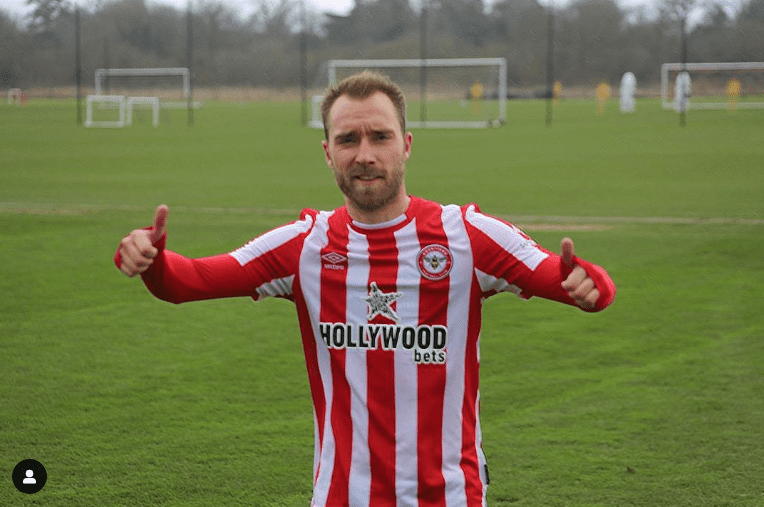 Christian Eriksen's Greatest Moments Caught on Video
Christian Eriksen | The Tottenham Years | 2013-2020 | Best Goals, Assists, Skills, and Passes
Christian Eriksen | First 50 Goals for Tottenham Hotspur
Christian Eriksen – The Art of Passing
Christian Eriksen: Welcome to Man United
18 Times Christian Eriksen Surprised the World
Christian Eriksen Family
Christian Eriksen's family lives in Middelfart, Denmark. Their economic condition was middle-class while Christian was growing up. His parents Dorthe and Thomas often travel to watch Christian play though and will keep up with his pursuits in the media when they cannot make it to his games.
Christian Eriksen's dad Thomas has spoken in the media about his disdain for Chelsea. In 2011, while Eriksen was at Ajax, Thomas Eriksen reached out to the media to warn young footballers NOT to join Chelsea. 
This was because Chelsea had rejected Eriksen after a trial as a teenager, and his parents weren't happy with how their son was treated. Chelsea has since developed a strong reputation for not giving their young stars a chance, instead opting to endlessly loan them out to other European teams before selling them. 
Maybe Thomas Eriksen was on to something back in 2011 then – and perhaps it was a blessing in disguise that Christian Eriksen never signed professional terms with them. Of course, when Christian signed for London rivals Tottenham, his family's disdain for Chelsea grew even further.   
Christian has one sibling. His younger sister Louise Eriksen is a professional footballer who has been selected for the call-up for the national women's soccer team in Denmark. Her current club team is Kolding IF. Louise is supported by her parents, just as strongly as Christian is. 
Sabrina Kvist is the love of Christian Eriksen's life. The pair have known each other since they were very young. They started a relationship in 2012 when Christian was at Ajax.
His transfer to Tottenham threw a spanner in the works of their relationship. Initially, Sabrina stayed in Denmark to finish her hairdressing studies, but later she went to London to live with Christian.
Speaking about the demands of his job, Christian once said: "I see a lot of players coming into the Premier League with big ambitions, but this is the toughest competition in the world. You have to learn to cope physically and mentally. That's very hard on my girlfriend. 
"Of course, I'd like to go out on the town with her and her friends, but it doesn't fit playing in England."
When Sabrina was in London, she worked for a fashion design company and also helped a foundation for children in poverty. 
In his interview, Christian added: "People think that professional players have an easy job, that we train for two hours, and then we go home. It does not work like that. To prepare for the next game, you need to rest, sleep, eat well and take care of your body. Some players need a sports psychologist, but not me because I do it all alone." 
A discreet profile has characterized Sabrina. Her social media accounts are private. However, she did gain a fair amount of unwanted international fame in the days following Christian's heart attack. Sabrina was at that game and was pictured by international media being comforted by Christian's teammates as he was being treated on the pitch. 
Sabrina and Christian are not married but have been together for ten years and have two children: Alfred, born in 2018, and a recent baby in 2020.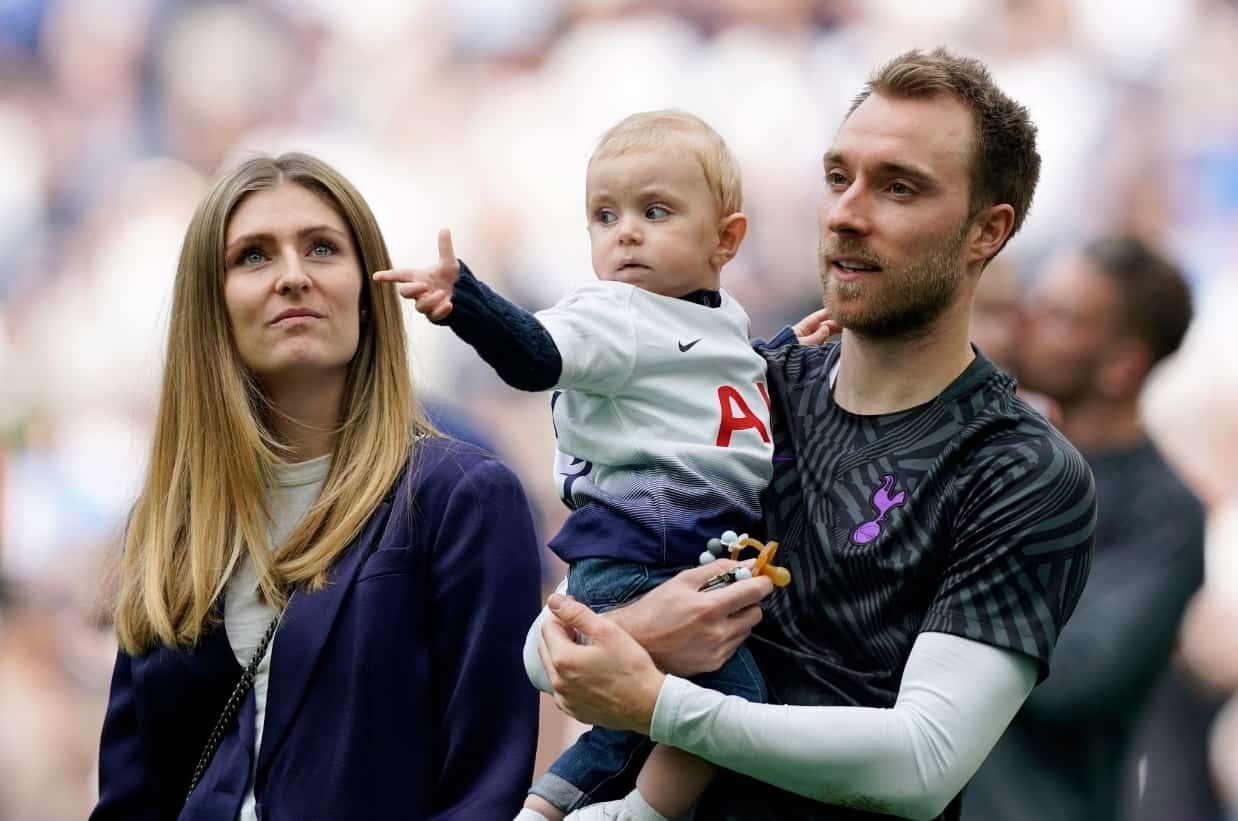 Christian Eriksen Salary and Net Worth
Christian Eriksen is estimated to have a net worth of around $25 million, according to goal.com.
Christian Eriksen Famous Quotes
"I don't mind who takes the spotlight. If you win the game, then it doesn't really matter."

"I

wouldn't go to a club just to stay on the subs' bench."

"Why did I come to Spurs? It just felt right."

"I've always been a player on the move. It's not because I like running. I like getting the ball."

"I'm addicted to football. When I get outside, I just want to stay on the training pitch."
Christian Eriksen Frequently Asked Questions

Question: What happened to Christian Eriksen?
Answer: Christian Eriksen was taken to the emergency hospital after his heart stopped during a match at the Euro 2020 tournament. The doctors indicated that the player suffered a cardiac arrest.
He was given an Implantable Cardioverter-Defibrillator (ICD), which is a small, battery-powered device placed in the chest to monitor heart rhythm and detect irregular heartbeats.
Patients need this device when their heartbeats are dangerously fast (ventricular tachycardia) or because the beats are so erratic that they prevent the heart from pumping enough blood to the rest of the body.
The defibrillator is known as a lifesaver because it controls the heart rate and detects malignant arrhythmia. In Eriksen's case, he has the subcutaneous ICD in the chest wall. This does not reach the heart, it is less aggressive and simpler, so it is easier to remove and avoids the risk of infection. 
This device protects the heart and prevents cardiac arrest, preventing death and protecting 99% of the heart. It lasts approximately five to sex years before needing to be replaced.  
This device allows Christian to safely continue his career as a professional footballer, although some leagues will not allow him to play because of this device. 
Question: Who does Christian Eriksen play for?
Answer: Christian signed a contract with Manchester United in July 2022 and will join the club for three years, until June 2025. 
On many occasions, Christian Eriksen had the privilege of playing at Manchester's Old
Trafford as a rival, but will now be tasked with bringing the club back to its former glories. 
Question: Can Eriksen play again with an ICD?
Answer: Some countries do not allow the use of a defibrillator. However, Eriksen is permitted to continue playing in the English Premier League and will be able to represent Denmark in FIFA tournaments.
Sources
Looking for more interesting readings? Check out: