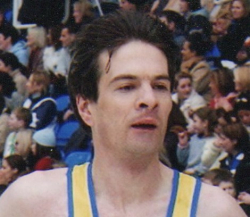 Latest posts by Stephen Hands
(see all)
Simone Biles is the greatest female gymnast the world has seen. It can be difficult comparing athletes across generations. However, Simone Biles's record stands for itself – 19 World Championship golds, 4 Olympic golds, 7 national all-around titles, and 3 world all-around titles. She also introduced four new moves subsequently named after her.
Poise, grace, strength, and sheer athleticism help make Biles the champion she is. She also has the steely determination any athlete needs to reach the top of their sport. However, that does not mean it has been an easy ride to reach the top. Far from it.
Placed in care with her siblings when three years old, Simone Biles was later adopted by her grandparents. In 2018 she revealed she was sexually abused by Larry Nassar, the team doctor for USA Gymnastics. Nassar will spend the rest of his life in prison after using his position to abuse girls and women. She continues to deal with the trauma caused by abuse.
Simone Biles' bio is extraordinary for someone who is still only 25 years old. We shall look at her early life and stellar career, before looking at the personal traumas she has consistently battled against.
Simone Biles Quick Facts
Full Name Simone Arianne Biles
Birth Date March 14, 1997
Birth Place Columbus, Ohio
Nick Name Simony
Nationality American
Siblings Adria, Ashley, and Tevin
Children None
Partner Jonathan Owens
Profession Gymnast
Salary $10 million in 2021
Net Worth $16 million
Awards Presidential Medal of Freedom in 2022, 3 x Laureus Sportswoman of the Year, 2 x Associated Press Female Athlete of the Year, 2021 BBC Sports Personality of the Year Lifetime Achievement Award, 2021 Time Athlete of the Year
Last Updated October 2022
Simone Biles Birthplace and Early Life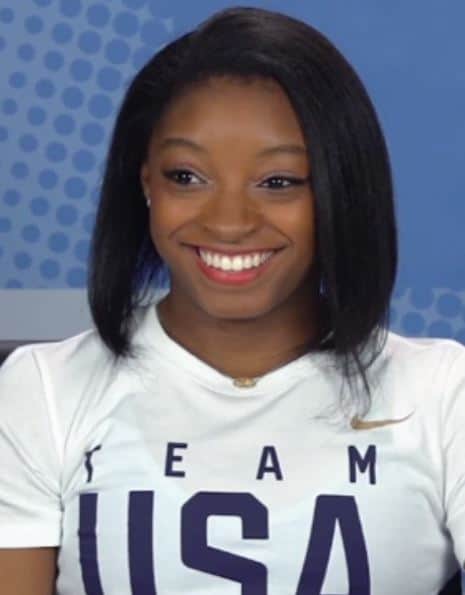 Simone Biles was born in Columbus, Ohio, on March 14th, 1997. She has three siblings, Adria, Ashley, and Tevin. It would prove a tough start to life for them. Their parents were Shanon Biles and Kelvin Clemons. However, their father left Shanon to be a single mother, and Shanon Biles struggled with drug and alcohol addiction.
There were times when Simone Biles and her siblings went hungry, and their neighbors began to express concern over their welfare. Simone was only three when all four siblings moved into foster care in 2000. Shanon Biles realized she was unable to take care of her children.
In 2003, Simone was adopted by her maternal grandfather Ron and his wife Nellie, who lived in Texas. Simone calls them her parents. They also adopted Adria. Ashley and Tevin wished to remain in Ohio. They were adopted by their great aunt, Harriett. It was a fresh start for all four children, a chance to begin their young lives over.
Finding Gymnastics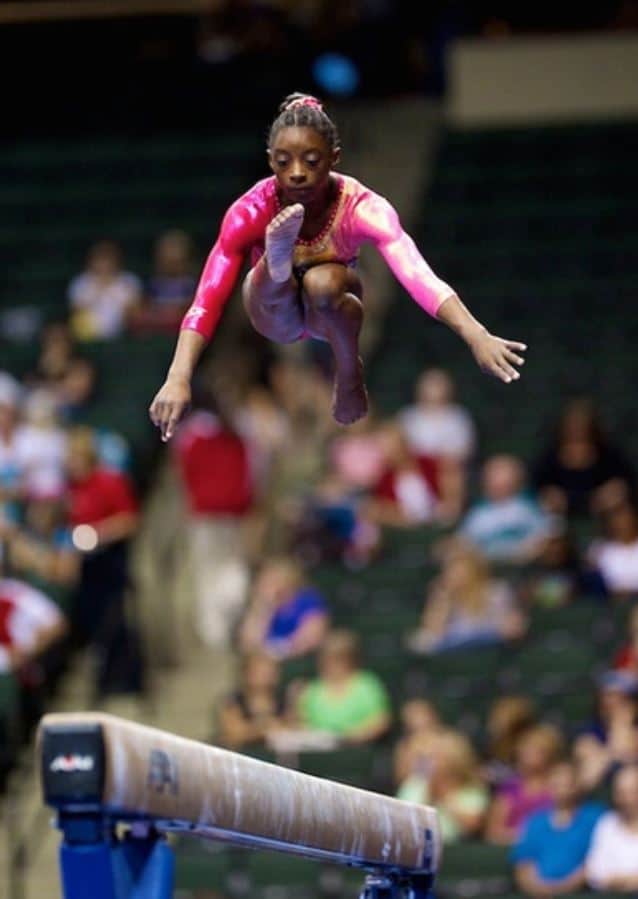 As well as being adopted, 2003 proved a momentous year for another reason for Simone Biles. She started gymnastics at Bannon's Gymnastix. At six years old, she found the sport she came to love and dominate. She would continue to train at Bannon's for another 11 years.
It was soon apparent that Biles had a talent for gymnastics. She sat down with her parents and wrote out targets for each year. However, by the time she was 14, they realized some big decisions were required to ensure she could train for the hours required to fulfill her potential.
Simone Biles dropped out of public school, with the decision taken to home-school her instead. Although she graduated, she missed out on those rites of passage such as the high school prom. However, her physique from training had led to her being bullied at school. She would wear sweaters or jackets to cover the muscles of her arms.
However, in terms of gymnastics, the move paid off. At her debut American Classic event in Houston in 2011, Biles finished in third place in the all-around event, placing first on the vault along the way.
The following year she placed first in the all-around competition at the American Classic event in Huntsville, Texas. She also placed first on the vault. Her performance earned a spot at the 2012 US National Championships. She was later called up to the US Junior National Team squad.
Simone Biles Professional Career
Simone Biles burst onto the gymnastics scene in 2013. She made her international debut in the American Cup and helped the US to gold in the City of Jesolo trophy before heading to the 2013 US National Championships. Here, she won the first of her seven national all-around titles, having picked up four silvers in the individual events.
Most people would have forgiven the 16-year-old Biles if her form dipped a little off the back of such highs. Not this young gymnast, whose eyes were already firmly set on the World Championships in Antwerp, Belgium. She was the first American to qualify for the all-around competition and the four individual events finals. Biles left Belgium as a gold medalist in the all-around and floor exercise events. She also picked up a silver and a bronze for good measure.
Simone Biles' Antwerp performance made her the world's leading female gymnast. She was breaking new ground, introducing ever more skillful and challenging moves. One of the complex flips at the World Championships in 2013 became the first move of the four currently named after her.
32 World Championship Medals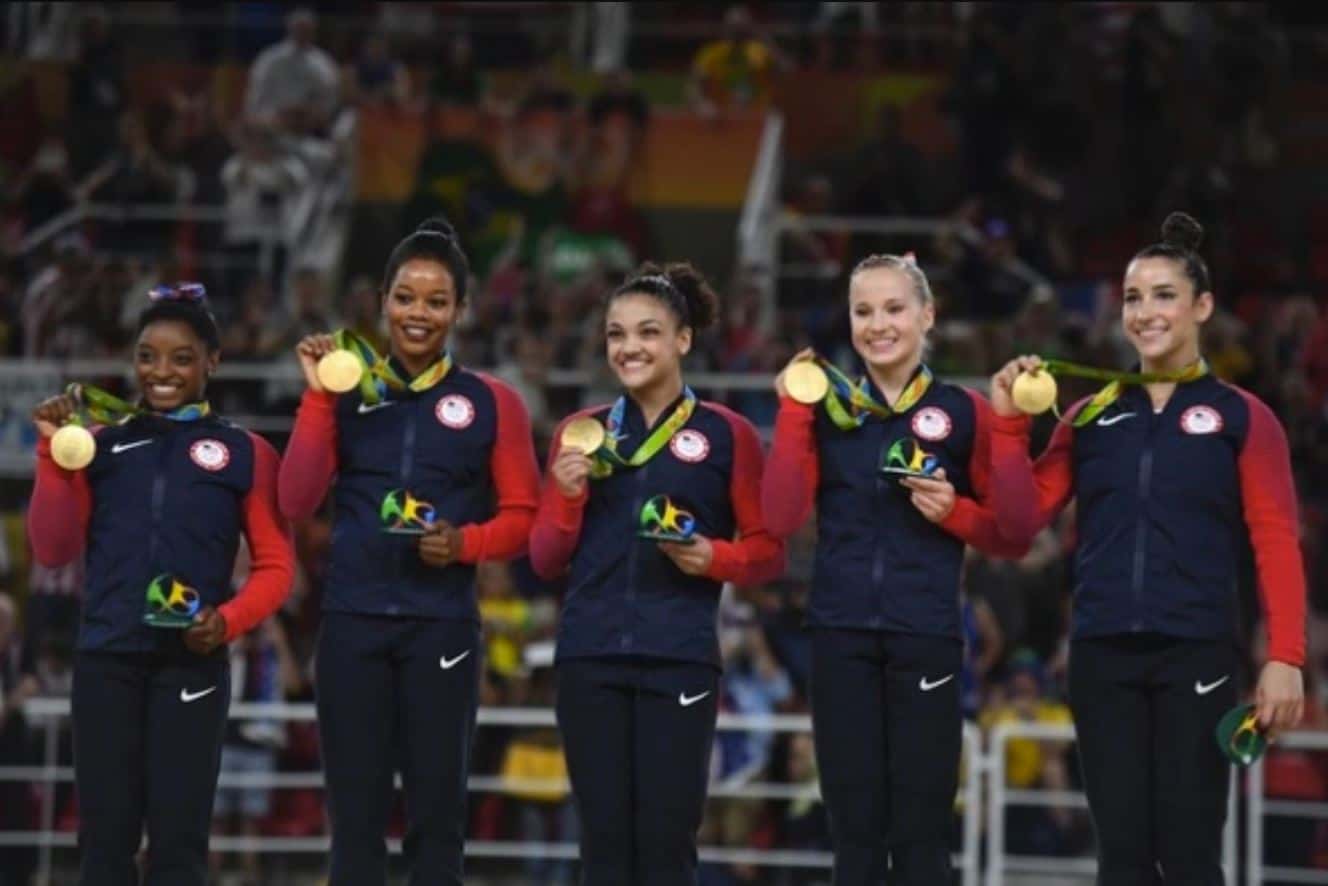 The World Championship medals continued to flow. In 2014 Simone Biles began to base her training at a new gym built by her adoptive parents. Simone Biles backed up her 2013 World Championship medal haul with another four golds the following year. This included defending her all-around title and winning team gold for the US. She bagged another four golds at the 2015 World Championships. The gold she won on the floor was her 10th at the World Championships, a record gold medal haul.
Following the 2016 Rio Olympics, Simone Biles took a year off to allow herself to recover before going again. She returned where she left off. Having posted a series of highest scores during the 2018 US Classics, she won another four golds at the World Championships which were held in Doha. This included her first-ever world gold on the vault. By 2019 she was unstoppable, taking home five gold medals. Her world all-around title win was her fifth, while she also bagged her fifth consecutive team gold for the US.
Simone Biles' trophy cabinet was now overflowing with 19 World Championship gold medals. She also had to make way for the medals she continued to accumulate from other competitions. This includes seven US national all-around titles – the first woman to achieve this feat. She won the seventh in 2021, winning on the floor, on the beam, and in the vault. The custom-made leotard she wore with a rhinestone goat design, alluded to the fact that she was the greatest the sport had seen.
In 2021, Simone Biles was the first to land a Yurchenko double pike vault at the US Classic. This risky move was designed to wow the fans and judges alike. A double hop to complete the vault was the only imperfect element. A video of her performing the vault perfectly while training was already doing the rounds. It nicely rounded off her preparations for the delayed Tokyo Olympics.
Olympic Champion in Rio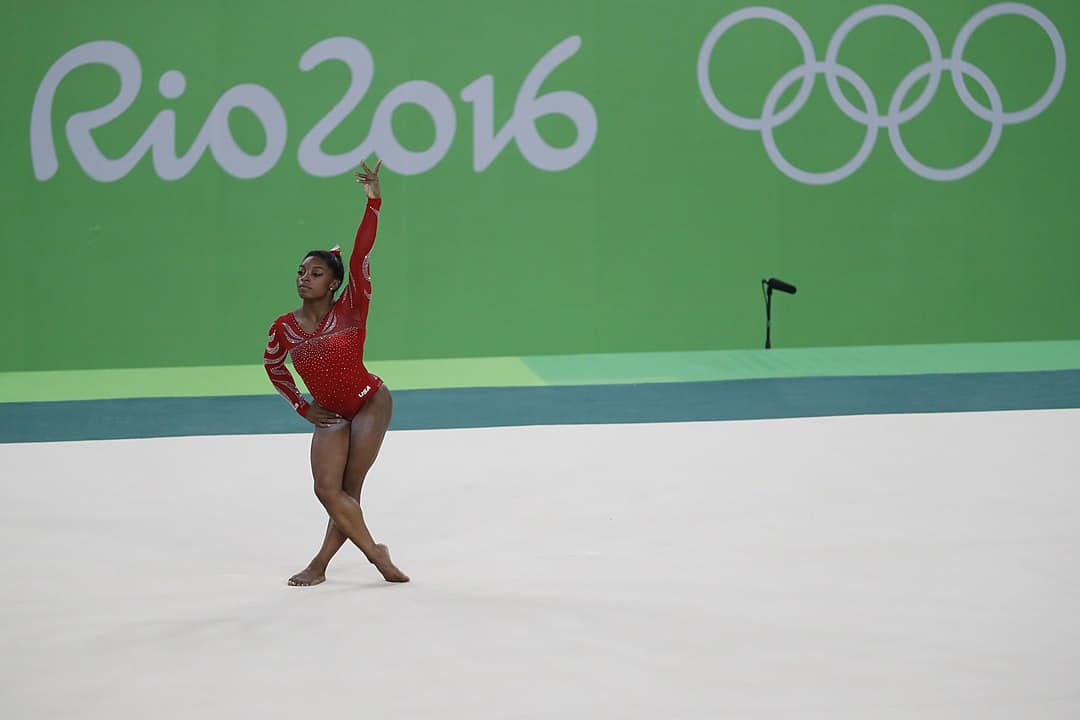 Simone Biles' first crack at an Olympic gold came at the Rio games in 2016. Her dominance of the sport over the preceding couple of years saw Biles hotly tipped for gold as she headed to Rio.
She came into the Olympics off the back of four more victories at the US National Championships, only missing out on the uneven bars. Biles helped the US to team gold before also winning gold in the all-around event. Her four-gold medal Olympic haul was completed in the vault and on the floor. Biles picked up a bronze on the beam for good measure. As a reward, Biles was given the honor of carrying her country's flag at the closing ceremony.
However, following her Olympic success, Simone Biles had to defend herself following the leaking of hacked medical reports. This caused a stir as she was shown to have tested positive for a substance on the WADA-banned list. However, there was no wrongdoing involved.
The drug involved was Ritalin. Simone Biles was diagnosed with ADHD early on in her life and takes the stimulant drug Ritalin as medication for the disorder. WADA permits athletes to take certain drugs on their banned list for proven medical reasons. Biles had a Therapeutic Exemption Use for the drug. Therefore, her use of Ritalin was completely above board.
Tokyo 2021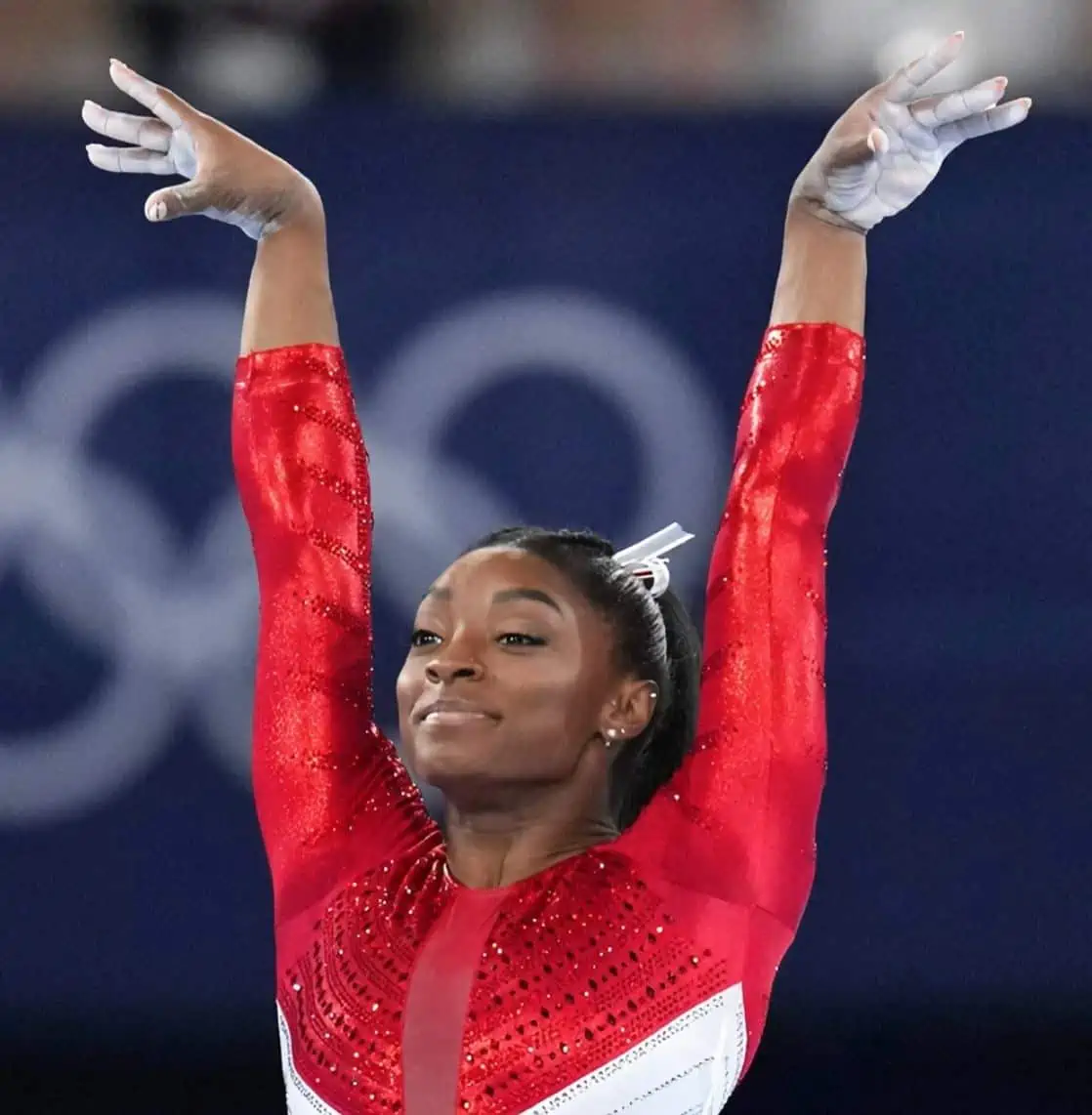 Gymnastics places massive stress on the body and the mind. The pressure of reaching and staying at the top of your sport adds to these demands. Simone Biles decided to take a year's break from gymnastics after the Rio games to freshen her body and mind ahead of a new Olympic cycle. Covid ensured that cycle was extended, with the Tokyo Olympics postponed from 2020 to 2021.
Throughout her competitive career, Simone Biles had been admired for her athletic ability and the medals won. At Tokyo, she placed the mental health of athletes at the heart of the sporting discussion. Constantly dealing with the pressure of expectation from others and the pressures placed on yourself takes its toll. In an Instagram post, she mentioned how at times she felt the 'weight of the world on her shoulders'.
Simone Biles opted to pull out of the team final and the individual all-around event in Tokyo, citing mental health reasons. She explained she was experiencing the 'twisties'. This is a mental block that can see a gymnast become disorientated in the air and is dangerous, to say the least for their landing. Biles later withdrew from the vault, uneven bars, and floor finals. However, she bounced back to take the bronze in the beam. Biles had shone an important light on mental health in sports, one not to be ignored.
One More Olympics?
Following the Tokyo Olympics, there was speculation Simone Biles would retire from gymnastics. She has not competed since Tokyo. However, while her future within the sport remains unclear for now, Biles has made it clear she has not retired. Replying to a tweet suggesting she had retired, Biles replied that she had not but was working on her mental health.
In a tv interview, she said she would be at the Paris Olympics. However, she would not say in what capacity, whether as a competitor or spectator. Simone Biles loves the sport, but it's taken a physical and mental toll. Only she can make the call on whether her body and mind are in the right place to train and compete at the level required to attempt to add to her seven Olympic medals.
Sexual Abuse
In 2018, Simone Biles issued a statement saying she was among the women sexually abused by Larry Nassar, the doctor for Team USA Gymnastics. Biles was one of more than 150 women and girls who made similar accusations against Nassar. He would later be sentenced to spend the rest of his life in prison. USA Gymnastics had previously been criticized for their handling of sexual abuse allegations against coaches.
Simone Biles appeared before a Senate Judiciary committee in 2021 with fellow gymnasts. The committee looked at shortcomings in how the FBI handled the Larry Nassar investigation. The gymnasts told the committee how they had suffered abuse at the time and continued to suffer its effects. The bungling of the investigation had added to their suffering.
Biles has spoken about the depression she suffered resulting from abuse. She said she would sleep all the time as a way of escaping reality. Biles has spoken about how you can recover from a physical injury in a few weeks. However, with this sort of trauma, there is no such definitive healing process. You take each day at a time. This is added to the pressure from competing at the highest echelons of her sport.
Simone Biles Videos
Simone Biles wins the 2013 World Championships all-around gold.
Simone Biles on top form on floor.
Simone Biles shows why she is regarded as the greatest woman gymnast.
Simone Biles' testimony before the Senate Judiciary hearing.
Simone Biles Family
Simone Biles is engaged to the American football player Johnathan Owens. They began dating in 2020 and got engaged on Valentine's Day in 2022. They plan to marry in 2023. The 27-year-old Owens was a college footballer for Missouri Western State University before joining the Arizona Cardinals in 2018. Unfortunately, injury hampered the start of his pro career, and he joined the Houston Texans practice squad in 2019. He now plays in the position of safety for the Texans.
Simone is in contact with her biological mother, Shanon, although their conversations are brief. In interviews, Shanon stated that she has been sober since 2007 and is proud of Simone. She also has two younger children, Taron and Shania. Simone Biles does not have any contact with her biological father. Ron and Nellie Biles remain her parents in Simone's eyes. When they adopted Simone, Ron and Nellie's two sons, Ron Jr and Adam, became Simone's half-siblings.
More trauma was to hit the Biles family in 2019 when Simone's biological brother, Tevin, was arrested on a murder charge. It related to an incident at an Airbnb in Cleveland on New Year's Eve. Shots were fired following an altercation between invited and uninvited guests. Three people were killed in the fatal shooting. Tevin Biles, an active-duty serviceman assigned to the 3rd Infantry Division at Fort Stewart, was later acquitted. After an initial mistrial, a judge dismissed the case due to a lack of sufficient evidence. Tevin pled not guilty at his arraignment.
Simone Biles Net Worth and Career Earnings
Simone Biles has an estimated net worth of $16 million. According to Forbes, she was the fourth highest-paid sportswoman in 2021, earning a cool $10.1 million. The vast bulk of these earnings comes from off-court sources such as endorsements. Her four Olympic golds and one bronze medal haul in Rio earned Simone Biles $110,000. Those who won a single gold took home $25,000. Good money, but fractions compared to what top stars can earn in other sports.
In 2021, Simone Biles earned $0.1 million directly from her sport. The other $10 million came from other sources. As the most decorated female gymnast in history, Biles is sought after by brands looking for an endorsement from such a high-profile figure. Companies that sponsor Simone Biles include Visa, GK, Athleta, Core Power, Spieth America, and United Airlines. Simone Biles ended a six-year association with Nike to become the face of the smaller company Athleta.
Simone Biles' success and bubbly nature have opened other channels. During her year off from gymnastics in 2017, Biles signed up for the popular tv show, 'Dancing with the Stars'. However, she couldn't add the famous Mirrorball trophy to her collection of medals. Biles was eliminated from the show at the semi-final stage of the contest. Her career success has also seen her appear on tv talk shows.
Another venture saw Simone Biles release her book entitled 'Courage to soar: A body in motion, a life in balance'. This candid autobiography looks at all aspects of her life, including the sacrifices needed by a young athlete chasing their sporting dream.
Simone Biles Famous Quotes
"If I thought of gymnastics as a job, it would put too much stress on me. At the end of the day, if I can say I had fun, it was a good day."
"I'm not the next Usain Bolt or Michael Phelps. I'm the first Simone Biles."
"I was built this way for a reason, so I'm going to use it."
"I'd rather regret the risks that didn't work out than the chances I didn't take at all."
FAQs
Question: How old is Simone Biles?
Answer: Simone Biles is 25 years old. She was born March 14th, 1997.
Question: How many Olympic gold medals has Simone Biles won?
Answer: Simone Biles has won four Olympic gold medals, all from the 2016 Rio Olympics.
Question: Who is Simone Biles' fiancé?
Answer: Simone Biles is engaged to Johnathan Owens, a safety for the Houston Texans. They plan to wed in 2023.
Question: Will Simone Biles compete again?
Answer:Simone Biles has not competed since the Tokyo 2020 Olympics, held in 2021 due to Covid. However, she has not retired and has hinted at competing in the Paris 2024 Olympics.
Research Citations