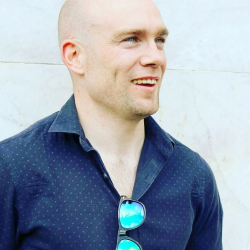 Latest posts by Joe Elvin
(see all)
Who do you think was the most popular wrestler when the World Wrestling Federation first took off in the early 1980s?
You'd be forgiven for thinking it was Hulk Hogan, given the publicity that is still given to the 'Hulkamania' movement.
However, if you were a keen follower of wrestling during this period, you'd know that Jimmy 'Superfly' Snuka rivalled (and arguably surpassed) Hogan as the top babyface in the eyes of the fans.
I was told about Jimmy Snuka when I was a child by my next-door neighbours (who got me into wrestling in the first place). 
Having learned about his career and his reputation as the first superstar to bring a high-flying style to the WWF, I'm excited to share this biography with you.
This biography will outline the highlights of a career that Jimmy Snuka inducted into the WWE Hall Of Fame, as well as the murder allegation which saw him erased from it.      
Jimmy Snuka Quick Facts
Full Name

–

James Reiher Snuka, 

Birth Date

– May 18 1943

Birthplace

–

Suva,

Fiji Islands

Nick Name

– Jimmy "Superfly" Snuka

Nationality

– Fiji

Siblings

-. Henry Reiher, Louise Reiher, Agnes Reiher, Vicky Reiher (half-siblings)

Children

– Sarona, Jimmy and Liana.

Profession

– Professional wrestler

Net Worth

– $200,000

Notable Personal Achievements: 

WWE Hall Of Fame Inductee,

ECW Heavyweight Champion,

ECW Television Champion
Jimmy Snuka Birthplace and Early Life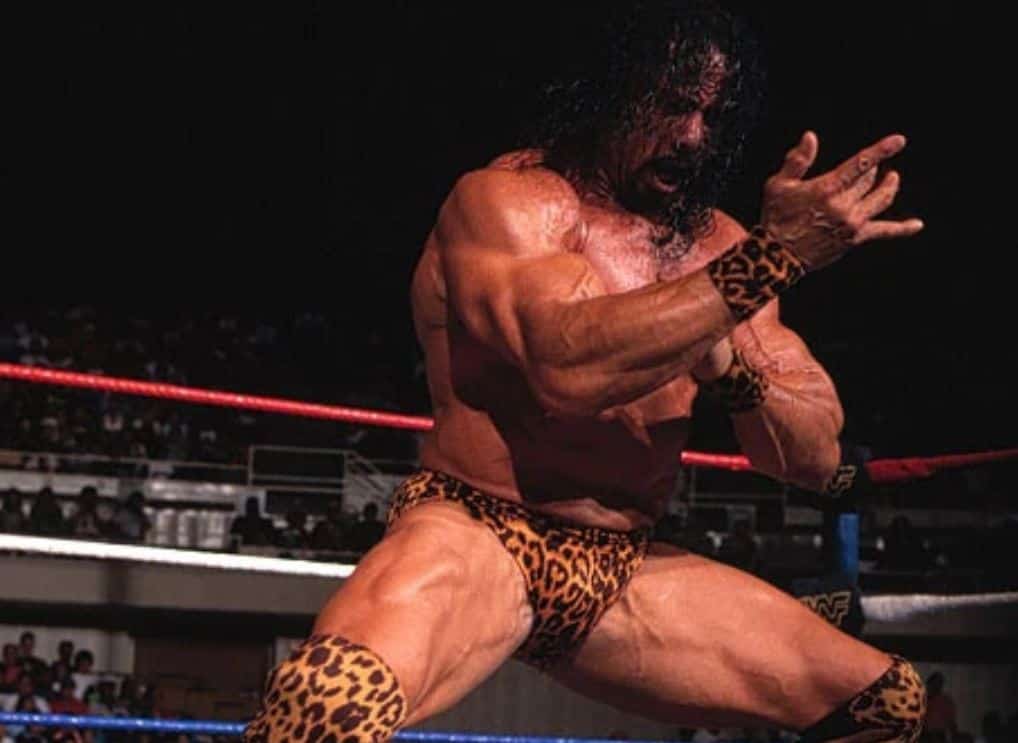 It's fair to say that Jimmy Snuka wasn't born to a stable family. 
The result of a love affair between his mother Louisa Smith and a man named Charles Thomas; The Superfly was born James Wiley Smith, before legally changing his name to James Reiher Snuka in adulthood. 
Charles was already married to someone else, while his mother Louisa was engaged to a man called Bernard Reiher. What a mess. Jimmy's biological father wouldn't be a part of his life at all.
Louisa Smith married while she was still pregnant with Jimmy. They'd have four more children together. Henry, Louise, Agnes and Vicky.
In his autobiography, Jimmy mostly mentions the difficulties of his childhood. His stepdad Bernard was contracted to work for the navy, so he was often away from home. When he was with the family, he would beat all of his kids and occasionally his wife too. I guess that's just how it was in Fiji back then because Jimmy still spoke of love for his stepfather. He said that he'd get the worst beatings, perhaps because he wasn't the biological son.        
Despite this, Jimmy was an adventurous and outgoing child. He'd always be running away from home to explore his hometown of Sava in the Fiji Islands and then the Gilbert Islands after that. Eventually, he was sent to a Catholic boarding school because he was too much for his parents to handle. Education was a struggle though. Even in adulthood, he never learned to read or write in English. Judging by his wrestling promos, he could only ever speak in broken English too. 
Sava and the Gilbert Islands weren't exactly safe places for children to be looking for adventures on their own and Jimmy admits he saw things that no child should see while he was growing up. 
He wasn't told the truth about his biological father – and that his siblings were half-siblings until he was 15.
In that same year, the family moved to Hawaii, where Jimmy's interest in sports moved up a notch. He loved to play rugby and baseball, but would soon take an even keener interest in bodybuilding. At his local gyms, he would meet a lot of local wrestlers who would eventually inspire him to pursue a career in professional wrestling. 
Jimmy Snuka Professional Career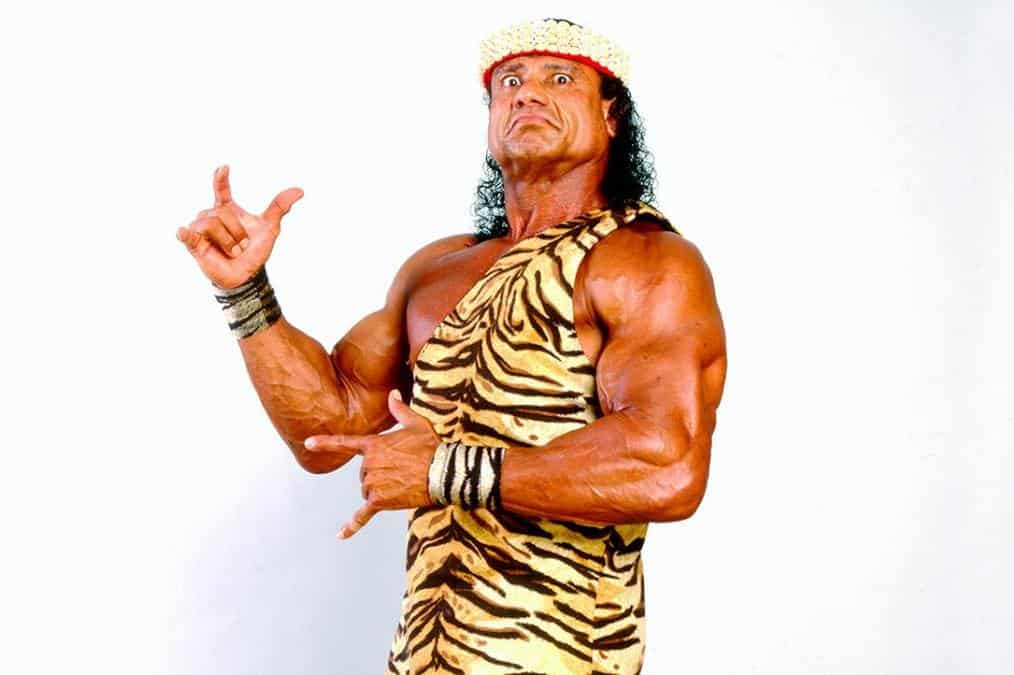 Jimmy's wrestling career began on the independent circuits in Hawaii in 1970.
Soon enough though, he'd catch his first 'big break' wrestling for the NWA in the Pacific Northwest Territory. This meant leaving Hawaii and moving inland. It was at this time that he adopted the Jimmy Snuka moniker. 
I would imagine that his experience in boarding school and generally rough upbringing would help him cope with the pressure of leaving his family and being on the road all the time. 
Those closest to Jimmy in the industry said that those in the locker room and the fans who supported him became like a second family to him. Perhaps this was the first time he was made to feel a sense of belonging. 
Indeed, Snuka rose to the top of the NWA card pretty quickly, winning the heavyweight championship six times. His high-flying style was incredibly unique and entertaining for a big guy – and he'd go on to make a name for himself showcasing this style in other territories.
Signing With the World Wrestling Federation
To become a true global superstar in the 1970s and 1980s (and arguably at any time after this), you'd have to sign with the World Wrestling Federation (now World Wrestling Entertainment).
That's what Jimmy Snuka did in 1982. He made his debut as a violent villainous heel under the guidance of no-good manager Captain Lou Albano. However, his fast-paced high-flying style captivated fans to the point where it became obvious that he had to turn into a babyface. 
(When this happens, you can more or less guarantee that a wrestler is destined for the very top. Think Stone Cold Steve Austin in 1996, The Rock in 1998 or John Cena in 2003. Snuka wasn't as popular as these three examples straight away, but he could certainly claim to have been the top babyface in the company at his peak.)    
Anyway, his face turn came as a result of him turning on Lou Albano and teaming up with Buddy Rogers instead. The pair would become great companions in real life too.  
Snuka became well-known for his athleticism from the top rope, hence the "Superfly" nickname. His top-rope finishing move – The "Superfly Splash" – quickly became a highlight of WWF shows, which the fans would pay good money to see. As such, he was quickly pushed to the top of the card.
He had many shots to win the WWF Title against the champion Bob Backlund – and would even beat him more than once by count out or disqualification – but would never get his hands on the title. (You can't win a title belt by these methods).
Jimmy Snuka's Famous SuperFly Splash Dives From On Top Of the Cage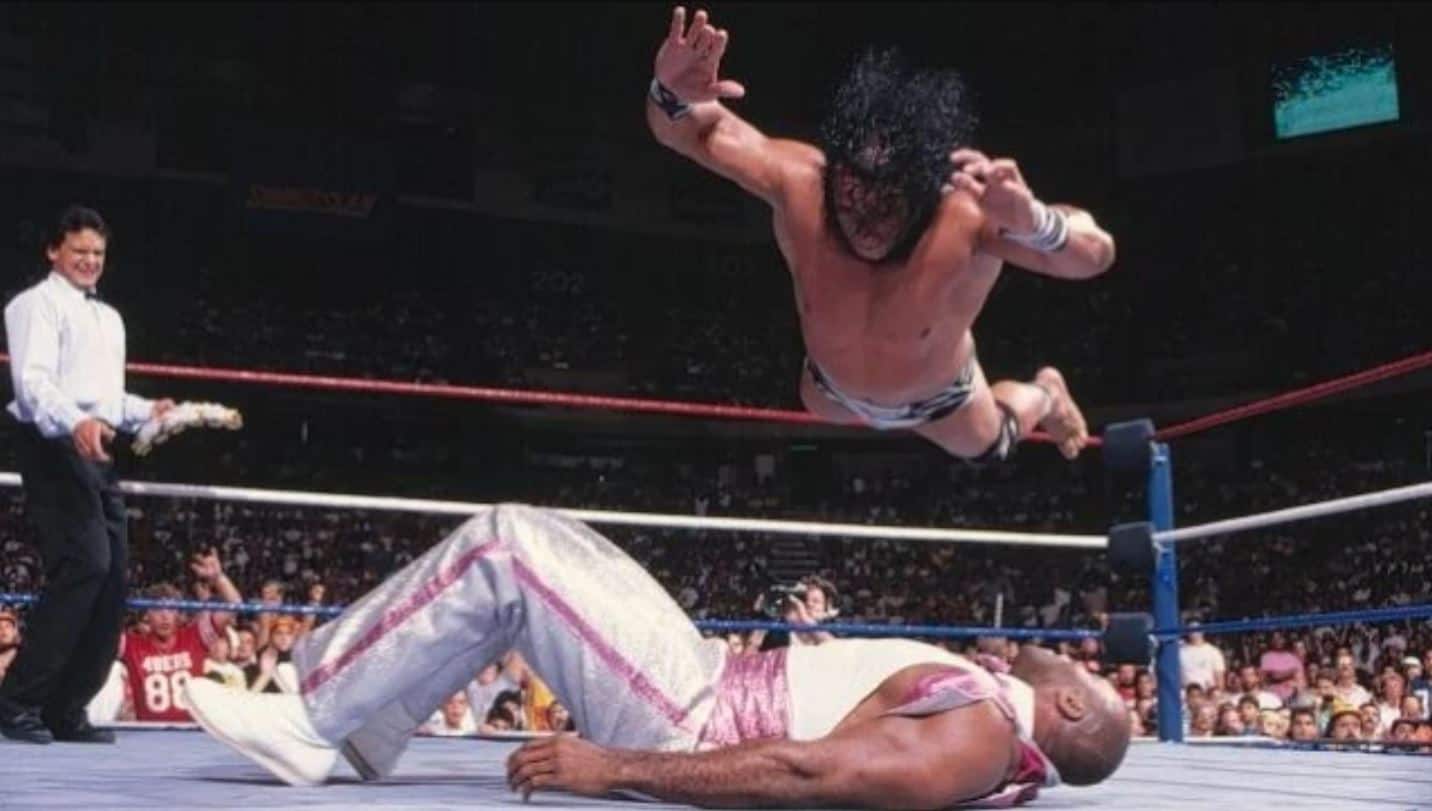 The Superfly's most famous championship bout against Backlund was a steel cage match in Madison Square Garden in 1982. The match concluded with Snuka attempting a Superfly Splash from on top of the steel structure with the champion rolling out the way. This gave him enough time to crawl out the door to win the title. High-risk moves like this were far from commonplace in the 1980s – and that's why this encounter was given the Match of the Year award by Pro Wrestling Illustrated Magazine. 
This match would appear to have cemented Snuka's reputation as one of the world's most popular wrestlers. But, I find it goofy to jump on someone from the top of the cage when you can win the WWF title by climbing out. Vince McMahon even reminded the crowd of this stipulation during his post-match interview with Backlund).
Despite winning the Match Of The Year award, this cage dive wasn't Snuka's most famous. A year later, he performed the stunt at Madison Square Garden again in an Intercontinental Title match against Don Muraco – and landed it. Go and find a video of the splash and listen to the pop from the crowd. Their hero flew through the air to splash his great rival – and this is still regarded as one of the legendary moments in wrestling history. 
Several legends of wrestling from later years have listed this as the moment that made them want to become professional wrestlers. Mick Foley, Jeff Hardy and Tommy Dreamer are among them.  
It could easily be argued that this Superfly Splash paved the way for the more extreme stunts we saw from WWE in the Attitude Era and beyond.  
(People forget that Muraco somehow recovered to win the match and retain the title, providing more evidence to my argument that jumping from the cage is a pretty dumb thing to do).   
Feuding With 'Rowdy' Roddy Piper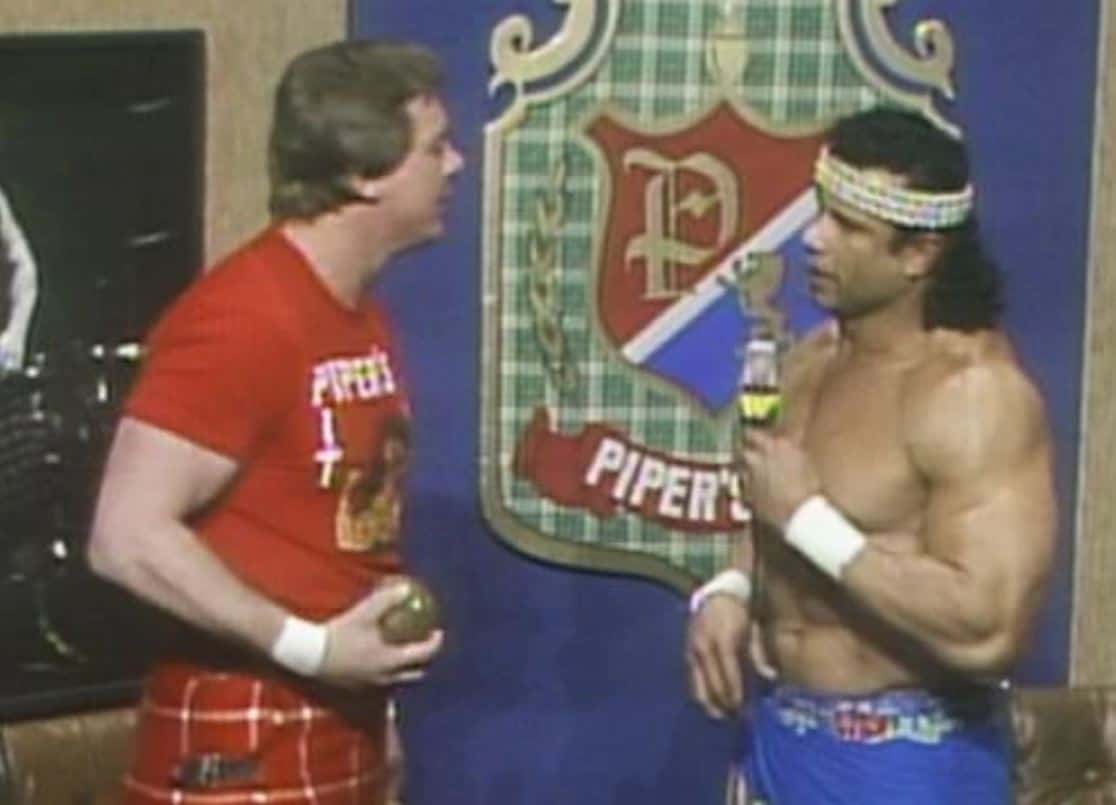 Jimmy Snuka's most famous feud may well be with 'Rowdy' Roddy Piper who was widely renowned as one of the most talented heels of the mid-80s and beyond.
The feud started with Piper smashing a coconut to Snuka's head during an episode of the 'Piper's Pit' interview segment. Piper was arrogantly throwing other tropical fruits from Snuka's native Fiji, like pineapples and bananas, at him beforehand. 
Later on, it emerged that the whole skit was improvised (as many were during this era) and that Snuka had no idea that the coconut blow was on its way. It hurt him a lot and may have even caused permanent damage to his head. Indeed, this coconut was mentioned by Snuka's lawyers more than 30 years later (more on that soon…) It was reportedly supposed to be shaved on one end to crack like an egg, but Piper reportedly used the other side by accident. 
The pair would go on to lock horns throughout 1984 and 1985. The feud would even be a sub-plot to the main event of Wrestlemania I. The team of Hulk Hogan and Mr T defeated Paul Orndorff and Roddy Piper in the match, but Snuka served as Hogan and T's accomplice throughout the match. The show went off the air with the winning team celebrating with Snuka in the ring. 
There was an ode to this legendary feud at the 2008 Royal Rumble, where both Jimmy Snuka and Roddy Piper were surprise entrants. All the other competitors briefly stopped fighting to witness these two brawl, with the commentary team mentioning the intense rivalry. (This was my first time watching Snuka in a live match. He moved pretty well for a guy in his 60s.)  
Leaving and Returning to the WWF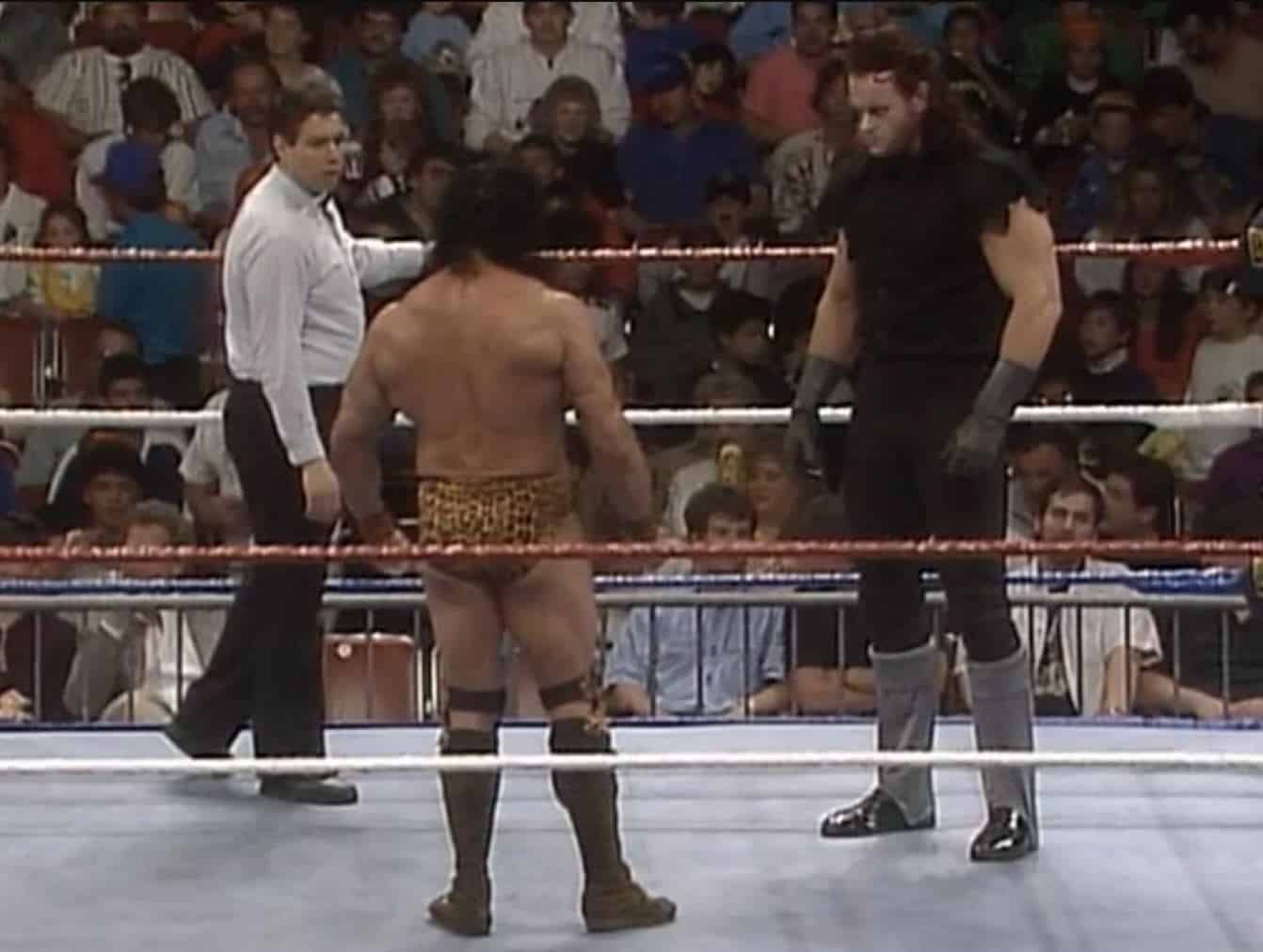 Jimmy left WWF in July 1985, just a few months after the inaugural Wrestlemania. It has been suggested that his drug habits had left WWF with no choice but to release him.
In the following years, he would compete for New Japan Pro Wrestling, the American Wrestling Association, Pacific Northwest Wrestling, Continental Wrestling Association and All Japan Pro Wrestling. 
He would return to the WWF in 1989, announcing his comeback at Wrestlemania V, although his second stint wasn't nearly as memorable as his first. He was mostly used to put over young up-and-coming talent. 
He competed at Wrestlemania VI (his first Wrestlemania match, losing to Rick Rude. At Wrestlemania VII, he lost to The Undertaker. This was the first match of Taker's legendary Wrestlemania winning streak. The Superfly left WWF for the second time in 1992. Despite his many years working for the company, he never held a WWF title.
Jimmy was 48 years old at this point. It's fair to say his best wrestling days were behind him. However, he would continue wrestling for some time. 
He played a role in the formation of Eastern Championship Wrestling (now better known as Extreme Championship Wrestling) and became the company's first heavyweight champion. Finally, some notable gold around the Superfly's waist!
He stayed in ECW until August 2014, enjoying a run with the Television Title as well, and left just a few weeks before Paul Heyman took the reins of the company and renamed it Extreme Championship Wrestling.  
Sporadic Appearances In WWE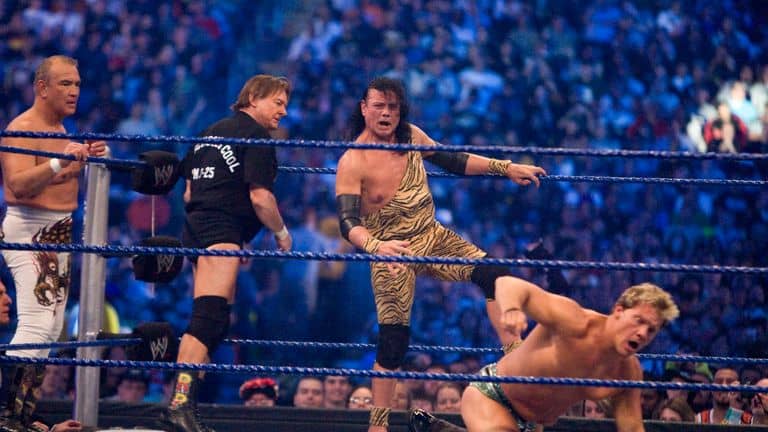 The rest of Snuka's career was spent with smaller promotions, apart from a one-off appearance here or there.
Fans would still pop for The Superfly when he appeared at WWE events though.
There was an episode of Raw in 2002, where he was presented with a Lifetime Achievement Award by general manager Eric Bischoff. But it turned out that was a set-up and The Superfly would be attacked by Bischoff's goons, Rosie and Jamal. 
Snuka's face-off with Roddy Piper at the 2008 Royal Rumble was a highlight of that match.
He would also compete at Wrestlemania 25, as part of a legends team in a 3-on-1 handicap match against Chris Jericho. Aged 65, Snuka teamed with Ricky Steamboat and Roddy Piper in a losing effort.
The Superfly wrestled his last official match for East Coast Pro Wrestling in 2015, just a few days before his 72nd birthday.   
Jimmy Snuka and the Death of Nancy Argentino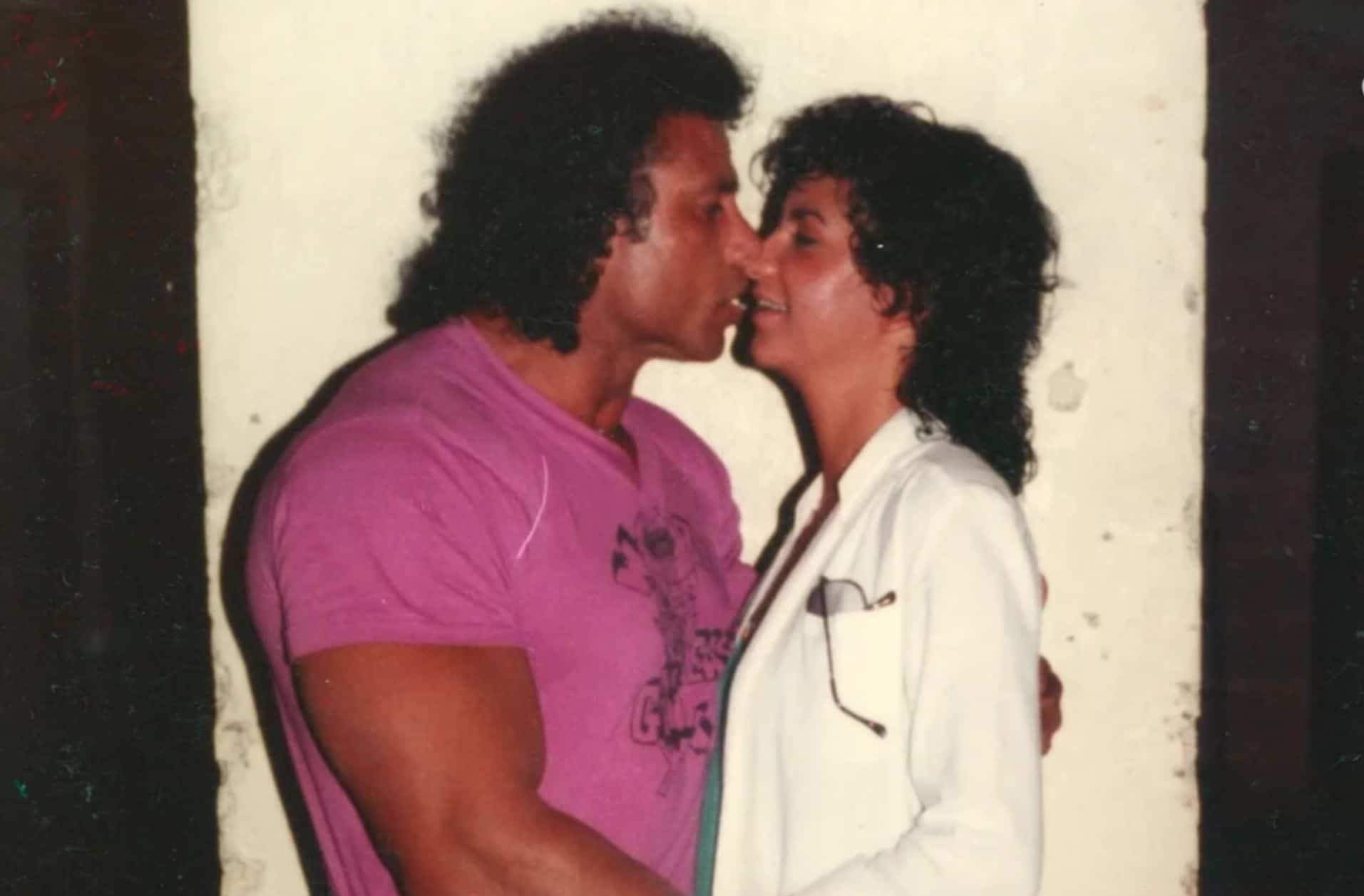 I was a child when I watched highlights of Jimmy "Superfly" Snuka on tape – and I could see why he was so popular. Only as an adult did I learn about the controversies surrounding him and his girlfriend Nancy Argentino. 
In January 1983, Snuka was charged with assaulting Nancy, after guests heard disturbing noises from their hotel room. Nancy also called her sister for help that night. However, the charges were dropped after Nancy cleared her boyfriend's name later on.
Then, in May 1983, Snuka called an ambulance to address some serious head injuries that Nancy had suffered. Snuka claims that Nancy had fallen and hit her head. Within a few hours, she was dead. Investigators could find no proof that Snuka had deliberately harmed Nancy and he was released without charge. 
However, some thirty years later, journalists discovered documents including an autopsy report suggesting that Nancy's injuries were likely the result of a homicide. 
The case was reopened in 2015, some 32 years later, with Snuka being arrested and charged for third-degree murder. 
Jimmy Snuka was 72 years old at this point and had recently been diagnosed with stomach cancer. On top of that, he was suffering from symptoms of dementia and it was also believed that his wrestling career had caused some brain damage. This is why Jimmy's lawyers brought up the coconut strike on Piper's Pit in court some three decades after it happened.
For these reasons, Jimmy Snuka was declared unfit to stand trial, so there was no final resolution to this case. 
It meant that there was no justice for the Valentino family, nor was there a chance for Snuka to clear his name. As such, this case continues to tarnish the Superfly's reputation. 
Jimmy would lose his battle against stomach cancer just a few days after being acquitted.
Jimmy Snuka Family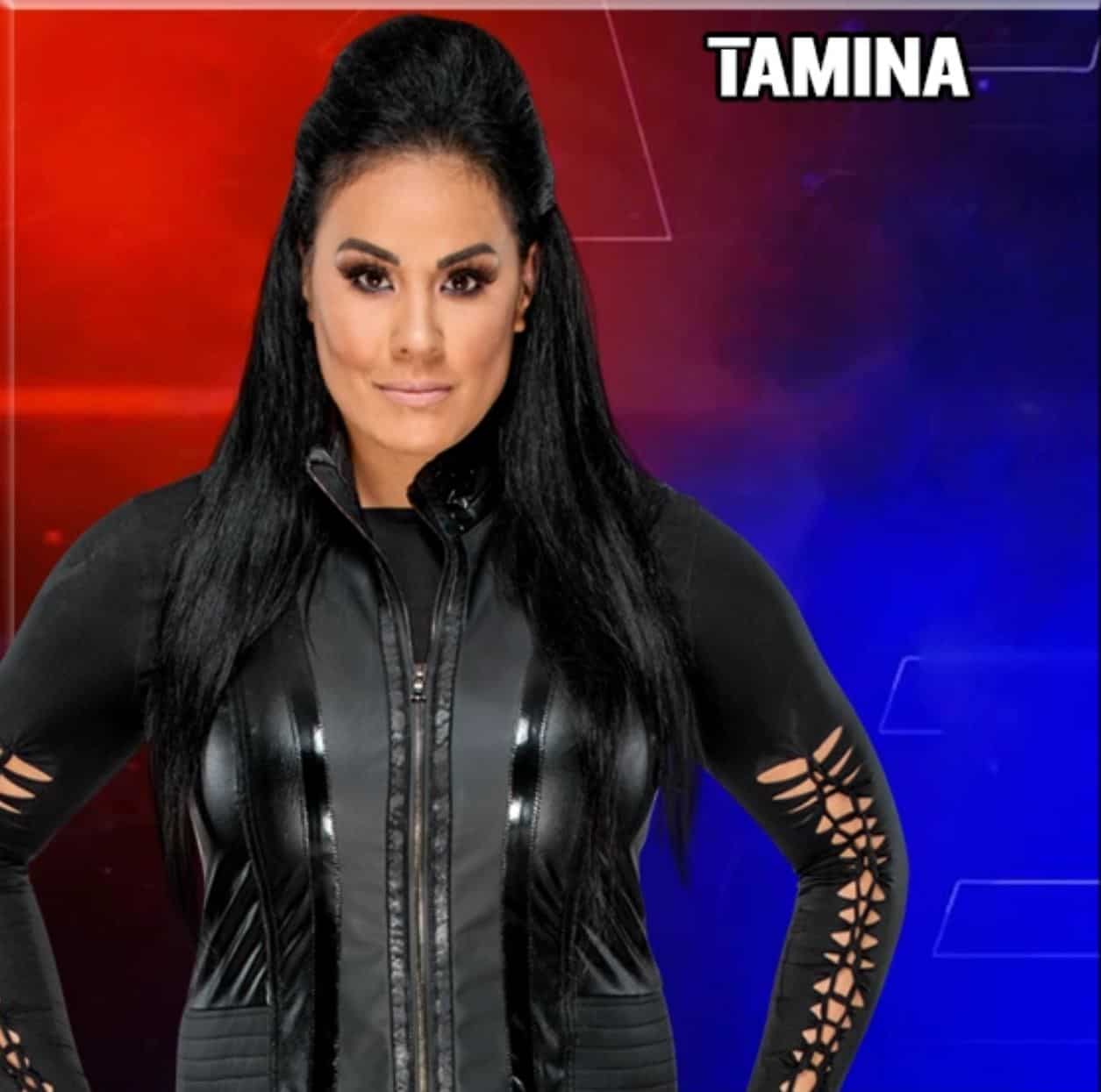 Jimmy Snuka's parents were Louisa Smith and Charles Thomas. He had four half-siblings; Henry, Louise,  Agnes and Vicky.
He was also married three times. His first marriage to Patrice Aguirre has been described as a 'secret', as it was only publicly revealed in 2021 in a Vice documentary on his murder allegations. Patrice was the mother of wrestler Gino Hernandez. What's more, Patrice's father also married Snuka's mother. In the documentary, Patrice described the situation as "one big happy family".
Jimmy's second wife Sharon was part of the famous Anoaʻi family originally from American and Independent Samoa. This marriage connects Snuka to other famous wrestlers including The Rock, Roman Reigns and The Usos. Indeed, The Rock is Jimmy's nephew. Jimmy cheated on Sharon with Nancy Valentino. His life on the road allowed him to get away with this affair. Jimmy and Sharon had three children; Sarona, James and Liana. Sarona and James have both wrestled in the WWE under the ring names Tamina Snuka and Deuce. 
Jimmy divorced Sharon in 1999 and married his third wife Carole in 2004. They stayed together until Jimmy died in 2017. 
Jimmy Snuka Net Worth and Career Earnings
Jimmy Snuka had an estimated net worth of $200,000 before he passed away in 2017. 
Jimmy Snuka
Best Moments Caught On Camera
Jimmy Snuka Famous Quotes
"It's always difficult talking about my childhood because, in many ways, I never had a real one, brudda. Getting beaten at home was one thing, but I also saw things no-one should've seen"
"Well, brudda, the most important thing is my wrestling. I love it. I enjoy it. I love to meet the people, especially when I travel around the world. The most important part of my wrestling career is that I love the business of it. I love it."
 "Well, I guess I created it all for them, brudda, you know and I love it. I love it because I guess I'm a role model, you know, and everyone wants to follow you."
"The thing you need to know about me is that I've never done anything half-assed in my life. Whenever I do anything, I do it with total commitment."
"If I was guilty of anything, it was cheating on my wife, and that was it."
"Jumping off the cage at the Garden, you couldn't even hear yourself. I loved it so much. Things like that just stick in your heart."
Jimmy Snuka Frequently Asked Questions
Question: Is Jimmy Snuka Related To The Rock?
Answer: Jimmy Snuka is The Rock's uncle. They're related by marriage. These two are part of the Anoaʻi family. Roman Reigns, The Usos, Rikishi and Yokozuna are among other professional wrestlers with ties to this family. 
Question: How Did Superfly Jimmy Snuka Die?
Answer: Jimmy Snuka was diagnosed with stomach cancer and this would lead to his death in 2017. 
Question: Is Jimmy Snuka Still In The WWE Hall Of Fame?
Answer: Jimmy "Superfly" Snuka was inducted into the WWF Hall of Fame in 1996. However, after being charged with the murder of his girlfriend Nancy Argentino, he was quietly erased from the Hall of Fame section of the WWE website. As things stand, his name remains removed from this website. 
Question: Did Jimmy Snuka Ever Win The WWF Title?
Answer: Despite his popularity, Jimmy Snuka never won any titles during his stints in the WWF. He came close to capturing the WWF title on several occasions during his feud with former champion Bob Backlund, but could never beat him by pinfall or submission in a title match (only by count out or disqualification). 
This surprising fact is made all the more amusing when you consider that Jimmy's daughter Tamina Snuka won the WWE 24/7 Championship in 2019, although she only remained champion for a few minutes before being pinned by R-Truth.  
Question: What Was Jimmy Snuka's Finishing Move?
Answer: Jimmy "Superfly" Snuka would finish his opponents with the 'Superfly Splash'. A simple splash from the top rope. 
Question: What Was Jimmy Snuka's Taunt?
Answer: Jimmy Snuka would create the 'ILY' sign with both hands before and during matches, including on the top rope before he'd launch himself into the Superfly Splash. The ILY sign means 'I Love You' in American sign language. He'd drop to his knees and flash the ILY sign before matches as a mark of respect to the fans that supported him.
Question: Did Jimmy Snuka Kill Nancy Argentino?
Answer: Jimmy Snuka was charged with the murder of Nancy Argentino in 2015. However, it was ultimately ruled that he was unfit to stand trial due to the symptoms of his dementia.