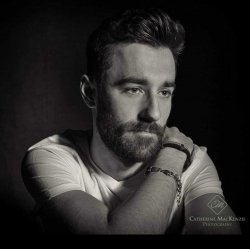 Latest posts by Callum Marshall
(see all)
Within the world of sport, there are certain characters that define eras, and bring new eyes to a sport that would have previously been uninterested. Whether that's through their natural charisma, their insane ability that is clear to see even for complete novices to the sport, or through their hometown spirit that sees a huge community herald them as their hero, there always seems to be a handful of these active at any given moment in sport. Outside of the UFC, we have seen stars like Cristiano Ronaldo, Lebron James, Tom Brady, Tony Hawk, and Mike Tyson, to name a few. Then more specifically, within the world of UFC, we have seen stars like Jon Bones Jones, Conor McGregor, and Ronda Rousey sell pay-per-views like no one's business. Well, it seems like we have another era-defining star on our hands now in the UFC. I am, of course, referring to Paddy 'The Baddy' Pimblett.
Fresh from the street of Liverpool, Paddy has seen a rapid rise from fighting in Cage Warriors, to stealing the show at UFC London on multiple occasions. Often fighting on the same card as his close friend and fellow UFC fighter Molly 'Meatball' McCann, Paddy has captivated crowds, become a household name in Merseyside, whether you are a red or a blue, and has proved himself to be a very dangerous opponent in the Octagon. Don't be fooled by that suspect trim on his head; the guy is a certified killer.
However, you may be unaware of The Baddy, as his meteoric rise through the UFC has all happened pretty quickly, so we can't exactly blame you. However, the narrative that Paddy is creating for himself within the sport is one that you will absolutely want to witness firsthand. So let's get you caught up, and introduce you to the UFC's shinest new product, Paddy Pimblett! Enjoy!
Quick Facts
Full Name:

Paddy Pimblett

Birth Date:

3/1/1995

Birth Place:

Liverpool, England

Nationality:

English

Siblings:

Kirsty Nunen, Roe Murray

Children:

N/A

Partner:

Laura Gregory

Profession:

Mixed Martial Artist

Salary:

15,000 per fight (Estimated)

Net Worth:

250K

Individual Awards:

UFC Performance of the Night x3, CFWC Featherweight Champion, FCC Featherweight Championship
Early Life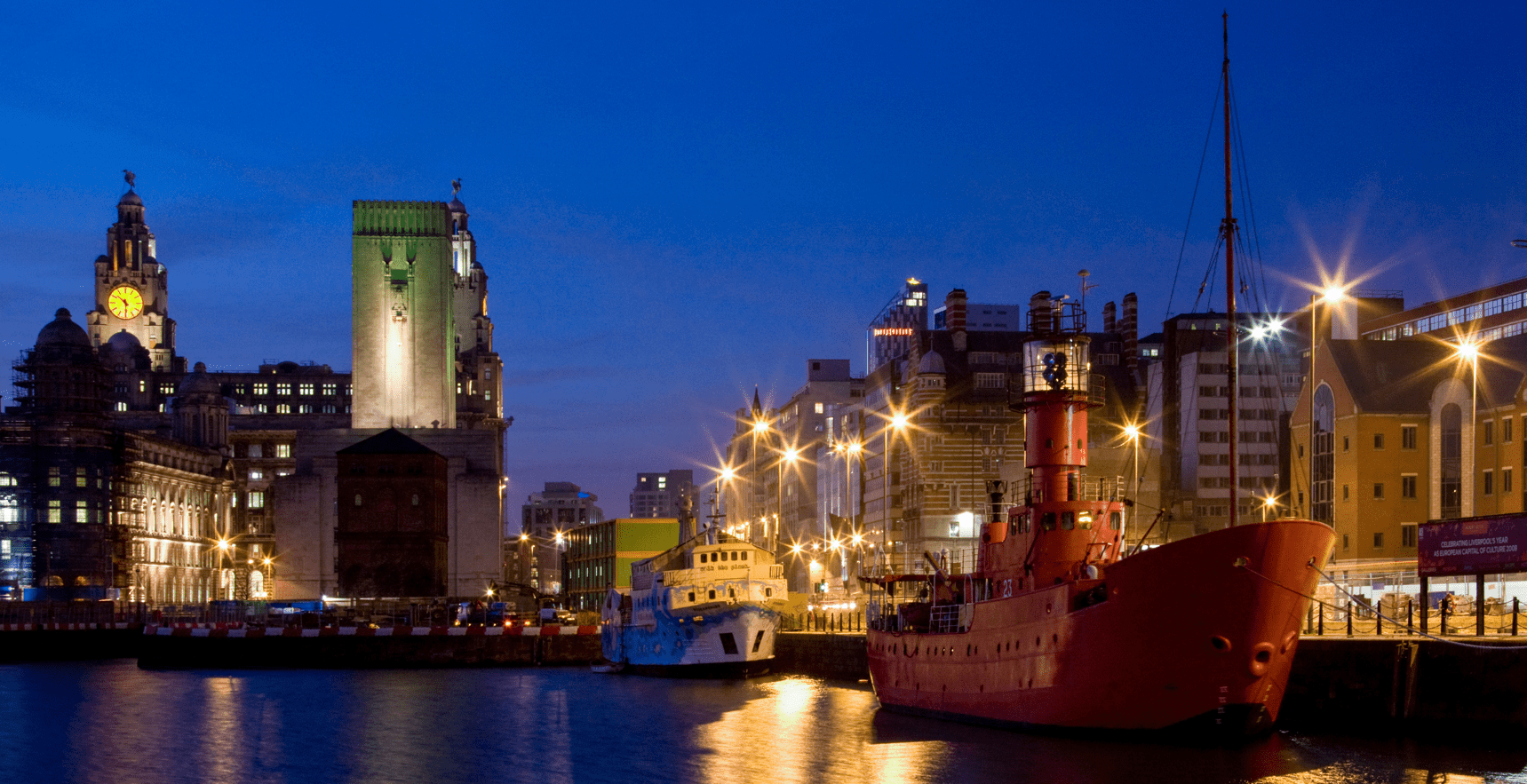 Let's start at the beginning and break down how Paddy became 'The Baddy.' Paddy was born in Liverpool, England, on the 3rd of January 1995, and would grow up in the heart of Merseyside, or to be more precise, Huyton. Life was pretty straightforward for Paddy as a kid. He grew up alongside his half-brother and half-sister, Roe and Kirsty, and dealt with the trials and tribulations that come from being part of a working-class family in Liverpool. He attended Cardinal Heenan High School until the age of fifteen, at which point he turned his attention to mixed martial arts, beginning to learn his trade much later than some combatants out there.
Pre-UFC Career
Amateur Fights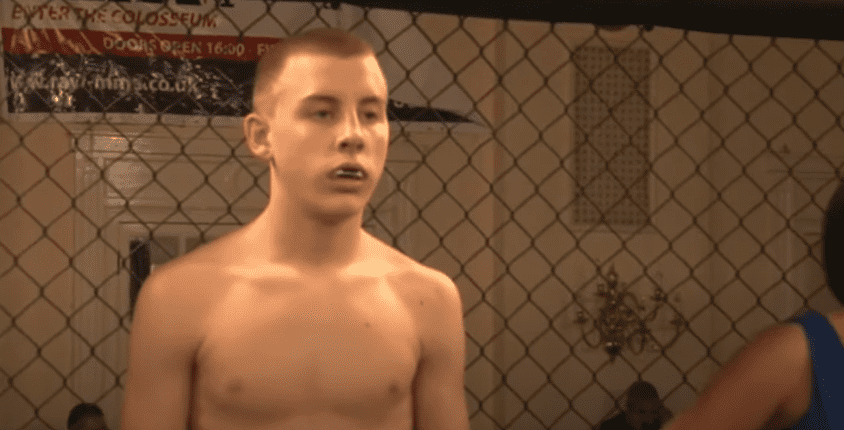 As mentioned above, Paddy began training MMA after leaving secondary school in 2010, but it wouldn't be until 2011 that Paddy would step into the Octagon for his first amateur fight. In 2011 he fought against Scott Gregory and won this fight via submission, then did the same when he came up against Mick Doyle. These fights would give Paddy the confidence and notoriety to take on his first professional fight.
Olympian MMA/Full Contact Contender/Cage Warriors
After winning two fights at an amateur level, Paddy entered the Olympian MMA Championships in Liverpool and managed to beat Nathan Thompson by TKO in his first pro fight, and his only fight at Bantamweight. Then he would keep the momentum going by moving to Cage Warriors, where he would rack up 13 fights and win the Featherweight Championship. His first fight on Cage Warriors came in Cage Warriors 56, where he beat Florian Calin by unanimous decision, but would be humbled in his next fight by Cameron Else, who would take Paddy out with an Anaconda Choke to win by technical submission. 
This was a small blip, however, as Paddy would push on and win seven straight fights on Cage Warriors, winning the Featherweight Championship in a fight with Johnny Frackely, not to mention winning the vacant FCC Championship against Kevin Petshi at Full Contact Contender 12. It would take another UFC alum, Nad Narimani, to beat Paddy at Cage Warriors 82, taking the belt in the process, and this defeat would prompt Paddy to change weight classes and fight at Lightweight. This was a smart move as this seemed to curb the issues Paddy was having with meeting weight, an issue that he still contends with today. 
Paddy began his lightweight career with a win against Alexis Savvidis, winning via submission, and would earn a title shot; however, Paddy would succumb to his last recorded loss to date, losing by unanimous decision against Søren Bak and missing out on the Cage Warriors Lightweight Championship. Incredibly though, Paddy would bounce back, winning his next two fights on Cage Warriors, and would earn a contract with the UFC as a result. 
Hitting the Big Time – UFC Career
Vs. Luigi Vendramini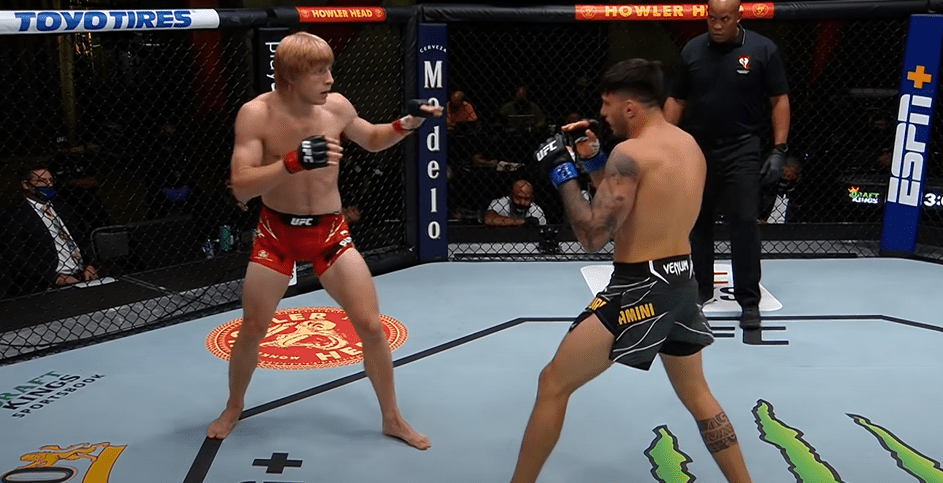 Paddy earned his shot at the big time and would be placed up against Luigi Vendramini at UFC Fight Night 191. Paddy was very much an unknown entity within the UFC, but he would change that very quickly. Paddy started fast in this fight and, after weathering a few hard hits, landed a head kick in the first round, securing the TKO finish and earning himself the Performance of the night, and the 50,000-pound bonus that comes with it. It was a performance that would send shockwaves through the MMA, and Barstool Sports was the quickest brand to sign up the star, as they would offer Paddy an Endorsement deal worth over $1,000,000. The group would also sign fellow Merseyside scrapper Molly 'Meatball' McCann. 
Vs. Rodrigo Vargas
Paddy would step into the Octagon again on the 19th of March, this time against Mexican Lightweight, Rodrigo Vargas, who has since been released by the UFC. Paddy was really up against it in the early minutes of the fight, being taken down in the opening seconds of the fight by Vargas. However, when pinned against the cage, Paddy managed to sweep Vargas, taking him down and allowing him to set up a rear-naked choke which he would use to win via submission. This incredible sweep would earn Paddy yet another Performance of the Night bonus, and once again, a few heads were turned by this incredible Performance. 
Vs. Jordan Leavitt
This time we would see a fight from Paddy that would go beyond the first round in his battle with Jordan Leavitt. This one started much like the others, with Paddy absorbing a lot of initial pressure and spending a lot of time on the ground. Towards the end of the first round, though, Paddy would have a period of dominance and try to set up a rear-naked choke, as he had done against Vargas. Paddy was much more dominant in the second round and would eventually command a dominant position from behind, where he managed to lock in the rear-naked choke, and it wasn't long before Leavitt tapped to give Paddy his third win on the bounce.
As it stands, Paddy is one of the hottest fighters in the UFC, alongside close friend Molly McCann. However, as of the time of writing, Paddy has not been selected for his next UFC fight card. 
Outside The UFC
Paddy's Obsession With Food
One of the most interesting things about Paddy is his ability to gain and cut weight almost at will. Paddy has regularly spoken about his weakness for food and specifically desserts, which means that when he is not in a fight camp, you will typically see paddy floating around the 200lb mark, about 45lb over the max weight for his class. However, when it comes to weigh-in, Paddy always seems to drop those pounds and make things work for him. God, I would kill for that man's metabolism. 
Liverpool Boy At Heart
When you think Paddy the Baddy, you can't help but think Liverpool. Paddy is an icon within the city, and that is because he actively works within the community, and gives back to his city by returning to Next Generation MMA to coach the rising talent, among other projects. Plus, he reflects the values of the city at large, being a massive advocate for the Labour party in the UK, and a major opponent of the Tories. He also has a hatred for The Sun newspaper, as most Liverpool residents do for their actions regarding the Hillbourgh Disaster, and he openly boycotts them in media coverage. 
Liverpool FC Fan
Growing up in Liverpool means you are either a blue (Everton Football Club) or you are a red, and Paddy is a huge red who shares his thoughts and opinions on his boyhood club, Liverpool FC, regularly. He has even stated that he would love to fight for the UFC at Anfield and share the same stadium as some of his childhood and current heroes. 
Recently Engaged
Paddy keeps things pretty private when it comes to his home life and his family. However, we do know that Paddy proposed to his now fiance Laura Gregory in 2020, and a wedding is now on the cards, preferably when Paddy isn't juggling wedding planning with dodging fists. 
Appearances and Media
Aside from Paddy's best moments in the ring, he has proved that he is quite a character when not putting his body on the line in the Octagon. Here are some of Paddy's best media appearances outside of the MMA world: 
Have A Word Podcast
Paddy has appeared twice on Have a Word, an incredibly popular UK podcast based in Runcorn, mere miles from Liverpool, making it one of the most popular Scouse podcasts around. Paddy speaks about the UFC, alongside the usual brand of nonsense that this podcast is famous for. Take a look: 
Paddy Heads Back To Next Gen MMA
As we mentioned, Paddy isn't the kind of guy that gets above his station and forgets his roots, and this is showcased in this video where he returns to his local gym, where he learned the tricks of the MMA trade. 
The Overlap Podcast w/ Molly McCann
It's almost nailed on that if Paddy features in some form of media that Molly McCann will be right there with him. This is due to their tandem rise through the UFC, their close relationship from before they were even fighters, and their dynamic relationship on screen. You can't help but love these two when they are together. There are tonnes of media to choose from when these two get together, but the best of the bunch might be their joint interview with former Manchester United right-back and Sky Sports pundit, Gary Neville. 
Best Moments in The Octagon
Then let's jump right back into the Octagon again so we can show you exactly what Paddy is about when the talking stops and the gloves are up. I'll throw in a mix of UFC wins, and a couple of notable Cage Warriors bouts. Check them out below: 
Paddy's UFC Debut Vs. Luigi Vendramini
Paddy's Most Recent Win Vs. Jordan Leavitt
Paddy's Fight Amateur Fight Vs. Scott Gregory
Net Worth
Paddy may be the fighter on everyone's lips where the UFC is concerned; however, he hasn't been around for very long, and he has only now developed the acclaim to demand huge PPV numbers. He was roughly making 12,000 pounds for every appearance in the UFC and double that if he won. Plus, he has managed to get two bonuses through the Performance of the Night award. Not to mention his deal with Barstool sports. So with all of this in mind, we estimate that Paddy is worth a cool 250,000 pounds. 
Famous Quotes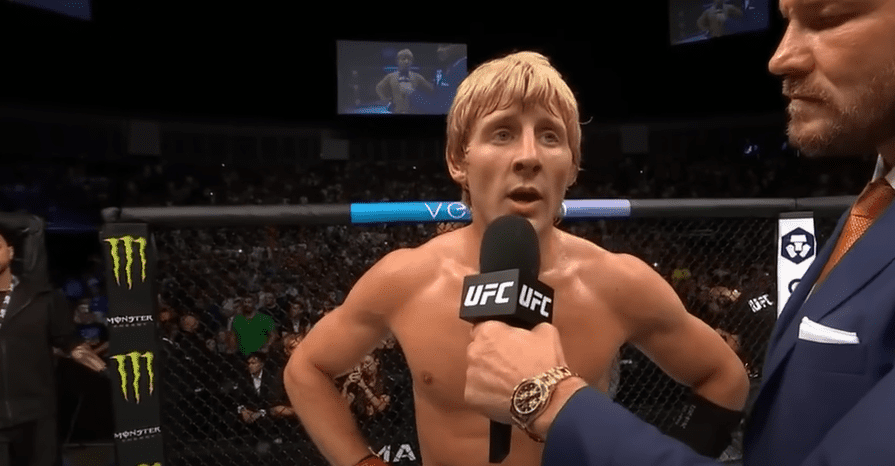 On Mental Health
"I always knew I could come through adversity because I've done it in my life. I've come through lots of battles with depression and mental health at such a young age. I've come through a lot of stuff, and people don't see that side of fighting. That Performance there for me; it shows everyone what I'm about."
"There's a stigma in this world that men can't talk. Listen, if you're a man and you've got a weight on your shoulders and think the only way you can solve it is by killing yourself, please speak to someone! Speak to anyone; I know I'd rather my mate cry on my shoulder than go to his funeral next week. So, please let's get rid of this stigma, and men, start talking!"
On Liverpool & Scouse Culture
"I'm a scouser; we don't get knocked out."
"If you work for The Sun, don't ask me a question."
On the UFC
"All the proper UFC officials are here, and all the head honchos, lad, and they all want to see the new cash cow, the new main man. So, I'm here to headlock Dana. I'm here to get them all in a headlock later and let them know who the new kid on the block is"
For a Baddy, He's Pretty Good
As you can see from this incredible rapid rise to stardom, Paddy 'The Baddy' Pimblett is certainly one to watch in the UFC for the next few years. Many see Paddy as the second coming of Conor Mcgregor, only a lot more humble, and it's hard to argue with that analysis. Paddy talks a good game, and has a distinguishable get-up with that mop haircut he sports. However, when the fight gets going, Paddy shows that he is more than just a flash in the pan, and I, for one, can't wait to stay up to ungodly hours to watch him fight when he inevitably takes the main stage in the US. That's been our Paddy Pimblett bio; I hope that it was everything you hoped for and more, and as always, thank you for reading Pro Sports Bio.
FAQs
Question: What UFC Rank is Paddy Pimblett?
Answer: Paddy, at the time of writing, is sitting 38th in the UFC rankings. However, the Liverpool-born star reportedly isn't too worried about the ranking and questions whether a lot of the names listed above him would even stand a chance against him in the Octagon. 
Question: Who is Paddy Pimblett's Next Opponent?
Answer: At the moment, we simply don't know. It's very easy to get wrapped up in the hype, but Paddy is yet to face someone who is considered one of the best in the lightweight division. Many have been asking for Conor Mcgregor to take a fight against Paddy. Whereas others would rather see Paddy fight against Michael Chandler, Justin Gaethje, or Dustin Poirier. However, a more realistic guess would be someone closer to his rank, such as Illa Topuria, Jim Miller, and Damir Ismagulov, who are all on equal winning streaks.
Question: Are Paddy and Molly McCann Related?
Answer: The simple answer is no; they are just childhood friends who have risen to stardom within the UFC at the exact same time. However, their comradery, their community spirit, and their togetherness are infectious, so I can see why this question gets asked regularly.
Continue reading related MMA Bios: