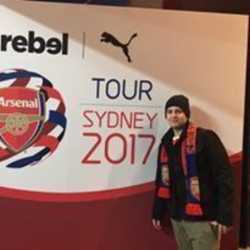 Latest posts by Adam Schultz
(see all)
Tom Brady Quick Facts
Full name: Thomas Edward Patrick Brady, Jr
Birthdate: August 3
Birthplace: San Mateo, California
Nickname: Tom Terrific
Nationality: American
Siblings: Julie Brady, Nancy Brady, and Maureen Brady.
Children: John Edward Thomas Moynahan, Benjamin Brady, and Vivian Lake Brady
Partner/spouse: Gisele Bundchen
Profession: American football player
Salary: $41.075 million for the year 2021
Net Worth: $260 million
Awards:

7x Super Bowl Champion

5x Super Bowl MVP

3x NFL MVP

2x NFL Offensive Player of the Year

NFL Comeback Player of the Year

3x First-team All-Pro

14x Pro Bowls

4x NFL passing touchdowns leader

3x NFL passing yards leader

2x NFL passer rating leader

NFL completion percentage leader

NFL 2000's All-Decade Team

NFL 2010's All-Decade Team NFL 100th Anniversary All-Decade Team

Bert Bell Award (2007)

Associated Press Male Athlete of the year (2007)

Sports Illustrated Sportsman of the Year (2005) National Champion (1997).

Last updated: May 22, 2021.
Tom Brady Birthplace and Early Life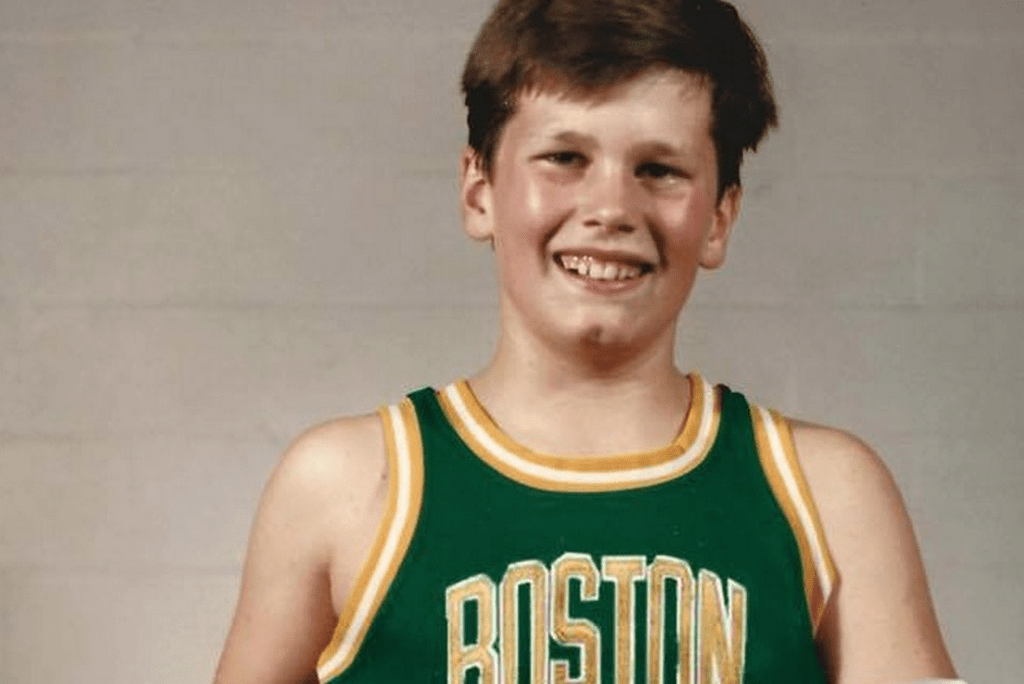 Brady was born in a place called San Mateo, California on August 3 in 1977. San Mateo is roughly 20 km from San Francisco and as of 2019, has a population of over 100,000 people. When Brady was a young boy, he would go to watch the San Francisco 49ers play at the then Candlestick Park as his favorite player was quarterback Joe Montana.
In 1981, Tom was at the NFC Championship match-up between the 49ers and the Dallas Cowboys where Montana threw "The Catch" to Dwight Clark. Growing up, Tom was an attendee at the College of San Mateo football camp where he learned all the skills that make him the player he is today.
When he was old enough, Brady attended High Scholl at Junipero Serra in San Mateo, and in 1995, he graduated. His football career began with him being the backup quarterback for the Padres junior varsity team and was deemed not good enough to start. He eventually won the job after the team started 0-8 and by his senior year, Brady was working hard to try and be noticed by college scouts.
Like many other football players, Tom created tapes of his play and sent them around to schools in the hope of gaining interest from their football programs. Coming out of high school, Brady was a very talented player and was highly rated
In high school, Brady was also a very good baseball player and in 1995, his talents impressed MLB scouts and he was taken in the 18th round in the 1995 draft by the then Montreal Expos. Tom was ready to sign his contract but when he learned of the interest from schools wanting him to play football, he gave away baseball. In 1995, Brady chose to play for the University of Michigan and his college football career began.
Tom Brady Professional Career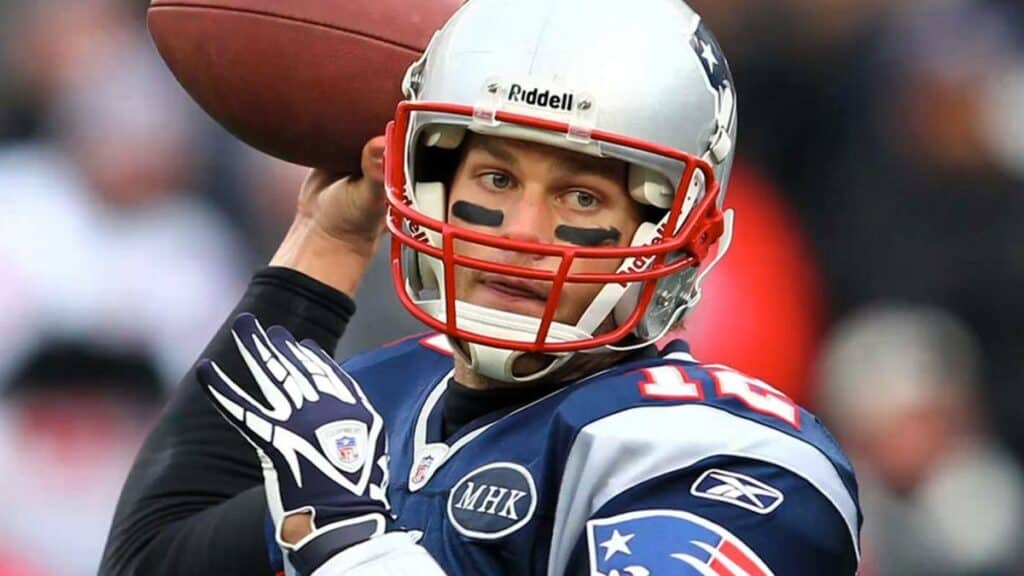 Tom's professional football career began in 2000. He was taken at pick 199 (second to the last pick in the entire draft, sixth round) by the New England Patriots and was a backup for his first season in the pros. However in 2001, in the second game of the season, Brady got his chance, and as they, the rest is history. Drew Bledsoe was the Patriot's starting quarterback until he got injured.
Tom was not flashy and did his best to play within his limits as a young quarterback and due to his ability to play mistake-free football, Brady led the Patriots to an 11-3 record. Tom then led the Patriots through the playoffs and made it to the Super Bowl. Brady upset the St. Louis Rams and a young San Mateo boy became a man as he was also named the Super Bowl MVP.
During his first three years as a starting quarterback in the NFL, Brady was a sight to behold. No one expected this from a skinny kid from Michigan and he had a 40-12 record throughout three seasons. In 2004, Brady returned to the Super Bowl and defeated the Carolina Panthers as Brady won another ring and another Super Bowl MVP. The following year, Brady led the Patriots back to the Super Bowl where again he was victorious, this time over the Philadelphia Eagles to win his third Super Bowl ring in four years.
Three years later Brady had perhaps his best-ever season. Leading the Patriots to an undefeated 16-0 record and broke Peyton Manning's record for touchdown passes. Despite their seemingly invincible team, Brady and his Patriots fell to the New York Giants and Eli Manning. In the first game of 2008, Brady suffered a season-ending knee injury and in 2009, returned to lead the Patriots to the playoffs.
In 2010, Brady won his second NFL MVP award after leading the Patriots to a 14-2 record but ultimately lost in the first round of the playoffs.
Two years later, Brady and the Patriots again returned to the Super Bowl, and against the team that defeated Brady last time he was in the penultimate match of the season, the New York Giants. Unfortunately for Tom, Eli and the Giants again got the better of him and it would be two years until Tom and the Pats returned to the Super Bowl.
It was in 2014 in which Tom and the Patriots defeated the Indianapolis Colts to go to their sixth Super Bowl match. However that win would forever tarnish Brady's reputation as after an investigation, it was found that out of the 12 official match footballs, 11 of them were significantly delated. What does this mean? It makes throwing the balls easier and allows them to travel further through the air.
The Patriots met Russell Wilson and the Seattle Seahawks and Brady had to lead his team with another fourth-quarter come from behind win. The game is most remembered by Seahawks coach Pete Carroll's decision to throw the ball instead of running it when on the 1-yard line in the final minute of the game. The Patriots won the contest and Brady won his third Super Bowl MVP award.
The following year, the NFL suspended Brady for four games for his involvement in the deflation of footballs or "deflate-gate" as it became known. The whole thing was a mess as it went through the courts and it seemed to motivate Brady. Tom led his team to a 10-0 start however he could not capitalize on that good start as Peyton Manning and his Denver Broncos bested him in the AFC Championship game.
In 2016, Brady again found himself back where he wanted to be, in the Super Bowl. After serving his four-game ban, Tom only threw two interceptions en route to another Super Bowl win as he led the Patriots back from a 25-point third-quarter deficit against the Atlanta Falcons. In doing so, Brady won an incredible fifth Super Bowl ring.
Brady won his third NFL MVP award in 2017 as he led the Patriots to the best record in the AFC and again made it to the Super Bowl (his eighth) against Nick Foles and the Eagles. After a titanic struggle, Brady fell short as the Eagles claimed the Super Bowl trophy and Foles won the Super Bowl MVP.
That seemed to light the fire for Brady as he took the Patriots to their tenth consecutive division title and again led them to another Super Bowl appearance against the LA Rams. It was a defensive struggle as only 16 points were scored but luckily for Tom, 13 of them were from him as he won his sixth Super Bowl ring and become the oldest quarterback to win a Super Bowl (age 41). 2019 was a bad year by Tom's standards as although he won the division title yet again but was dumped out of the playoffs in the first round. 
Then came the announcement that shocked the NFL world in March of 2020, Brady would leave the Patriots and take his talents to Tampa Bay. Many were skeptical about what exactly Brady could do. It was his first time with a new team, he had to learn a new system and build up cohesion with his receivers. Brady won 11 regular-season games as Tampa Bay won three straight playoff road wins en route to yet another Super Bowl appearance against poster boy Patrick Mahomes and the Kansas City Chiefs.
Tom did not set the world alight in the game but did what he had to do as the Tampa defense terrorized Mahomes as Brady won an unprecedented seventh Super Bowl ring. Now in his second season with the Buccaneers, Brady has kept all of his weapons on both sides of the ball as he goes in search of an incredible eighth Super Bowl ring.
Tom Brady Highlights/Top games
The five best games that Tom Brady has ever played in the NFL.
Tom Brady Family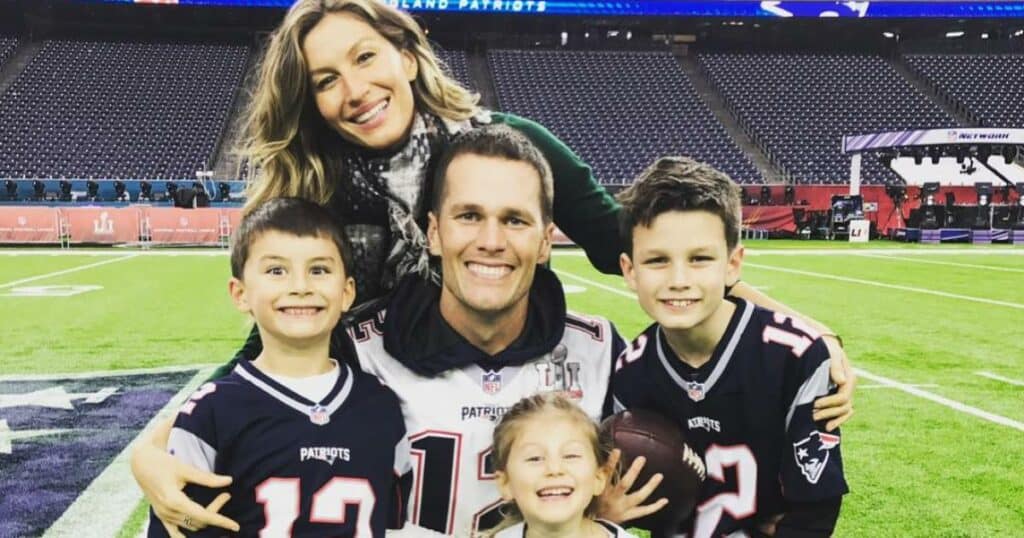 Everyone knows how much Tom values his family and it shows. Regularly seen on the field post-game with his wife and kids. Gisele Bundchen (wife) is famous in her own right as a model and businesswoman. In 2007, Gisele was the 16th richest woman in the entertainment industry. Brady's children John Edward Thomas Moynahan, Benjamin Brady, and Vivian Lake Brady are all regular attendees to their dad's games.
Tom Brady Net Worth and Career Earnings
The greatest quarterback's net worth as of 2021 is $200 million according to Clutch Points.com. When it comes to Brady's career earnings when we add in the money he has made in 2020, Brady's total earnings are $263 million over his 21-year career. That averages to be $12.525 million per year. While that might seem low for a player of Tom's talent, he is known for taking less money in his contracts to allow the organization to use that money to bring in other big-name players.
Tom Brady Famous Quotes
A player of Tom Brady's stature is sure to have some really good quotes and here are a select few:
-"I'm a pretty good winner. I'm a terrible loser. And I rub it in pretty good when I win".
-"Every quarterback can throw a ball; every running back can run; every receiver is fast; but that mental toughness that you talk about translates into competitiveness". 
– "I just love working hard. I love being part of a team; I love working toward a common goal".
–  "You wanna know which ring is my favorite? The next one."
FAQ's
Question: How old is Tom Brady?
Answer: Tampa Bay quarterback Tom Brady is currently 43 years old and is currently the oldest quarterback in the NFL.
Question: What is Tom Brady's regiment?
Answer: Tom is an advocate of drinking smoothies and protein shakes. He always has one for breakfast along with some seeds and nuts. Brady's favorite fruit is bananas however aside from his breakfast, his overall diet does not consist of too much fruit.
Question: Does Tom Brady take supplements?
Answer: Yes, he does and he has his own business regarding it too. TB12 was inspired by all of the supplements that Brady has taken during his professional career. The best supplements to improve your quality of life, performance and help your muscles recover according to TB12 are TB12 Multivitamin, TB12 Focus, TB12 Omega, TB12 Probiotic, along TB12 Vitamin D.