Latest posts by Pro Sports Bio Team
(see all)
Amy Askren is the wife of the famed MMA fighter Ben Askren. They have been married for 11 years and have three children together. Amy is a real estate agent and attends Ben's matches regularly. In the most recent match, Ben fought Jake Paul, who spoke negatively towards Amy. Read more to find out!
Amy Askren Quick Facts
Full Name: Amy Elizabeth Sarver
Birth Date: March 10, 1986
Birth Place: Overland Park, Kansas
Nick Name: Amy
Nationality: American
Siblings: Brad Askren
Children: Alex, Andy, and Ozzi
Partner / Spouse: Ben Askren
Profession: Real Estate Agent
Salary: Unknown
Net Worth: Unknown
Social Media – Instagram
Awards: None
Last Updated: August 2021
Amy Askren Birthplace and Early Life
Amy was born in Overland Park, Kansas, on March 10, 1986. She hasn't revealed much about her early life or background, but she was born into a Christian household and is of white Caucasian origin. Her father is named Dan Sarver and her mother is named Cathy. Her father worked for Veema Nutrition Company for 15 years before her parents founded Sarver Wellness Corporation, which sells medical equipment. She has a brother named Bradley Sarver, but not much is publicly shared about him.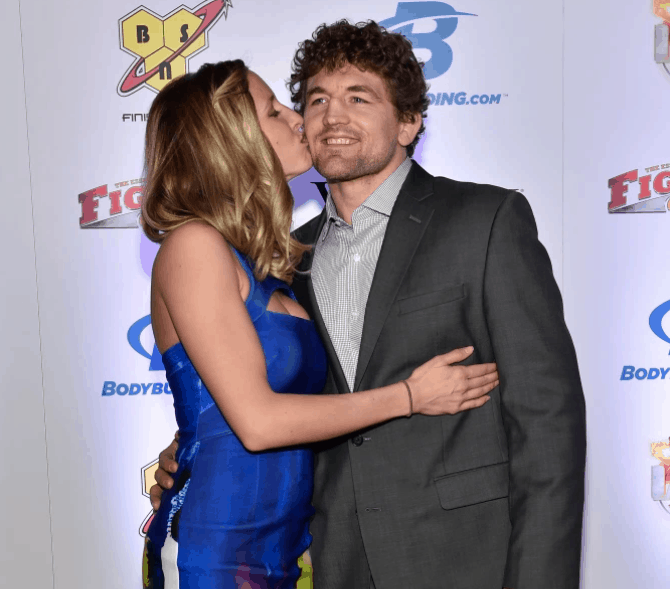 Amy has not revealed much about her early education prior to college. It is known that she is a high school graduate from a local Overland Park, Kansas high school. Afterward, Amy made the transition to a four-year college and was accepted to the University of Missouri. She started her journey to receive a collegiate degree in 2004. Amy earned a bachelor's degree with a major in Finance from the University in 2008.
Amy Askren Professional Career
After college, Amy moved to Milwaukee, Wisconsin. She moved because she was following her soon-to-be husband, Ben Askren. She had met Ben previously while they both attended the University of Missouri. It is unknown if they lived together or were dating at the time, but two years after she graduated, she married Ben.
In Wisconsin, Amy worked as a pilates teacher at a local studio in Milwaukee, Wisconsin. She worked at the studio from September 2011 to February 2013. She has not spoken about working as a pilates instructor, but she must have enjoyed it. She has posted on social media about staying active the older she gets, and it is assumed she still enjoys pilates.
After working at the pilates studio, Amy decided to change course and began working at her father's company, Vemma. Vemma creates nutrition-based products, and Amy worked as a brand representative. She is still associated with Vemma, although she does not work there anymore.
Most recently, Amy decided to become a real estate agent. She started this journey in 2018 and received her license in 2019. She worked for Firefly real estate in Milwaukee and still does currently. In June of 2021, she was pictured on a reusable bag for her company in order to gain more business leads. She is a popular woman in the company and seems to enjoy her work.
Amy Askren Video
Amy's husband, Ben Askren, fighting opponent Jake Paul
Amy Askren Controversy with Jake Paul
Recently, Amy received significant media attention because of her social media battle with MMA and social media star Jake Paul. Before the match, Jake Paul allegedly slid into Amy Askren's DM's on Instagram. He spoke out about this and said she was thick, meaning good-looking/sexy. Jake said he was talking with Amy before the match in a flirtatious manner, and Amy was flirting back with him. He said that Amy called him handsome.
None of this is confirmed and simply just rumors that Jake Paul has started. Jake Paul does not have the best track record, though, so whatever he says should be taken with a grain of salt.
Amy did, however, respond to the controversy. She went onto Ben's Instagram and made a live video of herself responding to the negative things Jake was saying. She is known for frequently supporting and standing up for her husband online and dealing with haters and people on his behalf.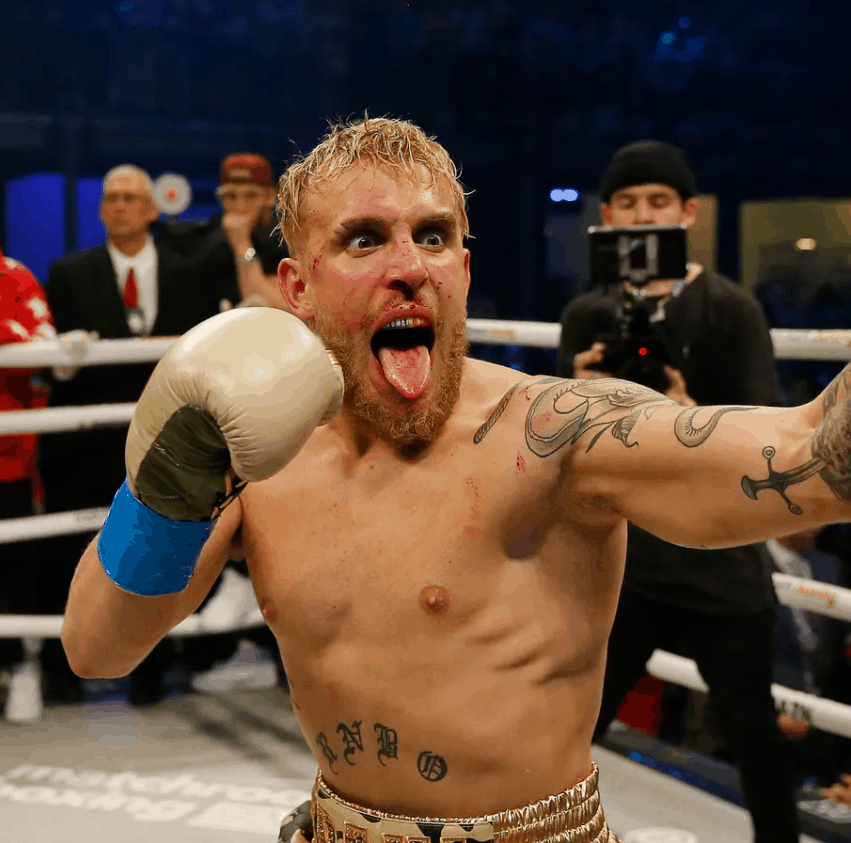 Paul has been involved in numerous controversies throughout his career as a result of his actions, including performing dangerous stunts, being fired from his Disney television show Bizaardvark, being charged with criminal trespass and unlawful assembly, and uploading age-inappropriate material to YouTube.
The fight between Paul and Askren sparked controversy, as many things do when Jake Paul is involved. With two big personalities fighting, the event made 1.45 million pay-per-view buys. This is an impressive amount for a fight, and it just shows how popular Askren and Paul are.
Amy Askren Family
Amy Askren is surrounded by her close family. While her parents still live in Overland Park, Kansas, her husband and three children live in Wisconsin together. Her husband, Ben Askren, is an MMA fighter with a plethora of awards.
Amy and Ben got married on April 9, 2010, after getting to know each other throughout their college careers. They created a beautiful friendship, and Amy says, "He really is the most mentally tough person I've ever met. It can sometimes be annoying when you're feeling lazy or looking for sympathy, but mostly I'm just in awe of the guy. " Later, they moved to Wisconsin and have been living there ever since.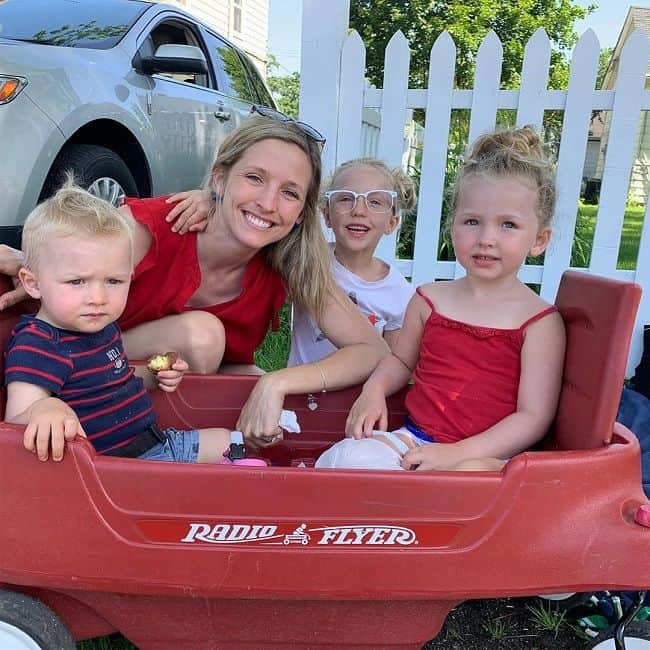 In addition to MMA, Ben plays disc golf. He is a competitive disc golf player and placed seventh in the Amateur World Championships in 2009. Discraft is Askren's sponsor. In addition, he invests in cryptocurrencies. He is also featured on a number of wrestling podcasts, as a special guest and as a regular co-host.
Amy is the mother of three children. All three are fathered by Ben. Her children are named Alex, Andy, and Ozzi. Their daughters, Alex and Andy, are old enough to attend their local school. Their only son, Ozzi, is in the local daycare and will soon be going to school as well. Ragnor, a cane corso, is the family's only pet.
Ben's Career
Before competing in the Ultimate Fighting Championship, Askren was the former Bellator and ONE Welterweight Champion, being undefeated for over a decade (UFC).
Askren's "funky" style featured a lot of unconventional scrambling methods, and he was recognized for his pinning skills and his big afro. His unusual and unusual body type for a wrestler allowed him to perform maneuvers that his opponents couldn't, putting them in awkward positions all the time. Askren was named one of six new entrants to the University of Missouri Intercollegiate Athletics Hall of Fame on January 9, 2012. This is where Askren met Amy for the first time.
Despite his heavy reliance on folkstyle rules, Askren was able to transition to freestyle wrestling very well after graduating from college. After adjusting his style throughout 2007, Askren won the US National Championship in April and was named to the US Olympic Team in June.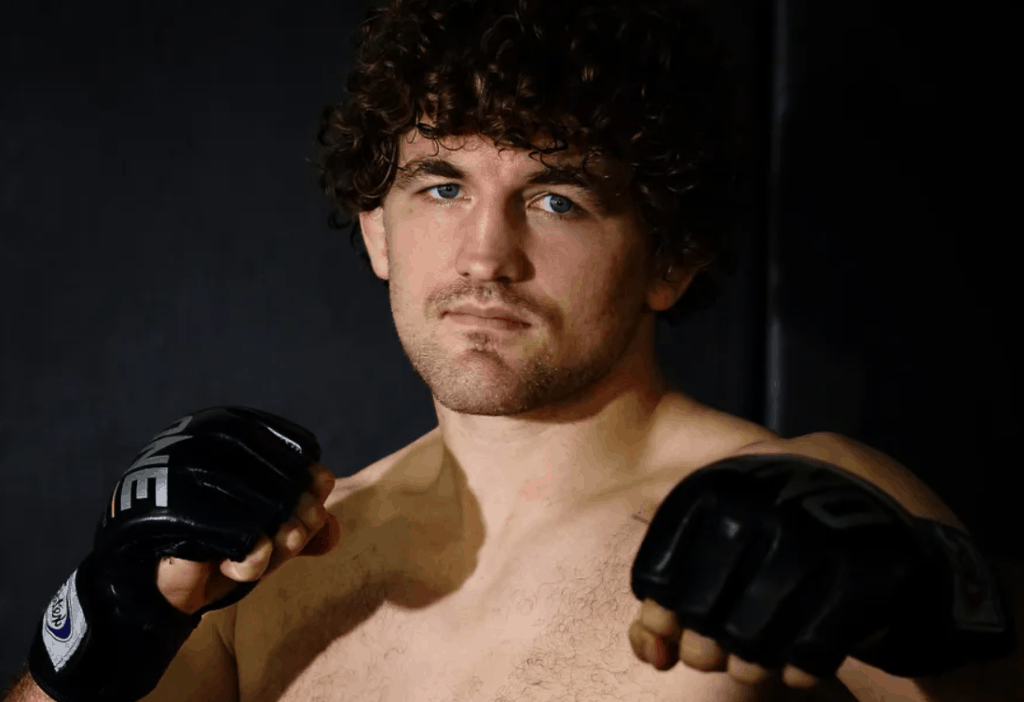 After the Olympics, Askren decided to pursue a career in mixed martial arts (MMA), but he continued to participate in wrestling on a regular basis. In the semifinals of the Cerro Pelado International in Cuba in 2010, he avenged his Olympic defeat by defeating Fundora. Askren had just won the Dave Schultz Memorial International when this happened. Later that year, at the Midlands Tournament, Askren upset 2009 world silver champion Jake Herbert, in a folkstyle rules match. Askren also competed in the Flo Premier League and the Agon Wrestling Championships. Askren lost to five-time World, and Olympic champion Jordan Burroughs in the annual Beat the Streets benefit event in May of 2019; the loss was due to technical dominance.
Amy Askren Net Worth and Career Earnings
Amy has been a real estate broker for numerous years and has been involved in the industry from the start. Her degree in finance has helped her achieve the profession she has today. In addition, she has worked hard to establish a decent existence for herself. Her primary source of income is her profession as a real estate broker at Firefly Real Estate, and her net worth, including that of her spouse, is projected to be approximately $10 million as of 2021.
Most of the money comes from Ben and his professional MMA and Olympic wrestling career. Amy can more than support herself, though, and is incredibly successful herself.
Amy Askren Social Media
Amy spends a lot of time on social media. She presently has 30.2k followers on Instagram, where she likes to post pictures of her kids, family, photos with friends, and support posts for her husband Ben, among other things. She is fairly outspoken on social media, and she is frequently seen discussing various aspects of Ben's career. She's also on Twitter, where she's had 415 followers since 2009. She presently has a reach of roughly 2290 individuals and friends on Facebook. She is not known to be active on any other social media platforms.
Amy Askren Famous Quotes
Amy Askren does not have any famous quotes of her own but her husband, Ben, certainly does.
"I don't care about having a fancy car. I don't have a lot of the wants and needs that a lot of people have where I would need to make a $1 million a fight." – Ben Askren
"People are stubborn, and sometimes even if change is good, people will always oppose change." – Ben Askren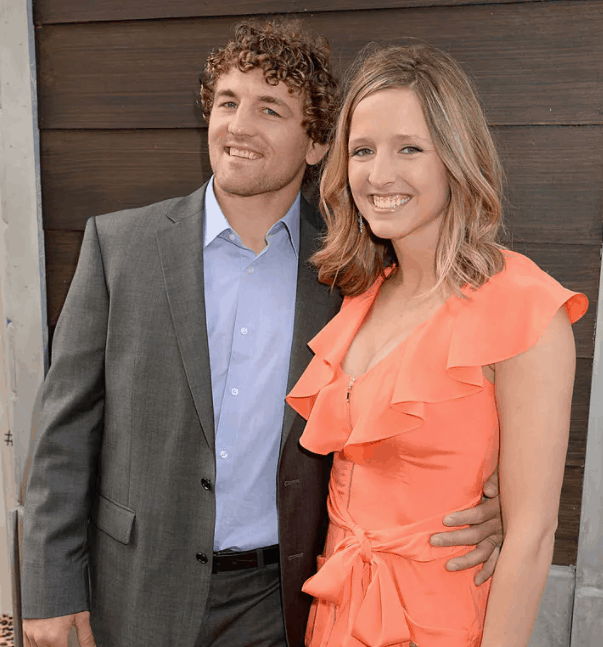 FAQs
Question: How Old is Amy Askren?
Answer: Amy Askren is 33 years old.
Question: When is Amy Askren's Birthday?
Answer: Amy Askren's birthday is March 10, 1986.
Question: Is Amy Askren Thick?
Answer: Amy Askren was referred to as 'thick' by bad-boy wrestler Jake Paul.
Question: How Much Money Did Jake Paul Make Fighting Ben Askren?
Answer: It is not for certain, but Jake Paul made around $690,000 for fighting Ben Askren.
Resources:
Continue reading related MMA Bios: