Latest posts by Pro Sports Bio Team
(see all)
Julie Poirier is the wife of the famed MMA star Dustin Poirier. She was born on March 4th and is 32 years old. She and her husband have a child together, and they share a tight-knit relationship. Jolie is seen at all of Dustin's games, cheering him on and trash-talking his opponents when needed.
She runs a charity that they have together called the Good Fight Foundation. They have been married since 2009 and have a strong relationship. Now, without further ado, let's get into this Jolie Poirier bio, enjoy!
Jolie Poirier Quick Facts
Full Name – Jolie LeBlanc (remarried to Poirier)
Birth Date – March 4, 1989
Birth Place – Lafayette, Louisiana, United States
Nick Name – Jolie
Nationality – United States
Siblings –

 

Javen, Jandy Poirier

Children – Parker Noelle Poirier
Partner / Spouse – Dustin Poirier
Profession – Charity Work – The Good Fight Foundation
Salary – Not known
Net Worth – Not known
Awards – None
Last Updated – August 2021
Jolie Poirier Birthplace and Early Life
Jolie Poirier was born on March 4th, 1989, in Lafayette, Louisiana. Lafayette is Louisiana's 4th largest city in the entire state. Growing up, Jolie was an active individual in the community and attended high school at Northside High School. Her to-be husband attended this same school, although he dropped out after his freshman year, as he was getting into too many fights. He later ended up in a juvenile detention center for his troublesome behavior.
After high school, there was not a lot of information about Jolie's life. There is no knowledge of her attending any college or secondary education. When her boyfriend was sent to jail, Jolie did not leave him, as most women might.
She stayed with him through his entire stay in juvie and even stayed with him after he got out. MMA Fighter Dustin has praised her for providing him with the light he needed through difficult times. He opted to pursue a boxing career at the age of 18, and she totally backed him, believing that he needed to find his passion and his outlet.
The couple decided to marry in 2009 when they turned 20 (they are only a few months apart in age). Poirier began his MMA career the same year, so she was well aware of the sacrifices required to help him thrive.
Jolie was Dustin's biggest supporter as he worked his way up to the UFC. She assisted him in preparing for fights during training camps, including sleeping downstairs in their home with their newborn daughter, Parker Noelle, so he could rest during his UFC Fight Night 94 training camp.
It turns out Jolie was right about Dustin. In 2009, he made it to the Ultimate Fighting Championship and fought in the lightweight and featherweight championship matches. UFC Lightweight Dustin Poirier has determination, combined with her energy and support, and this is what allowed him to make it professionally.
Dustin Poiriers wife has stood by him through his time rising through the ranks at World Extreme Cagefighting, right through to his UFC break, and has been in the crowd for his wins against the likes of Max Holloway, Dan Hooker, Eddie Alvarez, Justin Gaethje, Michael Johnson and Josh Grispi. Plus, she was also there for the losses against Chan Sung Jung, Club Swanson, Khabib Nurmagomedov, and most recently, Charles Olivera. 
Jolie Poirier's Professional Career
Not much is known about Jolie's career during the period when Dustin was working towards the UFC. After that, she and her husband started their own charity called Good Fight Foundation. She now works for the charity as well as being a full-time mom.
It started when Jolie proposed selling her husband's mixed martial art memorabilia to help the less fortunate after realizing that most of it was collecting dust. The couple's vision evolved into a lifelong dedication to aiding people in need.
Poirier and her husband founded the Good Fight Foundation in Lafayette, Louisiana, to assist impoverished youngsters. Since its beginnings, the foundation has expanded its services to cover anything from youth center funding to neighborhood food banks.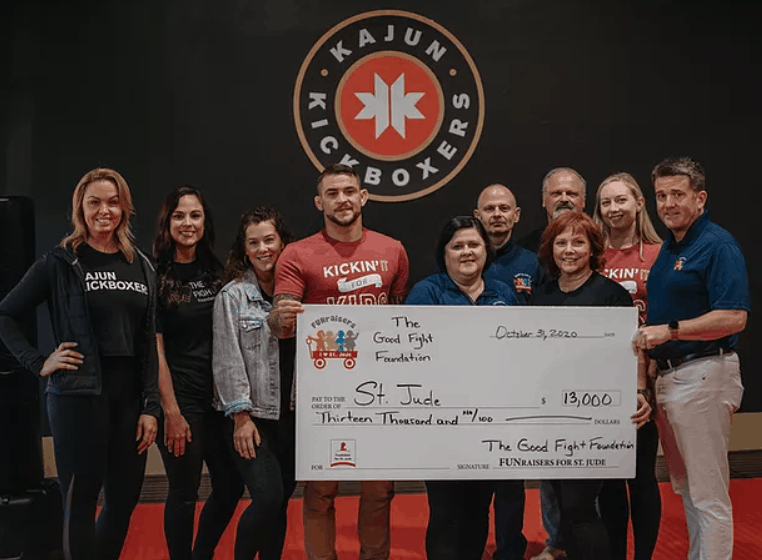 Poirier is the foundation's Vice President and Director. She actively supports her husband while he competes in the Ultimate Fighting Championship while ensuring that the company continues to achieve its goal. Poirier made headlines after UFC 257 for her touching encounter with Conor McGregor, who had offered a $500,000 gift to the organization.
Twitter Drama between Jolie and Conor McGregor
Conor McGregor is an Irish MMA champion and a known rival of MMA Fighter Dustin Poirier, Jolie's husband. McGregor released a screenshot of Dustin Poirier's wife's DM request. With just days until their highly anticipated trilogy battle at UFC 264, Conor McGregor took a shot at Dustin Poirier's wife.
McGregor brought Poirier's wife Jolie into the nasty back and forth debate, which some may consider a low blow. McGregor stated that he was not interested in becoming connected with another man's wife. Conor McGregor said to news.com when asked about the message: "You'd have to ask her, I haven't a clue. You'd have to ask her. I don't play that game… another man's wife. "
UFC Lightweight Dustin Poirier, however, argues that it was a fake DM message in order to rile him up for their fight. 'The Diamond', Dustin's nickname, denied the report in a recent interview with BT Sport, alleging it was made up.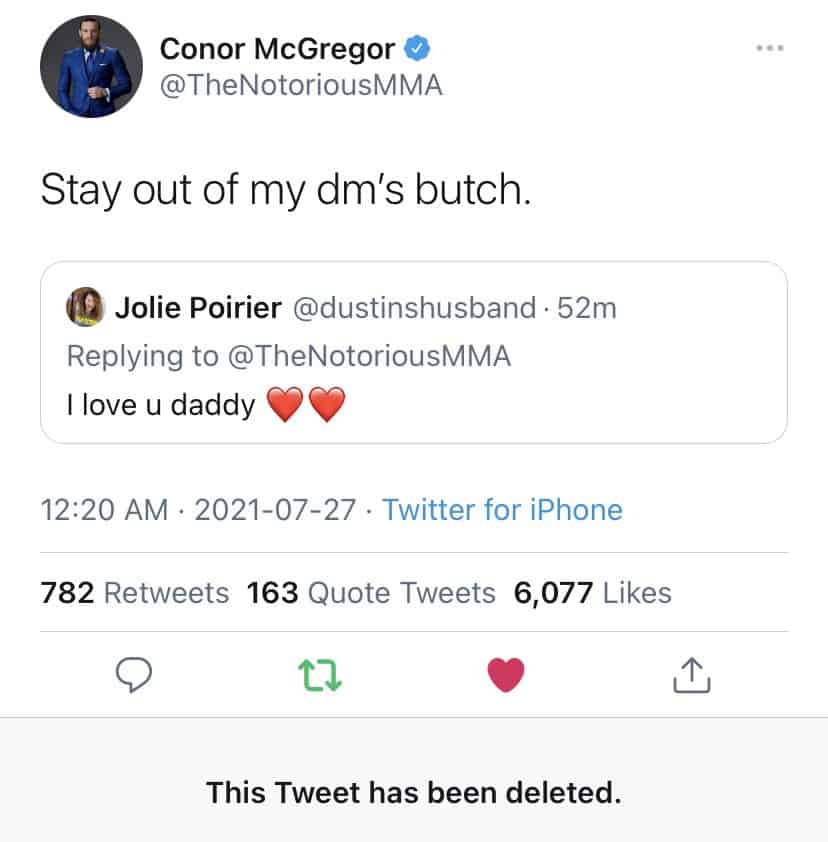 If the DM request had been accurate, Dustin Poirier believes it would have been a wise move by Conor McGregor to disclose it.
The Louisianan, on the other hand, claimed to grasp the fight game's dynamics and the trash-talk that goes along with it. Dustin Poirier, who seems unconcerned by the rumors, told Michael Bisping: "If it was real and my wife was messaging him or something like that, then it was a good move. But if it's fabricated or… so you know, me and my wife were laughing about it yesterday when I was at the grocery store. But it's just… there are no holds barred in the (expletive)-talking, so. "
Jolie Poirier Video
Dustin Poirier talking about Conor McGregor and his wife Jolie after his win against McGregor.
Jolie Poirier Social Media
Mrs. Poirier has over 66.3k Instagram followers as her fame grows. In addition, Julie's social media presence is comparable to that of a model. Fans are enthralled by her physique and body structure every time she publishes an image.
According to sources, she may have undergone weight loss based on some of her photos. Julie, who was once obese, now has a slimmer physique and a more desirable appearance. People are fascinated by her diets and hidden plans for such an amazing figure, so tales about her weight loss are spreading.
Her appearance has also changed as a result of her weight loss. However, we can't tell how much weight she lost just by looking at her. Julie, on the other hand, has always been concerned about her health and takes care of her body in every way. Working out is also a possibility, given that her husband is a UFC fighter.
The Jolie Poirier Family
Jolie and Dustin had their first child, Parker Noelle Poirier, on August 20, 2016. Since then, they have had no more children, nor do they say they are looking too. Rather, they are simply enjoying this time together with their children as a family.
Jolie and Dustin still live in Lafayette, Louisiana, but Dustin travels to South Florida for fights. He trains at American Top Team, and oftentimes, Jolie joins and brings her young 5-year-old Parker.
Jolie Poirier Net Worth and Career Earnings
Jolie Poirier's net worth is not known, although seeing that she works for charity and spends most of her time as a mother, it is in relation to her husband.
UFC 264 (Poirier v.s. McGregor) was a huge success for the mixed martial arts organization. According to UFC President Dana White, 20,062 fans packed the T-Mobile Arena in Las Vegas for a payout of around $16.7 million, which is the second-highest in UFC history. The 1.8 million buys made the pay-per-view event the second most popular in UFC history.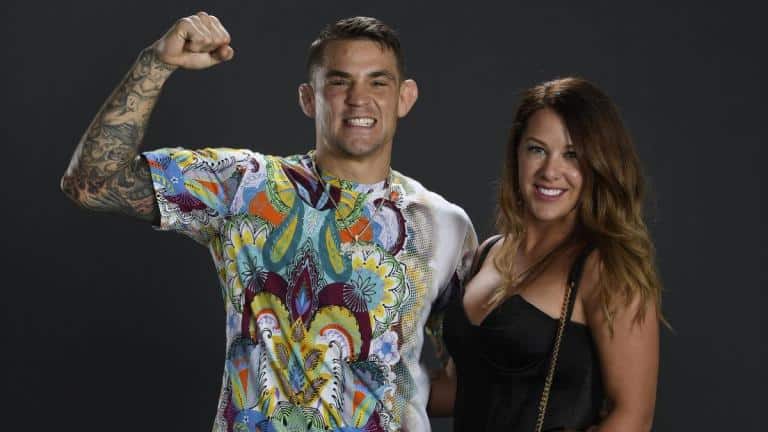 According to these figures, McGregor and Poirier are likely to have made large sums of money. Unfortunately, we won't know the exact figures because the Nevada State Athletic Commission (NSAC) decided last year to stop disclosing a fighter's earnings.
However, MMA Salaries has calculated expected pay for both men (as well as the rest of the UFC 264 participants) based on previous bout contracts, trends, and drawing power.
Overall, the site estimates that McGregor made little more than $23 million for the fight, while Poirier earned slightly more than $5 million, assuming a flat base salary.
McGregor's basic salary is estimated to be around $5 million, while Poirier's is $1.5 million. Neither main event fighter (as was the case in prior fighter pay disclosures) received a win bonus, nor did either receive any of White's post-fight bonuses.
While MMA Salaries says Poirier received the regular pay-per-view points, the site estimates McGregor received five times as many, netting Poirier an extra $3.6 million and McGregor an extra $18 million in pay-per-view purchases.
Sponsorship money of $11,000 was added to McGregor's total. Poirier received $21,000 of the funds.
Jolie Poirier Famous Quotes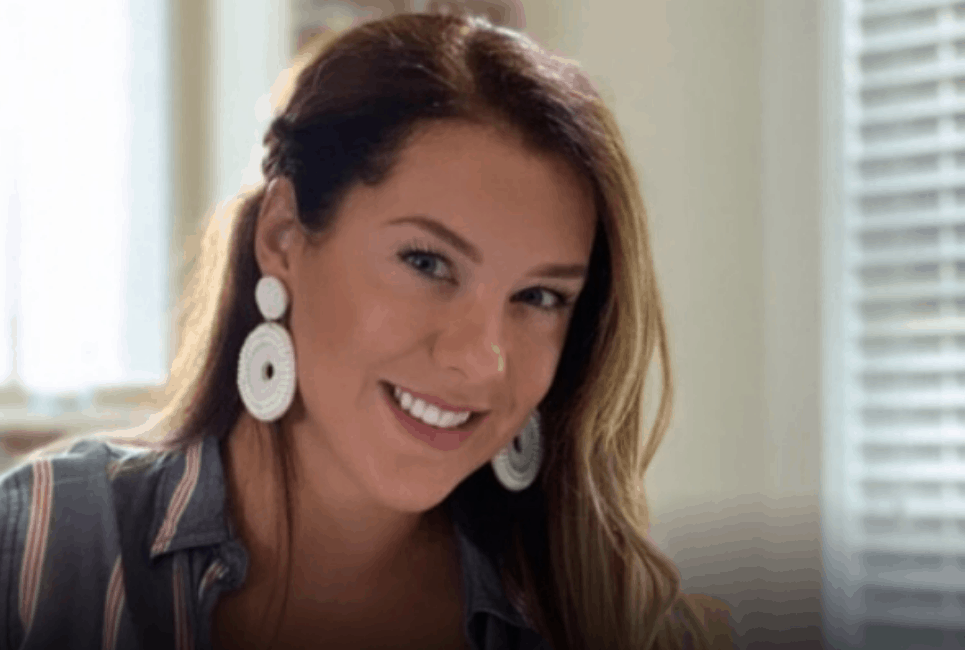 Jolie Poirier is not an outspoken woman and does not have any quotes that are well known. She is, however, incredibly popular on social media, and fans look forward to her posts on Instagram. She shares almost everything; MMA fights, her husband practicing, fashion, and their family.
On Instagram, she is also popular for her charitable work. She is often seen posting about donations and things the charity is doing in order to benefit the locals of Lafayette. Oftentimes, the benefits affect local youths and low-income families.
Lastly, Jolie is a role model on social media for her motherly figure. She posts a lot about her children and the challenges/opportunities she has while parenting.
FAQs
Question: How tall is Jolie Poirier?
Answer: Jolie Poirier stands at 5'6".
Question: How Old is Jolie Poirier?
Answer: Jolie Poirier is 32 years old. She was born on March 4th, 1989.
Question: What Did Jolie Poirier Say to Conor McGregor?
Answer: During UFC 264 (Poirier v.s. McGregor), Conor got brutal with his trash talking. He screamed at officials to ensure the result was ruled a doctor's stoppage and then erupted in a nasty rage while being interviewed by Joe Rogan while sitting against the cage after the bout.
McGregor couldn't help but throw one last jab at his American opponent, who had crushed the lightweight competition.
Some of the insulting remarks included: "I was boxing the bleedin' head off him, kicking the bleedin' leg off him. Usual s***e, dive to close the distance."
"This is not over. I have to take this outside with him, it's on."
"There was no check. There was not one of them was a check. Your wife is in my DM's."
"Hey baby, hit me back up and I'll chat to you later on. We'll be having an afterparty at the Wynn nightclub baby."
During the heated exchange, Jolie Poirier was seen giving McGregor the middle finger.
In response, Dustin Poirier said:
"This guy was saying he's going to murder me and all kinds of stuff, he's going to kill me, I'm going to leave here in a coffin. You don't talk like that to people, man.
"Karma's not a b***h, she's a mirror, and this guy's said the wrong s**t, and I've been busting my ass. Sometimes these things happen. Naw, I beat the guy."
====
Research Citations
Continue reading related MMA Bios: