Latest posts by Pro Sports Bio Team
(see all)
LeBron James was born on December 30, 1984, in Akron, Ohio, and is widely considered the finest basketball player in the world. In the fifth grade, he began playing organized basketball. His freshman year of high school began with him joining the varsity basketball team at St. Vincent-St. Mary's.
However, James was a multi-talented athlete who excelled in sports other than basketball. His efforts as an advocate for children from his hometown of Akron have impacted people's lives around the nation.
LeBron James Quick Facts
Full Name: LeBron Raymone James Sr.
Birth Date: December 30th, 1984
Birth Place: Akron, Ohio
Nick Name: King James/The Akron Hamer
Nationality: American
Siblings: Aaron McClelland Gamble (half-sibling)
Children: Zhuri James, Bryce Maximus James, Bronny James
Partner / Spouse: Savannah Brinson James (wife)
Profession: Basketball Player
Position: Small Forward, Shooting Guard
Salary: 39 million
Net Worth: – $500 million
Awards: 4× NBA champion (2012, 2013, 2016, 2020), 4× NBA Finals MVP (2012, 2013, 2016, 2020), 4× NBA Most Valuable Player (2009, 2010, 2012, 2013), NBA Rookie of the Year (2004), J. Walter Kennedy Citizenship Award (2017), 4× AP Athlete of the Year (2013, 2016, 2018, 2020), 3× Sports Illustrated Sportsperson of the Year (2012, 2016, 2020), Time Athlete of the Year (2020).
Last Updated – August 2021
LeBron James Birthplace and Early Life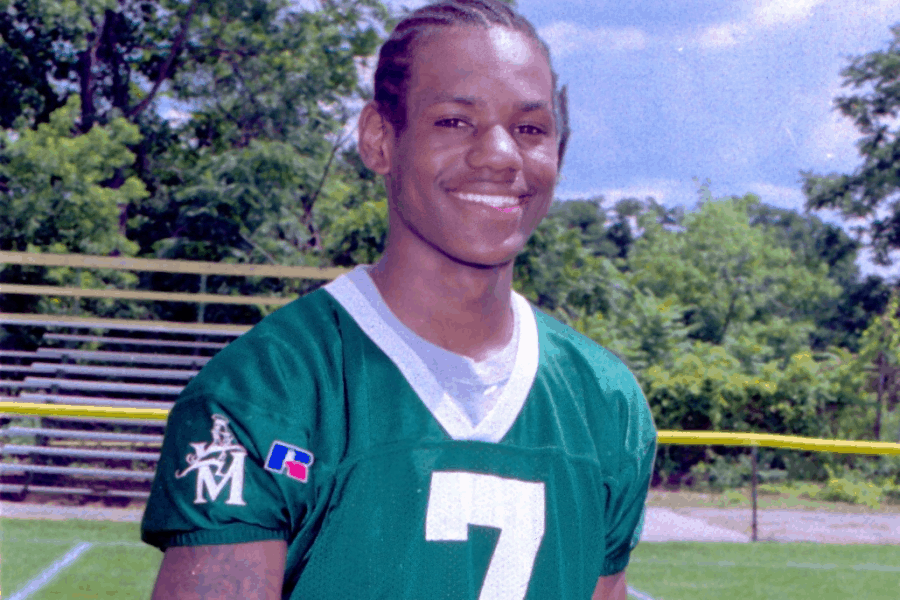 LeBron James was born on December 30th, 1984, in Akron, Ohio. Growing up, he had close relations with his mother, Gloria Marie James, while his father, Anthony McClelland, had a considerable criminal record and was uninvolved in James's life. Gloria had James at only sixteen, making it nearly impossible for her to support her new son. Growing up, they moved often, and when James was in elementary school, he went to live with Frank Walker, who exposed nine-year-old James to basketball.
James was more athletic and taller than others his age, making him the perfect basketball player. Going into high school, St. Vincent-St. Mary High School, a predominantly white, private Christian school, recruited him.
High School Basketball Career
In his freshman year, James scored an average of 18 points and 6 rebounds a game. He led his team to the Division III state championship, making them the only boys' high school team in Ohio to be undefeated for the whole season.
The next year, James's high school basketball team, The Fighting Irish, won the state championships again. James was dubbed "Ohio Mr. Basketball" and was selected to the USA Today All-USA First Team for his exceptional effort, making him the first sophomore to accomplish so.
He achieved other extraordinary accomplishments in his high school career, such as being the first underclassman in Sports Illustrated. He broke other records, being the first junior to be named the Gatorade National Player of the Year. After a loss in the Division II Championship, James petitioned to change the NBA Draft Regulations to enter the 2002 NBA Draft.
Although the petition didn't go through, his senior year was filled with more achievements. He scored an average of 31.6 points per game, leading his team to their third state championship. He was selected to the USA Today All-USA First Team for the third year in a row and was named Gatorade National Player of the Year for the second year.
At the end of his senior year, James participated in three high school all-star basketball games, which led him to lose National Collegiate Athletic Association eligibility. However, it was not bad news for James as it meant he would enter the 2003 NBA Draft.
LeBron James Professional Career
The Cleveland Cavaliers
LeBron James was the first overall pick for his hometown team, the Cleveland Cavaliers. Similar to his high school career, he set a record right off the bat, scoring the most points as a prep-to-pro player in his first game.
LeBron was nominated as NBA Rookie of the Year at the end of the season, making him the first Cleveland Cavalier to be nominated. LeBron averaged 20.9 points a game, making him only the third rookie to average 20 points a game.
LeBron made his debut appearance in the 2004-5 NBA All-Star Game, responsible for 13 points, 8 rebounds, and 6 assists in one game. While this was impressive, he also set the record for most points in a Cavalier game, scoring 56 points.
The next year, in 2006, LeBron was selected again for the NBA All-Star Game and was named the NBA All-Star Game's Most Valuable Player. The same year, LeBron led the Cavaliers to the NBA Playoffs for the first time in 9 years. While they didn't make it to the finals, it was still another personal achievement for LeBron.
The Cavaliers made it to the NBA Playoffs again in the 2006-7 season. During game 5 of the playoffs against the Detroit Pistons, LeBron scored the winning layup in just the final two seconds of double overtime. This play has been called "One of the greatest moments in postseason history" by commentator Marv Albert. The Cavaliers made it to the championship game but couldn't beat the San Antonio Spurs.
James placed runner-up in the NBA Defensive Player of the Year voting and was named to his first NBA All-Defensive Team after having a record of 23 chase-down blocks and 93 total blocks in the season. He was on a high, sweeping the Atlanta Hawks and the Pistons, only to lose to the Orlando Magic in the championship.
The Miami Heat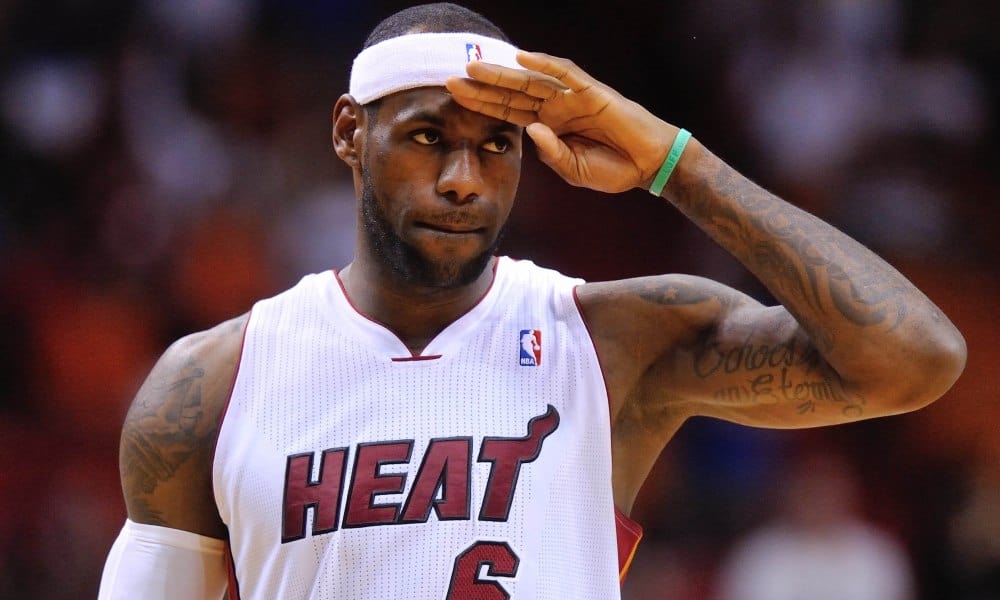 In 2010, LeBron became a free agent. Several teams, including the New Jersey Nets, Bulls, Miami Heat, Los Angeles Clippers, New York Knicks, and Cavaliers, all approached James during this time. On a special one-time ESPN program, LeBron James announced that he would sign with the Miami Heat.
Following his departure from the Cavaliers, James was widely chastised by sports experts, executives, fans, and current and former players. Following the announcement that James would not be returning to Cleveland, Cavaliers owner Dan Gilbert wrote to supporters in which he harshly criticized James' behavior. Michael Jordan and Magic Johnson, both former formidable NBA players, were among those who also criticized James. LeBron became known as one of the most disliked athletes in the NBA.
The media and rival fanbases portrayed James and the Heat as villains during the 2010–11 season. He drove Miami to a win by scoring 38 points in a game against the Cavaliers, despite being booed every time he touched the ball.
He scored the final ten points of Miami's playoff victory against the Boston Celtics. He famously knelt on the court after the final buzzer in an emotional moment, later saying it was a personal triumph for him and his team.
In the next season, LeBron James and the Heat made it to the championship in a matchup against the Oklahoma City Thunder and LeBron James's competitor, Kevin Durant. After winning the game, LeBron was named the Bill Russell NBA Finals Most Valuable Player. 
During the 2012-13 season, the Miami Heat started a 27-game winning streak, the third-longest streak in NBA history. The Heat won the championship, and James was named MVP for the second year in a row.
LeBron Returns to the Cleveland Cavaliers 
In 2014 LeBron left the Miami Heat and announced that he wanted to re-join the Cavaliers. While leaving the team was notorious, his announcement was well received by fans and media.
After his returning season, it appeared that the Cavaliers might have lost their steam. Nevertheless, Cleveland triumphed, becoming the first team in NBA history to come back from a 3–1 series disadvantage in the Finals and won the city's first professional sports championship in 52 years. LeBron was named Finals MVP for the third time in another unanimous vote.
During LeBron's last season for the Cavaliers, he was nominated NBA All-Star Game MVP had some of his most memorable moments along the way, including a game-winning shot against the Pacers and a game-winning shot against the Raptors.
Los Angeles Lakers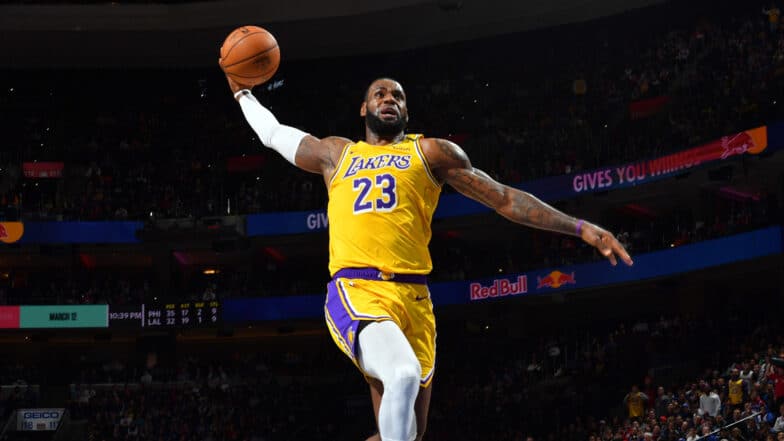 James opted out of his contract with the Cavaliers on June 29, 2018, and became an unrestricted free agent. He joined the Los Angeles Lakers on July 1st. James was injured in the groin, his first severe injury in his career. Without him, the Lakers slipped out of the running for the playoffs after he missed a then-career-high 17 consecutive games.
James surpassed teammate Kobe Bryant for third place on the all-time regular-season scoring list on January 25, 2020, the day before Bryant died with his daughter in a helicopter tragedy.
After beating his former team, the Miami Heat, in the championship, LeBron won his fourth NBA Championship and fourth Finals MVP Award. He became the second-oldest player to win the award at 35 and the only player to win it with three different teams.
Above: LeBron James's historic block
Below: LeBron James 35 top plays
LeBron James Activism Off the Court 
The After-School All-Stars, Boys & Girls Clubs of America, and the Children's Defense Fund are among the non-profit groups that James supports. He also has his own charity foundation, the LeBron James Family Foundation, which dedicates its time, money, and attention to the children of Akron, Ohio, where LeBron grew up.
LeBron has donated money to the Smithsonian National Museum of African American History and Culture for an exhibit on Muhammad Ali. He was honored by the NBA in 2017 with the J. Walter Kennedy Citizenship Award for his "outstanding service and dedication to the community."
LeBron has said the largest accomplishment of his life, however, was a partnership with the Akron School Board, helping struggling elementary school children, such as himself, stay in school.
LeBron James Family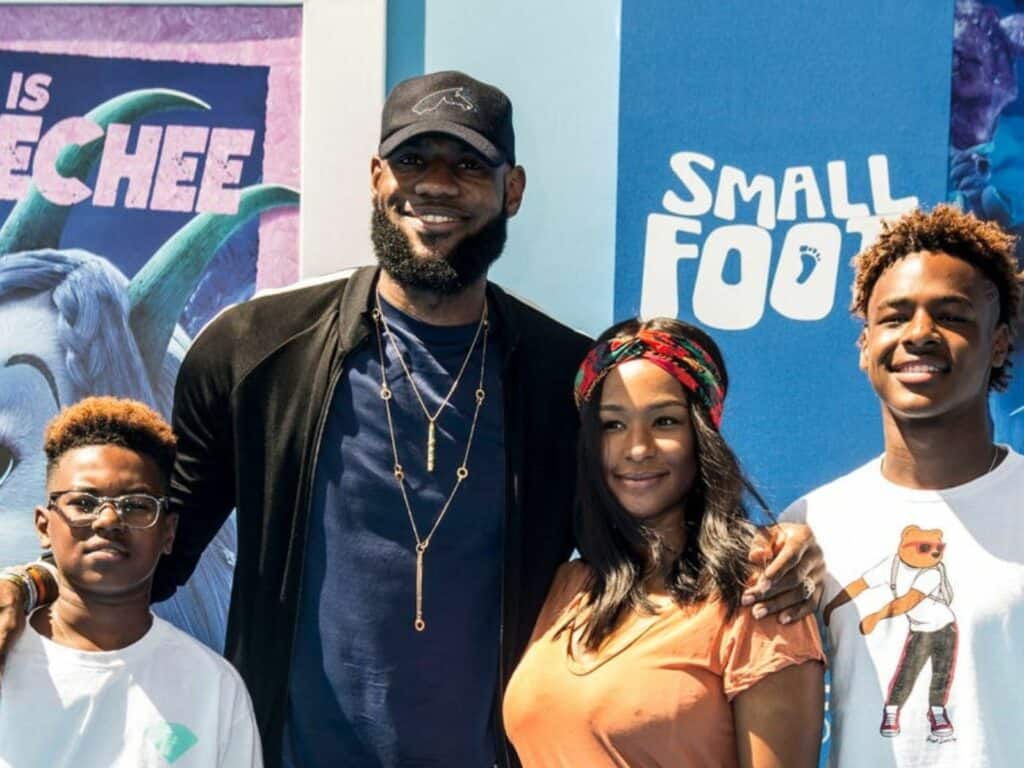 On September 14, 2013, James married Savannah Brinson, his high school girlfriend, in San Diego, California. Bronny, Bryce, and daughter Zhuri are their three children.
The Lebron family lives in Los Angeles, California in a $23 million mansion. He lives in Los Angeles' affluent Brentwood area, adding to his already outstanding real estate portfolio, which includes another Los Angeles mansion and his Akron home.
LeBron James Net Worth and Career Earnings
In 2021, LeBron James is said to make 39.22 million USD per year from his 2 year NBA contract with the Los Angeles Lakers. He was the sixth highest-paid athlete in 2020, according to Forbes, with anticipated annual earnings of $88.5 million. Furthermore, James is claimed to have amassed a net worth of $500 million throughout the course of his remarkable career.
LeBron is one of the wealthiest NBA players. In addition to his NBA salary, he is sponsored by companies such as Nike, Coca-Cola, Beats-by-Dre, and 2k Sports. LeBron can be seen in many commercials for Mountain Dew, Sprite, Nike, and formerly Coca-Cola.
LeBron James made voting efforts he dubbed "More Than a Vote," following the murder of George Floyd on May 25th while in police custody in Minneapolis, according to an interview with the New York Times. James collaborated on the "More Than a Vote" project alongside other African American athletes and artists.
Following the revelation of several incidents of voter suppression in Georgia, James responded to a tweet saying that some African American voters in Atlanta had to wait in line for over three hours to vote, while there was no line at all in surrounding majority-white communities.
James and his colleagues notably wore black hoodies in remembrance of Trayvon Martin when playing for the Miami Heat in 2012. He spoke out about the deaths of Michael Brown, Eric Garner, and Aavielle Wakefield in the years that followed. During warmups before a game, he even wore a t-shirt that said, "I can't breathe," quoting George Floyd.
LeBron James Famous Quotes 
"Don't be afraid of failure. This is the way to succeed." -LeBron James
"Dream as if you'll live forever. Live as if you'll die today." -LeBron James
"I'm going to use all my tools, my God-given ability, and make the best life I can with it." -LeBron James
FAQs
Question: How does LeBron James train?
Answer: LeBron James has famously said that he uses a similar workout plan to Tom Brady. He works out around 5-7 times a week, focusing on high-intensity cardio with a mix of pilates and yoga. He enjoys mixing up his workouts, from strength training to stretching/spin.
Question: How tall is LeBron James?
Answer: LeBron James is 6'9″.
Question: What was Lebron James's highest-scoring game?
Answer: LeBron James scored the greatest scoring game of his NBA career on March 3, 2014. James led the Miami Heat with 61 points in a 127-104 victory over the Charlotte Bobcats.
Question: Are Lebron James's kids in Space Jam?
Answer: No, Lebron James's kids are not in Space Jam. His family is played by professional actors: Ceyair J. Wright and Harper Leigh Alexander.
Research Citations