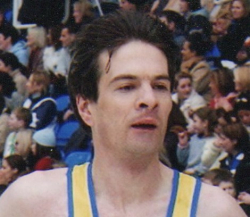 Latest posts by Stephen Hands
(see all)
Emma Raducanu is a professional tennis player and the current British number one. She burst onto the scene with a remarkable Grand Slam title win at the US Open in 2021. Raducanu was the first qualifier to win a Grand Slam event in the modern Open era.
This came after reaching the fourth round at Wimbledon a few weeks earlier as a wildcard entry. All this while still only 18 years old. Imagine achieving some of your life dreams at such a young age.
Powerful ground strokes, athletic movement around the court, and mental fortitude on the pressure points combine to make Emma Raducanu a force on a tennis court. She always showed promise throughout her junior career.
However, transferring that promise to the senior game is never guaranteed. Having won her maiden Grand Slam she has now become a target, a player everyone wants to beat.
Raducanu has quickly gone from being the underdog to one of the favorites when she plays, and that brings different pressures.
Since her remarkable US Open win, Emma Raducanu has struggled with injury and form. However, talent is permanent. You don't win a Grand Slam title by chance.
She also seems to be struggling to find a coach with who she is completely comfortable. However, once all the pieces fall back into place, this extremely gifted tennis player should be gracing major finals again.
Watching Raducanu win a Grand Slam as a British sports fan was a real joy. Brits love an underdog too, so a British qualifier challenging for a major title was always going to grab the nation's attention.
You went from hoping she could progress one more round to believing she could win the tournament. Her game looked that strong. In this bio, I shall delve into how Emma Raducanu's early life and career progressed to that incredible day in New York.
Emma Raducanu Quick Facts
Full Name Emma Raducanu
Birth Date November 13, 2002
Birth Place Toronto, Canada
Nick Name None known
Nationality British/Canadian
Siblings None
Children None
Partner Single
Profession Professional tennis player
Salary $565,000 prize winnings to date 2022
Net Worth $12 million
Awards MBE 2021, BBC Sports Personality of the Year 2021, WTA Newcomer of the Year 2021, Sunday Times Sportswoman of the Year 2021
Last Updated August 2022
Emma Raducanu Birthplace and Early Life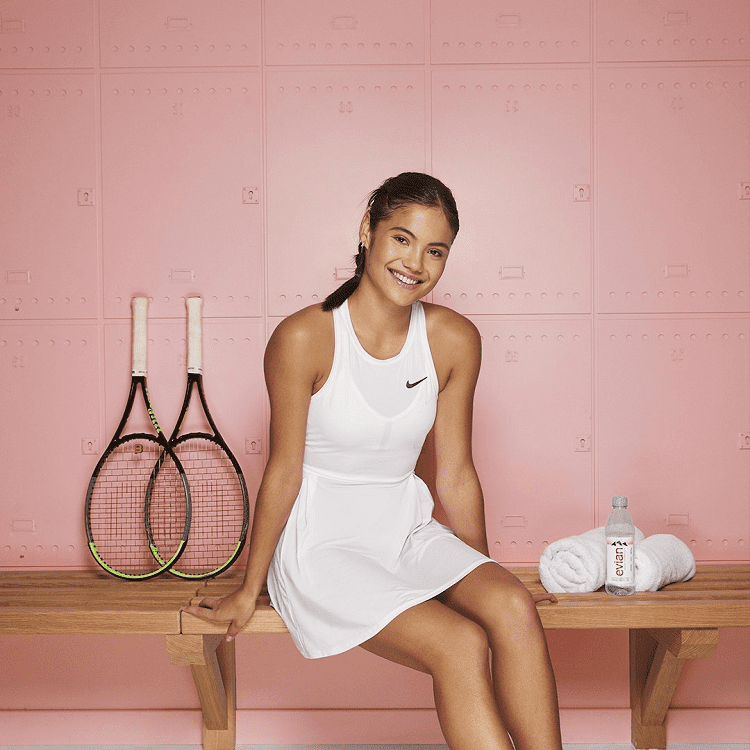 Although Emma Raducanu is a proud representative of Britain on the tennis court, her heritage is a little more cosmopolitan. She was born on November 12, 2002, to a Romanian father Ion, and a Chinese mother, Renee.
Emma Raducanu is an only child, with relatives she visits in Romania and China. Her parents work in the world of finance and were living in Canada for work reasons. Raducanu has dual British and Canadian citizenship.
The Raducanu family relocated across the Atlantic to settle in the UK when Emma was two years old. They lived in Bromley in southeast London and Emma Raducanu attended Bickley Primary school. She then went on to Newstead Wood School in Bromley.
Raducanu was academically sharp and aced her A-levels, earning an A* in Maths and an A in Economics.
She was also very sporty, with interests ranging from karting and motocross to basketball, golf, swimming, and ballet. This combination of brains and athleticism is a decent foundation for life ahead.
Focus Turns to Tennis
Among her many sporting interests was tennis. Raducanu first started to play tennis when she was five years old. She began to play at the Bromley Tennis Center and soon realized this was going to be the sport for her. Her talent was clear to see from the start.
While many children at that age can struggle to connect properly with a tennis ball, Raducanu was engaged in full-blown rallies with the center's coaches. As a shy six-year-old she won the tennis center's under 8 tournament, the first of many junior and youth titles.
Raducanu's winning habit extended from the tennis center to local and regional events. She won the Under 9 Kent County Closed Championships in 2010, before winning her first national title in 2012. She came from a set down to win the LTA Winter National event in Yorkshire.
Emma Raducanu was on an upward trajectory that saw her win her first international event the following year in France.
In 2014 she was selected to represent Great Britain in the Under 12 age group at The Winter European cup. She completely justified her selection, winning 10 of her 12 matches as Britain finished in the bronze medal position.
The First Taste of Wimbledon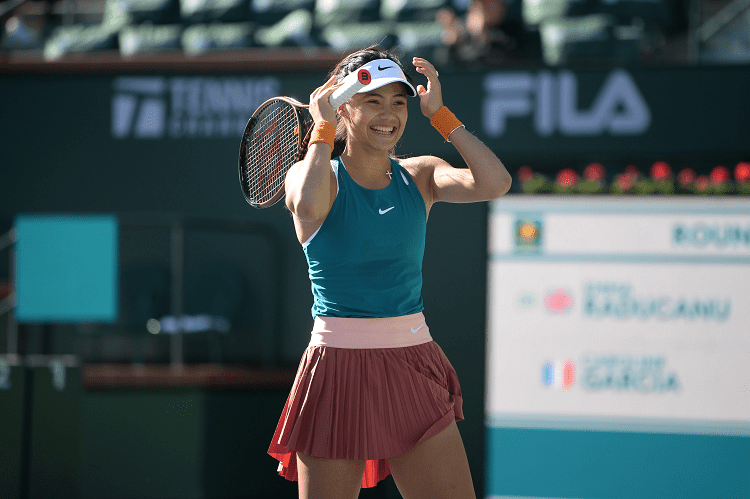 The young Emma Raducanu continued to blossom on the national and international tennis scene. She was fifth at the prestigious Orange Bowl event in Miami in the Under 12 age group in 2014.
The following year she won the first of her junior ITF titles with victory at the Tennis Europe event in Roehampton in the UK.
To celebrate turning 13, Raducanu won the Nike Junior International event held in Liverpool as an unseeded wildcard. Sound familiar? History would repeat itself on that score a few years later at the US Open.
Raducanu was one of the youngest winners of the Nike Junior International, an ITF under 18 event. This was as clear a display of potential as you will see from a young tennis player.
She returned to the Orange Bowl event in Miami and claimed third in the under 14 category. Raducanu then made her Wimbledon bow in the junior Grand Slam event when 14 years old.
Here she met one of her tennis idols, Roger Federer. If she needed any more motivation to reach the big time, the experience of stepping out on the pristine grass courts of SW19 must have provided it in abundance.
The following year Raducanu cemented the top spot in the rankings of British junior players. She began 2018 with 20 straight wins which helped push her into the top 50 in the junior world rankings.
She added another four junior event titles to her growing trophy cabinet, including two ITF events in India. It was time to sit down with her family and plot the way ahead. All this time she was still studying, but it was time to turn pro.
Emma Raducanu Professional Career
Emma Raducanu joined the professional ITF circuit in 2018 as a 15-year-old, but it did not take long for her to make her mark. In her first year as a pro, she won two ITF events, earning a payday of $15,000 for each tournament. She was the youngest player to reach an ITF final in 2018.
As well as her tennis skills, her mental strength and stamina showed through too with one of the finals played in extreme heat that reached 45 degrees.
Raducanu failed in her attempt to make the main draw at Wimbledon in 2018 but partially made up for this by reaching the quarter-final in the junior event instead. However, she was soundly beaten by Iga Swiatek who has since gone on to be a two-time Grand Slam winner and world number one.
Raducanu took just a single game in a match which would have shown her the next level she needed to strive for. Along the way she had beaten a certain Leylah Fernandez, the fellow teen she would play in the US Open final.
Emma Raducanu's potential was backed by the LTA, the governing body of tennis in Britain. Having also reached the quarter-finals at the US Open juniors, Raducanu was added to the LTA Pro Scholarship Program.
This program is designed to provide the necessary backing to British tennis players deemed as having the best chance of breaking into the top 100 in the world. Raducanu would not disappoint.
Wimbledon 2021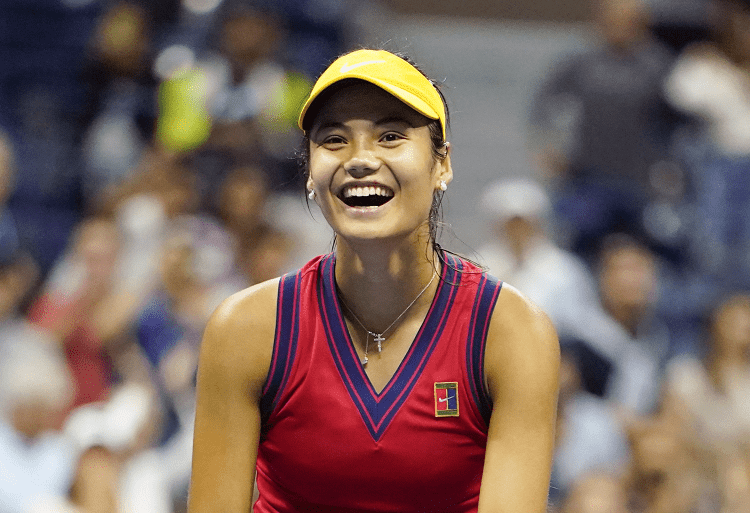 At the back end of 2019, Emma Raducanu won her third ITF title, the women's 25K event in Pune, India. By February 2020 she was edging toward a top 300 ranking.
Progress would undoubtedly have been swifter but for the arrival of the Covid pandemic. Like pretty much everything else, tournament tennis was put on hold. For now, she was limited to behind-closed-door events in the UK staged under strict Covid protocols.
Emma Raducanu made her debut on the elite WTA tour at the Nottingham Open in June 2021. Playing as a wildcard entry the debut did not indicate the success which would soon follow.
Raducanu lost in the first round to fellow Brit Harriet Dart. However, the powers that be knew what the 18-year-old was capable of and gave her a wildcard into the main draw for Wimbledon. Raducanu grabbed the opportunity with both hands and within a week was a new household name.
Having recently aced her A-levels, Raducanu proceeded to ace the early rounds. Ranked 338th in the world, three consecutive straight-set wins catapulted her into the fourth round in her first Grand Slam.  Unfortunately, Raducanu's run ended in an unsettling way in the fourth round.
She retired from the match against Ajla Tomljanovic due to difficulties with her breathing. However, the tennis world now knew of Emma Raducanu. She had just become the youngest British woman to reach the last 16 at Wimbledon in the modern Open era.
US Open 2021
If we thought Raducanu reaching the fourth round at Wimbledon was impressive, we hadn't seen anything yet. Her victory at the US Open was nothing short of remarkable. Raducanu needed to win three matches just to qualify.
No wildcard entry into the main draw here. From her opening round win against Stefanie Voegele through to lifting the trophy, Raducanu never dropped a set. She beat the 17th seed Maria Sakkari 6-1 6-4 in the semi-final to set up a showdown against fellow teen star Leylah Fernandez.
These two finalists were not strangers. As well as that meeting at the Junior Wimbledon tournament, they had played each other in youth tennis. They had even bonded a little over their ties to Canada.
Yet, a final is no place for sentiment and Raducanu put on a dominant performance to run out a 6-4 6-3 winner in a high-quality final. In doing so Raducanu ticked off a whole list of records and achievements.
Most notably Raducanu had become the first qualifier to win a Grand Slam in the modern Open era. She had played the fewest majors before winning a Grand Slam title.
She was the youngest Brit to win a Grand Slam and the first British woman to win the US Open since Virginia Wade in 1968.
The accolades go on, but suddenly, pretty much overnight, Emma Raducanu went from underdog to top dog. The whole country was thrilled with the win, but expectations were now huge going forward.
Looking for a Return to Form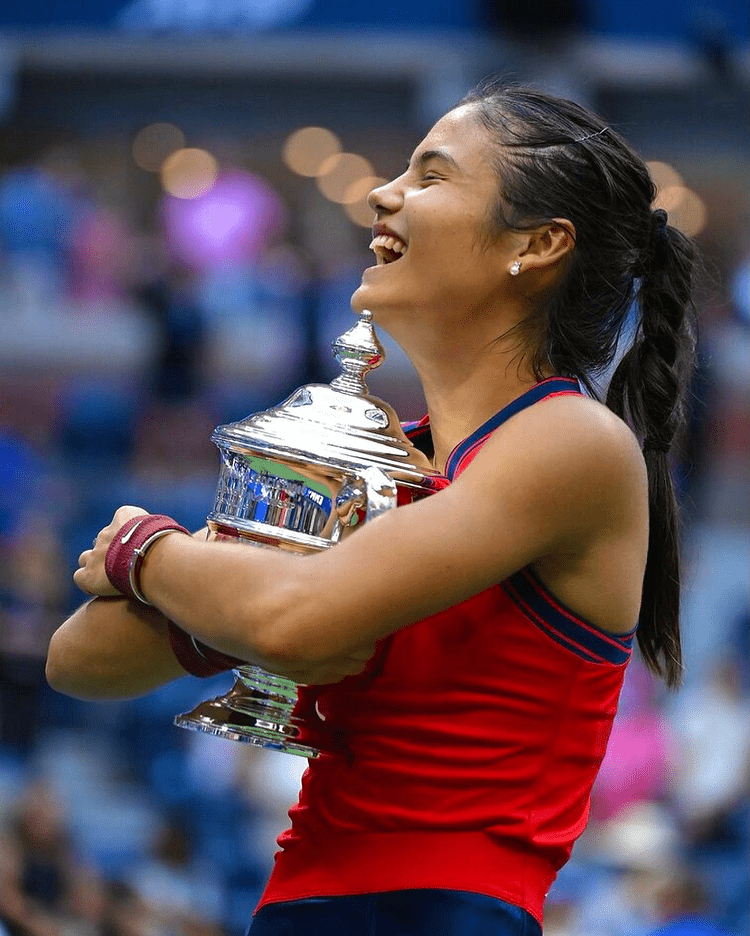 Emma Raducanu has struggled with her form since her historic win at the US Open. In the year that followed she won 15 matches on the tour and lost 18.
She went out in the second round of the next three Grand Slam tournaments. Injuries have not helped, and it was always going to be a test moving from underdog to the one everyone wants to beat.
Raducanu is now expected to win when she goes out onto the court and the freedom she once played with can suddenly become stifled. Dealing with all the media attention and offers coming her way cannot be easy for an 18-year-old either.
However, in preparation for the defense of her US Open title, Raducanu has played some of her best tennis for a year. She recorded notable wins against Serena Williams and Victoria Azarenka, before bowing out to Jessica Pegula, ranked number eight in the world.
Raducanu has also caused much debate over her coaching situation. She split with her coach Andrew Richardson, who was hired on a short-term basis, soon after her US Open win. The reason for the split was that Raducanu was looking for a coach with more WTA experience.
Her current coach is Dimitry Tursunov who she added to her team ahead of the 2022 US Open. This has proved somewhat controversial in the current climate as Tursunov is Russian.
Raducanu will be hoping he can help her find those consistent punishing groundstrokes which saw her gate-crash the 2021 US Open.
Emma Raducanu Videos
A young Emma Raducanu dreaming of becoming a future Grand Slam champion.
Emma Raducanu setting down a marker in the first round of the 2021 US Open.
The moment Emma Raducanu became a Grand Slam champion
Shots that illustrate the strengths of Emma Raducanu's game.
Emma Raducanu Family
Emma Raducanu is believed to be single and said to be concentrating on her tennis. Having suddenly been thrust into the limelight her personal life has inevitably become a topic of interest within the media.
She has been linked to singer HRVY and more recently Moto GP champion Fabio Quartararo, largely through chats spotted on social media.
Raducanu's family has been the key driving force behind her career. She credits both her Romanian and Chinese roots for providing the drive and discipline needed to get to the top. Her father is known to ask tough questions of Raducanu's coaches, but that is to be expected.
Any parent wants the best for their child. Ion Raducanu often played tennis with his daughter when she was younger. During the COVID pandemic, it is said the pair would go into the street near the family home to hit a few tennis balls.
Emma Raducanu has talked about how her parents have high expectations and can be hard to please. They have helped with her self-belief.
Her father was more the influence behind her tennis, while her mother ensured she kept a focus on her education.
It was just a shame they could not be at the final in New York to watch their daughter's greatest triumph to date. Covid restrictions meant they were not able to travel to the US to support their daughter.
Emma Raducanu Net Worth and Career Earnings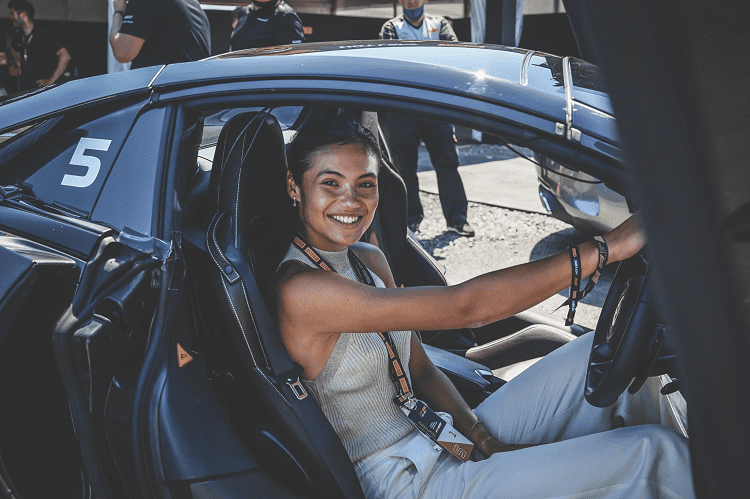 According to the Sunday Times Young Rich List for 2022, Emma Raducanu's net worth is $12 million. This is made up of prize winnings and endorsements. Her career prize money to date sits at a little over $3.4 million, having banked $2.5 million for her win at the US Open in 2021.
Raducanu promised to buy herself some new AirPods if she won her opening qualifier for the US Open. As it turned out she could soon afford rather more than she anticipated. Even though Raducanu has struggled for form in 2022, her earnings for the year are still $565,000.
It will be no great surprise that this talented young tennis player has attracted a lot of attention from potential sponsors. Brands to endorse Raducanu include Nike, Wilson, Tiffany & Co, Porsche, and Evian.
She also became a brand ambassador for British Airways. Another endorsement came from fashion brand Dior. This was a deal reportedly worth $2.3 million, while a partnership with Vodafone is believed to be worth $3.5 million.
If Raducanu can regain her 2021 form, you can envisage her net worth and position on the Sunday Times Young Rich List continuing an upward course. She currently sits 85th on the list.
FAQs
Question: How Old is Emma Raducanu?
Answer: Emma Raducanu is 19 years old. She was born on November 13, 2002.
Question: Where is Emma Raducanu From?
Answer: Emma Raducanu was born in Canada but moved to the UK when she was two years old.
Question: What Languages Can Emma Raducanu Speak?
Answer: Emma Raducanu's first language is English. She is also fluent in Mandarin and speaks Romanian too.
Question: What is Emma Raducanu's Highest Career Ranking?
Answer: Emma Raducanu's highest WTA career ranking was 10 on July 11, 2022. She is currently ranked 13 in the world.
Research Citations
Continue reading more tennis star bios: