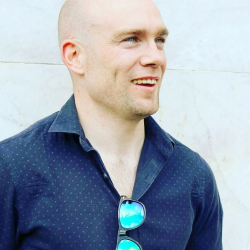 Latest posts by Joe Elvin
(see all)
Jesse Lingard has had a career of ups and downs as he approaches his 30th birthday.
He's managed to surprise many by holding down a regular place in the Manchester United midfield for a few seasons, although his lack of consistency has frustrated fans and coaches alike. 
Despite the controversies surrounding him, Lingard has the natural ability to adapt and flow on the highest stage. 
However, if he can't find his greatest form at the tail-end of his career he's in danger of becoming better-known for goal celebrations and social media antics than his skill on the pitch.
With that said, let's explore the highs and lows of Lingard's career in this extensive bio. 
Jesse Lingard Quick Facts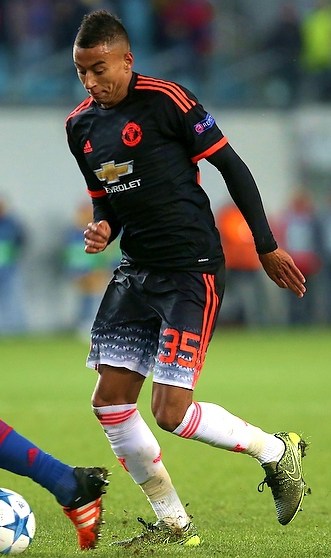 Full Name: 

Jesse Ellis Lingard

Birth Date: 15 December 1992
Birthplace: 

Warrington, England

Nick Name:

JLingz, Lingardinho, The Dabberman

Nationality:

 English

Siblings:

 Louie Scott, Casper Lingard, and Daisy Lingard.

Children:

 Hope Lingard

Profession:

 Professional footballer

Current salary:

  A reported £130,000 

Net Worth:

 8 million Pounds
Social Media
Facebook: Jesse Lingard
Twitter: @JesseLingard
Instagram: @jesselingard
Notable Personal Achievements
Premier League Player of the Month – April 2021

Premier League Goal of the Month – April 2021
Jesse Lingard Birthplace and Early Life

From a young age, Lingard has had a special connection with soccer. He grew up with his parents Jorge Roy and Kirsty Lingard and his brother Luie Scott. He studied at William Beaumont Community High School where his talent began to shine as the best child player.
Lingard's abilities did not go unnoticed, so his parents decided to enroll him in Penketh United Academy, At just seven years old, he was scouted for Manchester United's youth academy and this is what marked the birth of a memorable football career.
Young Jesse has been described as "the little boy with a brave heart". He enjoyed watching videos of Arsenal's French attacker Thierry Henry. What that little dreamer may not have imagined is that years later he would wear the same number as his idol, 14, for Manchester United. 
In 2010-11, he won the FA Youth Cup together with Paul Pogba as part of Manchester United's youth team. His performances earned him a professional contract in the summer of 2011. 
Jesse Lingard Professional Career
The Loan Spells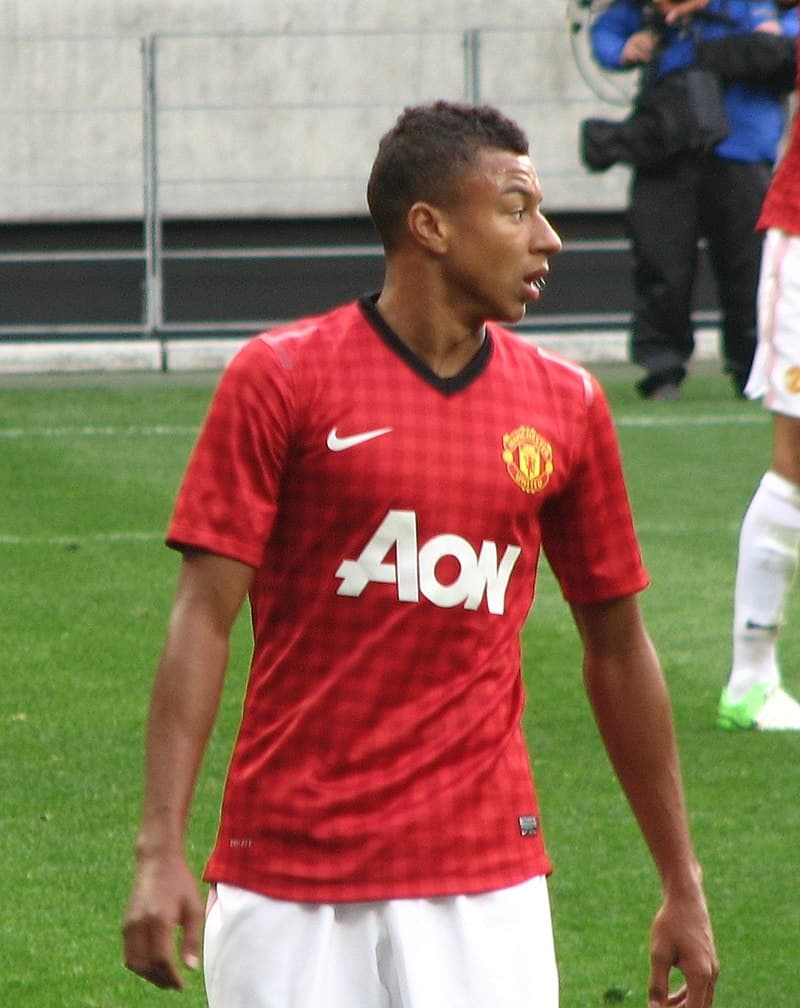 The start of most professional careers at the top clubs requires perseverance and patience – and this was the case for Lingard.
With Sir Alex Ferguson still at the helm at Old Trafford, Lingard was loaned to several lower league teams to earn experience at senior level.
In November 2012, he was loaned to Championship club Leicester City along with Michael Keane was loaned out to Leicester City. He made five appearances as part of a loan that ran until January 2013.
Sir Alex Ferguson left the club that summer without giving Lingard any minutes on the pitch for United. Despite scoring some goals during the club's pre-season tour, new manager David Moyes loaned Lingard out again in September 2013, this time to Championship side Birmingham City. Jesse scored four goals in a match against Sheffield Wednesday just two days later. That's some way to announce yourself to professional football. He scored two more goals during this loan spell, but injuries and suspensions limited him to 13 appearances at St. Andrews before he was called back to Manchester in January 2014. 
In February 2014, he was loaned to another Championship side Brighton and Hove Albion until the end of the season. He played 17 games for Brighton, scoring four goals. 
Jesse Lingard actually started the first game of the 2014-15 season for Manchester United, although he went off injured after 24 minutes. After recovering, he was loaned out to Derby County, where he would play 14 games and score two goals.
Jesse Makes It At United
The 2014-15 season was Lingard's breakthrough year at Manchester United. At this time, Louis Van Gaal was in the hot seat – and the club was a far cry from the ultra-successful trophy-winning machine that Lingard signed professional terms with. 
They hadn't come close to winning a trophy since Sir Alex Ferguson retired in 2013, but the emergence of the home-grown talent Jesse Lingard in midfield was at least seen as something for the fans to be excited about.
Indeed, Jesse played a major role in helping United win their first trophy since Ferguson's retirement. With the FA Cup final against Crystal Palace deadlocked at 1-1 after 90 minutes and extra time drawing to a close, Lingard popped up in the penalty box to rifle a half-volley into the top corner and send the fans into raptures. 
I watched that game – and United owe a lot to Lingard for saving them from a potential embarrassment. His team weren't at the races at all in this game. If anything, it was looking like Palace might sneak the winner. Perhaps then, it's little wonder that Van Gaal was sacked shortly after this game despite the team's triumph.   
Jesse remained a key member of the team under Jose Mourinho in 2016-17. He popped up with some vital goals from midfield this season, including the opener in the Community Shield victory against Leicester and United's second in the victory over Southampton in the League Cup final. United won the Europa League this season, with Lingard appearing as a  74th-minute substitute in the final.  Lingard made his England debut this season too, earning his first cap in a victory against Malta.
United won no trophies in the 2017-18 season, finishing runners-up in the Premier League and the FA Cup, but Lingard's starring role in the midfield was enough to earn a spot in England's 2018 World Cup squad. He started every meaningful game in this tournament, only missing the dead rubber group game against Belgium and the 3rd/4th playoff match also against Belgium. Lingard earned his place in the side. The energy and creativity played a key role in England's run to the semi-finals – and he scored an absolute belter in the group game against Panama too. 
Ole at The Wheel and Lingard's 'Banter Era'
The start of the 2018-19 season was one to forget for Man United fans. It honestly looked like the whole team (Lingard included) had lost the will to play for Mourinho and he was sacked in mid-December. Ole Gunnar Solksjaer was drafted in as caretaker manager and brightened up the side, picking Lingard in midfield for the majority of matches in this stint. 
Jesse would eventually fall out of favor once 'Ole was at the wheel' at a full-time position and this began the 'banter era' of his career. Lingard completely lost his form at this stage. At times, it looked like he'd forgotten how to play the sport, with basic passes going astray and simple goal-scoring chances somehow missing the target.
The parasitic English media and the opposing fans didn't let Jesse off lightly either. He began to receive stick for supposedly being more interested in creating TikTok dances and Snapchat stories than performing well for United. 
These accusations were thrown around before, but it's when the performances on the field drop that the criticism intensifies – and Lingard was certainly a victim of that. 
It became a running joke that Lingard was a "young prospect to look out for" because pundits would regularly make this excuse for him despite him now being in his late twenties. He was sarcastically nicknamed 'Linghardinho' by opposing fans as a way of mocking him for being lightyears away from the legendary Brazilian playmaker Ronaldinho. He was also given the 'Lord' moniker previously given to other high-profile flops at the Premier League's biggest clubs.
It appeared obvious that something was affecting Lingard's psychology. He wasn't the same player. Indeed, it would eventually emerge that his mother was sick and he was burdened with looking after her and his younger siblings Jasper and Daisy. In that same year, his grandfather was diagnosed with prostate cancer, which was a great blow too. The decision was made to loan Jesse out to West Ham United to revitalize his career. 
False Dawn For Lingard at West Ham United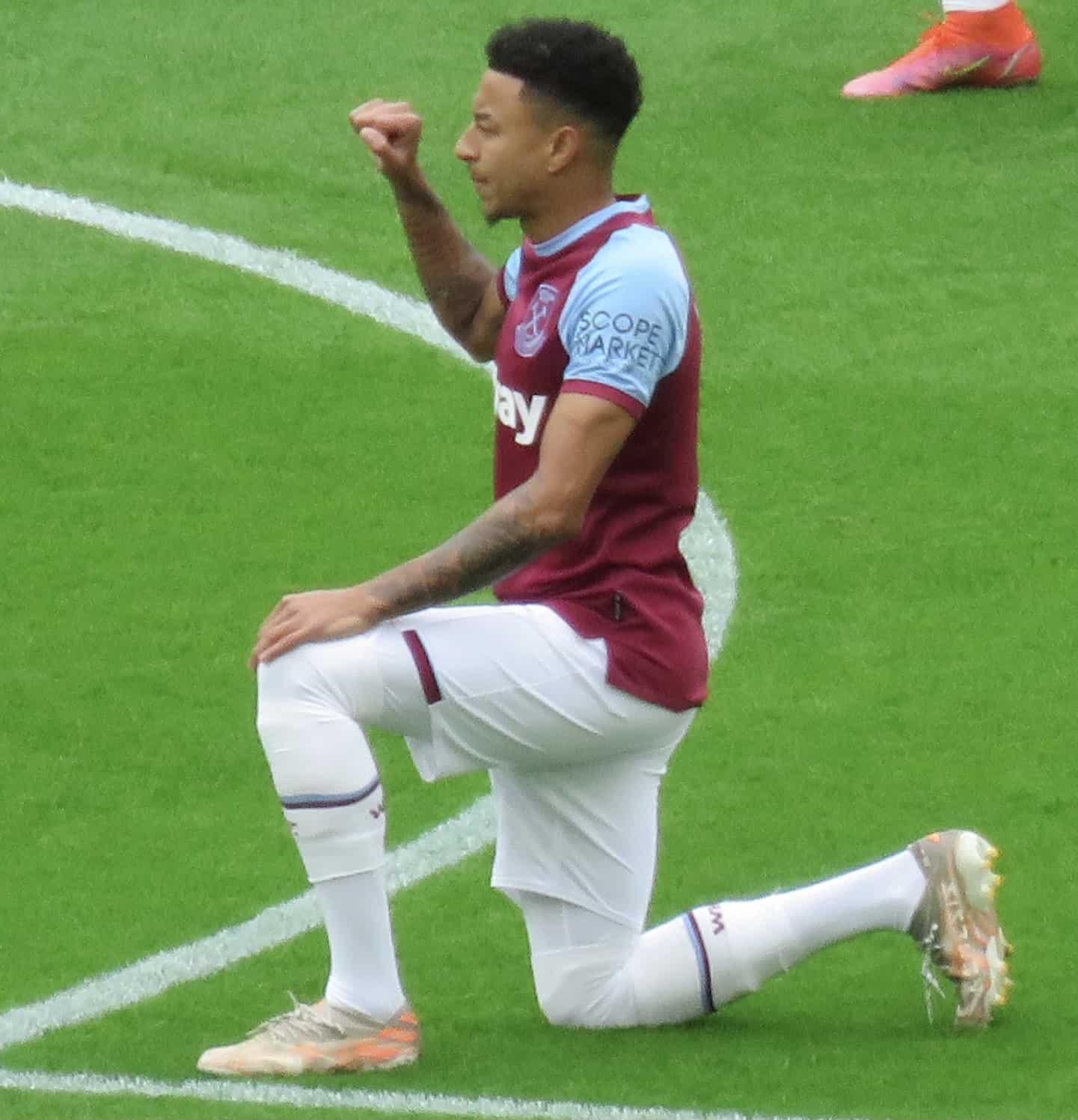 Lingard debuted for West Ham with a man-of-the-match performance in February 2021, scoring a brace against Aston Villa. And he didn't stop there. Lingard contributed nine goals and four assists in his first 10 Premier League games for the Hammers, earning the Premier League Player of the Month award for April 2021.
This resurgence surprised most supporters, but it wasn't enough to earn Lingard a place in England's squad for the 2020 European Championship (played in the summer of 2021 due to the coronavirus pandemic).
Lingard lost his place from the England squad during his 'banter era' and his final burst of form came too late.
It was rumored that Lingard would sign for West Ham permanently since he looked like a world-beater in a Hammers shirt. Still, it was eventually decided that Lingard would stay at Old Trafford and fight to regain his place in the Manchester United team. 
To this day, this seems like a confusing decision as Lingard barely got any opportunities to play, even though United were awful throughout the season. Solskjaer was sacked in November 2021, but his replacement Ralk Rangnick didn't fancy a midfield with Lingard in it either.
This was the final year of Lingard's Manchester United contract – and as the season went on, it became clear that it wouldn't be renewed. Even so, Lingard wasn't even given a sentimental farewell in Manchester United's dead rubber of a final home league match. 
That was hard for Jesse to take – and a bit classless considering he'd been at the club for 22 years (if you included his childhood training). Jesse's brother Louie Scott took to social media to hammer the club for the treatment of his brother. 
"A year ago today he was 'allowed' to leave on launch day', now we know how Akon felt," he posted on Instagram.
This is a reference to Akon's song 'Locked Up'. So, Jesse was being compared to a prisoner. Ultimately then, Jesse's relations with the club turned sour upon his exit. His final record was 35 goals in 230 games.    
A New Dawn for Jesse Lingard at Nottingham Forest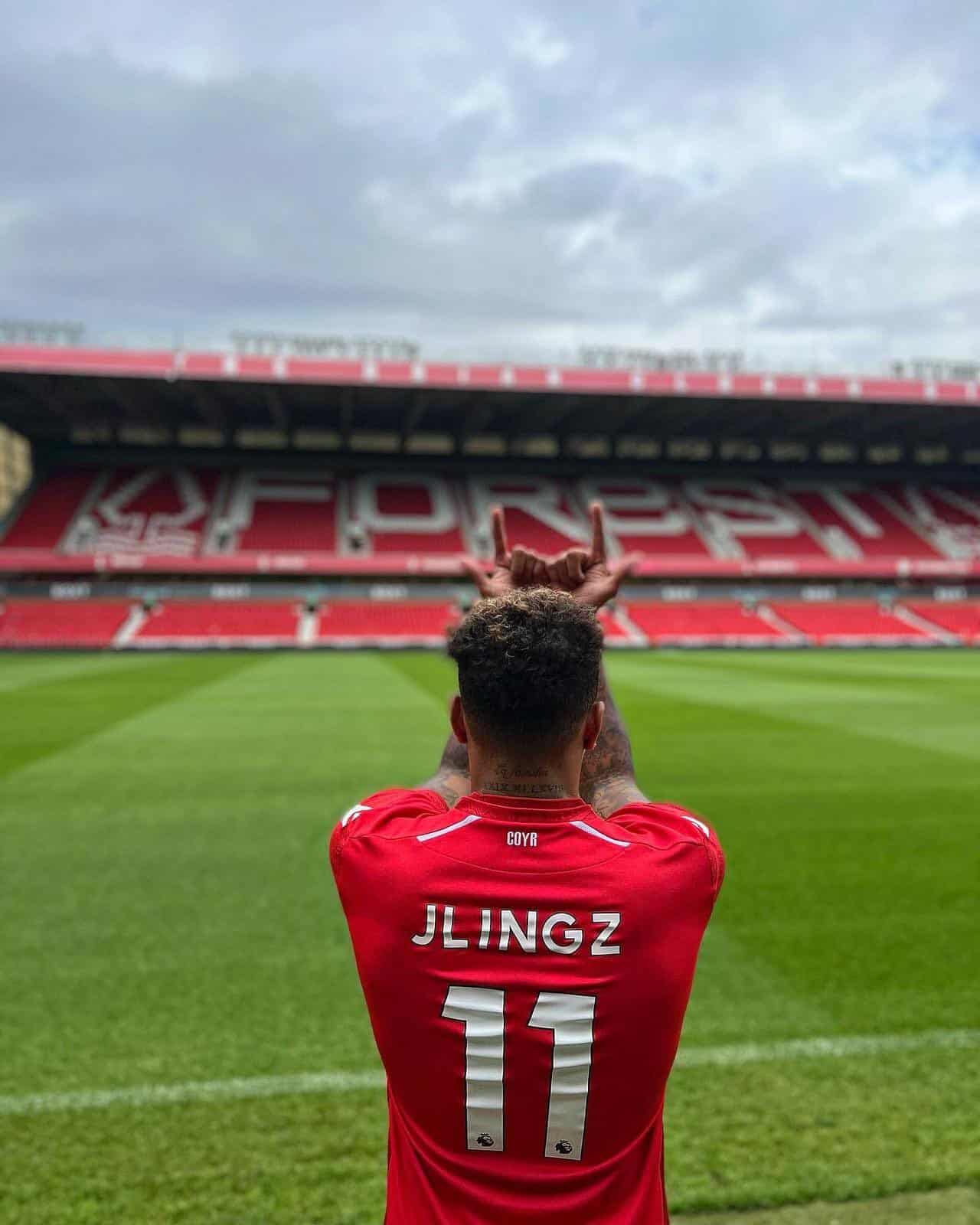 There was a heated battle for Lingard's signature in the transfer window preceding the 2022-23 season, according to the press anyway. Everton, Tottenham, Leicester, Newcastle, and West Ham United all supposedly showed interest in signing him.
However, he shocked the football world by snubbing all these established clubs to sign a contract with newly-promoted Nottingham Forest instead.
It has been reported that he'll be earning up to £130,000 per week with Forest, which was far more than the other clubs were willing to pay him. He has signed a one-year contract with the option to extend for a further year if the club remains in the Premier League. 
Many fans and pundits have suggested that Lingard is stealing a living having signed a contract for that amount of money, especially when you consider the 'banter era' of his past few seasons. At the same time, it should be remembered that he was a free agent, meaning Forest didn't have to spend a penny on a transfer fee. Plus, it's only a one-year contract so he won't be tied to the club on huge wages if they're relegated. If Lingard finds his form and keeps them up, he'll be worth every penny.
He'll be hoping to force his way back into the England squad for the 2022 World Cup in December if he starts the season well.  
Some experts have suggested that his huge wages could potentially cause a rift in the Nottingham Forest dressing room, as his teammates won't be earning anywhere near as much as him. That remains to be seen. If he does the business on the pitch, I'm sure they won't begrudge his superior earnings. 
Jesse Lingard's Best Moments Caught On Camera 
Jesse Lingard scores twice on his West Ham debut
Jesse Lingard was UNSTOPPABLE
Jesse Lingard's Top 10 Goals | Manchester United | England World Cup 2018
Jesse Lingard's Greatest Premier League Goals
Jesse Lingard Goal's vs Panama | 2018 FIFA World Cup 
Jesse Lingard Family
Jesse Lingard has three siblings Louie Scott, Casper Lingard, and Daisy Lingard.
His father George Roy was an amateur soccer player and his mother Kirsty was a gymnast, although they were separated shortly after Jesse's birth. 
His grandfather Kent Lingard was another important figure from whom Jesse has received inspiration and encouragement. Kent played rugby professionally and was part of the Great Britain weightlifting team.
Jesse's remarkable cousin Gabrielle George is a professional footballer who has represented England and currently plays for Everton Ladies.
He had one daughter, Hope Lingard, with entrepreneur and fitness model Rebecca Halliday, but the pair are no longer together.  
Jesse Lingard Net Worth and Career Earnings
Jesse Lingard has an estimated net worth of around £8 million. On top of that, he is earning a reported £130,000 a week at Nottingham Forest.
Jesse Lingard Famous Quotes
"Alright Neymar, it's sunny init."
"There's no better feeling than winning a trophy in front of your fans when they´re celebrating."
"Every game you´ve got to play with no fear."
"Consistency, goals, and assists, that gets you confidence and puts the thought in the manager´s head that he can´t drop you."
"I'm comfortable in myself and my surroundings, so that makes me play stress-free and enjoy being in the ball."
"There's always pressure on people's shoulders when it comes to Man United, and it's how you deal with the pressure."
Jesse Lingard Frequently Asked Questions
Question: What is Jesse Lingard's fashion brand?
Answer: Jesse Lingard's fashion brand is called JLingz, which is also his nickname. 
Question: How old is Jesse Lingard?
Answer: Jesse Lingard was born on 15 December 1992. At the start of the 2022-23 season, he was 29 years old. 
Question: How many followers does Jesse Lingard have on social media?
Answer: On Instagram, Jesse Lingard has just over nine million followers. On Twitter, he has around two million followers. He has more followers than some of his team accounts, so there is no doubt that JLingz is a star on social media.
Citations
Continue reading more soccer star bios: