Latest posts by Pro Sports Bio Team
(see all)
Dexter Lumis, born Samuel Shaw, is a professional wrestler on WWE NXT. He has also worked with Total Nonstop Action Wrestling, Gut Check, and Ohio Valley Wrestling, where he performed under his real name. Dexter stands at 6'2" and is a powerful opponent in the arena. He often plays villainous characters and is known for having a psychopathic gaze.
Dexter Lumis Quick Facts
Full Name

Samuel Shaw

Birth Date

January 17, 1984

Birth Place

Recluse, Wyoming

Nick Name

Dexter Lumis

Nationality

American

Siblings

None

Children

None

Partner / Spouse

Indi Hartwell

Profession

Professional Wrestler

Salary

$75,000

Net Worth

$790,000

Social Media

Twitter, Instagram, Facebook

Awards

FTPW Championship (1 time)
OVW Southern Tag Team Championship (2 times) – with Alex Silva
Ranked No. 199 of the top 500 singles wrestlers in the PWI 500 in 2013
TNA Gut Check winner
TNT Championship (1 time, inaugural)
TNT Championship Tournament (2017)
USWA Championship (1 time)
Vintage Heavyweight Championship (3 times)

Last Updated

August 2021
Dexter Lumis Birthplace and Early Career
Dexter Lumis was born on January 17, 1984, in Recluse, Wyoming. Growing up in Recluse, Dexter was known to be an active young man. He spent his early days playing sports, working out, and being outside.
Lumis began training with Curtis Hughes at WWA4 Wrestling School in 2005. On September 21, 2007, he made his professional wrestling debut at World League Wrestling. In his debut bout, he defeated Marco Cordova and Otis Idol in a tag team match alongside Tookie Tucker. He then wrestled for Full Impact Pro, Victory Pro Wrestling, Ring of Honor Wrestling, and Pro Wrestling Extreme, among others.
In his early years, Dexter wrestled all over the place, winning and losing many matches. He trained and trained until he could finally make it in a professional setting.
Dexter Lumis Professional Career
Independent Circut (2010-2012)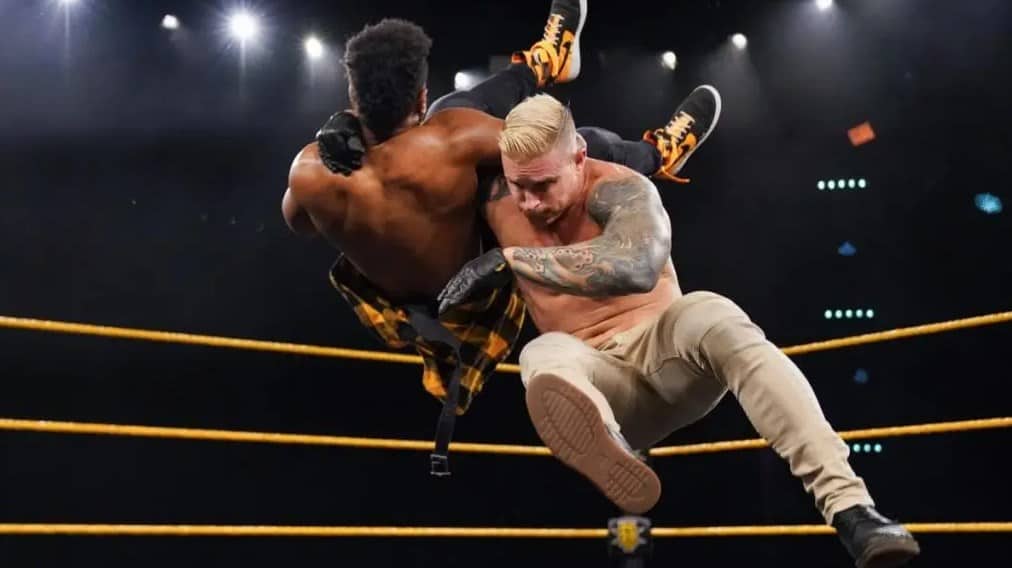 Lumis made his Vintage Wrestling debut on April 18, 2009, defeating Nooie Lee. On May 30, Lumis defeated Glacier to win his first Vintage Heavyweight Champion, just a month later. Lumis would go on to defend his title against the likes of Tyson Tomko and Jesse Neal several times over the course of the months. On February 2, 2011, Lumis will eventually lose the championship against Thomas Marr. Lumis won the vacant Vintage Heavyweight Championship on April 17 and would lose it to Jesse Neal on September 11 to become a second-time champion.
Lumis competed in the King Of The State event in 2011 and made it to the finals before getting defeated by Francisco Ciatso. Lumis defeated Aaron Epic on May 14 to win his third Vintage Heavyweight Championship. Lumis won a title against title bout on September 3, in which the Vintage Heavyweight Championship and the Vintage Internet Championship were on the line. Lumis won the match after Simon Sez was disqualified, ensuring that the championship did not change hands.
On June 6, 2012, he was defeated by Francisco Ciatso for the Vintage Heavyweight Championship. Milo Beasley won his final match for the promotion a month later in a fatal four-way match for the Vintage Heavyweight Championship.
Total Action Nonstop Wrestling (2010-2013)
During the same period, Dexter Lumis worked an independent career, and he also worked as part of the Total Action Nonstop Wrestling team (TNA). Lumis made his debut for Total Nonstop Action Wrestling on August 8, 2010, in Hardcore Justice as Lupus, attacking Tommy Dreamer in his match against Raven before being hit with a Mandible Claw by a special referee, Mick Foley.
Lumis's debut TNA bout was a dark match against Jesse Neal on August 9, 2010, which he lost. Lumis escorted Jeff Jarrett to the ring as part of his entourage in his $100,000 Double J MMA Challenge versus Little Red on December 30.
Dexter Lumis took part in the monthly Gut Check on IMPACT in 2012. Lumis earned a second shot the next week but was defeated by Doug Williams in his Gut Check match, despite his chances being nearly ruined after being attacked by Aces & Eights. Lumis received a contract and a position on the TNA roster after impressing the Gut Check judges. Lumis was, in fact, signed to a developmental contract. On November 22, Lumis made his Impact Wrestling return, defeating fellow Gut Check victor Alex Silva.
Lumis wrestled in a seven-man Xscape match at TNA X-Travaganza on January 12, 2013, which was won by Christian York and broadcast on April 5, 2013. Lumis made his TNA Hardcore Justice 2 debut on March 17, 2013, as part of a nine-man Hardcore Gauntlet Battle Royal, which was won by Shark Boy and broadcast on July 5, 2013. Lumis made his Impact Wrestling return on May 23, defeating Alex Silva (by decision when Aces & Eights attacked Silva) to advance to the Bound for Glory Series tournament finals, where he will meet Jay Bradley at Slammiversary. At Slammiversary, Lumis was defeated by Bradley.
Ohio Valley Wrestling (2012-2013)
Lumis was then sent to TNA's developmental area, Ohio Valley Wrestling (OVW), where he debuted on television on October 13, 2012. He formed a regular tag team with the wrestler, Alex Silva, in the weeks that followed. Lumis and Silva won the OVW Southern Tag Team Championship on December 1 by defeating Jessie Godderz and Rudy Switchblade, another championship for Dexter Lumis.
On January 16, 2013, they were defeated by Crimson and Jason Wayne for the title but reclaimed it for the second time the next month. However, on April 3, 2013, they were defeated by The Coalition for the crowns. The Coalition attacked Lumis behind the scenes the next week.
Lumis was thrown in a one-on-one bout against Jason Wayne during the May 11 Saturday Night Special after revealing that he had been hiding under the disguise of the Coalition's Gillyman for several weeks. He made his one-on-one come back to the ring the following week against Godderz. Lumis's struggles with the Coalition would continue with victories over Jason Wayne on the May 11 Saturday Night Special and Crimson on the May 18 broadcast of OVW TV.
Samuel Shaw (2013-2015)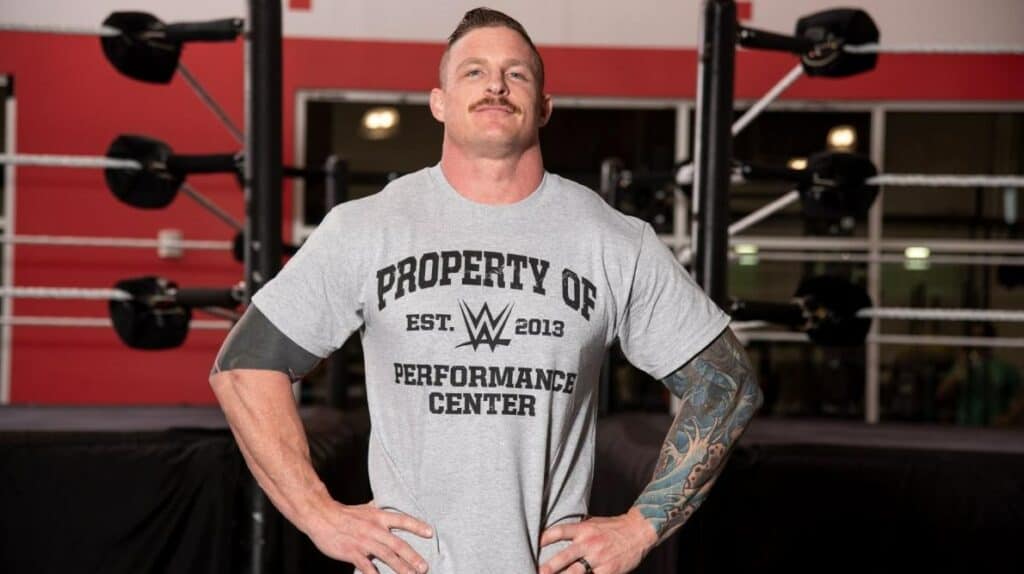 Dexter Lumis was featured in an at-home interview with Christy Hemme on November 21 during Impact Wrestling: Turning Point. During the interview, he requested the name Samuel Shaw, his birth name, and pretended to be Patrick Bateman from the film and novel American Psycho, as well as wearing ring attire similar to Dexter Morgan's.
Shaw made his debut as a villain by defeating Norv Fernum by submission on the January 2, 2014 broadcast of Impact Wrestling, during which he glared at Christy Hemme, an announcer. at ringside. Shaw eventually became an obsessive Hemme admirer and began asking her out on dates, including one at his home. It was shown that Shaw had a room filled with Hemme posters, photographs, and a mannequin. Hemme questioned Shaw about the mannequin and the room full of posters on the February 6 episode of Impact Wrestling. Later, Mr. Anderson, a fellow wrestler, was shown talking to Hemme for several minutes, and Shaw assaulted Mr. Anderson on the February 20 edition of Impact Wrestling.
After Hemme was accidentally caught up in the commotion and injured, Shaw dragged her away.   Shaw confronted Hemme in an attempt to explain himself on the February 27 broadcast of Impact Wrestling. Shaw solidified himself as a villain after failing and being stopped by Mr. Anderson, who was seeking to exact vengeance for the previous week. He used Hemme as a shield to fend off Mr. Anderson. Mr. Anderson would later be choked out by Shaw's finishing move.
In the next match, Shaw faced Eric Young, with Mr. Anderson filling in for Hemme as the match's ring announcer. Shaw would be disqualified due to Anderson's distraction. Shaw would strangle out Anderson after the match, then declare that he was "going to retrieve what was rightfully his," and proceed to the backstage area, where Hemme had been watching via a ring monitor. Shaw overcame Mr. Anderson three days later at Lockdown after fleeing the cage using Hemme as a distraction by tugging Hemme through the steel cage's camera cut-out. Anderson successfully retrieved Hemme but was captured by Shaw.
Shaw was declared the winner after the referee, who had been unconscious, witnessed him escape the cage. Shaw lost a rematch against Anderson on Impact Wrestling the next week, despite bringing a Christy Hemme-dressed mannequin to the ring. Shaw defeated Mr. Anderson in a Straitjacket match on the April 3 episode of Impact Wrestling after knocking him out. Anderson finally defeated Shaw, putting Shaw in a van and driving him to a psychiatric clinic for assistance.
During Samuel Shaw's time at Impact Wrestling, he was dubbed "the creepy bastard" for his advances for ring announcer Christy Hemme. He played the easily hated villain and left the company in June of 2015.
WWE (2019-present)
Shaw stated on February 11, 2019, that he had signed a deal with WWE and would head to the WWE Performance Center. On March 16, he made his debut, losing to Fabian Aichner at a house event. His ring name was changed to Dexter Lumis, and he no longer went by his real name, Samuel Shaw.
Lumis was set to compete in an event called the NXT Breakout Tournament. Lumis was defeated in the first round of the competition by Bronson Reed. In the next episode of NXT, Lumis helped Velveteen Dream defeat The Undisputed Era in a tag team match. After this match, Dexter Lumis developed himself as the face of WWE. On the May 6 episode of NXT, Lumis attempted to assist Dream in his NXT Championship match against Adam Cole, but accidentally hit the referee and lost the match.
When Lumis brought out an art easel on the June 3 edition of NXT, he sketched an automobile with the Undisputed Era stuck in the back. It was because of this that Lumis earned the title "Tortured Artist." Lumis interfered in the Backlot Brawl match between Cole and Dream by attacking Roderick Strong and Bobby Fish, tossing them in the rear deck of a car, and driving off with them in the back. Lumis lost to Cole in a non-title bout on NXT's June 10 episode when Strong and Fish caused a distraction.
After the match, Lumis attacked Strong and chased him to the back of the house. Lumis defeated Strong in a strap match on the July 1 episode. It was announced on July 29 that Lumis had defeated Timothy Thatcher and Finn Bálor to qualify for a chance to defend his NXT North American Championship on August 1. After an ankle injury, he was forced to leave the game.
Dexter Lumis Clips
Dexter Lumis fights for pro-wrestler Indi Hartwell's love.
Dexter Lumis faces off against L.A. Knight.
Dexter Lumis Family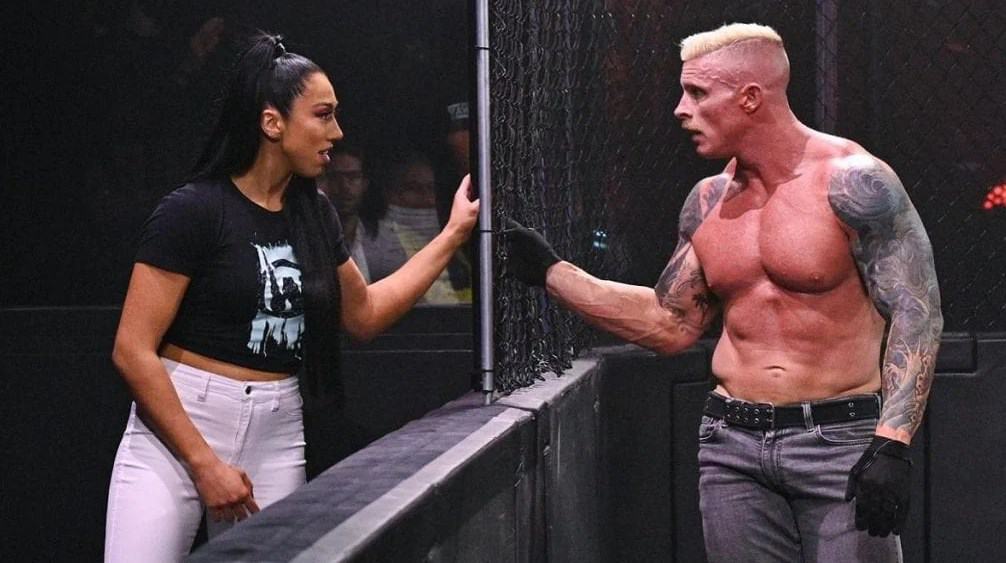 Dexter Lumis has a love affair with Indi Hartwell on WWE. In the August 3rd match titled' "Love Her or Lose Her," Lumis faced off against Johnny Gargano for Indi. Lumis won the match, and their relationship could continue. As the match ended, Indi and Lumis shared a passionate kiss in the ring.
Dexter Lumis Net Worth and Career Earnings
Dexter Lumis's net worth is estimated to be between $1 million and $5 million by the year 2021. A full-time professional wrestler, his wrestling career is his primary source of income. He has worked with multiple wrestling programs in his career and is racking up that money.
He currently works for WWE as a member of NXT, the highest-paying wrestling program in the United States. Dexter Lumis also makes considerable money from his social media accounts, as he posts wrestling and personal content.
Dexter Lumis Famous Quotes 
"I enjoyed our time together, and I think deep down inside, you enjoyed it as well."
"I'm simply here to protect you."
FAQs
Question: How tall is Dexter Lumis?
Answer: Dexter Lumis is 6'2".
Question: Is Dexter Lumis really an artist?
Answer: Dexter Lumis is named the "Tortured Artist" on WWE, but it is just a role he plays, as he is not an actual artist.
Question: Does Dexter Lumis blink?
Answer: Dexter Lumis has intense concentration, and his role on WWE is as a troubled man/psychopath. In order to play this character, he tries to blink as little as possible.
Question: Are Dexter Lumis and Indi Hartwell dating?
Answer: Dexter Lumis and Indi Hartwell are together for WWE. Whether or not they are together outside of the show is unconfirmed.
Research Citations:
Continue reading related MMA Bios: