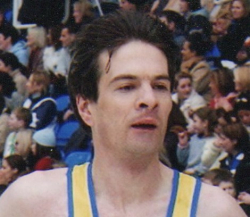 Latest posts by Stephen Hands
(see all)
Gabriel Jesus has risen from playing street soccer in Sao Paolo to gracing the manicured pitches of the English Premier League. He has achieved this through talent, hard work, and the support of his family. He could prove the signing of the summer for Arsenal, having moved from Premier League champions Manchester City. However, wherever Gabriel Jesus plays his football, he never forgets where he comes from.
During his time at Manchester City, it felt that Jesus was unlucky at times to start on the bench so often. Admittedly, in a side that usually played just one striker, he was competing with Sergio Aguero, the club's record goalscorer. Yet, Gabriel Jesus' record was not too shabby either. In 236 appearances for City, he bagged an impressive 95 goals and contributed 46 assists.
Gabriel Jesus has excellent technical ability garnered from playing on dirt pitches in Sao Paolo. His work rate is second to none too. Some pundits claim he is not prolific enough or reliable enough to pin all your striking hopes on. However, his record suggests otherwise.
Jesus has scored in 42% of the Premier League matches he starts. This places him 13th in Premier League history for those who have played over 50 matches. Anyone with a near goal every two games record can finish. He will start more games at Arsenal, which will give him the chance to silence his doubters.
Gabriel Jesus Quick Facts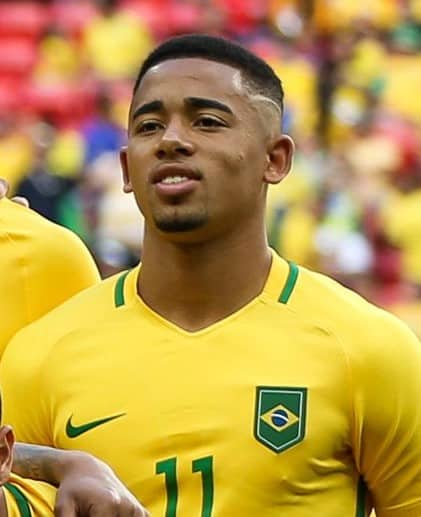 Full Name Gabriel Fernando de Jesus
Birth Date April 3, 1997
Birth Place Sao Paolo, Brazil
Nick Name Tetinha, O Fenomeno
Nationality Brazilian
Siblings Filipe, Caique and Emanuele
Children Daughter, Helena
Partner Raiane Lima
Profession Professional soccer player
Salary $230,000 per week
Net Worth $27 million
Awards Best Newcomer for 2015 Campeonato Brasileiro Series A league, Player of the Season for 2016 Campeonato Brasileiro Series A league
Last Updated August 2022
Gabriel Jesus Birthplace and Early Life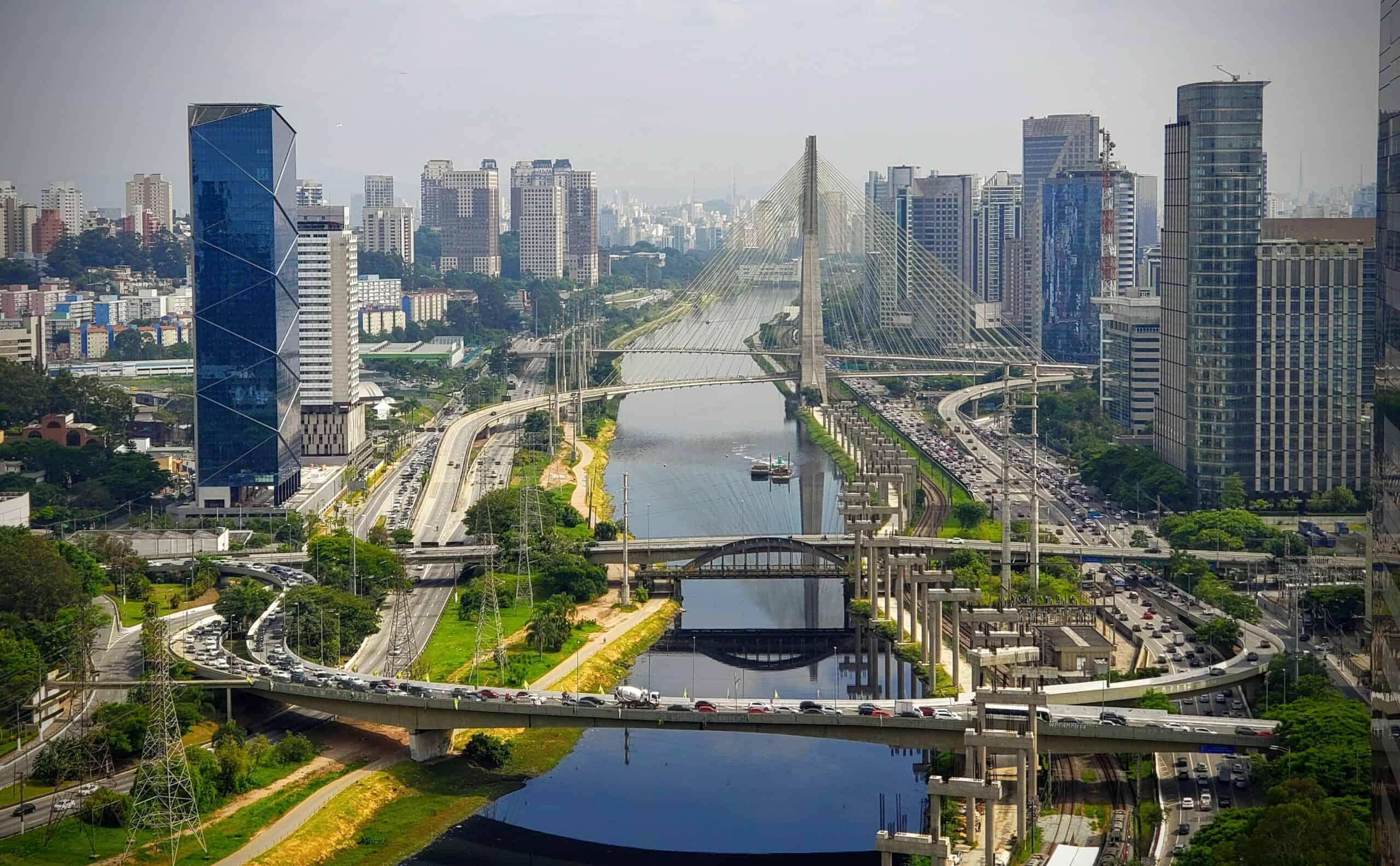 Gabriel Jesus was born on April 3, 1997, in Sao Paulo, Brazil. He was the youngest of four children for parents Diniz de Jesus and Vera Lucia Jesus. However, his father walked out on the family not long after Gabriel was born.  Left to raise four children on her own, his mother worked every day to support the family. She was and continues to be a vital influence and guiding light for her youngest son.
Gabriel Jesus was always playing football as a youngster. He would play with his friends for hours on the streets of Jardim Peri, the neighborhood in north Sao Paulo where he grew up. A fan of Corinthians FC, he and his friends would watch their team at the local Gi Bar. Gabriel Jesus was a shy boy except when he had a football at his feet. Soccer provided a purpose, ambition, and a potential escape from what could be dangerous streets.
The Importance of Good Coaches
Gabriel Jesus moved from street football to playing for local amateur clubs, although the playing surfaces were not much different. His first competitive football was with the junior club Pequeninos do Meio Ambiente. They played on a dirt pitch next to a military prison. However, Jesus acknowledges these pitches taught him technique and how to control a ball. No smooth-running soccer pitches here. He was also playing against older boys and men, another factor he believes helped his development.
His coach at the junior club is also credited with being a big influence on Gabriel Jesus. Jose Francisco Mamede remembers Jesus turning up at the club as an eight-year-old wearing flip-flops. He promptly waltzed around three older boys in his first training session, before finishing with aplomb.
Watching on, Mamede realized they may have a special kid on their hands, and he was to be proved right. He had seen gifted players before, but they had been lazy, the one thing which the hard-working and committed Gabriel Jesus could never be accused of.
Joining the Palmeiras Academy
At the age of 13, Gabriel Jesus joined the youth set up at Palmeiras, a professional soccer club in Sao Paolo. Palmeiras is one of the best-supported clubs in South America and fierce rivals to Corinthians, Gabriel Jesus' childhood team. Jesus made an immediate impact and was prolific for the Palmeiras academy.
His goalscoring talents came to the fan's attention. They started a petition to include the rising star in the first-team squad when the team was battling relegation. The managers resisted the popular clamor. However, it would only be a matter of time before Gabriel Jesus was playing top-flight football in Brazil.
However, he never forgot his roots. Jesus would often return to play soccer with his friends on the streets of Jardim Peri. He also took 250 pairs of football boots to his old junior club while playing for Palmeiras. The boys at the club did not often have proper football boots, and Jesus played in one final where they lost to a team who did. Like all competitive sports stars, Gabriel Jesus hated losing. That particular defeat stuck in his head, and he was determined to help his old club now that he could.
Gabriel Jesus Professional Career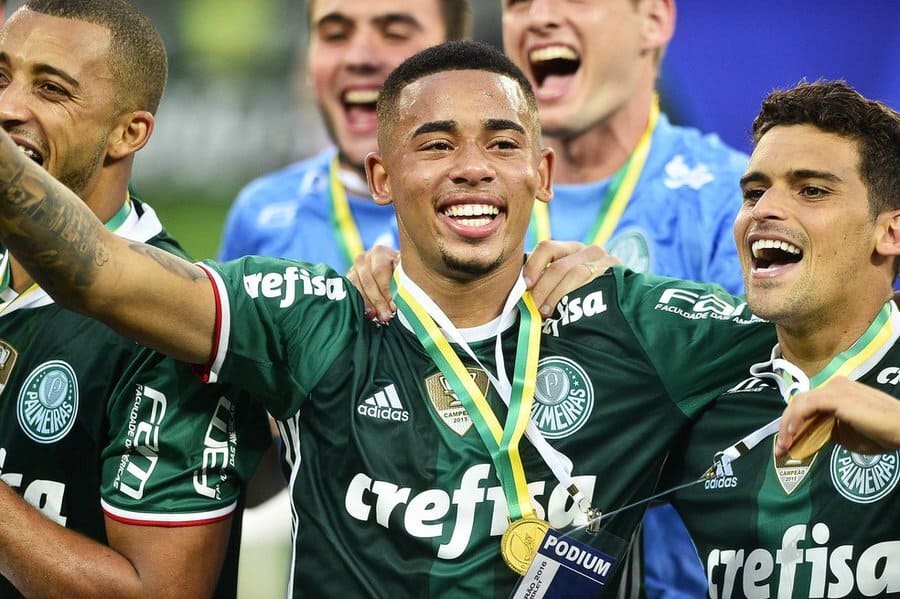 Gabriel Jesus scored 91 goals in 70 games in the Palmeiras youth side. It is the kind of form you can't ignore and enough to earn his first professional contract. In an ideal world, Jesus probably dreamed of playing for his boyhood club Corinthians, rather than archrivals Palmeiras. However, Jesus would soon show that Palmeiras was everything to him now.
The 18-year-old striker made an immediate impact. Palmeiras won the Copa de Brasil in his debut season. Gabriel Jesus' contribution to the season was recognized with the award for best newcomer. Buoyed by his first year, the rising star went up another gear in his second pro season.
He collected his second piece of silverware, helping Palmeiras claim their first league title in 22 years. Jesus notched 21 goals in 46 games during the campaign. He was named the league's player of the season in 2016, an honor previously won by the likes of Neymar and Ronaldinho, esteemed company indeed.
Manchester City Come Calling
The Manchester City manager, Pep Guardiola, was keeping tabs on this emerging striker at Palmeiras. However, he was not the only one, with a host of European clubs alerted to his talent. Guardiola's reputation for improving players played a factor in Jesus opting for Manchester City. He wanted to keep learning his trade.
A personal phone call from Guardiola also helped nudge him in that direction. The deal was done during the Brazilian season, but Jesus remained at Palmeiras to help them win the league title first. Before leaving Brazil, Jesus returned to Jardim Peri for one last party.
Manchester City paid $39 million for Gabriel Jesus, who joined up with his new teammates in January 2017. Considering the challenges of moving to a new continent when still only 19 years old, Gabriel Jesus hit the ground running. He scored 7 goals in 11 appearances in the remainder of the 2016/17 season.
Notwithstanding a couple of injury issues, Jesus made 29 appearances in the following season. He contributed 13 goals as his side won the Premier League title. His winner on the last day of the season against Southampton will forever be remembered by City fans. It meant the club tallied 100 points for the season, a Premier League record.
Unprecedented Success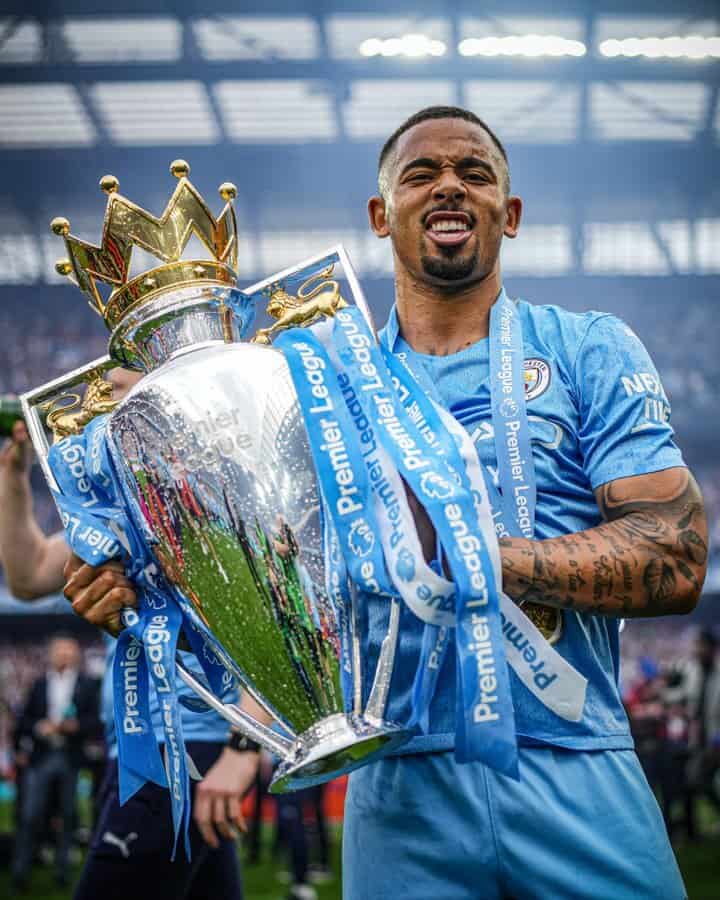 Gabriel Jesus often had to play second fiddle to Sergio Aguero. However, he was an integral part of a period of unprecedented success for Manchester City. The club not only defended the Premier League in the 2018/19 season, but they also won a domestic treble of trophies. They had already won the Football League Cup before pipping Liverpool by a single point for the league title. They then thrashed Watford in the FA Cup final 6-0, with Jesus grabbing two of the goals.
In his five and a half seasons at Manchester City, Gabriel Jesus won four Premier League titles, three League Cups, and one FA Cup. The less said about the absence of the European Cup the better. It is the one title that keeps alluding them. His best season in goal terms was ironically the 2019/20 season, the year City did not win the Premier League. In all competitions, Jesus notched 23 times in 53 matches during that year's campaign.
Not Just a Goalscorer
The one thing guaranteed to get the fans on your side is hard graft. Gabriel Jesus provides that in abundance. His closing down and pressing of defenders is admirable. The striking aspect of Gabriel Jesus is his all-around game. Whether he is playing wide or down the middle, he is a constant threat. Not only can he score goals, but he is also adept at creating them too. Jesus scored 95 goals for Manchester City, but he also registered 46 assists.
In the 2019/20 season, he had 14 assists in all competitions. In his last full season with the club, 2021/22, he recorded 9 assists. Manchester City once again narrowly edged out Liverpool by a point to win the Premier League title. Although City never won the European Champions League during Jesus's time at the club, the striker scored 20 goals in this competition. This made him the club's third-highest goalscorer in European competitions.
Gabriel Jesus made 236 appearances in a highly successful spell at Manchester City. Of those appearances, 85 were from the bench. In the close season following the 2021/22 season, Manchester City was closing in on the prolific Norwegian striker Erling Haaland. It was time for Gabriel Jesus to seek out more regular starts.
Capital Bound
Gabriel Jesus signed for Arsenal ahead of the 2022/23 season. The London club paid Manchester City $55 million for the striker's services, offering Jesus a 5-year deal. The Brazilian star is only 25 years old, with his prime playing days potentially still ahead of him.
Jesus emphasized the fact that he was not unhappy at Manchester City, but he was now looking for more playing time. He was also now at the club where Thierry Henry plied his trade, a striker he admired growing up. The way he started his career with the Gunners, Arsenal may have made the signing of the summer.
It took Jesus less than 90 seconds to score his first goal for his new club. This was in a pre-season friendly against FC Nuremberg. He added a second for good measure a bit later as Arsenal ran out 5-3 winners. His pre-season form was impressive, including a goal as the Gunners beat Premier League rivals Chelsea 4-0 in Orlando. However, what mattered was whether he could transfer that form into the season proper.
The early signs are very encouraging for Arsenal fans. Although he did not get on the scoresheet in Arsenal's opening 2-0 win against Crystal Palace, Jesus' all-round performance was impressive. However, he scored twice in the next match, helping his team to a 4-2 win against Leicester.
It is early days, but it is going to be interesting to see his goals return given a run as a consistent starter in the Arsenal team.
International Career
The performance of Gabriel Jesus at Palmeiras brought him further attention. He was soon brought into the national team set-up and was part of the Brazil side who were runners up at the Under 20s FIFA World Cup. The following year he was part of the under 23 national side who went one better and won gold at the 2016 Olympics on home turf. Gabriel Jesus scored three goals during the competition, which saw Brazil beat Germany on penalties in the final.
Gabriel Jesus made his senior international debut in September 2016. There was huge pride and a few tears as his family watched at home on tv. Jesus scored twice in the 3-0 win in the FIFA World Cup qualifier against Ecuador. It was a much-needed victory for a Brazilian side who was struggling in their qualification group. Brazil went on an 8-match winning run to qualify for the 2018 tournament in Russia. Gabriel Jesus finished as his country's top scorer for 2016 with 7 goals in 10 appearances.
Gabriel Jesus was very much to the fore in Brazil's Copa America victory in 2019. He scored in both the semi-final and the final to help land Brazil's first trophy since winning the same tournament in 2007. Unfortunately, Jesus rather spoilt his day by being sent off in the 3-1 final win against Peru. He was given his marching orders 20 minutes from the end of the match for a second bookable offense. He seemed to take his frustration and disappointment in himself out on the dugout as he left the pitch.
Gabriel Jesus has scored 19 goals in 56 appearances for Brazil. He will be hoping to spearhead their attack in the 2022 World Cup in Qatar.
Gabriel Jesus Video
A feast of goals while playing for Palmeiras
A short feature showing where it all started for Gabriel Jesus.
Gabriel Jesus doing what he does best in the famous yellow and blue of Brazil.
Gabriel Jesus Family
Gabriel Jesus' girlfriend is 21-year-old Raiane Lima. The couple welcomed their first child in May 2022, a daughter named Helena. What an incredible month that must have been for the Brazilian footballer. He became a father shortly after celebrating the Premier League title with Manchester City. Raiane is a popular online influencer. Her Instagram account has nearly 375,000 followers although she does not post often. Recent photos show her with Jesus and their daughter.
Besides Raiane, the other major influence in Gabriel Jesus' life is his mother. Vera Lucia Jesus worked incredibly hard as a single parent to support and provide opportunities for her four children. Gabriel has frequently paid tribute to his mother, who remains his number one fan, including having a large tattoo of her on his arm.
When Gabriel Jesus moved to England his mother accompanied him to help run and organize his affairs. We often forget how difficult and frightening it can be for a young footballer to move halfway across the world and settle into a completely new culture. Gabriel Jesus' brother and two friends also moved to Manchester to help Jesus settle in. However, they had to return to Brazil once their travel visas expired.
Gabriel Jesus Net Worth and Career Earnings
Gabriel Jesus has a reported net worth of $27 million. His five-year contract at Arsenal will see the Brazilian striker pocket just shy of $60 million. He is now Arsenal's highest earner, which will make future contract negotiations with current players a little interesting. It is another boost to his net worth. In 2020 Manchester City offered to double his salary to around $180,000 a week as part of a new and improved contract.
Needless to say, Gabriel Jesus was earning considerably less when at Palmeiras. He earned $4,000 while playing in their youth setup. This was increased to around $16,000 when he began playing for the senior team. Yet this was still a huge amount of money for a young man from the Jardim Peri area of Sao Paulo.
Even when at Manchester City his salary was reportedly paid to his mother who would pay Jesus 'pocket money'. This was to keep him grounded and not to fall for the temptations such sudden wealth can bring when you have previously had none.
Endorsements also add to the net worth of Gabriel Jesus. Among these is a personal endorsement deal with the sports giants Adidas. Jesus also signed a deal in 2018 to become an ambassador for the sports drink maker, Gatorade. This deal alone was reported to be worth $1.1 million a year.
Gabriel Jesus Famous Quotes

"Jardim Peri will be always marked in my life and I'm always going to bring it with me. It will not only be on a tattoo on my body – but also in my heart."
"My mother gave me a ball, and from then on, there was only football in my life."
"I am not a flashy guy and things will not change now."
FAQs
Question: How old is Gabriel Jesus?
Answer: Gabriel Jesus is 25 years old. He was born on April 3, 1997.
Question: How many Premier League goals has Gabriel Jesus scored?
Answer: Gabriel Jesus has scored 60 Premier League goals, 58 for Manchester City and 2 for Arsenal.
Question: What shirt number will Gabriel Jesus wear for Arsenal?
Answer: Gabriel Jesus will wear the number 9 shirt for Arsenal.
Question: How much is Gabriel Jesus earning at Arsenal?
Answer: Gabriel Jesus is reported as having signed a five-year deal with Arsenal worth $230,000 a week.
Research Citations
Continue reading more soccer star bios: