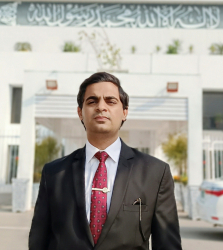 Latest posts by Boo-Ali Khan
(see all)
Born in a small village in Romania, Gheorghe Mureșan wasn't even close to someone you would consider a professional athlete. But despite his poor upbringing and bland lifestyle, his height differentiated him, which led him to the title of the tallest basketball player in the history of the NBA.
But his exponential growth wasn't because of good genetics or a sudden growth spurt; in reality, it was due to a dangerous medical condition that even threatened Gheorghe's life.
Whatever the case, Gheorghe persisted, and through hard work and love from his fans, he became his era's best defender and shooter. So, what events led Gheorghe to pursue his professional career in basketball?
And how did he get the 30th overall pick in the 1993 NBA draft without any exposure in the USA? All of that and a lot more will be answered in this Gheorghe Muresan Bio.
Gheorghe Muresan Quick Facts
Full Name: Gheorghe Dumitru Muresan
Birth Date: February 14, 1971
Birth Place: Tritenii de Jos, Romania
Nick Name: Ghita
Nationality: Romanian
Children:

Gheorghe Muresan Jr.
Victor Muresan

Spouse/Partner: Married to Iliana Muresan (1994)
Profession:
Height: 7 feet and 7.5 inches (2.3241 m)
Salary: $500k
Net Worth: $5-8 million
Social Media:
Awards:

French League Cup Winner (1993)
Romanian Leader League (1992)
NBA Field Goal Percentage Leader (1996)
NBA Most Improved Player (1996)
Second NBA Field Goal Percentage Leader (1997)
French League Championship (2001)
Gheorghe Dumitru Muresan Birthplace and Early Life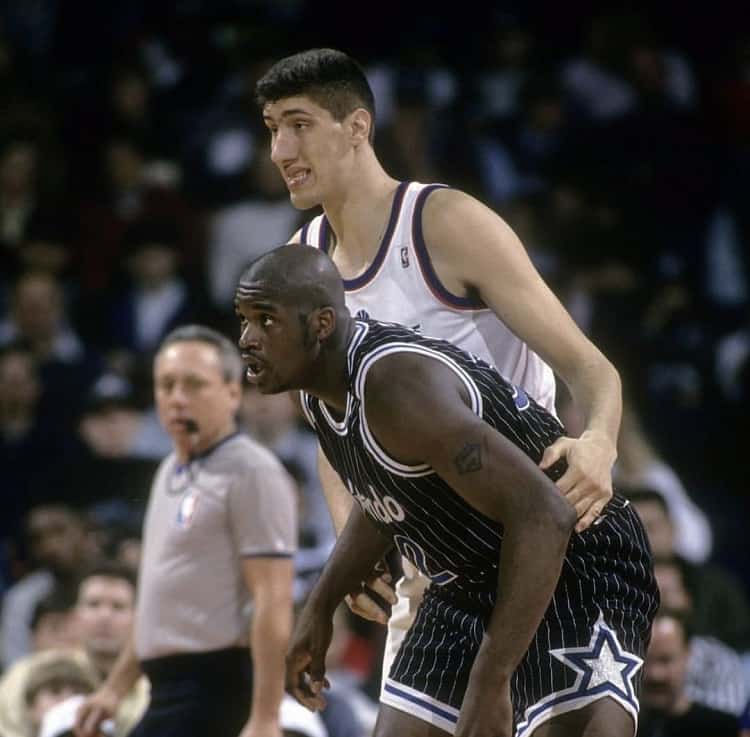 Gheorghe was born on February 14, 1971, in a small village in Romania called Tritenii de Jos. He was raised in a family of six children by his father, Ion Muresan, and mother, Marian Muresan.
Gheorghe was also the youngest in his family and thus received a lot of pampering from his parents, making him a very spoiled kid. Therefore, Gheorghe was never serious about school and hated the idea of studying. Due to this, he would also often skip classes.
But as Gheorghe grew older, it became apparent that there was something seriously wrong with the child, as he stood well over 7 feet at the age of 15 and was still growing. Alongside that, he was also extremely skinny and weak due to the improper formation of bones and muscles.
But unlike popular belief, Gheorghe's height and physique weren't because of growth hormones or tall genetics. As both his parents were relatively short at around five and a half feet, and his medical records showed no signs of growth enhancers.
Instead, the real reason behind Gheorghe's sudden growth was a pituitary gland disorder called Acromegaly, which led to his body releasing excess growth hormones.
But despite his size, Gheorghe never thought of basketball as a sport of choice and preferred soccer. However, his love for his favorite sport was short-lived due to his weak build, which prevented him from running longer distances.
Gheorghe Introduction to Basketball
After soccer, Gheorghe was introduced to basketball by his dentist, who also happened to be a basketball coach at the time. And seeing Gheorghe's freakishly 7.5 feet height, he knew he had massive potential for the game.
Gheorghe's dentist started to educate him about basketball and even convinced his parents to move cities so Gheorghe could pursue the sport.
This led Gheorghe to attend Cluj college and mark the beginning of his life on the court. And although he was uncoordinated and weak, his height became his one significant advantage. However, still, the most unusual hurdle during this time was his incapacity to find a pair of sneakers that would fit his size 19 feet.
As soon as his collegiate career started, he dominated the ring, as no defender could even imagine stealing the ball from this Behemoth. And although his dribbling and running would get on the short end of the stick, his shooting and dunking abilities were still unmatched due to his exponential reach.
Due to his impressive skill and touch, he dominated the 1991 world junior championship and even the 1992 senior championship, where he averaged 16.5 points and 8-and-a-half rebounds for Romania.
He also successfully landed his team several wins in various national basketball tournaments across Romania, which led him to become the national basketball champion of Romania in 1992.
Seeing Gheorghe Mureșan's success and growth, it became apparent that he would become one of the best NBA players of all time if given the proper training and assistance.
Gheorghe Mureșan Professional Career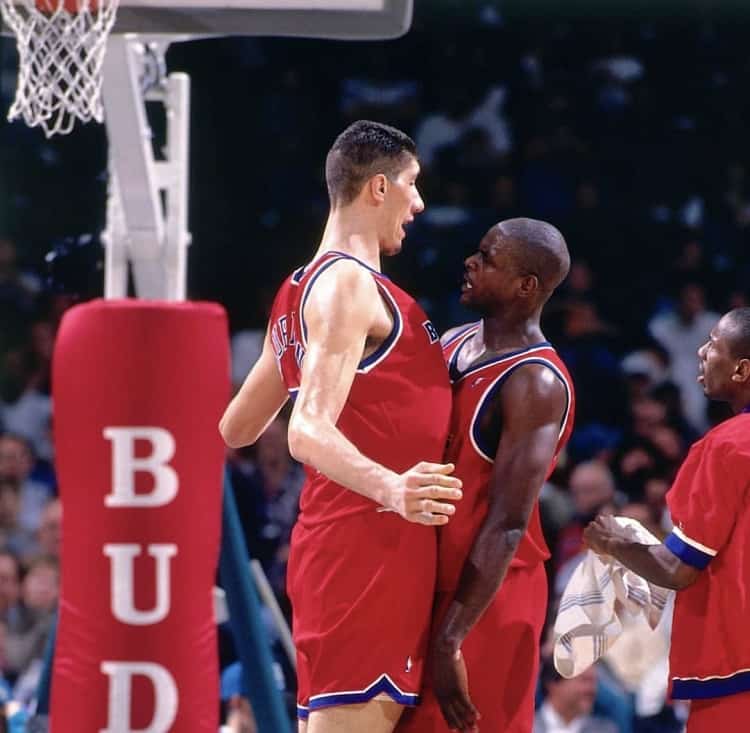 Gheorghe Dominating the French League
After graduating college, Gheorghe immediately knew he wanted to pursue basketball. Thus, he moved to France in 1992 and joined the French League to play professionally for Pau-Orthez. And as soon as he stepped foot on the court, he became a fan favorite due to his skill and impressive size.
During the same time, he also started practicing other skills, mainly passing and dribbling, which were the two things Gheorghe was mostly weak at. And this, together with his 7"10' wingspan, meant that Gheorghe was almost unstoppable on the court.
Slowly and surely, all his hard work was paying off, and he quickly started to rise through the ranks and become the top offensive rebounder in the French championship.
And despite only being in his rookie season, his stats were well above sessional professionals, making him a prodigy that would go on to break all previous records in the French International League.
But that's not all, as, during the same season, he also led the Pau-Orthez to the 1993 French Basketball League finals and even managed to secure the French League Cup for himself.
Getting Drafted Into the NBA
At the end of his 1993 season, his coach started to tell him about the NBA. And surprisingly enough, soon after his major win, his agent informed him that a couple of teams from the NBA wanted to see him in person before the draft.
Apparently, they had seen him in a poster where he was standing against a real-life cutout of Micheal Jordan and wanted to know more about Gheorghe's previous achievements.
Thus, he flew to Detroit to attend the 1993 NBA ceremony, where he was picked as the 30th overall draft of the season by the Washington Bullets. Even during the draft ceremony seeing the crowd's reactions, it was apparent that basketball fans were waiting to see Gheorghe on the court.
Gheorghe's Traning and Surgery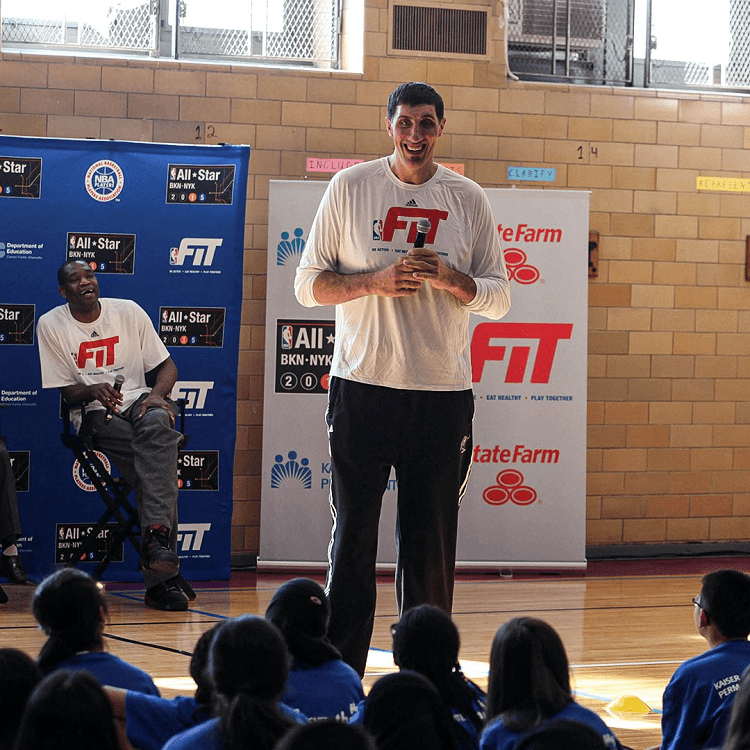 After the drafts, Gheorghe started his training camp with the Washington Bullets, which, to this date, he considers some of the most challenging days of his life. Before his rookie season even began, he worked tirelessly with Manute Bol to prepare him for his first match.
Moreover, he also worked with other trainers to improve his forms, leading to some life-changing experiences. One of the most notable discoveries was made by the running coach of the Bullets, who noticed Mureson was dragging his feet while running, which could lead to several problems down the line.
This was also when he realized that the NBA was quite different from the French League in the sense that it was a lot from ruthless, which was quite challenging to manage for the Romanian legend.
And this was quite apparent in his first-ever match in the NBA against the Milwaukee Bucks. He only appeared for one minute and could only score 3 points due to being extremely nervous.
And these issues remained the same for the first couple of games of his career. Alongside being nervous, he was also having problems with sleeping which was a primary reason he couldn't keep up with his teammates on the court.
But lucky for Gheorghe, the Bullets coaches at the time, Jim Lyman and Wes Unseld, were quite understanding and helpful. And they truly believed that, given some time and proper training, Gheorghe could quickly achieve his true potential.
But that wasn't the only problem Muresan was facing at the time. He still had a tumor in his pituitary gland, because of which his bones were growing at an exponential rate. And if it were left unchecked, he wouldn't have much more years to live.
Thus the Bullets took another chance on him and spent thousands of dollars in medical costs to remove the tumor.
Luckily, all this paid off in the end, as Gheorghe made significant progress in later games and even scored 7 points in his 9th game against the Orlando Magic. This, together with some other average games, led Gheorghe to a point average of 2.5 per game in the first month of his NBA career.
However, he was still facing muscle pains and a lack of flexibility in his knees. Due to this, his blocking wasn't up to the level one would expect from a player his height.
Gheorghe Regaining His Former Glory
Slowly and surely, Gheorghe's performance started to improve, and in the fourth month of his first season, he had an impressive 8.3-point average and 5.1 rebounds per game. And his most outstanding show in the first season was in his last game, where he scored a whopping 21 points and 11 rebounds against the Charlotte Hornets.
His playtime also slowly began to increase to around 14-15 mins per game; however, there was still a lot of room for improvement. And like this, he finished the 1993-1994 season with an average of 5.6 points and 3.6 rebounds per game.
During a part of the 1993-94 season, he was also paired with his former trainer Manute Bol. And together, they were considered the tallest pair in the history of the NBA.
Gheorghe's stats kept improving in the 1994-1995 season, where he played 73 out of the 82 games and had a total of 1720 minutes on the court, averaging 23.6 minutes per game.
During the same time, his blocking abilities also improved considerably, averaging 1.7 blocks per game. And this also impacted his point and rebound average, which went from 5.6 and 3.6 to 10.0 and 6.7 per game, respectively.
During the same season, he also broke his previous 21-point record by scoring a career-high 30 points against the Boston Celtics, which, at the time, had legends like Jay Humphries and Dominique Wilkins. This just goes on to show how much Gheorghe had improved during his time with the Bullets.
But his success didn't stop there, as Gheorghe continued trying to prove that he wasn't just there because of his height. And he kept on working hard to improve his form, which can be seen in his 1995- 1996 season, where he had an average of 14.5 points and 9.6 rebounds per game.
By this point, he had also developed a soft touch on the ball, leading the league in field goal percentages at around 58%.
This trend can also be seen in his defensive stats, where he averaged 2.3 blocks per game. But his improvements weren't ignored as the NBA recognized his talents and gave him the title of the most improved player of the 1996 season, making him the first international player to receive that reward.
One of Gheorghe's most notable plays this season was when he faced Micheal Jordan, Scottie Pippen, and other players of the Chicago Bulls on January 1, 1996.
And although his team lost, he still showed impressive play again some of the best players in the league at the time. And managed to score 27 points, 11 rebounds, and 4 blocks in only 37 minutes on the court. He also broke his previous point record by scoring 31 points in a match against the Charlotte Hornets.
In the coming 1997 season, Gheorghe again led the league in field goal percentage by successfully making 327 out of his 541 field shots, increasing his overall percentage from 58.4 to 60.4. In the same year, Gheorghe was also able to lead the Washington Bullets to the playoffs, where he faced the legendary Micheal Jordan again.
However, Gheorghe's performance during his three postseason games wasn't anything to brag about; he only managed an average of 5 points and 6 rebounds per game. But despite that, he still considers those playoffs some of the best memories of his career. He even said those were his life's most exciting games.
At this point, Gheorghe was widely recognized as an NBA legend, and fans adored him due to his height and fun demeanor. And this recognition also led him to a role in the movie "My Giant" featuring Billy Crystal.
Unfornutalley, things turned for the worst for Gheorghe when he got seriously injured during the movie filming just before his 1997-98 season. And his teammates even accused him of being too reckless. Many fans also speculate that these injuries also led to Gheorghe's early retirement.
Whatever the case, despite his injuries, he set off for the whole season. At this point, it was becoming more apparent that Gheorghe's height was taking a toll on his joints. And his old age wasn't also making things any easier.
Still, after the depressing season, Muresan did appear on the court for the 1998-99 season on May 6, playing against the Milwaukee Bucks. But he only managed a single minute on the court due to his recent injuries, ending the season with a 0-point average, after which he didn't play for the Washington Bullets anymore.
Gheroghe Last 31 Games in the NBA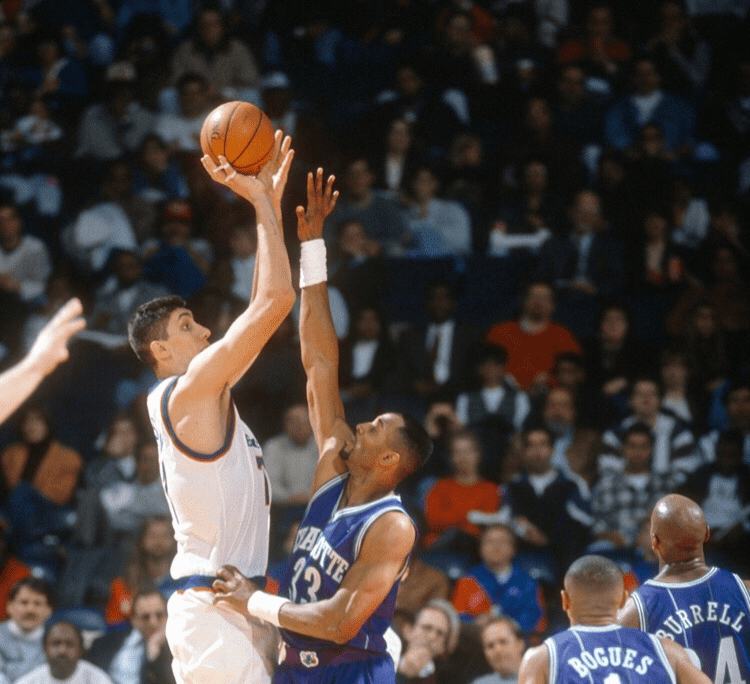 After leaving the Washington Bullets, Gheorghe was again invited by John Nash, who drafted him in the first place to the NBA, to play for the Brooklyn Nets, despite Gheorghe already missing out on two whole seasons due to various knee and back injuries. However, after the long break, Gheorghe was quite rusty and could barely maintain 9 minutes on the court.
His point and rebound average also saw a considerable dip, alongside his blocks and field goal percentages.
Anyway, he didn't continue for long, as Gheorghe was still haunted by his previous injuries, which eventually led to his body and energy giving out after just 31 games. After this, Gheorghe was left in no form to play basketball, and he decided to quit the NBA.
Returning to the French League and the End of His Career:
Despite being in pretty rough condition after leaving the NBA, Gheorghe returned to Franch to rejoin his previous team, Pau Orthez. And this proved to be quite helpful for the legend to regain his confidence, and he demonstrated again that he was still one of the best players in the French Basketball League.
Not to mention, he even led his team to win the 2001 French Championship in the coming season. After this, he finally retired at 30, marking the end of his basketball career.
Overall, Gheorghe Muresan had a remarkable journey from being nobody to becoming one of the most loved players in the history of the NBA. His stats were also quite impressive, with an average of 9.8 points and 6.4 rebounds in his decade-long career.
Gheorghe Muresan Famous Videos
Gheorghe Muresan is attacked by Dennis Rodman in an attempt to rile him up before the match.
Some of the best basketball plays from Gheorghe Muresan while playing for the Washington Bullets.
Highlights of one of the most legendary games in Gheorghe Muresan's career against the Bulls facing Micheal Jordan.
Gheorghe Dumitru Muresan Post Reitrement Life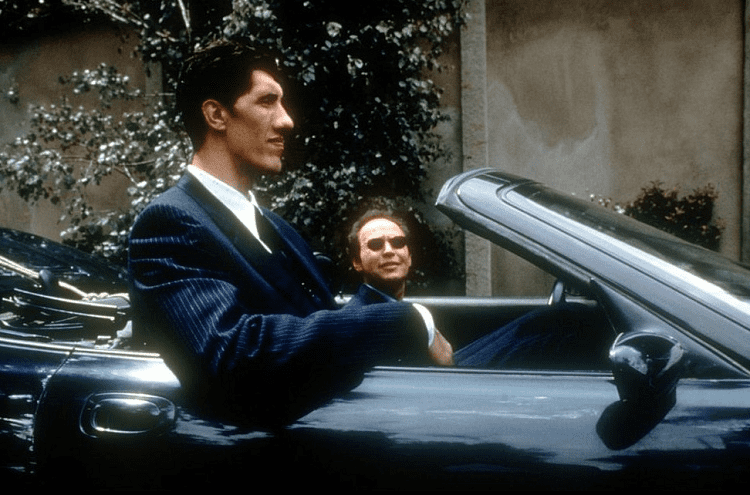 Although Gheorghe Muresan was done with playing sports due to his back injuries, he was still very much inclined towards the sports life. And thus, after retiring in 2001, he established an organization devoted to training young boys and girls to play basketball and teaching them the fundamentals of the sport.
The main reason behind this organization was so that kids interested in basketball could be given a chance to show their full potential, just like he was given an opportunity by his coach.
But that wasn't Gheorghe's only contribution to basketball after retirement, as he also became one of the ambassadors for the Washington Wizards. Now he is mainly seen in different events, interviews, and basketball games for marketing and public relation purposes.
But other than sports Gheorghe was also active in various other activities, mainly acting, first appearing on the big screen in 1998's "My Giant." Alongside that, he also played the part of a ventriloquist with Eminem in the famous 2009 music video "My Name is."
Likewise, he also utilized his acting skills in commercials, most notably in an ad for the Snickers candy bar featured on the ESPN television network.
He was also featured in a goldfish cracker commercial alongside Boban Marjanovic. After acting, Gheorghe also dabbled in writing and became a co-author for two fitness books named "The Boy's Fitness Guide" and "The Girl's Fitness Guide."
Gheorghe Dumitru Muresan Family
Alongside having the title of one of the most improved players in the NBA in the 1996 season, Gheorghe has also proved himself as a role model for his two sons. And with that, he has also managed a relatively happy married life, with both husband and wife still happily married after 28 years.
And although Gheorghe doesn't prefer to talk much about his spouse in interviews or on social media, he loves to rant about his two sons Gheroghe Muresan Jr. and Victor Muresan.
Gheroghe Muresan Jr.
Gheroghe Jr. is Muresan's oldest son. And just like him, he is also an avid basketball fan and even plays professionally for his college team Hoyas, in Georgetown. Alongside basketball, Gheroghe Jr. had also inherited his father's height standing at a whopping 6 feet 9 inches.
Victor Muresan
Victor Muresan is Gheorghe's youngest son, and just like his older brother, he is also a massive fan of basketball. He also studies in the same college as his older brother and is also a part of Hoyas for the 2021-22 season.
Gheorghe Muresan Net Worth and Career Earnings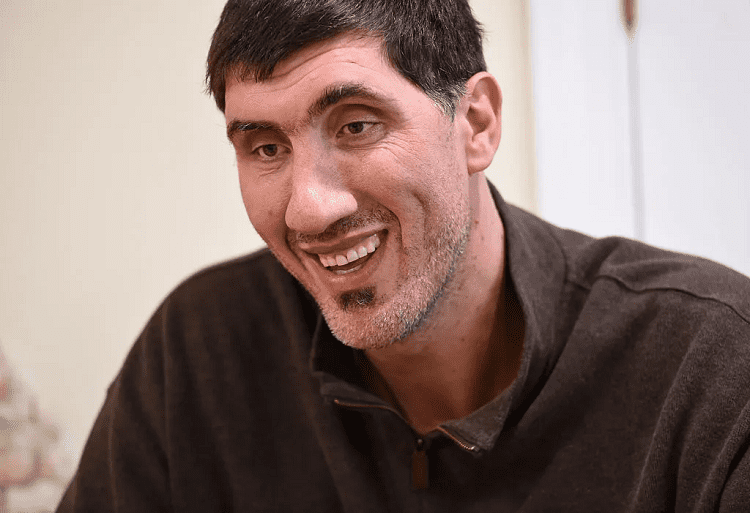 After joining the NBA as a second-round draft, Gheorghe was offered a $500k contract by the Washington Bullets for the 1993-94 season. Next season he signed another one-year contract with the Washington Wizards for $1.15 million, which is a considerable bump from his previous contract mainly due to improving performance.
This trend is again seen in Gheorghe's 1995-96 season, with another bump in the salary to $2 million. And seeing Gheorghe's improving stats in the 1996-97 season, it was logical that his contract was revised to a whopping $2.4 million.
However, during this time, Gheorghe faced a significant injury that led to him skipping the whole season and decreasing his salary to 1.9 million.
After he left the Wizards, he signed a one-year contract with the Brooklyn Nets for only $475k, which is quite less than his previous contracts. However, this was increased to $510k in the 1999-00 season.
Combined, all these contracts make up about $8.85 million from Gheorghe's NBA career, which comes to about $17 million accounting for today's inflation.
Alongside his NBA contracts, Gheorghe also has a long history with the French league, where he played for three years for the Pau-Orthez club. This would account for another few million in his total income.
Furthermore, besides basketball, Gheorghe has also made a lot through his various action jobs and commercials. All this accounts for a total of $5 million as of 2022.
Now when it comes to Gheorghe's spending, he isn't one of the biggest spenders in the NBA. However, he and his wife does own a Chevy Blazer and a Cadillac Sedan, respectively. Not to mention, Gheorghe Muresan also owns a $2.1 million 9,159-square-foot house located in Potomac.
Frequently Asked Questions
Question: Is Gheorghe Muresan a Bad Basketball Player?
Answer: Although this question is entirely subjective for most fans, Gheorghe Muresan can't be considered a bad basketball player from an objective point of view. First of all, he played in 207 out of 307 games in his career, which is well above the number you would be linking with a lousy player.
He also has an average of 9.8 points and 6.4 rebounds per game, which, while can't be considered very impressive, is still above average for most NBA prospects. And lastly, Gheorghe won the most improved player award in the 1996 season, averaging 14.5 points and 9.6 rebounds per game, putting him among the top NBA players of all time.
Question: Why is Gheorghe Muresan so Tall?
Answer: While many think this is due to growth supplements or tall genes but in reality, his extraordinary height was due to a rare medical condition in which his body was constantly secreting growth hormones due to a pituitary gland. But while this may seem a favorable condition, it was a real threat that was causing some serious health problems.
Anyhow, Muresan did get that gland removed when he was drafted by the NBA.
Question: Why Did Gheorghe Muresan Retire so Early?
Answer: Looking at Gheorghe's career, he only played professionally for a little over a decade and retired at only 30, which is a relatively shorter period compared to most NBA players. The main reason behind this is the countless knee and back injuries he had to face due to his frail build.
Question: Can Gheorghe Muresan Dunk?
Answer: Standing at 7 feet 7.5 inches, Gheorghe can easily dunk. And thanks to this 7" 10-inch wingspan, he can do this without even jumping!
Research Citations:
Continue reading related NBA bios and comparisons: