Latest posts by Jonathan Tieman
(see all)
A short, diplomatic answer would likely be appropriate to such a simple question. Yet…
The Paul Pierce vs D Wade Debate Wages On
Danny Ainge could've indeed replied, "Paul Pierce and Dwyane Wade are both excellent players, but I like my guy better."
However, it was not that way as Boston Celtics president of basketball operations handled a subject that has become a hot-button issue since Pierce declared himself better than Wade on ESPN.
There was a loud "Paul Pierce sucks" chant among Heat fans.
Ainge said during his weekly interview with 98.5 The Sports Hub's "Toucher & Rich" on Wednesday morning: "I'm gonna say, Paul, because I just asked my analytics group that question."
Ainge took the issue under consideration along with the Celtics' analytics team. The process was as follows:
"In our analysis, we use a method called Adjusted Plus/Minus," said Ainge. A player's impact in the game is best described by having an adjusted plus/minus value of 10-11 per 100 possessions, which is very high. Pierce and Wade had that level of impact in their prime.
In Ainge's view, Wade played "slightly better" aged 20 to 29 than Pierce, with an Adjusted Plus/Minus of 6.4 compared to Pierce's 5.4. But if you look at both players in their 30s.
According to Ainge, Pierce had become a better player in his 30s. "In contrast, Dwyane Wade had a -0.4 and Pierce had a 5.8."
"And I agree with your assessment: Pierce remained more consistent for a longer period than Dwyane."
That's all there is to it. Stat geeks at Ainge chose Pierce over Wade after running the numbers.
As to whom they should nominate, Ainge said, "I think everybody concluded that Pierce, on our staff, should receive the nod."
Statisticians can prove virtually anything, which is a good thing to keep in mind. Ainge admitted many of Wade's arguments were valid — like the three NBA first-team selections versus Pierce's zero, the three rings versus Pierce's one, and his NBA scoring title from 2009.
We must acknowledge that Ainge and his staff took the time to dig up statistics to show Pierce had been better than his Heat counterpart on the court.
Paul Pierce recently asserted that he had a better NBA career than Dwyane Wade while serving as an analyst on ESPN's NBA Countdown in April 2019. This statement came as a surprise to his co-hosts and many others. It didn't take long for fans and pundits alike to ridicule his comments, and numerous Heat fans chanted "Paul Pierce sucks!" at a home game in Miami. Despite Pierce's somewhat one-sided response, let's analyze and objectively address his assertion based on this head-to-head comparison.
Would you rather have – Paul Pierce or Dwyane Wade?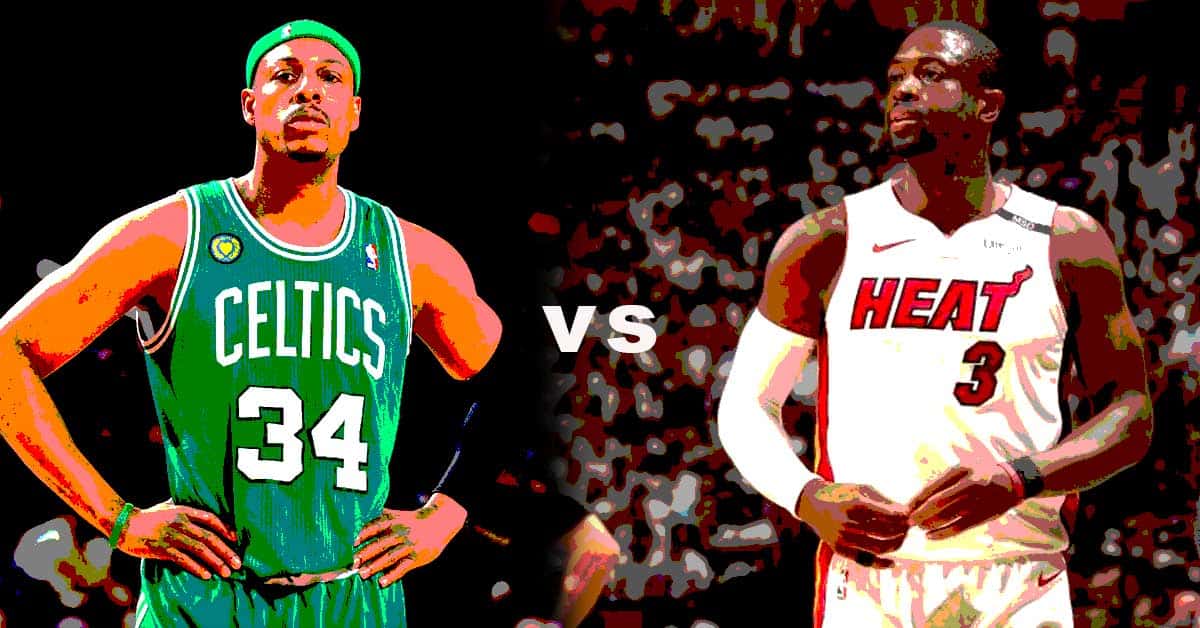 The Beginning
Pierce was a highly regarded college recruit, whereas Wade was lightly recruited, yet both players became All-Americans at the collegiate level, became NBA lottery picks, and immediately contributed professionally.
During his high school career (alongside future NBA teammate Kevin Garnett), Pierce was a McDonald's All-American and attended blue blood program Kansas to play college basketball. His first year with the Jayhawks, he was the co-freshman of the year for the Big Eight Conference, and he was named honorable mention for all-Big Eight honors.
During his sophomore year, Pierce was the tournament MVP of the Big 12 Conference Tournament. He was the tournament MVP in his junior season throughout both the NIT and Big 12 Conference Tournaments and a finalist for the Wooden and Naismith Awards alike.
Pierce was drafted 10th overall by the Boston Celtics in the 1998 NBA Draft; he started straight away for the Celtics, posting 16.5 points (on 43.9% shooting), 6.4 rebounds, and 2.4 assists per game, which placed him third in the Rookie of the Year voting (won by Tim Duncan).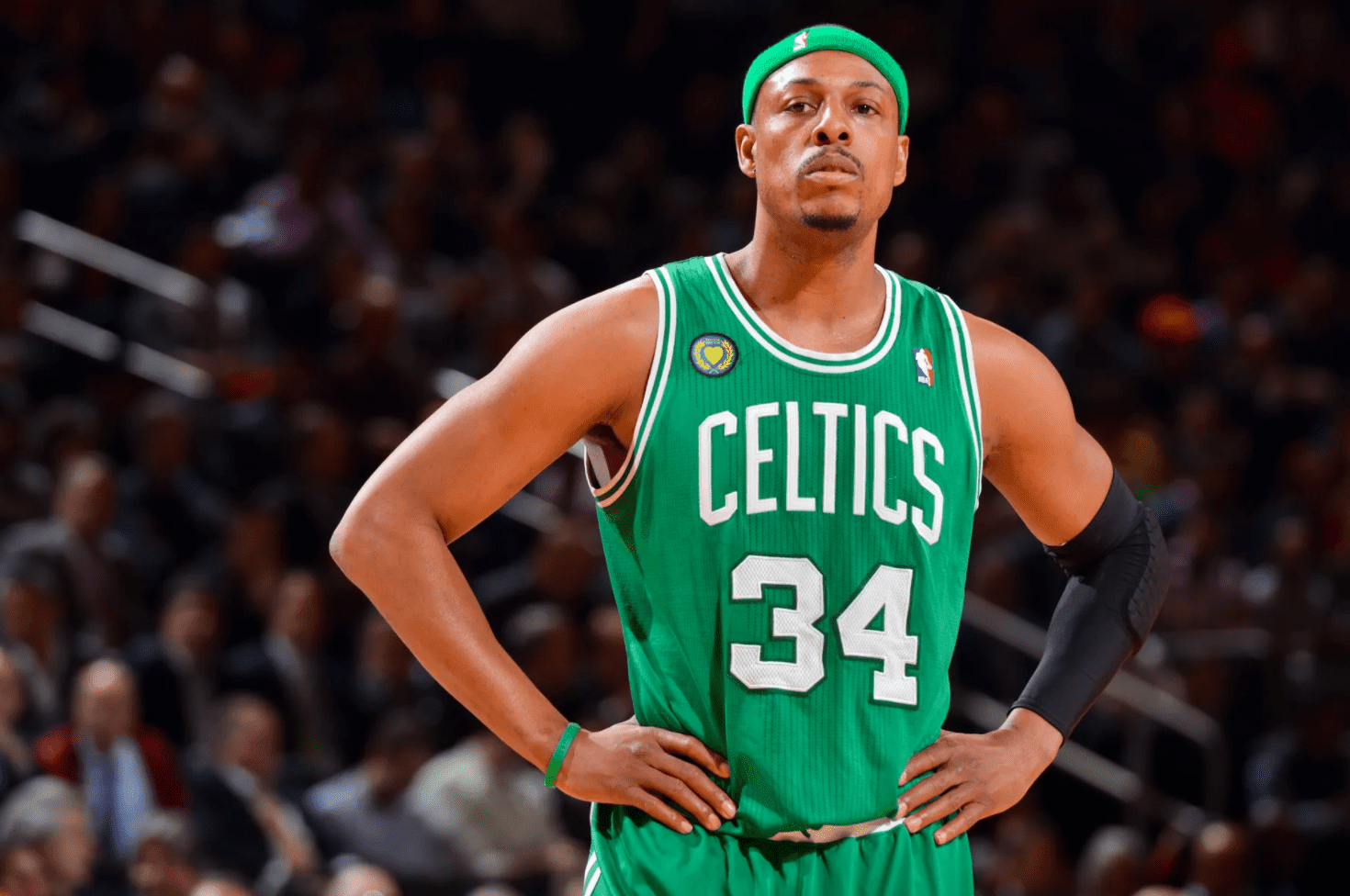 Despite growing up in a troubled Chicago suburb, Wade also enjoyed an impressive high school career. However, he was recruited by only three universities (Marquette, Illinois State, and DePaul) because of his academic shortcomings. Marquette chose him as its freshman academically ineligible player, but he led the Golden Eagles in scoring his sophomore year.
In his junior year, Wade was a first-team All-American and led Marquette to a Conference USA title, including a trip to the Final Four (the first appearance at the Final Four for Marquette since it won the national championship in 1977). The Miami Heat selected him fifth overall in the 2003 NBA Draft due to his announcement to enter the draft early.
Wade finished third behind LeBron James and Carmelo Anthony for Rookie of the Year behind a loaded draft class that also included James (first), Anthony (third), and Bosh (fourth).
Career Comparison
The Celtics and Heat respectively saw Pierce and Wade's careers overlap for more than a decade, both racking up an impressive list of personal accomplishments while also reaching teams' pinnacles of success.
Pierce formed a high-scoring duo with Antoine Walker for the Celtics after a strong rookie season. During his second season, Pierce surpassed 20 points per game for the first time in eight straight seasons (8 times total) with 25.3 points (45.4% shooting), 6.4 rebounds, and 3.1 assists: a new career-high.
As a result of his performances in the following campaign, he achieved his first All-Star selection and his first All-NBA selection (Third Team). He was chosen for the next five consecutive All-Star Games and was again named to the Third Team in 2003-2004 (25.9 points, 41.6% shooting, a career-high 7.3 rebounds, and 4.4 assists per game). The NBA veteran averaged a career-high 26.8 points per game (47.1% shooting) with 6.7 rebounds and 4.7 assists a night in 2005-2006.
The Celtics were among the worst teams in the NBA in 2006-2007 due to Pierce's injuries (he averaged 25.0 points per game). Due to this, Boston made a couple of significant trades during the offseason to acquire Kevin Garnett from the Minnesota Timberwolves and Ray Allen from the then-Seattle SuperSonics (now the Oklahoma City Thunder) to complete the "Big Three" with Pierce.
Pierce was also able to begin another five-year All-Star haul, even though he sacrificed some of his numbers; during the three's first season together (2007-2008), Pierce averaged 19.6 points (46.4% shooting), 5.1 rebounds, and 4.5 assists per game to be named both an All-Star and Third Team All-NBA. Pierce's only career selection to the Second Team All-NBA came during the 2008-2009 season (20.5 points on 45.7% shooting, 5.6 rebounds, and 3.6 assists per game).
He continued to be a highly productive player with Boston over the next four seasons, averaging 18-19 points, 5-6 rebounds, and 3-4 assists per game and was finally selected as an All-Star in 2011-2012.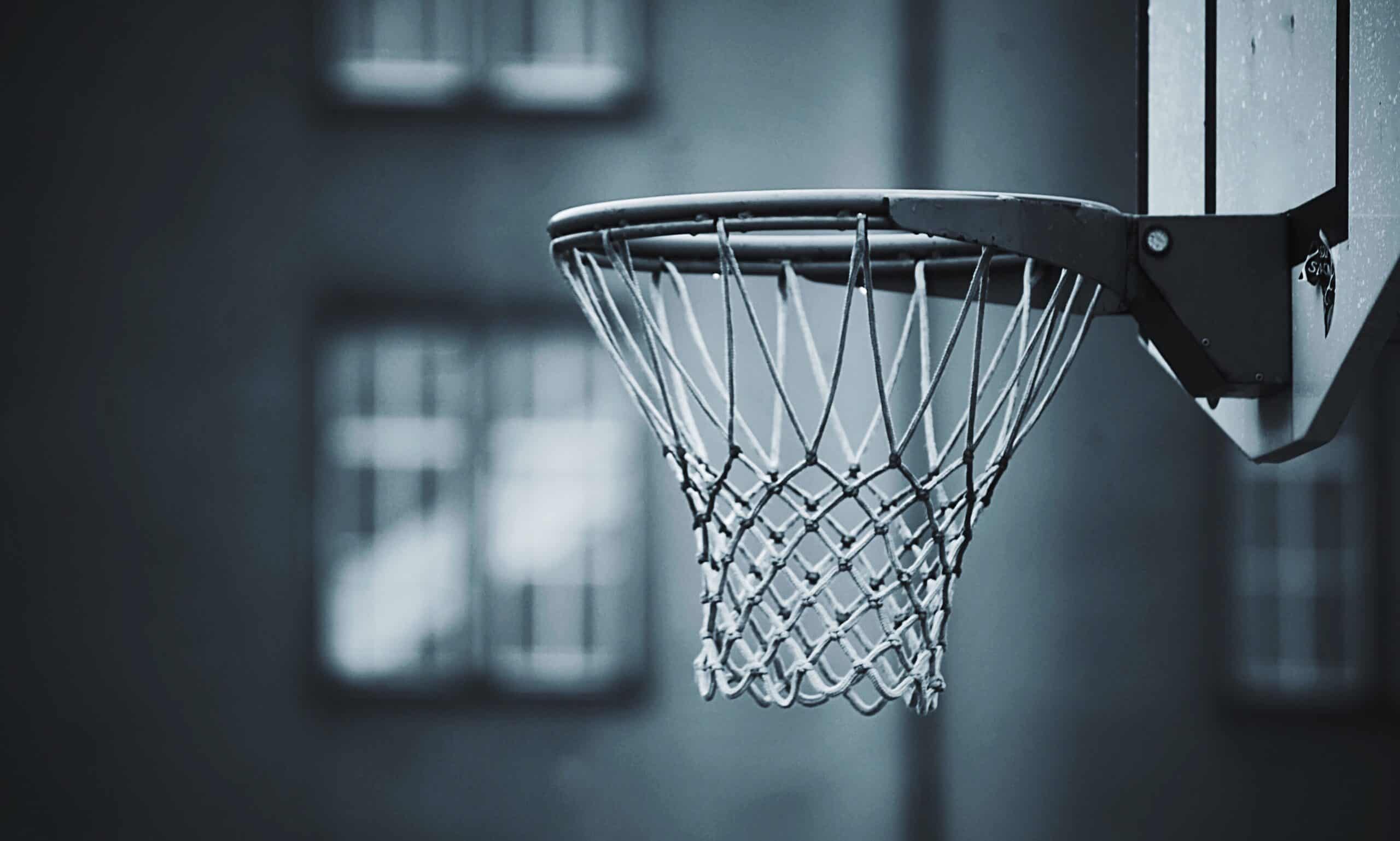 As part of the 2013 NBA Draft, Pierce and Garnett were traded with Jason Terry and D.J. White to the Brooklyn Nets in exchange for three future first-round picks (2014, 2016, 2018), Kris Humphries, Gerald Wallace, Kris Joseph, MarShon Brooks, and Keith Bogans.
Pierce, however, only spent one year with the Brooklyn Nets before signing with the Washington Wizards as a free agent in 2014. He spent another season with Washington before returning to Los Angeles for two seasons before retiring after the 2016-2017 season at the age of 39.
In his second season, Wade emerged as a superstar, averaging 24.1 points on 47.8% shooting (the first of nine straight 20+ point-per-game campaigns), 5.2 rebounds, and 6.8 assists to earn his first of 12 consecutive All-Star selections, as well as Second Team All-NBA and Second Team All-Defensive names.
Throughout the following seasons, he continued to improve – Second Team All-NBA (27.2 points on 49.5% shooting, a career-best 5.7 rebounds per game, and 6.7 assists per game) in 2005-2006, in addition to another Third Team selection the following year (27.4 points on 49.1% shooting, 4.7 assists, and a career-high 7.5 assists per game) in 2006-2007. However, an injury caused him to miss 31 games.
While Wade had a troubled 2007-2008 season, he still scored 24.6 points per game to qualify for his second All-Star game. After a disappointing year in 2007-2008, he bounced back with a career-high showing in 2008-2009: In 2008-2009, he averaged 30.2 points per game (49.1% shooting) en route to winning his only career scoring title, along with 5.0 rebounds and 7.5 assists per game was the first player in NBA history with 2,000 points, 500 assists, 100 steals, and 100 blocks in a season; this earned him selection as First Team All-NBA for the first time and once again All-Defensive Second Team.
After another First Team All-NBA/Second Team All-Defensive season in 2009-2010 (26.6 points on 47.6% shooting, 4.8 rebounds, 6.5 assists per game), Miami made big changes – bringing in LeBron James from the Cleveland Cavaliers and Chris Bosh from the Raptors to rival the "Big Three" of the Celtics.
In Wade's case, as in Pierce's, he sacrificed some of his stats to help the team – after he averaged 25.5 points per game in 2010-2011 en route to earning an NBA All-Star selection, he did not average more than 25 points per game for the rest of his career, although he was named to the Third Team for the 2012-2013 campaign. After LeBron returned to Cleveland after the 2013-2014 season, Bosh remained, and Wade carried on as the team's leading scorer, averaging 21.5 points per game (47.0% shooting) in 2014-2015.
The Miami Heat forward became a free agent in 2016 and signed with the Chicago Bulls, spending just a single season with the Windy City before being acquired by LeBron and joining him in Cleveland. However, his time with Cleveland was largely bench-based, and he was traded back to Miami for a protected 2024 second-round pick at the 2018 trade deadline.
A special All-Star alongside Dirk Nowitzki in his final season as a Heat player, Wade assumed an elder statesman role, though he was still an effective player; he retired from the Heat after the 2018-19 season at 37 years old.
Wade achieved more in his NBA career than Pierce did. Pierce had the longer career, by three years, however. Wade had the better prowess as a scorer and shooter (22.0-to-19.7 points per game) and playmaker (5.4-to-3.5 assists per game), although Pierce averaged more rebounds (5.6-to-4.7).
Wade also earned more awards and accolades – he was selected to more All-Star teams (13x vs. 10x), All-NBA selections (8x vs. 4x), as well as a much better defensive player, both statistically (steals and blocks) and All-Defensive nods (3x vs. none). It's interesting to see how advanced metrics compare – judging from the above, Wade has a slight advantage in Player Efficiency Rating (PER).
Still, Pierce leads by a wide margin in Win-Shares, undoubtedly because he played more games. No matter your personal feelings about either player, there is room for both in the Hall of Fame, and Pierce will be selected in 2021, while Wade will indeed be inducted when he becomes eligible.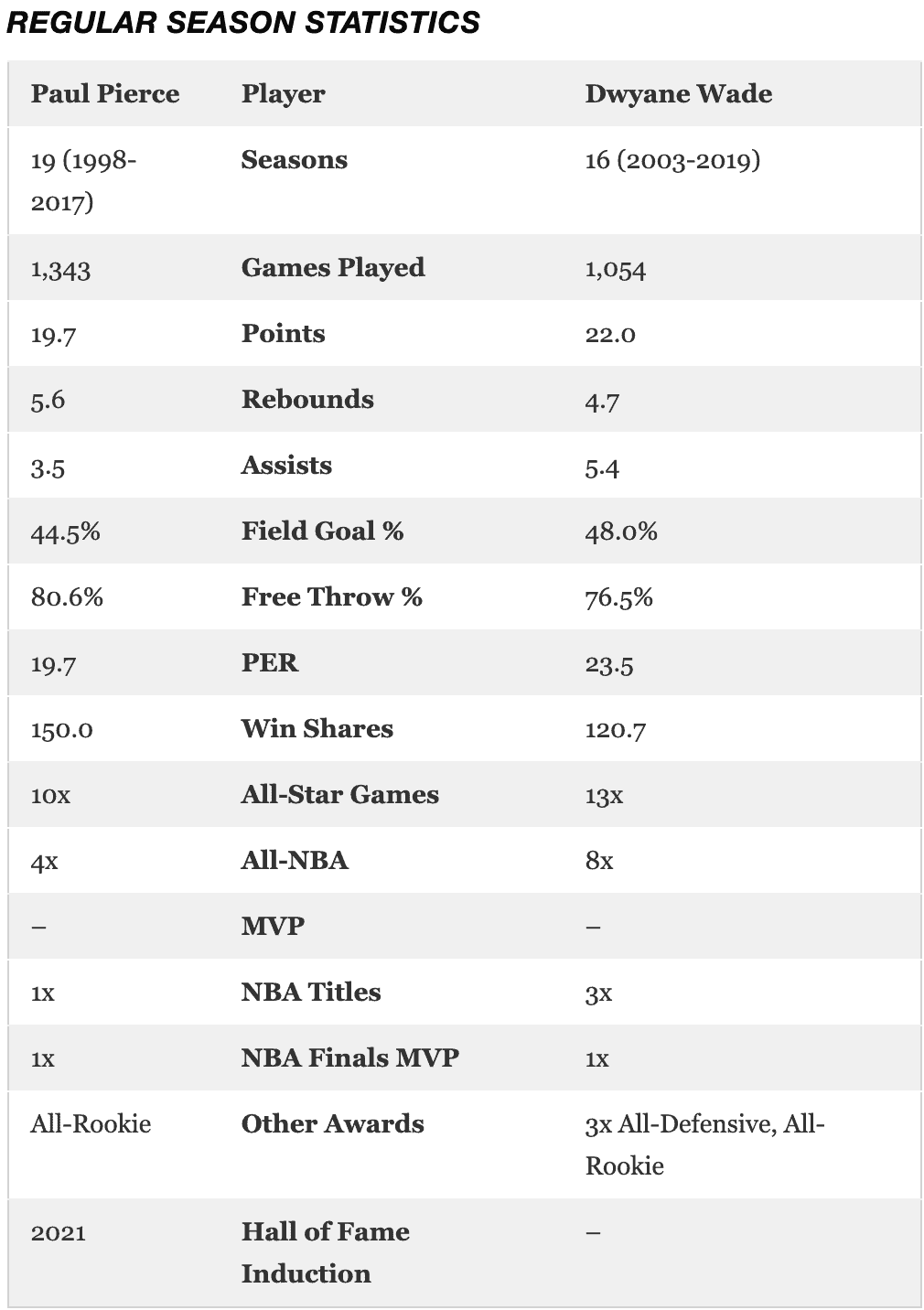 Both Pierce and Wade viewed playoffs as a rite of passage throughout their long careers. Despite numerous obstacles, they both led their teams to the promised land and won the Finals MVP award.
The Celtics were swept by Jason Kidd and the New Jersey Nets in the Eastern Conference Semifinals in 2002-2003 when Pierce averaged 27.1 points, 9.0 rebounds, and 6.7 assists per game during his 14 career playoff appearances.
After the Big Three took over the Celtics in 2007-2008, they won the first NBA title in more than a decade with a six-game victory over the Lakers; Pierce led the Celtics to the NBA Finals MVP with 21.8 points, 4.5 rebounds, and 6.3 assists per game through the series. It took the Lakers seven games to get revenge on Pierce in the Finals two years later. Kobe Bryant outscored Pierce in the Finals with an average of 18.0 points, 5.3 rebounds, and 3.0 assists.
Wade won three NBA titles despite appearing in 13 postseason games during his career. In the aftermath of Miami's opening two losses in the 2006 Finals to the Dallas Mavericks, Wade led the Heat to four straight victories en route to the title, winning the MVP award with 34.7 points and 7.8 rebounds per game, and 3.8 assists per game.
Five years had passed, with new teammates LeBron and Bosh, Wade and the Heat faced the Mavericks for a second time; Wade did not help the Heat win, however, as he led the team with 26.5 points, 7.0 rebounds, and 5.2 assists per game.
Following that, LeBron, Wade, and James won back-to-back titles in 2012 (a five-game route over the Oklahoma City Thunder) and 2013 (a seven-game ordeal against Duncan and the San Antonio Spurs), with Wade serving as the Robin to LeBron's Batman, scoring 22.6 and 19.6 points per contest, respectively.
However, a 2002 world championship was Pierce's only international experience; Wade had disappointing results in bronze-medal games at the 2004 Summer Olympics in Athens and the 2006 World Cup but was part of the "Redeem Team" that broke an Olympic record with gold in Beijing in 2008.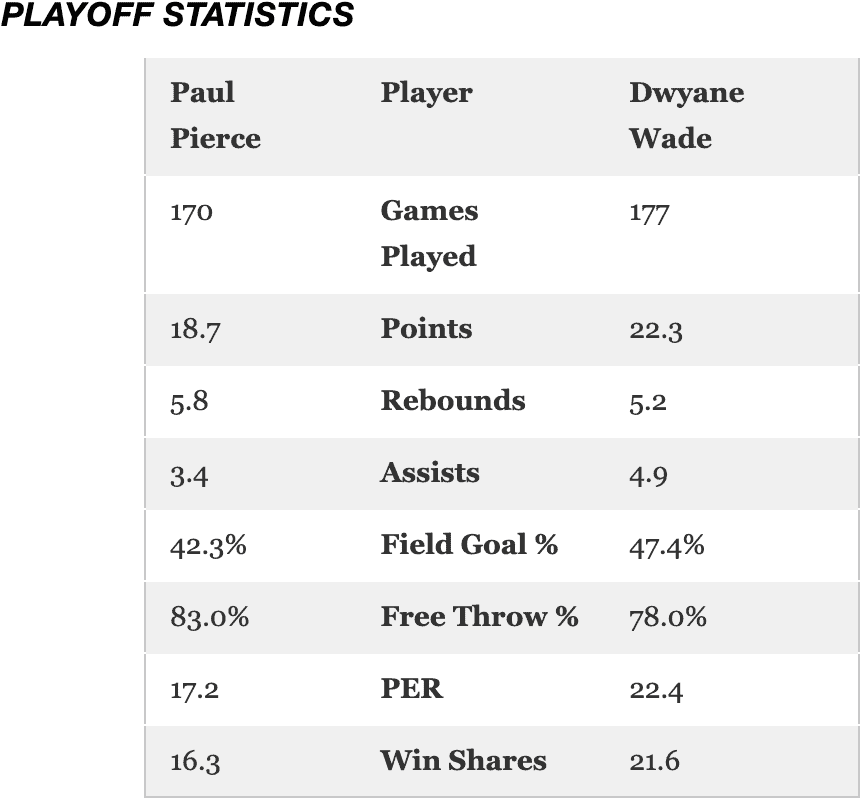 All athletes experience the natural career lifecycle, from their rookie season to their peak years to retirement, as exemplified by Pierce and Wade's final seasons in the NBA. However, there is a concept I love to use that I call "decade of dominance" for Hall of Fame-caliber athletes across sports.
The rationale behind this is that athletes with Hall of Fame career traits generally have approximately ten great seasons (in the NFL, these are called "All-Decade Teams"). However, they may not be ten consecutive seasons due to injury or other factors.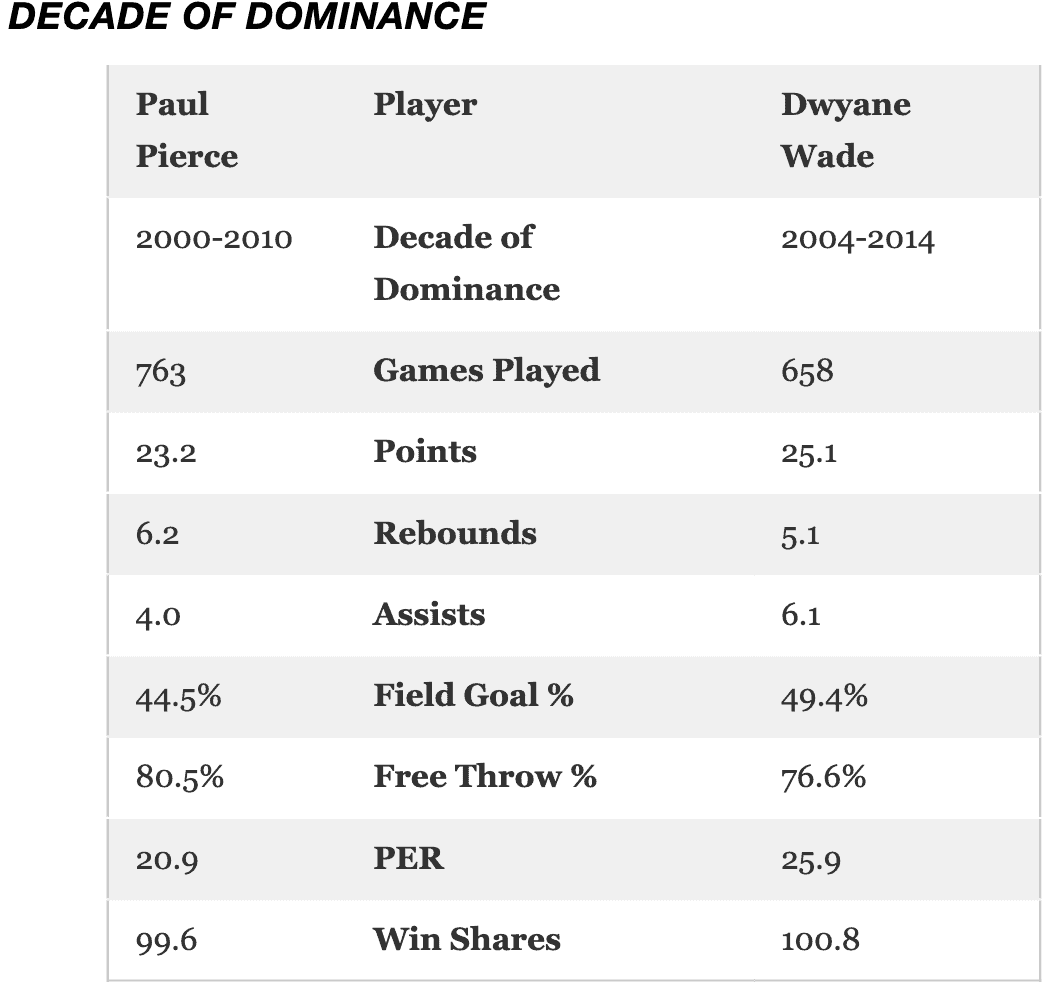 Despite Wade's relative injury proneness, Pierce still has a nearly 100-game lead in games played, a reflection of Pierce's dominance across different decades. Therefore, it remains valid to compare the two players based on per-game statistics. The key difference is that, regarding Win-Shares, they are essentially equal, despite playing very different games.
Most Comparable Player
Paul Pierce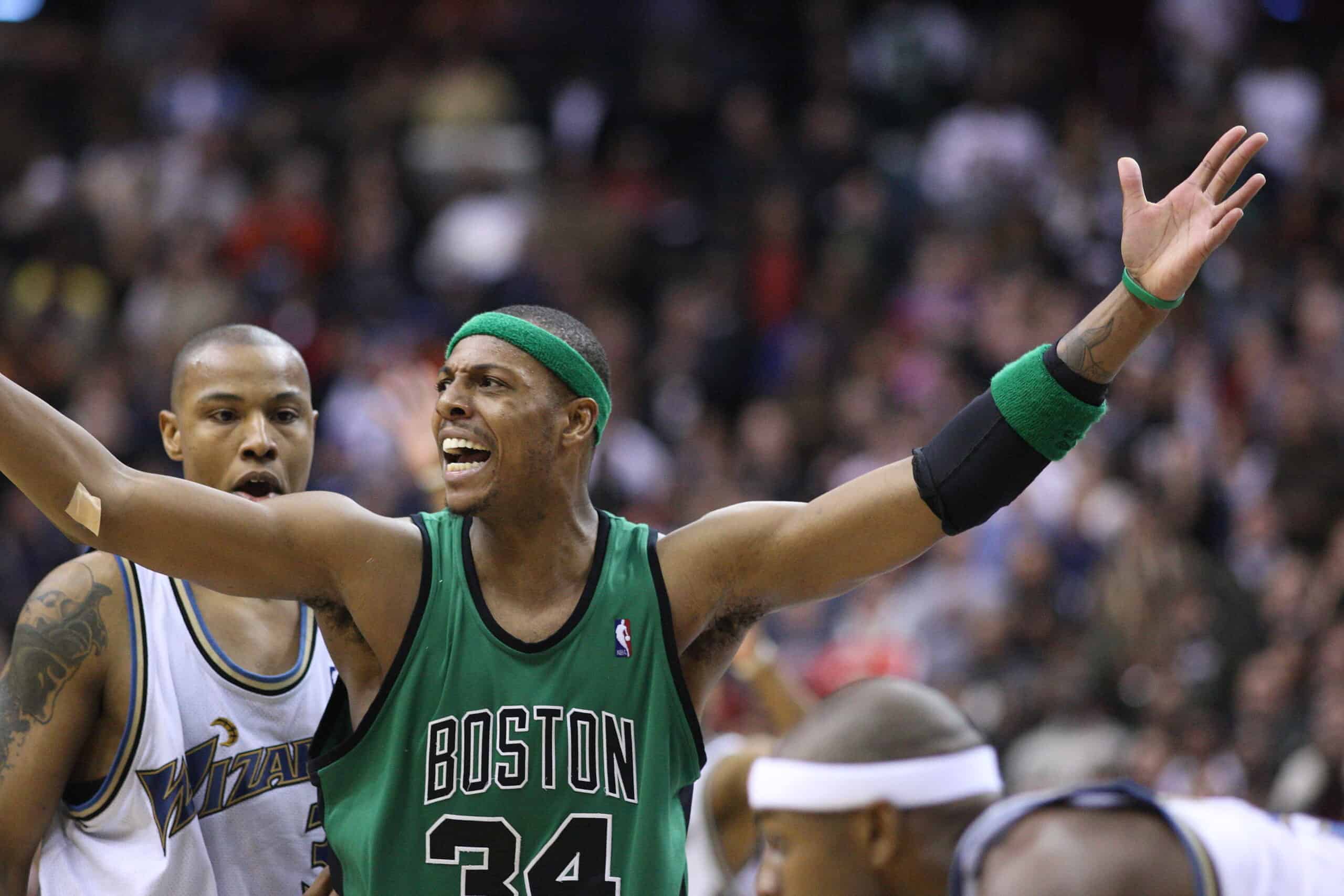 In Pierce's game, there are a few impressive slam dunks or three-point shots, among mostly awkward-looking dribbles and jumpers from the mid-range. Even so, he can score when the going gets tough.
His comparison has been drawn to a player who thrived in a No. 2 jersey for the Denver Nuggets in the 1980s and was an underrated scorer. Alex English was the all-time leader in scoring with that team. He was No. 6 in points scored in NBA history at the time of his retirement.
Dwayne Wade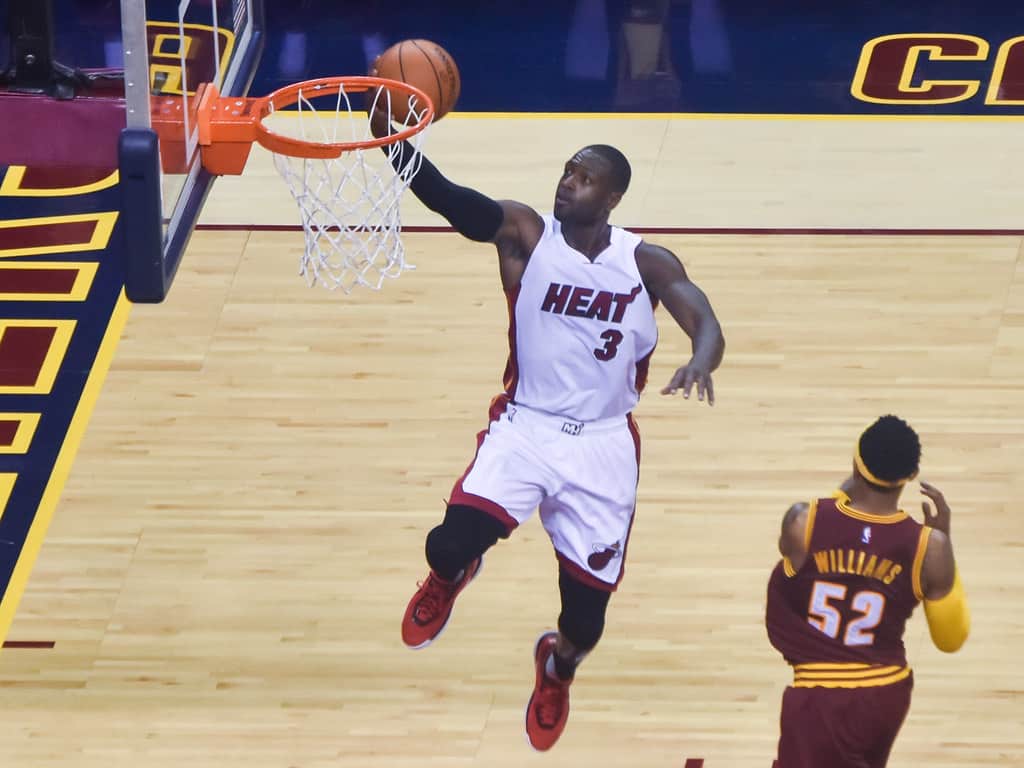 Measurables
Donovan Mitchell mirrors Dwane Wade in terms of athleticism and body structure. Neither player is a slow-motion athlete. In terms of height, Dwyane Wade clocks in at 6'4″, while Donovan Mitchell measures 6'3″. Their wingspan is also impressive, which has served them well during their careers.
Mitchell has a wingspan of 6'10", and Wade has a 6'11" wingspan. These players both have ridiculous verticals, as their highlight reels would suggest. Wade's standing leap was reported to be 31.5 inches and his maximum leap was 35 inches. The standing leap of 36.5 inches and the maximum leap of 40.5 inches belong to Donovan.
Style
Playing styles have been influenced by these physical similarities. They attack the rim with the same finesse, yet different purposes. Their dunks can overpower you and their acrobatic finishes may stop you in your tracks. Their defender can be attacked from multiple directions and they can score from any location on the court.

Conclusion
The basketball community and pundits alike were very clear about what they thought of Pierce vs. Wade, except for a tiny minority (such as Danny Ainge). In other words, Pierce made ridiculous claims. Occasionally I will be more contrarian than the majority. Still, in the case of this head-to-head comparison, I must agree with the majority (sorry, Paul).
However, Pierce enjoyed the benefit of being extremely durable and is undoubtedly one of the greatest players ever recorded in the game. As evidenced by his numbers and accomplishments, he was a dynamic player who played both ends of the court. Wade elevated the Heat franchise to previously unknown heights among the top five shooting guards in NBA history.
Continue reading related NBA bios and comparisons: