Latest posts by Alex Hatzidakis
(see all)
Dennis Keith Rodman was best known for his stellar NBA career that spanned over 12 years, but his off-court antics and behaviour kept him in the spotlight, for better or worse.
Earning individual accolades, two championship rings with the Detroit Pistons and three with the famous Chicago Bulls of the 1990s; Rodman fast became a legend in his own right. He is still revered as the best rebounding forward in NBA history. However, Rodman also had stints outside of basketball that saw him pursue a career in acting and wrestling – all feeding his bad-boy status.
Dennis Rodman Quick Facts
Full Name: Dennis Keith Rodman
Birth Date: May 13, 1961
Birthplace: Trenton, New Jersey
Nick Name: The Worm
Nationality: American
Siblings: Debra and Kim Rodman
Children: Alexis Rodman, Dennis Rodman Jr, and Trinity Rodman
Partner / Spouse: Michelle Moyer (2003-2012)
Profession: BasketballerSalary: $27 million >Net Worth: $500,000Social Media: DENNIS RODMAN (@dennisrodman) • Instagram photos and videos, Dennis Rodman | Facebook
Awards:

Naismith Memorial Basketball Hall of Fame Class of 2011
5-time NBA Champion: 1989, 1990, 1996, 1997, 1998
2-time NBA Defensive Player of the Year: 1990, 1991
2-time All-NBA Third Team: 1992, 1995
2-time NBA All-Star: 1990, 1992

Last Updated: July 2021
Dennis Rodman's Birthplace and Early Life
Early Life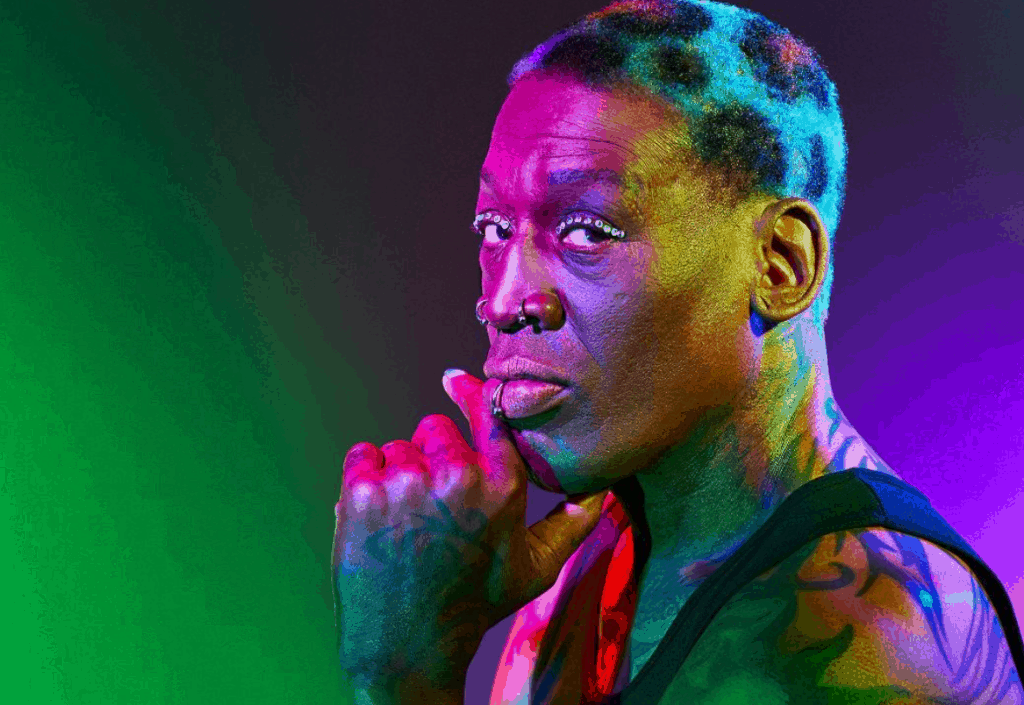 Dennis Rodman was born in Trenton, New Jersey, on May 13, 1961, and is the son of Philander and Shirley Rodman. His father, an Air Force enlisted member, who later fought in the Vietnam war, left Dennis and his family when he was five years old and settled in the Philippines.
Shirley took on many odd jobs to support Dennis and his two younger sisters Kim and Debra, who resided in the Oak Cliff section of Dallas – a renowned impoverished area.
Rodman claims that his mother was more interested in his sisters when growing up and believed them to be more talented at basketball than himself.
Further fuelling his belief, Rodman's High School career was overshadowed by his two sisters as they went on to win three state championships under future Texas A&M coach Gary Blair.
Rodman was not considered an athletic standout growing up and claims that he was "unable to hit a layup" and was regularly benched or cut from his High School basketball teams.
College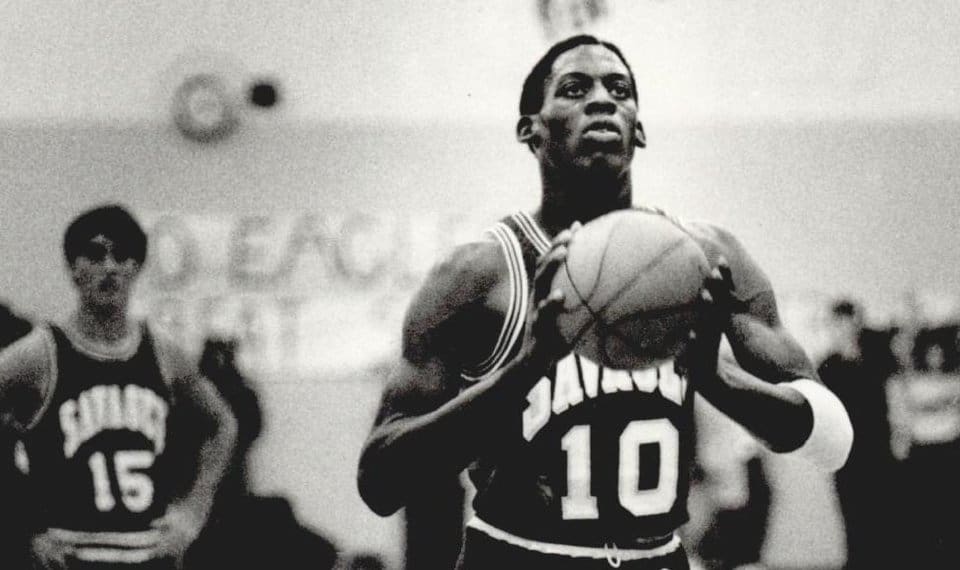 Standing at 5 ft 6 in his freshman year in high school, Rodman saw a sudden growth spurt after his graduation and shot up to 6 ft 7 in – a welcomed growth and a deciding factor of Rodman attempting to play basketball again. Unfortunately, though, years of rejection had left him withdrawn and feeling odd within his own body.
Joining his college basketball team Cooke County College (now North Central Texas College), Rodman averaged 17.6 points and 13.3 rebounds before flunking out of college due to his poor academic performances.
Although flunking out, Rodman shortly transferred to Southeastern Oklahoma State University, where he was three-time NAIA All-American and led the NAIA in rebounding. Once in 1985, and again the following year.
In the three seasons (1983-1986), Rodman averaged 25.7 points and 15.7 rebounds, leading the NAIA rebound tally twice. In his final year, he led the team to the NAIA semi-finals – scoring 46 points in a single game and tournament, tying the record of 32 rebounds. The team finished the season as the third highest-ranking team in the nation.
Rodman's on-court exploits landed him an invitation to the Portsmouth Invitational Tournament, a pre-draft camp for NBA hopefuls. It is here that Rodman caught the attention of the Detroit Pistons with his skill as he went on to win the MVP for the tournament.
Dennis Rodman's Professional Career
Detroit Pistons
1986–1989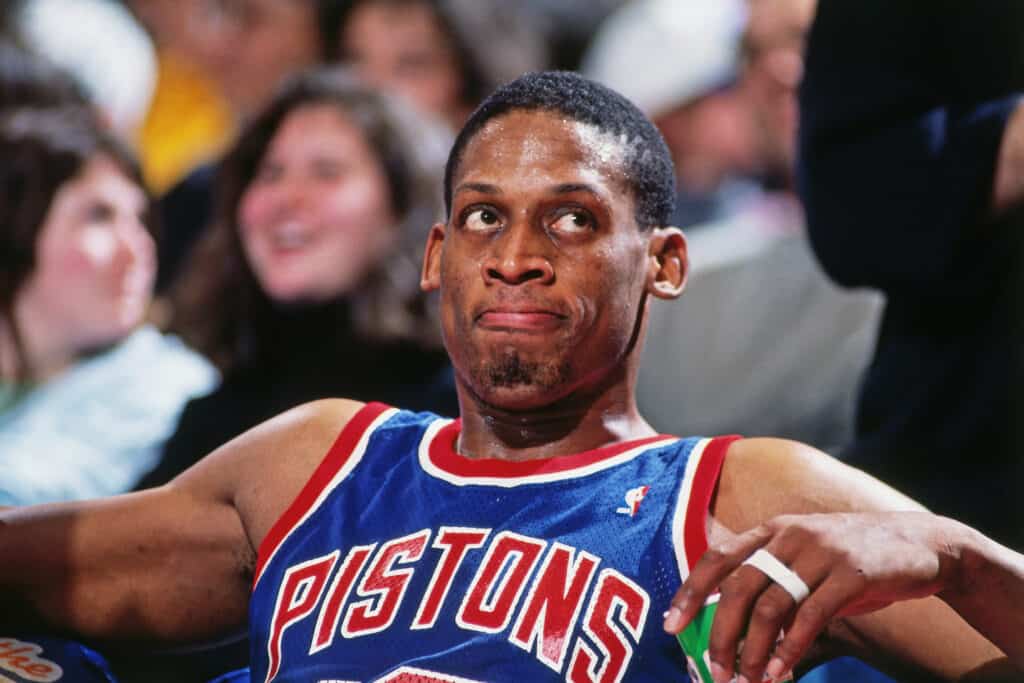 After his stellar performance in the tournament, Rodman made himself eligible for the 1986 NBA draft. He was picked up by the Detroit Pistons In the third pick in the second round (27th overall). Rodman joined a Pistons team renowned for their hard-nosed approach to the game and landed them the nickname "Bad Boys" – a term that Rodman would mould his whole personality around.
Rodman fit in well with the ensemble of Joe Dumars, Isiah Thomas and Adrian Dantley as he averaged 6.5 points, 4.7 rebounds in the average of 15 minutes of playing time per game.
The Pistons entered the 1987 playoffs comfortably, with 52 games won in the regular season. They swept the Washington Bullets and beat Atlanta Hawks in five games but bowed out to their rivals Bolton Celtics – a series referred to as the most physically and mentally toughest played.
Rodman took the loss hard and got himself in hot water as he made remarks about Larry Bird's skin colour and questioned his ability and status. He endured harsh criticism but avoided being labelled a racist as he was dating Anicka (Annie) Bakes, who happened to be white.
Rodman steadily increased his stats the following two years, averaging 11.6 points and 8.7 rebounds, starting 32 of 82 regular-season games.
The Pistons would lose the 1988 final to the Lakers in seven games after the Pistons took a 3-2 lead. Again, the series was marred with Rodman's failings as he missed crucial rebounds, missed shots, and gave a deciding foul away in game seven.
Rodman remained a bench player in the 1988-1989 season and averaged 9 points and 9.4 rebounds. Although he saw limited playing time, his defensive play was revered, and he would win his first of eight All-Defensive Team inclusions.
The Pistons' decision to trade Adrian Dantley saw Rodman become more than a bit-part player as they finally vanquished their playoffs bane and crowned champions by beating the Boston Celtics. Next, they would meet and beat Michael Jordan's Chicago Bulls and ultimately beating the Lakers in a whitewash.
1989-1993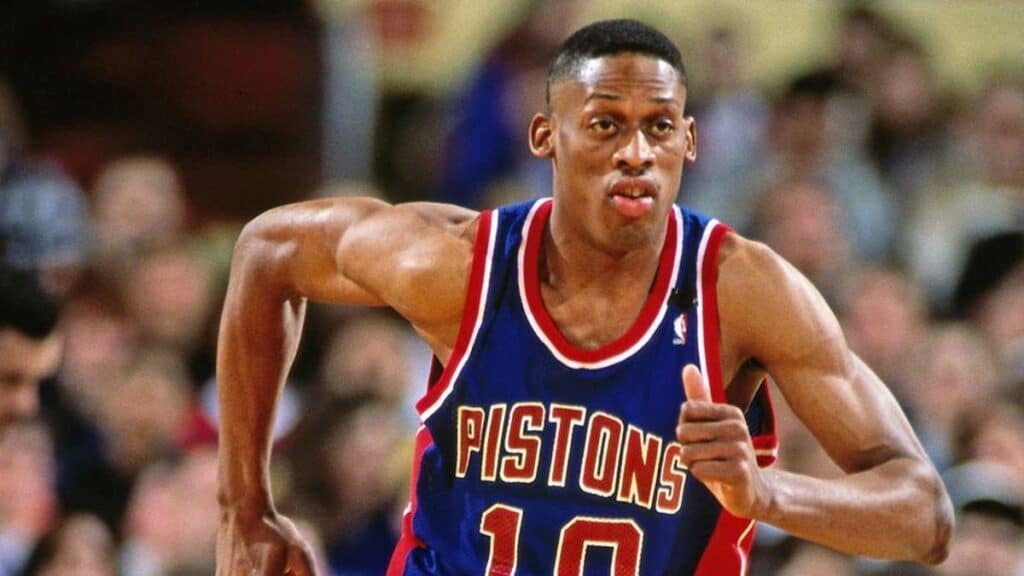 With the loss of Rick Mahon to the 76ers in 1989, it was feared that the end of the hard-hitting "Bad Boys" was coming to an end, but Rodman seamlessly filled the void and took over his role in defense, and became a vital cog in the team's aggressive spirit.
Rodman would win his first individual accolade in 1990. He was awarded the NBA Defensive Player of the Year Award, averaging 8.8 points and 9.7 rebounds per game.
Pistons would meet the Chicago Bulls in the playoffs again and become their bogey team as they beat them on the way to the final against the Portland Trailblazers. The series saw Rodman sit out most of it, but even without his defensive prowess and hustle, the Pistons would end up winning the title in five games.
After two titles and endless defensive showcases, Rodman finally became an established starting small forward in the 1990-1991 season. He started 77 of 82 regular-season games and saw him win his second NBA Defensive Player of the Season award, averaging 8.2 points and 12.5 rebounds per game.
The Pistons were eventually defeated by the eventuating champions Chicago Bulls- ending their bad form against the Pistons.
The 1991-1992 season saw Rodman's stats leap as he averaged 9.8 points and 18.7 rebounds per game. A feat that saw him included in the All-Star NBA Team. Rodman would set a record of 1530 rebounds in the season – a feat not matched today – however, the aging Pistons would go on to lose to the up-and-coming New York Knicks.
The following season saw Rodman lose his consistent rise with the resignation of admired coach Chuck Daly and his disciplinary fine of $68,000 for not showing up to the Pistons' pre-season camp.
Rodman's divorce to Annie Bakes, the mother of his daughter Alexis, left him traumatized and spilled out onto the court as the Pistons missed the playoffs entirely in 1993.
The following months saw Rodman's decline propel into dangerous waters. In February 1993, Rodman had contemplated suicide and driven out to The Palace Auburn Hills but fell asleep and changed his mind when he woke.
At this moment, Rodman credits his change of persona and the spark that changed his whole life around – circa bad boy Dennis Rodman.
San Antonio Spurs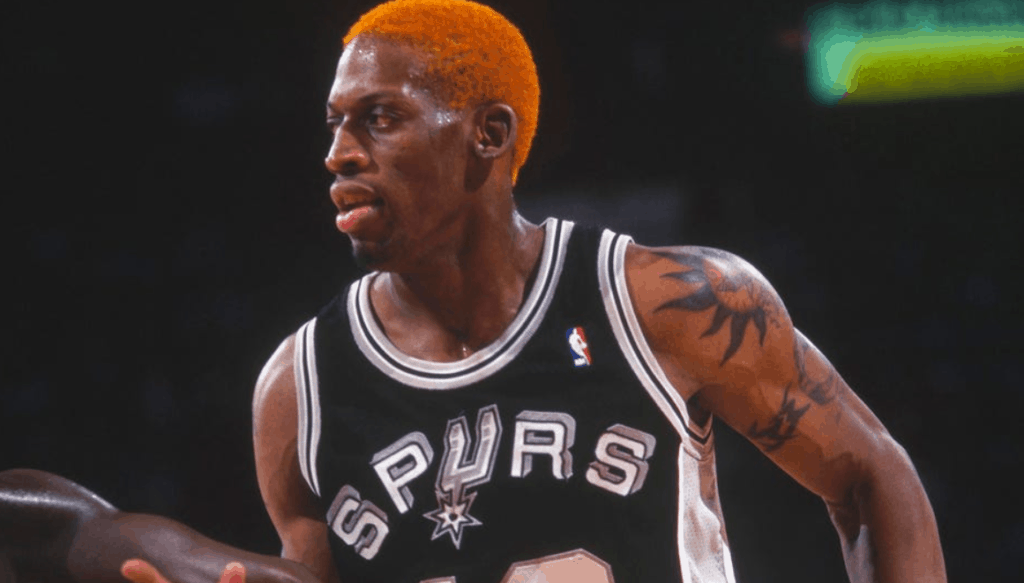 Despite having three years and $11.8 million remaining on his Pistons contract, Rodman demanded a trade, and his wishes were met, and he was dealt to the San Antonia Spurs in October 1993.
Rodman joined David Robinson, Dale Ellis and Willie Anderson in the 1993-1994 season at Spurs. He would go on to win the rebounding title and an All-Star Defensive Team inclusion.
As promised, Rodman began to showcase his new persona with flamboyant and erratic behaviour, shaving and dying his hair blonde before the first game. A pattern that continued throughout the season with a vast number of colours and shavings.
Rodman clashed with opposition players throughout the season and even headbutted Stacey King and John Stockdon in a game. Although the antics continued, Spurs would not progress past the first round of the playoffs in 1994, losing to the Utah Jazz in four games.
Rodman would miss the first three games of the 1994-1995 season through suspension as he clashed with the team's office. He would go on to take a leave of absence in November and suspended again in December. Missing 19 games for the season at that point, Rodman would miss further games due to injuries sustained in a motorcycle accident.
Despite missing so many games, Rodman was still eligible for season records due to his high number of rebounds, which sat at 823, which saw him surpass the 800-rebound limit for listing players. Rodman would go on to win his fourth straight rebounding title by averaging 16.8 boards per game and ultimately landing him a spot in the All-NBA Team for the season.
The Spurs would go on to win 62 games; however, things fell apart in the playoffs. Rodman's antics continued as he was suspended for insubordination for sitting on the court with his shoes off during a timeout against the Lakers.
The Spurs would advance to the next round despite Rodman's antics but fell short against rivals, the Houston Rockets. The Spurs' exit would spell the beginning of the end for Rodman's Spurs career as he publicly singled out the coach and staff for not winning the series.
Chicago Bulls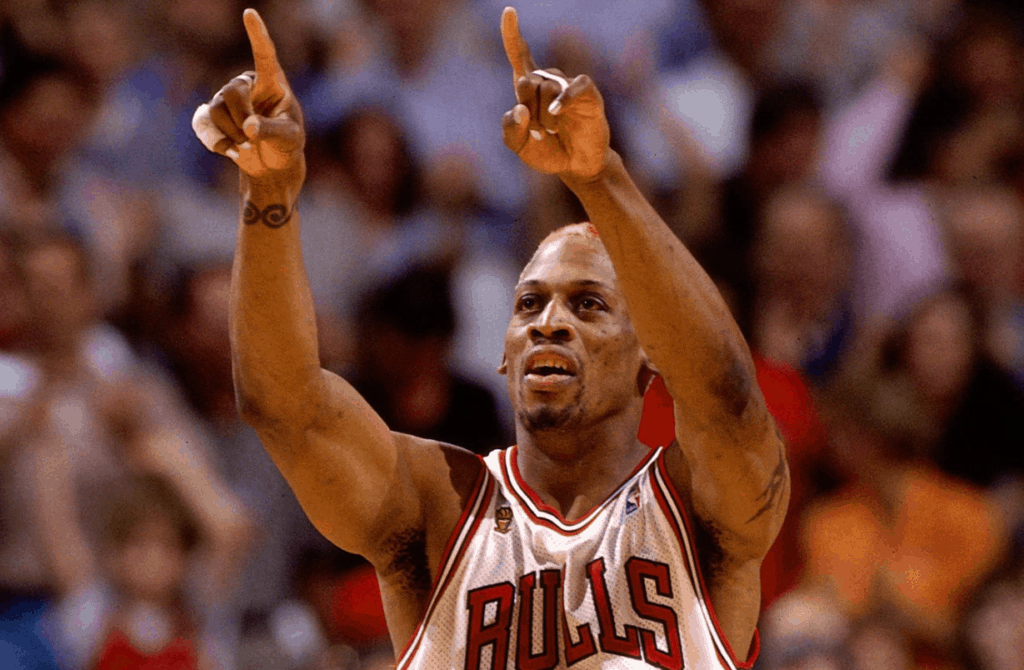 Rodman was traded to the Chicago Bulls in the 1995-1996 season and joined the perennial scoring, Michael Jordan. Coached by Phil Jackson, Rodman averaged 5.5 points and 14.9 rebounds per game and was considered a gamble at 34. However, his stats spoke for themselves as he played a significant part in the great Bulls team that won 72 of 82 regular-season games.
Rodman's trademark tough defense saw him join teammate Michael Jordan and Scottie Pippen in the All-NBA Defense First Team. Controversial as ever, Rodman made the headlines for the wrong reasons as he headbutted referee Ted Bernhardt during a game in New Jersey and was suspended for six games and fined $20,000.
Rodman's playoffs saw him average a score of 7.5 points and grab 13.7 rebounds per game and was a large part of their championship run after beating the Seattle Supersonics in the final.
The 1996-1997 season saw Rodman win his sixth rebounding title in a row but failed to rank another All-Defensive Team call-up. His notorious behavior continued to ensue as he was involved in an incident against the Minnesota Timberwolves. Tripping over a cameraman during the game, Rodman lashed out and kicked the cameraman in the groin. Rodman ended up paying the cameraman a $200,000 settlement, and the league suspended Rodman for 11 games without pay- losing $1 million in wages.
Rodman would miss out on a further 3 games due to suspension and an additional 13 games due to knee problems; Rodman was not as effective in the 1997 playoffs. Still, the Bulls reached the finals against the Utah Jazz that year and subsequently beating them in six games and winning the championship.
Rodman's 1997-1998 season saw him win his seventh consecutive rebounding title with an average of 4.7 points and 15 boards per game.
The aging Bulls were slowing down with pace but still reached the 1998 NBA Finals against the Jazz. After a solid defensive showing in the first three games, Rodman was fined $20,000 for leaving the team before game four as he was making a guest star appearance in a wrestling match with Hulk Hogan.
Rodman ended up playing game four, and his on-court performance was nearly flawless in their game four win. Then, losing game five to the Jazz, the Bulls came out raring to go and defeated the Jazz in game six to clinch their third title in a row and Rodman's fifth.
Twilight years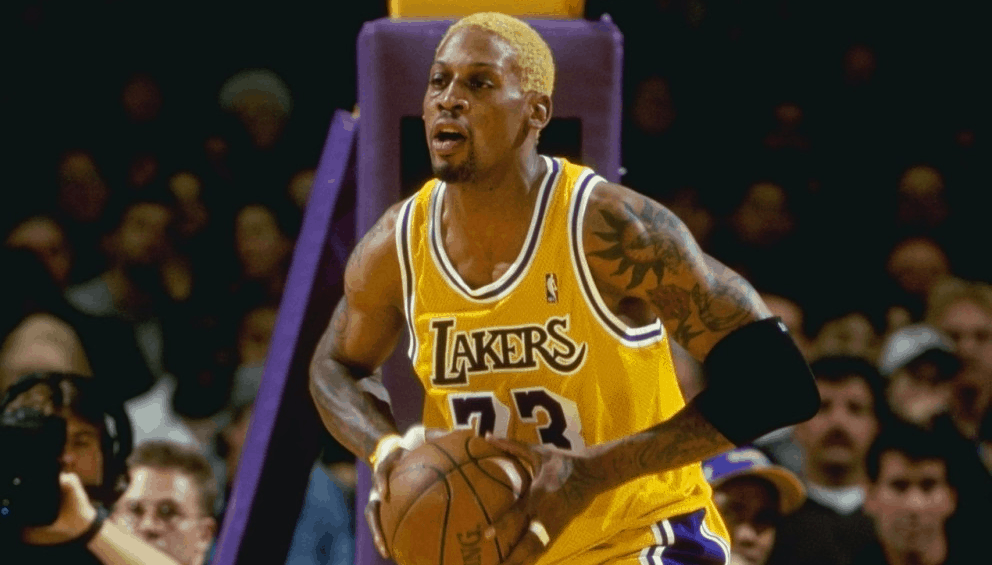 LA Lakers
After their three-peat, the Bulls started a massive rebuilding phase which saw the exodus of coach Phil Jackson, Michael Jordan, Scottie Pippen, and Steve Kerr. So, it was no surprise that Rodman was moved on in this phase as the bulls released him in January 1999. Rodman would go on to play for the Los Angeles Lakers in the 1998-1999 season.
Rodman managed to play 23 games with the Lakers, averaging 2 points and 11 rebounds per game – he was later released in the offseason.
Dallas Mavericks
At the age of 38, Rodman returned to his hometown by joining the Dallas Mavericks in the 1999-2000 season. Playing just 12 games and a dismal run since his arrival, Rodman was waived shortly after.
Dennis Rodman's Video Highlights
Highlights of Dennis Rodman's career defensive performances.
A compilation of Dennis Rodman's defensive abilities.
Dennis Rodman's top 10 career plays.
Dennis Rodman's Retirement and Post Professional Career
After his release from the Mavericks, Rodman would retire as an NBA player and took a long break from basketball, concentrating on his acting and wrestling career.
After a long hiatus from the game, Rodman returned for several stints between 2003-2005, which saw him play for Long Beach Jam in the newly formed American Basketball Association, Fuerza Regia in Mexico, and back again in the ABA with Orange County Crush. Rodman even played a one-off game for Finish team Torpan Pojat in late 2005.
Rodman would go on and play for the UK basketball team Brighton Bears three times in 2006 and two exhibition games in the Philippines in the same year.
On April 4, 2011, Rodman was inducted into the Naismith Memorial Basketball Hall of Fame.
Dennis Rodman's Family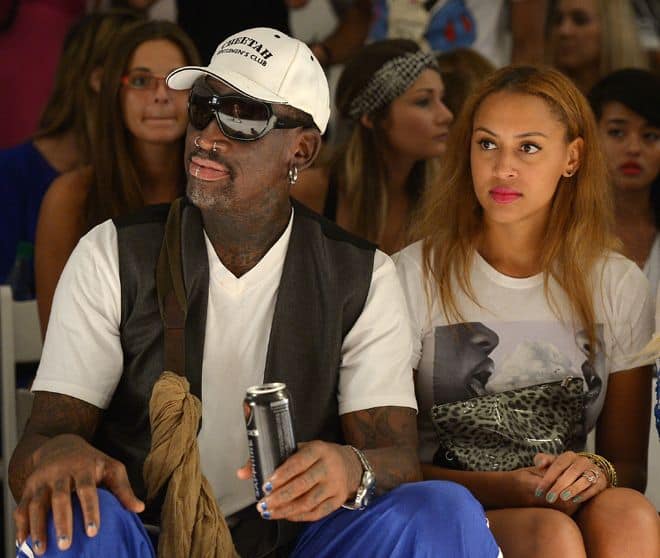 Rodman Married his first wife, Annie Bakes, in September 1992. Annie is the mother of their first child Alexis Rodman, born September 28, 1988. Their marriage was marred with many issues that spanned over the course of 82 days, in which they then divorced.
In 1998, Rodman married super-model Carmen Electra in Las Vegas, but Rodman filed for an annulment after 9 days, claiming he was of unsound mind at the time. They reconciled shortly after, but Electra filed for divorce a few months later.
Rodman would meet Michelle Moyer in 1999 and marry her in 2003, with Moyer filing for divorce a year later. Moyer is the mother of his son Dennis Jr and daughter Trinity.
Dennis Jr, born Aril 25, 2001, played basketball for Washington State in 2019 and his daughter Trinity, born May 20, 2002, is a professional soccer player for the Washington Spirit.
Dennis Rodman's Net Worth and Career Earnings
It is reported that Rodman earned over $27 million over his 12 years in the NBA, with most of his earnings coming from his three-year stint with the Bulls – earning him a cool $16 million. It is also reported that his net worth is $500,000 as of July 2021.
Dennis Rodman's Famous Quotes
"You can love me, or you can hate me."
"Don't let what other people think to decide who you are."
"The doors fly open when you're a professional athlete."
"As long as I play ball, I can get any woman I want."
"I'm starting to see players copy what I do. I'm flattered."
"When a high-profile personality lives as I do, everybody thinks that person is fated to die young."
FAQs
Question: How Did Dennis Rodman Rebound So Well?
Answer: Rodman attributed late-night gym sessions with friends in which he tracked the trajectory of different shots as the way he perfected the art of rebounding.
QUestion: What is Scottie Pippen's Worth?
Answer: The retired teammate of Dennis Rodman is estimated to be worth $20 million.
Question: Why is Dennis Rodman Called the Worm?
Answer: Rodman's mother gave him the nickname "The Worm" due to how he wiggled while playing pinball as a child.
Citations
Continue Reading Related Bios from NBA Personalities: