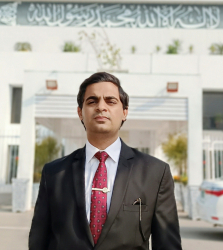 Latest posts by Boo-Ali Khan
(see all)
Growing up as an avid American sports fan, I was constantly exposed to many great athletes that massively impacted how I felt about a particular play. And this was especially true in the case of Kareem Abdul-Jabbar.
And while it is true that I am not old enough to actually know or witness him at the peak of his basketball career. But the way he lived and played led to a massive ripple effect that was only destined to flow through generations.
The actions and words of Kareem Abdul-Jabbar outside the court were so influential that they changed the lives of many. Even on the court, he was unstoppable due to his impressive height, which influenced the league to ban dunking altogether. But that didn't stop him and led him to create one of the most iconic special moves in the history of the NBA. So, today in this Kareem Abdul-Jabbar Bio Guide, I will tell you how that move became so iconic while guiding you through the story that helped him rise through many leagues.
Quick Facts About Kareem
Full Name: Ferdinand Lewis Alcindor Jr. changed to Kareem Abdul-Jabbar
Birth Date: Born on April 16, 1947.
Birth Place: In Harlem, New York City.
Nick Name: Lew, Cap, Murdock, The Tower from Power
Nationality: American
Siblings: None
Children: Kareem Abdul-Jabbar Junior, Adam Abdul-Jabbar, Sultana Abdul-Jabbar, Amir Abdul-Jabbar, Habiba Abdul-Jabbar
Spouse/Partner: Janice Brown changed her name to Habiba Abdul-Jabbar after accepting Islam (1971-79), Cheryl Pistono (1979-84)
Profession: Professional NBA Basketball Player
Salary: The highest he was paid was $11.5 million.
Net Worth: $20 million
Awards: Naismith Memorial Basketball Hall of Fame Class (1995), NBA Rookie of the Year (1970), Sports Illustrated Sportsman of the Year (1985)
Kareem Abdul-Jabbar's Birthplace And Early Life
Birth
Ferdinand Lewis Alcindor Jr., or Kareem Abdul-Jabbar, was born in a small neighborhood of upper Manhattan named Harlem in 1947. He was the only son of Cora Lillian, a department store clerk, and Ferdinand Lewis Alcindor Sr., a police officer and musician.
Kareem's Elementary School Basketball

Luckily, Kareem started to show significant signs of growth from an early age by being almost 5 feet by age 9 and 7 feet by age 13. And this was definitely recognized by his school basketball team, through which he was able to show his immense skill and physique.
The Start Of Kareem's Fame
He also pursued his basketball in high school and went on to become a critical prospect. With his unstoppable skills, he destroyed any high school basketball team that faced him. As a result, his team had a 71-winning streak with only two reported losses.
During his high school career, he played in tournaments against top players. And won three championships times in a row, making him one of the nation's most famous high school basketball players.
Kareem Abdul-Jabbar's Collage Life
After high school, Kareem joined one of the most prestigious colleges of the time, UCLA. And his interest in human rights led him to take the history course. This exposed him to a lot of influential books, one of which was a biography about a human rights activist, "Malcolm X," in which he discovered Islam.
While all this was happening, Alcindor was given another chance to show off his basketball skills against the professional players of UCLA. And while he was still a freshman at the time, Alcindor's skill and strength were still a lot more than the seniors could handle.
Just another year later, as a second year at UCLA, Alcindor started to proudly play for the UCLA team and showed off his skills by achieving a 29-point average. He also went on to win the championship at the NCAA tournament. Through his insane standard and skill, it was pretty abundant that he was far from any average basket player and would go on to achieve great things.
Because of his height, he has almost considered a cheat code with expert skills in dunking and blocking and a master of free throws. But this also led to a peculiar rule implemented at the time. And while it wasn't only because of Alcindor, he was a significant factor in dunking getting banned from university-level basketball by the association.
But again, as a player of sheer will and determination, Alcindor wasn't going to let this single rule become a setback for all his hard work. And thus, to counter the rule, he created his unique shot known as the skyhook shot. And through that shot, he went on to get even greater attention, leading him to win 88 out of 90 games of his University League and even the National Championship in his final years in college.
Kareem Abdul-Jabbar Professional Career
Soon after graduating from UCLA with a major in history, he entered the draft. Karim immediately got massive attention from the professional leagues of the time, the ABA and the NBA. And in 1969, he was picked first overall by the NBA, where he was offered a deal by both the Nets and the Milwaukee Bucks. And although the Nets offered him a higher bid of $3.25 million, he chose Milwaukee Bucks as he wanted to prove that he wasn't there for the money.
Journey Through Milwaukee Bucks
Since his start, Alcindor, even as a rookie, shredded the veterans due to his immense height. He went on to make new achievements almost unheard of for any new draft, like leading his team to win the first three games of his professional career.
But then Alcindor came across his most significant rival yet, the legendary Wilt Chamberlin, who, to this date, is considered a nightmare for any NBA player. And in Alcindor's first game against him, he lost with an 11-point shortfall. But although this loss was a tough pill to swallow for young Alcindor, he realized that he needed to improve a lot, and we all see how it went down in history.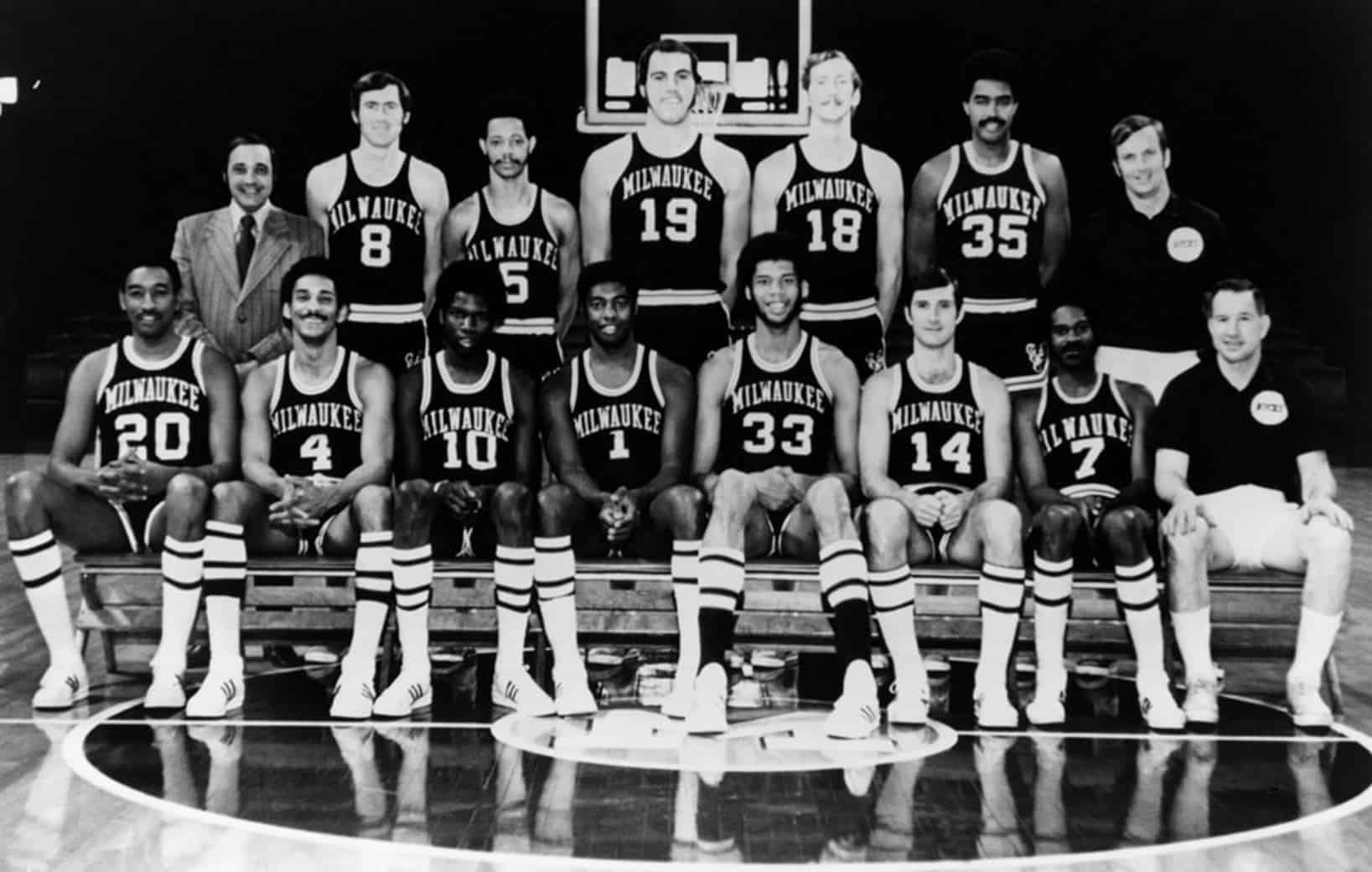 He started to get serious during games and, in his regular season, earned a 28.8-point average ranking him second in the league. He was also ranked third in rebounds at about 14.5-per-game. He even received the rookie of the year award in 1969. And also became the first rookie to lead his team to the playoffs during his first year.
But after achieving all this, seeing his declining performance made it clear that Alcindor had pushed himself to the limit, and he could no more act as a one-man army against the ever-increasing challenge. Consequently, he had to take a break halfway through the first season.
But luckily, during his second season between 1970 and 1971, the Milwaukee Bucks recruited Oscar Robertson. Who, at the time, was considered one of the best assistant leaders of the 60s. And through his arrival, the team was upgraded to another level.
Now Alcindor wouldn't have to be the one-man army anymore, which resulted in him making even more points in his second season. After this, he also worked on improving his point average from 28.8 to 31.7 during the season,
During the same season, he successfully led his team to a 4 to 1 win in the first round of playoffs. And after quickly entering the second round, he also faced his previous challenger Wilt Chamberlin, who was leading LA Lakers at the time. And despite not being an easy challenge, the Milwaukee Bucks won four out of the five games, ultimately winning back his glory.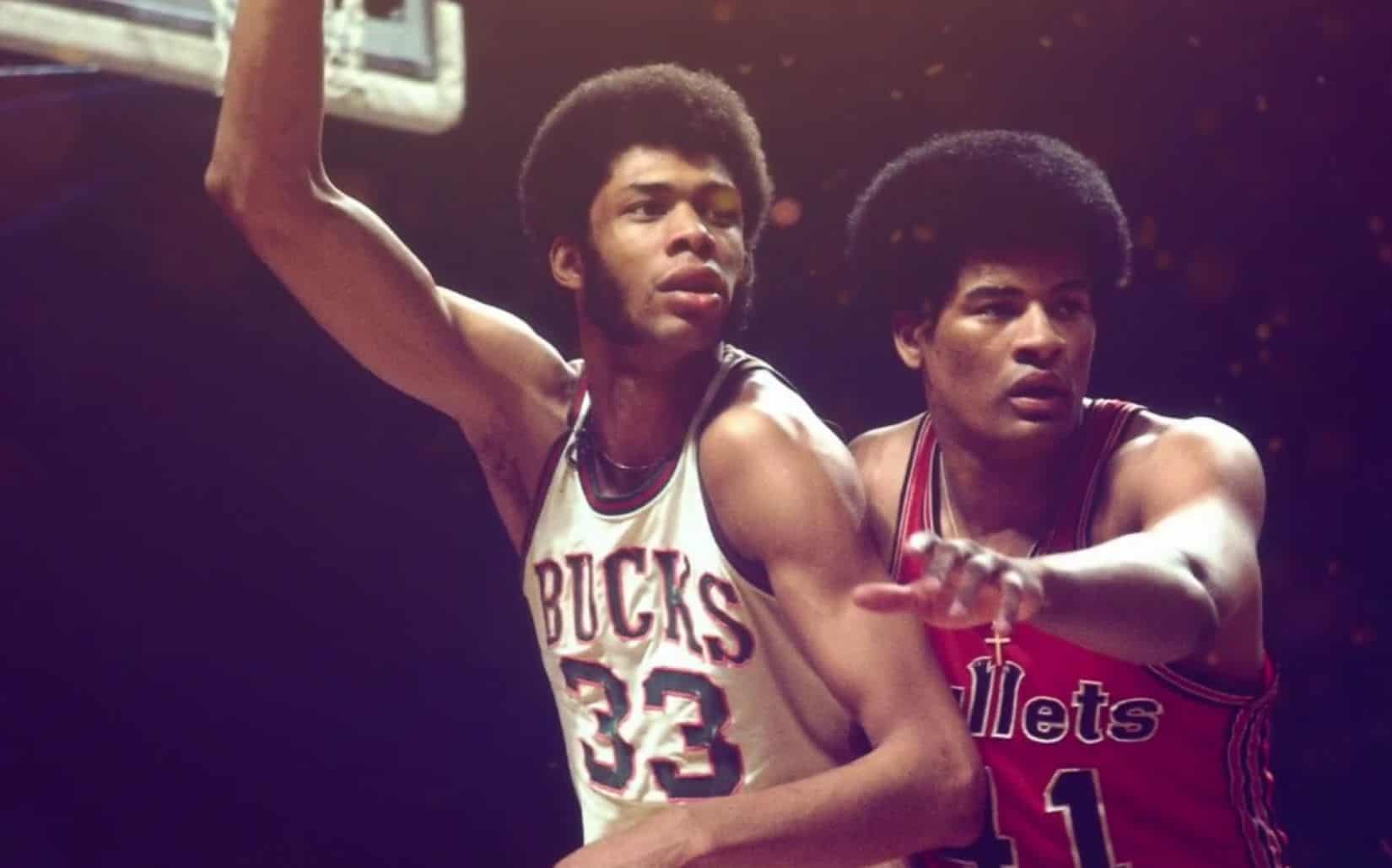 Now again, moving on to the third round, Alcindor seemed to have nothing to fear. And with his team playing better than ever and just one team left, the Milwaukee Bucks were destined to take the championship trophy. And they did this by winning 4 to 0 against the Baltimore Bullets. Alcindor eventually succeeded in leading Milwaukee Bucks to one of the best championship victories. At this point, he also received the Point Leader Award and the Regular Season MVP award.
Alcindor then felt to change his name to Kareem Abdul-Jabbar, starting his third season with a newfound identity in Islam. Anyway, since the start of the 71-72 season, his confidence was at an all-time high, as no player could match him in the paint.
To be honest, this was mainly due to his legendary move, the skyhook shot, which became a sensation as one of the best alternatives to dunking. A shot that allowed Kareem to properly show off his height and skill through a diagonally stretched position which was almost impossible to block for any player.
Alongside that, his passing and free-throw abilities were also at their peak, meaning he was an unstoppable force on the court. This led him to get a 34.8-point average and the MVP title twice in a row.
Seeing his stats, it was clear that Abdul was working on winning his second championship. And as soon as the playoffs started, he flew past the first round with a 4 to 1 lead. But in the second round, he had to face Wilt Chamberlin once again. But this time, things were different, as, during the regular season, wherein Kareem faced Chamberlin five times, he suffered four losses.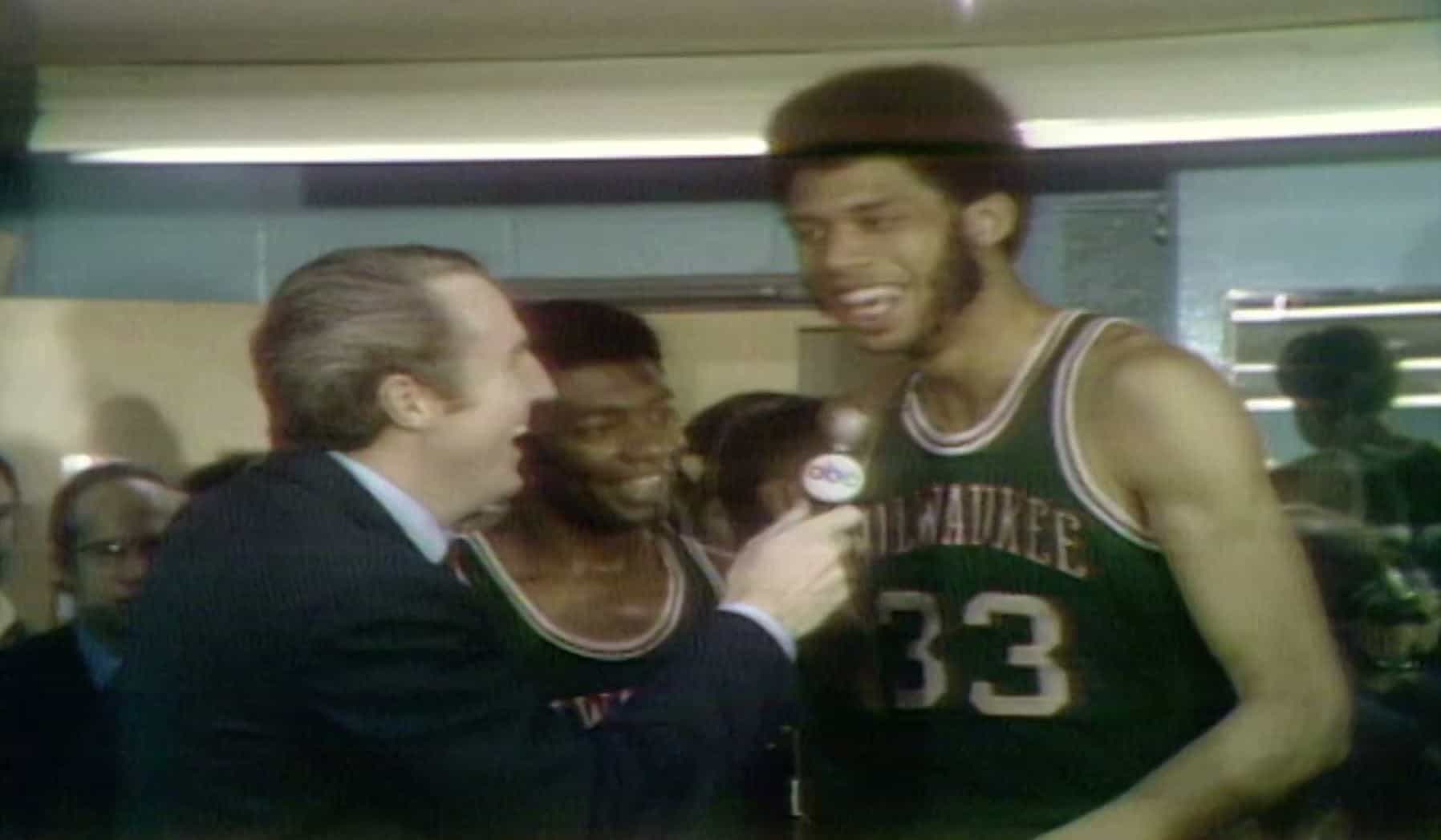 So the pressure was at an all-time high. But luckily, Kareem scored 33 points in the first game and won against Chamberlin. This trend was again seen in the second game, where Kareem scored 40 points; however, he still lost because of one point.
Still, things didn't get any easier from that point forward, as Chamberlin, despite his age, showed immense strength, which thwarted Kareem from showing off his full potential. And this also led to the Milwaukee Bucks losing four out of the six games, getting them disqualified from the playoffs.
After the devastating loss, Abdul was left sad. But, still not wanting to quit, he worked even harder to prove that he was nothing short of the best. And as the 73-74 season started, this definitely did happen when Wilt Chamberlin retired from the LA Lakers at 35, and Abdul was left the only prodigy on the court.
At the time, Abdul again dominated the court in the regular season, with him getting another MVP award and even a Blocking Leader title. But despite this, the Milwaukee Bucks were still not winning the playoffs. And this was mainly due to the overall discrepancy between the team's skills, with Abdul doing most of the heavy lifting.
And soon, this also turned into them not even qualifying for the playoffs anymore. This, in turn, branded them as a lower-rank team despite having one of the best basketball players seen in the history of the NBA.
At this point, Abdul had enough, and seeing him not reaching the mark he deserved, he requested a trade. And fortunately, the trade was accepted due to his contributions to the Milwaukee Bucks, and he was sent to the LA Lakers.
Joining LA Lakers
At the time, LA Lakers were also not considered a star team as it had recently lost one of its more valuable players. Thus, the fans had very high hopes for Abdul that he would bring back the Lakers to their former glory. And that is what he did by playing all 82 games of the season with an average of 27.7 points, quickly becoming the lead scorer for the LA Lakers. He also won the Rebound Leader title, the Blocking Leader title, and even his fourth MVP award.
But despite all his success, the LA Lakers only won 40 out of the 42 games played, which meant they couldn't qualify for the playoffs. And thus, another season passed when Kareem couldn't play for the championship title. But fortunately, the situation got better in his 8th year when a new head coach entered the team, and it was rebuilt.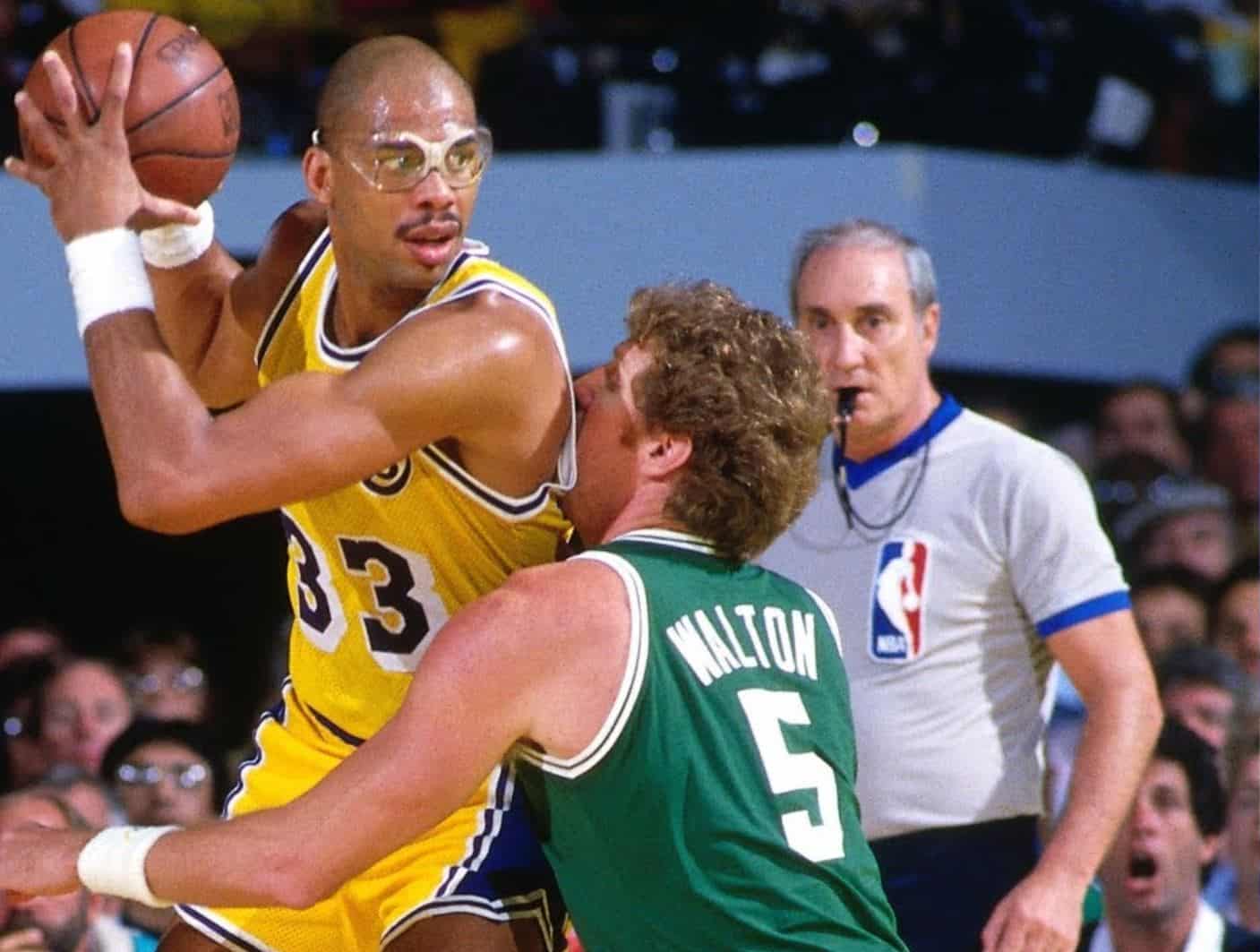 This massively helped Abdul shake off some of the stress, leading the team to their best season with 53 wins and an entry to the playoffs. At this time, Abdul also got his fifth MVP reward. The Lakers won the first round of the playoffs against the Golden State Warriors. But they were again eliminated in the second round while facing the Portland Trail Blazers.
The same trend followed for the first four years of Kareem's journey with the Lakers, despite having very high expectations from the fans. And, of course, he was also getting old, already 32 at the time, and couldn't keep up the great numbers. But then Kareem got another jumpstart when another great point guard player, Magic Johnson, joined the team's ranks.
Following the footsteps of Karim, despite being a rookie, Magic Johnson showed great skill and, just like Abdul's skyhook shot, had his own special move, "the fake pass." Together with his 6'9" height, he completely destroyed the opponent's defense. And the best part of all, both Kareem Abdul Jabbar and Magic Johnson showed great chemistry, which led the Lakers to 66 wins and an entry into the playoffs.
Now, Abdul Jabbar didn't have to carry his whole team and could focus on showing his actual talent and skills. Due to this, he won his 6th MVP reward and had a point average of 24.8 for the season. And just like that, he also dominated the playoffs by winning the first two rounds, dominating four games to one.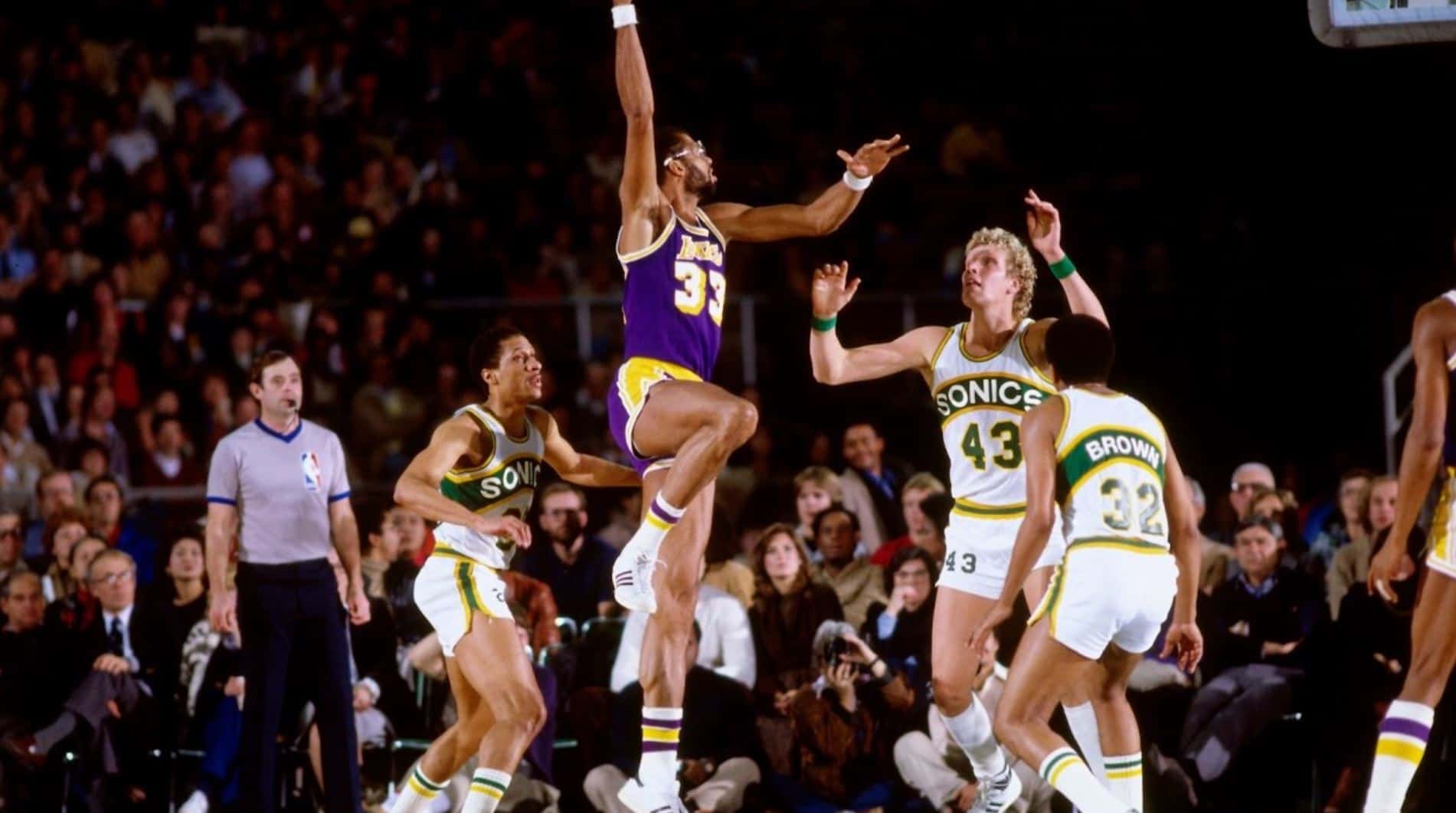 In 1980, Kareem had to secure the finals to win the championship. But this wasn't as easy as the Lakers were put against the former ABA player Julius Erving, who was playing with the Philadelphia 76ers. Both teams showed great skill, with Kareem averaging 33.4 points on average and leading the Lakers to win 2 out of the first four games.
But in the fifth game, the unexpected happened as Kareem sprained a knee. Because of this, he was almost put out of commission for the game. But not wanting to quit, Kareem returned to the court and, powering through, led the Lakers to a very close win. Now just one game away from winning the championship, Kareem couldn't continue the 6th against Philadelphia.
However, despite this, the Lakers still won due to the efforts of Magic Johnson. Finally, leading the Lakers and Kareem to his second championship win. After the 1980 season, Kareem again led the Lakers to the finals in the 1981-82 season. And this time, not getting injured secured the championship trophy for himself.
After the 1982 seasons, Kareem reached the final six more times and won three more out of the six, two against the Celtics in the 85 and 87 season. And one against the Pistons in the 1988 season. Unfortunately, he couldn't win his last finals against the Piston in 1989. After which, he retired from basketball as one the best players to roam the court with a record-breaking 38,387 points overall.
Kareem Abdul-Jabbar's Famous Moments:
As a former Lakers player, Kareem Abdul-Jabbar is honored with his own statue:
The Lakers Honor Kareem with a Statue – YouTube
Some of the most iconic highlights of Kareem Abdul-Jabbar's career during the 1969-75 season:
The top 10 plays of Kareem Abdul-Jabbar's career in the Milwaukee Bucks and the LA Lakers:
One of the most memorable games played by Kareem Abdul-Jabbar against the Warriors in the 1977 finals, showing off his 45 points and 18 rebounds:
Kareem Abdul-Jabbar Post-Retirement
Just as he was an influence on the court, even after retirement, he showed that he wasn't done. After retirement in 1995, Kareem Abdul-Jabbar also displayed a knack for coaching.
He thus worked as an assistant coach for the Los Angeles Clippers and the Seattle SuperSonics, mentoring young prodigies like Micheal Olowokandi and Jerome James. He also worked as a coach for the Oklahoma Storm and the United States Basketball League. Not to mention, he even worked as an assistant for the Lakers coach for six seasons.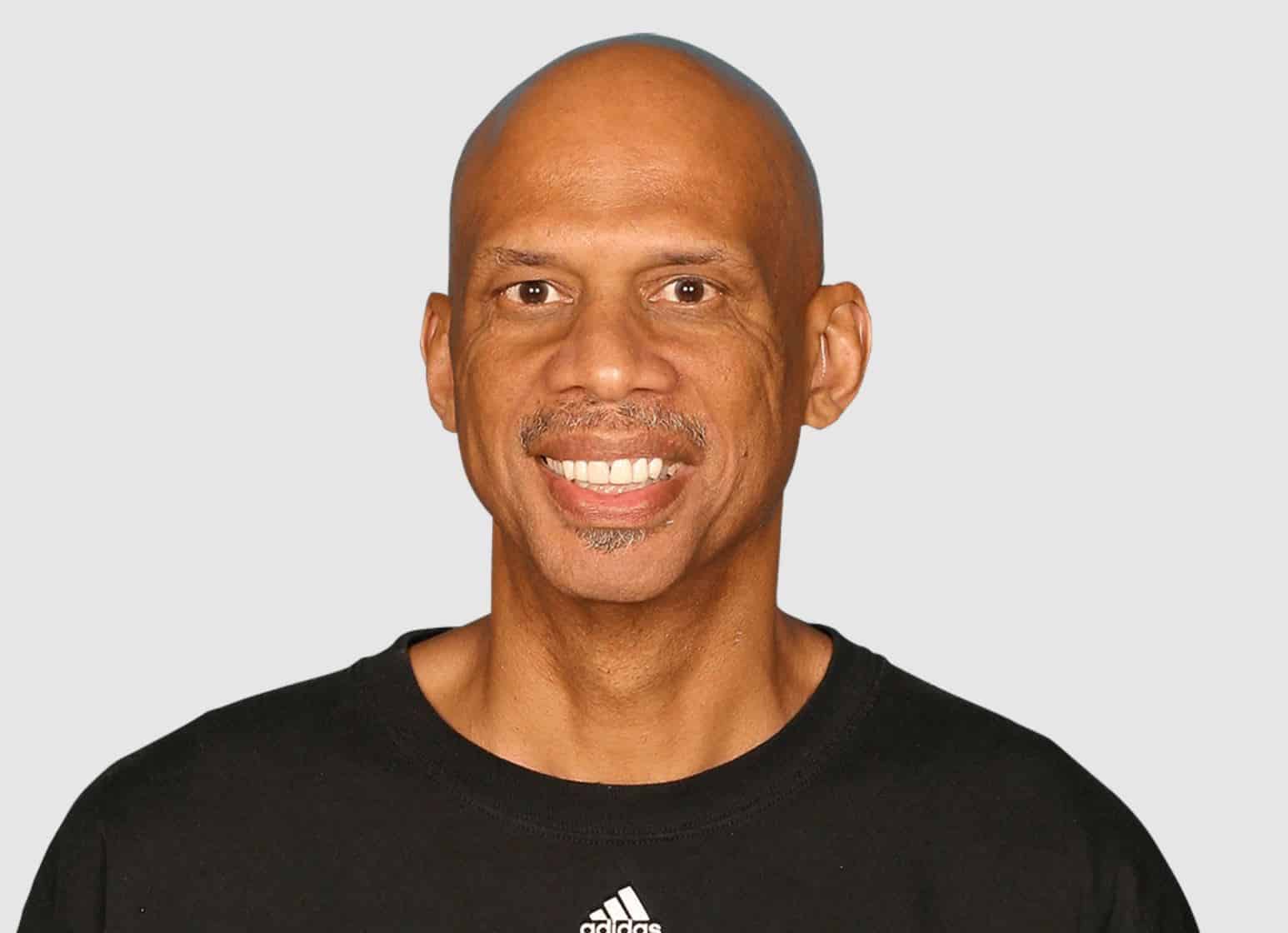 He was also seen working with different NGOs and community events to raise awareness on multiple issues, including world hunger, racial discrimination, and education. He even created the Skyhook Foundation. He also did a lot of community work to raise funds for these causes. And one of these includes him selling all his championship rings to raise funds.
After retirement, he also worked with several writers. And published many books, the most famous being "Becoming Kareem," in which he narrated his life as a professional player and his years with the Lakers.
Kareem Abdul Jabbar Family
Seeing his success and determination on the court, many would be surprised to know that he also showed the same level of attention toward his kids. And thus, almost all of them have achieved exceptional success levels in life. And although his married life has seen some rough days, he still has a delightful family.
Habiba Abdul-Jabbar
Habiba Abdul-Jabbar, or Janice Brown post-marriage, was Kareem Abdul-Jabbar's first wife he tied the knot with in May 1971. Their marriage started on a very rough note due to Habiba's parents not being Muslims, but eventually, things did calm down. Despite this, Kareem and Habiba officially separated after six and a half years. And during their time together had four children.
Cheryl Pistono
Kareem met Cheryl in 1977 and quickly noticed a positive connection. After separating from his first wife, they started seeing each other and even had a son. However, this relationship also came to an end in 1984.
Habiba Alcindor
Habiba Alcindor is Kareem's oldest child, born on May 1972 to his ex-wife, Habiba Abdul-Jabbar. By profession, Habiba is a successful writer and director. And right now, she is working as a screenwriter for a series named "Gold Rush."
Kareem Abdul-Jabber Jr.
Kareem Jr. is Kareem's eldest son and the second child he had with Habiba. He was born in August 1976 and worked as a professional actor, being featured in projects like "Half & Half" and the "The Drop." Like his father, he also has a history in basketball.
Dr. Amir Abdul-Jabbar
Amir Abdul-Jabbar is another son of Kareem he had with his first wife. As of now, Amir is 41 years old and works as a successful orthopedic surgeon. In 2012 he received an M.D. from the University of California with a specialization in the Swedish method of neurosurgery.
Sultana Abdul-Jabbar
Sultana Abdul-Jabbar is the youngest child he had with Habiba after they got separated in 1979. Unlike her other siblings, Sultana is more of an introvert and doesn't seem to have much social media presence.
Adam Abdul-Jabbar:
Adam is Kareem's youngest child, born to Kareem's ex-girlfriend Cheryl in 1981. Right now, Adam is 30 years old and is still seen in family events despite having a troubled life.
Kareem Abdul Jabbar Net Worth
Currently, Kareem Abdul-Jabbar has a whopping net worth of about $20 million working as a sports trainer. But throughout his career, he also had many other business deals that led him to make millions. At the start of his career, he signed a six-year contract with the Milwaukee Bucks, under which the most he made was $11.5 million during his third year. During his 14 years stay in the Lakers, he also earned millions, and his estimated sports earnings were over $100 million.
He also earned money through his endorsement deals, the most famous being the one he signed with Adidas. And let's not forget, due to his fame, he was offered several roles in movies and TV shows. The most notable one is his appearance in the 1972 movie "Game of Death," starring Bruce Lee, becoming another source of income for the 7 feet star.
Kareem was also appointed as the Cultural Ambassador in the white house in 2012 and also as a part of former president Barack Obama's fitness council. And as a Government official, he was paid a fair bit for his services.
Now, moving on to how he spends his millions. Kareem owns one massive mansion in Los Angeles worth $1.5 million and another 6000 feet mansion in Hawaii with a market price of around $5-6 million. Kareem also seems to have a taste for expensive cars. His collection contains several antiques, including the 1948 Backyard Super 8 and a Volkswagen Atlas SUV. Another way he spends his millions is by buying expensive watches, with his most prized piece being the Tiffany Tesoro gold. He also owns a Patek Philippe Aquanaut Travel Time 5164, which cost him over 90 grand, and a gold Rolex, with a price tag of another ten grand.
Frequently Asked Questions:
Question: How Old Is Kareem Abdul-Jabbar In 2022?
Answer: As of October 2022, Kareem Abdul-Jabbar is 75 years old. But despite his age, he still has a very active physique and works on several projects to keep himself occupied.
Question: Why Does Kareem Abdul-Jabbar Wear Goggles?
Answer: Throughout his career and even during college, Kareem was seen wearing massive goggles during the games. And this is mainly due to an injury he suffered on January 12, 1968, while playing against the University of California. So as a precaution, he started to wear goggles during games.
Question: Why Did Kareem Abdul-Jabber Change His Name?
Answer: Kareem was born with the name Ferdinand Lewis Alcindor Jr., but he converted to Islam during his years at UCLA. And thus, after his first championship win in 1971, he also changed to a name that would fit the religion, i.e., Kareem Abdul Jabbar, meaning the "humble servant of the Almighty."
Research Citations:
Continue reading related NBA bios and comparisons: