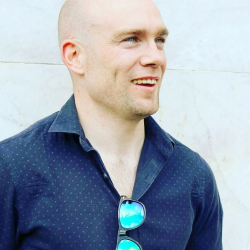 Latest posts by Joe Elvin
(see all)
Michael Jordan Quick Facts 
Full Name:

Michael Jeffrey Jordan 

Birth Date:

February 17, 1963 

Birth Place:

Brooklyn, New York 

Nickname: Air Jordan, Mike,

MJ, G.O.A.T.

Nationality: United States Of

America 

Siblings:

Larry Jordan (Brother), James R Jordan Jr (Bother), Deloris Jordan (Sister) & Roslyn Jordan (Sister)

Children: Jeffrey Jordan (Son), Marcus Jordan (Son), Marcus (Son), Victoria Jordan (Daughter), Ysabel Jordan (Daughter)


Partner / Spouse:

Yvette Prieto (Wife) 

Profession:

Basketball player, Athlete, Spokesperson, Entrepeneur, Actor 

Salary:

1990-91: 2.5 Million 

1991-92: 3.25 Million 

1992-93: 4 Million 

1994-96: 3.85 Million 

1995-96: 3.85 Million 

1996-97: 30 Million 

1997-98: 33 Million 

Net Worth:

2.2 Billion 

Social Media: Facebook: /jumpman23 Twitter: @jumpman23 IG: @jumpman23
Notable Individual  Awards: Presidential Medal Of Freedom 2016; NBA Most Valuable Player Award 1998, 1996, 1992; Sports Illustrated Sportsperson Of The Year 1991.
Last Updated:

2020 

 
Michael Jordan Birthplace and Early Life
Michael Jeffrey Jordan was born on February 17, 1963, in Brooklyn, New York. When Michael was a toddler his family moved to Wilmington, North Carolina. 
Michael was famously rejected as a sophomore when trying out for the varsity basketball team, being told he was "only" 5 foot 11.  
Unable to accept this outcome – Michael worked tirelessly over the summer between his sophomore and junior years. He excelled on the junior varsity team, additionally growing another 4 inches, to eventually earn his spot on the varsity squad.  
Michael dominated in his varsity team, averaging 25 points per game in both his junior and senior years. He was selected as a senior to play in the 1981 McDonald's All-American Game, where he scored 30 points.
In his college years, Michael had now grown to 6 foot 6 and was recruited by several college programs including the University of North Carolina, Duke, Syracuse, and UVA. He eventually chose to attend UNC.
During his time at UNC, he averaged 13.5 points each game and was named ACC Freshman of the year, leading the team to the 1982 NCAA Championship vs the Georgetown Hoyas.
With 15 seconds remaining of the game, Michael hit the game's winning shot go-ahead basketball over Georgetown's center – Patrick Ewing.
Michael later revealed this specific shot was a major boost to his confidence and future in his basketball career.

Michael Jordan Professional NBA Career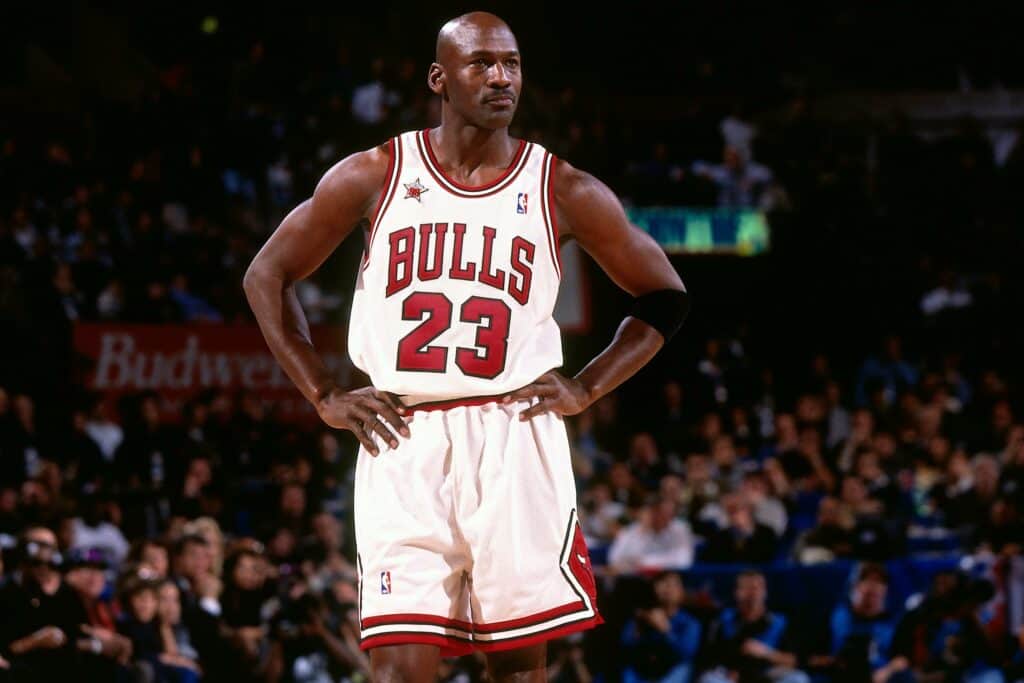 After his college years, Michael played three seasons at UNC Tar Heels, picking up several accolades along the way. These included the Naismith and Wooden Player Of The Year awards in 1984. He entered the 1984 draft, leaving UNC one year earlier than planned.
In 1986, Michael returned to college to finish his degree and later graduated with a Bachelor's degree in Geography.
Incredibly, Michael was not the first pick, but the third. Picked after Sam Bowie and Hakeem Olajuwon, he was chosen by the Chicago Bulls.
On September 12, 1984, Michael officially signed his rookie contract with the Chicago Bulls. This was a 7-year contract, worth  $6 million, meaning he averaged around $850,000 per season.
In Michael's rookie season, Bulls attendance doubled.
After his fifth season, Michael and the Chicago Bulls agreed on an eight-year extension contract for $25 million. At the time, this was the largest deal in NBA history.
At the end of this contract in 1996, Michael signed a $30 Million one-year deal.
The next year, he signed another $33.14 Million one-year deal. 
Michael Jordan's Greatest Moments Caught On Video

There are no shortages of incredible Michael Jordan moments, but here is a couple that stands out above the rest:
Michael Jordan Top 10 Plays of His Career
Michael Jordan Breaks Glass Backboard With a Dunk, furthering his nickname, AirJordan

Michael Jordan Retirement and Post-Professional
Michael Jordan retired three times in his professional career.
The first was on October 6, 1993. Michael shocked the world by retiring in his prime, giving the reason that he had nothing left to prove.
However, his second reason may have been due to the emotional pain linked to the death of his father in July 1993. James R. Jordan, Sr. was brutally murdered in North Carolina in a botched robbery attempt.

Michael had said he previously discussed retirement with him, and he wanted the chance to spend more time with his wife and kids. In February of 1994, Michael switched careers to baseball, signing up with a minor league contract with the Chicago White Sox.
One year later, Jordan rejoined the NBA and the Chicago Bulls to the delight of his fans. The announcement came in the form of a fax, with two simple but effective words: "I'm back". He further went on to win three back-to-back NBA championships.
Michael retired again in 1998, following a disagreement with General Manager Jerry Krause.
The world did not expect to see Michael return to the game again.  However on September 25, 2001, now aged 38, Michael returned for a final two-year contract, this time for the Washington Wizards. After this period, he retired for the last time.

Michael Jordan Endorsement and Sponsors

Even though Michael Jordan is best known for being a basketball superstar, he has additionally been a spokesman for multiple corporate brands. These include Nike, McDonald's, Coca-Cola, Chevrolet, Hanes, Gatorade, Wheaties, Ball Park Franks MCL and Rayovac. These endorsement deals have vastly increased his net worth in addition to his career earnings. Today, Michael earns $100 million per year from endorsements alone.

Michael Jordan Net Worth and Career Earnings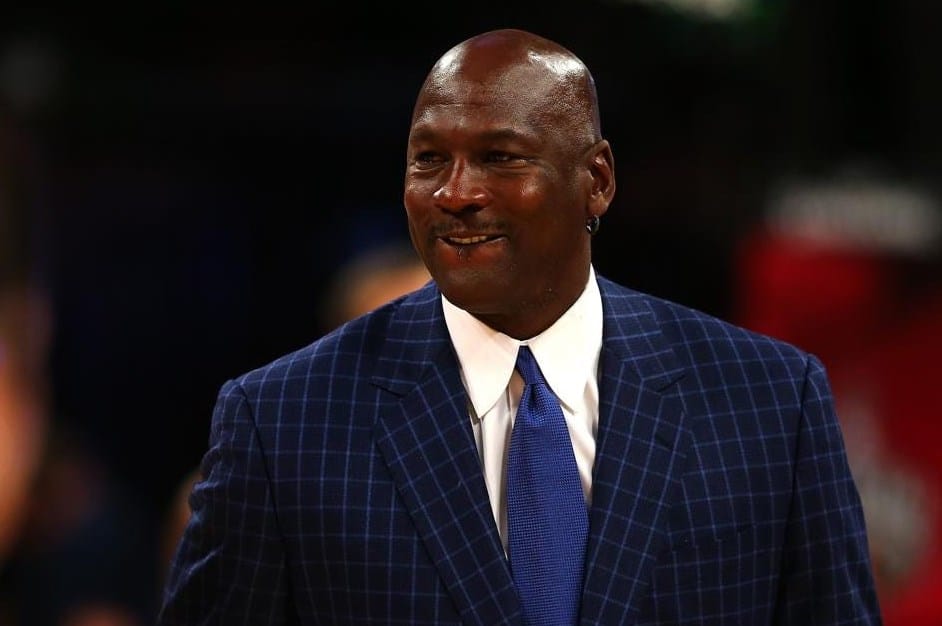 In 2020, Michael Jordan's Net worth stands at $2.2 Billion.
His NBA career earnings equaled $93.7 million.
He has the record for being the first athlete in history to earn an annual salary of over $30 million.
A large part of Michael becoming a billionaire was due to his ownership stake in the NBA team, the Charlotte Hornets.
In 2010, he paid $175 Million to buy 80% of the team. In 2014, he increased this to 89.5%. At this point, the team was now valued at $416 million. This combined with his roughly $600 million fortune already, pushed him into the billionaire bracket.
In 2019, he sold a portion of the Hornets to an investment group in a transaction, which valued the team for $1.5 billion.

Michael Jordan Famous Quotes
"I'm Back."
"I've failed over and over and over again in my life and that is why I succeed."
"There is no 'I' in the team but there is in the win."
"Talent wins games, but teamwork and intelligence win championships."
"I can accept failure, everyone fails at something. But I can't accept not trying."
"Some people want it to happen, some wish it would happen, others make it happen."
"Always turn a negative situation into a positive situation.

FAQs
Question: Why did Michael Jordan Wear 23?
Answer: Michael took the number 23 from an early age at his time in high school. His older brother was number 45, so he halved this number and rounded up.
Question: Why did Michael Jordan Retire?
Answer: The main reason given was Michael had nothing left to prove. The second may have been due to the loss of his father.
Question: What makes Michael Jordan Special?
Answer: Michael's performance on the court made him a worldwide icon. The way he carried himself off the court made the NBA a global market. Michael became a brand, and the brand grew the NBA.
Research Citations: