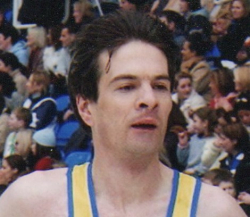 Latest posts by Stephen Hands
(see all)
Karim Benzema is one of the world's leading strikers. You don't play for Real Madrid for 13 years unless you are one of the best. Fellow French great Zinedine Zidane labeled Benzema the best-ever French striker, although Thierry Henry may have something to say about that.
For much of his time at Madrid, Benzema was overshadowed by Cristiano Ronaldo. However, while Ronaldo was setting goal-scoring records, Benzema was playing a team role for his side. Since Ronaldo's departure, Benzema has picked up the mantle and proved a more than worthy number 9. He is now the second-leading goal scorer in the club's history.
Benzema is one of those players that opposition fans respect and fear. He is not blessed with electric pace. He will not leave defenders in his wake. Yet, when the ball comes into the box, you always expect Benzema to be on the end of it. Karim Benzema is an intelligent striker, whose positional sense and finishing are second to none.
Karim Benzema is no stranger to controversy either. In 2015 he was accused of being complicit to blackmail, a charge he denied. He was banned from playing for France, becoming something of a pariah in his home nation.
In this bio, I shall look at Benzema's journey from the tough suburbs of Lyon to European glory with Real Madrid. We shall also delve into his international career with France and one or two of his less welcome moments off the pitch.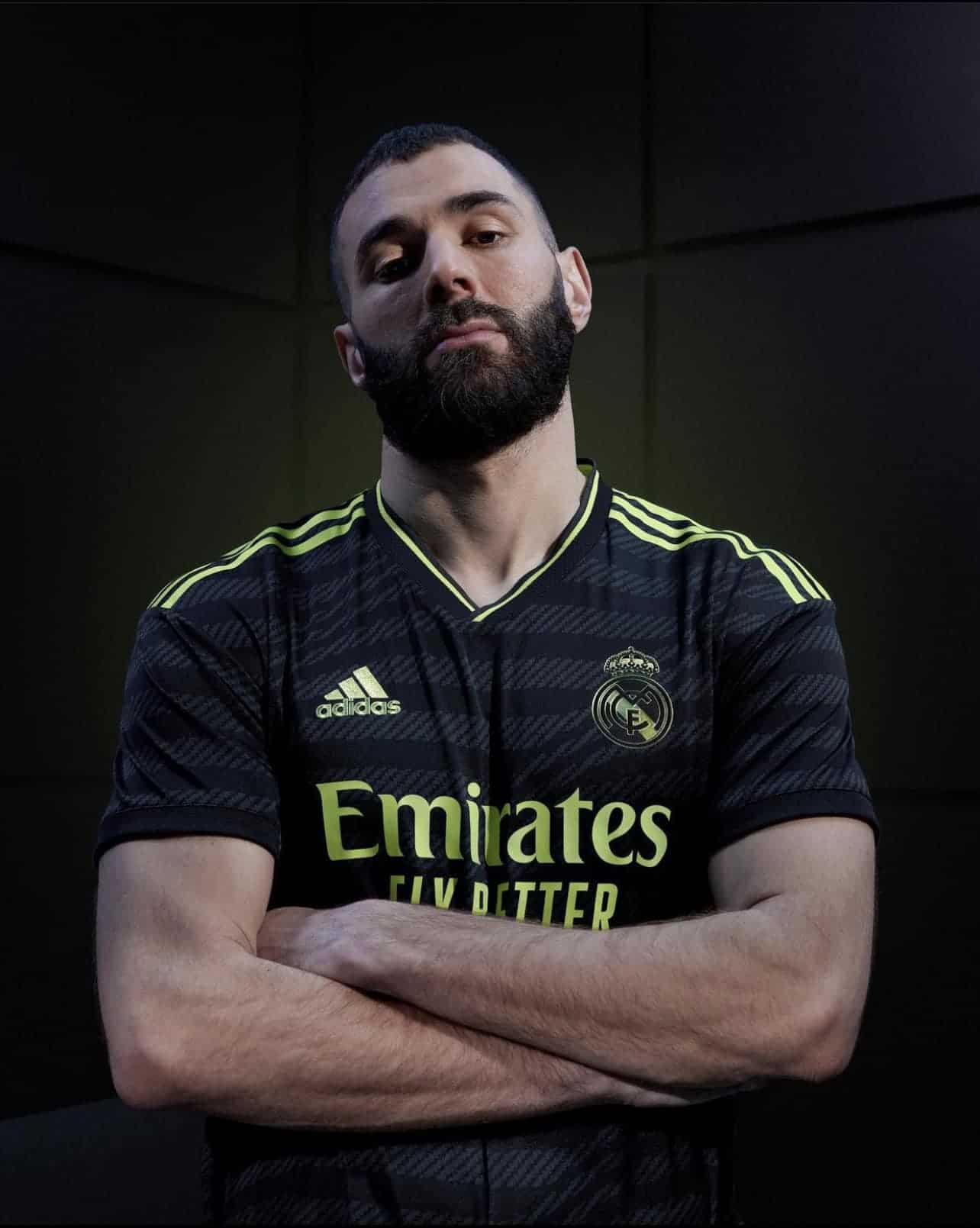 Karim Benzema Quick Facts
Full Name Karim Mostafa Benzema
Birth Date December 19, 1987
Birth Place Lyon, France
Nick Name Coco
Nationality French
Siblings Farid, Sofia, Laeticia, Celia, Nafissa, Lydia, Gressy and Sabri
Children Melia and Ibrahim
Spouse/Partner Cora Gautier
Profession Professional soccer player
Salary $9.2 million
Net Worth $70 million
Awards 2021/22 UEFA Men's Player of the Year, 2019/20 La Liga Player of the Season, 4 x winner French Player of the Year, 2007/08 Ligue 1 Player of the Year
Last Updated September 2022
Karim Benzema Birthplace and Early Life
Karim Benzema was born on December 19th, 1987, in Lyon in France. He is one of nine children to parents Hafid Benzema and Wahida Djebarra. The family grew up in Bron-Terraillon, an eastern suburb of Lyon. The area was built in the 1960s predominantly to house immigrant workers from North Africa. Karim Benzema's parents worked hard to keep him off the streets and out of trouble. Football played a huge part in this.
Karim Benzema would often be seen with a football. When not playing with friends, he would kick a ball against a wall by himself. The family home was just 50 meters from the local football club, SC Bron Terraillon. Karim joined the club's youth team at the age of 8, and never looked back. He spent many hours practicing at the club's ground, as part of training sessions, and for hours on his own. Benzema still returns to the suburb to visit family and friends.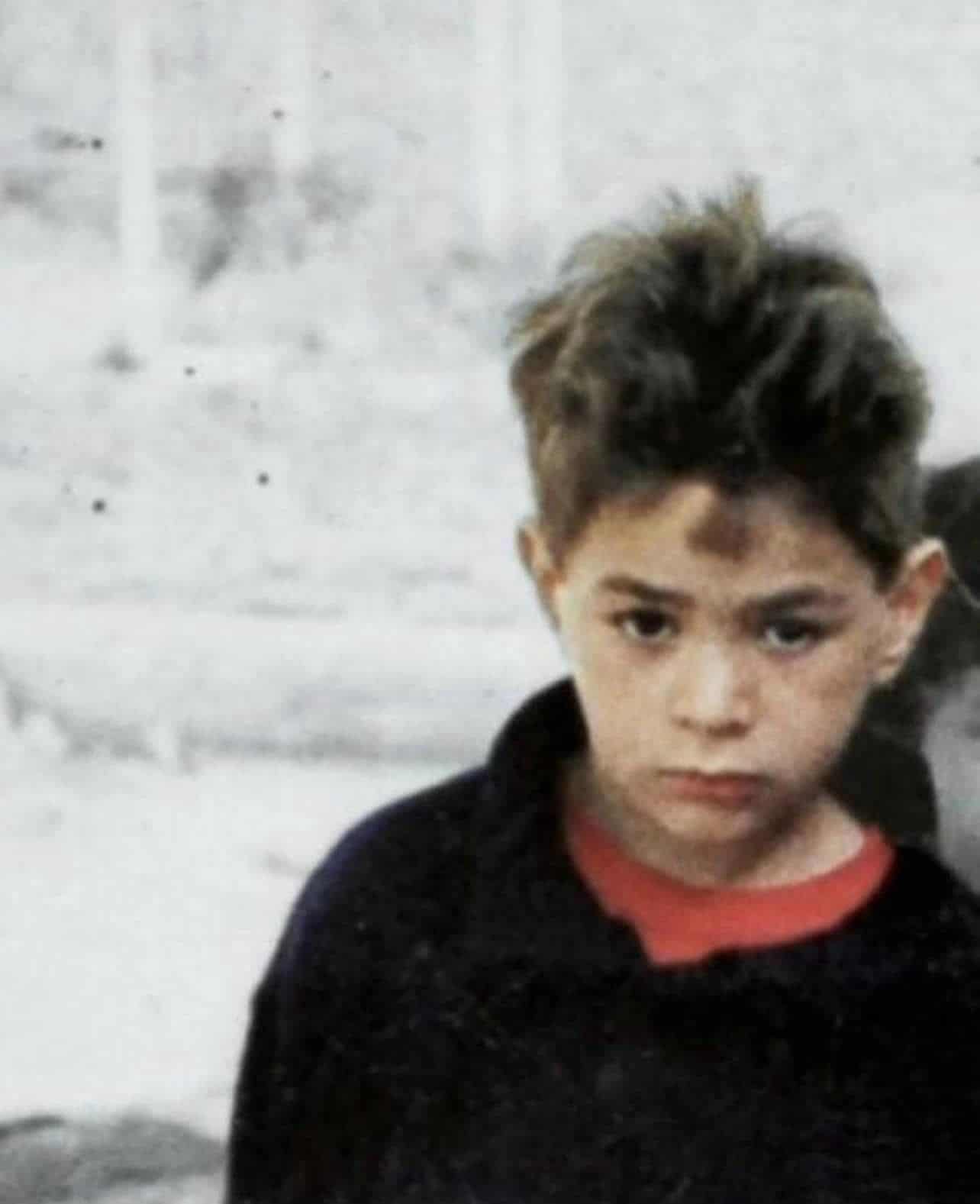 Developing in the Lyon Academy
The young Benzema came to the attention of Olympique Lyon, one of the top soccer clubs in France. In 1997 he was invited to join their academy set-up. This offered a great opportunity for development, as well as a chance to distance himself from the streets of Bron-Terraillon.
His parents asked Lyon to house their son in digs at the academy training ground. These digs were usually reserved for those who lived outside of Lyon, but an exception was made for Karim Benzema.
The Lyon academy has built a reputation for developing top-quality players. Benzema's talent was clear to see, but he would need to bide his time in Lyon's youth sides to develop his game. He was a ball-boy for Lyon's senior side during this period, while also maintaining his academic studies.
By the time he reached the under 16 age group Karim Benzema already had an eye for goal, scoring 38 league goals at that level. His efforts earned him a promotion to the club's reserve side.
Karim Benzema Professional Career
Olympique Lyon reserves played in the fourth tier of the French game. Karim Benzema joined the side for the 2004/05 season as a 16-year-old. If there were any doubts this was too rapid a step-up, they were soon laid to rest. Indeed, Benzema was just passing through. He scored 10 goals in his short time with the reserve side. It was a short stint as he was soon called up to be a part of the first team squad.
Lyon's senior side was littered with quality footballers. This should be an imposing and nerve-wracking promotion for such a young player. Benzema was known to be a shy child, but his confidence in his ability had clearly grown.
Asked to give an initiation speech in front of the star-studded squad, he was initially heckled and laughed at. Benzema was unphased and told them they should not laugh as he was here to take their place. It was not just youthful bravado.
Olympique Lyon
Karim Benzema made his debut for Olympique Lyon in January 2005, aged 17. It was a successful start to his senior career, with Lyon beating Metz 2-0. From the early stages, the club realized they had a major talent on their hands. He was offered a three-year contract, which was subsequently extended. In his four years in Lyon's first team, Benzema played 149 games and scored 66 goals.
However, he still had to bide his time before becoming a regular starter. Lyon was dominant in the league and full of experienced strikers. It was not until 2007 that Benzema became the main striker for the club under manager Alain Perrin. He returned the manager's faith with 31 goals in 51 games as Lyon won their seventh league title in a row.
The 2007/08 season also brought Benzema to the attention of fans across Europe. The Champions League often brings the best out of the French striker. Lyon faced eventual winners Manchester United in the last 16 of the competition. Benzema scored in the one-all draw in Lyon and gave United's defenders a torrid time across the two matches. A certain Cristiano Ronaldo scored the winner for United in the second leg, a player Benzema would soon be playing alongside.
Lyon was always going to struggle to keep Benzema at the club. The Champions League placed him further in the shop window. Alex Ferguson was said to be keen to take the striker to Manchester United, but it was Real Madrid who would get their man.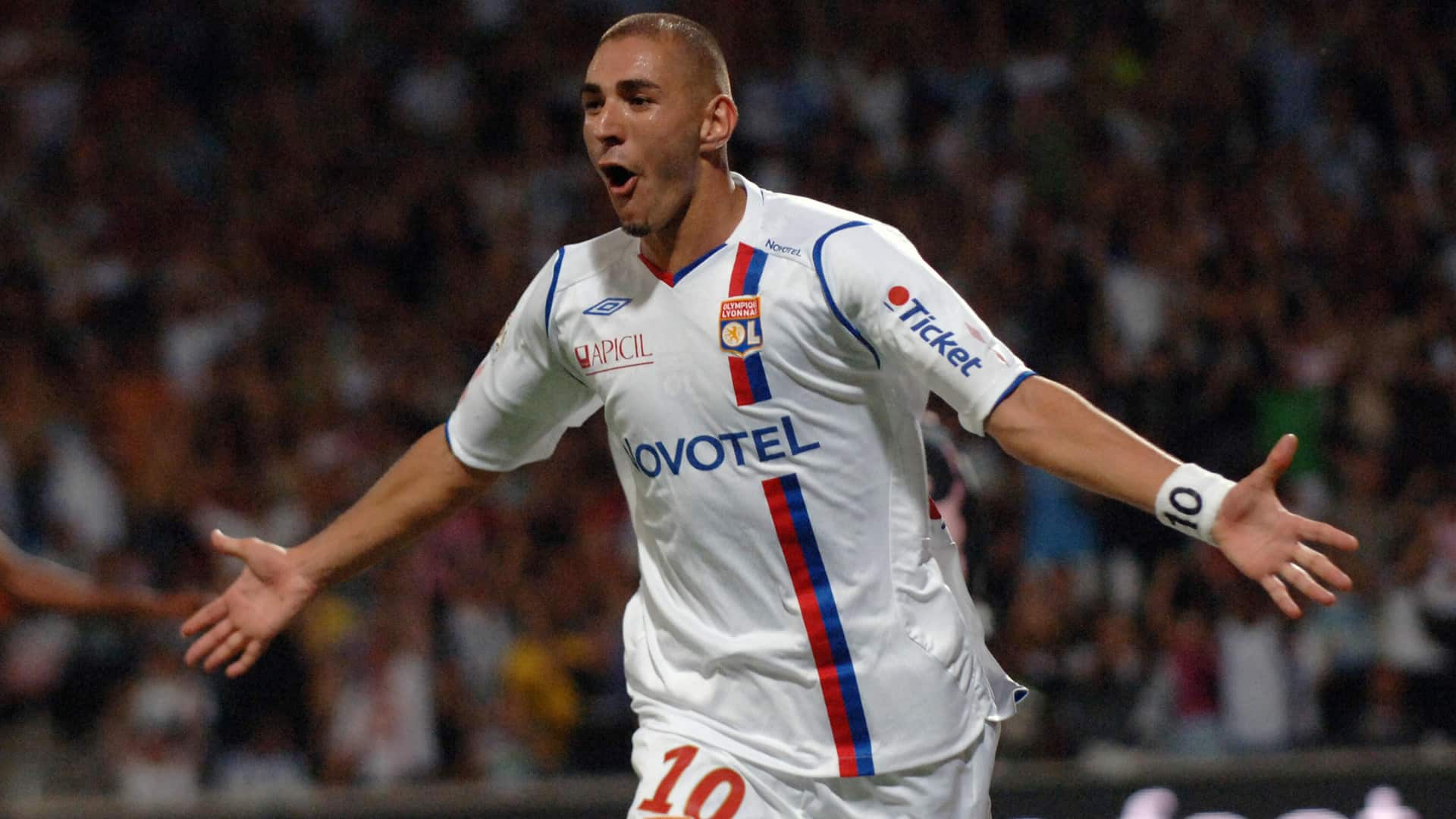 Real Madrid
Real Madrid completed the signing of Karim Benzema in July 2009. The Spanish giants paid $35 million for his services. They could never have anticipated that, 13 years later, the French striker would still be pivotal to their success.
Karim Benzema had some serious competition for a place when he first arrived. Cristiano Ronaldo, Gonzalo Higuain, Kaka, and Raul were also at Real Madrid. It was a difficult first season for Benzema in a new country where he did not speak the language. He scored just nine goals in his debut season, and there must have been doubts that he could produce his Lyon form at his new club.
However, Benzema hit his stride come the 2011/12 season with 21 goals to his name. He picked up the first of his four La Liga titles, to which he would later add five Champions League titles, two Spanish Cups, four FIFA Club World Cups, and four European Super Cups. He was a serial trophy winner.
Adapting His Game
Cristian Ronaldo banged in a ridiculous 450 goals in his Real Madrid career. He was bound to be the focal point, one around which Karim Benzema needed to adjust his game. Benzema was often playing with his back to goal, looking to feed his prolific strike partner. He took some criticism for not scoring enough goals, but he still averaged 20 goals a season with Ronaldo on the team.
This was a period of sustained success for Madrid, and Benzema was an integral part. The club won four Champions League titles in five years. Benzema opened the scoring in the 2017/18 final against Liverpool, a match Madrid won 3-1. Benzema has been nominated for the prestigious Ballon d'Or 10 times. This tells you all you need to know about how important his peers consider his contribution to his team's success.
Post Ronaldo
Karim Benzema has aged like a fine wine. When Ronaldo left Madrid, questions were asked about where the goals would come from. Up stepped the experienced Benzema. Now the prime focal point up front, he went from averaging 20 goals a season with Ronaldo alongside him, to 30 goals a season without the presence of the Portuguese talisman.
If anyone needed a reminder of why Benzema is considered so highly the 2021/22 Champions League provided the answer. His stunning 17-minute hat-trick in the round of 16 against PSG turned the tie on its head. Madrid looked dead and buried but Benzema's goals produced an epic comeback. Real Madrid went on to beat Liverpool in the final, with Benzema the competition's leading goal scorer with 15 goals.
A Record-Breaking 2022
Karim Benzema scored 27 La Liga goals in the 2021/2022 season. This earned him the league's Golden Boot for the first time in his long Madrid career. When he scored against Eintracht Frankfurt at the UEFA Super Cup in August 2022, he notched his 324th goal for Real Madrid. This took him past Madrid great Raul as the club's second all-time leading goal scorer behind Ronaldo.
When Zinedine Zidane talked about Benzema as the greatest ever French striker, he was relating this to his achievements and longevity. When Benzema bagged his 413th career goal in March 2022, he put statistics on his side for this claim too. He had surpassed Thierry Henry to score the most career goals by any French player.
Karim Benzema shows no signs of stopping yet. He signed a one-year contract extension to keep him at Madrid until 2023, his 14th year with the club. Benzema turned down a deal for two years, with rumors suggesting he would like to play again for Lyon before ending his career. He started the new season in form too with four goals in six matches.
International Career
While the Madrid fans may love Karim Benzema, the French public are more divided. He became a pariah for the national team fans after a blackmail scandal involving one of his teammates. Up to that point, Benzema was enjoying a promising international career with France. After playing for France across the age groups, he made his international debut in 2007 against Austria. He scored after coming on as a substitute.
Benzema has scored 37 goals in over 90 appearances for France. He played at the 2008 and 2012 Euros without getting on the scoresheet. However, he scored 3 goals in 6 games at the 2014 World Cup. This was not a period of success for the French team. In 2015 Benzema was banned from playing for France after being accused of complicity in a blackmail scandal. Therefore, he was not part of the French team who won the 2018 World Cup.
Karim Benzema was recalled to the French squad for the 2020 Euros. His form at Madrid was hard to ignore, and he had spent over five years away from the international scene. France failed to get beyond the round of 16, but Benzema scored four goals in four games.
Benzema scored a sublime goal in the final of the 2021 Nations League final to help France beat Spain 2-1. He will be looking to take a similar form into the 2022 World Cup.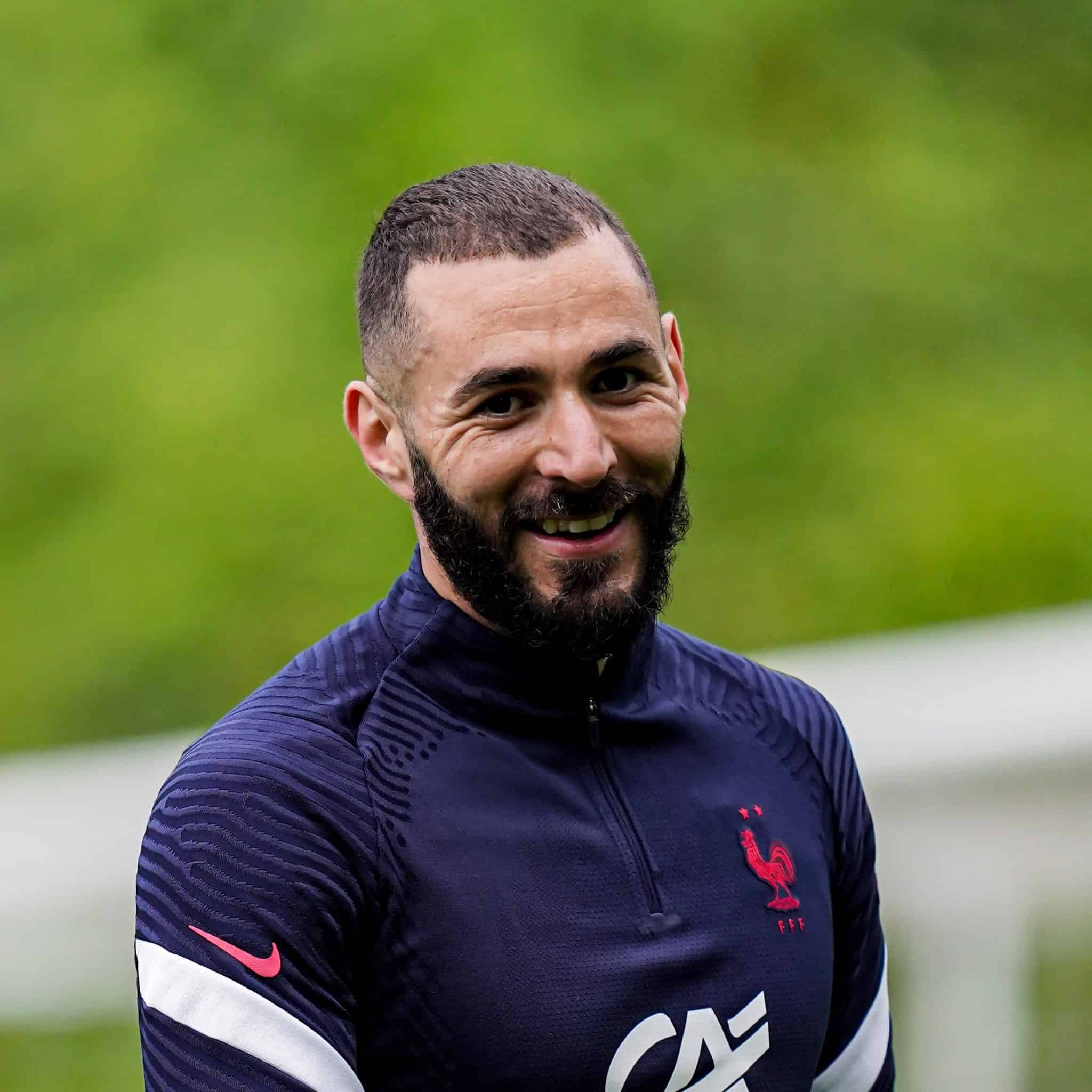 That Blackmail Scandal
In 2015, football fans were stunned to hear Karim Benzema was accused of being complicit in a blackmail scandal. The scandal involved a sex tape found on the phone of fellow French player Mathieu Valbuena. It was alleged Valbuena was blackmailed over the compromising video after getting the content of his phone uploaded to a new phone.
Benzema was accused of being the middleman, encouraging Valbuena to pay money to a group of blackmailers. He claims he was only ever trying to help Valbuena get rid of the compromising footage. However, Benzema was found guilty in 2021 of being complicit in blackmail and given a one-year suspended sentence. He denies any involvement in the plot and was set to appeal the guilty verdict.
Benzema was banned from playing for France in 2015 while the investigation took place. The French Football Federation said a guilty verdict may not lead to a further ban.
Karim Benzema Videos
A look at Karim Benzema's time at Lyon.
Karim Benzema's predatory goal in the 2018 Champions League final against Liverpool.
Karim Benzema scores as France win the Nations League.
Karim Benzema's hat-trick against PSG in the Champions League in 2022.
Karim Benzema Family
Karim Benzema keeps his personal life away from the media spotlight. In the past, he has been linked to several women, including actress Ester Exposito and singer Rihanna. He has two children, Melia and Ibrahim.
Benzema's first child, Melia, was born in February 2014 to his girlfriend at the time, Chloe de Launay. Toward the end of 2015, Karim Benzema began a relationship with Coco Gautier, a model, and online fashion influencer. She is the mother of Benzema's second child, Ibrahim, who was born in May 2017.
Like Benzema, Coco Gautier does not tend to post about her personal life online. She moved to Madrid and was supportive of Benzema at a difficult time in his life when he faced accusations of involvement in a blackmail scandal. It is believed they married in December 2016.
Karim Benzema's Instagram page has a profile picture of him holding his two children, but his posts rarely involve references to his family. Coco Gautier does not have a huge social media presence.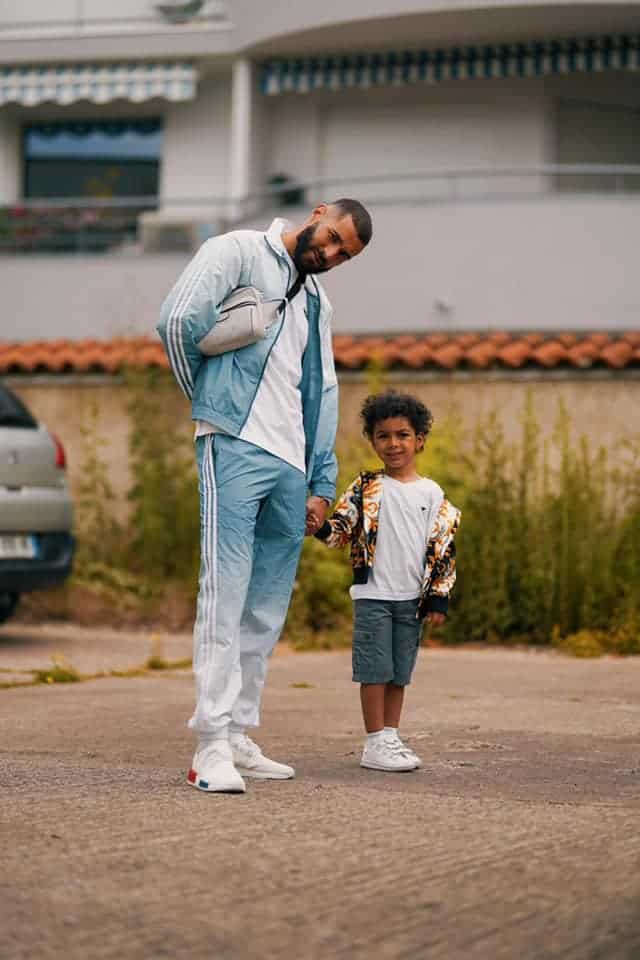 Karim Benzema Net Worth and Career Earnings
Karim Benzema's net worth is reported to be $70 million. He earns a salary of $9.1 million, making him one of the most expensive strikers in the game today. In 2020 Benzema and the rest of the Madrid players took a pay cut of between 10% and 20% to help the club deal with the financial effects of Covid. He has recently added a year to his contract, which will see him play for Madrid until he is 35 years old.
As a high-profile soccer player, Benzema has plenty of sponsorship offers to boost his net worth. His sponsors include boot manufacturers Adidas. In 2022, Benzema became a brand ambassador for the luxury fashion house Fendi. This follows endorsement deals with Hyundai and Jean-Paul Gautier.
Karim Benzema is known for his car collection, worth a cool $6.5 million. Among the collection are a Mercedes SLR, a Ferrari 458 spider, and a Rolls Royce Wraith. A recent addition to the Benzema garage is a Bugatti Chiron worth $2.75 million. Thanks to Real Madrid's sponsorship deal with Audi, Benzema does not need to use one of his cars for everyday travel. He gets the choice of an Audi as a company car for this.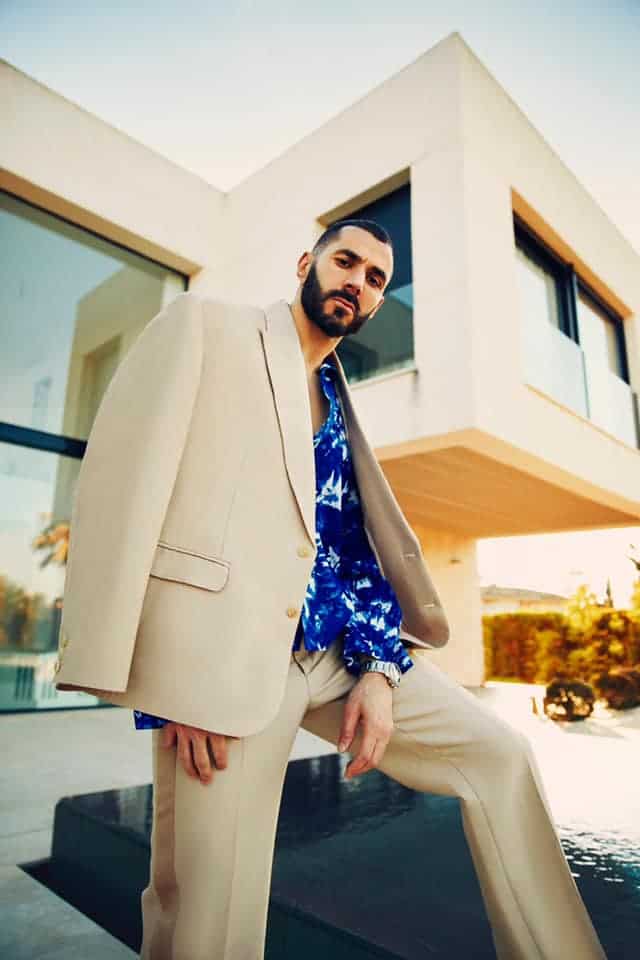 FAQs
Question: How old is Karim Benzema?
Answer: Karim Benzema is 34 years old. He was born on December 19th, 1987.
Question: Has Karim Benzema won the Ballon d'Or?
Answer: No, although he has been nominated 10 times. However, he is the favorite to win the 2022 Ballon d'Or, due to be announced in October.
Question: Is Karim Benzema back playing for France?
Answer: Yes, Karim Benzema returned to the French squad ahead of the 2020 Euro Championships after a five-year absence following his ban when accused of complicity in blackmail.
Question: Will Karim Benzema leave Real Madrid?
Answer: There are rumors Benzema wants to play for Lyon again before retirement from the game. He signed a one-year extension to his contract in 2021 rather than a two-year deal. He commented on needing to see how his fitness was as he will be 35 when the new extension runs out.
Research Citations
Continue reading more soccer star bios: