Latest posts by Pro Sports Bio Team
(see all)
If you have been an NBA fan for much of the 2000s, you may have heard of Wally Szczerbiak. The same goes for being a die-hard fan of the Minnesota Timberwolves. Coming from a family that is no stranger to the sport, Szczerbiak spent nearly ten years in the NBA. His father played professional basketball overseas, becoming an FIBA European Champion three times.
Even though Szcerbiak spent time in Europe, he made his mark as a basketball player when he started playing on American soil. By the time he was a senior in high school, he was excelling as a player.
But despite that, he did not get the attention of many basketball programs (including the Division I schools). But one school gave him a chance after a campus visit.
After playing for the Miami University RedHawks, Szczerbiak made it to the NBA after being drafted in the first round by the Timberwolves. From there, his game caught fire and he became one of the best players to suit up for the Timberwolves.
After playing for nearly seven years for the team, Szczerbiak wrapped up the last few years of his career with three different teams. Before retirement, he had a desire to play for his hometown Knicks. But a knee injury and multiple surgeries prevented that from happening. Ultimately, he retired from the game as a player.
But Szczerbiak did join the New York Knicks later on in life as a broadcaster. So needless to say, he's probably enjoying his post-career dream job right about now. Even though he is retired, it's safe to say that the Szczerbiak family will stay in basketball for a while. In this Wally Szczerbiak Bio, we'll take a look now at Wally Szczerbiak's life and career (and see what he might be up to these days).
Wally Szczerbiak Quick Facts
Full Name: Walter Robert Szczerbiak
Birth date: March 5, 1977
Nicknames: Wally
Nationality: American, Spanish
Siblings: Will, Wendy
Spouse: Shannon Szczerbiak
Profession: Professional basketball player
Salary: $75 million (career total)
Net Worth: $35 million
Awards:

2002 NBA All-Star
2000 NBA All-Rookie First Team
1999 Consensus Second-Team All-American
1999 MAC Player Of The Year
First-Team All-MAC (1998-1999)
Early Life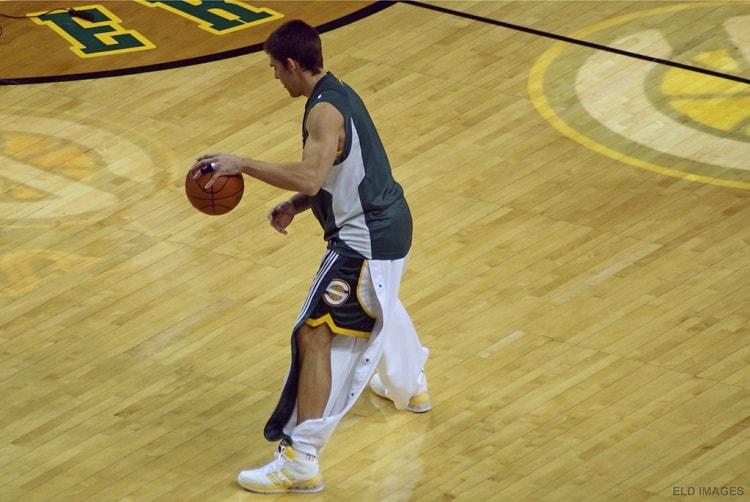 Wally Szczerbiak was born on March 5, 1977 in Madrid, Spain. His parents are Marilyn and Walter Szczerbiak. The elder Szczerbiak played professional basketball both in the United States and in Europe.
He is mostly known for playing for Real Madrid and leading the team to three EuroLeague championships (including three consecutive FIBA Intercontinental Cup championships from 1976 to 1978). After retirement, he became one of the 50 greatest EuroLeague Contributors.
After his father's professional basketball career ended in 1984, the Szczerbiak family returned to America and settled on Long Island, New York.
The younger Szczerbiak started playing basketball himself and played for the Cold Spring Harbor High School basketball team in Cold Spring Harbor, New York. During his senior year, Szczerbiak was a terror on the court scoring nearly 40 points and 16 rebounds per game.
He won the Richard Sangler Award, which is given to the top basketball player in Nassau County. He also played for the all-Long Island basketball team during the Empire State Games in 1994.
Even though Szczerbiak was talented at playing basketball, he never received any attention from Division I recruiters. This was likely due to the fact that Cold Springs Harbor High School was a small program and did not have the prestige compared to other schools in the area.
However, that didn't deter Szczerbiak in the slightest. In the fall of 1994, Szczerbiak and his family traveled to Oxford, Ohio to visit Miami University (OH).
It didn't take long for Szczerbiak to make his decision to play for the RedHawks basketball team, even though his father told him to wait awhile before deciding which school to play for. The Monday after the visit to Oxford, Szczerbiak called then-coach Herb Sendek and verbally committed to the team.
Playing for Miami University (OH)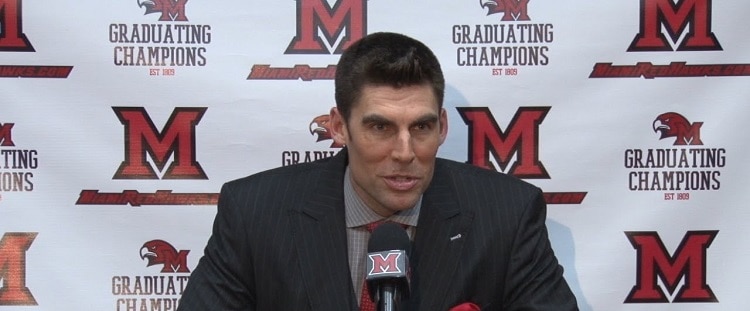 Szczerbiak started playing for the Miami University RedHawks in the 1995-1996 season. During his freshman and sophomore season, Szczerbiak averaged 8 and 12 points per game respectively. During his freshman year, the RedHawks played in the National Invitational Tournament and lost to the Fresno State Bulldogs.
However, his breakout season was during his junior year. He wrapped up the 1997-98 college basketball season as one of the leading scorers in the country.
Even when a broken wrist shelved him for a few games, he wrapped up the season averaging 24 points per game and All-MAC honors. His momentum would continue into his senior year. He continued to average 24 points per game and helped the RedHawks snag a spot in the 1999 NCAA Tournament.
The Miami University RedHawks drew the 10th seed and had themselves a Cinderella run at the time. During their first-round against the Washington Huskies, Szczerbiak dropped 43 points leading the RedHawks to an upset over the #7 seed. The following game, they pulled off another upset by knocking off the second-seeded Utah Utes with Szczerbiak scoring 24 points.
They appeared in the Sweet Sixteen against the Kentucky Wildcats. They ended up losing to the SEC powerhouse, even though Szczerbiak scored 23 points in the game. The team finished with one of the best records in the history of their program with 24 wins and 8 losses.
During their Sweet 16 run, Szczerbiak recalls a moment when his coach, Charlie Coles, pulled him out of the game for a rest despite scoring most of the time. He said that the coach was calling every play for him.
He added that the coach told him to take his shots every time he wasn't double-teamed by the opposing defense. The 1999 team had met for a reunion in 2019, celebrating their 20th anniversary for making the Sweet 16.
When Szczerbiak retired from basketball, he developed a friendship with fellow RedHawk and all-time scorer Ron Harper.
The two had previously met during Szczerbiak's senior year and had played against each other a couple of times during their respective NBA careers. Szczerbiak said that these days, him and Harper have bonded over golf.
Szczerbiak's time as a Miami University RedHawk came to an end and he was the team's second all-time leading scorer. His point total was 1847. Szczerbiak wrapped up his college career with a degree in marketing in 1999.
Two years later, his number was retired, making him the fifth player in the basketball program's history to have his number retired. He was also inducted in the Miami University Athletic Hall of Fame in 2009.
Professional Career
Minnesota Timberwolves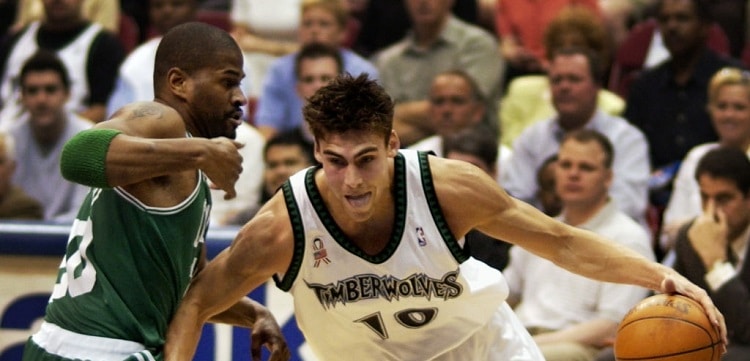 In the 1999 NBA Draft, Wally Szczerbiak was the sixth overall pick when the Minnesota Timberwolves chose him. In his first two seasons, his scoring efforts were 12 and 14 points per game respectively. In the 2000-2001 season, he played in all 82 games and snagged a career best average 6 rebounds and 3 assists per game.
However, his breakout year wasn't until the 2001-2002 season where he put up nearly 19 points per game (including a .455 percentage from three-point range). He made his only appearance in the All-Star game in 2002.
On April 13, 2003 he scored 44 points in a game against the Chicago Bulls. Since then, multiple players for the Timberwolves including Kevin Love and Karl-Anthony Towns have surpassed that record.
Szczerbiak did not start during the 2004-05 season and spent most games on the bench. Because of this, his points averaged dropped considerably. He voiced his discomfort with the role and returned to the starting lineup the following season.
Boston Celtics
Midway through the 2006 NBA season, Szczerbiak was one of three Timberwolve players to be sent to the Boston Celtics. The Wolves also sent a first round draft pick as part of the deal. During the offseason later that year, Szczerbiak underwent surgery on a knee that was injured for much of the season.
The following year, Szczerbiak was on the verge of bouncing back. He dropped 35 points against the Charlotte Bobcats, which ended up being his best performance of the season. Soon after, he injured both of his ankles, which resulted in surgery that would end his playing time that season.
Final Years of Career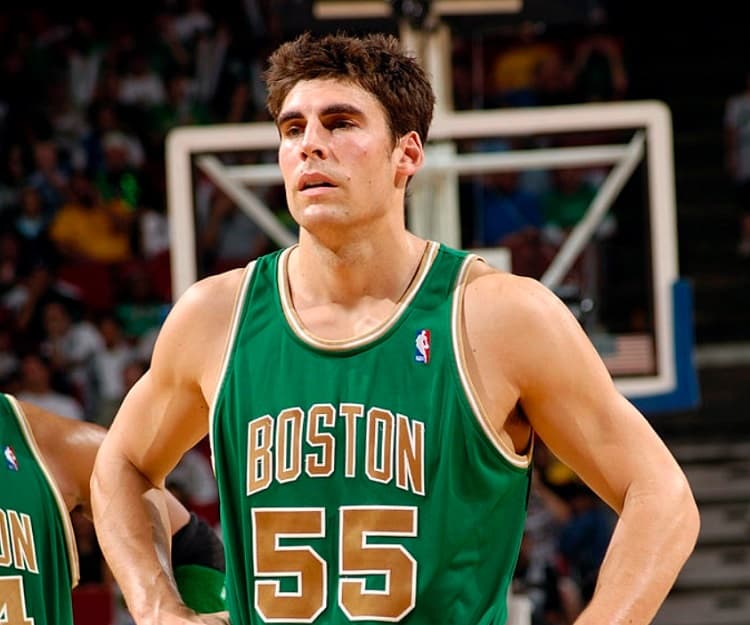 During the 2007 NBA Draft, Szczerbiak was traded to the Seattle SuperSonics. During his lone season in the Pacific Northwest, he played in 50 games and only started in one of them. It would end up being the last season where he averaged double digits per game in points.
In 2008, Szczerbiak was on the move again, this time headed back to Ohio to play for the Cleveland Cavaliers. He played in 25 games while averaging 8 points and 3 rebounds per game. His best game was against the Detroit Pistons on April 16, 2008 when he scored 18 points.
The Cavs made the postseason in 2008 where Szczerbiak averaged 10 points per game in the first round against the Washington Wizards. In Game 6 of the series, he dropped 26 points with 18 of them coming from long range. His final season saw him in 74 games total while averaging 7 points per game. He also has a game average of 3 rebounds and one assist.
By the end of the 2008-09 season, Szczerbiak decided to test the free agent market. At that point, he had already had surgery on one of his knees twice and was in the process of getting a third one done. At the time, he had been in talks with the Denver Nuggets but rejected their offer in favor of rehabilitating his knee.
Szczerbiak also had a desire to play for the New York Knicks, but the talks never materialized. But with his third knee surgery said and done with, the idea of playing one season may have increased the likelihood of another surgery.
His doctors said that with the lack of cartilage in one of his knees, another surgery may have limited his mobility even further and make life difficult for him. This ultimately led him to decide on retirement.
Throughout his career, Szczerbiak said he went up against some of the toughest players in the league. He named Paul Pierce and Ron Artest (aka Metta World Peace) as two of the best players he went up against.
'He used to give me fits and I hated playing against him," Szczerbiak recalled. He added that Pierce was a smart and crafty player that he couldn't slow down.
When speaking about Artest, Szczerbiak credited the latter's strength and length. He also added that Artest was an excellent defender.
In the 10 years that Szczerbiak played, he played in the postseason in seven of them. He also said that one of his proudest moments other than being on winning teams is that he was named an All-Star.
Asked about his retirement in 2009, Szczerbiak said it was a really hard thing to do. He said that since his last knee surgery, he has not played basketball ever since (not even a pickup game). He added that he didn't want to get to the point where he was unable to run around and play with his kids.
Post Career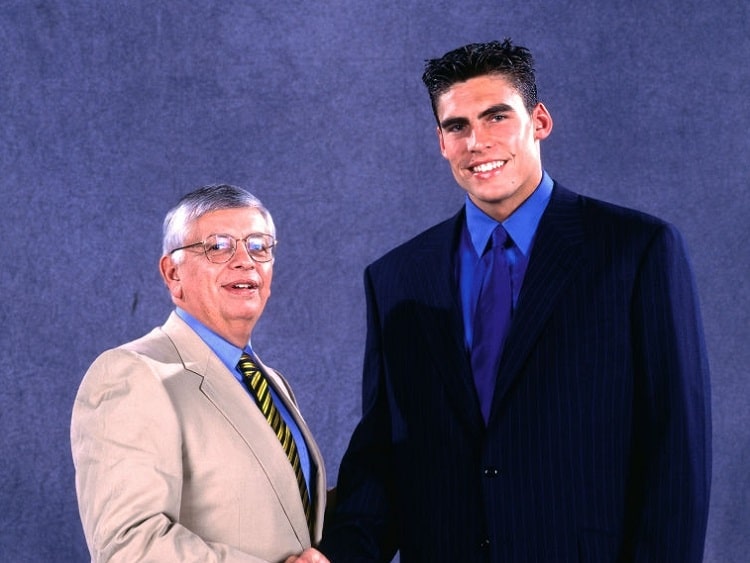 Like a handful of players that retired from the NBA, Szczerbiak went from being a player to a broadcaster. After retirement, he worked for CBS Sports as a basketball analyst. He would frequently make appearances for programs during the college basketball season. Later on, he would join the MSG Network as a regular broadcaster for the New York Knicks.
He also served as a color analyst in broadcasts alongside basketball legend and fellow broadcaster Walt "Clyde" Frazier. He also makes appearances on post-game broadcasts for the Knicks. Szczerbiak is expected to return to the network in the same capacity for the 2021-22 Knicks season.
Aside from his MSG Network duties, Szczerbiak contributes his time and analysis for CBS Sports during the college basketball season including the NCAA Tournament.
In 2012, Szczerbiak and his wife Shannon purchased a home on Long Island for $5.3 million. In 2017, the family was planning on selling the property with a price tag of $13.8 million. Despite multiple price drops over the last two years, the house returned to the market and is currently priced at $7.3 million.
The property is located in Szczerbiak's hometown of Cold Spring Harbor and is near the house he grew up in. The property was built in 1910 and was once owned by J.P. Morgan as a gift for his daughter.
One part of the house had been torn down as it was needed for copper and wood for World War II. It sits on 5.5 acres of land with eight bedrooms and 14.5 bathrooms. Of course, no home of a former NBA all-star would be without a basketball court and a gym. As for whoever may be buying the house, no one knows at this point.
In 2020, Szczerbiak was inducted into the MAC Hall of Fame for his efforts as a basketball player for Miami University.
He had returned to the school two years earlier as part of the CBS Sports broadcasting team that covered an MAC conference game between the RedHawks and the Toledo Rockets. In an interview with The Athletic, Szczerbiak said that it was a tremendous honor to be back on his old court.
Wally Szczerbiak Compared To Who?
When we look at different athletes, we often compare them to other professional players in the league. In a 1999 interview for the Buffalo News, then Buffalo Bulls basketball coach Tim Cohane compared Szczerbiak to Larry Bird.
Cohane said that Szczerbiak's ability to shoot even for his size is almost identical to the Celtics legend. One other MAC coach said that Szczerbiak is a shooter who rarely misses and may be one of the best he has ever seen.
Bird was known for his jump shooting techniques and had been accurate most of the time. The same could be said for Szczerbiak even though these players come from different eras of basketball.
Wally Szczerbiak Family and Relationships
Wally Szczerbiak is the son of Walter and Marilyn Szczerbiak. He is married to Shannon Szcerbiak (nee Ward), who he met during his freshman year at Miami University. The pair have five children. Wally has two siblings, Will and Wendy Szczerbiak. Wendy was also a basketball player in her own right, playing for the Lehigh Mountain Hawks.
Wally Szczerbiak Net Worth and Salary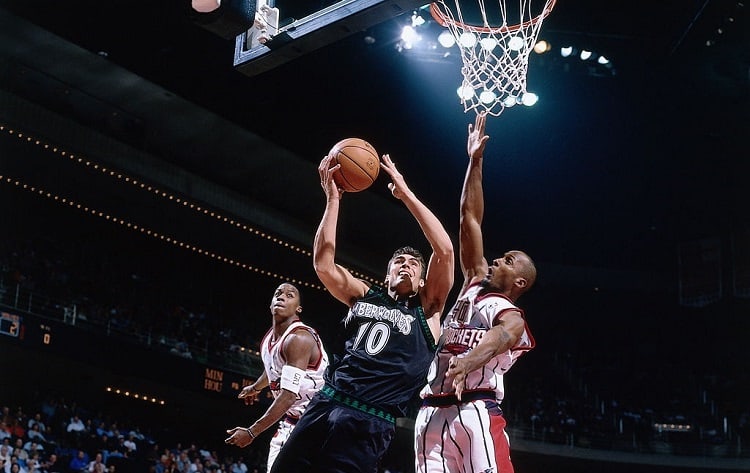 Wally Szczerbiak's net worth is said to be around $35 million. Over the course of his career, Szczerbiak made nearly $75 million, with his highest earning season being nearly $14 million in 2008-09 during his time with the Cleveland Cavaliers.
Wally Szczerbiak Memorable Quotes
"My philosophy is that any open look is an open look."
"Bottom line in this league is you've got to make shots. Especially in the fourth quarter."
"First of all, I try not to read the papers and not even get involved with it. Just focus on your job and what you're there to do. If it happens, it happens."
"It is not easy to play on the road in this league. We have to play a well-rounded, solid game to get over the hump."
"It doesn't matter who gets the shot in the fourth."
Wally Szczerbiak FAQ
Question: What College did Wally Szcerbiak Go To?
Answer: Wally Szczerbiak attended Miami University in Oxford, Ohio from 1995 to 1999.
Question: Is Wally Szczerbiak in the Hall of Fame?
Answer: While Wally Szczerbiak is not in the Naismith Basketball Hall of Fame, he has been inducted in the Miami University Hall of Fame as well as the MAC Hall of Fame.
Question: How do you Pronounce Szczerbiak?
Answer: The pronunciation is zer-bee-ack.