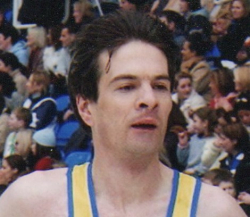 Latest posts by Stephen Hands
(see all)
Steve Borden is an American professional wrestler who is better known by his ring name, Sting. He is regarded as one of the greatest wrestlers of all time, with 15 world championship titles to his name. Instantly recognizable with his black and white face paint, Sting has maintained a successful professional wrestling career across five decades. During this time, he has made guest appearances in films and TV shows and has an estimated net worth of $10 million.
Steve Borden Quick Facts
Full Name

 Steven L Borden

Birth Place

 Omaha, Nebraska

Birth Date

 20th March 1959

Nick Name

 Sting

Nationality 

American

Siblings 

Jeff Borden

Children

 Garrett Borden, Gracie Borden, and Steven Borden Jr

Spouse

 Sabine Glenn

Professional

 Professional Wrestler

Net Worth

 $10 million

Awards 

2012 TNA Hall of Fame, 2016 WWE Hall of Fame

Last Updated 

October 2021
Steve Borden Birthplace and Early Life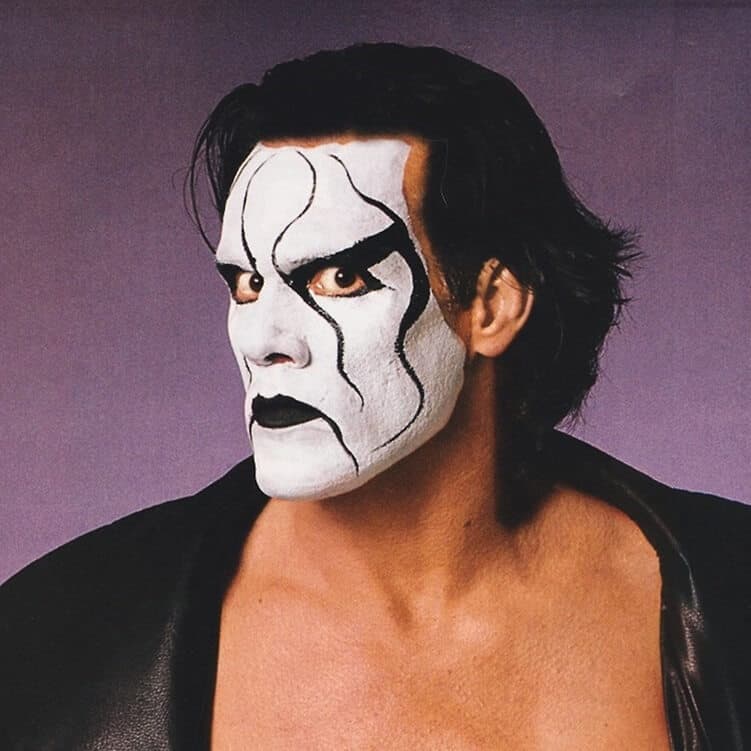 Steve Borden was born on 20th March 1959 in Omaha, Nebraska, before his family relocated to Santa Clarita in Southern California. Borden attended Peachland Elementary school before moving on to Placerita Junior High school and Hart High school. He developed his sporting interests while at school and was particularly keen on athletics, basketball, and football.
The future wrestler had not watched much wrestling at this point of his life as his family did not own a TV and became interested in bodybuilding instead. His body responded well to the training, and it was not long before he was competing in contests. Borden also helped co-found Gold's Gym Health club.
To this point, Steve Borden had not shown any inclination for wrestling, but that was soon to change. He was taken to a WWE wrestling event in Los Angeles featuring the likes of Hulk Hogan and the British Bulldog and was quickly hooked. It was at this moment a future wrestling champion was born.
Steve Borden Professional Career
Although famous for his wrestling stage name Sting, Steve Borden began his wrestling career under the name of Flash. In 1985 he joined the Continental Wrestling Association as part of a tag team with Jim 'Justice' Hellweg. The pair were known as the Freedom Fighters and learned their trade moving around various wrestling promotions.
By 1986 they had joined the Universal Wrestling Federation (UWF), and the tag team was more commonly known as the Blade Runners. Borden had changed his own name from Flash to Sting, but by the middle of the year, the tag team went their separate ways. Borden remained with the UWF until 1987, twice winning the UWF World Tag Team championship, once with Eddie Gilbert and once with Rick Steiner.
World Championship Wrestling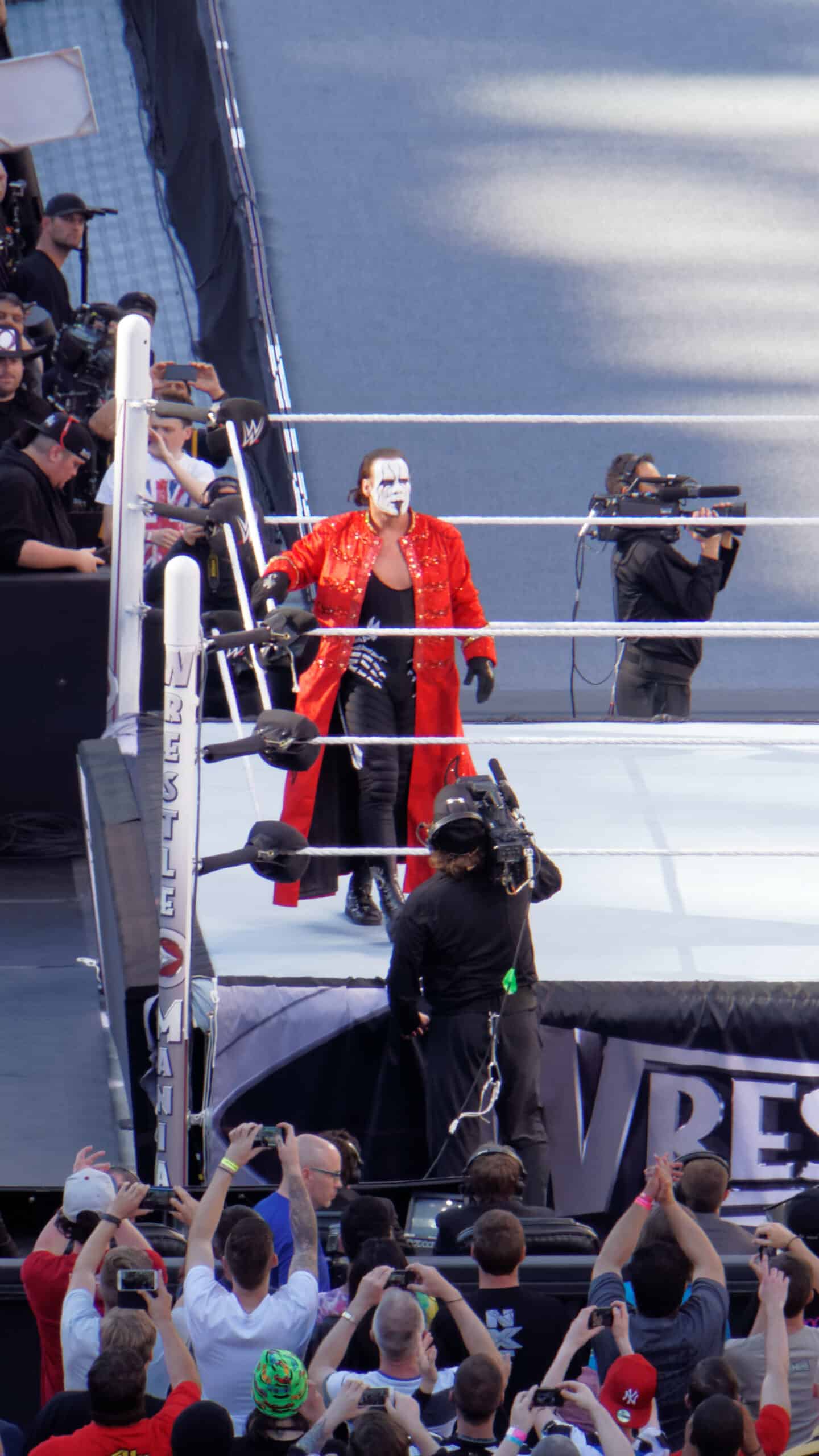 In 1987 Steve Borden, aka Sting, began his 14-year association with World Championship Wrestling (WCW). On March 27th, 1988, he took on Ric Flair in the Clash of Champions, matching his NWA heavyweight world champion opponent for 45 minutes before the match-up ended in a draw. However, this was enough for Sting to have made his mark on a national stage.
Following another draw at a time-limited event, Sting finally got the better of Flair at the Baltimore arena in July 1990 at the WCW Great American Bash. It was Sting's first NWA World Heavyweight Championship title, and although his reign came to an end in January of the following year, it would certainly not be his only World title.
In 1991 WCW split completely from the NWA to become an independent company, and in August 1991, Sting defeated Steve Austin to win the WCW US Heavyweight title. The same year saw what many feel is one of Sting's best matches when he teamed up with Lex Luger to face off against the Steiner Brothers at the WCW tag team championships. Sting and Lex Luger won this pay-per-view contest.
Sting won three tag team championships during his illustrious career with WCW. However, in February 1992, he won the first of his six WCW World Heavyweight titles, defeating his tag team partner from the previous year, Lex Luger. The next couple of years saw one of Sting's biggest rivalries develop as he clashed with Vader, with the heavyweight title swinging back and forth between the two.
In their first major clash Sting defended his WCW championship title against Vader in April 1992, although at the cost of a ruptured spleen and some broken ribs following a Big Splash by his opponent. Sting made a rapid recovery and was back for more at the Great American Bash. However, he lost his title to Vader after receiving a Powerbomb. Sting beat Vader once more at the King of Cable event in August in what is considered as one of his best ever matches.
Sting and Vader continued to face off against one another, carrying their feud across the ocean with title contests in Dublin and London. Along with Ric Flair and Lex Luger, Vader formed one of Sting's major rivalries in the early part of his career, one which was still going strong in 1994.
The Crow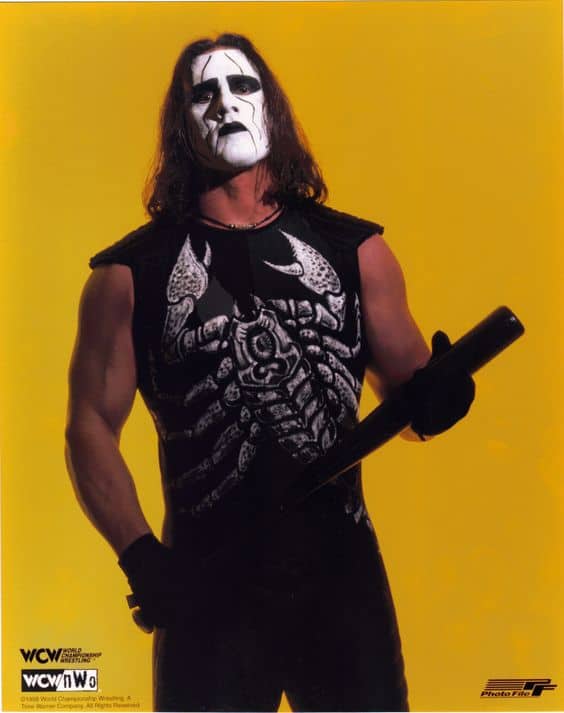 Sting was the first to take a stand against 'The Outsiders' Kevin Nash and Scott Hall in 1996, who had recently returned to the WCW from rival WWF, teaming up with Lex Luger and Randy Savage. This was the start of the 'New World Order' storyline, with Sting and his team members defending the WCW from the 'outsiders'
However, by 1996, Steve Borden had recognized wrestling crowds were demanding different, grittier characters to support and cheer. Up to this stage in his career, Borden's ring persona Sting had bleached blond hair, colorful face paint, and colorful wrestling tights. This was to change to a darker character as Borden introduced the Crow side of Sting.
Gone was the colorful Sting, replaced by dark, long hair, black and white face paint, and a long black trench coat for his entrance to the ring. To bolster the impact of this persona, nothing was heard from the new 'Crow' Sting for months at one stage. Instead, he would just be seen in the rafters watching, an ominous presence waiting to return.
Sting was fast becoming the face of WCW, and ratings grew to watch him descend from the rafters to challenge opponents or offer bizarre loyalty challenges. All this came to a head in a much-anticipated match against Hulk Hogan at Starrcade in December 1997. Sting was victorious in a controversial match after Hogan's initial win was reversed due to a 'fast' count by the referee.
Between 1999 and 2001, Sting won two more WCW World Heavyweight titles. However, in 2001 WCW went out of business, with WWE purchasing selected assets. It was the end of Sting's successful 14-year association with WCW.
Total Nonstop Action Wrestling
Following the demise of WCW, Steve Borden took some time away from the wrestling ring, returning toward the end of 2002. He toured Europe and Australia with the World Wrestling All-stars (WWA) before signing to Total Nonstop Action Wrestling (TNA) in 2003. He made his first appearance in June 2003 in a tag team with Jeff Jarrett as they beat A.J. Styles and Syxx Pac.
After initially signing a contract for just four appearances, Sting remained with TNA for 11 years. In 2003 he defeated former tag team partner Jeff Jarrett to claim the NWA World Heavyweight title. Sting's feud with Jarrett was a central theme of his early years with TNA. He would again defeat Jarrett in October 2006 to win his second NWA World Heavyweight championship. In all, he would win four world championships with TNA, despite his advancing years.
Sting took to the ring in late 2008 in the Bound For Glory match against Samoa Joe for the TNA World Heavyweight Championship. However, this was more than just a title contest, with the now veteran Sting looking to put one over his younger, upstart opponent. Sting won the contest, with a little help from old time rival Kevin Nash. This set the scene for the storyline involving the Main Event Mafia, where Sting and Nash fought alongside other WCW veterans to take on the younger wrestlers who fought under the banner of TNA Frontline
From 2009 Steve Borden started to tease the prospect of Sting's retirement. However, he was still one of the main attractions for viewers of TNA, and he was still enjoying his time with the company.  He even managed to win another TNA World Heavyweight Championship in 2011. 
From 2012 Sting was competing in the ring less frequently, and in January 2014, he entered the ring for the final time with TNA, losing to the TNA World Heavyweight Champion, Magnus.
WWE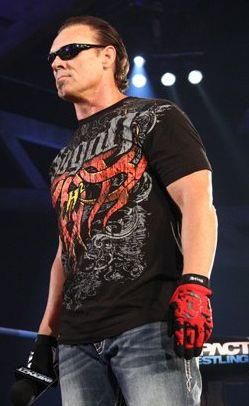 Sting joined WWE in 2014, having previously resisted the opportunity to work with them, and made his debut in November 2014 at the Survivor Series. In March 2015, Sting made his long-awaited debut at WrestleMania 31, but it was not a successful appearance as he lost to Triple X.
Steve Borden, aka Sting, was enrolled in the WWE Hall of Fame in 2016. This followed an injury suffered while challenging Seth Rollins for the WWE title in November 2015, an injury that prompted his retirement from the ring. For the remainder of his WWE contract, which ran until May 2020, Steve Borden carried out media appointments and interviews for the company.
All Elite Wrestling
Sting surprised the wrestling world by joining All Elite Wrestling (AEW) in 2020, coming out of retirement to appear at a tag team match. It is believed he has signed a multi-year deal with the company, and at the age of 62, he was considering wrestling once more. Indeed, Sting teamed up with Darby Allin at AEW's Double or Nothing event in May 2021, defeating Scorpio Sky and Ethan Page.
Steve Borden Epic Matches
Steve Borden was involved in many epic matches across his long career, both in one-on-one competition and as part of a tag team. Every fan will have their favorites, but the following are three of his greatest matches.
Clash of Champions 1988
One of Sting's great rivalries from the very start of his career was with Ric Flair. The pair would enthrall fans with some epic encounters, but perhaps none more so than when they met at the Clash of Champions in 1988, their first major encounter. Flair entered the ring as the defending NWA champion for this 45 minute timed match, but Sting would leave it a new star of the wrestling world.
The match ending as a draw may have disappointed some fans who expected a winner to be declared, yet for most this does not detract from the match itself. The young upstart Sting matched his experienced opponent as they put on a wrestling classic in front of the live television cameras. The Wrestling Observer Newsletter awarded the clash match of the year, and although a draw, there can be little doubt Sting walked away a winner as the new face of the WCW.
Superbrawl 1991
Of all Sting's tag team partners, the pairing with Lex Luger is considered by many to be the best. For a while they were friends and this seemed to make the partnership feel more real and natural. At the 1991 Superbrawl, Sting and Lex Luger faced off against the top team at the time in the WCW, the Steiner Brothers. The four would produce a wrestling classic as they battled for the WCW tag team championship.
It was not a long match, but it was certainly all-action, with a lot of power moves from both teams which saw the match swing back and forth. The Steiner Brothers would ultimately win in a match which once again proved the value of tag team wrestling. Sting and Lex Luger would carry on teaming up until 1996, although they did appear together again in 1999 when Luger stepped in to help Sting during a match with Hulk Hogan.
Starccade 1992
Another of Sting's legendary rivalries was with Vader, and the clash in Atlanta at the 1992 Starccade is for many their best match.  This was the final of the King of Cable tournament, with the fan's favorite Sting looking to overcome the imposing and dominant figure of Vader. Sting took the match to his bigger opponent with lots of high-flying moves to come out with the win.
Considering the two wrestlers had already performed in tag team qualifiers earlier in the evening, they managed to put on a show for the watching fans. However, the night was still not done for both these men, as they were required to wrestle for the third time in the Battle Bowl battle royal. It was certainly a full-on night, but the dual between Sting and Vader was the highlight of the night and the highlight of their rivalry.
Steve Borden Video
Steve Borden began his professional career as one-half of the Blade Runners tag team.
 Steve Borden, aka Sting, won his first title at the Great American Bash in 1990.
Fans waited a long time to see Sting in the WWE.
Sting comes out of retirement, returning to the ring at AEW Dynamite.
Steve Borden Family
Steve Borden married Sabine Glenn in 2015, who is his second wife. Sabine Glen is a former personal trainer who has also been previously married. She has two children from her former marriage.
Borden's first wife was Sue Borden, nee Himes, with the couple marrying in 1986. They had three children, Garrett, Gracie, and Steven Jr, but divorced in 2010. Both sons gravitated toward football and played for their respective colleges, Garrett at Azusa Pacific University and Steven Jr at the University of Kentucky. Steven Jr was selected to try out for the Kansas City Chiefs but was not subsequently offered a contract.
Steve Borden's brother, Jeff, is a pastor. In 1998 Steve became a born-again Christian at the peak of his wrestling career when all the negative aspects of fame threatened to derail his life. The two brothers have always retained a close connection, and Steve Borden became an elder at the Santa Clarita Church on the Rock, where his brother was a pastor.
Steve Borden Net Worth
Steve Borden is estimated to have a net worth of $10 million. Much of his wealth was earned from a highly successful wrestling career, where he is regarded as one of the best wrestlers of all time. He is a box office name and has featured in the major title championships and pay-per-view wresting events across his long career.
However, Borden has also earned away from the wrestling ring. He has made a number of appearances in acting roles, debuting as an assassin in the TV show Super Force in 1991. He also made a guest appearance in the popular show Walker, Texas Ranger, as well as in Thunder in Paradise, which featured another wrestling legend in Hulk Hogan.
Steve Borden also published an autobiography in 2004, titled 'Moment of Truth.' The book charts his rise to fame, the problems which accompanied it, the toll this took on his family, and the moment he became a born-again Christian.
Steve Borden Bio FAQs
Question: How Old Is Steve Borden?
Answer: Steve Borden was born on 20th March 1959 in Omaha, Nebraska, and is 62 years old.
Question: How Many World Championship Titles Has Steve Borden Won?
Answer: Steve Borden has won 15 world championship titles across the various wrestling associations.
Question: Has Steve Borden Suffered a Serious Injury?
Answer: Steve Borden suffered a serious knee injury at the Clash of Titans event in 1990. He tore his patella tendon and needed reconstructive knee surgery. An injury in 2015 prompted his retirement from the ring, but after a hiatus of five years, he returned after signing for All Elite Wrestling.
Question: When Did Steve Borden Become Sting?
Answer: Steve Borden took on the ring name of Sting in 1986, having started his career as Flash. Initially, he was colorful in appearance, including bleached blond hair, before taking on the more menacing 'the Crow' Sting character, with its signature black and white face paint.
Research
Read related bios and articles: