Latest posts by Pro Sports Bio Team
(see all)
Some of the greatest wrestlers have left their mark in the squared circle over the years. A generation later, their children would carry on their legacy by carving out an illustrious wrestling career of their own. Back in the day, the names of Cowboy Bob Orton, Ric Flair, and Dusty Rhodes achieved their success. At the same time, they paved the way for their children to become pro wrestlers in their own right.
Another wrestling legend can take credit for this as well. For those that remember 'The Million Dollar Man' Ted DiBiase, his trademark laugh and Million Dollar Championship, among many other accomplishments, is a link to his legendary career. His son, Ted DiBiase Jr., worked to carry on the DiBiase name in pro wrestling during his time with World Wrestling Entertainment.
DiBiase's career in wrestling lasted from 2006 to 2013. However, his mental health had made him rethink where to go after his contract expired from WWE. Though he says he is retired from professional wrestling, he has hinted that he's still leaving the door open. Will he return to WWE? Or will he reach out to an old friend and make an appearance as a member of AEW? Only time will certainly tell if wrestling is still something that Ted Jr. wants to do.
The DiBiase name is no stranger to pro wrestling. Ted Jr's grandparents were pro wrestlers themselves. While his career may not have been as illustrious as his father's at this point, he proved himself that he was born to be a pro wrestler. Outside of wrestling, DiBiase Jr. landed a few acting roles. So what's Ted DiBiase Jr. doing today?
Let's dive into the life and career of Ted DiBiase Jr.
Ted DiBiase Jr. Quick Facts
Full Name: 

Theodore Marvin DiBiase Jr.

Birthdate:

November 8, 1982

Nicknames:

Ted

Nationality: 

American

Siblings: 

Brett, Mike

Wife: 

Kristen

Profession: 

Professional wrestler, business administrator

Salary: 

N/A

Net Worth: 

$4 million

Social Media: 

N/A

Awards: 
Early Years
Theodore Marvin DiBiase Jr. was born on November 8, 1982, in Baton Rouge, Louisiana. He was raised in Clinton, Mississippi. His father was professional wrestler Ted DiBiase. He is one of three children from the elder DiBiase's marriage with his current wife, Melanie. The younger DiBiase grew up around professional wrestling.
During his childhood, he attended Sunday School with Christie Ricci, who eventually would become a professional wrestler in her own right. In his high school years, DiBiase Jr. played quarterback for the Clinton High School football team until his graduation in 2001.
He attended Mississippi College, where he played on the football team as a wide receiver for one year. DiBiase Jr. also played soccer while in school. While he contemplated the idea of becoming a Christian minister, DiBiase Jr. graduated with a degree in business administration.
Career In Professional Wrestling
Shortly after graduating college, DiBiase Jr. was training to become a professional wrestler with his older brother Mike. Both have trained in Amarillo, Texas, under the tutelage of Chris Youngblood. They eventually attended the Harley Race Wrestling Academy in Troy, Missouri. Ted Jr. and Mike made their debut on July 8, 2006, wrestling with the World League Wrestling promotion.
In 2007, the DiBiase brothers captured the Fusion Pro Tag Team Championship. DiBiase Jr. would also wrestle in Japan for Pro Wrestling Noah later on that year. In the summer of 2007, DiBiase Jr. signed a developmental contract with World Wrestling Entertainment (WWE).
World Wrestling Entertainment (WWE)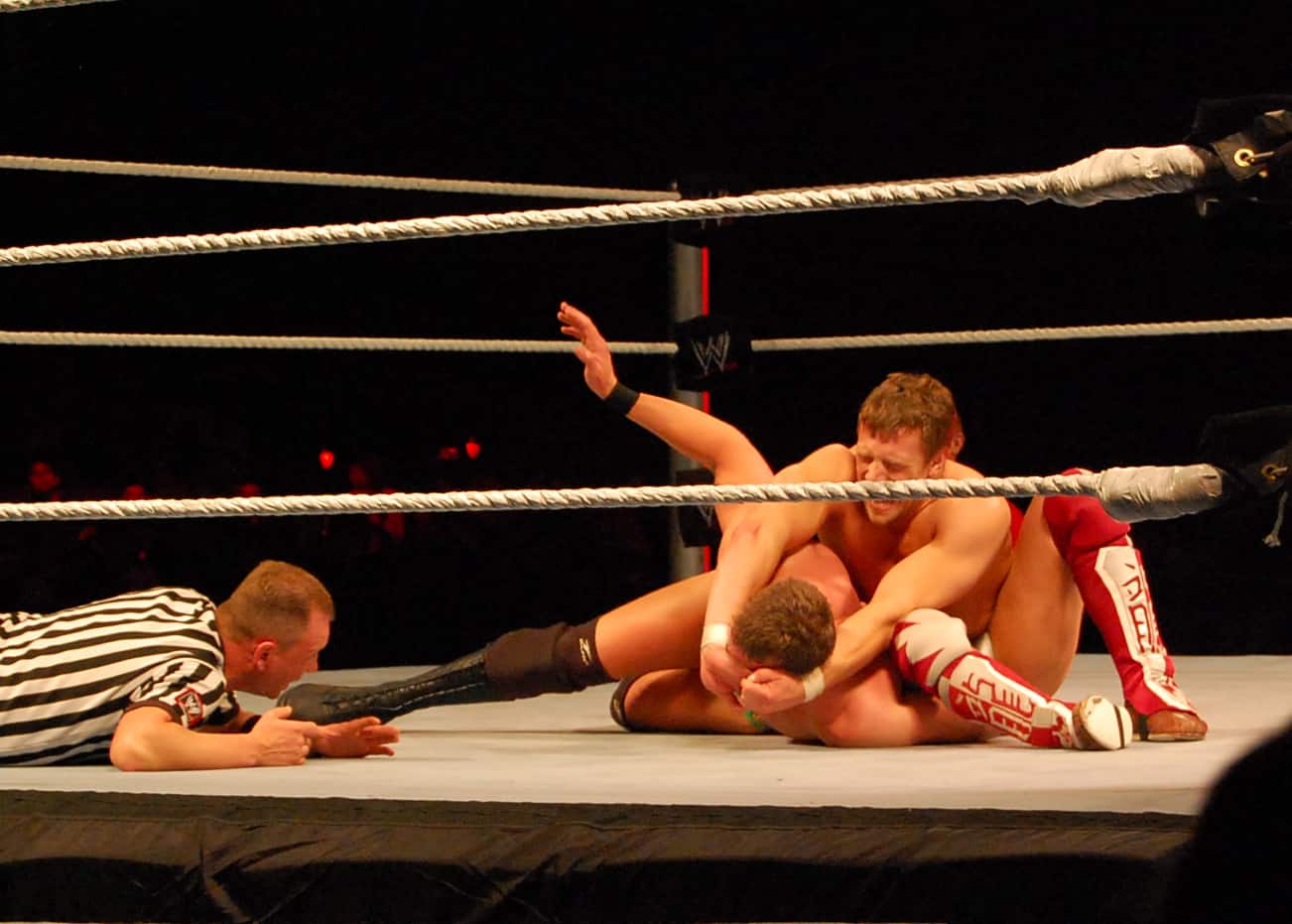 Shortly after signing his deal, DiBiase Jr. began training in WWE's farm league, Florida Championship Wrestling (FCW). He made his debut on August 4th in a tag team match. Months later, he joined a faction known as the Next Generation Hart Foundation, which consisted of younger members of the legendary Hart family, including Harry Smith, Nattie Neidhart, and Teddy Hart.
After leaving the faction, DiBiase became the FCW Southern Heavyweight Champion after defeating TJ Wilson (later known as Tyson Kidd). However, an injury would prevent DiBiase Jr. from defending the title. The title was transferred over to Heath Miller, his tag team partner, in 2008.
For the first part of 2008, DiBiase would not compete regularly due to a series of injuries. However, he would make his WWE debut later that year as a heel. On May 26, 2008, he made an appearance on Monday Night Raw, discussing that he intended on becoming a championship wrestler like his own father.
His first title shot involved the World Tag Team Championship. Originally, DiBiase would face off against Cody Rhodes and Hardcore Holly for the title with a mystery tag team partner. However, Rhodes would turn against Holly and team up with DiBiase Jr. to become the tag team champs at Night of Champions. DiBiase Jr. and Cody Rhodes, the son of Dusty Rhodes, formed 'The Legacy.'
The Legacy added a third member to the group in multiple-time world champion Randy Orton. Before Orton joined the group, DiBiase and Rhodes lost the tag titles to CM Punk and Kofi Kingston. Orton's role was more of a mentor-type to the younger Legacy members. Orton would soon attack DiBiase on an episode of RAW as a result of the latter interfering with his match.
This was considered to be part of a storyline as DiBiase was written out partially so he could film The Marine 2 in Thailand. DiBiase returned to the WWE on January 12, 2009, when he teamed up with Sim Snuka, the son of Jimmy "Superfly" Snuka, and Manu to take on Orton and Rhodes. However, DiBiase turned on the second-generation Samoans to rejoin The Legacy.
The Legacy and the McMahon family entered a scripted rivalry. Meanwhile, The Legacy also competed in various matches that involved Randy Orton's rivals. These included six-man tag and handicap matches. On April 26, 2009, The Legacy helped Orton secure the World Wrestling Entertainment (WWE) Championship.
Later that year, DiBiase Jr. suffered an injury to his arm when WWE was on tour in Australia. But he continued to compete. The Legacy continued to challenge Orton's rivals, including Triple H, throughout much of 2009. Triple H would soon team up with Shawn Michaels to bring back the legendary D-Generation-X for a match at Summerslam. DX defeated The Legacy in the first of many high-profile matches.
At Breaking Point 2009, The Legacy defeated DX in a Submissions count anywhere match. In the rubber match of their storied rivalry, DX got the last laugh as they defeated The Legacy in a Hell In A Cell Match at the eponymous PPV in October 2009.
At the start of 2010, The Legacy was showing signs of disintegrating. Orton turned on DiBiase and Rhodes after he failed to win the WWE Title at the Royal Rumble. The following month, DiBiase earned his shot at the WWE championship by defeating Mark Henry in a qualifying match for the Elimination Chamber pay-per-view.
At the pay-per-view, DiBiase eliminated Orton but was eliminated himself after being pinned by Kofi Kingston. The following night on an episode of Monday Night Raw, the feud between Orton and The Legacy intensified. This set the stage for a triple threat match between each other at Wrestlemania XXVI in Phoenix, Arizona. This marked the end of The Legacy.
At some point after Wrestlemania, DiBiase Jr. repackaged himself in a gimmick similar to his father's, including becoming the self-proclaimed "Million Dollar Champion." In an attempt to become something similar to his father, DiBiase Jr tried finding his version of "Virgil." Virgil was the name of "Million Dollar Man" Ted DiBiase's servant during his WWF years. The younger DiBiase sought out R.Truth for the job, ending up being a feud when the latter refused.
In 2010, DiBiase suffered a concussion but was able to complete it the next week. In September of that year, he entered a feud with Goldust for the Million Dollar Championship after the latter 'stole' the title. On November 15, 2010, Goldust had given the Million Dollar Championship to Ted DiBiase Sr, who tried to give it back to his son. The younger DiBiase refused the title and made his intentions known that he was going after another belt. Later that night, he challenged Daniel Bryan for a shot at the WWE United States Championship. He lost his match to Bryan at Survivor Series.
DiBiase became a Pro mentor to the young talents of NXT during its fourth season. He also became a member of the SmackDown brand, where he lost his debut match against Cody Rhodes. The following year, DiBiase had turned into a fan favorite after attacking Rhodes and challenging the latter to a match for the WWE Intercontinental Championship. He lost the match at Night of Champions.
DiBiase also began a new gimmick known as the "DiBiase Posse," where he hung out with fans and held tailgating parties before each show. This led to a feud with Jindar Mahal, who shamed DiBiase for associating himself with commoners. The feud was short-lived, with Mahal defeating DiBiase on an episode of Smackdown. For much of 2012, DiBiase was involved with several feuds while also suffering a few injuries. He underwent shoulder surgery in March 2012.
He returned to the Night of Champions Pay-Per-View in September of that year to participate in a battle royal for the United States title. He only appeared once on television in 2013 on an episode of WWE Superstars. It ended up being his last match when his contract expired on September 1, 2013. DiBiase cited that he was suffering from anxiety and depression.
Recently, DiBiase Jr. disclosed that despite his mental health battles, he was slated to sign a generous long-term deal with WWE. Instead, he chose to not only focus on his mental health but he was also focusing on becoming a father as well. He stated that he was excited at the prospect of raising his son and watching him grow up. DiBiase said that it would have been impossible had he stayed with WWE as it would have involved being on the road almost constantly.
Wrestling as an Independent
After leaving WWE, DiBiase went independent. He appeared at a Family Wrestling Entertainment event in October 2013 and defeated Colt Cabana in a match. He also appeared at a wrestling show promoted by Tommy Dreamer named House of Hardcore 3.
He did not wrestle again until 2016 when he wrestled in two matches for Pro Wrestling EGO in his home state of Mississippi. Recently, DiBiase was asked whether or not he was retired from wrestling for good. He said that even though he is, he said that he'd be lying if there wasn't an itch.
He added that he was keeping the door open for possible wrestling appearances. He added that despite wrestling being a deep-rooted part of who he is, his relationship with the sport was described as a 'love-hate relationship. As of 2021, there is no word on if he'll ever return to WWE or possibly AEW, where his old tag team partner Cody Rhodes is mostly running the show.
Outside of Wrestling
Aside from wrestling in WWE, DiBiase started the Ted DiBiase Foundation. The foundation focuses on life-threatening illnesses and disabilities, allowing them to meet him at live events. The program also focused on youth leadership and community improvement. He also got involved with his father's Christian ministry, the Heart of David Ministry.
Controversy had recently shrouded the Heart of David Ministry when it received millions of dollars in welfare funds from the state of Mississippi. This led to criminal charges against Ted Jr's brother Brett, who worked for a state department responsible for such welfare funding.
Both Ted Sr. and Ted Jr. were not tied to any wrongdoing but were also ordered to repay the State of Mississippi for misappropriating welfare funds. This included Ted Jr. paying nearly $3.9 million while his father would pay over $700,000. The state ordered them 30 days to pay back the money or face further penalties.
This controversy was first brought to light in February 2020 when Sports Illustrated ran an article about the welfare scandal. Brett DiBiase was arrested on embezzlement charges and was fired from his job with the Mississippi Department of Health Services.
Despite his departure from the department, the Heart of David Ministry continued to receive payments. Ted Jr's role with Heart of David was as a motivational speaker for the ministry and speaking at area schools. Aside from his responsibilities, he also served as a vice president of business development for an unknown insurance company in Mississippi.
Ted DiBiase Jr Family and Relationships
Ted DiBiase Jr. is the son of Ted DiBiase Sr. and Melanie DiBiase. He has two brothers, Brett and Mike. His grandparents were 'Iron' Mike DiBiase and Helen Hild; both were wrestlers in their own right. He is married to Kristen, and they have two children. The couple had a child by had died at birth at some time around 2015.
Ted DiBiase Jr. Net Worth and Salary
Ted DiBiase Jr. might be more than a million-dollar man in his own right. As of 2021, his estimated net worth is said to be around $4 million. It is unknown what his salary was in WWE.
Ted DiBiase Jr Memorable Quotes
"I'll say yeah. As of today, I'll say yes. But if somebody called me, I'd be lying if I said if there wasn't an itch." (On whether or not he's retired from pro wrestling)
"Never stop growing and never stop learning. I think during my time with WWE, I look back at how focused I was."
"I was offered another 5-year deal. It was generous, but when it came down to it, I was battling some mental health issues. I believe the greatest asset we have in our world is time. You're not guaranteed more, and you can't get it back. That was one of the greatest gifts I could give my son."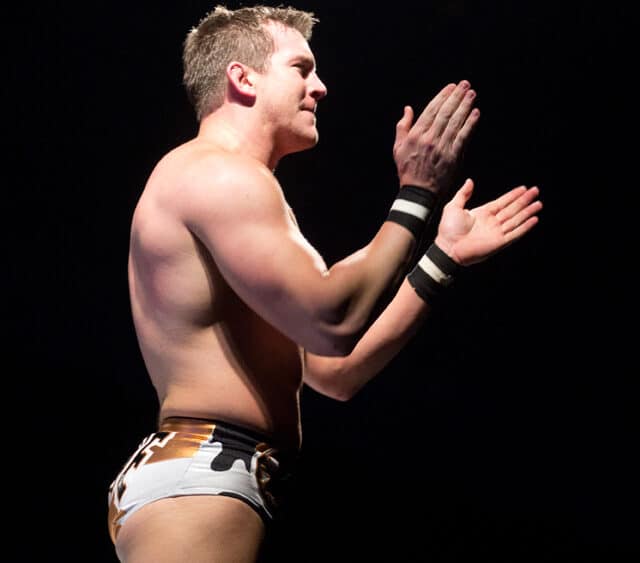 Ted DiBiase Jr Bio FAQs
Question: How tall is Ted DiBiase Jr?
Answer: Ted DiBiase Jr is listed at six feet, three inches tall.
Question: What happened to Ted DiBiase Jr?
Answer: After leaving WWE, Ted DiBiase Jr. decided to focus on being a father. He had a son in 2012. Ted Jr. and his wife had another son in 2015 but died shortly after birth. He also has a daughter with his wife, Kristen. He helps out with the Heart of David Ministry that is run by his father. He traveled across the state of Mississippi as a motivational speaker, usually giving such speeches at schools. He was also the vice president of business development at an insurance company at one point.
Question: Is Ted DiBiase a millionaire?
Answer: Even though Ted DiBiase Sr had his 'Million Dollar Man' gimmick, his net worth was estimated at around $1 million. So aside from his wrestling gimmick, he may be a million-dollar man in real life long after he departs from the WWF in 1996.