Latest posts by Pro Sports Bio Team
(see all)
There are college basketball players each with their own unique background story. They may also be known for sporting a unique look. But at the end of the day, they prove that they have unrivaled talent. They work hard and make their mark on the hardwood. Some make it to the pros in the NBA or overseas and have an illustrious career. Others may attempt the pros, but they peter out in the end and fade into obscurity.
While Meechie Terry is in the middle of his college basketball career, it's only a matter of time until his play can thrive at the next level. At this point in time, he's got plenty of opportunities to play hard and put himself on the radars of pro scouts. Terry's background may be a story worth listening to. While he had gone through some hard times, he found his passion in the sport of basketball.
But what makes Meechie Terry stand out isn't just his talent. He also sports a unique look. And it has earned him a nickname that he may have come to embrace over time. While there's a good chance he might not shave his head anytime soon, he's a name in basketball to watch. Currently playing for the Cleveland State Vikings, Meechie Terry has plenty of opportunities to lead his team to the Big Dance.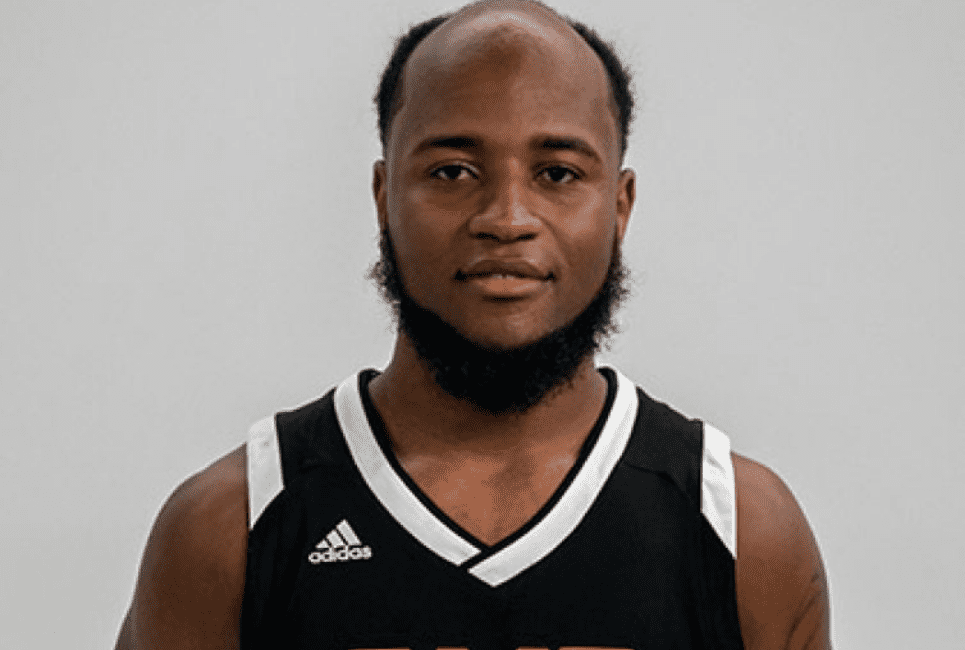 On the court, Meechie has a fiery attitude and the talent to back it up. And it has won him some fans over the course of the last few years. Despite the hecklers commenting on his hairstyle, he carries himself in a way that has earned him the respect of coaches, players, and fans everywhere. Will we see a more intense competitive Meechie Terry in the future? It's possible, but don't count him out at all. Or he will probably get up in your face and trash talk at you fairly quickly.
Terry may also be known for successfully going toe to toe with some of the best basketball talents in the country. While he's in the middle of what could be a promising basketball career at the college level, Terry believes he can play at the next level. In this Meechie Terry Bio, we'll dive into the life and career of a name that you should be watching in college basketball (whether you're a fan of his team or not).
Meechie Terry Quick Facts
https://www.youtube.com/watch?v=Wasa-CRb9bU
Name: Demetrious Terry
Birth date: October 16, 2000
Nicknames: Meechie, Bald Head
Nationality: American
Siblings: Brian Simmons
Spouse: N/A
Profession: College basketball player
Salary: N/A
Net Worth: N/A
Social Media: meechie.terry (Instagram), @MeechieTerry (Twitter)
Awards: N/A
Early Life and Career
Demetrius Terry was born on October 16, 2000 in Cleveland, Ohio. During his childhood, he found basketball to be one of his biggest strengths. His mentality and toughness made him a one of a kind talent. However, his unique 'bald head' look included having some hair on his head. His social media accounts had comments that he believes fueled his ability to play ball and play hard.
These comments include questioning his age, his unique hair style, and more. Because of his unique hair style, he earned the nickname 'Bald Head'. It seems as though he embraces the nickname as he states that his look will not get the best of him. His attitude of playing hard and locking up opposing players is what matters most to him.
Aside from basketball, Terry played football and soccer during his time at St. Edwards. He excelled at these sports as well. However, during his freshman year in high school, he was attempting a dunk during a game of basketball when someone made contact with him. The impact threw him off and he fell hitting his head hard enough to cause a seizure. According to Terry, this prevented him from playing football. He said that if he ever came in contact with such a hard hit that he wouldn't know if he got hit and what would happen after that.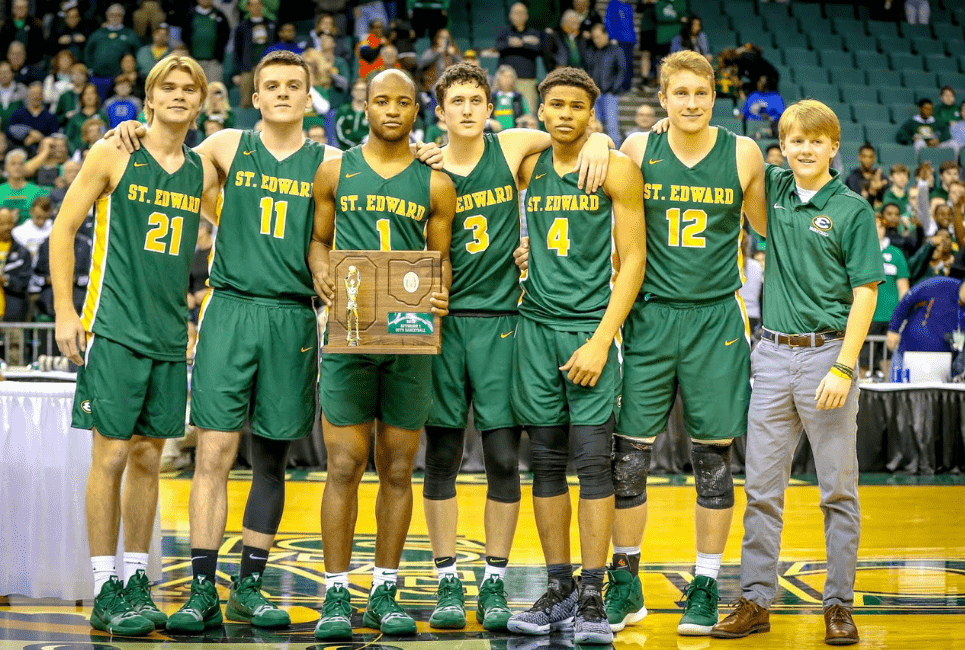 In a video interview with the YouTube channel 'Overtime', he also talks about his famous showdown with LaMelo Ball. In one game, Terry was defending against Ball and made an attempt to steal. A foul was called on Terry. In the next possession, Ball appeared to play aggressively enough to draw himself an offensive foul.
In his final season with St. Edwards, Terry was part of a team that led the Eagles to an appearance in the Ohio State Final Four. The team made it to the finals in two years with Terry being an instrumental player. In Terry's senior season, they were beaten by Archbishop Moeller of Cincinnati. After the game, Terry was given an emotional sendoff.
During his high school years, he played for DME Academy in Daytona Beach, Florida and St. Edward's in Cleveland. During his time with DME, Terry played in the 2019-2020 season for the post grad program. He scored a total of 174 points, 28 steals, 73 assists, and 59 rebounds. According to Terry's bio on the DME website, he plays every game hard. He adds that his father is confined to a wheelchair and has become his source of inspiration to play hard every day.
Before his DME days, Terry was slated to play for a prep school in Minnesota. However, that failed to materialize as the school did not have housing for him, thus he ended up in a homeless shelter. But he still managed to put in the work at the gym before returning to the shelter. Rather than stay in Minnesota, DME took the opportunity to recruit Terry and he was on his way to Florida.
Since his time with DME, he had been looked at by Division I basketball schools. One in particular was Cleveland State. At the time, Cleveland State was hot off the heels of a losing season. They had finished with a record of 11-21 (including a 7-11 record in the Horizon League conference). Also, the basketball program had a new coach in Dennis Gates. Terry and Gates had connected in the past summer. They didn't meet in person until after one of Terry's games at DME. The meeting between the pair gave Terry his opportunity to return home to Cleveland to further his basketball career.
It wasn't long until Meechie Terry joined the Cleveland State Vikings, which boasted an impressive recruiting class. Gates also included Dru Joyce III to his coaching staff. Joyce III played for St. Vincent St. Mary alongside LeBron James in high school. The Joyce name brings a solid local connection in building Cleveland State into a team that could be a threat to the big school programs (with Terry included in its plans). Eric Flannery, who was Terry's coach at St. Edwards said that Gates liked what he saw in Meechie.
Flannery also added that Terry's tough background makes him even stronger. And that it was a source of his emotion and passion when it comes to playing basketball. Flannery said that for Gates, Terry is 100 percent committed and passionate. It looks as though Gates and the Cleveland State Vikings have hit the lottery with such a player. Someone who may be willing to leave it all on the court no matter what.
Terry made the official commitment in 2020 to play for Cleveland State. His major would be in communications. He made his final decision to commit after attending a home game when the Vikings played DePaul. With thanks to Gates and his willingness to find good talent, he made Terry's dream come true. That dream was playing basketball in Cleveland, no matter what level it was.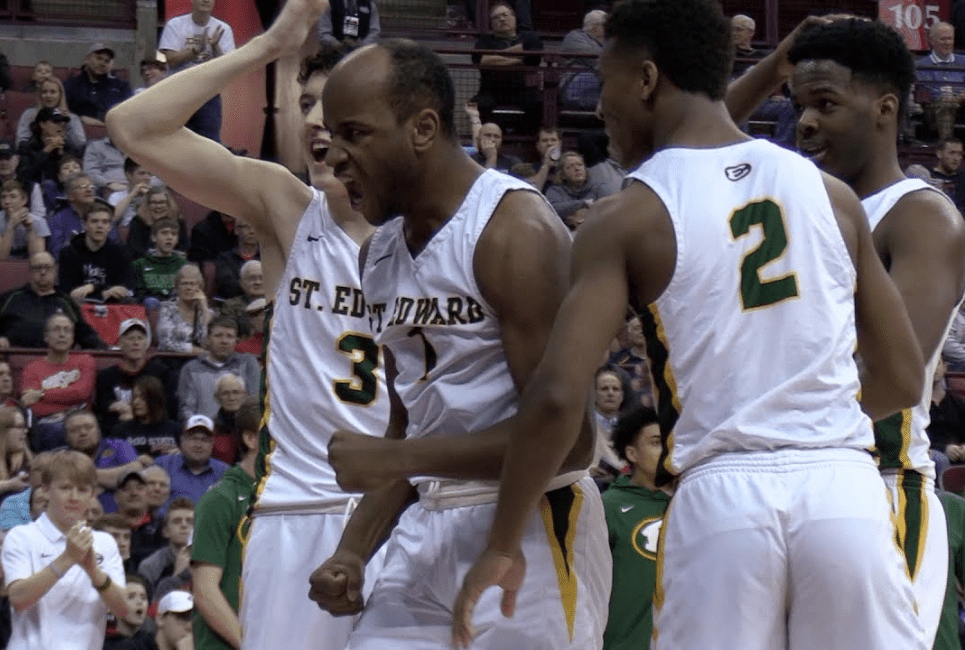 Terry's commitment announcement was planned for 2020, but he had delayed it due to various events including the COVID-19 pandemic and the events surrounding the deaths of George Floyd and Ahmaud Arbery. Terry committed as a walk-on. After the commitment, Gates said that Terry comes from an area that is rich in basketball talent. Gates added that Terry is a tremendous athlete that will be a great representation of the team on and off the court.
According to high school scouting reports, Terry had averaged 14 points per game on 49 percent shooting. He also had 2 steals per game. On four separate occasions, Terry managed to score 20 or more points in a game. Flannery said that Terry is one of the toughest players ever to suit up for the St. Edward High School Eagles. He added that Terry's relentless effort on the court makes him a great fit for Cleveland State.
Even before his commitment to Cleveland State, Terry seems to have built himself quite a following. Whether it's his talent, his unique style or both, there are self proclaimed 'card-carrying' members of the Meechie Terry Fan Club.
One blogger who writes for ProSportsExtra.com says that even with a regressing hairline and a beard that an 'Amish man would fawn over', he was stunned that Terry did not get more national coverage like some of the other players. He also described Terry's 'don't care' attitude as the reason why he may be the player that is fun to watch.
Some of DME's coaches in the beginning knew little about Terry until they saw his highlights on social media. According to one of his coaches, Terry is an in-your-face, high intensity type of player. Another coach added that Terry's intensity and approach to every game like a war is what defines him best.
One of Terry's favorite players was Kobe Bryant. He owns a few pairs of sneakers based on the NBA legend's designs. He pays tribute to Bryant with one of his shows, etching the numbers '8' and '24'. According to some of his teammates at DME, Terry was known for drawing crowds during their games.
They often describe his off the court behavior as a funny guy, despite his intense attitude and commitment to the game of basketball. He usually reserves his trash talk, no nonsense attitude on the court. Terry says that he gets along with everyone including his teammates.
Some of his teammates and basketball fans have compared Terry's talents to some NBA players. One name frequently mentioned is Patrick Beverley. The DME coaching staff agrees that Terry would be a tremendous asset to any college basketball program that would take on him. The Cleveland State Vikings for all we know are the lucky beneficiaries of such an excellent talent with an intense, can-do mindset.
Playing for Cleveland State
Meechie Terry suited up for the Vikings in his first year, playing 21 games. In his first game against Toledo, he scored four points along with one steal and one rebound. His total playing time was ten minutes. He wrapped up his campaign with an average of three points and one assist per game.
Some of his notable highlights during the year included two assists and one steal, which he did twice. He first accomplished this in a game against the Ohio University Bobcats and again nearly three weeks later when they faced off against the Youngstown State Penguins.
He snagged two rebounds against Purdue-Fort Wayne. Off the court, Terry was able to perform well academically. During the fall and spring semester, he was named to the Dean's list. With his sophomore season coming right up, only time will tell as to how much playing time he'll get.
Who is Meechie Terry's Style of Play Best Compared to?
According to his DME teammates, the one player that may be best compared to Meechie Terry is Patrick Beverley of the Minnesota Timberwolves. Both Terry and Beverely are the same size. Beverley was once quoted that he goes out every game and tries to be the best defender on the planet. The same attitude can be exuded from Terry. Both are terrors on defense and have been productive for this reason.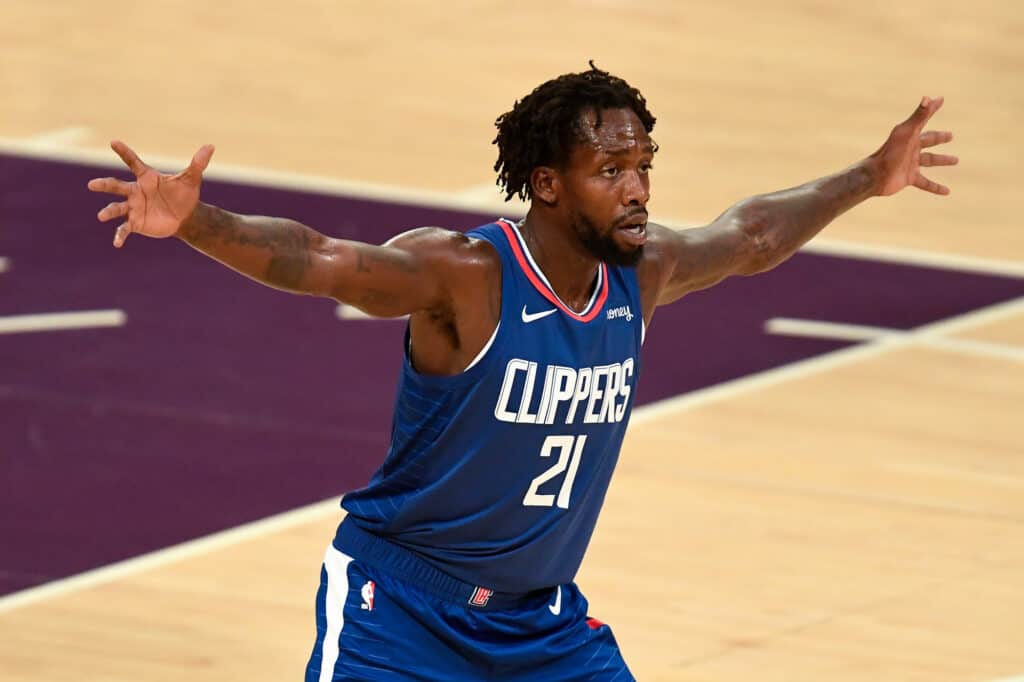 Meechie Terry Family and Relationships
Meechie Terry is the son of James Evans. The name of his mother is unknown. It is said that he has one brother named Brian Simmons. Simmons resides near Seattle and is currently serving in the United States Army. Terry has credited both of them for his success in Basketball. During his two week ordeal in Minnesota, Simmons had assisted Terry in getting him out of there and making his move to Florida possible.
James Evans is confined to a wheelchair. Terry says that he plays for his father because he wants to make him proud.
Meechie Terry Net Worth and Salary
There is no information regarding Meechie Terry's net worth and salary at this time.
Meechie Terry Memorable Quotes
"You can't check me. I'm too good for you."
"I got phone calls and messages telling me that I was going to play LaMelo (Ball). Everyone was hyping him up. I was looking at it like it was just another game."
"I'm not gonna let nobody punk me out of my game. Take defense first and lock everybody up."
"I'm not gonna lie. I look at the comments and DMs on social media and I just laugh at it. People tell me I should shave my head. And I tell them 'no'. I'm not insecure about myself."
"What makes me different is I take defense real personally. You're not scoring no buckets on me."
Meechie Terry FAQ
What year of college is Meechie Terry currently in?
Answer: Meechie Terry is currently a sophomore at Cleveland State University. His major is communications.
Question: How tall is Meechie Terry?
Answer: Meechie Terry is listed at six foot even.
Question: What position does Meechie Terry play?
Answer: Terry is a point guard.
Question: When did Meechie Terry go bald?
Answer: According to a recent Tweet from Terry, he said that he started going bald at around the age of 14. Because of this, he said that he fully embraced it. He also inspired him to start the movement known as the 'Bald Fam'. He also added that people should embrace the differences people have and never let anyone change themselves for who they are.
Question: Will Meechie Terry go pro?
Answer: Even though Terry is a sophomore in college, it may be a bit too early to tell. As Terry was a walk-on, it may take awhile to make the determination as to whether or not he will be pro ready. He may make the most of his four years at Cleveland State to build a solid enough case for an NBA team to draft and sign him. With his passion and dedication, it sounds like he's serious about taking his game to the next level.
Question: Does Meechie Terry have an NIL deal?
Answer: At this time, Terry does not have an NIL deal. However, with the new policy seemingly in place, it may seem like a good opportunity for Terry to make the most of it if he feels like it. NIL is a policy that uses the images or likeness of NCAA athletes. For example, it will grant permission to those who may create video games and other products while using a student athlete's image and likeness. Athletes will likely be compensated for this as part of the deal.
Question: Can Meechie Terry dunk?
Answer: Even at six foot even, Meechie Terry has shown that he's got the vertical ability to pull off dunks.
Question: Did Meechie Terry play other sports in school?
Answer: Meechie Terry played football and soccer during his time at St. Edward's. He focused solely on basketball later on in his high school career.