Latest posts by Pro Sports Bio Team
(see all)
Throughout the 1980s and 1990s, there have been memorable names in pro wrestling. Hulk Hogan, Andre the Giant, and Ric Flair are among the handfuls of wrestling legends that made their mark in those decades. But one other name that is unforgettable for old-school wrestling fans is Lex Luger.
Known for his muscularity, his wavy blonde hair, and his painful Torture Rack finisher, Luger, made his presence known in professional wrestling both in the WWF and WCW. He has won numerous championships (including winning the World Championship Wrestling World Heavyweight Championship twice).
He's been involved in memorable feuds during his years as a professional wrestler. Name the wrestler, and he's faced off against them. Even though he's accomplished quite a lot in the ring, Luger's life outside of the ring was anything but triumph. Outside of the ring, he was known for making bad choices. But despite that, it seems that he may have turned his life over for the better.
While we've heard the stories of professional wrestlers getting into trouble outside of the squared circle, Lex Luger has his share of them. Even today, Lex Luger is still one of the most talked-about wrestlers in one of the best eras of professional wrestling. An era that boasted many legends and all-stars. Some of them are no longer with us, and some are still making their appearances on either WWE or the fast-growing AEW.
Let's dive right in this Lex Luger bio and talk more about the life and career of the Master of the Torture Rack.
Lex Luger Quick Facts
Name: 

Lawrence Wendell Pfohl

Birth Date: 

June 2, 1958

Nicknames: 

Larry, 'The Narcissist,' 'The All American,' 'The Total Package

Nationality: 

American

Siblings: 

N/A

Wife: 

Peggy Fulbright

Profession: 

Pro wrestler

Salary: 

$500,000 (1996)

Net Worth: 

$400,000

Social Media: 

N/A
Awards:
5-time WCW United States World Champion
2-time WCW World Heavyweight Champion
2-time WCW Television Champion
3-Time NWA/WCW Tag Team Champion
1994 Royal Rumble winner (co-winner with Bret Hart)
Early Life
Lex Luger was born Lawrence Wendell Pfohl on June 2, 1958, in Buffalo, New York. Known as Larry, Luger grew up in the Orchard Park area of Buffalo. In his high school years, he played football, where he excelled. His talents were enough to secure a football scholarship with the Penn State Nittany Lions.
The coaches at Penn State intended to move Luger from Offensive Lineman to linebacker or defensive end. Angered by the potential move, Luger decided to transfer to the University of Miami after his freshman year.
He was redshirted in the 1977 season, thus sitting out the entire season. He returned to the Hurricanes in 1978, a team that featured Jim Kelly, who went on to become a legendary quarterback for Luger's hometown Buffalo Bills.
However, his time with the football team came to an end when he has kicked off the team for multiple 'off the field incidents. The final straw came when Luger trashed a hotel room in Atlanta, citing his anger towards coach Lou Saban for not naming him as a starter.
Professional Football Career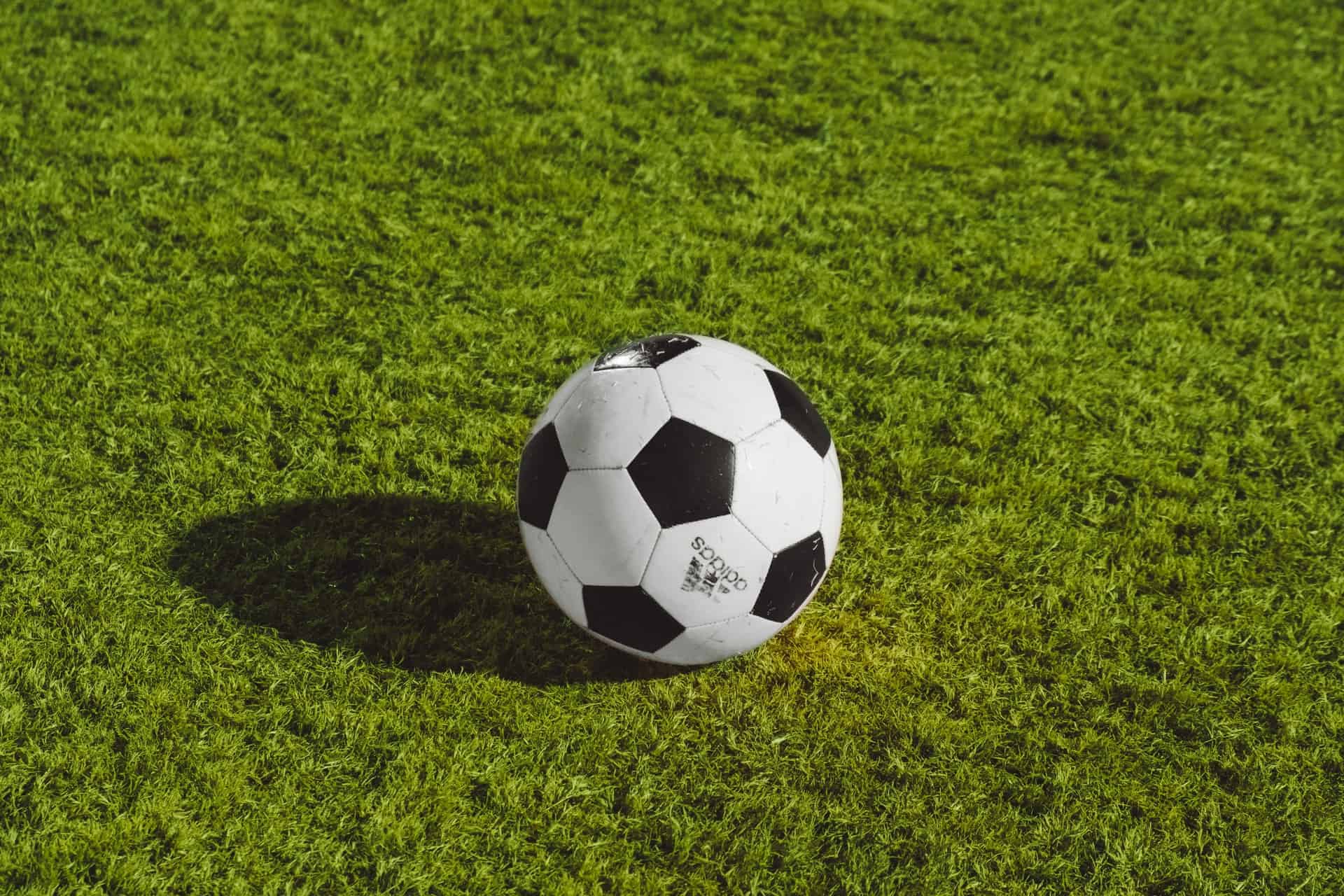 Despite leaving the Miami Hurricanes, he continued to play football at the professional level. In 1979, he took his talents to Canada to play for the Montreal Alouettes in the Canadian Football League. He competed in the Grey Cup championship game against the then-Edmonton Eskimos. After the 1981 season, Luger returned to the United States in hopes of making the NFL roster.
He signed with the Green Bay Packers for the 1982 season but was shelved due to a groin injury that occurred during training camp. He returned to training camp the following year but was cut before the season. Luegar wrapped up his football career playing for three different teams in the United States Football League. From 1984, he played for two different teams, the Tampa Bay Bandits and the Memphis Showboats. His last season was in 1985 with the Jacksonville Bulls.
When asked about his football career, Luger shared his thoughts with the Green Bay Gazette in 2018 about playing with the Packers. He said that he was aware of the history and legacy. Luger added that he didn't look at any other teams and was excited at the opportunity to play for the team. Greg Koch, a former teammate of Luger's, marveled at the latter's size and his ability to run 4.7 seconds in the 40-yard dash.
Professional Wrestling Career
After finishing up his football career in 1985, Luger crossed paths with a former professional wrestler named Bob Roop. The two met at a golf tournament, and Roop was impressed with Luger's physique. This led to Luger receiving training from Hiro Matsuda, who also trained wrestling legends such as Paul Orndroff and Hulk Hogan. Larry Pfhol would soon be known as 'Lex Luger.' The name was a play on Superman's archenemy 'Lex Luthor.'
The name and the connection to one of the most notorious supervillains in all of comics would play the perfect role whenever Luger would turn heel. Luger would make his in-ring debut on October 31, 1985. He made his debut around the same time as two legends, Rick Rude and Percy Pringle (who later became Paul Bearer, the manager of The Undertaker and Kane).
Luger competed in NWA's Championship Wrestling from Florida (CWF). He won his October 31st debut over Cocoa Samoa. The following month, he defeated Wahoo McDaniel to secure his first-ever wrestling title, the Southern Heavyweight Championship. He would continue feuds with various wrestlers until his biggest match yet. On September 1, 1986, Luger faced off against Ric Flair, the NWA World Heavyweight Champion, at Battle of the Belts III. The match resulted in a draw, keeping the title with Flair. His last match in CWF was a steel cage match against Bruiser Broady, where he climbed out of the cage and exited the match.
Jim Crockett Promotions
In 1987, Luger stayed in the NWA and moved to Jim Crockett Promotions (JCP). He earned the nickname 'The Total Package.' This marked the first time he used his patented 'Torture Rack,' which is a backbreaker rack submission. He teamed up with Ric Flair as an associate and became one of the members of the legendary 'Four Horsemen.' On July 11, 1987, his first big match with JCP was against Nikita Volkoff for the United States Heavyweight Championship.
Luger would become the new US champion by way of the Torture Rack. He held onto the title until Starrcade 1987, where he lost the title in a steel cage match against Dusty Rhodes. After losing the title, Luger left the Four Horsemen.
Luger formed a tag team with Barry Windham known as the 'Twin Towers' and faced off against two of his former Four Horsemen allies in Arn Anderson and Tully Blanchard, who were NWA World Tag Team Champions at Clash of the Champions. After the Twin Towers secured the tag titles, Windham turned against Luger in a rematch against Anderson and Blanchard, who regained the titles as a result.
Luger teamed up with Sting to snag the tag titles from Anderson and Blanchard for the second time at the Jim Crockett Sr. Memorial Tag Team Tournament in Greenville, South Carolina. Luger's feud with the Four Horsemen continued, which led to Luger facing off against Ric Flair for the NWA World Heavyweight Title at the Great American Bash on July 10, 1988, in Baltimore. Luger was moments away from winning the title when the match was stopped (in kayfabe) because the Maryland State Athletic Commission had rules about Luger's 'excessive bleeding.' Flair retained the title as a result.
World Championship Wrestling (WCW)
When Jim Crockett Promotions was sold to the Turner Broadcasting System (TBS), it was rebranded as World Championship Wrestling. Luger and Flair faced off once again at Starrcade 1988 for the title, with Flair retaining it yet again after using the ropes to his advantage (illegally).
The following year, Lex Luger went toe to toe with his former tag team partner Barry Windham for the United States Heavyweight Championship, defeating him to become the champion for the second time. After winning the US title, he aligned himself with Michael Hayes in a tag team match against Barry Windham and his brother Kendall. Hayes later turned on Luger and set his sights on the US title, which he won over Lugar at Wrestlewar 1989 in Nashville.
Luger won the title for a third time in a rematch with Hayes two weeks later. He would repeatedly defend the title for the remainder of 1989 and much of 1990 until losing it at Halloween Havoc 1990 against Stan Hansen. Before losing the title, he was US Champion for 523 days. It is the longest reign in the title's history. His fourth US title reign began at Starrcade in 1990.
The following year, Luger reignited his rivalry with Ric Flair. He became the number one contender after defeating The Great Muta at Clash of the Champions XV in Knoxville, Tennessee. At the outset, Luger was slated to face off against Flair for the title at the Great American Bash in 1991. It was scheduled to be a steel cage match with a stipulation that Flair would lose the title even if Lugar was disqualified. Because of Flair's disagreements with WCW management (notably with Jim Herd), the match never happened.
Flair left WCW with the World Heavyweight Championship in his hand. The title was declared vacant, and thus it became a match between Luger and Barry Windham, who became the number two contender. The match would remain a steel cage match. Though a WCW replacement championship belt had not been ready yet, Luger won the match and held onto the NWA's Western States Heritage Championship, which had changed to resemble the world title belt.
Luger's first reign as world champion began, and his first defense was at Halloween Havoc 1991. He faced off against Ron Simmons, who was Luger's real-life football teammate back in the 1980s, in a two out of three falls match. Luger retained the title over Simmons in two falls to one. Luger began to have disagreements of his own with WCW. This may have been due to his own issues with Jim Herd, who didn't win over most wrestlers on the roster.
Luger was wrestling less but still getting paid. He did not compete for much of 1991 and 1992. His last match with WCW was at Superbrawl II, where he dropped the title to Sting.
World Wrestling Federation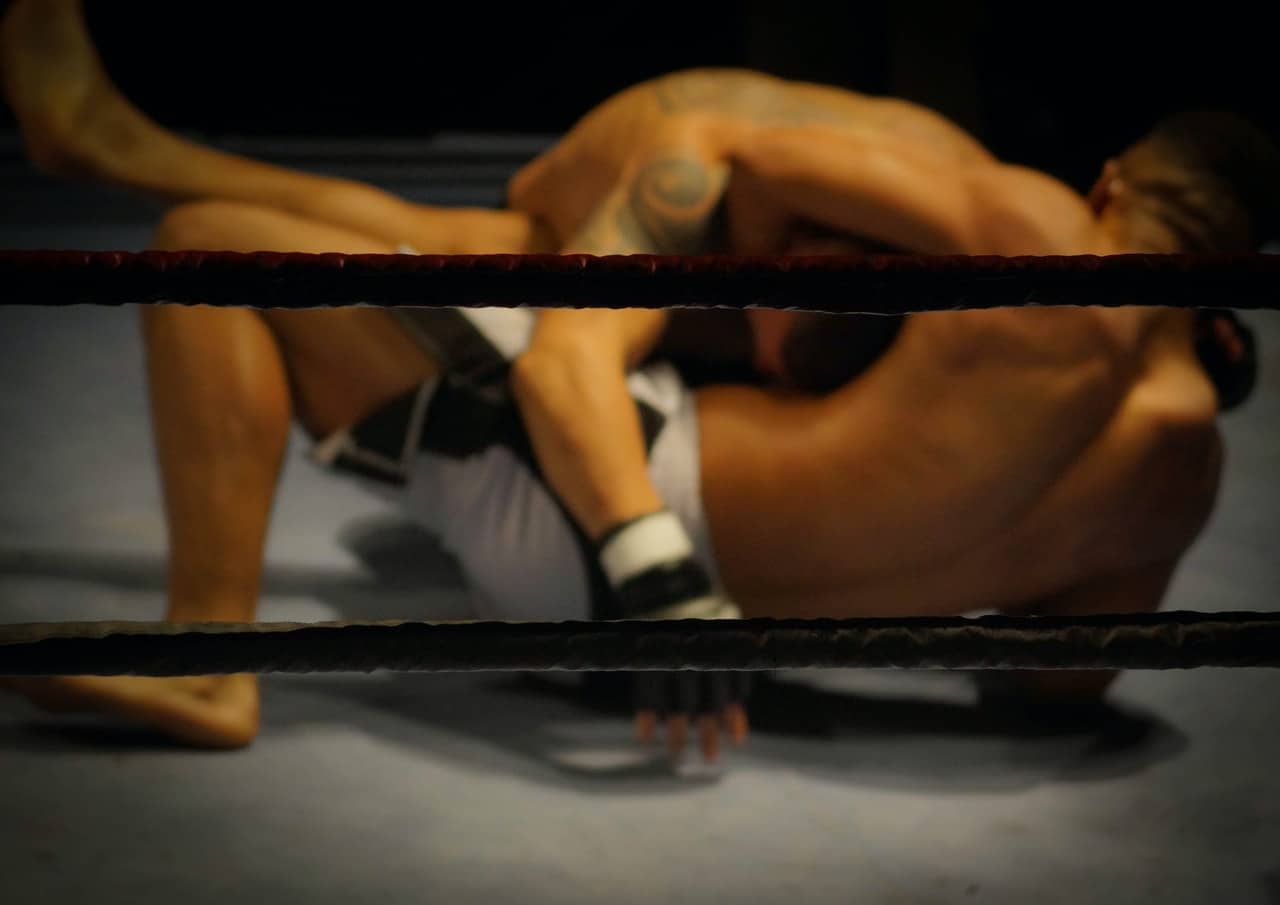 After departing WCW, Luger had a brief stint in the World Bodybuilding Federation, which was owned by WWF's Vince McMahon. However, the WBF went under a short time after. Between his time with the WBF and his WWF debut, Luger was injured in a motorcycle accident. Shortly after his recovery, Luger joined the World Wrestling Federation with the help of Bobby 'The Brain' Heenan.
He adopted the persona known as 'The Narcissist.' He would often pose in front of mirrors before each match. In 1993, Luger faced off in a rivalry with Curt "Mr. Perfect" Henning. The rivalry came to an end when Luger won his match over Henning at Wrestlemania IX. Later that year, Luger's 'Narcissist' personality was replaced by 'The All-American.'
His persona had him traveling across the country in the 'Lex Express' to meet fans in a bus painted with the US flag colors. Luger was preparing for his World Wrestling Federation Championship match at Summerslam 1993 against then-champion Yokozuna. That match resulted in a countout. However, Bruce Pritchard said that the original plan for Yokozuna to drop the title to Luger was scrapped because the latter's push did not get enough support from the fans.
Later that year, Luger teamed up with The Undertaker and Rick and Scott Steiner to form the "All-Americans" to face off against Yokozuna's 'Foreign Fanatics.' Luger and the "All-Americans" won the match. The 1994 Royal Rumble and Bret Hart as co-winners of the match, both earning their shot against Yokozuna for the WWF title at Wrestlemania X.
Luger became the first-ever Royal Rumble winner to lose his main event match after being disqualified. Meanwhile, Hart secured the title later on. For much of 1994 and the beginning of 1995, Luger engaged in several feuds but failed to win the Tag Team titles when teaming up with Davey Boy Smith.
Luger's contract expired after Summerslam 1995, and he left the WWF without voicing his intentions to Vince McMahon beforehand. Recently, Luger said he expressed his regret in leaving the World Wrestling Federation without telling McMahon first, citing that he wanted his deal with Eric Bishoff to be kept secret.
WCW (Second Stint)
Despite Eric Bishoff's dislike for Luger, he offered the latter a deal to return to WCW at the behest of Sting. The deal consisted of a payment that was 20 percent of what Luger was making when he left WCW the first time. Luger returned to WCW one week after his last WWF competition.
Throughout the last six years of World Championship Wrestling, Luger feuded with Sting and Ric Flair. Luger captured his second and last World Heavyweight Championship over Hulk Hogan in 1997, but the latter regained it at Road Wild less than a week later.
During the famous New World Order era, Luger joined the nWo's Wolfpac in a war with their nWo Black and White counterparts, which were led by Hogan. Luger won his fifth and final US title in 1998 over Bret Hart, who had arrived earlier that year after the infamous Montreal Screwjob. When WWF purchased WCW in 2001, Luger left the company due to his refusal to work for Vince McMahon once again.
Luger started multiple stints with Total Nonstop Action Wrestling (TNA) for much of the 2000s. He rejoined WWE to help out the company with its wellness policy.
Lex Luger Family and Relationships
Lex Luger was married to Peggy Fulbright from 1979 to 2003. The couple had two children, Lauren and Brian. When the couple had separated, Luger had a relationship with Miss Elizabeth, manager and former wife of Macho Man Randy Savage. The two lived in Marietta, Georgia, until Miss Elizabeth's passing in 2003.
Lex Luger Net Worth and Salary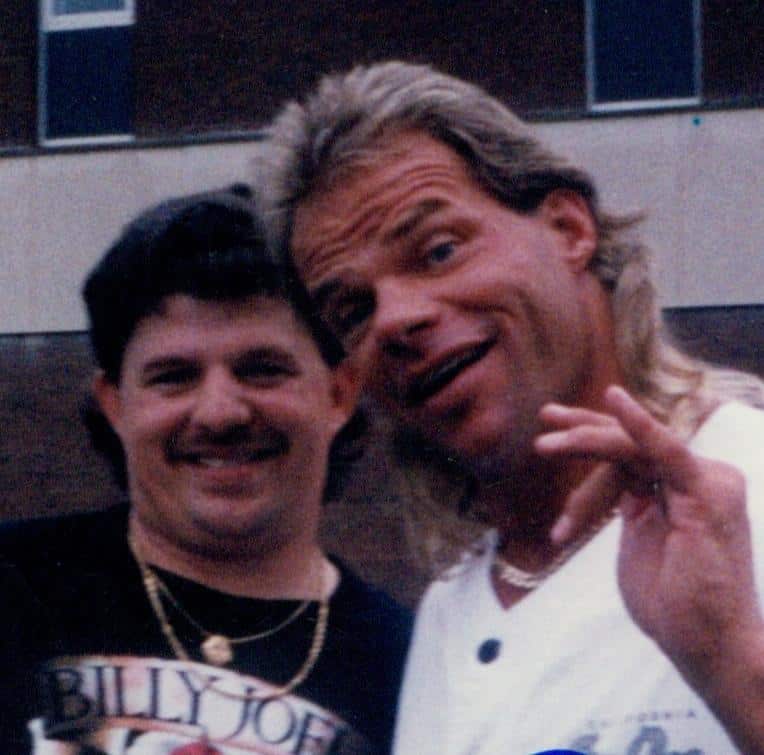 Luger's estimated net worth is said to be around $400,000, but some reports say it may have been as high as $8 million. In 1996, Luger was said to be making an average of $500,000.
Lex Luger Memorable Quotes
"No matter what we fact, put your total faith in God, and in time – not our time, but His time – He'll bring us through."
"I used to be known as one of the strongest guys on the planet."
Lex Luger Bio: FAQs
Question: Why is Lex Luger in a wheelchair?
Answer: Luger suffered temporary paralysis due to a pinched nerve in his neck.
Question: Are Lex Luger and Sting still friends?
Answer: Having known each other since the 1980s, it's safe to say that the two are still friends.
Question: Did Lex Luger go to jail for Miss Elizabeth's death?
Answer: Luger was arrested around the time of Miss Elizabeth's death but was later released after it was ruled to be an accident.
Question: What did Lex Luger go to jail for?
Answer: In the early 2000s, Luger was incarcerated for multiple drug charges. He received probation for his first offense but served time in prison for a parole violation.