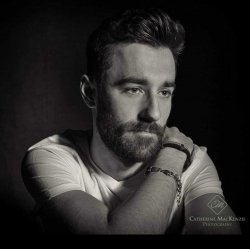 Latest posts by Callum Marshall
(see all)
If you asked someone about a decade ago to name some of the biggest sports and sporting organizations in the world. We would wager that no one would have even considered mentioning the UFC. Back in the day, the UFC offered some of the most brutal yet technical MMA fightings that you could find on the big screen.
Yet, it seemed that no one apart from huge fight fans was all that interested. However, thanks to the global acclaim of huge personalities such as Conor Mcgregor, Anderson Silva, Brock Lesnar, Ronda Rousey, George St Pierre, Nick Diaz, Steven Thompson, and countless others, the sport has become a mainstream attraction, taking in millions with every pay-per-view.
Since the more primitive days of the UFC, back when Dana White still had hair, the sport has continued to up its game. Offering match after match with talent that surpasses that of what was on offer even a few years ago.
One name that epitomizes this is Karamu Usman. The Nigerian powerhouse has become a dominant force of the welterweight division, beating talented stars like Jorge Masvidal and Colby Covington without seemingly ever needing to enter top gear.
However, you may be wondering about who Usman is as a person. You may be wondering how he rose to prominence within the UFC and you may be wondering what the future holds for this talented UFC star. Well, that's exactly what we aim to answer in this Pro Sports Bio. So sit back and relax as we run you through everything there is to know about Karamu Usman.
Quick Facts
Full Name: Kamarudeen Usman
Birth Date: May 11, 1987
Birth Place: Auchi, Nigeria
Nickname: The Nigerian Nightmare, Marty Usman
Nationality: Nigerian/American
Siblings: Kashetu Usman, Mohammad Usman
Children: Samirah Usman
Partner: Eleslie Dietzsch
Profession: Professional UFC Combatant
Salary: $1.5 Million (Based on UFC 261 purse alone)
Net Worth: $3 million
Social Media: Twitter
Awards: NCAA Division II National Championship, NCAA Division II All-American x3, UFC Welterweight Championship, The Ultimate Fighter 21 winner
Early Life and Childhood
Karamu Usman began life in Nigeria, born into a loving family consisting of father Muhammed Nasiru Usman, his mother Afishetu P. Usman and his two siblings. The family's living situation was a tough one in Nigeria and living in Benin City came with financial struggles and safety concerns for the family.
So a plan was put in place for the family to move to the US. So when Karamu's father landed a job as a pharmacist in Texas, the family immediately moved to the USA in search of a better life and a happier future for their children. Karamu Usman was only eight years old when he moved to the states.
While this was undoubtedly the right decision for their children, Karamu's parents, or more specifically his father, had a tough time adapting to life in the USA. His father was convicted for a series of offenses such as drunk driving and theft. However, in 2010 a bombshell was dropped on the family.
Karamu's father was arrested and sentenced to fifteen years in jail in relation to a fraud case within the health sector. In his appearance on The True Geordie Podcast, Usman elaborates on this situation, stating that his father was the scapegoat for this operation and his biggest offense was trusting his subordinates.
Usman has also said in several interviews that the transition to life in America was a tough one for him. Moving to Texas with absolutely no understanding of the English language led to terrible school life, at least initially. Plus, being in a predominantly white state brought with it even more stress and potential challenges. However, he settled into life in the US by the time he reached high school and sport played a huge role in this.
Usman was a keen American football player during this time and while he was encouraged to go try out for the wrestling team, he refused. However, when he picked up an injury and was sidelined which prompted him to give wrestling a shot. This was where his passion for fighting was born and shaped him into the multi-faceted fighter that he is today.
When he finished high school, Usman has managed to put together a very impressive wrestling resume, with a record of 53-3. Which allowed him to earn a scholarship and attend Penn State University.
However, after a year with this University, he transferred to the University of Nebraska after he was left behind by the coaching staff before the NAIA qualifiers. During his time there he would become the NCAA Division II All-American on three occasions.
Pre-UFC Career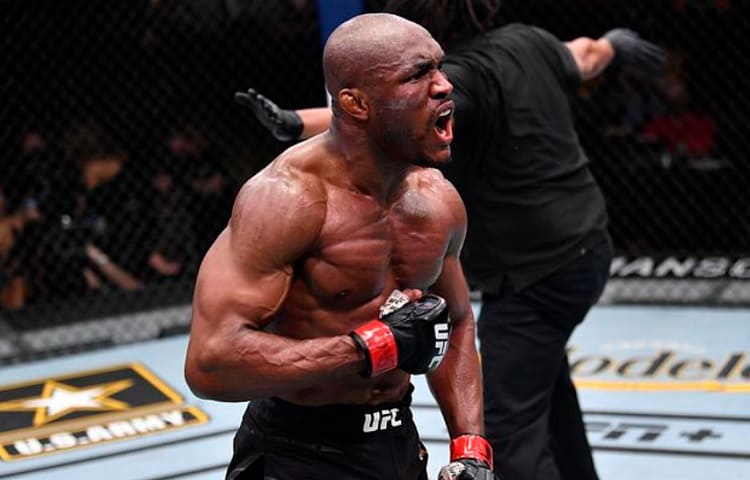 The success that Usman found in his university wrestling career led him down the path of mixed martial arts. As of 2012, he intended to train and compete to qualify for wrestling at the London 2012 Olympic Games. However, throughout this process, Usman has his head turned by professional UFC fighter Rashad Evans.
He failed to qualify for the Olympics and thus put all of his focus into MMA. He competed a handful of times at RFA in Nebraska, winning his first fight and also picking up the first and only loss of his career so far.
He then joined Team Miller and served as a wrestling coach on the fourteenth season of The Ultimate Fighter. During this time he competed a few times in regional promotions, winning each fight and in 2015, he decided to try out for The Ultimate Fighter himself.
He would win that season and would earn his spot in the UFC. At this time Usman had a professional record of 5-1. It is also worth mentioning that on his way to winning The Ultimate Figher, Karamu Usman would beat Michael Graves, Steve Carl and Hayder Hassan. All of which are incredible fighters in their own right.
Usman's UFC Career
Usman would sign for the UFC on a six-figure contract and in 2015, he would have his first fight within the UFC. This bout was against Leon Edwards who currently sits #3 in the welterweight rankings. Usman fought valiantly in his debut fight for the UFC and earned the victory via a unanimous decision.
Usman wouldn't fight again for over half a year. This was due to pulling out of a fight with Sergio Morales due to undisclosed circumstances. However, in July 2016, he would face off against the Russian Thunder of the North, Alexander Yakovlev. Usman would once again win this fight via unanimous decision.
Usman would fight one more time in 2016, coming up against Warlley Alves, the winner of The Ultimate Fighter Brazil. However, Usman would once again fight professionally and comfortably win the matchup via a unanimous decision.
Then in April 2017, Sean Strickland would meet the same fate at UFC 210, meaning that Usman had won four fights in a row by unanimous decision.
We would have to wait until September 2017 before we would see a different outcome in the octagon for Usman. Thankfully for him, it was an even more positive and clear cut victory. In a rescheduled match against Sergio Morales, The Nigerian Nightmare dispatched Morales in the first round with a single punch.
Usman would then eventually meet Emil Weber Meek in the Octagon at the end of 2017 and would beat him via unanimous decision after putting on a wrestling clinic.
In 2018, Usman would be scheduled to fight Santiago Ponzinibbio who went into the matchup with a clear plan to take Usman to the ground and go for the submission. However, Usman would stop all fifteen takedown attempts, outperform and outstrike his opponent, and again, win the fight via unanimous decision.
At this point in time, the UFC community were starting to take notice of Usman's consistent performances and as a result, Usman was penned in as the backup for the Darren Till vs Tyron Woodley fight which was the main event at UFC 228. He wouldn't feature on this occasion but this was a foreshadowing of things to come.
Usman would extend his winning streak again, this time handily beating Rafael dos Anjos and earning himself a $50,000 bonus for the performance of the night.
Reign as UFC Welterweight Champion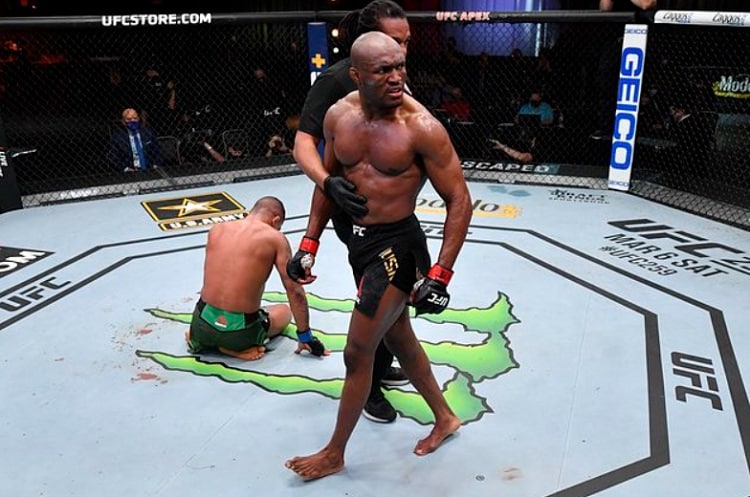 Usman's unbeaten streak and consistent run of top-tier performances would be enough to earn him a shot at the UFC Welterweight Championship. He would face off against Tyron Woodley who had retained his title against Darren Till in the match where Usman served as backup.
Woodley was the favorite coming into this fight but was ultimately dominated across all five rounds of the PPV main event fight at UFC 235. So once again via unanimous decision, Usman would win and claim the UFC Welterweight title.
Usman would defend his title seven months later and was billed to face Colby Covington, who at the time of writing, he is set to have a rematch with. This fight was predicted to be one that would consist of a lot of takedowns, groundwork, and submissions.
However, this battle took place almost entirely standing up and the fighters would trade a series of strikes in one of the most visceral main events in recent memory. Usman was the superior striker on this occasion and after completing two takedowns, he would ground and pound Covington late in the fifth round to successfully defend his title.
Usman's second defense was supposed to be the No-Gi Jiu-Jitsu World Champion, Gilbert Burns and while almost an entire camp took place for the fight, Gilbert contracted Covid-19 ruling him out for this match. This looked like a washout until the charismatic fighter Jorge Masvidal picked up the fight on short notice.
Masvidal performed admirably on the night but Usman having more preparation and a battle plan in place, dominated the affair. He kept him in the clinch, professionally handling the occasion, and came away with the win via unanimous decision at UFC 251.
Despite Usman initially pulling out of his next defense against Burns as he needed more recovery time, he would eventually set up this defense for the 13th of February 2020.
This would be a rare TKO finish for Usman as he took out the Ju-Jitsu pro in the third round and surpassed GSP (George Saint Pierre) for the longest winning streak in the division. He also won the performance of the night for his efforts.
Usman up to this point has only defended his title one other time. This was in the rematch against Jorge Masvidal. Due to his tenacity and decent performance in the previous outing, Masvidal earned the opportunity to fight Usman with a full camp and ample time to prepare.
However, this would not be a night to remember for Masvidal was the Nigerian Nightmare produced one of the most devastating knockout blows that you can imagine. He would drop Masvidal in the second round of the fight, making him to first to knock out Masvidal in the UFC.
Usman's next scheduled fight against Colby Covington in the much-anticipated rematch will take place on November 6th, 2021 at UFC 268.
Usman's Biggest Moments
Silencing Masvidal: UFC 261
Arguably one of the best knockouts of all time happened at UFC 261 and we have Karamu Usman to thank. Many believed that the win at UFC 251 against Masvidal was purely down to Jorge stepping in at a moment's notice and for many, was considered a fluke.
It would only take six minutes to see why that was far from the case. In a match that had been rather closely contested in the opening round with Usman landing strikes early on and then using takedowns to stop Masvidal from getting into a rhythm.
Usman capitalized on his opponent's low guard with a powerful right hand, landing sweetly right in the face of Masvidal. He would hit the deck, Usman would clean up with a hammer fist and the rest, as they say, is history.
Usman had this to say after the fight:
"I know with my fundamentals, I am pound-for-pound the best fighter on the planet right now,"
Whereas Masvidal humbley stated:
"It hurts. I've never been knocked out in 50 pro fights. Usman showed me something that he didn't show the first fight. That's what happens when you get overconfident. He's got my number, man."
An Absolute Slobberknocker: UFC 245
If you are looking for a fight that showcases the sheer ferociousness of the fighters within the UFC, then Covington vs Usman is right up there.
This match was billed as a technical match between two wrestling pros that would go on the offensive, looking for takedowns wherever they could get them. However, neither fighter would even attempt a takedown the whole fight.
This fight instead ended up being trading of punches akin to that which you would see in the barbaric heavyweight division. Usman bested Covington in this fight thanks to more precise and powerful strikes but you have to give it to both of these men, they put on one hell of a show.
UFC Welterweight Champion: UFC 235
It can be easy in the harsh light of 2021 to forget just how prolific of a fighter Tyron Woodley was. While Woodley was recently humbled in the boxing ring by Youtube personality Jake Paul, his legacy in the UFC is far superior to his one night in professional boxing.
Woodley would defend his UFC Welterweight title on four occasions against Darren Till, Stephen Wonderboy Thompson on two occasions, and Demian Maia. Not to mention winning the thing from Robbie Lawler and achieving a 19-7 record in MMA. So it goes without saying, Woodley was no pushover.
Yet despite the odds stacked against Usman, he would perform in the octagon as he has been known to do. Keeping his opponent quiet. Clinching, using takedowns, and making precise, effective strikes to quell any threat from the opponent.
This match for any aspiring welterweights is exactly how to handle the big occasion. Usman dominated all five rounds, never giving Woodley a sniff and in the end, Usman would achieve the incredible feat of winning the UFC Welterweight Championship.
Who is Marty Usman?
This is a common point of confusion when referring to Karamu Usman. You see, this nickname of sorts originated during Usman's University wrestling days. The coach at the University of Nebraska was unable to pronounce Usman's name, so instead of Karamu, he would simply shorten or simplify it, calling him Marty Usman.
Usman claims that the nickname didn't bother him. He was aware of the type of person that his coach was and knew that he wasn't going to commit to saying Karamudeen. So henceforth, he was known as Marty. In recent months as part of the build-up to the Colby Covington rematch in November, Ben Askren and Covington found this information and have been using it as a form of insult towards the reigning welterweight champ.
However, Usman publicly came out and addressed the issue, suggesting that his entire team and his friends call him by this nickname, so he was confused why Colby considered this an insult. He had this to say:
"You know, just like every kid growing up, we all had nicknames. And, when I decided to go into wrestling at the age of fifteen, my name was a little tough for my coach. And I'm in Dallas, Texas, and my coach is a buzz-cut Marines guy. He's like, 'I'm not going to say that. You look like a Marty, I'm going to call you Marty.
I'm like, 'Sure, coach, alright. I was in there to learn and one thing [Covington] is failing to realize, he's thinking it's an insult. The reason he knows that name and I continued to thrive and excel at what I was doing… more and more people knew the name. So now, it's not just in high school, my whole teammates and everyone across the state is calling me that,"
Other Media Appearances
Karamu Usman is one of the most dedicated fighters, professionals, and family men that you can imagine. So as a result, he doesn't have that many other pursuits such as acting or businesses outside of the UFC. However, he has made one notable long-form interview appearance on the True Geordie Podcast.
On this podcast, Usman would go into detail on his upbringing, his time leading up to the UFC and would also break down his UFC career so far and how he has become the fighter he is today. So as you would imagine, it's worth a listen.
Net Worth and Match Winnings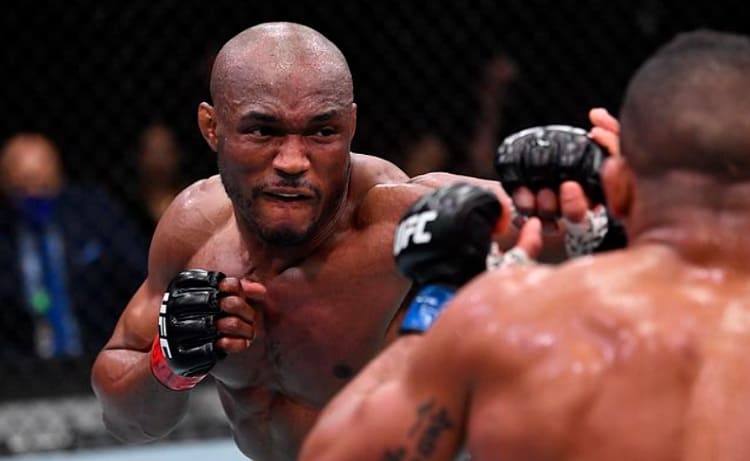 Based on Karamu Usman's UFC salary and his purses for the various fights he has participated in, it is believed that Karamu Usman has a net worth in the region of $3 million. Almost half of which is made up from his winnings from the second Jorge Masvidal fight.
Personal Life
Aside from the early life story that we mentioned, there isn't a lot of insight into the personal life of Karamu Usman. What we do know is that he is a dedicated family man that lives with his wife and daughter in Fort Lauderdale, Florida.
He is an avid collector of luxury cars and has been seen driving some wonderful cars such as the Lamborghini Urus, the Rolls Royce Ghost and he also has a custom Harley Davidson motorbike. Usman due to his religion does not have any tattoos and is a rather conservative guy. He enjoys playing video games and painting in his downtime away from the UFC.
Karamu Usman Wife and Spouse
Usman is known to be quite the family man, hence why he keeps a lot of his private life out of the public eye. All in an effort to give his family a normal life despite his role in the UFC spotlight. He lives with his wife Eleslie Dietzsch and his daughter Samirah Usman in Fort Lauderdale and from the outside looking in, it seems like the ideal happy family.
Marty Usman Bio: FAQs
Question: How Did Usman Get the Nickname 'The Nigerian Nightmare?'
Answer: Usman always loved the nickname but he wasn't the first to go by this name. This title initially belonged to American football star, Christian Okoye. This football player with African roots decided to pass on the nickname to Usman as he was a big fan of the talented MMA star.
Question: Who Owns the UFC?
Answer: The UFC is owned by Endeavor Group Holdings who are the largest UFC promotion company in the world. There is a common misconception that Dana White, the president of the UFC owns the UFC and you can see why.
He is the frontman and at one point owner of 9% of the UFC. However, this is no longer the case and he never got anywhere close to the required 51% stake.
Question: What is the Largest Purse in UFC History?
Answer: This accolade unsurprisingly belongs to The Notorious Conor McGregor who may have walked away with a broken leg from his bout with Dustin Poirier. However, he also walked away with a cool $5 million as well, so it's hard to feel to much sympathy for the Irishman.
So that is our Pro Sports Bio on the Nigerian Nightmare, Karamu Usman. What did you make of this article? Did you find this helpful and informative? Are there any other UFC stars you would like to see us cover in the future. Let us know in the comments section below and as always, thank you for reading.
A Modern Legend of the Octagon
Aside from perhaps Israel Adesanya, no one within the UFC represents the brilliance of modern-day MMA. Karamu Usman has gradually climbed the ranks within the sport and now sits atop literally every other welterweight as the best of the best.
His 13-fight win streak doesn't look like it will be ending any time soon and we can only hope that in his matchup in November, we see another visceral knock-out as we did against Masvidal. Usman isn't the future of the UFC. He is the present and he looks unstoppable.
Research Citations:
Read related bios and articles: