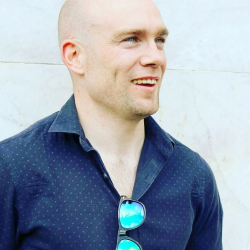 Latest posts by Joe Elvin
(see all)
An Arsenal football club legend; Dennis Bergkamp is arguably one of the most technically-gifted footballers of the current millennium.
His career was one of illustrious highs and notable lows though. 
So, let's relive the highlights of Dennis Bergkamp's memorable career in this extensive biography. 
Dennis Bergkamp Quick Facts
Full Name

–

Dennis Nicolaas Maria Bergkamp 

Birth Date

– May 10, 1969

Birthplace

–

Amsterdam, Netherlands

Nick Name –

Non-Flying Dutchman, The Iceman

Nationality

– Dutch

Children

–

Estelle Deborah Bergkamp, Saffron Rita Bergkamp, Yasmin Naomi Bergkamp, Mitchel Dennis Bergkamp

Partner/Spouse

–

Henrita Ruizendaal 

Profession

– Professional footballer /

Coach and former player.

Net Worth

– 25 Million Euros (28.1 Million Dollars)

Social Media –

Twitter @DB_Official_10

Instagram – @officialdennisbergkamp
Notable Personal Awards
Dutch Footballer of the Year: 1991, 1992

FWA Footballer of the Year: 1997–98

PFA Players' Player of the Year: 1997–98

Inducted into the English Football Hall of Fame: 2007

A statue of Dennis Bergkamp was erected outside the Emirates Stadium in 2014
Dennis Bergkamp Birthplace and Early Life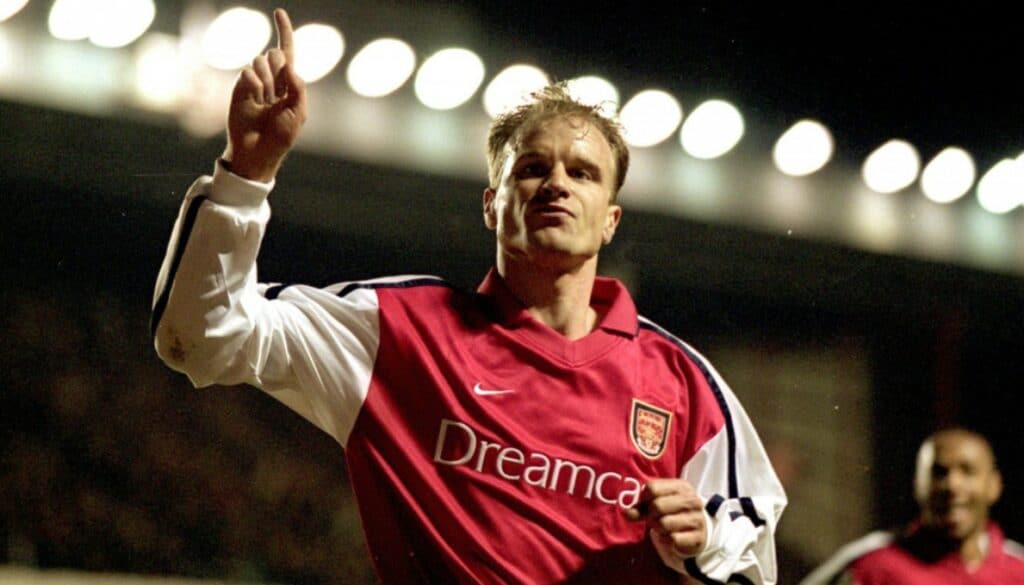 Dennis was the last of the four children of Wim and Tonnie Bergkamp. He was supposedly named after the legendary Scottish striker Denis Law, although his parents had to add an extra 'n' after the Dutch registrar did not accept the first proposal.
Dennis grew up in Amsterdam, where he was raised as a Roman Catholic attending church regularly, 
As football is one of the most beloved sports in the Netherlands, it's perhaps no surprise that Dennis was raised in a football-loving family.
He started playing when he was around six years old and began training with Ajax Amsterdam at age 11. 
Those who knew him knew how good he was, although he did not shout it from the rooftops. Together with his friends from the neighborhood, he would form goals with the rocks and play in the streets. He would watch professional games on the television and began to develop his attention to detail on the moves of the rest of the players at a young age.
His passion for football was such that for one of his craft projects, he created a wooden figure of Diego Maradona. Indeed, even at only 10 years old, it was clear that football was more than a sport to Dennis.
Former England playmaker Glenn Hoddle was one of Dennis' football heroes. He also idolised Johan Cruyff, regarded by most as the most skilful Dutch footballer of all time. Dennis had the honor of meeting and training with Cruyff when he was just 12 years old.
Both of these players were among the masters of the game when it came to creativity and technique in the 1980s. You could count the players with better flair than them at the time on one hand. How fitting then that the same could arguably be said of Bergkamp in the late 1990s and early 2000s. 
Dennis Bergkamp Professional Career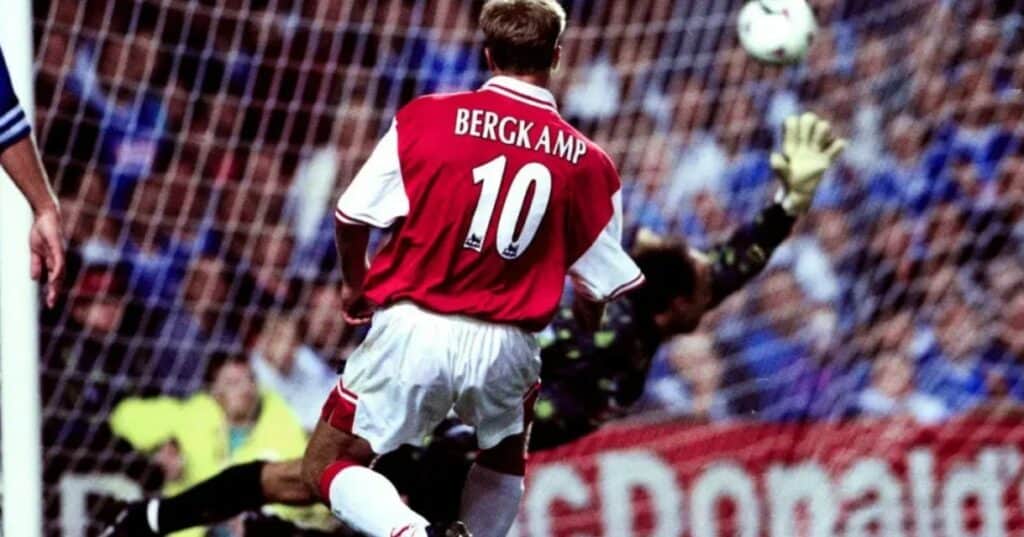 It was Dutch football legend and Dennis' childhood hero Johan Cruyff who handed him his Ajax first-team debut in 1986. Just 17 years old, he made 23 appearances in his debut season.
The teenager would remain an important part of the Ajax team throughout his stay in Amsterdam. He was an integral part of the team winning the European Cup Winners' Cup in 1987 and the Eredivisie (for the first time in five years) in 1989-90. In 1990-91, he was the Eredivisie's top goal scorer with 29 goals in 36 appearances. Dennis made his debut for the Dutch national team in that season. He also won the Dutch Footballer Of The Year Award. 
He picked up that individual honor again the following year, after helping Ajax to more European glory. This time, they won the UEFA Cup beating Torino via away goals in the two-legged final.
Following this great success in Dutch football, it was no wonder that some of the biggest clubs in Europe were sniffing around Bergkamp at this time. This reportedly included Real Madrid, arguably the ultimate powerhouse of European football. Dennis had his heart on playing in Italy's Serie A at the time though, as he regarded this as the highest-quality European league.
Bergkamp Fulfils His Wish Of Playing In Serie A
Bergkamp's wish soon came true. He and teammate Wim Jonk both transferred to Inter Milan in a deal worth £7.1 million.
His time in Italy wasn't too noteworthy in the grand scheme of his career though. Inter Milan struggled domestically, resulting in Bergkamp playing under three managers in three seasons at the San Siro.
He did help the club win the UEFA Cup in 1994 though. He was the top scorer in the competition that season too, netting a total of eight goals. 
Still, it was a turbulent time in Bergkamp's career and this wasn't helped by the stick that Bergkamp got from the notoriously harsh Italian press.
One publication went as far as renaming their "Donkey Of The Week" award for the worst Serie A player to "Bergkamp Of The Week". 
Bergkamp also developed aviophobia (a fear of flying) after a couple of unfortunate plane-related incidents in 1994. This would affect the rest of his career, as he would miss many overseas games for both club and country. 
Bergkamp left Italy with a record of 11 goals in 52 appearances for Inter Milan
Bergkamp Signs For "Boring, Boring Arsenal"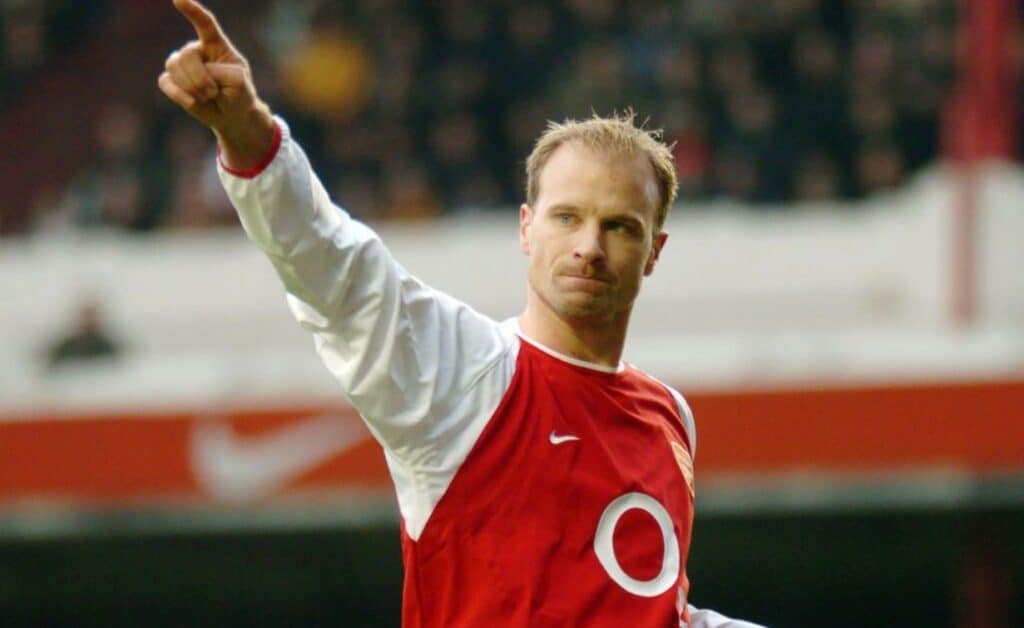 Dennis Bergkamp signed for Premier League club Arsenal in 1995; a transfer that turned heads in the football world for several reasons.
First of all, the fee was remarkable. Arsenal stumped up £7.5 million for Bergkamp, which was the club's record amount spent on a single player and one of the highest for any Premier League club. It was also reported that the Dutchman was earning £25,000 a week, making him the league's highest-paid player.
On top of that, it was an ambitious signing for Arsenal, a club steeped in history, but one that hadn't come close to winning the League since their last triumph in 1990-91. 
Arsenal had developed a reputation for playing the most boring brand of football in the Premier League, due to previous manager George Graham's obsession with defending a 1-0 lead. He had been dismissed the previous season, and the signing of Bergkamp would prove to be the beginning of more exciting football being played at Highbury.
Bergkamp made the slowest of starts to his Arsenal career though, and it was feared he would flop in England, just as he arguably did in Italy.
He didn't feature on the scoresheet in his first seven games and was labeled by the Daily Mirror as "the biggest disappointment of the season so far". The same article questioned whether he was worth 75 pence, let alone £7.5 million.
Still, Bergkamp broke his duck with a brace against Southampton and didn't look back. He finished his debut season with 11 goals in 33 games.
The glory years with Arsene Wenger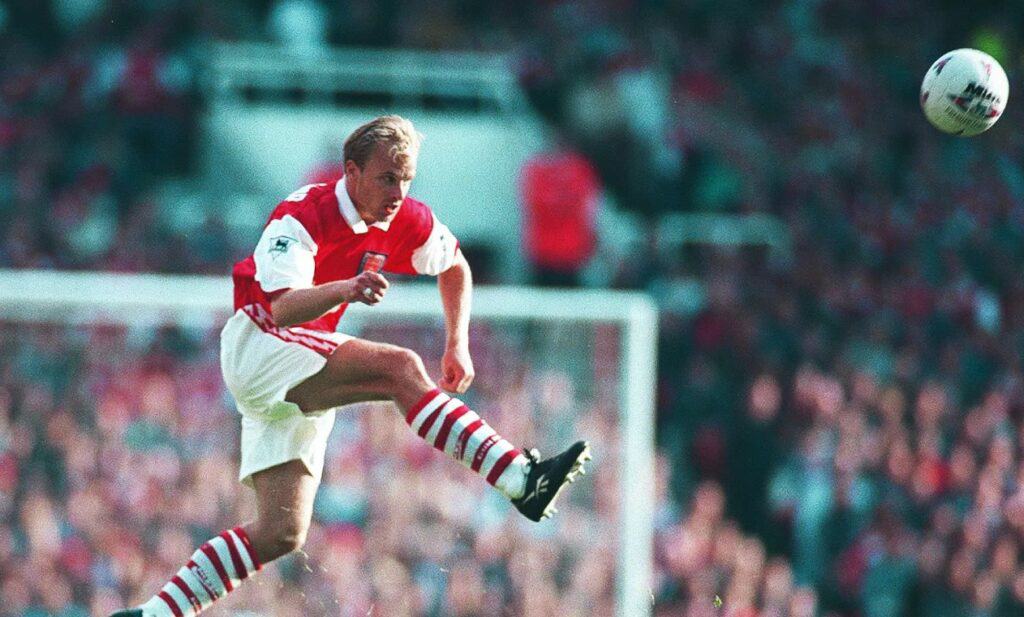 In 1996-97, Arsenal appointed Arsene Wenger as manager. Barely anyone knew much about the Frenchman, other than that he had previously managed in Japan. Still, this appointment would mark some of Arsenal's greatest ever glory years. Bergkamp was a mainstay in Wenger's side during the 1996-97 season – injury permitting – as Arsenal finished third and qualified for the Champions League. 
With a full pre-season of preparation under Wenger, Arsenal became unstoppable in 1997-98. Bergkamp was in immaculate form at the start of this season, scoring a sensational hat-trick in a 3-3 draw against Leicester City, which became notorious as the goals ranked first, second and third in that month's Match Of The Day Goal Of The Month competition. 
This was the first season I started following the Premier League and I was blown away by Bergkamp in this game. He wasn't as fast as the strikers of other teams, but he always seemed to be two steps ahead of his opponents and with masterful control of the ball. 
Manchester United roared ahead in the league standings, but thanks to a blistering finish to the season, Arsenal caught them to claim their first title in seven years. They beat Newcastle in the FA Cup Final to claim a remarkable league and cup double in Wenger's first full season. Bergkamp picked up the PFA Player Of The Year award for his efforts in this triumph.
Bergkamp arguably had his best moment in a Holland shirt at the 1998 World Cup too. Having represented his country at the Euros in 1992 and 1996, as well as the 1994 World Cup, he was already one of the most experienced players in the talented Dutch side. After navigating the group stage and squeezing through the last 16, Holland was deadlocked 1-1 in the quarter-final against Argentina. That was until a long ball was pumped forward towards Bergkamp, who picked the ball out of the sky, wrong-footed the defender and sent the ball into the top corner. The goal has been made infamous, partly thanks to the reaction of the Dutch commentator who endlessly screamed DENNIS BERGKAMP, DENNIS BERGKAMP, DENNIS BERGKAMP throughout the whole move.     
The next few seasons would see Arsenal competing with Manchester United for the honors in England. They failed to pick up any trophies in 1998-99, as Manchester United completed the treble of Premier League, FA Cup, and Champions League. Their treble could have been foiled by Arsenal in the semi-final of the FA Cup had Bergkamp converted an extra-time penalty. However, the normally-reliable Dutchman had his kick saved by Peter Schmeichel and United would seal their place in the final with a solo effort from Ryan Giggs moments later.
Despite Arsenal's best efforts, Manchester United would claim the league title for the next two seasons as well. 
However, the title came back to Highbury in 2001-2002. The highlight of this season for Bergkamp was his infamous swivel goal away at Newcastle. As the ball was fired into his feet, he managed to spin the ball around the defender and turn in one motion, in a manner never before witnessed in high-level football before slotting the ball past the goalkeeper. I never tire of watching this goal and it deserves its reputation as being one of the most skillful in Premier League history. Arsenal beat Chelsea 2-0 in the FA Cup final at the close of this season to secure their second league and cup double under Wenger. 
The 2003-04 season will never be forgotten by Arsenal fans, as it's the year that Arsenal won the league without losing a single game. The first English team to do that since Preston North End in 1888-89. (Preston only played 22 games though, compared to Arsenal's 38). 
Bergkamp was a key part of this incredible team. His partnership up-front with Thierry Henry was a thing of beauty. 
People say The Invincibles of Arsenal wasn't one of the greatest Premier League Champions because they drew 12 times, but they certainly played a more attractive style of football than any English club side I've ever seen.. 
Dennis Bergkamp International Career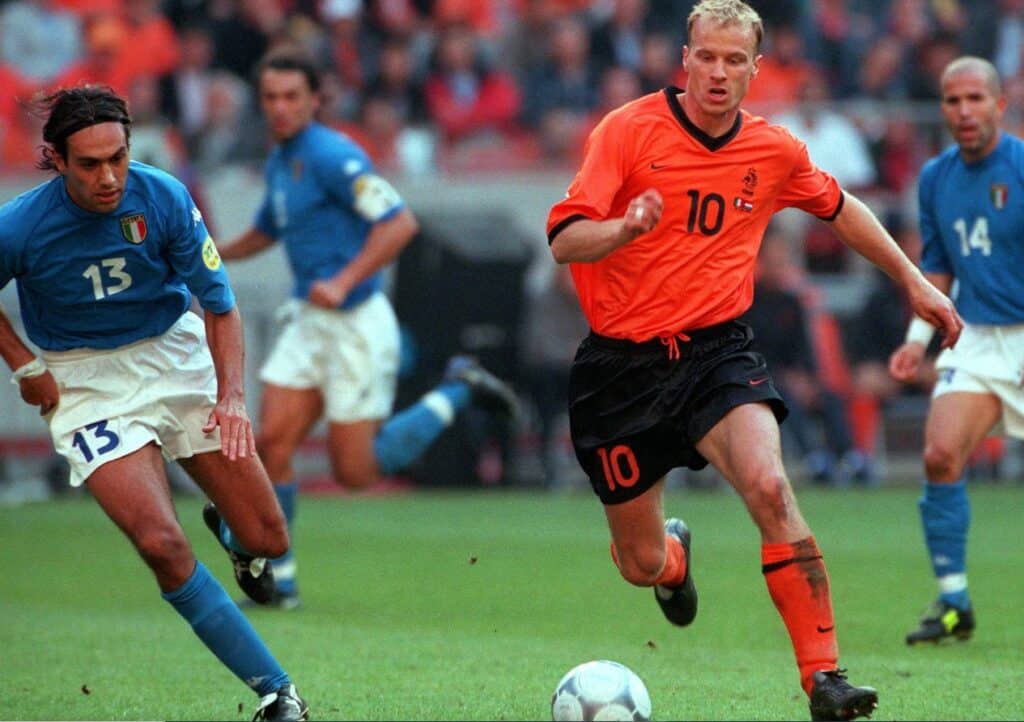 Dennis Bergkamp made his debut for the Netherlands on September 26, 1990, in a friendly match against Italy. His first goal for his country came just two months later against Greece.
In 1992, he was selected for the European Championships and scored three goals in Holland's run to the semi-finals, where they were beaten by eventual champions Denmark.
Bergkamp scored five goals in the qualifiers for the 1994 World Cup, helping his nation to feature in the tournament. He featured in every game of the finals and scored three times before Holland were knocked out in the quarter-finals against Brazil.
Dennis remained one of the first names on the Holland teamsheet as the team qualified for Euro 1996, but his side only scraped through the group stages and were knocked out in the quarter-finals by France.
The 1998 World Cup arguably brought Bergkamp's most iconic moment in an orange shirt with his famous last-minute wondergoal in the quarter-final against Argentina. The Dutch were unlucky not to make the final of this tournament too, only losing to Brazil on penalties in the semi-final.
Bergkamp became Holland's greatest ever goalscorer in 1998, but he would later be eclipsed by Patrick Kluivert, Klaas-Jan Huntelaar and Robin van Persie.
The Dutch automatically qualified for Euro 2000 as co-hosts, where he bowed out in the semi-finals against Italy. Bergkamp announced his retirement from international football, shortly after his side's elimination. His final tally for the national team was 37 goals in 79 appearances.
Final Years And Retirement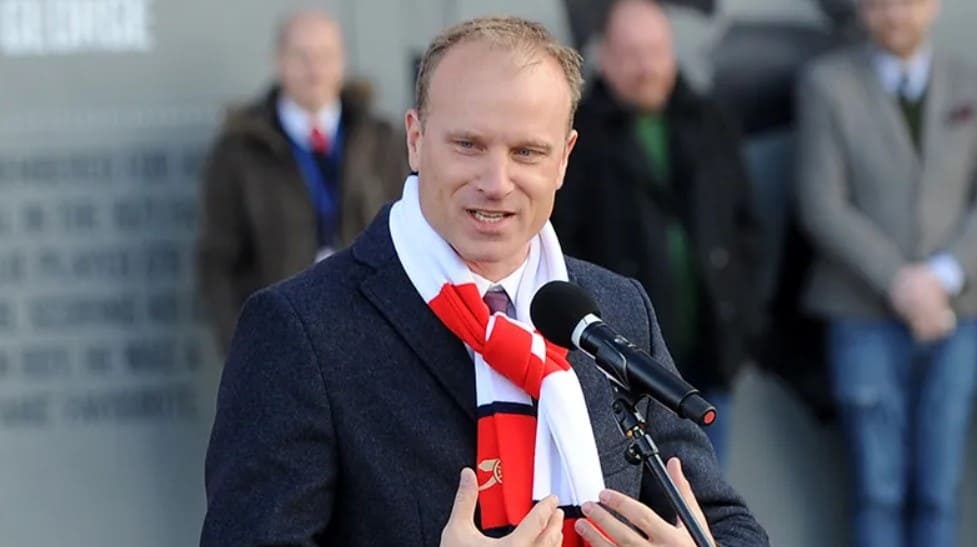 Surprisingly, Arsenal couldn't kick on from this "Invincible" season, in the Premier League at least. They haven't won the league since this accolade. However, they did pick up another FA Cup in 2005, beating Manchester United in the final – and this would prove to be Bergkamp's final medal at Arsenal.
He retired at the end of the 2005-06 season, where Arsenal would place 4th in the league and runners-up in the UEFA Champions League.
Towards the end of this season, Arsenal rebranded their 'Supporter's Day' home match as 'Bergkamp Day'. The fans all wore orange shirts with Bergkamp's emblematic number 10 to honor Bergkamp's 11 years at the club. Fittingly, Bergkamp scored on this day in an Arsenal victory. It would be the last of his 87 goals for the club. 
In July 2006, Dennis Bergkamp enjoyed his testimonial match between Arsenal and Ajax at the inauguration of the Emirates stadium.
Dennis Bergkamp Best Moments Caught On Camera
Dennis Bergkamp Premier League Goals!
Netherlands – Argentina: Bergkamp Goal 1998
Dennis Bergkamp's top 10 Arsenal Goals
Bergkamp's wonder goal against Newcastle United
Dennis Bergkamp Best Goals
Dennis Bergkamp Family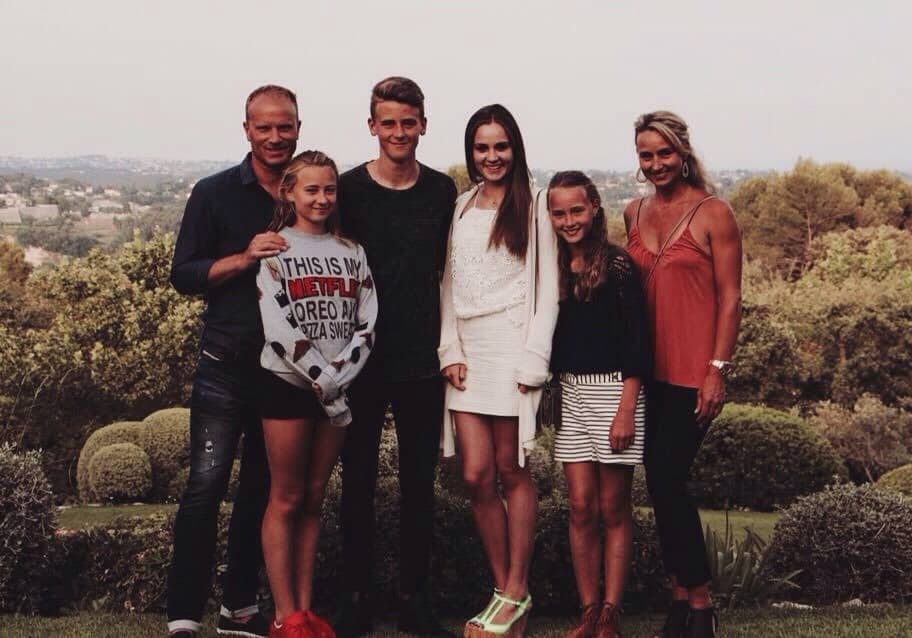 Dennis is married to the love of his life, the Dutch model, Henrita Ruizendaal. They married on June 16, 1993 and have four children: Estelle Deborah Bergkamp, Saffron Rita Bergkamp, Yasmin Naomi Bergkamp and Mitchel Dennis Bergkamp.
His son Mitchel is a professional footballer who signed for Watford in 2021. His nephew Roland Bergkamp is also a professional footballer, playing for the Dutch side RKC Waalwijk.
Dennis Bergkamp Post-Retirement
Dennis reportedly had offers to become a coach shortly after his retirement, but he wasn't interested in that career path. He preferred to spend time with his family and would dedicate himself to traveling and spending time with them.
However, in 2008, he began a fast-track coaching diploma for former Dutch soccer players. Ultimately, he would become the assistant manager to Frank De Boer at Ajax in 2011. In 2017, Bergkamp and Ajax parted ways, supposedly due to a "difference in opinions" with the club. Since March 2019, he has been part of Almere U-23 as an assistant coach.
A statue of Dennis Bergkamp was erected outside the Emirates Stadium in 2014. His statue joins over four others to commemorate legends of Arsenal. These include former team-mates Tony Adams and Thierry Henry, as well as former manager Herbert Chapman and former director Ken Friar.
In May 2021, Dennis Bergkamp was induced into the newly-established Premier League Hall of Fame. He was only the sixth player to be awarded this honor – and there are still only 16 members to this day. This says a lot about the seismic impact that Bergkamp had on English football.
Dennis Bergkamp Net Worth and Career Earnings
Dennis Bergkamp was paid handsomely during his time as a professional footballer. Upon signing for
Arsenal, he was reportedly the highest-paid player in the Premier League. It is estimated that his net
worth is around 25 million euros. 
Dennis Bergkamp's Famous Quotes
"Scoring goals is, of course, the most important thing. But for me, in the end, giving an assist got closer and closer to the same feeling of scoring."

"I don't want to lose myself in football and that's what a coach has to do to be successful" 

"Maybe I am a little different from other players. They will tell you that Pele, Maradona, and Cruyff are their idols and I will say Glenn Hoddle."

"Behind every kick of the ball, there has to be a thought."

"The only team that needs to win trophies is the first team. The youth teams don't need to win, they just need to make their players better."

"You have to shoot, to want to score goals no matter how. Just score that goal! You can't be afraid to miss."

"I love playing football, being out on the pitch with a ball, and I will be a little sad when that ends.
Dennis Bergkamp FAQs
Question: Is Dennis Bergkamp a Tottenham Fan?
Answer: He denies it. These rumors came out when it was revealed that he was a huge admirer of former Spurs player Glenn Hoddle. 
Question: What is Dennis Bergkamp's Nickname?
Answer: He was called the non-flying Dutchman due to his aviophobia. He developed this in 1994, after a stormy trip where the plane's engine cut out during the flight. He wouldn't fly to overseas games after this incident, limiting his appearances in European competitions for Arsenal. He was also dubbed The Iceman to pay homage to his coolness in front of goal.  
Question: What is Dennis Bergkamp doing now? 
Answer: Dennis Bergkamp is currently part of the coaching staff at Almere under-23s. 
Citations
Continue reading more soccer star bios: