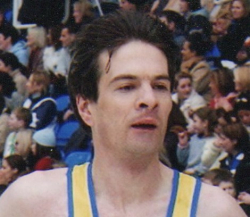 Latest posts by Stephen Hands
(see all)
Beth Mead is one of the brightest stars in women's soccer. Her six goals were a major factor in the England Lionesses winning the 2022 European Championships. In a nation starved of international soccer success, the performance of Beth Mead and her teammates thrilled the country. Like millions in the UK, I watched their progress with increasing levels of excitement as they progressed through the rounds.
Beth Mead won the Golden Boot and was named UEFA Women's Euros 2022 player of the tournament.  She is the type of player fans like me love to watch, a wide player who can go past defenders with ease. She can deliver teasing crosses into the box as well as cut inside and score spectacular goals.
Now plying her trade with Arsenal in the Women's Super League in England, it was never going to be an easy rise to the top. While Mead was growing up, football was still very much aimed at the boys. In this bio, I shall look at how Beth Mead joined boys' sides when younger to play the game she loved, and her subsequent progress to a stellar England career.
Beth Mead Quick Facts
Full Name Bethany Jane Mead
Birth Date May 9, 1995
Birth Place Whitby, North Yorkshire
Nick Name Beth
Nationality English
Siblings Brother, Ben
Children None
Partner/Spouse Single
Profession Professional soccer player
Salary $30,000
Net Worth $500,000
Awards 2015 Young Player of the Year, 2015 FA WSL1 Player's Player of the Year, 2018 Young Player of the Year, 2022 Women's Euros Golden Boot winner, 2022 Women's Euros Player of the Tournament
Last Updated August 2022
Beth Mead Birthplace and Early Life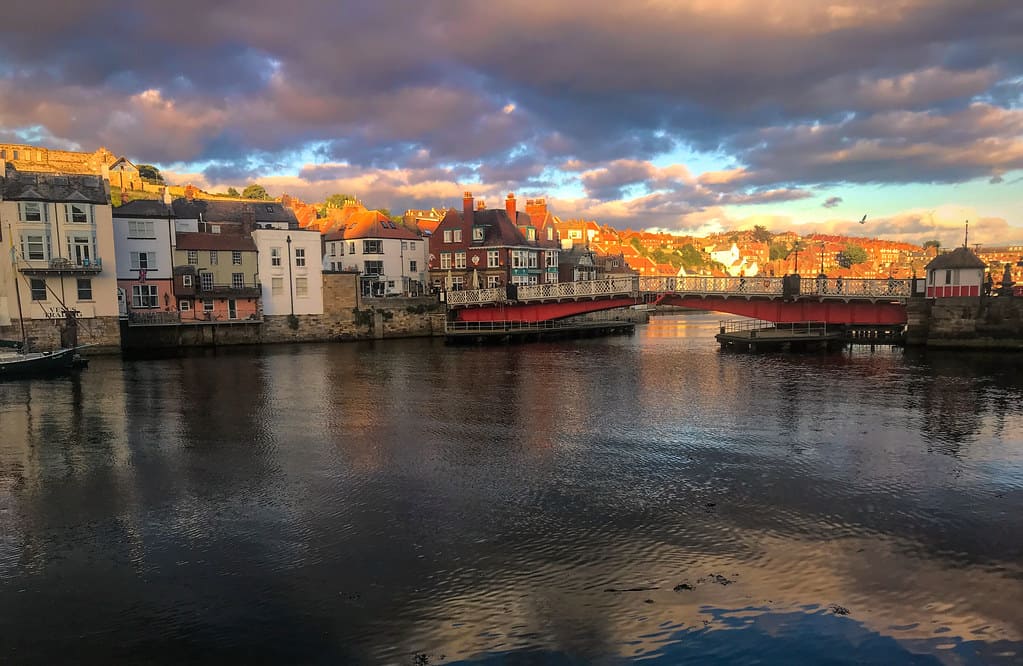 Beth Mead was born on May 9, 1995, to parents Richard and June Mead. She has a younger brother, Ben, and the family grew up in the small village of Hinderwell near Whitby in North Yorkshire. Beth Mead was a child with bags of energy and her mum was looking for somewhere for her to run around and let off some steam. Hinderwell Village was not blessed with such facilities. However, they did have Saturday morning football sessions for kids on a local field.
The volunteer running the football sessions was a bit worried that June Mead's daughter might find the going a bit tough as the only girl. He need not have worried. Indeed, he saw potential and told Beth's mum she would be better off looking further afield for a girls' team which could better harness her daughter's talent. Beth Mead's football journey had begun.
The problem was such a girls' team was a 45-minute drive away in Middlesbrough. The recent success of Beth Mead and the England Women's football team should help increase the opportunities for girls to play football at their local grassroots level. Such a pathway was not so accessible to a young Beth Mead. Therefore, she joined the Middlesbrough Academy girl's football team.
Like most athletes, their parents are an important part of the story. Beth Mead has spoken of her gratitude to her parents for their support throughout her career. At this point, her father was driving her to Middlesbrough, while her mother was taking on extra hours to help pay for the petrol. Beth Mead found it hard to adjust at first. However, she was soon enjoying playing football.
A Rising Talent
Beth Mead's time playing football as part of a boys' team was not yet done. After Middlesbrough, she joined the California Boys football club. Her primary school also didn't have a girls-only team, so she was part of the boys' team there too. Mead enjoyed playing alongside the boys and believes it helped her development. As a gifted player, it suited her, whereas for other girls it may not have done.
Once she reached the age where she was not allowed to play boys' football anymore, Mead switched to the California FC girls' team. From there she joined the Middlesbrough Centre of Excellence as a 10-year-old, where she remained honing her soccer skills until she was 16.
Beth Mead considered staying on for another year at Middlesbrough. However, to further her development she was encouraged by her coach at the center and her parents to move into senior women's football.
Beth Mead Professional Career
Beth Mead had come on and scored a second-half hat-trick playing for Middlesbrough against Sunderland in a youth match. Watching on, the Sunderland women's team manager thought she was a player he needed in his team. Beth Mead signed for Sunderland in 2011 as a 16-year-old, remaining at the club until 2017.
Mead was prolific from the word go. The trust showed by the manager Mick Mulhern to play her from the moment she was signed was a huge confidence booster. Mead scored at the rate of a goal a game in the 23 matches she played in her first season at Sunderland. She bettered this the following year, bagging 30 goals in 28 matches.
Beth Mead's goals were instrumental in securing promotion in 2014 to the top flight of women's football in England. Once again Mead notched 30 goals during the campaign. She would be Sunderland's top scorer for five consecutive seasons.
Any doubts she could score goals in the Women's Super League were quickly dispelled. Mead scored 12 goals in 14 appearances. This included a stunning hat-trick against the previously unbeaten champions Chelsea. People were certainly sitting up and taking note of this young striker now.
Offers started to come in for Mead, but she decided to get another season in the top flight under her belt with Sunderland. She was still studying alongside her football. Mead graduated from Teeside University with a BA (Hons) in Sports Development. In recognition of the support she received from the university she has since set up the Beth Mead Scholarship Fund. This helps fund four women footballers to study at the university each year.
Arsenal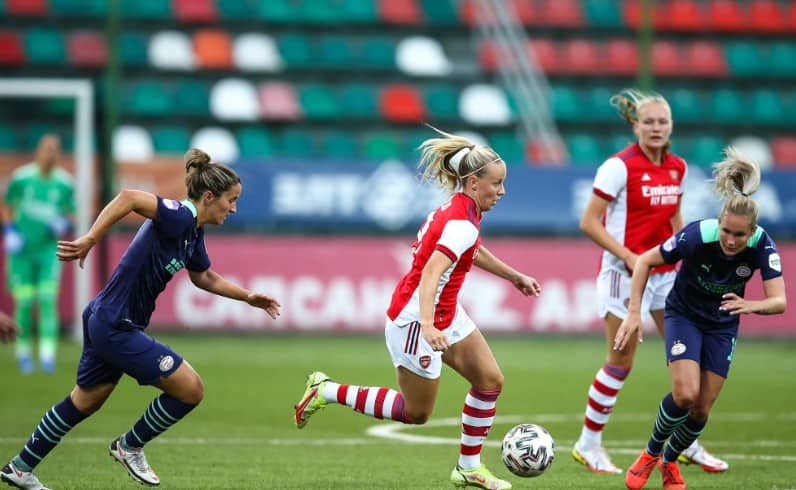 Beth Mead joined Arsenal in 2017, one of the most successful clubs in women's football. However, there was one potential catch. Arsenal already had Vivianne Miedema up front, the leading goal scorer in the league's history.
Mead was moved out wide. This may have irked many players and led to a drop in form. Not Beth Mead. Instead, it took her game to another level, forming the complete player we see today. A wide player who scores goals aplenty and creates goals aplenty.
She had a remarkable first season with her new club. Beth Mead still managed to be the club's top goal scorer even though she wasn't playing through the middle. Arsenal won the FA Women's Continental Tyres League Cup and Mead picked up her second England Young Player of the Year award.
Beth Mead is recognized as one of the best crossers of a ball in the women's game. In her second season with Arsenal, she chipped in with 12 assists, the highest number in a Women's Super League (WSL) season. Arsenal became the WSL champions for the 2018-19 season. Beth Mead's form was rewarded by Arsenal in November 2019 with an improved contract.
Beth Mead's all-around game continued to develop and flourish at Arsenal. The 2021/22 season perfectly illustrates her importance to the Arsenal side. In 40 appearances across the season, she scored 12 goals and provided 14 assists.
Yet, Mead's game is just as impressive going back toward her own goal. She was head of the class in her defensive capacity and for pressing too. Mead's mix of attacking flair and sheer hard graft saw her named the club's Player of the Season for 2021/22. She was taking great form into the Euros.
International Career
Beth Mead has carried her prolific club form into her international career. She has 45 senior caps for England and scored 28 goals. Mead first represented her country at under 15 levels, and also for the Under 19 and 20 teams. She realized every soccer player's dream when she made her full international senior debut. She came on as a substitute against Wales in a World Cup qualification match in April 2018. Mead bagged two goals in her first full start against Kazakhstan.
In 2019 Beth Mead was part of the England side which won the invitational She Believes Cup for the first time. Mead was the joint top scorer for the tournament with two goals from three games played. Her incredible angled winner from a wide position against Brazil was a stand-out goal from the tournament. The international soccer world was given a glimpse of the spectacular strikes Mead has become known for.
However, there have been some major disappointments along the way too. Mead was left out of interim England manager Hege Riise's first squad in 2021. This disappointment was magnified further by her omission from the GB squad for the Tokyo Olympics. Mentally this left her in a dark place. She has been bold enough to admit what many of us may have felt in a similar position. She was hoping those picked ahead of her underperformed, negative emotions she hated herself for having.
The appointment of Sarina Wiegman as England's head coach in 2020 was the start of a further elevation in England's and Beth Mead's fortunes. The Lionesses went into the European Championships in 2022 with newfound confidence and resilience. It was to be England's and Beth Mead's time to shine.
Women's Euros 2022
There was a quiet confidence that England could do well in the 2022 Euros. They would have home advantage with England staging the tournament, and the crowds came out in their numbers. Beth Mead wasted no time in laying down a marker. She scored the tournament's opening goal and England's winner in a one-nil win against Austria. The performance was edgy, but confidence began to grow with every game.
Mead won the Golden Boot after scoring 6 goals, including a hat-trick in the crushing 8-0 win against Norway. She also provided five assists. This was more than Germany's Alexandra Popp who also scored 6 goals and why the Golden Boot went to Mead. Whether on her left or right foot, Mead's finishing was of the highest order.
Beth Mead notched the first of England's four goals in a resounding 4-0 semi-final win against a strong Swedish side. This set up a mouth-watering clash against old rivals Germany in the final. What an occasion this proved to be in front of a packed Wembley Stadium. I watched on tv with pride and admiration as the Lionesses brought home the nation's first soccer trophy since 1966 as they beat Germany 2-1 after extra time.
Beth Mead played an hour of the final before being substituted. However, her contribution throughout the tournament was massive. She was the stand-out player. UEFA recognized Mead's efforts by making her Player of the Tournament. She has since been nominated for the prestigious Ballon d'Or for 2021/22.
Beth Mead Video
A compilation of Beth Mead's goals for Sunderland during the 2015/16 campaign.
A look at why Beth Mead is considered one of the best players in women's soccer.
Highlights of England's 8-0 win against Norway, including a hat-trick from Beth Mead.
Education remained important for Beth Mead.
Beth Mead Family
Beth Mead is currently single and does not have any children. She was previously in a relationship with former Arsenal teammate Danielle van de Donk. The couple made their relationship known to the public in 2019 and spent the Covid lockdown at Beth Mead's London home. Mead posted a few videos to YouTube from her home during this period, a time when she was also recovering from injury.
The couple has since split. Danielle van de Donk left Arsenal in June 2021 to join Olympique Lyon. The pair still seem to have an amicable relationship and post pictures of each other online even though van de Donk is now dating someone else. The pair met again at a friendly between England and the Netherlands in the build-up to the Women's 2022 Euros. They were seen embracing after the final whistle.
Beth Mead Net Worth and Career Earnings
Beth Mead's net worth is estimated to be around $500,000. She earns a salary of $30,000 playing for Arsenal. The salary difference between the top men and the top women players in soccer remains striking. England's win at Euro 2022 should give the women's game in the UK a big boost. This will hopefully see the top professional women players better rewarded.
The England players were reportedly earning $2400 per game during Euro 2022. A decent payday when considering Beth Mead's club salary. A further boost was given to her net worth when England won the tournament. The players earned a bonus of $65,000 for winning the 2022 Women's Euros.
Beth Mead was already sponsored by Nike, but this could be another area where winning the Euros could boost her net worth. Brands looking to harness the Lionesses' huge popularity with the public could see big benefits from players like Mead endorsing their products. Experts say there is the potential for deals worth millions to be offered across the team.
FAQs
Question: How old is Beth Mead?
Answer: Beth Mead is 27 years old. She was born on May 9, 1995.
Question: Where is Beth Mead from?
Answer: Beth Mead is from North Yorkshire in England. She grew up in the village of Hinderwell, near Whitby.
Question: How many goals did Beth Mead score at the 2022 Women's European Championships?
Answer: Beth Mead scored 6 goals at the 2022 Women's European Championships. She won the tournament's Golden Boot award, having also provided 5 assists.
Question: Has Beth Mead played at the Women's World Cup?
Answer: Yes, Beth Mead was part of the England squad that reached the semi-finals of the 2019 Women's World Cup in France. Mead provided 3 assists during the competition.
Research Citations
Continue reading more soccer star bios: