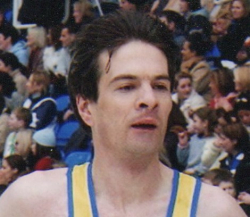 Latest posts by Stephen Hands
(see all)
Michael Van Gerwen is a darts-winning machine. It could be argued that only Phil Taylor sits above Van Gerwen on the list of all-time darting greats. Van Gerwen has won over 140 PDC titles, including 3 World Championships, and has rattled off 24 nine-dart legs during his career.
Michael Van Gerwen was third in the BDO ranking by the time of his 18th birthday, before switching to the PDC in 2007. He is currently third in the world, having previously held the number one spot for eight years.
From the moment Van Gerwen walks onto the stage in his green shirt and to the sound of Seven Nation Army by the White Stripes you know he means business.
There is a steely determination in his focus when playing darts. He believes he is the best, and more times than not proves that he is. Following surgery on his arm in 2022 to help save his career, there are signs Van Gerwen is returning to his best form.
In this bio, I shall delve into Michael Van Gerwen's background. I will look at when he first started to play darts, before charting his incredible rise to the top of the game.
Michael Van Gerwen Quick Facts
Full Name Michael Van Gerwen
Birth Date April 25, 1989
Birth Place Boxtel, Netherlands
Nick Name MVG, Mighty Mike
Nationality Dutch
Siblings Kevin, Peggy, and Samantha
Children Zoe and Mike
Spouse Daphne Van Gerwen (nee Govers)
Profession Professional darts player
Salary $300,000 prize money won 2021
Net Worth $6 million
Awards 2011 and 2013 PDC Young Player of the Year, 2016 and 2019 PDC Player of the Year, Made Knight of the Order of Orange-Nassau in 2018.
Last Updated August 2022
Michael Van Gerwen Birthplace and Early Life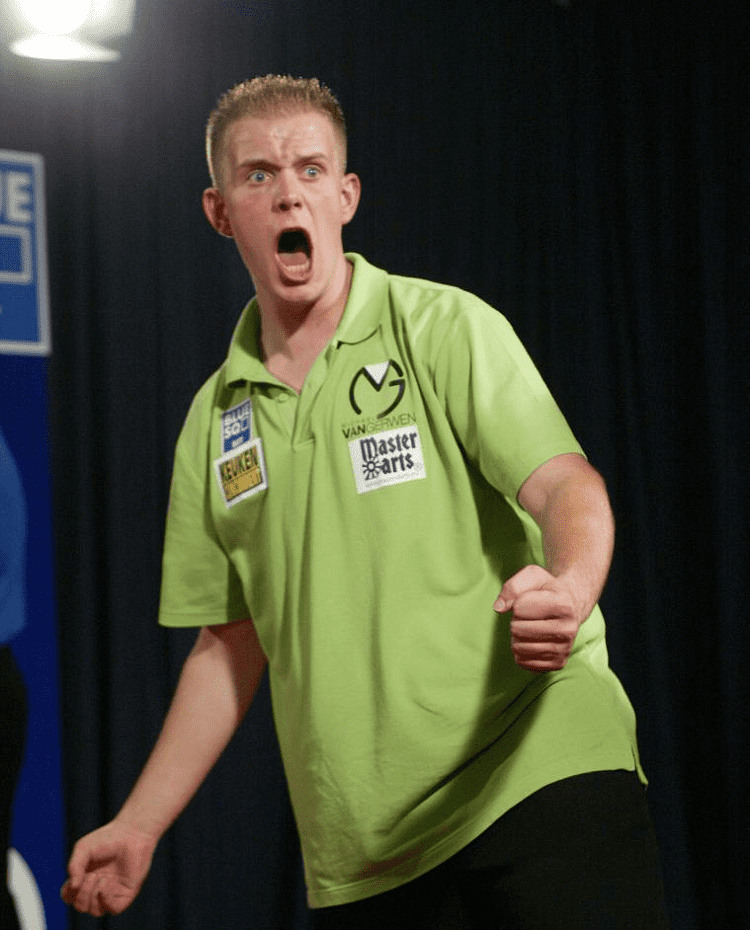 Michael Van Gerwen was born in Boxtel in the Netherlands on the 25th of April, 1989. His parents are Henri and Wilma Van Gerwen, and he has three siblings, Kevin, Peggy, and Samantha.
Like many young kids growing up in the Netherlands, Van Gerwen wanted to be a soccer player. He would have stayed out all day kicking a ball around given the chance.
Van Gerwen was a defender when playing soccer. Although his passion at the time, there was one flaw to his ambition of becoming a soccer player. By his admission, he wasn't any good!
How many of us know that feeling? The saving grace was that from the age of 13 he started playing darts with some of his friends. He soon realized he was better than them, winning most of the time.
The budding soccer player decided it was time to switch his focus to darts. He began to win youth tournaments, a winning feeling he enjoyed. Just a year after picking up a set of darts he reached the final of the 2003 Primus Masters Youth event.
From there he went on to win several youth titles including the German Open, the Swedish Open, and the Dutch National Youth Championship.
Tiling Dennis Bergkamp's House
While he was picking up youth title after youth title, the rising teenage Dutch star worked as a tiler. This paid for him to travel and compete on the darts circuit. His most noteworthy tiling job was at Dutch soccer legend Dennis Bergkamp's house. It was an early glimpse at the rewards sporting success can bring.
As well as winning youth titles in 2005, Michel Van Gerwen was also entered into the men's draw at the Norway Open. He duly won both the youth and men's titles. For many, this was when Van Gerwen came of darting age. Not long after this victory, he joined the British Darts Organization (BDO) circuit.
Michael Van Gerwen Professional Career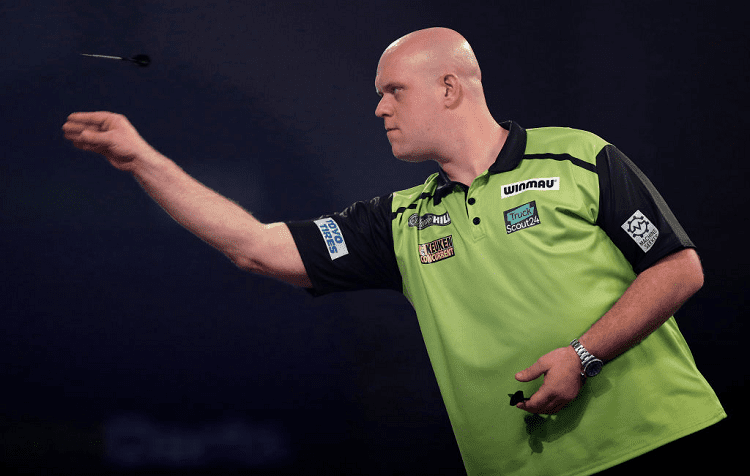 Michael Van Gerwen soon settled into life playing in BDO events. In 2006, he reached the semi-final of the World Darts Trophy staged in the Netherlands. He was beaten by Martin Adams but was quick to get his revenge.
The pair met in the final of the 2006 World Masters in Bridlington in England. This time Van Gerwen beat the man known as Wolfie by seven sets to five. Still only 17 years of age, Van Gerwen was the youngest ever winner of a major tournament, pocketing a cool $18,000 in the process.
The young Dutchman was ranked third in the BDO before he even reached his eighteenth birthday. Although ranked number three, Van Gerwen was many people's favorite to win the BDO World Championship in January 2007.
Held at the traditional Lakeside Venue, the tournament turned out to be a bit of a damp squib for Van Gerwen. He lost in the first round, losing three sets to two to England's Gary Robson.
However, rumors began to circulate that Michael Van Gerwen might switch to the Professional Darts Corporation (PDC). The PDC is usually seen as offering a higher standard of darts. You could see the attraction for a young player wanting to be the best in the business.
The rumors were proven right when Van Gerwen announced his switch to the PDC on the night of the 2007 BDO World Championship. Van Gerwen no doubt hoped that the final would have been his perfect send-off, but he would get his chance in the PDC equivalent.
A Positive Start to Life in the PDC
Van Gerwen was determined to prove he was not a one tournament sensation. Yet it was going to take time to adjust to this new environment. However, he became the youngest player to hit a televised nine-dart leg at the Masters of Darts event.
This was in the semi-final, which he eventually lost to fellow countryman Raymond Van Barneveld. In the early group rounds, Van Gerwen had taken the notable scalp of Phil Taylor.
He would meet Taylor again in the first round of the PDC World Championships in 2008. Van Gerwen pushed arguably the greatest darts player ever all the way. He had double twelve to win the tie but shaved the wrong side of the wire.
Taylor came storming back, and the chance was gone. However, Van Gerwen did not push on from here as he may have wished. He won his first PDC event in 2009 but returned to playing youth tournaments to rebuild his form and probably his self-belief too.
This paid off as he won four youth tournament events and reached the final of the PDC Under-21 World Championships. Although he lost the final to Aaron Monk, Van Gerwen was named PDC Young Player of the Year for 2011.
Potential Realized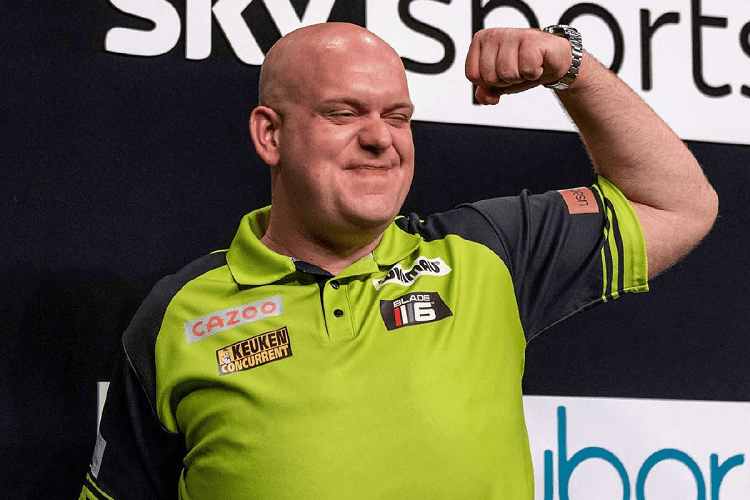 In 2012, Michael Van Gerwen began to realize his early potential. The wins on the youth circuit ignited a resurgence in form and confidence. Van Gerwen stormed to eight PDC tour event wins in 2012, including his first major title, the World Grand Prix.
When he beat seasoned player Mervyn King in the final Michael Van Gerwen became the tournament's youngest winner. He did it the hard way too, coming from four sets to one down to take five sets in a row. Van Gerwen pocketed over $100,000 for his efforts and rose to number eight in the world.
Van Gerwen would win the World Grand Prix on another four occasions. He became a prolific winner including winning the Masters five times, the World Series Finals four times, and the Premier League six times.
This includes a stunning win in 2022. However, the one title every darts player wants to win is the World Championship. After a third-round exit in 2012, hopes were high for a good run in 2013.
Such hopes were well-founded, and Van Gerwen reached his first World Championship final. However, Phil Taylor proved too strong, winning by seven sets to four even though Van Gerwen averaged over 100. However, Van Gerwen would not have to wait long to be crowned world champion.
Three-Time World Champion
In 2014, Michael Van Gerwen reached his second consecutive PDC World Championship final. This time there would be a happier outcome. He demolished Adrian Lewis 6-0 in the semi-final, so confidence must have been high.
In the final, he again averaged over 100 in beating Peter Wright seven sets to four. He had to resist a strong fightback by Wright after taking a 4-0 lead. However, Van Gerwen saw off Wright's spirited challenge to land a record prize pot of nearly $300,000.
If we thought his 2014 performance was good, we hadn't seen anything yet. Michael Van Gerwen claimed his second PDC World title in 2017. His passage to the semi-final was smooth and largely untroubled.
Waiting at this stage was fellow Dutch darts star Raymond Van Barneveld. Van Gerwen recorded the tournament's highest ever average in beating Van Barneveld, 114.05.
In a high-quality final, Van Gerwen shared 42 maximum 180s with opponent Gary Anderson. However, Van Gerwen was on a roll, winning by seven sets to three. It was his 26th title of the year.
After losing in the semi-final in 2018, Michael Van Gerwen was back in the final of the PDC World Championships in 2019. He had faced a challenge of a different sort before his second-round match. Just before his entrance, someone threw a beer over the Dutchman.
After a change of shirt and time to recompose himself, Van Gerwen went about his business as usual. In the final, Van Gerwen saw off Englishman Michael Smith by seven sets to three to lift the World Championship trophy for the third time in his career.
Career Threatening Surgery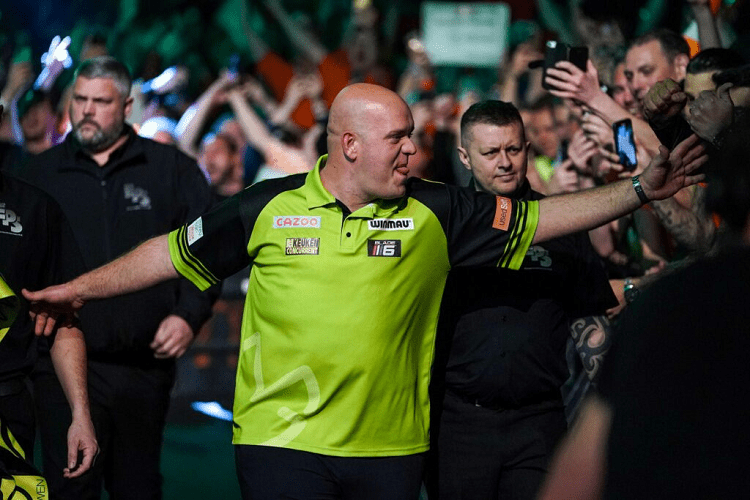 Listing Michael Van Gerwen's titles and achievements would require an exceptionally long piece of paper. However, between 2020 and 2021 his form began to dip.
He won the UK Open in March 2020, having lost the World Championship final to Peter Wright. In the 2021 World Championships, he was whitewashed 5-0 by Dave Chisnall in the quarter-finals. He lost his long-held number one ranking in the world.
Van Gerwen's attempt to regain his world title in 2022 was derailed after testing positive for Covid. This forced him to withdraw before his third-round match. However, he stormed back to form by winning the Premier League in 2022.
It was the sixth time he has won the event, beating Joe Cullen in the play-off final in Berlin. However, soon after his victory, Van Gerwen announced he would require surgery on his throwing arm.
The surgery was needed to fix carpal tunnel syndrome. Previously he was receiving treatment to alleviate the symptoms. However, he felt surgery was required to prevent any nerve damage which could ultimately threaten his career.
The operation was a success. He won the World Matchplay title on his return, throwing 15 180s in the final to prove all was well with his throwing arm. It was his seventh title of the year, an ominous sign of a return to form for his opponents.
Michael Van Gerwen Videos
A 17-year-old Michael Van Gerwen hits his first televised nine-darter in 2007
Michael Van Gerwen wins his first major PDC title, the World Grand Prix in 2012
A look at how Michael Van Gerwen won the first of his three PDC World Championship titles
Some of Michael Van Gerwen's best performances
Michael Van Gerwen Family
Michael Van Gerwen married his childhood sweetheart Daphne Govers in 2014. A former hairdresser and an avid darts fan, she met Van Gerwen when growing up in Boxtel.  Daphne Van Gerwen would often be seen at tournaments supporting her husband.
She was once referred to by Van Gerwen in a novel excuse for why he nearly had to pull out of a tournament. He said he had originally pulled a muscle in his back while showering with his wife. He was still experiencing twitches which put his participation in the tournament in doubt.
The couple has two children, Zoe and Mike. Their first child Zoe was born in August 2017, with Mike born in April 2020. Van Gerwen has talked about the importance of family and how much he looks forward to coming home to them after being away playing tournaments.
Michael Van Gerwen Net Worth and Career Earnings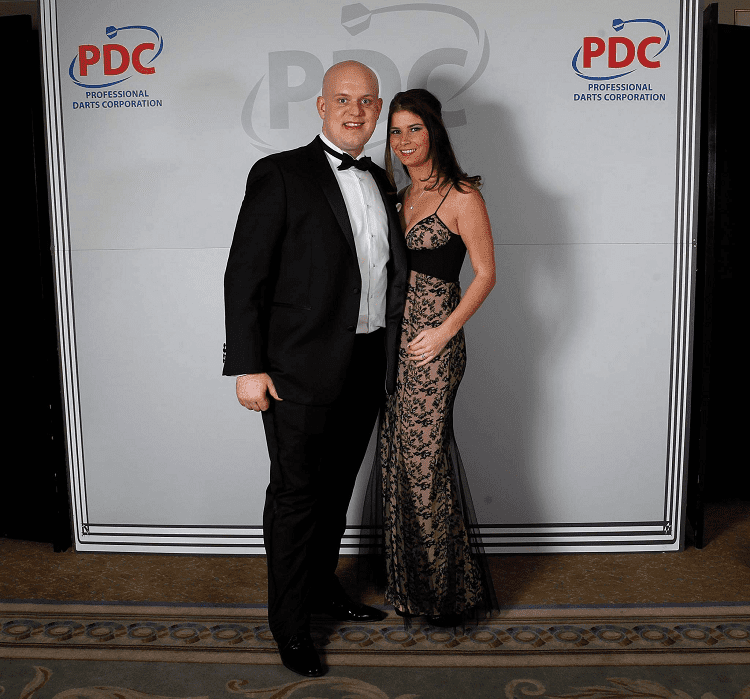 Michael Van Gerwen has an estimated net worth of $6 million. He currently sits third in the PDC order of merit rankings. Van Gerwen has earned $975,000 in prize money in the last two years at PDC ranking events. During his successful career to date, Michael Van Gerwen has enjoyed some very large paydays.
When he beat Peter Wright to win his first PDC World Championship in 2014, Van Gerwen pocketed around $300,000. This was a record prize pot. When he won the title for the third time in 2019 the winner's cheque had doubled.
Michael Van Gerwen has won over 140 tournaments and earned close to $10 million in his career. This puts him top of the pile for prize money earned playing darts.
He is still only 33 years old and coming back to his old form following surgery on his wrist. Therefore, there is potential for Van Gerwen to win many more titles yet, further boosting his prize winnings and total net worth.
As a world leader in his sport, Michael Van Gerwen is an attractive prospect for sponsors. In 2020 he signed a lucrative five-year product sponsorship deal with Winmau, one of the world's most established darts makers.
Van Gerwen also signed a two-year deal with BMW Story which saw him swap his Rolls-Royce Ghost for a BMW 745Le. Michael Van Gerwen has also been endorsed by Leyland Paints, Van Mossel Automotive, and Dutch kitchen company Keukenconcurrent.
FAQs
Question: How Old is Michael Van Gerwen?
Answer: Michael Van Gerwen is 33 years old. He was born on April 25, 1989.
Question: How Many World Championship Titles has Michael Van Gerwen Won?
Answer: Michael Van Gerwen has won three PDC World Championships, in 2014, 2017, and 2019.
Question: Is Michael Van Gerwen Still Playing Darts?
Answer: Yes. After requiring surgery in 2022 to address carpal tunnel syndrome in his throwing arm, Michael Van Gerwen is back playing darts.
Question: What is Michel Van Gerwen's Ranking in the World?
Answer: Michael Van Gerwen is currently ranked third in the PDC world rankings.
Research Citations
Looking for more interesting readings? Check out: