Latest posts by Marjorie Herrera
(see all)
Roberto Clemente was a Puerto Rican baseball player who dedicated all his time in the Major League Baseball to the Pittsburgh Pirates. He had an outstanding batting average, was a tremendous right fielder, and a quick runner. He is a 2 times World Series winner, a member of the Baseball Hall of Fame, and more importantly, a reference in terms of humanitarian work — which consequently provoked his tragic death in a plane crash at the age of 38. There is even a Roberto Clemente Award for MLB players who have followed his humble and honorable path.
Roberto Clemente Quick Facts
Full Name:

Roberto Enrique Clemente

Birth Date:

August 18, 1934

Birthplace

: Carolina, Puerto Rico

Nickname:

Arriba

Nationality:

Puerto Rican

Siblings:

6 – 1 sister, 5 brothers

Children:

3

Spouse:

Vera Clemente

Profession:

Baseball player

Salary:

≈100K (1972)

Net worth:

300k (1972)

Social media:

None

Awards:

World Series Champion (1960, 1971), National League MVP (1966), World Series MVP (1971), Gold Glove Award (1961-1972), National League Batting Champion (1961, 1964, 1965, 1967), Member of the Hall of Fame (1973), #21 shirt was retired (1973).

Last Updated:

06/24/2021
Roberto Clemente's Birthplace and Early life
Roberto Clemente was born in Carolina, Puerto Rico and was son to Melchor Clemente and Luisa Walker. He grew up with 5 brothers and 1 sister, and he was the youngest of them all. Roberto's parents ran a small store. Melchor was a foreman in the sugar cane fields; he had a truck to carry sand and gravel for construction. Sometimes Roberto and his brothers worked for several hours with his father and helped him load and unload the truck.
Clemente attended Julio Vizcarrondo High school. He immediately excelled as an athlete, not only by playing his beloved game, baseball, but he also was great at track and field. Roberto started to grow as a ballplayer and tried out for the Sello Rojo softball team. He played there for 2 years and started as a shortstop. Clemente also played baseball in the San Juan Youth League. At the age of 16, he played for the Ferdinand Juncos, a team in the Puerto Rican Amateur League.
Roberto Clemente's Professional Career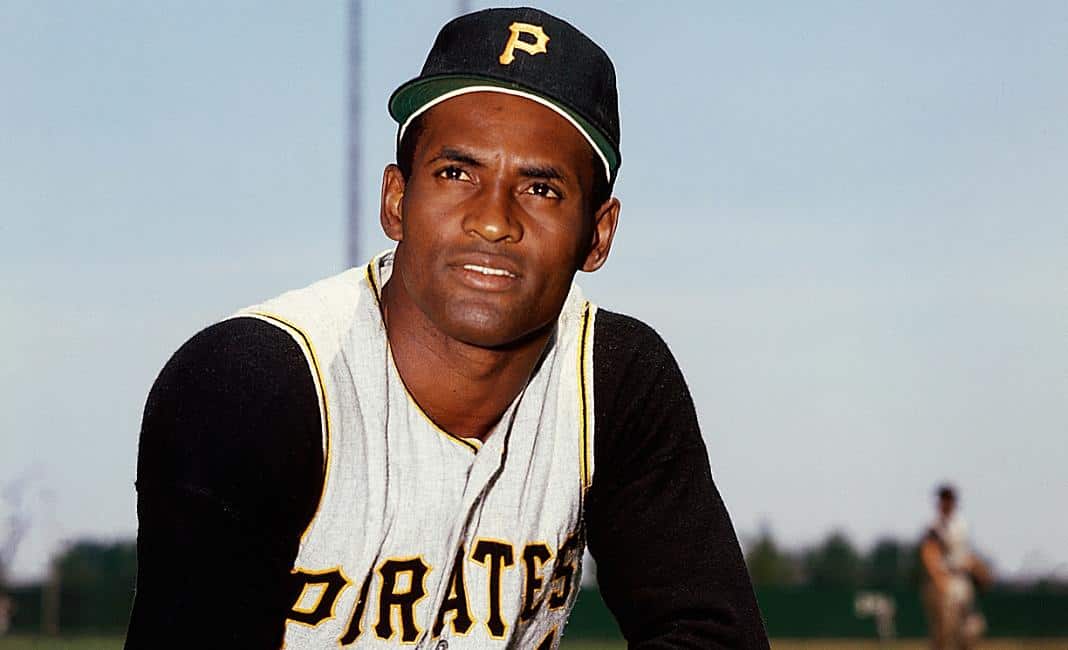 His beginnings in Puerto Rican baseball
In 1952, when Clemente was 18 years old, Roberto Marín, who had first recruited him for the Sello Rojo team, introduced the baseball player to Pedrín Zorrilla. Zorrilla was in charge of the Cangrejeros de Santurce, and it was one of the best teams in Puerto Rico's Winter League. His contract included a USD 400.00 bonus and a salary of USD 40.00 per week.
Zorrilla was not so keen on giving Clemente many chances on the field. He was benched for several games. In the 1952-1953 season, Roberto's time to prove his worth in the field finally came. He played more regularly, and, during that season, the team was champion for the second time.
Clemente's short time with the Brooklyn Dodgers
Clemente's swing and catch quickly caught the attention of high ranks in the baseball world. The Brooklyn Dodgers (Now Los Angeles Dodgers) approached Zorrilla to offer Roberto a signing bonus of USD 10,000.00 and a yearly salary of USD 5,000.00. At the same time, the Milwaukee Braves offered the young player a bonus of USD 28,000.00.
While evaluating his options, his mother Luisa told him that he had had already given his word to the Dodgers and that he should keep it, even though the agreement was not signed yet. Clemente signed with the Dodgers in February 1954 and immediately moved to Montreal to play with the Royals, the Dodgers' Triple-A team.
His MLB career in Pittsburgh's Pirates.
Roberto Clemente in the 50s
Obviously, Clemente did not last long as a Triple-A player in the Dodgers. In that same year, the Pittsburgh Pirates saw him on a scouting trip and wanted the young one to play for the team. Clemente happily signed for the Pirates because he saw an opportunity to play regularly. He finally debuted on April 17, 1955. Ironically, this game was against the Dodgers.
Clemente had a bad time coping with racism in the team. There were only 2 black players in the Pirates, and he was one of them. On top of that, he was also Latino, so discrimination was even tougher for him.
The first days in the team showed a brilliant side of Clemente. He was batting at .360, but rivals started to notice his flaws and more and more strikes came along his path, especially with slow curveballs. Roberto did not impress others at the plate anymore, but he was shining in the outfield.
According to John Steigerwald, the Pittsburgh-based sports reporter, on July 25, 1956, Clemente made the only "Walk-off inside the park grand slam" in MLB history.
In the off-season of 1958-1959, Clemente enlisted as a marine in the United States Marine Corps). Clemente served throughout every off-season until 1964.
The 50s was not a good decade for the Pirates. They had been dragging this number of consecutive unsuccessful seasons for more than 2 decades.
The Pirates' the 60s and Clemente's first World Series title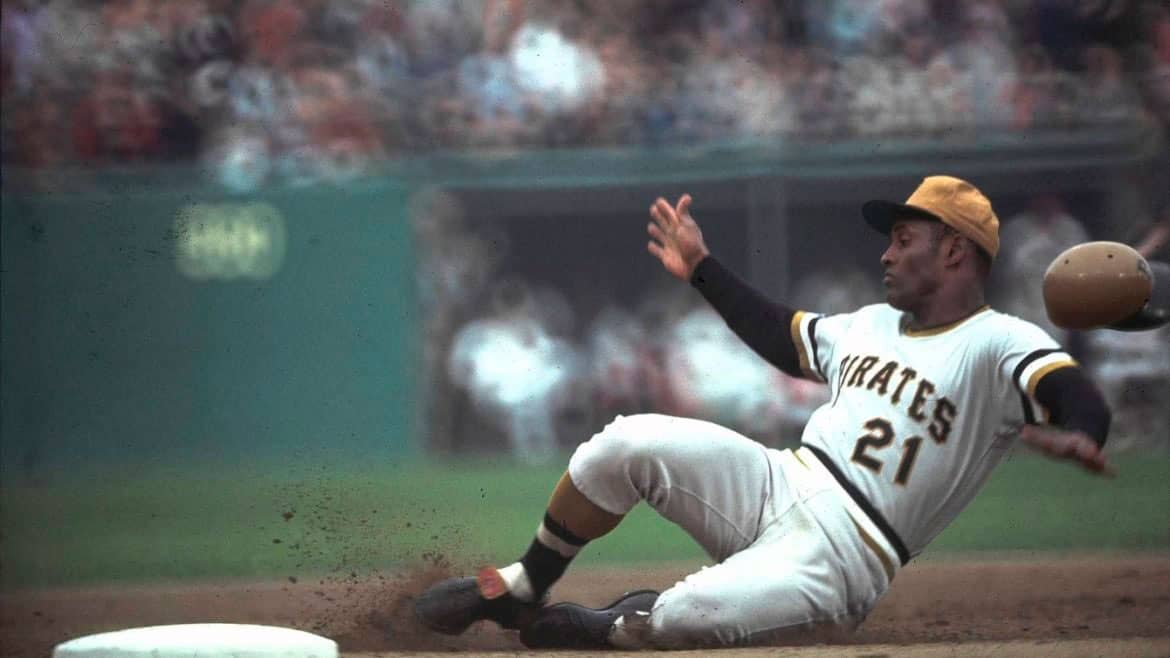 The beginning of the 60s, though, was something different for the Pittsburgh Pirates and Clemente. He had a batting average of .353 and kept batting about .300 on that campaign. Even though Clemente had to be out for 5 games due to a chin injury made on a catch, the Pirates managed to win the National League and defeat the New York Yankees to win their first World Series since 1925.
Clemente was a man who liked to keep himself busy, especially with baseball. He played with the Senadores de San Juan of the Puerto Rican League during the off-season and had a part in managing the team as well. He also played for the Cangrejeros de Santurce and Criollos de Caguas.
The Pirates did not make it to another World Series during the 60s. It was more like a mid-table team, but Clemente managed to keep shining and improving his personal stats. He batted above .300 during 9 years in this decade. He registered a career-high batting average of .357.
The beginning of the 70s: a peak moment for the Pirates
The 1970s represented a fresh start for the Pirates. They changed their beloved Forbes Field for the Three Rivers Stadium. Even though it was an emotional departure for Clemente and the team, the Pirates rose from the ashes once again. They were the winners of the East National League. They did not make it to the World Series final because they lost to the Cincinnati Reds.
The Pirates finally got to be stable in the top for more than one season. In 1971, Roberto and his Pittsburgh mates won the National League in a battle of 4 games against the San Francisco Giants. Apparently, the Pirates liked winning World Series in long and stressful sets of games, so they ended up winning it to the Baltimore Orioles in 7 games.
Clemente and the Pirates were growing stronger and stable in the National League. In 1972, Roberto beat the record of games played as a Pittsburgh Pirate (2443 games). Roberto's last game with the Pirates was on October 11: the 5th and final game against Cincinnati to battle for the crown of the National League before his tragic death in December. The Pittsburgh-based team did not make it to the World Series that year.
Roberto Clemente's Death
Besides being an outstanding baseball player, the Puerto Rican was very involved in all sorts of charity work. On December 23, 1972, Managua was hit by a 6.3 earthquake that left the country mourning thousands of people. Even more, people were left homeless and injured.
Clemente felt the need to go help himself and hopped on a plane on December 31. After several delays and the knowledge of mechanical problems, the plane took off, and moments after it crashed, and the pilot's body was the only one found. Puerto Rico nationally mourned his death for 3 days, as he was the most famous athlete in the Caribbean Island.
Roberto Clemente's Best Moments
"Watching Roberto Clemente play in Pittsburgh's stadium with all that crowd was an out-of-body experience," "It was like he was larger than life," "He was a superhero." These were some of the words that Duane Rieder, Executive Director of the Roberto Clemente Museum, said about the Pittsburgh idol.
This MLB video shows some of the features that were classic Clemente: his swing, his speed while running through the bases, his catches, and his outstanding humbleness and empathy. The latter characteristic gave birth to the Roberto Clemente Award, which is annually given to the MLB player who demonstrates the values of this legend in terms of commitment to helping others.
The MLB remembers the Puerto Rican's legacy and thoroughly studies his stats, and reminds everyone that the Puerto Rican was not only good with the bat, but he was also a tremendous right fielder with a great arm and powerful throws.
Roberto Clemente's family
Roberto Clemente married Vera Zabala in 1964. Even though he was already a star at the time, it was no easy task making Vera agree to go on a date with him. He tried to invite her to a baseball game, but the rain stopped that from happening. After insisting a few times about going on a date, Vera finally accepted. Roberto and Vera had 3 children: Roberto Clemente Jr., Luis Roberto Clemente, and Roberto Enrique Clemente.
Roberto Clemente's net worth and career earnings
It is believed that Roberto Clemente's net worth in 1972 was around USD 300,000.00. Back in 1971, Clemente's annual salary exceeded USD100,000.00. In 1972, Clemente signed a new contract with the Pirates, but the general manager at the time refused to disclose the salary. According to the Pittsburgh Post-Gazzete, Roberto's career earnings for all his seasons in the Pirates were below USD1,000,000.00.
Roberto Clemente's famous quotes
"When I put on my uniform, I feel I am the proudest man on earth."
"I don't believe in color."
"I represent the common people of America."
"Any time you have the opportunity to accomplish something for somebody who comes behind you and you don't do it, you are wasting your time on this earth."
Frequently asked questions
Question: What was Roberto Clemente famous for?
Answer: Roberto Clemente was famous due to several reasons: he played for the Pittsburgh Pirates for 18 seasons (1955-1972) and was key to the team's World Series championship in 1960 and 1971; he was known for his humble and humanitarian characteristics, that is why the Roberto Clemente Award was created in 1971; he played in 15 All-Star games, he won the Gold Glove Awards for 12 consecutive years; Clemente died tragically in a plane crash while providing help for people in distress after Nicaragua's earthquake in December 1972.
Question: Where was Roberto Clemente Born?
Answer: Clemente was born in Carolina, Puerto Rico.
Question: Why did Roberto Clemente's plane crash?
Answer: The plane in which the Puerto Rican was going to fly to get to Nicaragua was old and was having mechanical problems.
Question: Where did Roberto Clemente die?
Answer: Clemente died moments after his plane took off from the airport in San Juan, Puerto Rico.
Question: Is Roberto Clemente in the Hall of Fame?
Answer: Roberto Clemente was inducted into the Baseball Hall of Fame in 1973. The Puerto Rican was also inducted into the Marine Corps Sports Hall of Fame in 2003.
Question: Was Roberto Clemente's body ever found?
Answer: Even though there was an 11-day search, Clemente's body was never found. The only thing left of him from that crash was his briefcase, which washed ashore later.
Question: Who did Roberto Clemente play for?
Answer: Roberto Clemente played professionally for the Pittsburgh Pirates, but also for the Cangrejeros de Santurce, Criollos de Caguas, and San Juan Senadores in the Puerto Rican Winter League during off-seasons.
References
Continue reading related Bios from MLB personalities: