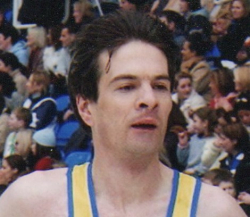 Latest posts by Stephen Hands
(see all)
Roger Federer is considered one of the greatest, if not the greatest tennis player of all time. His graceful movement across the court and stylish shot-making, including his signature one-handed backhand, soon made him a fan's favorite. Every tennis fan wants to watch Federer live at some point. In the years I managed to get Wimbledon tickets I always hoped Federer would be playing on the day of my visit. Unfortunately, this was not the case, but thousands of others have had the good fortune to watch a master of his trade play live.
Still playing at the top level at the age of 40, Federer has amassed 20 Grand Slam titles in his career, including eight on the grass at Wimbledon. Federer has held many records across his illustrious career. This includes 237 consecutive weeks as the world's number one and the oldest tennis player to hold the number one ranking aged 37. He has earned over $130 million during his playing career. This is not to be sniffed at in an era comprising the likes of Novak Djokovic, Rafael Nadal, and Andy Murray.
Roger Federer Quick Facts
Full Name Roger Federer
Birth Date August 8th, 1981
Birth Place Basel, Switzerland
Nicknames Maestro, Federer Express
Nationality Swiss
Siblings Sister, Diana
Children Two sets of twins, Myla and Charlene, Leo and Lenny
Spouse Mirka Vavrinec
Profession Professional tennis player
Salary $90 million (May 2021)
Net Worth $550 million
Awards 40 ATP awards, 5 times winner of Laureus World Sportsman of the Year, 7 times winner of Swiss Sportsman of the Year
Last Updated May 2022
Roger Federer Birthplace and Early Life
Roger Federer was born in Basel, Switzerland on August 8th, 1981, to parents Robert and Lynette Federer.  He has an older sister, called Diana. The young Federer grew up in Munchenstein, a town in the suburbs of Basel and a German-speaking part of Switzerland.
Federer's early sporting interests were football and tennis. He first started to play tennis at the age of eight. Both of Federer's parents were keen recreational tennis players. Anyone who grew up with parents who were into a particular sport will appreciate how the young Federer would have been drawn to tennis.
However, it would also soon become clear that Federer was a little bit special. He began to focus all his energy on the game and by the age of 11 Federer was already one of the top three junior tennis players in Switzerland.
One thing Federer and I shared when we were young was the desire to emulate our tennis idols such as Boris Becker, Stefan Edberg, and Pete Sampras. Fortunately for Federer, he possessed the talent that I certainly did not, allowing him to go on and emulate them. In 1993 Federer had his first opportunity to get a flavor of the elite stage of the game when he was a ball boy at his hometown ATP tournament in Basel.
At the age of 14, Roger Federer began playing tournaments. Like a duck taking to water, he became National Junior champion the same year. Since the age of 10 Federer had received coaching from Peter Carter, who was killed in a car accident in 2002. Federer commented how inspirational and important Carter was to the development of his career.
Roger Federer's ridiculous talent was being recognized. He received a scholarship to the Swiss National Tennis Center in Ecubens, and by 1996 the future tennis star was playing on the ITF junior circuit.
Roger Federer Professional Career
My introduction to this emerging Swiss tennis talent was in 1998. This was the year Federer won both the junior singles and junior doubles events at Wimbledon, the beginning of his long love affair with this special tournament.
He turned professional a year later. In 1999 Federer became the youngest player to feature in the world's top 100, ranking 64th at the age of 18 years 4 months. To cap an extraordinary start to his career, Federer also represented Switzerland in the Davis Cup against Italy. Federer beat Davide Sanguinetti, the world number 48, in the opening rubber to mark a noteworthy debut in the competition.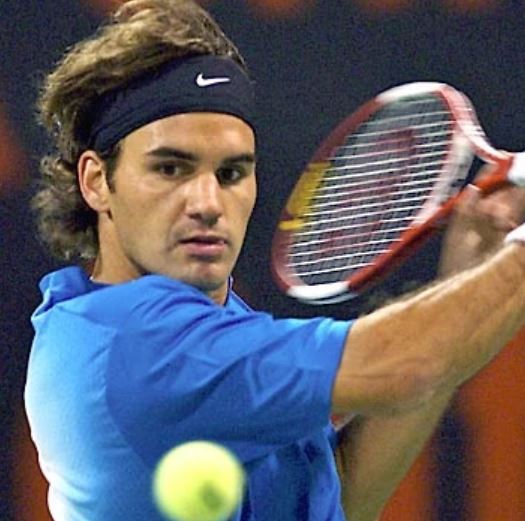 In 2000 a hopeful Roger Federer headed to the Olympics in Sydney. However, he missed out on a medal when losing the bronze medal match against Arnaud di Pascuale of France. That disappointment would soon be put behind him as he took center stage at Wimbledon the following year.
Still just 19 years old, Federer gave a foretaste of his Wimbledon dominance when he beat Pete Sampras in the fourth round after a five-set classic. I remember watching this match in awe.  This 19-year-old with the ponytail had not only knocked out the reigning Wimbledon champion. He had also ended the previously immaculate Sampras' 31-match unbeaten run at Wimbledon. The win signaled a changing of the Wimbledon guard and the birth of a new fan favorite, me included.
Federer's Wimbledon Dominance
Roger Federer's game was beautifully suited for the grass at the All-England club at Wimbledon. However, he would first suffer disappointment as he was unable to build on his 2001 win over Sampras. Federer lost in the first round in 2002 to Mario Ancic. Following his victory over Sampras the year before, most of us expected great things from Federer that year.
However, he returned with a bang. Federer won six of the next seven tournaments and was a finalist in the one he missed out on. This was a decent way to get over a disappointment in anyone's book. Federer would win Wimbledon again in 2012 and memorably in 2017.
This was the year when his straight-set victory over Marin Cilic at the age of 35 saw him become the first man to win Wimbledon 8 times. Sat watching this final at home, it was hard not to feel affection and satisfaction for Federer, as he defied age and the critics to win again.
Federer's defeat to his great rival Rafael Nadal in the 2008 Wimbledon final saw his record run of 65 straight wins on grass come crashing to an end. Once again, the memory of that defeat was banished in the best possible way the following year. Federer defeated the American Andy Roddick in a pulsating five-set final to claim his 6th Wimbledon title. The win was also his 15th Grand Slam title, surpassing the record previously held by Pete Sampras.
Plagued by a knee injury in the latter part of his career, something I can certainly relate to, Federer's 2017 win must have been incredibly satisfying. He was the oldest winner of a men's Grand Slam tournament in the open era.
20 Grand Slam Wins
The name Federer will always closely follow the word Wimbledon in conversation. Yet, he also won a further 12 Grand Slam titles away from the lush grass courts of SW1 in London. In 2004, a year after his first Grand Slam win at Wimbledon, Federer won the Australian Open and the US Open as well as Wimbledon. A true tennis icon was now on show, and to prove this was no one-off, Federer repeated the feat in 2006 and 2007.
In all Federer has won 6 Australian Opens and 5 US Opens. He won on the hard courts of the US Open for 5 consecutive years between 2004 and 2008, proving his game was not just suited to the grass of Wimbledon.
The only time he won the elusive French Open was in 2009, but this is in the era of Nadal. Some years you may have well handed Nadal the trophy at the start of the tournament and saved everybody a lot of trouble. He is that dominant on the clay surface.
In total, Roger Federer has appeared in a remarkable 31 Grand Slam finals. His most recent win was at the 2018 Australian Open. He once again beat Marin Cilic, requiring five sets to win back-to-back Australian titles. This made him only the third man over 30 to win four or more Grand Slam tournaments. This is a testament to his dedication to the game and his fitness levels.
There was still plenty of fuel in the tank. Federer reached the semi-finals at the French Open and the final at Wimbledon in 2019 at the ripe old age for a top-level athlete of 37.
ATP and Olympic Titles
Since Federer won his first title way back in Milan in February 2001, he has proven prolific on the ATP circuit. Away from the Grand Slam events, Federer has won over 80 tournaments, including six ATP year-end championship finals. Not a bad haul to look back on.
Federer has consistently returned to play his hometown tournament in Basel where he used to be a ball boy, winning the tournament 10 times. Federer has won many notable tournaments in his glittering career including four ATP Masters 1000 Miami titles, five ATP Masters Indian Wells titles, and 10 Halle titles. Halle acts as Federer's traditional pre-Wimbledon warm-up event in Germany.
One of the titles to have alluded to Federer is the Olympics singles tournament. Since Sydney 2000 Federer has played in five Olympics. He only has a single silver medal to show for his efforts in the singles tournament, losing to Andy Murray in the final in London in 2012. For a Brit, this was a tough day. You wanted Murray to add another gold to the GB tally. However, as a Federer fan, you were desperate for him to win the one major title to have escaped him.
Federer did win gold in the doubles event in Beijing in 2008, where he teamed up with fellow Swiss player Stan Wawrinka. Therefore, it was not all doom and gloom on the Olympics front. It also gave his fans who leaned toward Murray for nationalist reasons a feeling of relief. Federer and Wawrinka were also instrumental in helping Switzerland win their first-ever Davis Cup in 2014. Federer's straight-sets win over Richard Gasquet sealed the victory.
Epic Matches
Roger Federer has been part of a golden era in men's tennis, an era that has seen him involved in some of the sport's most memorable encounters. This includes a series of epic matches against Rafael Nadal that have consistently had fans on the edge of their seats. This includes Federer's  five-set win against the Spanish player at Wimbledon in 2007.
However, the greatest tennis match I have watched was the re-match in 2008. It was Nadal's turn to be triumphant. Yet, having stormed into a two-set lead and looking unstoppable he was pegged back by Federer, who won the next two sets on tie breaks.
In a thrilling rain-affected match, full of incredible shots, Nadal won the deciding set 9-7. This epic contest lasted 4 hours and 48 minutes. You felt sorry for Federer for falling just short but thankful that his comeback contributed to such an epic sporting contest.
Federer's defeat of Andy Roddick at Wimbledon in 2009 will also last long in the memory. This was yet another marathon encounter. Federer came out victorious in a pulsating match, taking the final set 16-14. The win was his 15th Grand Slam title, surpassing the 14 won by the previous master Pete Sampras. It was a match that sapped your energy just watching, let alone playing.
Federer has also been involved in epic matches with Novak Djokovic. Federer's win in the semi-final at the French Open in 2011 was noteworthy for the ridiculous quality of shot-making by both players. Federer's between the legs shot against Djokovic at the 2009 US Open is always worth a watch too. I don't know how many times I have watched the clip, yet it still makes me smile.
Roger Federer Video
Federer beats Pete Sampras in the fourth round at Wimbledon in 2001.
A sample of some of the best rallies in the 2008 clash between Federer and  Nadal at Wimbledon.
Federer's cheeky winner hit between his legs against Djokovic.
The moment Federer wins his eighth Wimbledon title.
Roger Federer Family
Roger Federer is married and has four children, two sets of twins. He met his wife Miroslava "Mirka" Vavrinec in 2000 at the Sydney Olympics, and they were married in Basel on 11th April 2009. Mirka Federer was also a professional tennis player. She reached a career-best ranking of 76 before injury cut short her career in 2002.
However, Mirka did have the opportunity to partner with her future husband when representing Switzerland in the Hopman Cup in 2002. Following her retirement, Mirka took the role of Federer's public relations manager. She is often seen courtside supporting her husband.
Roger and Mirka Federer's first set of twins, Myla and Charlene, was born in 2009. In 2014 the couple saw the arrival of their twin boys, Lenny and Leo, and it is no surprise all four children enjoy playing tennis.
Federer has continued competing on the ATP tour with his family beside him. He has commented on how fortunate he is to be able to do so and how he now gets to see the places he visits from a different angle.
Roger Federer Net Worth and Career Earnings
Roger Federer's net worth is a mighty $550 million, a combination of career earnings and endorsements. To date, Federer has earned over $130 million on the tennis court. 2017 was reported as the year which saw his highest annual total winnings of over $11 million. This was the year he won seven titles, including Wimbledon and the Australian Open. Since then, Federer has suffered from injuries, but in 2021 his earnings from tennis were still around $650,000.
The Federer brand is highly marketable. A sizeable proportion of his net worth comes from endorsements. According to Forbes, he was the seventh highest-paid athlete in the world in 2020-21, earning a cool $90 million. Federer was the only tennis player on the list. This confirms his continued appeal to businesses as a brand ambassador. The previous year he had topped the list, earning a whopping $106 million.
This level of earning is impressive considering injury has seen him play little tennis during these last couple of years. One of his major sponsors is Rolex, with an endorsement deal worth around $15 million.
Other endorsements include Credit Suisse, Uniqlo, Lindt, Mercedes Benz, Wilson, Barilla, Sunrise, and Moet & Chandon. Federer was previously endorsed by Nike for $10 million a year, before switching to Uniqlo in 2018. Uniqlo also offered a 10-year deal, but reportedly for triple the money. Federer also reportedly saw an opportunity for innovation with the company.
Roger Federer Famous Quotes
"I am a very positive thinker, and I think that is what helps me the most in difficult moments."
"There is no way around the hard work. Embrace it. You have to put in the hours because there's always something which you can improve."
"I fear no one, but respect everyone."
"Once you find that peace, that place of peace and quiet, harmony and confidence, that's when you start playing your best."
"You will not grow if you are not willing to change yourself."
FAQS
Question: How Old Is Roger Federer?
Answer: Roger Federer is 40 years old. He was born on April 8th, 1981.
Question: Does Roger Federer Still Play Tennis?
Answer: Yes, and while a knee injury has limited his participation in the last couple of years, Federer is looking to play the grass-court season in 2022, including Halle and Wimbledon.
Question: What Tennis Racket Does Roger Federer Use?
Answer: Roger Federer uses a Wilson Pro Staff RF97 tennis racket, a racket he worked with Wilson to design, and a racket that he endorses.
Question: When Did Roger Federer Win His First Senior Title?
Answer: Roger Federer won his first senior title on February 4th, 2001, aged 19. He defeated Julien Boutter at the Milan indoors title.
Roger Federer Bio: Research Citations