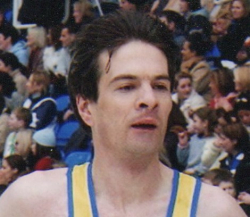 Latest posts by Stephen Hands
(see all)
Christian Pulisic is an American soccer player who plies his trade with Chelsea FC in the English Premier League. Nominally an attacking wide player, Pulisic has an eye for goal which can see him also utilized in a more central role.
Pulisic is a pacy player who can drift past opponents with the ball at his feet. He comes from good soccer stock, with both his parents enjoying excellent college soccer careers. Pulisic joined German giants Borussia Dortmund aged 16, before his big-money transfer to Chelsea.
Christian Pulisic soon became a star of the American national soccer side. He was the youngest player to ever represent his country in a World Cup qualifying game. He would then become the youngest captain of the US men's side. As his career developed, he was dubbed the 'wonder boy' by the American sporting media. Nothing like heaping pressure on a young talent!
This bio will explore Pulisic's journey from Pennsylvania to West London via the German Bundesliga.
Christian Pulisic Quick Facts
Full Name Christian Mate Pulisic
Birth Date September 18, 1998
Birth Place Hershey, Pennsylvania
Nick Name Captain America
Nationality American
Siblings Sister, Devyn, and brother, Chase
Children None
Partner/Spouse Single
Profession Professional soccer player
Salary $8.6 million
Net Worth $40 million
Awards 3 x US Soccer Male Player of the Year, 2015 US Soccer Young Male Player of the Year, 2019 Concacaf Gold Cup Best Young Player
Last Updated September 2022
Christian Pulisic Birthplace and Early Life
Christian Pulisic was born on September 18th, 1998, to parents Mark and Kelley Pulisic. He grew up in Hershey in Pennsylvania with his sister, Devyn, and brother, Chase. There was always a good chance one of the siblings would be a soccer player. Mark and Kelley were excellent college soccer players, with Mark Kelley becoming a professional soccer coach.
Although he was already showing interest in the game, a move to the UK in 2005 kickstarted Christian Pulisic's passion for soccer. Kelley Pulisic was given the opportunity to work in England as part of a teacher exchange. It saw the family move to the village of Tackley in rural Oxfordshire for a year. Christian was aged seven and loved nothing better than kicking a ball around with his new friends after school.
He joined non-league Brackley Town FC and played for their juniors. His coach at Brackley instantly recognized a talent far beyond the rest of the side. Even at this age, Pulisic's touch, control, and pace while running with the ball set him apart from the rest.
Christian also went with his father to watch a good many soccer games across the different levels of the English game. He has acknowledged that his love for the game began during his time in the UK.
Back Home
After a year in the UK, Christian Pulisic returned to the US. His father was appointed coach of Detroit Ignition, who played in the Major Indoor Soccer League. The young Pulisic joined the youth set-up of the Michigan Rush. Here, he excelled once again, often playing against older boys.
The Pulisic family was on the move again after three years in Michigan. This time they were returning home to Hershey in Pennsylvania. Once back, Christian joined the local US Soccer Development Academy side, PA Classics. This is where Pulisic played until 2015, spending seven years honing his skills. He would return in 2021 to open a new training ground named after him at the club.
Christian Pulisic was seen as a great hope for US soccer. While playing for PA Classics, he represented the US at youth levels. Like his club football, he played in levels above his age group. Pulisic played for the country's Under 15 team while still 13. He went on to captain the Under 17 national side, scoring 20 goals in 34 appearances at this level.
Christian Pulisic Professional Career
A return to Europe was viewed as the best way for Christian Pulisic to continue developing his game. Although he had the chance to attend a trial at Barcelona, he opted to head to Borussia Dortmund. Pulisic and his family sought guidance about this next important move in his career. Dortmund has an impressive reputation for developing young talent and was given the nod.
The move to Europe was made easier by having a Croatian grandfather. This made Pulisic eligible for a Croatian passport and dual citizenship. It allowed Pulisic to start playing football in Europe at the age of 16. Without the passport, he would have needed to wait for another two years to make the move under FIFA rules governing minors playing abroad. Those two years proved hugely important in the young American's development.
Christian Pulisic joined the Dortmund youth set-up on his arrival. Assimilating into a new country can be difficult for young players. However, Pulisic was accompanied by his father, and despite a few ups and downs, soon began to settle. He helped his new club to win youth titles. He gained enough recognition for first-team coach Jurgen Klopp to invite Pulisic to train with the first team.
Borussia Dortmund
Christian Pulisic made his first team debut for Dortmund in January 2016 after training with the first team for six months. He was still only 17 years old. However, he soon became an established part of the squad.
Pulisic made 39 appearances in his first full season at Dortmund. He became the club's youngest player to score in the UEFA Champions League when he netted against Benfica in March 2017. A year earlier he became the youngest non-German to score in the Bundesliga.
The rising star was playing in a team packed full of experienced international players and now coached by Thomas Tuchel, his future Chelsea boss. This was the environment he needed to allow his game to flourish.
Pulisic helped Dortmund win the 2017 DFB Cup, the domestic German cup competition. This made him the youngest American to win a major trophy playing on European soil. In the final, the young American came off the bench to earn a penalty. Pierre-Emerick Aubameyang converted the spot-kick to clinch the trophy.
During his time at Dortmund, the club knocked on the door of the Bundesliga title without managing to claim the top spot. They finished as runner-up in Pulisic's final season in 2018/19. In January 2019, English Premier League club Chelsea FC signed Pulisic for a whopping $66 million. He was seen as one of the most gifted young players on the continent, His transfer fee made him the most expensive American soccer player.
However, the move was not immediate. Chelsea loaned Pulisic back to Dortmund for the remainder of the 2018/19 season. At the time Chelsea signed Pulisic he had made 115 appearances for Borussia Dortmund. He had scored 15 goals while also contributing 23 assists. Chelsea fought off competition for his services. Following his half-season farewell tour to the Dortmund fans, Pulisic headed to London.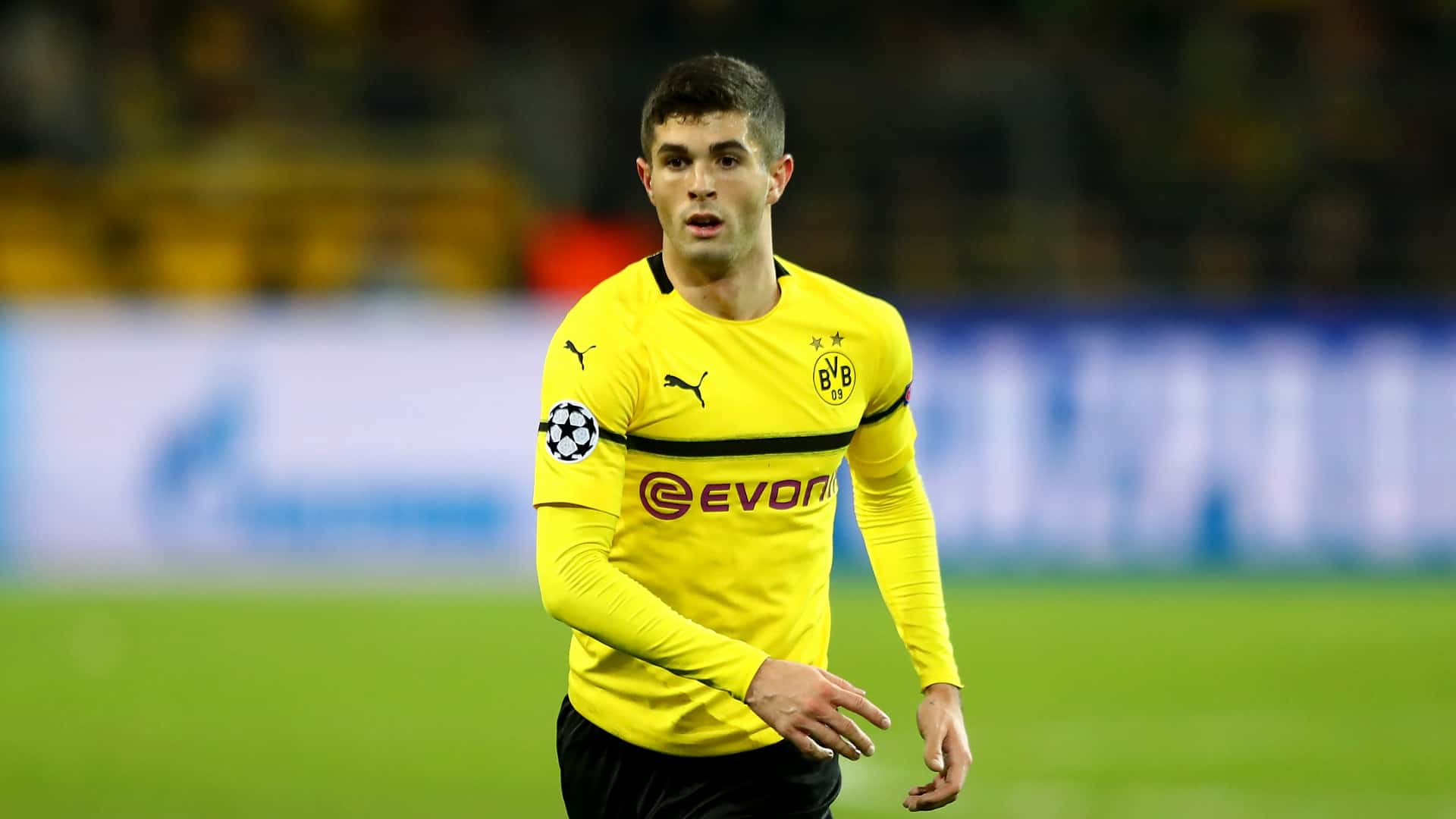 Chelsea FC
Christian Pulisic joined up with his Chelsea teammates during Frank Lampard's reign as manager. His first appearance in the Premier League was not one that dreams are made of. Pulisic came off the bench against Manchester United, a match his new team lost 4-0. However, it would not take long before Pulisic showed the Chelsea fans what he could do. A left foot strike, a right foot strike, and a header saw Pulisic score the 'perfect hat-trick' in a 4-2 win at Burnley.
Pulisic bagged his first Champions League goals against Valencia. He was one of the first names on the team list for Lampard by the end of 2019. Unfortunately, Covid struck and football, like the rest of life, ground to a halt. When football resumed, Pulisic found his shooting boots again. His goal in a 2-1 win against Manchester City helped end City's title hopes, with Liverpool the newly crowned champions.
Pulisic made 25 appearances in his debut season in the Premier League, scoring 9 goals. He had shown glimpses of why Chelsea paid such a hefty price tag for his services. He was not done yet either for the season. Pulisic opened the scoring in the 2019/20 FA Cup final, the first American to score in the final. However, a hamstring injury meant an early end to his final. Arsenal also fought back to win the game, consigning Chelsea to a trophyless season.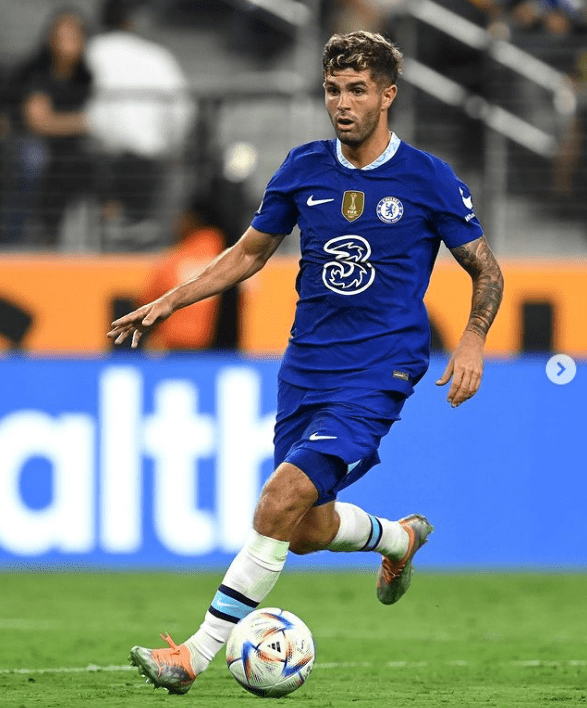 Champions League Winner
The injury picked up in the FA Cup final took time to shake off, and Pulisic missed the first few games of the new campaign. The hamstring issue would return and further hamper his season.
In January 2021, Frank Lampard's 18-month reign as manager came to an end, to be replaced by Thomas Tuchel. Whereas Lampard tended to use Pulisic as a wide attacking player, Tuchel often played him in a more central role.
Pulisic was also finding himself on the bench more, his pace used for impact late in games against tiring defenders. Gradually, as his form returned, he earned his way back into the starting eleven.
Pulisic scored the vital away goal to secure Chelsea a draw in the away leg of the Champions League semi-final against Real Madrid. They won the home leg 2-0 to set up a tasty Champions League final against Manchester City in Porto.
Pulisic had to settle for a place on the bench for the final. He came on after 66 minutes to make his seventh appearance in the competition for the season. A Kai Havertz goal saw the American soccer player from Hershey in Pennsylvania pick up a Champions League winners medal.
Pulisic was used in a similar fashion for the FA Cup final against Leicester. This time he had to settle for a runners-up medal instead as Chelsea lost to Leicester City.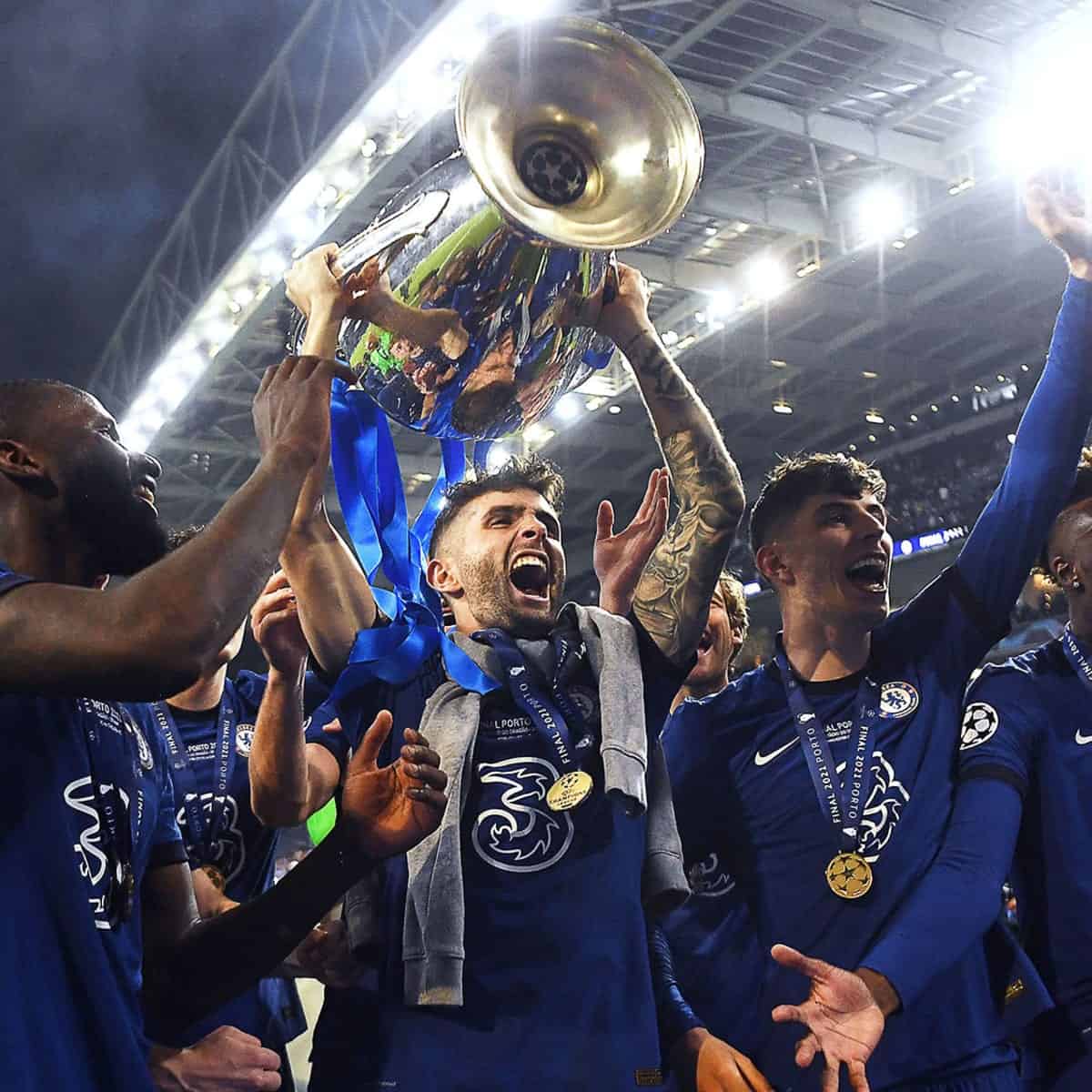 2021/22 Season
Every attacking player likes to get on the scoresheet as early as possible in a new season. Christian Pulisic scored in the 40th minute of the opening game of the 2021/22 Premier League campaign as his side beat Everton 3-0. However, if he hoped this would be the start of a goal glut injury knocked him back once more. An ankle injury sustained on international duty for the US put him out of action until November.
On his return, Pulisic scored in both the home and away legs of Chelsea's Champions League tie against Lille. The goal in the away match saw Pulisic become the top American goal scorer in the Champions League. Chelsea was unable to defend their title and exited the competition in the quarter-final stages.
Chelsea finished a distant third in the Premier League, but Pulisic played in the Carabao Cup final against Liverpool. While they lost the final on penalties, it marked Pulisic's 100th appearance for the club.
Manager Number Three
After a shaky start to the 2022/23 season, Graham Potter replaced Thomas Tuchel as Chelsea manager. Pulisic has since spoken of his frustration at times under Tuchel. A specific instance was when he was dropped for the second leg of the 2020/21 Champions League final having scored in the first leg. Pulisic was rested for the Premier League match before the second leg. However, Tuchel changed his mind on match day and played Kai Havertz instead.
Pulisic has also said the players had become annoyed by Tuchels' constant 'barking and moaning' from the sidelines. Coming into the new season there was a lot of speculation that Pulisic would move on from Chelsea, but he has remained at the club. New manager Potter tends to play three center-backs. Whether Pulisic can play as one of the front two attacking players, or even as a wing-back in such a formation, time will tell.
In Potter's first game in charge, Pulisic came on late from the bench to replace summer signing Raheem sterling. In 80 Premier League appearances, a good many from the bench, Christian Pulisic has scored 19 goals. Not a bad return for a wide player.
International Career
Christian Pulisic moved smoothly into senior international football after representing his country across the age groups. He was given the tag of a soccer 'wonder boy' as the US looked to him as their future star. While all may not have gone as smoothly as he would have hoped at Chelsea, Pulisic is a mainstay for the US side. He has made 50 appearances for his country, scoring 21 goals, and contributing 10 assists.
Pulisic was 17 years and 193 days old when he played in his first World Cup qualifier, making him the youngest American to play in the competition. Just 18 days later he became the youngest player to score an international goal for the US men's team.
He shone for the US at the 2019 Concacaf Gold Cup before helping them to win the inaugural Concacaf Nations League in 2021. Pulisic scored the winner from the spot as the US beat Mexico 3-2. As captain, he had the honor of lifting the trophy.
Pulisic is also called 'Captain America' and will lead his side into the 2022 World Cup. Pulisic's first international hat-trick in March 2022 against Panama all but secured the US their place in Qatar. The US will again be looking to his goals to help them progress to the latter stages of the tournament.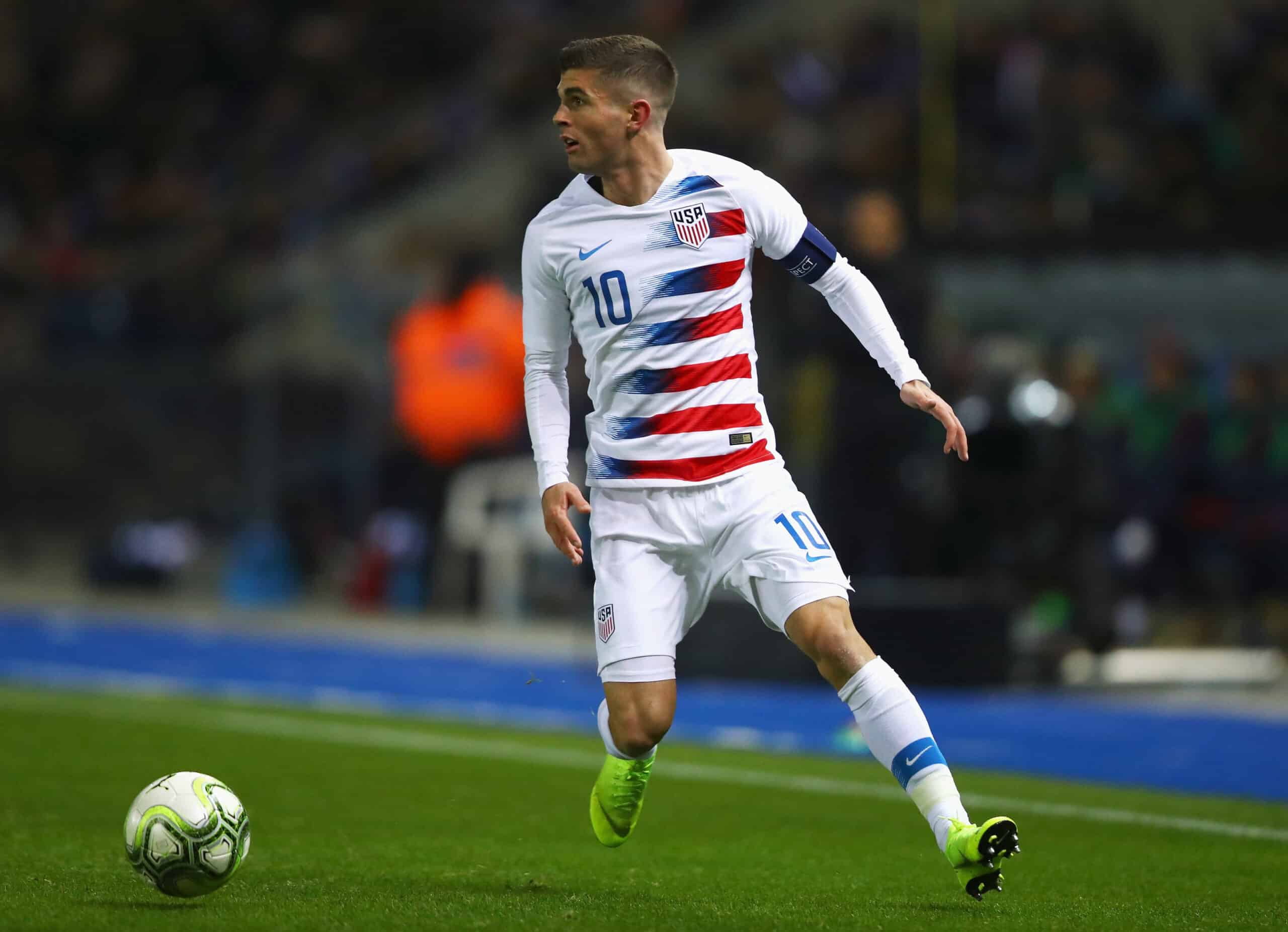 Christian Pulisic Videos
A look back at Christian Pulisic's time with Borussia Dortmund.
Christian Pulisic scores the vital away goal in Chelsea's Champions League semi-final against Real Madrid.
Christian Pulisic becomes the youngest goal scorer in the modern era for the US men's national team.
A selection of Christian Pulisic's best goals in the Premier League.
Christian Pulisic Family
Christian Pulisic is not married and does not have any children. He prefers to keep his personal life as private as possible for such a high-profile soccer player. However, it is believed he is currently single.
Family has always been important for Pulisic, with both his parents inspirational for his chosen career. Mark and Kelley Pulisic enjoyed successful college soccer careers at George Mason University. Mark Pulisic subsequently turned professional before going into soccer coaching.
When Christian moved to Dortmund his father went with him to help him settle on a new continent. Mark Kelley took up a role coaching the clubs under 10s. Once Christian Pulisic broke into Dortmund's first team, his father thought it was time to return to the States after two and a half years in Europe.
Christian Pulisic Net Worth and Career Earnings
Christian Pulisic is reported to be worth around $40 million. His annual salary at Chelsea is $8.6 million, a nice little earner if you can get it. His contract at Chelsea was for six years through to the end of 2024. In addition to his salary, Pulisic earns an additional $5 million each year through endorsements, with the potential to earn considerably more.
As one of the brightest prospects in world soccer, Pulisic was always going to gain the attention of companies looking for brand ambassadors. One such brand is Puma which signed a long-term deal with Pulisic, with the company committing to helping grow soccer participation in the US. Further sponsors of the American soccer star include Panini, Gatorade, and Chipotle.
Christian Pulisic is also set to release a book in October 2022. Entitled 'My Journey So Far', the book looks at his life and career to date. The parts relating to his strained relationship with Thomas Tuchel could make for some interesting reading.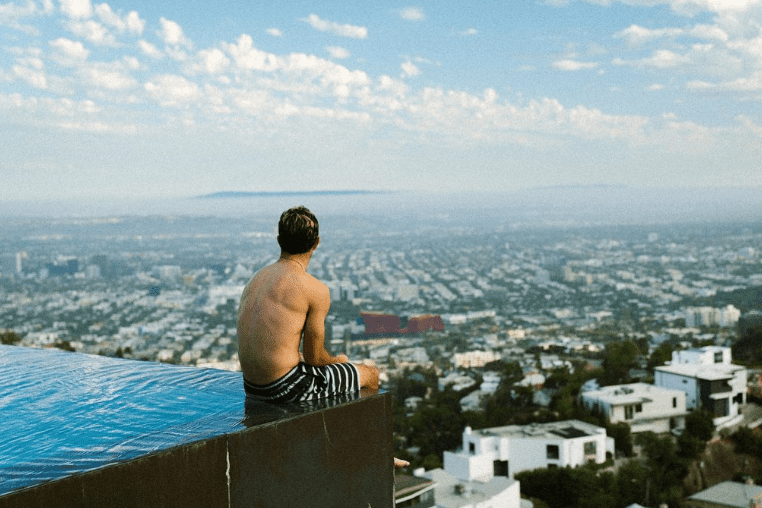 FAQs
Question: How old is Christian Pulisic?
Answer: Christian Pulisic is 24 years old. He was born on September 18th, 1998.
Question: What nationality is Christian Pulisic?
Answer: Christian Pulisic is American. However, his Croatian heritage on his father's side allowed him to obtain the passport required to play football in German at the age of 16.
Question: How many times has Christian Pulisic played for the USA?
Answer: Christian Pulisic has made 50 appearances for the USA, who he also captains. He has scored 21 goals at the senior international level.
Question: How much did Chelsea pay Borussia Dortmund for Christian Pulisic?
Answer: Christian Pulisic's transfer fee when he left Dortmund for Chelsea was $66 million.
Research Citations
Continue reading more soccer star bios: