Latest posts by Alex Hatzidakis
(see all)
Phil Simms is a former professional NFL quarterback who spent his entire 15-year career at the New York Giants.
Winning a Super Bowl ring and aiding another, he is currently a television sportscaster for the CBS Network. Married to Diana Fronfiled since 1980, they have three children: Chris, Matthew, and Dierdre.
Phil Simms' Quick Facts
Full Name: Phillip Martin Simms
Birth Date: 3 November 1954
Birthplace: Springfield, Kentucky
Nick Name: Prince Valiant
Nationality: American
Siblings: N/A
Children: Chris, Dierdre, and Matthew Simms
Partner / Spouse: Diana Fronfield
Profession: NFL Player and Sportscaster
Salary: $3m
Net Worth: $20m
Social Media: Phil Simms (@PhilSimmsQB) / Twitter
Awards:

Super Bowl XXI MVP
1979 NFL All-Rookie Team

Last Updated: July 2021
Phil Simms' Birthplace and Early Life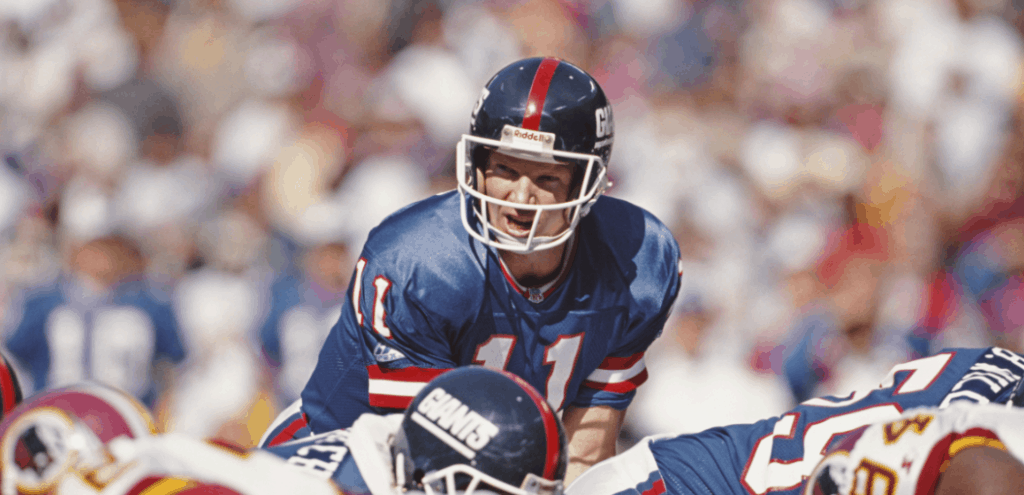 Phillip Martin Simms was born on 3 November 1954, Springfield, Kentucky. Born and raised on his grandfather's farm in Washington County, Simms attended St. Dominic's Elementary before moving to Louisville with his family.
There he attended St. Rica Catholic grade school. Graduating in 1974, Simms was the pre-dominant quarterback for the Trojans of Southern High School in Louisville.
College
Simms didn't stray far after graduation as he chose to attend Division II Morehead State of the Ohio Valley Conference in Morehead.
As the team was known for their ball-control offense at the time, Simms' numbers were unflattering in his senior year at Morehead State Eagles. Simms completed 92 of 173 passes for the season, had a 53.2% completion percentage, created six touchdown passes, 11 interceptions, and 1,229 yards.
Moving up to Division I-AA in 1978, Simms was unable to guide his team to the postseason as they went down 2-6-1 that year. Simms would fail to compete in the postseason throughout his entire college career.
Phil Simms' Professional Career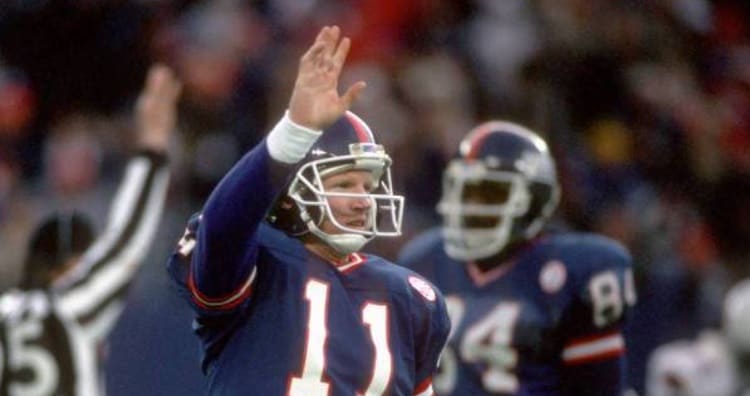 NFL Draft
Before the 1979 NFL Draft, newly appointed San Francisco 49ers head coach Bill Walsh flew to Morehead to scout Simms. After an impressive viewing, Walsh planned on drafting Simms in the third round of that year's draft.
However, Walsh ultimately didn't go through with their initial plan and drafted, Joe Montana and the New York Giants surprisingly drafted Simms in their first-round pick.
Simms' pick was so surprising; Giants fans in attendance booed his selection when called out. The feeling was reciprocated as the Simms was unhappy to be a Giant as he preferred other teams such as the Green Bay Packers or Kansas City Chiefs.
Nonetheless, he would become popular with teammates as he was dubbed "Prince Valiant" in his rookie year.
Rookie Year
Simms went on to win five starting berths in his rookie year in 1979. He was 6-4 as a starter, threw 1,743 yards, and contributed 13 touchdown passes: earning him a place in the year's NFL All-Rookie Team selection.
However, Simms would eventually fall short and claim the runner up for Rookie of the Year, behind future teammate Ottis Anderson.
Early Career: 1980-1986
Injuries marred Simms' next four years as a professional athlete. Simms had a disappointing year with 15 touchdowns, 19 interceptions, completing 48% of his passes for 2,321 yards in 1980.
Simms suffered another average year in 1981 as he mustered up similar stats before succumbing to an injury in mid-November and saw him sit out the rest of the season and playoffs.
Simms' misfortune continued the following year as he missed out the entirety of the season due to a sustained knee ligament in preseason 1982. The departure of Head Coach Ray Perkins in 1983 saw the introduction of the new Head Coach Bill Parcells, a major turning point for the Giants and Simms alike.
One of Parcell's first decisions as Head Coach in 1983 was to replace Simms as the starting quarterback and replace him with Brunner. Simms did not take the news of his benching well and asked to be traded, a request that was ignored.
Simms re-entered the fray and starting line-up with only six games into the season, replacing a struggling Brunner. The moment was fleeting, though, as Simms suffered a season-ending injury to his throwing thumb.
With Simms' first few seasons plagued with injuries and inconsistencies, the Giants fans were relentless in their treatment of Simms, viewing him as a disappointing pick-up.
However, Simms' play and luck took a turn for the better in 1984, emerging as a critical offensive leader for the team. Simms' stats improved as he completed the season with 22 touchdown passes for 4,044 yards and led the Giants to playoff berth.
His stats would remain consistent in 1985, completing 22 touchdowns, passed for 3,829 yards and led the Giants to 10 wins in the regular season. Feat not completed for over two decades. Simms would go on to lead the Giants to 14 wins in the regular season in 1986.
With Simms' achievements on the rise, he led the Giants to Super Bowl XXI against the Denver Broncos. However, Simms was not deterred in the biggest game of his life as he displayed one of his finest performances.
He recorded 22 of 25 passes for 286 yards and threw 3 touchdown passes, setting a postseason record at the time. The Giants beat the Broncos 39-20, and Simms was named MVP of Super Bowl XXI.
Later Career: 1987-1993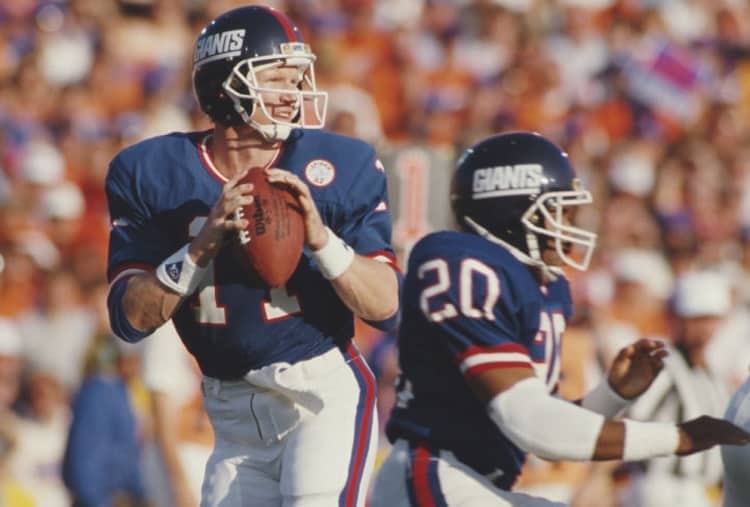 Simms' performance was consistent through seasons 1987-1888 and saw him replicate the previous season's stats but couldn't lead the Giants to a playoff berth in either season.
Simms would have better luck in 1989 as he completed 14 touchdowns and 14 interceptions on a 56.3% completion percentage, leading them to a playoff finals against the Los Angeles Rams. A game in which Simms struggled as the Giants lost 19-13.
The following season of 1990 was bittersweet for Simms the Giants were eventual Super Bowl XXV champions, but Simms missing out on the remainder of the season due to a broken foot suffered in week 15.
Jeff Hostetler would replace him for the remainder of the season and playoffs, defeating the Buffalo Bills 20-19 in the Super Bowl.
Like Parcell's introduction as Head Coach years prior, newly appointed and team's running back coach, Ray Handley, replaced Simms as starting quarterback in 1991.
Simms was replaced by Jeff Hostetler after their performance in their Super Bowl win the year prior. Simms would only see spot action in only two games prior to week 3 before Hostetler broke his back.
Simms would go on to reclaim his starting position as quarterback. The Giants would miss the playoffs that season, finishing 8-8.
A successful preseason saw Simms retain his starting position for the beginning of the 1992 season. However, Simms only lasted 4 weeks before he suffered a severe arm injury that saw him miss out on the remainder of the season.
Although injured and seeing limited playing time between the 1991-1992 seasons, Simms only amassed a combined 1,905 yards, 13 touchdowns, and 7 interceptions.
Handley was fired after the 1992 season due to their poor performance, finishing 6-10. Former Denver Broncos coach Dan Reeves was appointed as Head Coach for the 1993 season.
Unlike his predecessors, Reeves placed all his faith in Simms as he released Hostetler and named Simms as his starting quarterback for the season. Simms started all 16 games and led the Giants to a staggering 11-5 season and winning a playoff game against the Minnesota Vikings.
His excellent season finished off with shoulder surgery in the off-season, and he was expected to return to full capacity by the beginning of preseason. But, surprisingly, Simms was released by the Giants and subsequently decided to retire from professional football.
Phil Simms' Video Highlights
Phil Simms highlights (1986 Super Bowl MVP)
(2) Phil Simms Giants Highlights | 1986 Super Bowl MVP – YouTube
1993 NFL Films New York Giants Phil Simms Profile
1993 NFL Films New York Giants Phil Simms Profile – Bing video
Phil Simms' Retirement and Post Professional
After his retirement in 1994, Simms went on to pursue an illustrious broadcasting career. First, he began with ESPN and later NBC. Simms co-covered Super Bowl XXX and Super Bowl XXXII.
In addition, Simms broadcast Weightlifting in the 1996 Summer Olympics before joining NBC Sports. With his Super Bowl commentating success, Simms moved on to CBS in 1998 and hosted Inside the NFL on Showtime.
Since his retirement, he has held several broadcasting positions and slowed down his voice for the Madden game franchise for Madden NFL 13, 15, and 16. As of 2015, Simms has been a commentator for the CBS and NFL Network broadcasts of Thursday Night Football. Simms was later replaced in 2017 after joining the CBS pregame show, the NFL Today.
Phil Simms' Family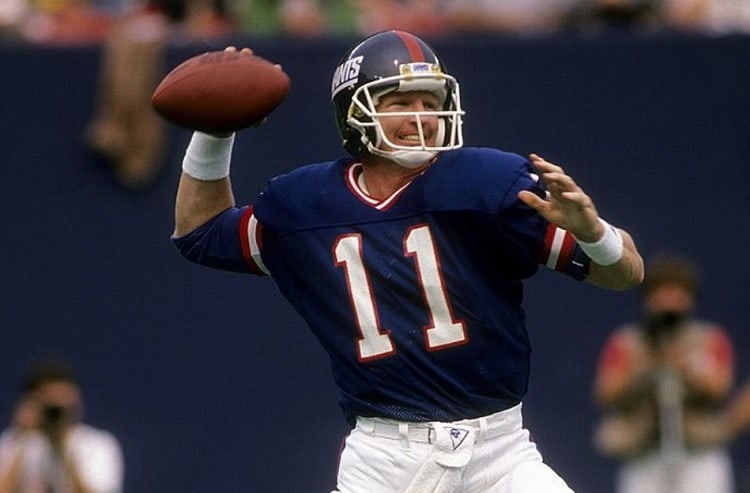 Simms has been married to his wife Diana Simms since 1980. They have three children: Chris and Matthew Simms, who followed in their father's footsteps and played NFL quarterbacks, and their youngest daughter Deidre Simms.
Phil Simms' Net Worth and Career Earnings
Phil Simms has made a career out of being a professional footballer, with most of his earnings coming from his illustrious athletic career.
Not only was Simms the most expensive quarterback at the time, but the Giants also aided him in acquiring multiple advertisement deals and magazine cover shoots – All helping him build on his multi-million-dollar empire. Simms' Net Worth is estimated to be around $20m
Phil Simms' Famous Quotes
"I haven't thought about it. I'm not capable of deep thinking."
"I'm not a guy who believes you've got a lot of experience to have success in the playoffs."
"Talk radio has almost ruined the sports fan."
FAQs
Question: Where Did Chris Simms Play College Football at?
Answer: Chris Simms played College football at Texas and was later drafted by the Denver Broncos and played for the Tennessee Titans.
Question: How Many Years Did Phil Simms Play in the NFL?
Answer: Phil Simms played his entire professional career for the New York Giants, spanning over 15 years.
Question: Who is the Oldest of Phil Simms Children?
Answer: The oldest child of the Simms three children is Chris Simms, who was born 29 August 1980.
====
Research Citations
Continue reading related bios to NFL personalities: