Latest posts by Pro Sports Bio Team
(see all)
Kay Adams is one of the most popular American sportscasters and television personalities. She currently hosts Good Morning Football on NFL Network, and soon People (the TV program!), a daily entertainment magazine based on 'People Magazine', which will be televised in the fall of 2022.
Kay Adams Quick Facts:
Kay Adams Birthplace and Early Life
Kay Adams was born on April 6, 1986, in Chicago, Illinois. Born into a Polish-American family, she learned to speak Polish and English fluently. Kay grew up with her sister, Sylvia, and brother, Adamski, and she and her family are still very close.
Kay remains side by side with her family, even though she lives far away in New York, while they remain in Chicago. She can be seen on social media attending familial events, such as her father's retirement party.
Growing up, Kay discovered her interest in media and communications while attending Whitney M. Young Magnet High School. She pursued this passion at Dartmouth College, acquiring a bachelor's degree in Journalism.
Adams' personality served her well in the journalism field. She achieved her first successful break in the field at age 24, with her first job being a host for the St. Louis Cardinals.
Kay Adams Personal and Romantic Life
Adams, who is 34 years old, has never been married. In fact, she's done an excellent job of keeping her dating life under wraps. Adams keeps her romantic life very private from the public and not much is known, other than rumors.
Other media personalities, however, have shared some insight into Kay's dating life. Rumors have been spread that Adams was dating Danny Amendola, a wide receiver for the New England Patriots from 2015-2016.
While neither Kay nor Danny confirmed these rumors, they were seen together attending the 2015 ESPYS and Superbowl, and many used this as confirmation.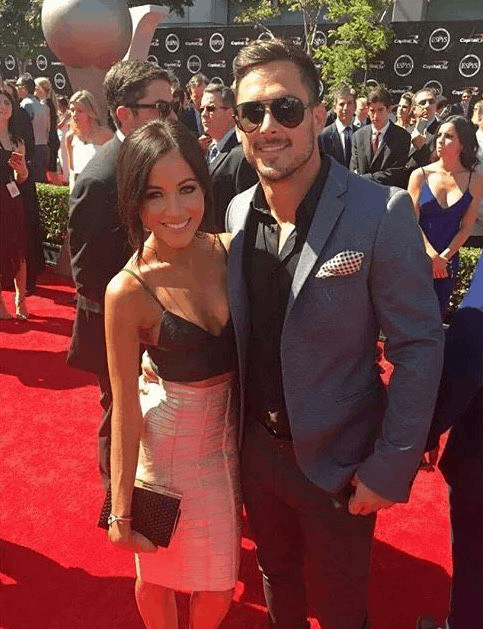 Kay's Instagram received a lot of attention when she uploaded a photo from the Super Bowl with the hashtags #sb49 #80allday, implying confirmation of her romance with the wide receiver.
It was later reported that Kay and Danny broke up after a year, although there was no confirmation from either of the stars. Personally, I think the hectic schedule of a professional NFL player and a famous sportscaster interfered and they went separate ways.
Later that year, Danny was on and off with social media personality, Olivia Culpo. Nothing can be said about Kay, however, as she remains incredibly private about her dating life.
Kay Adams Professional Career
Kay Adams began her career working as an in-game host for the St. Louis Cardinals. After her break, she ventured into the world of fantasy football, hosting SiriusXM's Livin' the Fantasy and Fantasy Drive. Her knowledge of fantasy football was quickly discovered and she became known as the 'Fantasy Football Guru.'
After Fantasy Drive, she hosted Fantasy Zone on DirecTV again, using her knowledge of fantasy football.
Adams worked for DraftDayMedia in 2013 and created fantasy football recaps on YouTube. She has collaborated with other fantasy sites like FanDuel and went on to host NBC Sports Network's Fantasy Football Live.
The first half of Adams' career was dedicated to fantasy football, something that she didn't expect to enter her career.
Kay Adams has appeared on many special edition events, such as a host for the Chicago Bears, the Late Late Show with Craig Ferguson, and The Crossover with Michelle Beadle.
Kay Adams throwing the first pitch on Wrigley Field in Chicago.
Her feature on the Late Late Show with Craig Ferguson was a significant PR moment and helped her breakthrough into the globe of journalism, instead of fantasy football.
With her ample experience hosting fantasy and her popularity growing, Adams landed one of her largest jobs, as co-host of the Emmy-nominated morning show, Good Morning Football, on the NFL Network.
Good Morning Football is a year-round production and airs every weekday morning. She co-hosts alongside former NFL wide receiver Nate Burleson, sportscaster Peter Schrager, and media personality Kyle Brandt. The show focuses on events happening in football, as well as bringing on special guests for early morning discussions.
Adams joined the DAZN boxing broadcast team on September 17, 2018, alongside Sugar Ray Leonard, Brian Kenny, Chris Mannix, and LZ Granderson, to anchor each fight night broadcast on the live and on-demand sports streaming platform.
In 2020, Adams started hosting a mobile version of Who Wants to Be a Millionaire, something in a completely new industry for her.
Kay Adams Net Worth and Career Earnings
Adams has religiously worked her way to the top of the sports-journalism field and is one of the most prominent sportscasters in the NFL. Her work in the journalism field has led her to obtain a net worth of $1 million in just 10 years.
An average sportscaster earns around 60k yearly, but it is more probable that Adams makes upwards of 80k with her vibrant energy and personality.
The NFL Network is one of the largest networks seen on television. This comes with benefits such as higher wages than their smaller counterparts.
71.8 million households have access to the NFL Network and Adams is one of the top personalities, therefore her earnings top her coworkers.
Adams has been described as a workaholic by coworkers and herself. She has an interest in knowledge involving all things sports. This allowed her to climb to the top of the professional ladder.
Adams is also sponsored by companies such as Cheetos, Olay, MDNA Skin, Chicago Bears, Bow and Drape, and Laura Elizabeth Jewellery. These all contribute to her net worth and her lavish lifestyle.
Kay Adams on Good Morning Football
Kay Adams started on Good Morning Football in 2016. With 6 years of experience in the sportscasting field, Adams made the jump from fantasy football content to live NFL content. It runs from 7 AM ET to 10 AM ET every day, but Adams is only on the weekday shift.
The show is one of the most popular shows on the NFL Network. Fans enjoy listening to the early morning discussions and keeping up to date with NFL news.
Good Morning Football is produced at 4 World Trade Center, requiring Adams to live and spend most of her time in New York City.
The NFL Network hired Kay for the job because of her vast knowledge of Fantasy Football. She has an incredible understanding of the teams and players, making her a real asset to the show.
Week after week, Adams shares her fantasy expertise with fans by providing the best waiver wires. On Wednesdays, she hosts a segment called "Which Guy Wednesdays," in which she answers fans' pressing questions.
Kay Adams has gained popularity on Good Morning Football due to her personality. On Halloween of 2019, she spent the entire episode dressed as the Vince Lombardi Trophy.
Kay Adams Age and Height
Kay Adams measures in at 5'5″, making her one of the shortest sportscasters in the industry. What Adams lacks in height, she makes up for with one of the brightest personalities.
Adams weighs 117 pounds and has an athletic build. Spending all her time focusing on sports requires her to be in good shape.
Kay Adams is a popular crush for football fans. With her short brown bob and green eyes, it is easy to see why. Not only is Adams beautiful, but she has an incredible sense of fashion. Her wardrobe can be seen on her morning show, or in her social media posts.
Adams proves herself again and again, always having insight into the upcoming NFL season, games, or fantasy, She brightens the cast with her warm smile and fun-loving personality. Watching Good Morning Football, viewers see Adams joke around with her co-hosts, all while sharing fruitful knowledge.
At the time of writing, Adams is 35. She started her career at 24 and has had 10 years of experience in the sports journalism field. With age, Adams seems to gain more knowledge for her professional development. There is no telling what Adams can not do.
Kay Adams Social Media Presence
Adams uses social media to gain popularity and share a brief look at her professional, as well as personal, life. Since she has gained such a large following due to her successful career, she has a large social media following.
Kay can be found @heykayadams on Twitter, Instagram, and Facebook. Her Instagram account had 302k followers as of July 26, 2021. On Twitter, she has a whopping 370k followers and is growing.
Adams posts pictures of her vacations, her favorite outfits, and pictures of her coworkers and friends. On special occasions, Adams uses her Instagram account to post rare interviews with NFL stars such as DK Metcalf, Tyrann Mathieu, and Mark Ingram.
Kay Adams can be seen on Twitter reposting Good Morning Football messages and other football-related posts. Her personal Tweets can be professional or involve her personal life. She remains good-natured and witty on social media.
Adams also uses social media as a business outlet. She is sponsored by many companies and earns between $386 and $643 for each Instagram post she publishes.
Kay Adams Quotes
In a moment of her appearances as a guest on the Late Late Show with Craig Ferguson, the sportscaster discussed her personal life, including her troubles with dating.
She mentioned the hardships of being a football guru, explaining that her knowledge and personality intimidated a lot of men. Adams says, "It's not easy, it's not the easiest thing. But I deal with it… I think it takes a very special person to, you know, support someone who knows more than they do".
Adams also dismissed the possibility of dating a player in the league. She declined to say whether or not she had been approached by a member of the NFL in a romantic manner.
Craig Ferguson was informed by Kay, "The word player kind of says it all, right?… Not every sportsperson or athlete, but, yeah, no. No thanks".
FAQs
Question: How old is Kay Adams?
Answer: Kay Adams is 35. Her birthday is April 6th, 1986.
Question: How tall is Kay Adams?
Answer: Kay Adams is 5'5''. She is one of the shortest sportscasters today.
Question: Is Kay Adams married/engaged?
Answer: Kay Adams is not known to be married or engaged, although she keeps her romantic life private.
Question: Is Kay Adams still on Good Morning Football?
Answer: Yes, Kay Adams still co-hosts Good Morning Football every weekday morning. The show remained virtual during the COVID-19 pandemic but has returned this past year.
Question: What is Kay Adams' salary/net worth?
Answer: Kay Adams makes upwards of 80k per year. The NFL Network is seeing an upward scale in their wages, so Kay may soon make more. She has an estimated net worth of $1million in 2021.
Question: What is Kay Adams' ethnicity?
Answer: Kay Adams is Polish. She speaks both English and Polish fluently.
Question: What college did Kay Adams attend?
Answer: Kay Adams went to Dartmouth College. She received a bachelor's degree in Journalism.
Question: Where does Kay Adams live?
Answer: Kay Adams lives in Manhattan in New York City.
Question: Where was Kay Adams born?
Answer: Kay Adams was born in Chicago, Illinois.
====
Research Citations: