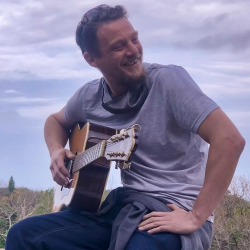 Latest posts by Tom Allport
(see all)
Introduction
Michael Stephen Lolich is an American-born, left-handed pitcher that formerly played baseball in the American Central and Major Leagues. At his retirement, Lolich had played 13 seasons in the American League for the Detroit Tigers between 1963 and 1975 and 16 total seasons in Major League Baseball.
Mickey Lolich held the strikeout record for a left-handed pitcher when he retired in 1979, with 2,832 strikeouts but was surpassed just two years later in 1981. This figure has only been beaten by three other left-handed pitchers in the years since Lolich set the Major League record. The strikeout record (2,679) that Lolich set in 1975 for lefties in the American League stood for 42 years until he was surpassed by CC Sabathia in 2017.
Mickey Lolich was well respected in Detroit. The 'motor city' is a hard-working place, and Lolich was a hard-working pitcher. He only missed a single game through injury during his time with the Tigers. Lolich had over 30 starts in every season he ever played at the Tiger Stadium. He started over 40 games per season nine times, struck out over 200 batters seven times, and over 300 in 1971.
Mickey Lolich is most memorable for the Tigers' 1968 victory in the World Series. Detroit has an affinity for the underdog, and the Tigers were the underdog, going into game five with a 3-1 deficit. The Detroit Tigers became only the third team in World Series history to recover from a 3-1 deficit and the first to rally from this far behind to take the competition in just seven games.
Mickey Lolich also pitched 3 complete victories in the same World Series in 1968 and remains the only left-handed pitcher in history to do so. He was the last pitcher ever to throw three complete victories in the same World Series. And the 1968 World Series was the last to see 3 victories from the same pitcher for over 30 years until Randy Johnson added his name to the elite few.
Mickey Lolich Quick Facts
Full Name: Michael Stephen Lolich
Birth Date: 09/12/1940
Birth Place: Portland, Oregon
Nick Name: Mickey
Nationality: US
Siblings: None
Wife: Joyce Fleenor
Profession: Baseball Pitcher
Salary: Professional Baseball salary $40,000
Net Worth: $1,200,000
Social Media: Facebook
Awards:

1968 World Series MVP
and three-time All-Star

Last Updated: 08/31/2021
Interesting Fact
In 1967 Lolich was called up by the Michigan Air National Guard to assist in quelling the Detroit "12th street" riots which left over 40 people dead and over 1,000 sustaining injuries. Lolich was promoted to Airman First Class after only 12 days of active service.
Lolich is alleged to have received death threats from the Black Panthers for his involvement in the riots. The FBI is reported to have posted snipers on the roof of the stadium for Lolich's next two games following the civil unrest.
Mickey Lolich Birthplace & Early Life
Though his family was originally from the Croatia region of the former Yugoslavia, Mickey Lolich was born in Portland, Oregon, on September 12, 1940.
Mickey Lolich was only a young child of two years old when he accidentally rode his tricycle off the sidewalk and bumped into a parked motorcycle that fell on him. The accident broke his left collarbone in two places and damaged muscles and ligaments in his left arm.
After wearing a cast for 4 months, Mickey's parents started training his left arm to repair the atrophied muscles. His parents would tie his right arm behind his back to force him to strengthen his left.
The training regimen had him stretching and throwing with his left arm. The physiotherapy his parents had provided developed his left arm as the dominant hand for throwing. Mickey Lolich became a southpaw pitcher at the age of three.
As a 3-year-old, when his parents released his right arm, Mickey Lolich still ate with his right. When he attended school, he would further prove that he was right-handed, writing, drawing, and even batting with his dominant right hand.
Steve Lolich, Mickey Lolich's father, worked for the Portland Parks Department for 30 years and maintained Wallace Park in Northwest Portland near where they lived. The time he spent with his father would define a love of the outdoors and hone skills that he still called on in his retirement when on trap hunting trips.
Mickey's cousins, Ron and Frank, lived three blocks from their house, and as an only child, he played baseball with them. All three would grow up to be professional baseball players. Ron was an outfielder who appeared a few times over three seasons in the Major Leagues, while his younger brother, Frank, was only promoted as high as the Double-A level.
Frank appeared as a pitcher for five seasons in the Minor Leagues. While others might say it was quite impressive, Lolich remains humble, saying, "Three professional ballplayers in the family" is mere "not bad."
Mickey Lolich attended Lincoln High School in Portland, Oregon, and played pitcher for the school baseball team. In his graduation year, in 1958, he helped the team post stats of 19 wins and 5 losses.
He also played American Legion Baseball and posted impressive strikeout figures in the Babe Ruth League as a teenager. Mickey Lolich earned the title of Most Valuable Player in 1955 and maintained a record in the Babe Ruth League, 13-15-year-old division set the same year when he pitched 12 innings in a match. This still stands as the most innings pitched in a single game in the history of that age group in the Babe Ruth league.
Mickey Lolich Professional Career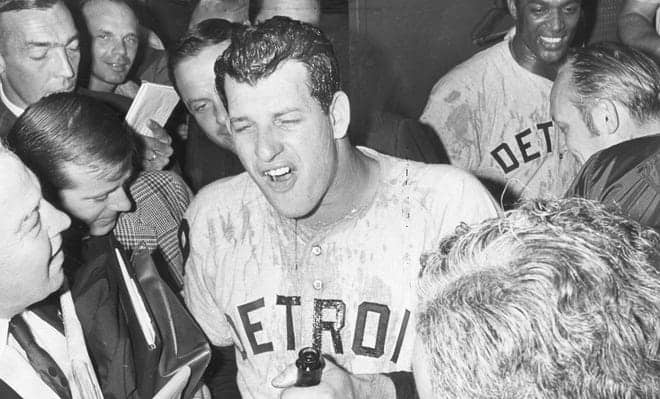 Mickey Lolich was only 17 years old when he was signed as an amateur free agent to the Detroit Tigers in 1958. He began playing for the Knoxville Smokies in the South Atlantic League in 1959 and later the Durham Bulls in the Carolina League.
At the beginning of the 1962 season, Lolich was drafted to the Triple-A Denver Bears team, but after posting underwhelming stats of 0-4 win-loss, with a 16.4 ERA, the Tigers ordered him to return to the Knoxville Smokies. Mickey Lolich refused to report to Knoxville and subsequently returned home to Portland on an indefinite suspension.
Mickey played pitcher in a semi-pro baseball match for the Archer Blower team in Portland, where he struck out all 12 batters he faced through four innings. The Portland Beavers of the Pacific Coast League acquired Mickey Lolich from the Tigers in 1962. While playing for the Beavers, he managed to develop his control, and following 138 strikeouts in 22 games, he posted win-loss stats of 10-9 with a 3.95 ERA.
Mickey Lolich Major League Career
The Tigers noticed Mickey Lolich's development and quickly re-signed him in 1963. But his attitude irritated management when he arrived late for spring training, having delayed his departure from Portland due to completing training as a mailman.
He was optioned to the Syracuse Chiefs in April 1963 for just over a month, and from 22 innings, posted an impressive 2.45 ERA. The Tigers once again reclaimed Lolich, and he made his Major League debut exactly four months before his 23rd birthday on May 12, 1963. He gained his first win just a few weeks later, allowing just a single run from nine innings against the LA Angels.
Lolich finished the 1963 season with 103 strikeouts from 144⅓ innings pitched, with a 5-9 record and 3.55 ERA.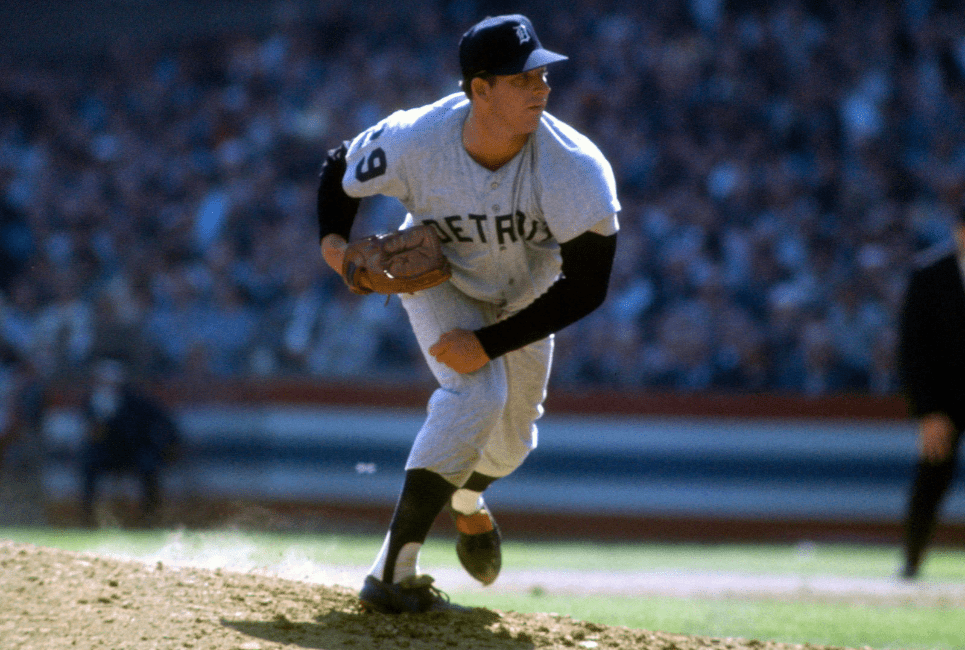 In 1964, and his first full season with the Tigers, Lolich began to show the potential that the Detroit club had seen all along. With 192 strikeouts from 232 innings, he posted 18-9 with a 3.41 ERA. He pitched his first shutout against the Minnesota Twins Early on in the season in April. In September, he pitched his sixth shutout of the season, striking out 12 Yankees, and finished the season in the top 5 of both shutouts and strikeouts.
Mickey Lolich married Joyce Fleenor in November 1964. She was an air stewardess from Los Angeles. "She's done so much for me," Lolich said, "I can hardly put it into words. She's made me a very happy guy."
In the 1965 season, Mickey Lolich came second in the American League standings for strikeouts with 226. He posted a 15-9 with a 3.44 ERA. Lolich never had great success when batting, and in 1965 he struck out 37 times from 86 at-bats with a batting average of .058.
The 1966 season would prove to be a poor one for Lolich, dropping more than one run in his ERA stats with a record of 14-14 in 40 games with a 4.77 Earned Run Average. He received criticism about his weight and the fact that he had a "beer belly." Some cited his physique as being the cause for his lacking performance in the '66 season. But Lolich claimed he weighed only two lbs more than the previous two seasons.
He was always heavier than average for a baseball player, but in time this was one of the things that helped him become a fan favorite in Detroit. He was seen as a "working man" in a city of working men.
The 1967 season was a memorable one, despite mediocre performances leading to a win-loss ratio of 14-13. Lolich led the league's shutout standing with 6. But it was the four-way pennant race contested by the Detroit Tigers, Minnesota Twins, Boston Red Sox, and the Chicago White Sox that was the highlight of the season for AL fans. The Detroit Tigers were beaten out on the final day of the season finishing just one game behind the Red Sox.
Lolich received a nomination for the 1967 season American League MVP award but finished 23rd in the running after the final votes had been counted.
1968 Season and World Series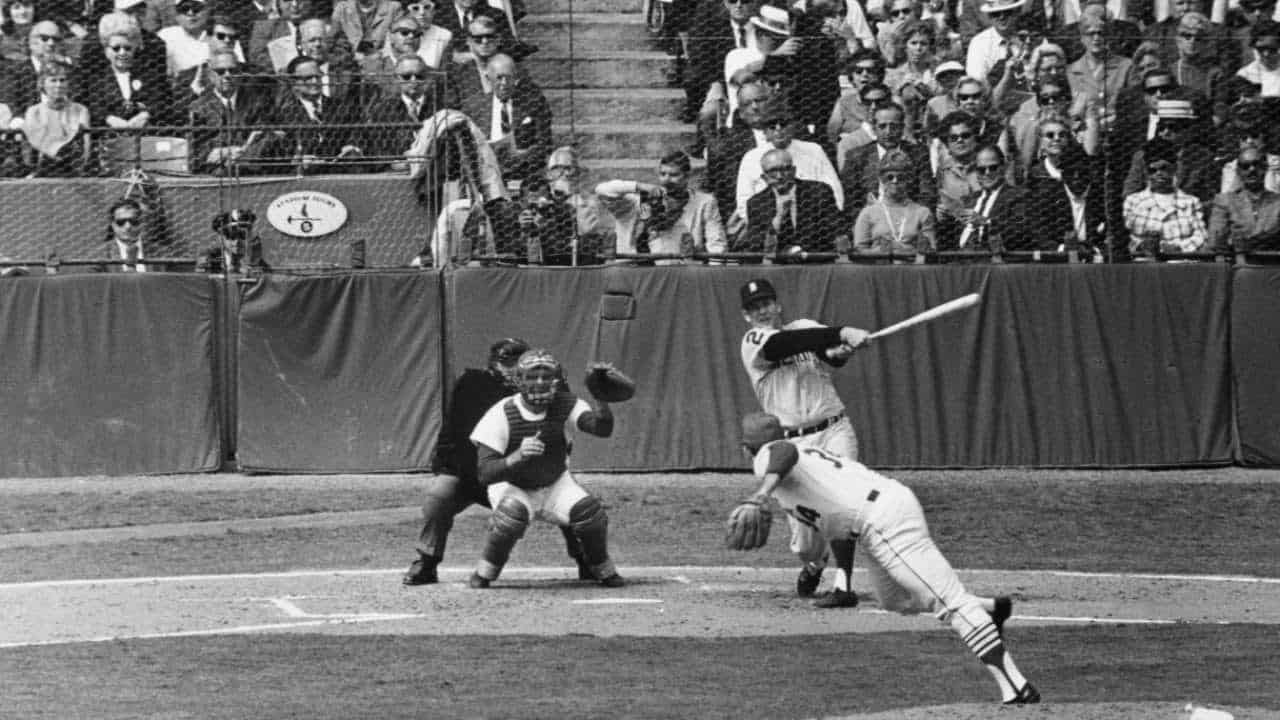 In 1968 the Detroit Tigers lost their first game against the previous season's Pennant winners, the Boston Red Sox, but followed the loss with a winning streak of nine straight games. This quickly put the Tigers in the top spot and helped to win the Pennant for the team by an impressive 12 games over second place.
Lolich was overshadowed during the '68 season by teammate Denny McLean who hurled the Tigers to a 31 win season. Lolich was benched in August, making only six appearances as a relief pitcher until late in the season when he returned to the starting rotation.
Denny McLean lost out in the first game of the '68 World Series to Bob Gibson. Lolich was placed in the starting lineup for game two and almost threw a shutout. He allowed the opposition only a single run to bring the victory to the Detroit Tigers with an 8-1 win.
During game two, Lolich hit the only home run of his Major League career. This came as such a surprise that he actually stopped at 1st base where the first baseman told him, "You hit a homer!" Lolich took no credit for the homer, explaining that the pitch luckily just hit his bat.
The Detroit Tigers lost their next two matches and were facing elimination, having netted only a single victory from four games. Lolich returned to the mound for game five against the St. Louis Cardinals. Following a rocky start where he allowed an RBI and a two-run home run in the first inning, Lolich kept his cool. The following eight innings Lolich pitched were scoreless for the Cardinals.
The Tigers scored two runs in the fourth innings and scored a two-run homer in the seventh to take the lead. They tallied another run before the end of the game to secure the win 5-3 and avoid elimination.
McLean then pitched the Tigers to a 13-1 victory in game six at the home of the Cardinals in St Loius to force game seven. Lolich had had only two days of rest since winning his last complete game and faced off against Gibson, both pitchers having won their previous two games. The two pitchers were well matched, each pitching six innings while the game remained scoreless.
Then the Tigers broke the deadlock in the seventh innings with a two-out, two-run triple, the Cardinals did manage to snatch a single run from Lolich, but the damage had been done, and the Tigers took the victory 4-1 and won the series 4-3.
At the time, the Detroit Tigers were only the third team in World Series history to come from a 3-1 deficit to win and the first to deny their opposition another victory before securing the Series title. Lolich was only the 12th pitcher in history to throw 3 wins in the same series, and it would not be done again for 33 years until another lefty, Randy Johnson, also threw 3 winning games in 2001.
To this day, Mickey Lolich is the only left-handed pitcher in history to throw three victorious complete games in their entire World Series career. In addition, he accomplished this in the same World Series.
Lolich allowed only five runs from three complete games in the '68 World Series. Coupled with the only home run of his career, Mickey Lolich earned the 1968 World Series Most Valuable Player award.
In the 1969 season, Mickey Lolich struck out 16 batsmen in a single game. This was his career-high. Having completed this milestone, beating his previous personal best, he went on to equal the record striking out another 16 batsmen in a game later in the season. The 1969 season also saw him win 19 games to 11 losses which earned his first call-up to the All-Star team.
The 1970 season was underwhelming for Mickey Lolich, following the high of the previous season's success. Mickey's record was 14 wins to 19 losses with an ERA of 3.80. While still considered above average, his Earned Run Average in the 1970 season was one of the worst of Lolich's Major League career.
Critics had become vocal about his weight by this point. But following an at-bat, Mickey Lolich stole a base proving that he could run, despite his "beer belly." This turned out to be the only stolen base of his entire Major League career in the offense.
After the previous year's problems, the Tigers showed much more promise in the season of 1971. Lolich posted a 2.92 ERA and career-high stats in games started (45), complete games (29), innings pitched (376.0), batters faced (1538), and strikeouts (308). This performance provided another career-best of 25 wins.
He received his second invitation to the All-Star roster, came in 2nd in the Cy Young award, and made the top 5 of the 1971 season MVP voting.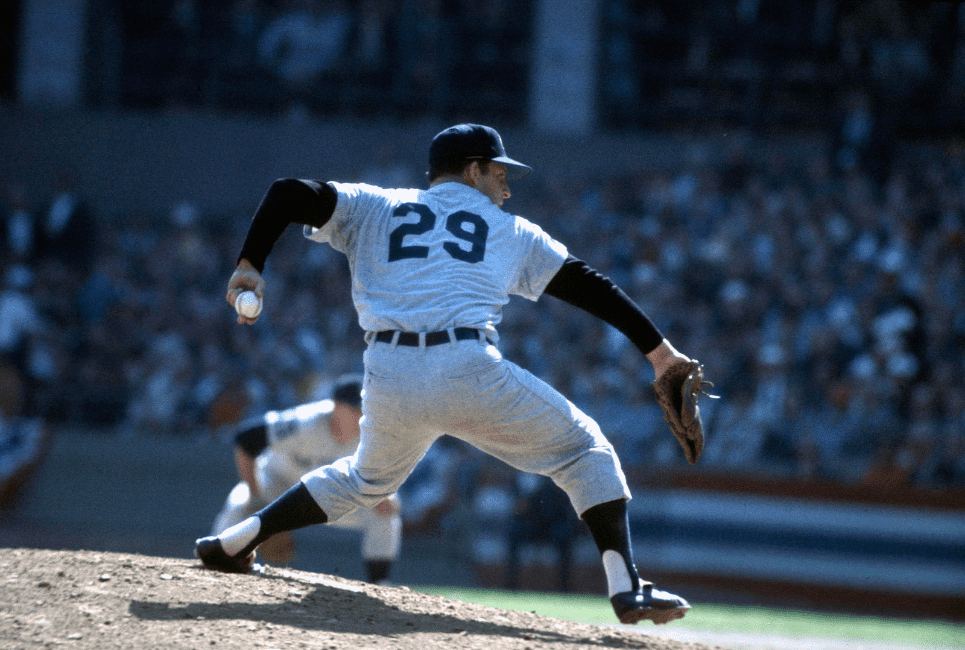 1972 was another good year for Lolich. Having faced 1321 batters from the mound, he struck out 250 with an ERA of 2.50 and allowed only 29 home runs. Another amazing performance that earned is third and final naming to the All-Star team, another Cy Young Award nomination (3rd), and finished in the top 10 for the season's MVP award.
The 1973 season was the beginning of the decline of the Tiger's performance, and despite Lolich posting fair stats with 214 strikeouts from 308 innings pitched and an ERA of 3.82 from 42 starts. His win-loss record dropped to 16-15.
Things slipped even further for the Tigers in the 1974 season. Lolich posted stats of 16 wins and 21 losses from 41 starts and 27 complete games pitched. Lolich's ERA by the end of the season was over 4.00 for only the second time in his career. He still struck out over 200 batters but allowed 38 home runs pitching from the mound.
In 1975 the Detroit Tigers dropped to last place in the league, even though Lolich was still posting respectable ERA stats of 3.78 from 32 starts and 19 complete games. Lolich faced over 1000 batters by the end of the season. Despite the woes of the Tigers, it was the only season in Lolich's career where he faced over 1000 batters but allowed fewer than 20 home-run hits, 19 in total.
The offense failed to provide much assistance to Lolich's pitching and managed an average of only 1 run per game in a 14 game streak that ended with the Tigers claiming a single victory to post-win-loss stats of 1-13.
In December of 1975, Mickey Lolich was traded to the New York Mets. Lolich at first chose to veto the move, as was his right, having played in the Major League for over 10 years and over 5 years with the same club. He was finally convinced to move to the Big Apple, but Lolich would not remain with the Mets for long.
Lolich posted a 3.22 ERA from 31 starts in 1975, but it was the first season since his debut that he would pitch fewer than 200 innings. Again, despite Lolich posting respectable stats, his win to loss record was 8-13.
Lolich retired at the end of the 1976 season following disagreements with coaching and training staff at the Mets. He opened a doughnut shop in Detroit and sat out the 1977 season.
In 1978 Lolich returned to the mound as a relief pitcher for the San Diego Padres and finished the season having played 20 games and posted an ERA of 1.56.
Lolich's final season as a Major Leaguer saw him compete in 27 games, but his ERA rose to 4.77. Aged 39, Lolich retired from baseball at the end of the 1979 season. Having faced 15,140 batters in his 16-year career, Lolich allowed only 1537 runs and 347 home runs. By the end of his career, Mickey Lolich had completed almost 40% of the games he started with a career Earned Run Average of 3.44 and a win-loss record of 217 – 191.
Mickey Lolich Post Professional Career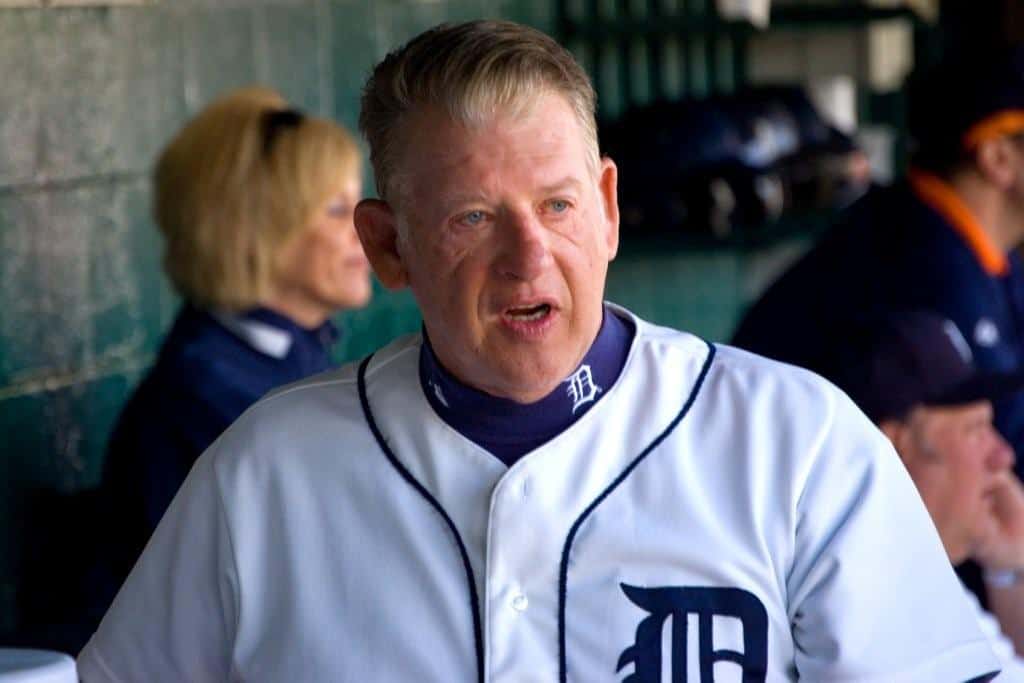 Following his retirement from competitive baseball, Mickey Lolich went into a partnership and opened a doughnut shop in Rochester, Michigan. After business disputes, Lolich bought out his partner and ran the doughnut shop himself. The doughnut business was moved to Lake Orion in 1983, having lost his lease for the shop in Rochester.
In the late '90s, Mickey Lolich sold the doughnut shop and began semi-retirement while remaining active in charity work and as a pitching coach for the Detroit Tigers Fantasy Baseball camp in Lakeland Florida.
Mickey Lolich Video
This clip shows the only home run of Lolich's career, hit in game two of the 1968 World Series
https://www.youtube.com/watch?v=YqPwNKc-ib0
Mickey Lolich memorable quotes
One of Mickey Lolich's most famous quotes
"All the fat guys watch me and say to their wives, 'There's a fat guy doing okay. Bring me another beer."
Mickey Lolich Bio FAQ's
Question: What Happened to Mickey Lolich?
Answer: Mickey Lolich is currently retired, aged 81.
Question: Is Mickey Lolich Married?
Answer: Yes, he has been married for 55 years and has remained married to Joyce Lolich (formerly Fleenor) since 1964.
Question: Is Mickey Lolich in the Hall of Fame?
Answer: No, many fans of the left-handed pitcher in Detriot believe that he should be in the Hall of fame, and Lolich has been nominated for the honor but received only 2 votes.
Question: Did Mickey Lolich throw a "no-hitter"?
Answer: No, Lolich never threw a no-hitter, but he did rack up 41 shutouts in his career.
Question: Who was the MVP of the 1968 World Series?
Sources
Continue reading related bios from MLB personalities