Latest posts by Jonathan Tieman
(see all)
Along with Michael Jordan and Kareem Abdul-Jabbar, LeBron James often ranked among the top three players in NBA history. However, it would appear that Kevin Durant disagrees with their ranking. Each time Durant played Lebron in the NBA Finals, he won. KD also won two MVP awards in the Finals against James. So perhaps Kevin Durant is closer to being ranked as one of the greatest than we thought.
What's the difference between the two? In the context of NBA history, these debates can either make or break a player's reputation when they drive media narratives. Comparing players is difficult. Stats are essential, but they do not reveal everything.
Among Durant's accomplishments are being named Finals MVP twice and leading the USA to gold for the fourth time in the Olympics. The NBA Finals between the Lakers and Nets are on everyone's minds next year. A meeting between the two of them in the Finals would be their fourth meeting.
But who's really better? These debates are fun among friends—but when they drive media narratives, they can make or break a player's reputation in the context of NBA history. Player comparisons can be challenging. Statistics are invaluable, but they don't tell the whole story. So let's have some fun with this and decide who's the greatest: Kevin Durant or LeBron James all in this KD vs Lebron comparison.
Career Summary: Kevin Durant
Kevin Durant entered the NBA as one of the most highly anticipated players in NBA history (26 PPG, 11 RPG) after an impressive freshman year at the University of Texas. Basketball fans have thoroughly enjoyed Durant's performance. During his first season with the Seattle Supersonics, his twenty points per game and four rebounds earned him Rookie of the Year.
Almost 7 feet tall, he can move the ball and shoot from deep, and he embodied everything modern about an NBA player. KD's team drafted Russell Westbrook after his rookie season, in which they became the Thunder, based out of Oklahoma City. The third year of KD's career saw him average thirty points per game and make his first-ever All-Star appearance.
Oklahoma City shocked the league with its appearance in the 2011-12 NBA Finals before losing to the Miami Heat, led by James. Durant signed with the Golden State Warriors in 2017 after they failed to make the Finals again. However, after winning two straight NBA Championships and being named Finals MVP, many considered KD the best player in the league.
Career Snapshot: LeBron James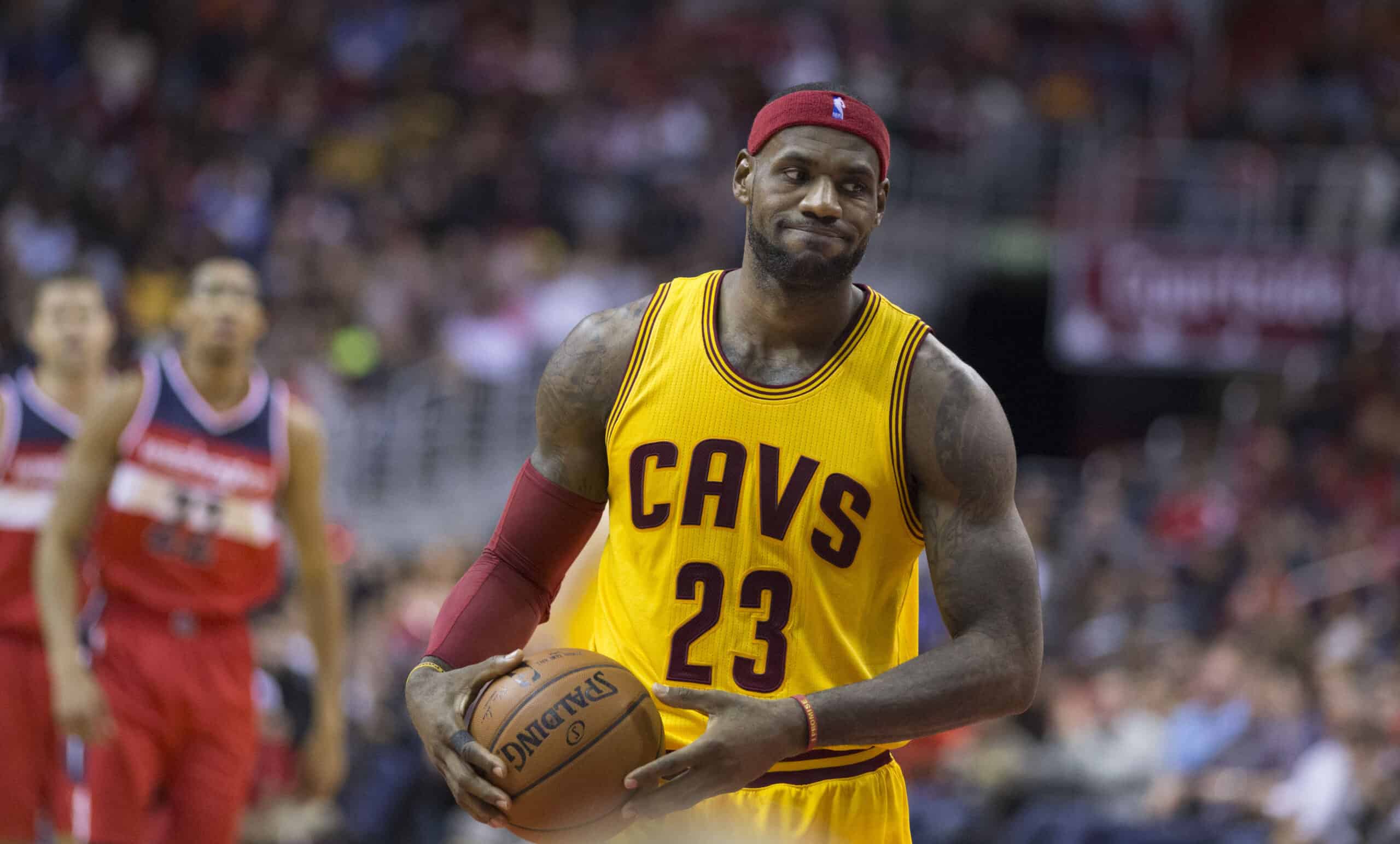 From the standpoint of the last seventeen seasons, LeBron James has accomplished more than anyone else in league history. As a result, LeBron is one of three unusual favorites to win the MVP award this year, in season 17. Jordan and Kobe played at a high level until retirement – but they were not as good as LeBron. As a junior in high school in 2001, the media praised him, but he exceeded their lofty expectations.
LeBron already enjoyed fame during his high school years, and his high school games were televised on ESPN in prime time. The first overall pick in the 2003 NBA Draft went straight to the pros right out of high school. A Cavaliers fan, James spent the first seven years of his career playing for his hometown team, winning two of his four MVP awards and making it to the Finals.
Having signed with the Miami Heat in 2010, James linked up with Chris Bosh and Dwayne Wade. As the league's savior, James turned into public enemy number one all around the league as the Heat created a superteam. In the four years James spent in Miami, the Heat qualified for each of the Finals, with two titles under his belt during that time. Two wins in Miami enhance his career total of four MVPs.
In 2016, he won a ring with the Cavaliers after returning to Cleveland for four more Finals appearances. Cleveland's first professional title in over fifty years came from him, which turned him from villain to hero.
It appears Los Angeles will be his final stop (we hope). James has excelled on the court for the Lakers. Almost every night, he scores at least a triple-double for LA, which is unmatched in any other sport. Besides winning a title in 2020 for the Lakers, he is still a dominant force on the court two decades after his debut in the professional league.
Breakdown: Durant vs. LeBron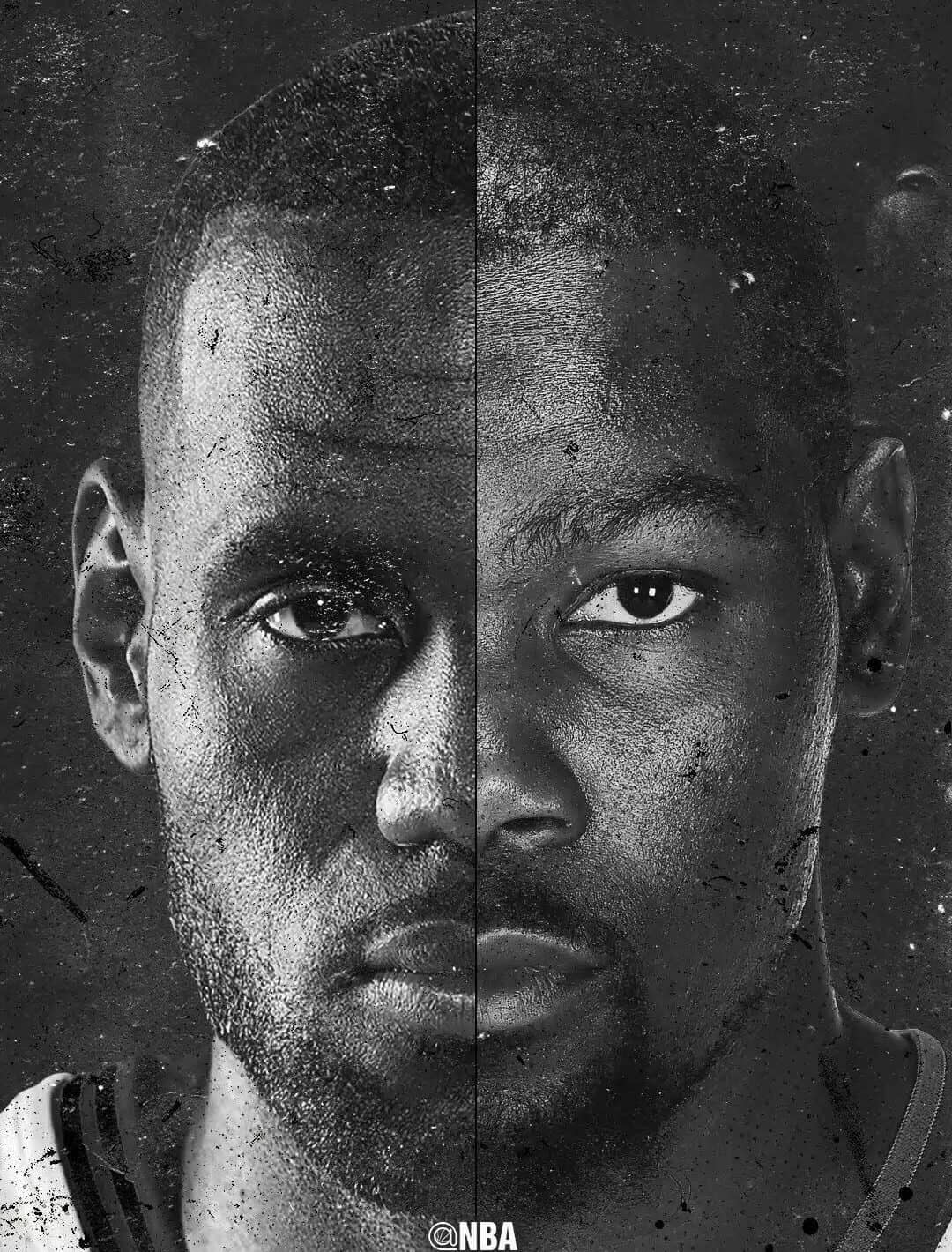 King James seems to have an easy time winning the LeBron vs. KD debate. Yet, Durant seemed to clearly be the better player in the NBA Finals when their teams met back to back. Although he was playing at an all-time high level, he was in the tenth and eleventh years of his career, a full three years younger than LeBron.
In their careers, they have played thirty-five times against each other. Overall, James has a superior record at 20-15. The only time he has him beat is in the postseason when Durant is 9-5.
Although stats aren't always accurate, they can reveal some of the most critical elements. So now that you know the numbers, let's delve deeper.
Scoring
They have almost identical career numbers. The average PPG for LeBron is 27, while Durant averages 27.1 throughout his career. It's such a slight difference, but both make clutch plays on the road when their teams need them most. The two men shoot 50% out of the arc for their entire careers, but Durant has the advantage; he is considered among the best offensive forwards.
Verdict: Kevin Durant
Passing
It is a no-brainer that we will include this category. There is currently a three-point difference between LeBron James and Durant's average assists per game. James's average number of assists two years ago was 10, and he scored 25 points per game. So he's not just one of the three best players ever in this category, but he also averages more assists over his career than Durant.
Rebounding
James and Durant rebound similarly in another statistical category-they're both pretty good at it. The only advantage Durant has over LeBron is that James weighs more than 40 pounds more than Durant; these physical advantages balance one another out. The offensive glass has proved to be a slightly more practical area for KD than for LBJ over their careers.
Verdict: LeBron James
Defense
Kevin Durant and LeBron James spent much of the 2017 and 2018 NBA Finals defending each other. When LBJ faced Durant in the Finals, he complained about his height. However, the most significant burden of the team was carried by LeBron, while Durant also pulled his weight offensively. As a result, James has been named All-Defensive six times, while Durant has picked up just one.
Even though Durant is an excellent defender, he is often hindered by his body in defensive play. As an opponent, James is more versatile and dangerous because he can handle any player during the game. He can block a fast break or body up a big man for a highlight-reel block despite his raw physicality.
Basketball Head-to-Head Matchups: LeBron James vs. Kevin Durant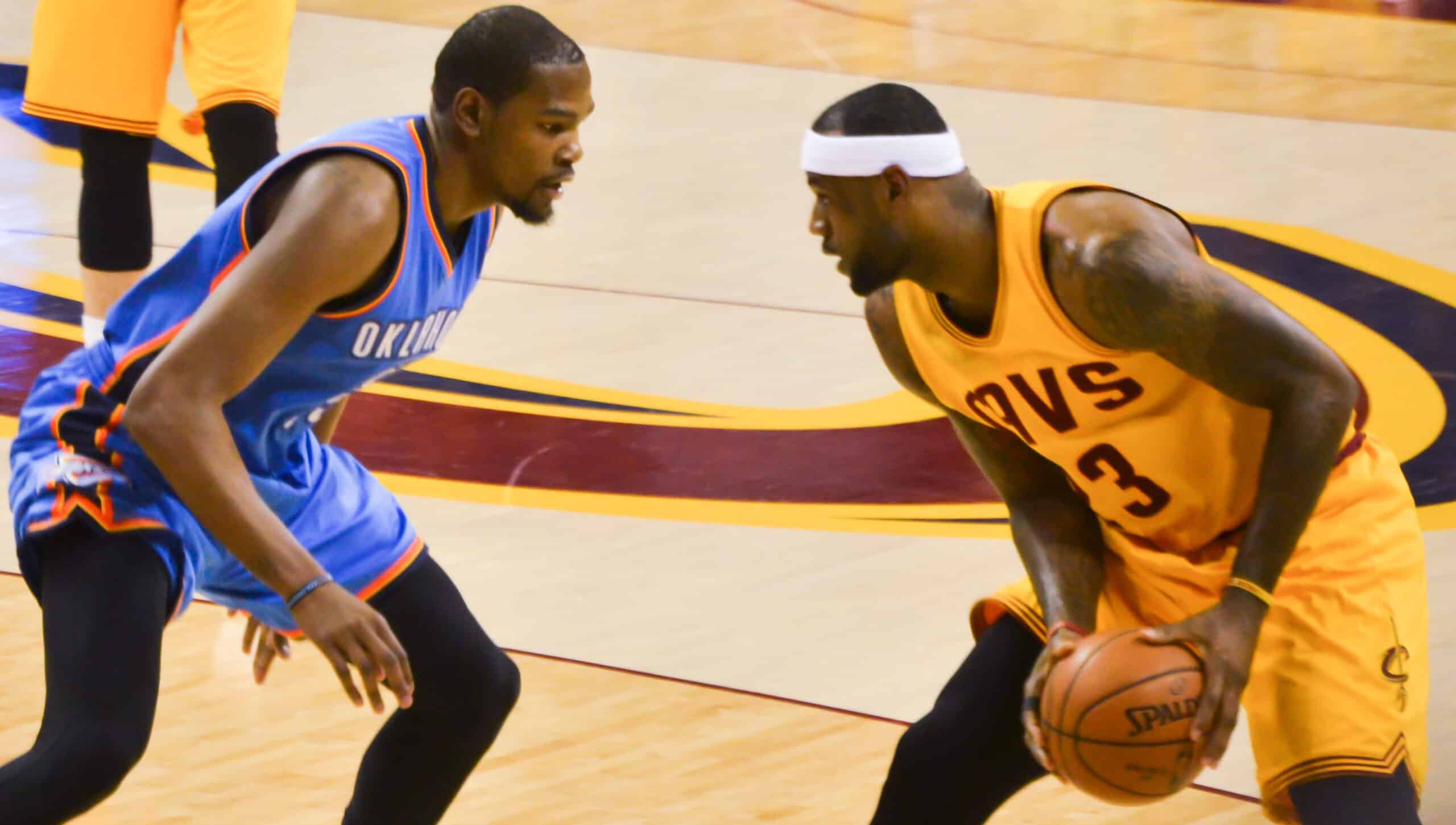 LeBron James vs. Kevin Durant's Regular Season Stats
LeBron James: 28.0 PPG, 7.0 RPG, 7.0 APG; 51%/36%/73% Shooting Splits; 59.7% True Shooting Percentage
Kevin Durant: 29.0 PPG, 7.0 RPG, 4.0 APG; 48%/41%/88% Shooting Splits; 60.9% True Shooting Percentage
Kevin Durant beats LeBron James 15-6 in a regular-season matchup.
LeBron has beaten Durant 21 times in his career, with a heavy advantage going to LeBron each time. LeBron beat Durant the first six times Durant played with the Supersonics/Thunder. LeBron, Dwayne Wade, and Chris Bosh (the three kings) owned Durant, Russell Westbrook, and James Harden not only in the regular season but also in the 2012 NBA Finals.
Although both teams posted impressive numbers during the regular season, LeBron-led teams ranked higher than Durant's. LeBron beat Durant both times in the regular season during Durant's last season with the Thunder. Durant only won three of his six games after joining the Warriors.
Because of injuries and COVID, they have not played since Christmas 2018. However, it is hoped that both players will remain healthy since both represent new teams since they last stepped on the ball court.
LeBron James vs. Kevin Durant in the NBA Playoffs
LeBron James: 32.0 PPG, 10.0 RPG, 9.0 APG; 52%/32%/78% Shooting Splits; 60.2% True Shooting Percentage
Kevin Durant: 32.0 PPG, 8.0 RPG, 5.0 APG; 55%/43%/91% Shooting Splits; 66.8% True Shooting Percentage
Playoff Head-To-Head: LeBron James vs. Kevin Durant
Now that that's out of the way, let's get to the good stuff. LeBron and Durant have only played each other in the playoffs during the NBA Finals. Durant has played for teams in the Western Conference, such as the Thunder and Warriors. Among LeBron's teams, there are the Cavaliers and Heat, both in the Eastern Conference. Durant joined the Nets when LeBron joined the Lakers, and the two swapped teams.
For the first time, these two met during the 2012 NBA Finals. The Heat beat the Thunder four straight games after Oklahoma won the opening match as part of their championship run. LeBron managed only one victory over KD in the 2017 and 2018 NBA Finals, including a Warriors sweep in the 2018 Finals.
Is Kevin Durant Still Second-Best, or Has the Torch Been Passed?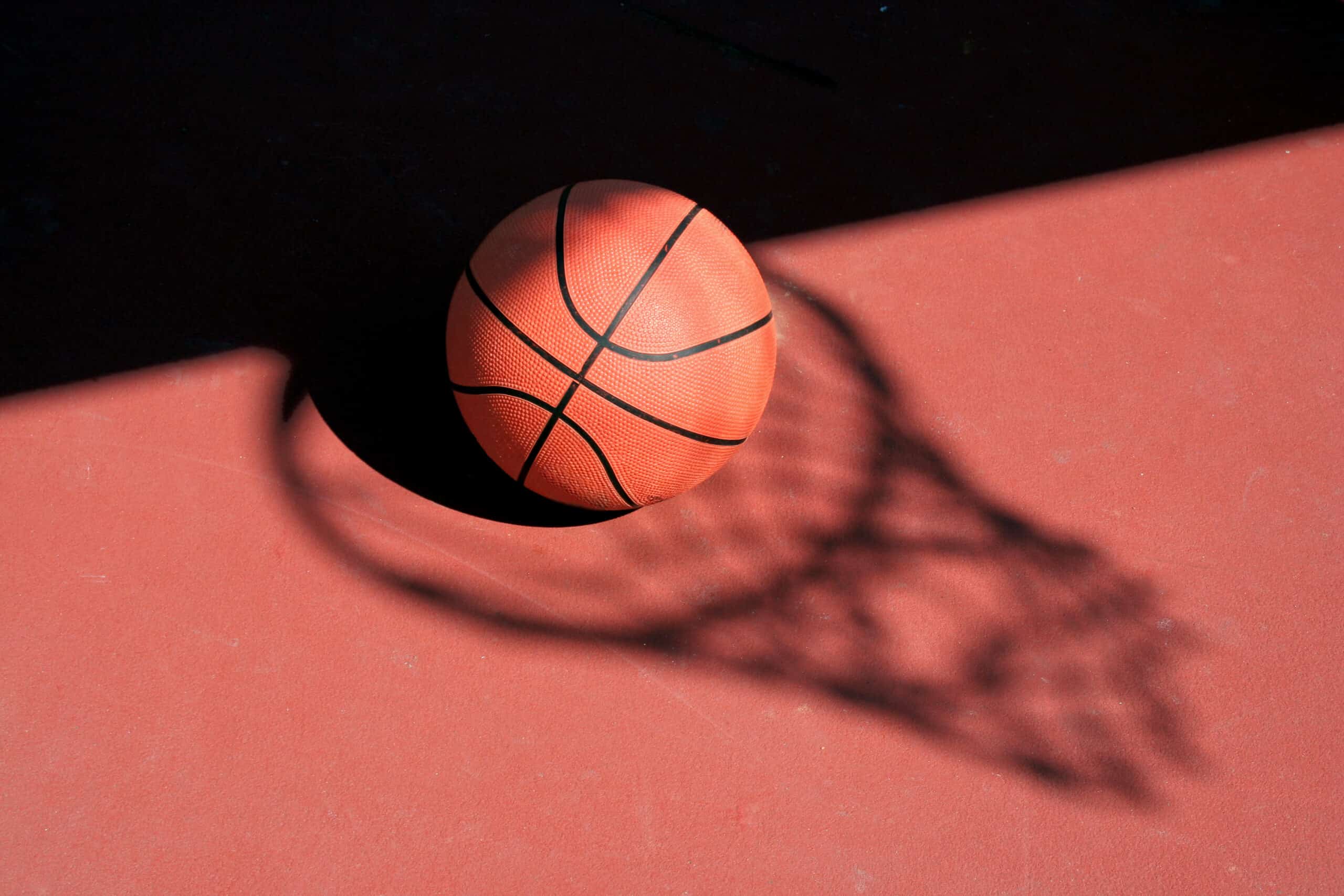 To truly understand why KD could become the number one player in the league shortly, we need to investigate his situation deeper.
Kevin Durant had an opportunity to shine in the 2021 Playoffs without LeBron James and the usual spotlight he commands.
The Brooklyn Nets took a 3-2 series lead over the Milwaukee Bucks behind 49 points from Durant's 16-of-23 shooting, 17 rebounds, and ten assists.
The Nets were forced to rely on KD with a weakened roster (due to Kyrie Irving's sprained ankle and James Harden's return from a hamstring injury, though still limited).
When you are a superstar player and meet expectations, it's one thing – when you smash them, it's another. The game was widely regarded as Durant's best playoff performance, which was called one of the greatest playoff performances of all time.
Durant staked his claim as the best player in the NBA during a postseason in which most major stars were injured or out of the running.
Having been No. 2 for so long, Durant was tired of it.
Sports Illustrated reported in 2013 that Durant was "tired of being second."
Durant said, "I've been second my whole life.". After being selected second in the draft, I've been nominated three times as NBA MVP. But, after coming in second in the Finals, I'm tired of being second. I'm done with being second."
Long considered to be the best scorer in the NBA, Durant has been dominant for many years. However, the man has much greater potential than just being a scorer. A great teammate; he sets up plays very well. He has excellent defensive skills due to his height. The game's tempo can be controlled by him even though he's not the primary ball-handler that James is.
Currently, Durant is the center of attention. The greater the opportunity for him to increase his dominance in the league, the more he will achieve.
Combined Stats And Record
LeBron James: 30.0 PPG, 9.0 RPG, 8.0 APG; 52%/34%/75% Shooting Splits; 59.9% True Shooting Percentage
Kevin Durant: 30.0 PPG, 7.0 RPG, 4.0 APG; 51%/42%/89% Shooting Splits; 63.3% True Shooting Percentage
Total Head-To-Head: LeBron James vs. Kevin Durant 20-15
You can create a very close replica of two outstanding players using their regular season and playoff matchups, as well as their stats. LeBron and Durant bring their best game every time, whether points, rebounds or shooting percentage. The two stars aren't rivals, but it almost feels like it when you see them side by side.
LeBron has the better overall stats. In addition to having higher rebounding numbers than Durant, he doubles KD's assist numbers. His true shooting percentages are similar to Durant's, and if you include the regular season, the shooting percentages are closer. There is no difference in performance between both teams in head-to-head competition. In terms of a playoff series, five games would be the most accurate depiction.
The NBA Finals could come from that playoff series. Durant's record would be 13-5 with a sweep by the Nets, but his overall matchup would still be on the lower side. It is not out of the question that both teams will likely play each other at least twice in the regular season. KD vs. LeBron would be a nice Christmas gift.
How the Stars' Teammates Factor Into Their Success
Kevin Durant
When KD went to the Warriors in 2016, he was looking to capture a title. Although he was overshadowed at first by Steph Curry, he quickly proved to be the more dominant force on the court during their championship run in 2017. By establishing himself in the 2017 NBA Finals, the Finals MVP Award was given to Durant.
However, not long after, he and his team had numerous clashes. Factored in with him and his mother's financial disagreements, he decided to leave Golden State and head east. He signed with the Brooklyn Nets in 2019, with other superstars like Kyrie Irving and James Harden, who have both won MVP awards.
LeBron James
When discussing the supporting cast, one must mention Kyrie Irving, who, despite occasional statistical blips in a series that could have been a nightmare, never looked back during the playoffs in 2016. In an age when ball movement and efficiency are rewarded, Irving reaffirmed his iso-heavy style by having a pivotal role in beating the Warriors, coming back from a 3-1 series deficit. Had it not been for LeBron's brilliant play, he would have been a deserving Finals MVP.
When James played with the Miami Heat in 2012 and 2013, Wade and Bosh assisted him with the second championship, as the series reached seven games.
Yet, another question remains: Will Carmelo Anthony and LeBron James, both in their late 30s, form an unforgettable duo that will propel the Lakers to their next championship this coming postseason?
Final Verdict: LeBron over Durant
The combined section of LeBron's numbers speaks more loudly than his regular season and playoff numbers combined. It supports the theory that he is the superior player who would validate Durant's accomplishments in the past if he sweeps the season series and even defeats LeBron in the NBA Finals.
Statistics and consensus both suggest that LeBron James is the more complete player. I am not disparaging Kevin Durant in any way. However, LeBron is arguably the greatest player ever to play the game, and his durability has allowed him to avoid sustaining permanent injuries.
Durant struggles in other facets of the game despite having the ability to score, notably defense and passing. Despite being capable of guarding and passing the ball, he is not on LeBron's level. In the end, there's more to basketball than just points-and LeBron is a perfect example of that.