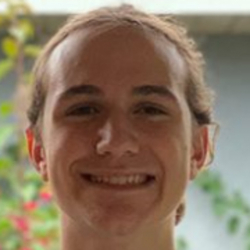 Latest posts by Jonah Foster
(see all)
Kobe Bryant was an NBA player who is widely considered one of the greatest players of all time. After a legendary 20 year career, he retired in 2016. Unfortunately on January 26th, 2020, Kobe and his daughter Gianna died in a helicopter crash. During his playing career, he was known for his incredible work ethic and willing himself to win.
Kobe Bryant Quick Fact
Full Name: Kobe Bean Bryant
Birth Date: August 23rd, 1978
Birth Place: Philadelphia, Pennsylvania
Nickname: Black Mamba
Nationality: American
Siblings: 2 sisters
Children: 4 daughters
Spouse: Vanessa Bryant
Profession: Professional Basketball Player
Salary: $25 million
Net Worth: $600 million at time of death
Social Media: @kobebryant
Awards: 5x NBA Champion, 2x NBA Finals MVP 18x NBA All-Star, NBA MVP
Last Updated: 6/2/2021
Kobe Bryant Birthplace and Early Life
Kobe Bryant was born in Philadelphia, Pennsylvania, on August 23rd, 1978. With a professional basketball player as a father, Kobe began to play basketball at a young age and fell in love with the game. At the age of 6, his father went overseas to play professional basketball, and the Bryant family moved to Italy.
The family moved back to the United States seven years later, where Kobe would play basketball at Lower Merion High School, where he would become a basketball phenom. After a slow start to his first two seasons, he had a stellar Junior year where he averaged over 30 points per game. He also won player of the year in the state of Pennsylvania and top colleges began to notice the young player. However, that same year Kevin Garnett, another great player, went straight to the NBA out of high school, leading to Kobe considering that same path.
In his senior year of high school, Bryant would put together another stellar season. The season culminated in winning the state championship, the first in Lower Merion history. Kobe won a plethora of prestigious awards this season, including the Naismith Player of the Year and being a McDonald's All American. He also secured the scoring record for Pennsylvania, passing the legendary Wilt Chamberlain in the process. After his senior year, he declared for the NBA Draft, and the rest is history.
Kobe Bryant Professional Career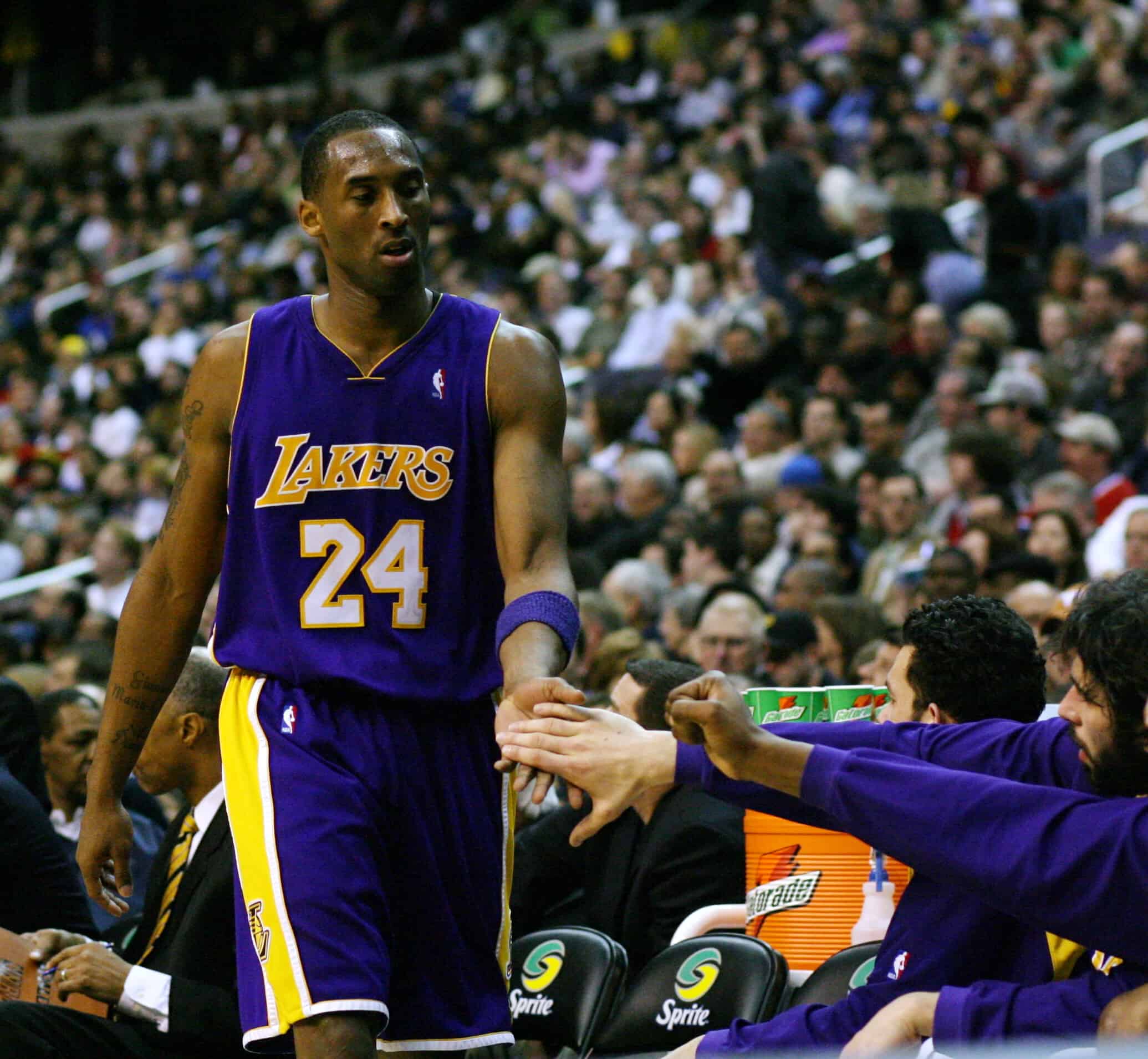 Kobe is one of the greatest players to ever touch a basketball. His storied professional career demonstrates that and shows us how he inspired an entire generation of players.
The Start of his Career
Entering the NBA draft directly out of high school, many did not consider Kobe one of the draft's top picks and he fell to the 13th slot. The Charlotte Hornets drafted him, but before the season started he was traded to the Los Angeles Lakers, where he would stay the rest of his career.
During his rookie year, Kobe saw limited playing time due to him being the youngest player in the NBA. Eventually, he played a little more than 15 minutes per game and scored 7 points per game. He earned the honor of being on the NBA All-Rookie Team and the Lakers made a deep playoff run but failed to win the championship.
Following his first year, Bryant would contribute significantly more to the Lakers, doubling the points he scored. That same year he was voted to the All-Star Game, the youngest player to ever do it. The following season he became a full-time starter, playing in every game. He signed his first contract in the 1999 season, giving him $70 million over the next six seasons.
The Three-Peat and Scoring Titles
Kobe Bryant's greatest years started in 2000, as he won 3 consecutive championships with famed teammate Shaquille O'Neal. During this stretch from 2000 to 2002, he began accruing awards such as making the All-NBA and All-Defensive teams. Bryant's statistics improved as well, averaging more than 28 points per game in 2001. These three championships cemented Kobe as a clutch performer and one of the best players in the league.
With a lack of playoff success and a weaker team surrounding him, Bryant needed to carry a significantly higher-scoring load. His best two seasons came in 2006 and 2007, where he averaged over 31 points per game in both seasons. These seasons made Kobe part of an elite group of players to score as many points in a season, including Michael Jordan. In 2006, Kobe scored 81 points in a single game, the second-highest total in NBA history. During these two years he won the scoring title twice, the only two times he won it in his career.
Winning MVP and returning to the Finals
2008 brought one of the best seasons of Kobe's career despite a severe injury midway through the season. Bryant had suffered several injuries to his shooting hand, including a torn ligament, but opted to continue to play instead of having surgery. This proved to work out very well for the Lakers as the Black Mamba led them to the best record in the conference. He would lead them to the NBA Finals, where they lost in six games to the Boston Celtics.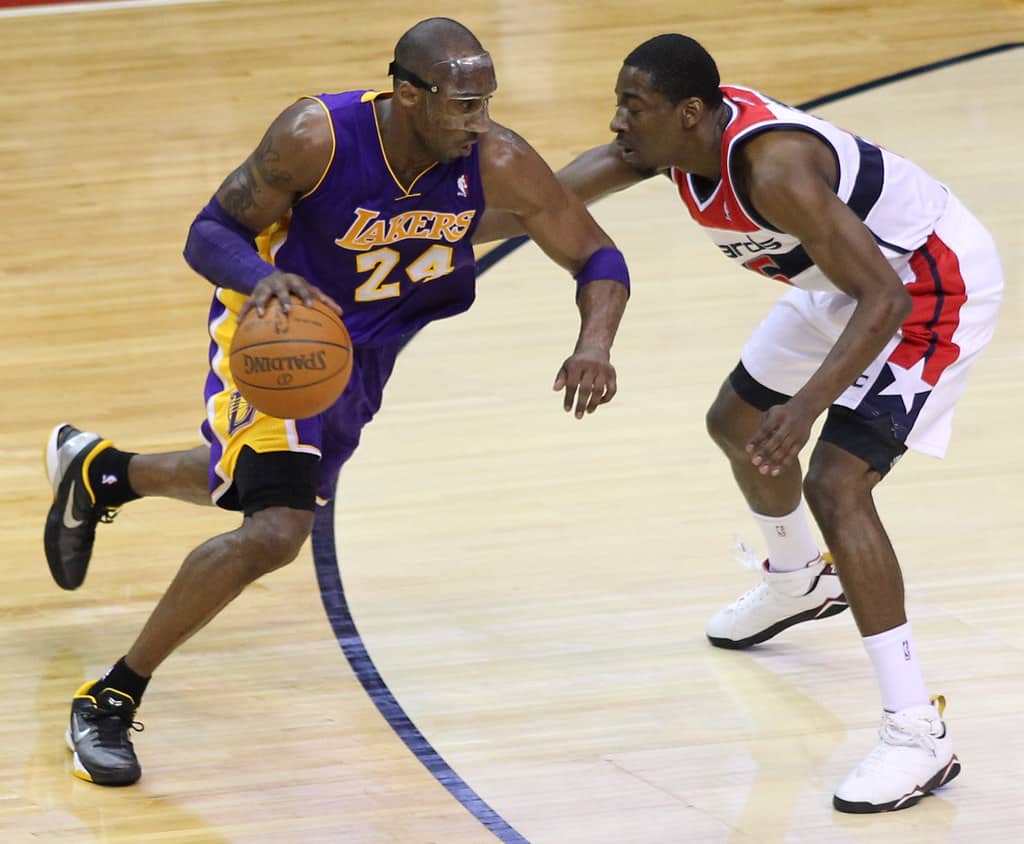 Individually 2008 was an incredible success for Kobe, as he was selected to both the All-NBA and All-Defensive teams. Most importantly, this was the first and only time Kobe won the Most Valuable Player award in his career.
Following the season Bryant decided not to have surgery on his hand and instead prepared for the Olympics. He was a key contributor to the USA Olympic Team, also called the Redeem Team. The national team went undefeated in the tournament and came away with the gold medal. Kobe was critical to the team's success, scoring 20 points in the final game that won them the medal.
Entering 2009, it had been seven years since the last time the Lakers had won the NBA Championship. Doubts began to spread on whether or not the Lakers could win with Kobe as the primary star of the team. These doubts were put to rest as the Black Mamba had a dominating season, culminating in his fourth championship and his first NBA Finals MVP.
The following year, the Lakers returned to the NBA Finals to face off against their bitter rival, the Boston Celtics. On the road to the finals, Kobe upset a long-standing record for the Lakers with playoff assists, passing Magic Johnson's single-game record with 13 assists in a game. Kobe and the Lakers defeated the Celtics in seven games, gaining revenge for their loss in 2008.
From 2008 through 2010, Kobe Bryant was the best basketball player on the planet. He accrued an absurd amount of accomplishments during these three seasons. Accomplishments include 2 NBA Championships, 2 Finals MVPs, an Olympic Gold Medal, and an MVP award. Unfortunately, the rest of his career would not be as bountiful with success.
Reaching Legendary Status
Each season for the next three seasons would end in disappointment for the Lakers as they failed to win another championship. However, for Kobe Bryant, his standing among the all-time greats rapidly increased. In 2011 Kobe went from 12th all-time to scoring to 6th, passing 27,000 points for his career. In 2013 he reached the 30,000 point milestone, a massive accomplishment for any NBA player.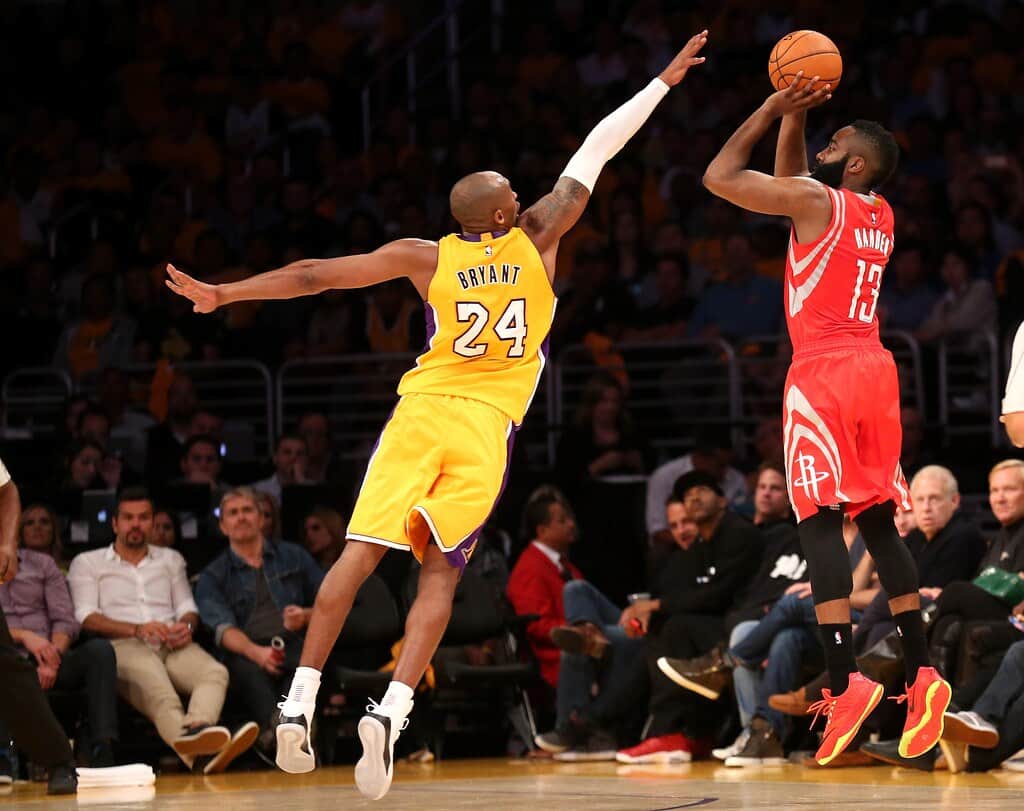 The 2012 Olympics were another successful year for Bryant. He was a significant contributor for the Men's National Team on the way to yet another gold medal for Team USA.
The End of his 20 Year Career
Injuries were a massive influence towards the end of Kobe's career. After tearing his Achilles tendon in 2013, his explosiveness was never the same and more injuries would follow. In the first half of the next season, he fractured part of his shin leading to him not playing another game that season. In 2015 yet another serious injury would occur with Bryant tearing his right shoulders rotator cuff.
Despite the injuries and vigorous punishment he was put through, Kobe would regularly come back early from injuries or play through them. One example is his rotator cuff injury, which he initially tried to play through. He would end up missing the rest of the season due to the injury.
Prior to the 2016 season, Kobe Bryant announced his retirement from basketball. Although it had been a long time coming, many around the league were sad to see the legend leave. In his final game, he scored 60 points to defeat the Utah Jazz, the oldest player to score 60 points in a game.
Kobe Bryant Video
Kobe Bryant's 81 point video:
Kobe Bryant's last game:
Kobe Bryant not flinching from a pump fake:
Kobe Bryant Retirement and Post Professional Career
Following his 20th season, Kobe enjoyed a colorful and successful retirement. One of the keystones of his retirement was the success of the poem he made to commemorate his retirement. The poem was later animated into a video and would eventually win an Academy Award. Such an award is obviously rare for a professional basketball player but Kobe Bryant managed it.
Another highlight of his retirement was the book he published, The Mamba Mentality: How I Play. The book sold exceedingly well, being one of the best-selling basketball books on Amazon.
Bryant was as skilled at making money as he was on the basketball court. In 2013, he purchased 10 percent of the company BodyArmor for $5 million. Only five years later the company was valued at over $2 billion, meaning Kobe's stake was valued at around $200 million. A 4000 percent return over 5 years is unheard-of profit from an investment.
Perhaps what Kobe enjoyed most during his retirement was his coaching. His daughter Gianna had a significant interest in basketball which led Kobe to help her learn the game and coach for her team. In addition to coaching his daughter, he was also known to be a trainer and mentor for several players around the NBA. This star-studded roster of mentees include Devin Booker, Jayson Tatum, and Kyrie Irving.
Kobe Bryant Family
Growing up with a family of five and later having four daughters of his own, Kobe had as unique a family as you could get.
Kobe Bryant was not the only skilled basketball player in his family, demonstrated by his father's successful professional career. Joe Bryant spent eight years in the NBA and another eight years playing professionally in Europe. His playing career was most memorable for an impressive dunk over Kareem Abdul-Jabbar, one of the best players to play in the NBA.
Kobe's relationship with his parents was complicated, and several events served to strain the relationship he shared with them. One of the events was his marriage to Vanessa Bryant, although the reasons are unclear for this. His parents instigated another event by selling memorabilia from Kobe's career, leading to him suing and eventually winning the lawsuit.
Growing up Kobe also had two older sisters who he grew up with, Sharia and Shaya Bryant. He shared a better relationship with them than he did with his parents.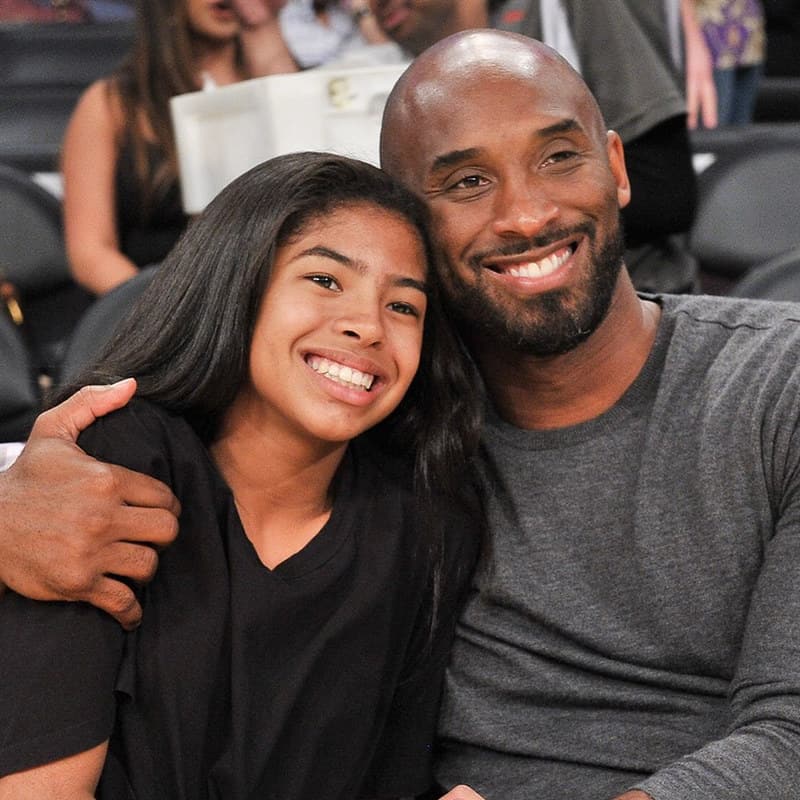 Kobe Bryant's daughters had a massive influence on his life, particularly his daughter Gianna who he coached and trained to play basketball. Gianna was a popular prospect to become a professional women's basketball player, but she tragically lost her life the same day Kobe did in the helicopter accident.
Kobe Bryant Net Worth and Career Earnings
Bryant was one of the most financially successful basketball players of all time. During his 20 years playing career, he made $680 from his normal salary and endorsements alone. When he died he was worth around $600 million.
Kobe Bryant Famous Quotes
"If you're afraid to fail, then you're probably going to fail."
"Winning takes precedence overall. There's no gray area. No almosts."
"I can't relate to lazy people. We don't speak the same language. I don't understand you. I don't want to understand you."
"Despite fear, finish the job."
"The most important thing is to try and inspire people so that they can be great in whatever they want to do."
Kobe Bryant Bio: FAQ
Question: Are Kobe Bryant basketball cards worth anything?
Answer: Kobe Bryant cards vary in value from only being a few dollars to tens of thousands. It all depends on the rarity and type of the Kobe        Bryant card you possess.
Question: How many languages can Kobe speak?
Answer: Kobe could fluently speak 3 languages, English, Italian, and Spanish. He knew words and phrases from other languages.
Question: Why did Kobe Bryant change from number 8 to number 24?
Answer: Bryant changed his number due to his maturation as a basketball player and it was his high school number.
Question: Are Kobe Bryant's parents alive?
Answer: Kobe's parents, Joe and Pamela Bryant are both still alive.
Research: