Latest posts by Pro Sports Bio Team
(see all)
LeBron James is one of the most well-known athletes on the planet, and his son, Bryce Maximus James, is an upcoming topic of conversation in the NBA. Such a famed player is bound to have contemporaries that may be even better than him. His children are the perfect contenders for that. Bryce has maximum potential.
At his older brother Bronny James' basketball games, Bryce Maximus James is frequently seen court-side with his father. But, at this point, it's probably a little-known fact that he plays the sport for his high school team. Not only does he play, but he scores and plays with significant potential.
Bryce Maximus James Quick Facts
Full Name: Bryce Maximus James
Birth Date: June 14, 2007
Birth Place: Cuyahoga Falls, OH
Nick Name: Bryce
Nationality: American
Siblings: Bronny James, Zhuri James
Children: None
Partner / Spouse: None
Profession: High School Student
Salary: None
Net Worth: $1.5 million
Social Media: None
Awards: None
Last Updated: August 2021
Bryce Maximus James Birthplace and Early Life
Bryce Maximus James was born in Cuyahoga Falls, OH, on June 14, 2007. He is only 14 years old but has had an impressive upbringing for the first few years of his life. The son of Lebron James, one of the most influential basketball players in history, Bryce grew up surrounded by athletics and sports.
Bryce James grew up in Cleveland. He was surrounded by family, his older brother Bronny, and eventually his sister, Zhuri. He has been seen on the sidelines of his father's NBA games, supporting him and making a few shots before the game. The James family is a close-knit group, a reassuring thing to see from someone always in the spotlight.
Bryce lived on a huge estate in Miami, Florida, when he was three years old. He was born before LeBron and his mother, Savannah, were married.
Bryce's mother, Savannah James, is a philanthropist. In her younger days, she played softball and was a cheerleader. She is active with Bryce, and the family is seen attending special events, such as the Space Jam red carpet, a movie in which Lebron made a special appearance.
James participates in a variety of sports, including basketball and soccer, although his father forbade him from participating in football or ice hockey due to safety concerns. James attended Old Trail School in Bath Township, Summit County, Ohio, while living in Akron, Ohio. James was a member of several Amateur Athletic Union (AAU) basketball teams.
Bryce Maximus James Professional Career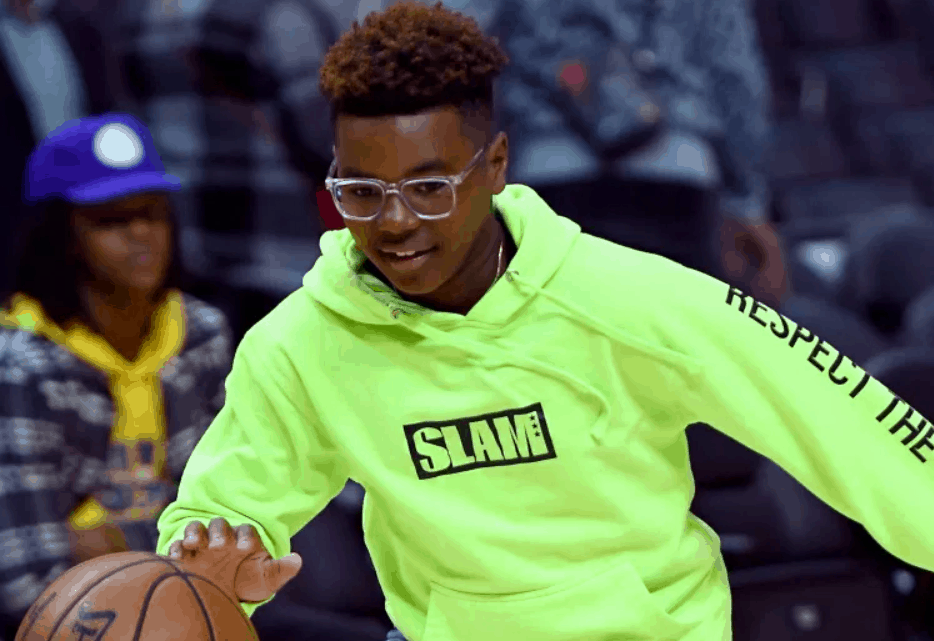 Bryce has not had a professional career yet. As a 14-year-old boy, he is still simply figuring it out in high school. He attends the private school, Canyon Academy, and prior to that, the Crossroads School.
His older brother, Bronny, also attends the Canyon Academy in Los Angeles. He is just recently a middle school graduate and moving into his high school career. During high school, he expects to play more basketball, train, and be pushed harder than he has been before.
Bryce's first coach was his father, LeBron. With anything, children and parents have a different time learning from each other than with a stranger. Bryce will be challenged in different ways, training with other coaches, making him a more versatile player.
Bryce Maximus James is a basketball player who plays the shooting guard position. He's a member of the 15U Strive for Greatness team. Bryce James, according to LeBron James, is the family's shooter.
A player's size has a significant role in selecting the position he or she will play. In a few years, there's a good chance Bryce James will switch to the forward position. He has all of the physical characteristics of a good athlete, and his athletic abilities are only going to get better with time.
Bryce James has been noted by scouts as an exceptional shooter from beyond the arc, a skill that is extremely valuable in today's NBA. He, like his father, is an excellent playmaker, and his maturity level is comparable to that of a player in his late teens. James has excellent athleticism for his age.
Bryce Maximus James is expected to be a fantastic all-around player with the skills to excel in today's NBA. It would be interesting to see how he grows as a player in the future years, as he will be available for the NBA draft in 2029.
Video clip of Bryce Maximus James playing High School Basketball with his entire family cheering him on.
Bryce Maximus James in Movie: Space Jam
Lots of controversy has surrounded the movie Space Jam. In this movie, LeBron James makes a special appearance, and his family is also shown. The controversy revolves around the idea of whether it was right to depict LeBron's family as actors, rather than his real family.
With less than two weeks until the film's debut, LeBron James organized a lavish party to commemorate the occasion. Aside from the actors in the film, the event was attended by a slew of other celebs, including Chris Brown, G-Eazy, Megan Fox, Machine Gun Kelly, Olivia Rodrigo, and Demi Lovato, to name a few.
Of course, the James family was in attendance to show their support for LeBron. However, one incident from the lavish party caught the attention of fans. As LeBron and his sons posed for a shot, Bryce appeared to be nearly as tall as his older brother, Bronny, who stands at 6-foot-3.
The James boys have clearly inherited their father's genes. Bryce and Bronny are only 14 and 16 years old, so one can only imagine how much taller they will become.
Bryce Maximus James Net Worth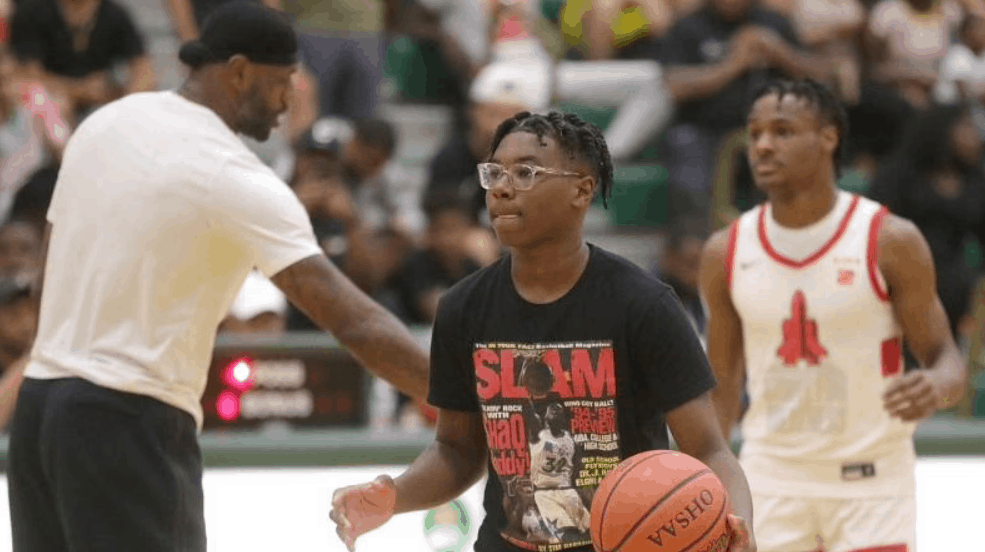 Bryce James was nominated as one of the most successful family members. He has been included in the list of famous people born on June 14, 2007. He is one of the wealthiest members of the family, having been born in Ohio. He is also on the list of the most popular family members. Bryce James, who is 14 years old, is one of the notable people for his age.
Bryce James's net worth is approximately 1.5 million. While this is mostly from his parents and family, when he joins the NBA, he will be sure to have a successful career for himself. In fact, he has already received offers from basketball clubs such as "Duke" and "Kentucky."
Bryce is now a member of the 15U Strive for Greatness team, where he mostly serves as a shooting guard, according to his father, who claims that he is the best shooter in the family. Bronny, his older brother, is already a social media sensation, with over 5.8 million Instagram followers. With more people discovering his talent, Bryce is now moving on the same path.
Being the son of LeBron James can not be easy. Both sons and daughter, Zhuri, are under the media's watchful eye at all times.
Bryce Maximus James Family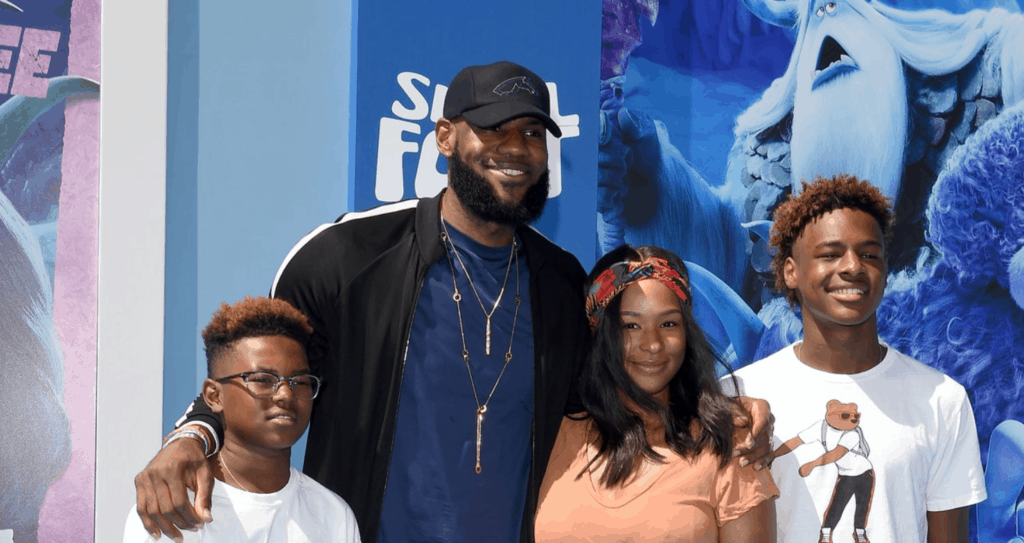 Bryce Maximus James comes from a very influential family. His father, LeBron James, is arguably one of the best basketball players of all time. His mother, Savannah Brinson, is a successful entrepreneur. She has her own furniture brand, works as an interior designer, and is a mentor for low-income communities. She is a community activist as well as an entrepreneur, and her most well-known program, the 'I PROMISE' Makeover campaign, debuted in 2013.
Bryce has two siblings, Zhuri and Bronny James. Zhuri is the youngest, aged six years old and attending a private elementary school. Bronny is the oldest at 16. He, just like Bryce, plays basketball for the Sierra Canyon School.
Bryce Maximus James Height
Bryce stands at 5 feet, 6 inches tall, with a weight of 55 kilograms, or 121 pounds. For a 14-year old, this is incredibly tall. He outshines the other players on the field and, with his height advantage, has the ability to slam dunk much easier.
Bryce Maximus James Famous Quotes
At 14, Bryce does not have any famous quotes or popular saying that he is known for. His father, LeBron, has many and a few about his children and family.
"Once you become a professional athlete or once you do anything well, then you're automatically a role model …I have no problem being a role model. I love it. I have kids looking up to me, and hopefully, I inspire these kids to do good things." – LeBron James.
"Sometimes in the past when I played, something might make me lose focus, or I would go home after a game where I thought I could have played better, and I would let it hang over my head for a long time when it shouldn't. But now, being a parent, I go home and see my son, and I forget about any mistake I ever made or the reason I'm upset. I get home, and my son is smiling, or he comes running to me. It has just made me grow as an individual and grow as a man." – LeBron James.
"You know, my family and friends have never been yes-men: 'Yes, you're doing the right thing, you're always right.' No, they tell me when I'm wrong, and that's why I've been able to stay who I am and stay humble." – LeBron James
Reading the way LeBron speaks about his family, it is obvious that Bryce is in good hands. As LeBron grew up without either a father or mother, he makes it an important effort to be there for his kids. He does not want his kids to have the experience of what he went through growing up.
FAQs
Question: How old is Bryce James, LeBron's son?
Answer: Bryce James is 14; his birthday is June 14, 2007.
Question: How tall is Bryce James now?
Answer: Bryce James stands at 5'6″.
Question: Is Bryce James still playing basketball?
Answer: Yes, Bryce James plays basketball for his high school. He is part of the 15U Strive for Greatness team as well.
Question: Is Bryce James better than Bronny?
Answer: It is unknown if Bryce or Bronny is a better basketball player. Bronny James is older and has more experience, but since both brothers are young, it is impossible to know who is a better player.
Question: What is Bryce James Instagram?
Answer: Bryce James does not have Instagram or any social media. If he does, it is private and not in the public eye.
Question: Is Bryce James adopted?
Answer: No, Bryce James was born from LeBron and Savannah James.
Question: Who is Bryce James' godfather?
Answer: Phoenix Suns star Chris Paul is the godfather of LeBron's children.