Latest posts by Jonathan Tieman
(see all)
"Who is the greatest basketball player?" The debate you have probably witnessed, whether you are a fan of the game or not. Does Kobe Bryant or LeBron James reign supreme? It is inevitable that they will be compared, despite having never met in the playoffs.
Despite coming directly out of high school, both of them were/are very dominant in their early years and have left an indelible mark on the NBA. Their combined championship rings in the Hall of Fame are now nine in total, and they are both first-ballot Hall of Famers.
Despite Kobe's death in January 2020, the NBA and basketball fans worldwide are still grieving his loss, and discussing his stellar skills is part of how they remember him. Which would you pick if Kobe played against LeBron?
Kobe vs Lebron Comparison: Scoring
Their career field goal percentages are essentially the same, however, Kobe's free throw percentage (83.7) is higher than LeBron's (74.4), despite LeBron getting to the line more often during their respective careers. There have been two Kobe scoring titles, but LeBron has topped the league leaderboard only once (although LeBron came close to winning it again last year, he was edged by Kevin Durant by just .4 points per game).
A single basketball game featuring Kobe once saw the superstar score 81 points. Over the course of an entire season, he averaged 35.4 points per game. Most likely, if LeBron had played for the Laker teams from 2005-2007, he would have put up similarly impressive numbers.
Kobe is generally acclaimed as a better scorer than LeBron, although statistics oppose this view. Kobe boasts an impressive career average of 25.2 points per game, but LeBron boasts a staggering 27.7 points per game. Kobe supporters often argue that LeBron was thrust into a starting position from the very start, whereas Kobe had to wait until his third season to become a full-time starter. LeBron was ready to step in and play from day one. Kobe Bryant wasn't. How can one hold that against LeBron?
"Our team is trying to clinch homecourt advantage for the whole playoffs and that is more important. If I really wanted to, if I really wanted to win the scoring title, I could win it every single year," James was quoted as saying in 2009. "Every single year, I could really do it. But it doesn't matter to me."
Different Types of Scorers

Kobe's look tells us a lot: he simply wasn't capable of taking shots like James – and/or wasn't willing to work as hard for them.
Two things are most noticeable.
Those who have watched Bryant play for any amount of time will not be surprised at the fact that 28% of his shots came from what we will call far mid-range (16 feet from the 3-point line according to B-R). Bryant excelled at isolation off the dribble, and if he couldn't beat defenders off the dribble, he fetched some jump shot out of his bag, no matter the difficulty.
A recent revolutionary trend emphasizing 3-pointers and looking at the rim over virtually anything else in basketball results in these shots being some of the least efficient shots in the sport.
The second reason is that James takes a lot more shots than Kobe. High-volume scorers are not strangers to challenging 2-point jumpers, and he is no exception. However, he never made it his mainstay. I mean, he usually either overpowers smaller opponents or flies past bigger ones to reach the rim, so why would it be true?
With a height difference of several inches and a mass of at least 40 pounds, James has had much better luck taking shots at the rim than Bryant. He has taken 36% of his career shot attempts at the rim, compared to only 21% for Bryant. The NBA average for this season is 66.0, and James is shooting 73.3%, while Bryant is shooting 63.4.
Due to the fact that Bryant did not gain the ground at the 3-point line — James makes more 3-pointers, 0.2 more attempts per game to be exact — LeBron is increasingly advantageous at the rim.
Rebounds
There are some differences between these two categories, simply because of their relative positions.
Kobe Bryant averages 5.2 rebounds per game, LeBron James 7.4 rebounds per game. It is quite clear that LeBron, who is a small forward, weighs more than the other players. Despite their disparity in height, both players are only 2 inches apart. A comparison would be like contrasting Michael Jordan and Scottie Pippen's rebound stats.
Different Playing Styles

The incredible thing about James' play is that scoring has never been the central focus.
That might seem a bit inexplicable considering LeBron has averaged almost the same number of shot attempts (19.6 to 19.5) and free throw attempts (8.0 to 7.4) as Bryant, a player whose high volume scoring credentials are undeniable. As a non-point guard, James has served as arguably the best playmaker in NBA history.
Based on raw statistics, there is no disputing what James has achieved: Both the highest per-game assist average (7.4, 24th) and assist percentage (36.3, 20th overall) favor James.
He is completely different from Bryant in that regard.
In no way is this to suggest Kobe lacked that capability; in fact, it was far from that. Bryant was often a willing and able passer despite his high scoring ability, and he formed devastating plays with O'Neal (when the two weren't arguing) and Pau Gasol on his way to winning five championships.
Bryant's clear approach centered around shooting first and asking questions second. Meanwhile, James is more of a team player, creating opportunities for others rather than getting his. The number of raw assists he has created per game is almost double Bryant's career-high of 6.0), and his potential assists per game (19.0) and points created via assist (27.1) are worth mentioning.
Defense
They both balance each other out with their different defensive skills in their primes, which makes Kobe and LeBron almost equally good. LeBron is nearly the best player for his position for support defense, which Kobe is not as good at as a one-on-one defender.
It was possible for LeBron to stop any current NBA player in his prime athletically if he put great effort into it. On the other hand, Kobe was adept at covering the opposition's best scorer and shutting him down. Lebron could actually defend by himself if he had sufficient stamina.
Without any assistance, Kobe could shut down the star of the opposing team. A player covering all positions sounds alluring, but again, Lebron seems to be operating from support D mode and does not seem to play defense effectively to "stop" a specific player. Providing support defense requires a one-on-one defender for Lebron.
To win it…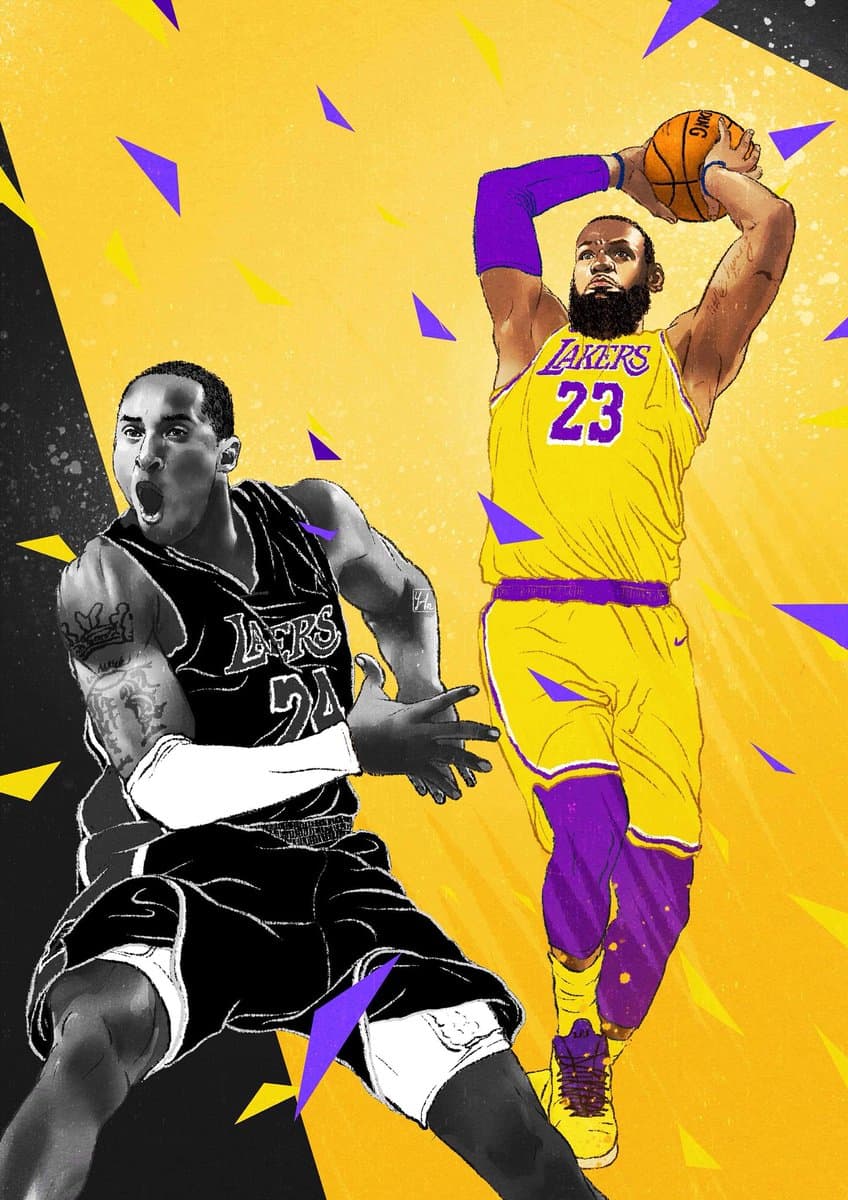 Bring up the word "clutch" and you're guaranteed to irritate a serious basketball analyst. They'll argue until the end there's no such thing, that the ability to consistently perform well based on random outcomes over quite small samples is firmly based on myth.
Is it really that small? Bryant attempted just 77 shots for the lead in regulation or overtime in 1,566 career games, including the playoffs – just 4.9 percent. It's 73 out of 1,480 for James, which is also 4.9 percent. The opportunity is extremely isolated and, because everyone knows who gets the ball, it's not one that lends itself to a consistent level of success.
Perhaps it would be more informative to expand our scope if we insist on discussing the concept of "killer instinct" or "clutch". What about the question of how to create a clutch? Although this is still not much of a sample size, it represents an immense improvement over last-second attempts.
He has put up the best statistical record of any player in NBA history in elimination games, with, for example, his 45-point, 15-rebound performance against the Celtics in 2012. Michael Jordan did not come close. James outplayed Kareem. Oh, and he was far superior to Bryant.
Players who have reached these numbers have done so in some of the most important games in their careers. These are monster numbers, including the highest scoring average in league history. While Bryant doesn't have the best average across the board and is not the best when it comes to game-winners, he has a killer reputation, while LeBron is the player who hasn't always delivered on his promises.
Which, on the face of it, isn't false. The Miami Heat lost the 2011 Finals due to an ill-fated player who vanished under mysterious circumstances (James…). But in the broad picture, LeBron truly is The King: When it matters most and clutch precision is needed, he is The King.
Cultural Impact
James has shocked everyone since he became an NBA star out of high school and risen from the ashes of "The Decision". He remains among the most admired stars in NBA history with his peers. With the I Promise School, his foundation has given superstars a model to follow in serving their communities by empowering people. As a basketball star and author, James symbolizes this generation.
A billion-dollar brand is also just around the corner for him. James has established himself as an entertainment mogul, having invested in Beats by Dre, Blaze Pizza, Liverpool F.C., among others, as well as his career earnings and sponsorships. The actor looks forward to filming "Space Jam 2", appearing in the comedy "Trainwreck" alongside Amy Schumer, and participating in HBO's "The Shop" where he contributes regularly.
A short animated film he made for his retirement letter won Bryant an Academy Award in 2016. In addition to "Musecage," Bryant built the "Detail" series for ESPN. Additionally, Bryant has been involved in writing children's books and creating podcasts that showcased his ability to take risks with art, even if they did not measure up to his first venture after leaving the NBA.
How the Stars' Teammates Factor Into Their Success
Kobe Bryant
How does it feel to work alongside Kobe Bryant? Getting to interact with one of the most competitive and greatest players in NBA history every day must be an interesting experience.
Public perception is that, in terms of personality, the self-described Black Mamba possesses a mixture of honesty and tenacity, toughness and strength, bristly and brutal, and totally focused on competing and completely concerned with personal advancement.
You'll find out from Kobe. He's like, "Even though you guys are my teammates, you shout at me. You should let me know that you are open, since I am so determined to do it myself,' and this guy has told me this, 'I only see that basket. You could be open, I could be covered by three guys, but the one thing I see is that basket so you have to tell me, Look, I was open. Or yell at me mid-play. Neither affects me and neither bothers me, in fact, I respect it."
Although Kobe may have been a ball hog, he was an open-minded one at that. He realized that his tendencies were affecting his team's ability to win games, and altered his play as best he could, much to his team's appreciation.
LeBron James
Kyrie Irving was a compelling member of the supporting cast, despite occasional statistical blips during an otherwise tumultuous series, who never looked back throughout the postseason in 2016. After coming back from a 3-1 series deficit to beat the Warriors, Irving reaffirmed his iso-heavy style by playing an essential role in the victory. In the event that LeBron's brilliant play had not been a factor, he would have been considered a deserving Finals MVP.
James was a member of the Miami Heat in 2012 and 2013 when Wade and Bosh assisted him with the second title, which went to seven games.
Does the Lakers' new duo — Carmelo Anthony and LeBron James, nearing their 40s — have what it takes to lead them to their next championship this season?
Conclusion
Although the two are neck and neck, James has shaped the sport in a broader way, for better or worse, even if we confine this conversation to their effect on basketball culture. Just as Bryant inspired this generation of NBA talent, Jordan inspired James before him, James is doing the same thing in his own way – he is committed to preserving his body, owning his career, and using his fame to serve others for generations to come.