Latest posts by Marjorie Herrera
(see all)
James May is a TV presenter widely known for his humorous appearance in the famous motoring program called Top Gear. He is now also known for his role on The Grand Tour — an Amazon Prime program he presents alongside his former Top Gear partners Jeremy Clarkson and Richard Hammond. May is also a journalist and columnist, and that's where his road to the world of automotive entertainment began. Welcome to our James May Bio.
James May Quick Facts
Full Name:

James Daniel May

Birth Date:

January 16, 1963

Birthplace

: Bristol, England

Nickname:

Captain Slow

Nationality:

English

Siblings:

3 – 2 sisters, 1 brother

Children:

None

Partner:

Sarah Frater

Profession:

Television presenter, author, columnist, journalist

Salary:

Unknown

Net worth:

40M

Social media: @jamesmaybloke (Instagram), @MrJamesMay (Twitter)
Last Updated:

06/17/2021
James May's Birthplace and Early life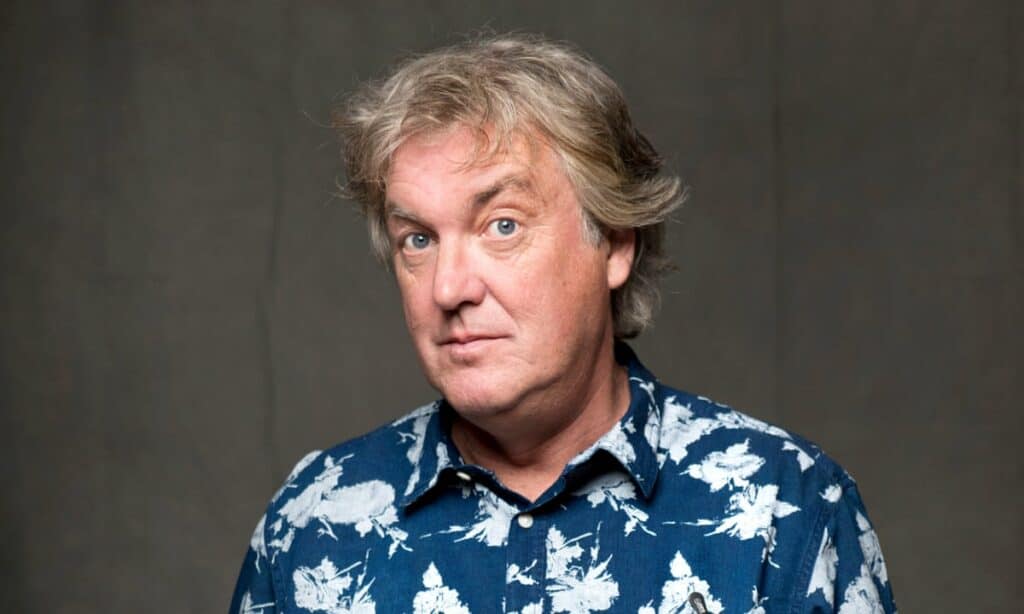 James May was born in Bristol, England. He has one brother — no, it is not Queen's lead guitarist Brian May. After many people asked James if he and the Queen star were related, he publicly said in an interview with Express he wished he was his brother, but he made it very clear that they are not related. James May also has 2 sisters, for which he even presented a documentary called James May: My sisters' Top Toys.
In a Q and A with newspaper Independent, May mentioned that growing up, he had to move all over Britain, but his home life was very happy still. May also mentioned that, as a child, he wanted to be a surgeon or a fighter pilot because of his love for airplanes. His passion for aircraft was so deep he ended up issuing a pilot's license. May always felt like he was and still is too lazy, especially with school. He regrets not studying hard enough to pursue any of his 2 desired job positions: surgeon and airline pilot.
The TV presenter believes 2 inspirational people in his life are his father — from whom he learned to do things properly— and his mother — his source of niceness. His father worked in the steel industry and his mother was a nurse. May finished his high school education at Oakwood Comprehensive School in Rotherham.
James May decided to study music at Pendle College, Lancaster University. He graduated in 1985, and the University was so fond of him they even awarded him with the title of "Honorary doctor of letters" in 2010.
James May's Professional Career
Beginnings and Work in Journalism
Music was his main career, but that was not the path May followed. After graduating, he worked as a records officer for a Hospital in Chelsea, but that was not his destiny either. Journalism came knocking on May's door when he became a sub-editor for The Engineer, a now 165-year-old engineering and technology magazine from London.
Then came one of the many reasons he became famous in the 90s: his work and prank for the weekly automobile magazine by the name of Autocar. The British journalist was in charge of putting together the "Road Test Yearbook."
This yearbook compiled several car reviews, and each of them had to start with a red large letter. Overwhelmed with the amount of work, May came up with this clever and sassy acrostic "So, you think it's really good, yeah? You should try making the bloody thing up; it's a real pain in the arse." And yes, he was fired for that. In May's attempt to keep working in automotive journalism, he then approached Car Magazine, which ended up conceding him his own column called England Made Me.
The Start of his Life on TV
Even though James May never wanted to be on TV just for the sake of it, and he certainly doesn't feel like an actor, the time to appear in his first TV program finally came— presenting in Top Gear's rival, Driven. The show was similar to Top Gear but had a fresh and more interactive approach. It lasted from 1998 to 2002.
The Top Gear Era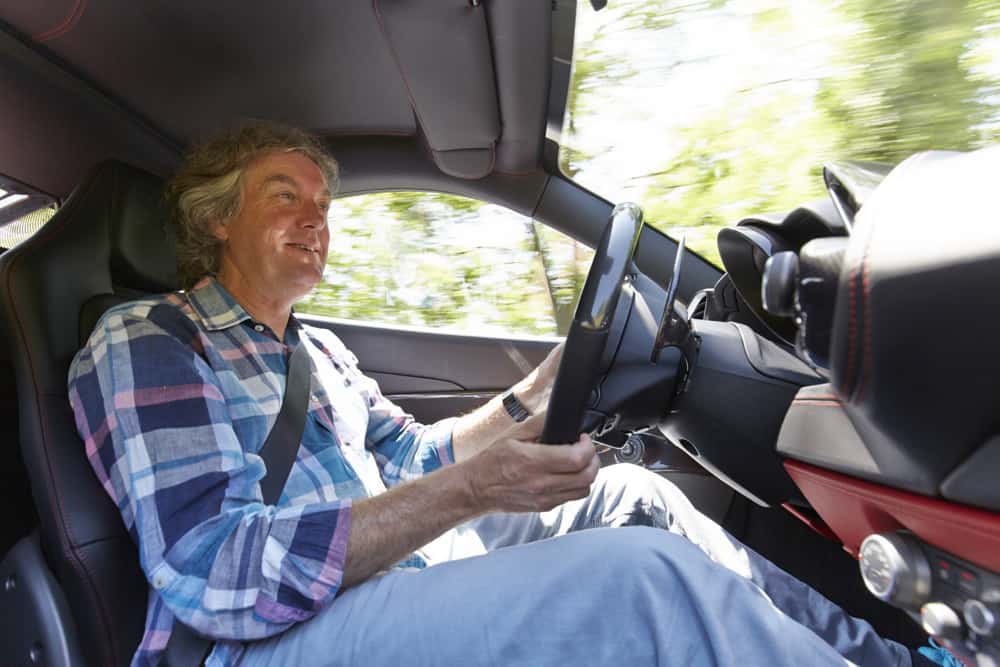 In 2003, James May co-presented Top Gear's new format alongside Jeremy Clarkson and Richard Hammond. He had already co-presented Top Gear in its old format back in 1999. Even though it was a brief job brief, it certainly opened the door, so he could be a full-time co-presenter in the 2003's program.
From that year, Top Gear kept part of the previous format but evolved throughout the years by adding more segments: road trips, a different way to review the cars, and challenges. This show gave May his "Captain Slow" nickname, and it was due to his careful and moderate driving style.
Up until now, Top Gear has won 12 awards and has been nominated 21 times from several organizations like BAFTA, Astra, Critics Choice, Emmy, National Television, UK; Royal Television Society, UK; TV Quick, UK; and others. In 2013, Top Gear was featured in the Guinness World Record for being the most widely watched factual TV program. Top Gear also has an 8.6 rating in IMDB, the online database with information and ratings on movies, series, TV shows, etc.
New Series with Amazon Prime
James' love story with Top Gear ended in 2015. After Jeremy Clarkson was suspended, May and Hammond did not feel like they could continue with Top Gear. They all wanted to keep working in a similar one, and Amazon offered them a deal to create a new motoring show called The Grand Tour, which aired in 2016.
Top Gear's former presenter has had a significant relationship with Amazon Prime ever since. He even has 2 more shows with the platform, but they are not related to cars — James May: Our Man in Japan and James May: Oh, Cook! Both shows aired in 2020. In Our Man in Japan, May discovers the Japanese culture, people, and traditions in a rather different and funny way. The Oh Cook! the show takes place in a conventional kitchen with no fancy or difficult-to-use utensils or impossible-to-buy ingredients. Unless it's May's humor, that is definitely an impossible-to-buy ingredient.
Other TV Programs
James May's life on TV involved much more than Top Gear and his endeavors with Amazon Prime. May also worked with BBC for several shows: James May's Top Toys (2005), Oz and James' Big Wine Adventure (2006), James May's 20th Century (2007), James May's Big Ideas (2008), Oz and James Drink to Britain (2009), James May's Toy Stories (2009, 2011-2014), James May's Man Lab (2010-2013), James May: The Reassembler (2016-2017).
Life Outside TV
Since May is a pub-lover, he decided to buy half the ownership of a pub in Swallowcliffe. His new acquisition is The Royal Oak.
James May is also a book author and has published a high variety of them. They are mostly related to cars, obviously, and airplanes. A few of them are Car Fever, How to Land an A330 Airbus, Man Lab, and Magnificent Machines.
James May's Best Moments
May's natural humor made the Top Gear fans keep watching the show for more than 10 years.
Falling around, driving a car made of bricks, or one filled with beach water… James May had a particular way to make everyone laugh and be curious about his activities, including his co-presenters.
James May's family
James May has been with his partner Sarah Frater since 2000. She is a writer and art critic. They have not had any children together.
James May's net worth and career earnings
James May's diverse professional endeavors have made it difficult to calculate his actual salary, but while working on BBC's Top Gear, he had a salary of nearly USD 700,000.00. On the other hand, Amazon paid USD 250,000,000.00 to sign all 3 presenters from Top Gear for The Grand Tour. It is not known how much more Amazon pays May for his appearance on the other 2 shows on the platform. May has also been part of other shows, documentaries, and is also a book author, and these earnings are incalculable. It is estimated that James May's net worth is USD 40,000,000.00.
Frequently asked questions
Question: Does James May have a partner?
Answer: James May has been with his partner Sarah Frater since 2000.
Question: Does James May have a child?
Answer: No. Even though May has partnered with Sarah for 20 years, they have not had any children.
Question: Can James May fly a plane?
Question: Are James May and Brian May related?
Question: When did James May join Top Gear?
Answer: James May officially joined Top Gear in 2003, but he had co-presented the show for a brief time in 1999.
Question: Can James May play the piano?
Answer: James May studied music at Pendle College, Lancaster University. He plays the piano, the flute, and guitar.
Question: Are James May and Jeremy Clarkson friends?
Answer: In an interview with Drive Tribe, Clarkson said, "We never, ever, ever see each other socially. But why would you when you literally live cheek by jowl with them for 300 days a year and have done for 17 years?" Jeremy knows they drive each other mad, as brothers do, but they do spend most of their time together laughing.
References
Continue reading related bios of Racing personalities: