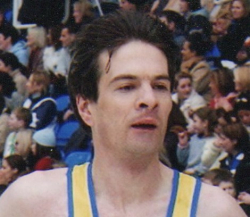 Latest posts by Stephen Hands
(see all)
Alexis DeJoria is one of the most popular American female drag racers on the circuit. She competes in the National Hot Rod Association (NHRA) Funny Car category, making a comeback in 2020 after retiring from the sport in 2017. During her career, DeJoria has won championships and broken records, including becoming the first female in Funny Car history to go under 4 seconds for the 1,000-foot drag strip. Alexis DeJoria is estimated to have a net worth of $100 million.
Alexis DeJoria Quick Facts
Full Name Alexis Dejoria
Birth Date September 24th, 1977
Birth Place Venice Beach, California
Nickname None known
Nationality American
Siblings John Anthony DeJoria, John Paul DeJoria, Michael DeJoria, Michaeline DeJoria, Justin DeJoria, Chloe Briggs
Children Isabella DeJoria
Spouse Jesse James (m 2013 – 2020)
Profession Drag race driver
Net Worth $100 million
Social Media Instagram
Personal Awards First woman to achieve a sub-four-second pass, NHRA US nationals winner, 2019 National Italian American Sports Hall of Fame inductee
Last Updated August 2021
Alexis DeJoria Birthplace and Early Life
Alexis DeJoria was born on September 24th, 1977, in Venice Beach, California. She is the daughter of billionaire John Paul DeJoria and his then wife, Jamie Briggs. However, her parents divorced when she was still in her early teens.
Following college Alexis DeJoria worked in her father's businesses, turning her hand to a number of roles across different departments. However, her interest in fast cars had already been piqued after a friend took her to a drag race at Pomona when she was 16 years old. This interest was to grow into a passion, one which saw her move across the country to pursue.
DeJoria left California to attend the prestigious Frank Howley's drag school in Gainesville, Florida. She kept her famous family name secret at first in order to be taken seriously by the other drag racing drivers. She wanted to prove her talent on merit without people thinking she was getting preferential treatment due to her father's name and wealth.
She began her racing career in 2005 as an amateur in the NHRA Super Gas category. She would soon move up to the Super Comp category as her illustrious career began to take off.
Alexis DeJoria Professional Career
Alexis DeJoria was quick to display her potential as a drag car racer. Within just eight months of making her debut on the NHRA circuit, she had advanced through to two final rounds. DeJoria went on to win one of these, the coveted Sportsman Nationals held in Fontana, California. Alexis DeJoria had announced her arrival as a top female racer.
DeJoria moved to the Top Alcohol Funny Car (TAFC) category for the next stage of her fledgling career. Within this category, she raced primarily on the West Coast circuit for two years, where she was part of a two-car team. In 2009 DeJoria took another bold leap in her career by setting up her own team called Stealth Motorsports.
Her three years with Stealth Motorsports proved a successful time. DeJoria won a divisional event and reached the finals of four national events in this time. However, her crowning moment was claiming her first victory in 2011 by winning the NHRA national event for the TAFC category. In doing so, she became only the second woman to achieve this feat, following on from the legendary Bunny Burkett.
Another noteworthy moment of DeJoria's time racing in the TAFC category came in 2010 when she competed in the first all-female contest in this class, beating Melinda Green-King.
Kalitta Motorsports
Alexis DeJoria made her highly anticipated transition to the Nitro Fuel Funny Car category in 2011 following her victory at the TAFC national event. She also left Stealth Motorsports to race for Kalitta Motorsports. DeJoria had been training for a year before moving into this new category, where the nitro-methane-fueled cars can hit in excess of 300 mph over the quarter mile drag racing track.
Amid all the media attention Alexis DeJoria did not disappoint in her rookie year in this new category. She impressed drag racing fans by reaching the final round at the NHRA Thunder Valley Nationals in Bristol, Tennessee, in her first year. In the same year, she recorded her career-best time to date of 4.032 seconds when competing at Reading.
While 2013 was also productive for DeJoria with four semi-final appearances, it was in 2014 when she really made her mark. DeJoria cemented her place in drag racing history by becoming the first woman to produce a sub-four second run when competing at the NHRA Winternationals at Pomona. If that was not enough to grab people's attention, she followed this up with her first win in the Funny Car category in her next event at Phoenix.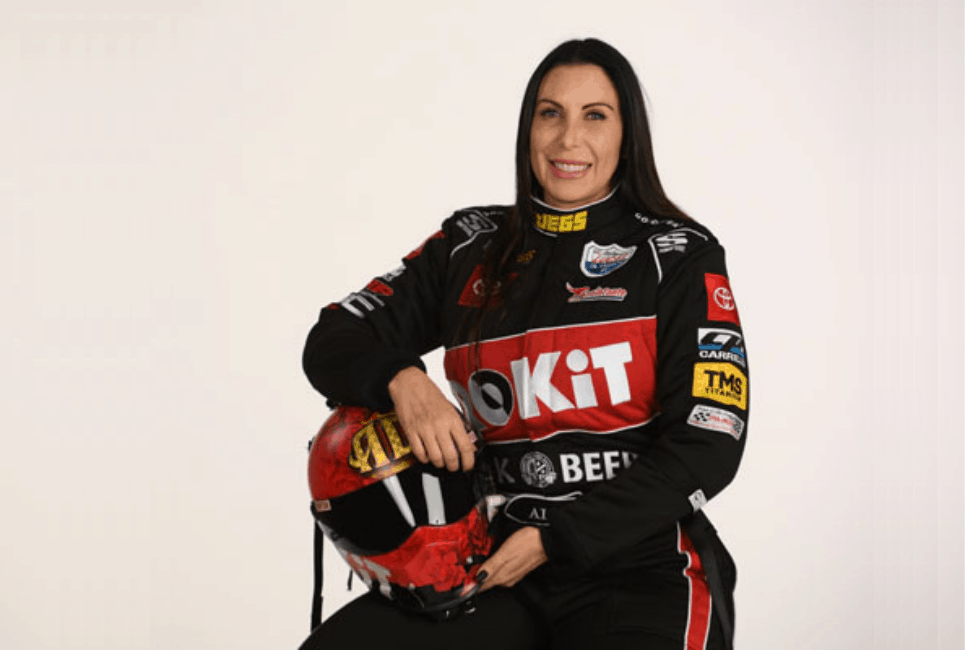 However, Alexis DeJoria was not done with 2014 yet. In September that year, she won the prestigious US Nationals in Indianapolis. This was her third win of the year, having also won in Las Vegas back in March, a month after the first win at Phoenix. DeJoria was the first woman to record three wins in a season in Funny Car history.
The next two seasons were also productive ones for DeJoria. In 2015 she was runner-up at the NHRA Summernationals held in Englishtown, New Jersey. For the second year in a row, DeJoria qualified for the Countdown to the Championship play-off and finished the season 8th in the rankings. During the 2016 season, Alexis DeJoria became the first woman to compete in 100 Funny Car events, while she also claimed her 4th victory in the category when winning once more in Las Vegas.
Retirement and Return
Alexis DeJoria announced her retirement from drag racing at the end of the 2017 season, allowing her to spend more time with her family. However, she has since admitted that she knew deep down that retirement was probably an open-ended one. This is how it has proved as DeJoria decided to return to racing in 2020.
For this new chapter in her career, Dejoria has teamed up with Nicky Boninfante and Del Worsham to form a new, independent team. DeJoria has worked with them both previously and picked up where she left off in 2017 by reaching the semi-finals stage of her first race back at Pomona.
Accidents
Drag racing does not come without significant risks. Alexis DeJoria has been involved in crashes in her career, two of which were particularly serious. In 2009, while racing in the TAFC category at Englishtown, the parachutes ripped open the end of her car, spraying oil over the brakes. DeJoria was still traveling at 130 mph when she went over the sand and through the two safety nets before coming to a halt at the fourth row of the sand-filled barrels.
Fortunately, DeJoria escaped relatively unscathed, helped by the angle at which the car hit. However, in 2016 she was not so fortunate at Sonoma, where she fractured her pelvis after her car smashed against the left sidewall.
Alexis DeJoria Video
Alexis DeJoria wins the NHRA US Nationals in 2014.
Alexis DeJoria returns to drag racing in 2020 following a two-year hiatus.
Alexis DeJoria walks away relatively unscathed from a frightening crash at Englishtown in 2009.
Alexis DeJoria Family
Alexis DeJoria married Jesse James in March 2013, having started dating in September of the previous year. James is an entrepreneur who specializes in building customized motorcycles and cars.
He is the founder of the company West Coast Choppers, but to many, he is just as well known as a TV personality. His everyday life was featured in the 2000 documentary 'Motorcycle Mania,' while further programs he was in include 'Monster Garage,' 'Sons of Guns,' and 'Jesse James is a Dead Man.'
Alexis DeJoria and Jesse James have four children from previous relationships. Jesse James was married three times before meeting DeJoria, including famously to actress Sandra Bullock who he married in 2005 before the pair divorced in 2010.
In March 2020, it was announced Alexis DeJoria and Jesse James have separated.
Alexis DeJoria's own parents separated when she was in her early teens. Her father is John Paul DeJoria, a self-made billionaire who founded the Patron Spirits company and co-founded the Paul Mitchell hair products line. Her mother was Jesse Briggs. In 1993 DeJoria's father married Eloise Broady, an actress, and model. Alexis Dejoria has six step siblings.
Alexis DeJoria Net Worth
Alexis DeJoria's net worth is estimated to be $100 million, although the exact amount of her assets and income is not publicized. A sizable portion of this estimated wealth is likely tied to the family fortune.
However, Alexis DeJoria will have earned good prize money as one of the most successful drag racing drivers of recent years. The winner at NHRA nitro events can pocket up to $50,000, while first-round losers could still receive $10,000.
As one of the most popular female drag racing drivers, DeJoria has hosted television and radio programs. She was also featured in the 2013 American sports drama film 'Snake and Mongoose.'
Sponsorship has also been key throughout Alexis DeJoria's racing career. Her return to racing in 2020 is being backed by sponsors ABK Beer and ROKiT phones, who have both agreed on multi-year sponsorship deals. When DeJoria drove for Kalitta Motorsports, she was sponsored by Patron Spirits Company.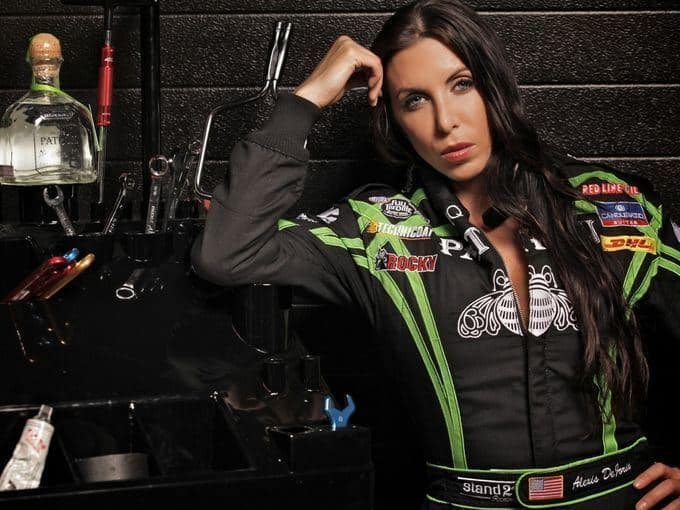 FAQs
Question: How Old Is Alexis DeJoria?
Answer: Alexis DeJoria is 43 years old. She was born in Venice Beach, California, on 24th September 1977.
Question: Who is Alexis DeJoria's Father?
Answer: Alexis DeJoria's father is John Paul DeJoria, an entrepreneur and billionaire. Born in Los Angeles in 1944, John Paul DeJoria held a series of jobs before joining forces with hairdresser Paul Mitchell to found John Paul Mitchell systems off the back of a $700 loan. He co-founded Patron Spirits Company in 1989 and also co-founded the ROKiT Group in 2018.
Question: When Was Alexis DeJoria's First NHRA Race?
Answer: Alexis DeJoria first raced in an NHRA event in 2005. She began her career competing in the Super Gas category, where the cars are largely full-bodied and not dragsters and run on a 9.90 index. DeJoria was quick to transition to the next class, the Super Comp, which is mainly composed of dragsters and is the fastest of the heads up Super classes.
Question: How Many NHRA National Events Has Alexis DeJoria Won?
Answer: Alexis DeJoria has won five NHRA national events in her career. This includes the prestigious NHRA US Nationals in Indianapolis, deemed the 'Superbowl of Drag Racing.' She beat John Force in the final to land the title. In doing so, DeJoria became just the fourth woman to win the US Nationals and the first woman to win three Funny Car races in one season.
Question: Is Alexis DeJoria Still Married?
Answer: Sadly, Alexis DeJoria and her husband Jesse James announced their separation in March 2020, having married in March 2013. They married six months after they started dating, with the wedding ceremony held at the DeJoria family estate in Malibu, California. The couple did not have any children together, although Alexis DeJoria has a daughter, and Jesse James has three children from previous relationships.
Research
Continue reading related bios of Racing personalities: