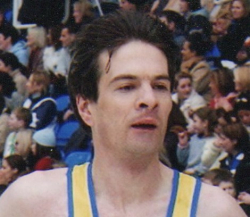 Latest posts by Stephen Hands
(see all)
Alica Schmidt is a German track and field athlete who qualified for the Tokyo Olympics. She is a 400-meter specialist and has represented her country in the relay over this distance. Schmidt has been dubbed the 'world's sexiest athlete' and has a large social media presence. She recently came to the attention of the larger sporting world when chosen to join the medical and fitness staff at the German Bundesliga side Borussia Dortmund.
Alica Schmidt Quick Facts
Full Name: Alica Megan Schmidt
Birth Date: November 8th, 1998
Birth Place: Worms, Germany
Nickname: None
Nationality: German
Siblings: None known
Children: None
Partner: Fredi Richter
Profession: Athlete
Net Worth: $500,000 to $1,000,000
Social Media: Instagram;
Awards:

Silver medal 4×400m relay U20 European Championships
Bronze medal 4×400m relay U23 European Championships

Last Updated: July 2021
Alica Schmidt Birthplace and Early Life
Alica Schmidt was born November 8th, 1998 in Worms, Germany. She has kept her family life very private, but she is thought to be a single child. From an early age, she was always full of energy and loved to run. Schmidt participated in several different sporting events at school, including the 400 meters and the long jump.
Alica Schmidt's father had also competed in track and field, and her parents helped to instill a love of running. Recognizing her potential, Schmidt was encouraged to join an athletics club at the age of seven. She would continue to combine her running with her studies, and after completing high school Schmidt attended the Freie Universitat Berlin, where she gained a bachelor's degree.
To help further her ambitions of becoming an international athlete, Schmidt joined the prestigious SCC sports club in Berlin to help hone her training.
Alica Schmidt Professional Career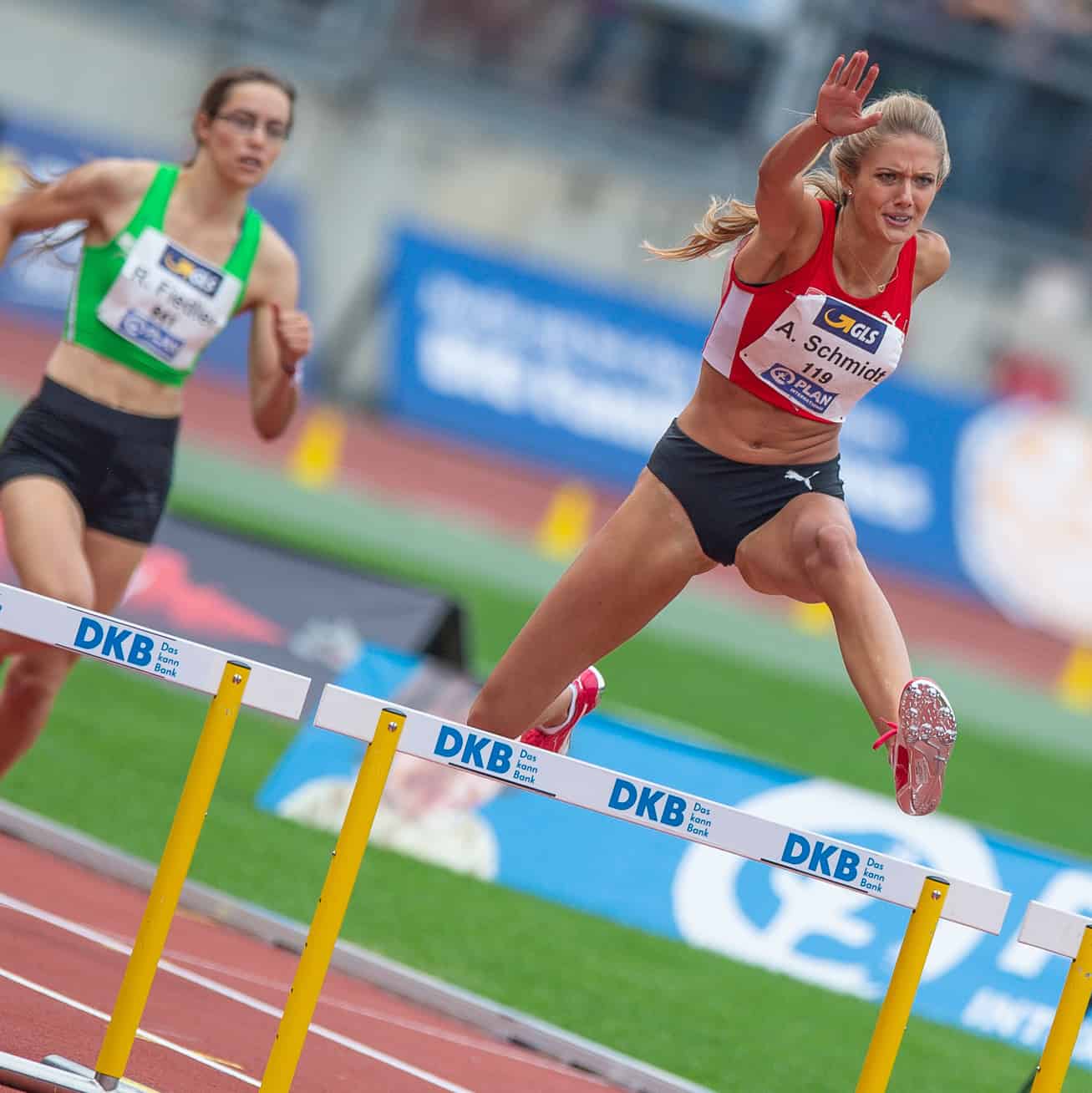 Alica Schmidt's blossoming athletic career is at a very early stage, but she has already run some impressive performances at home and on the international scene. She combined her athletics with her studies and by 2016 she had a 400 meter personal best time of 55.54. Schmidt was also running other distances too, competing in events up to 800 meters.
European Junior Success
She gave a glimpse of her potential in 2017 as part of the German 4×400 meter relay team at the European U20 Championships in Grosseto, Italy. Running the third leg in the final she helped her compatriots win the silver medal in a time of 3:33.08, just behind a strong Ukrainian quartet. Both the German and the Ukraine relay teams beat the previous world record for the age group in this final. The same year saw her take over a second off her own individual personal best at a meet in Mannheim.
Alica Schmidt would kick on again in 2019, bringing her best time for 400 meters down to 53.66 at an event in Berlin. She was selected to represent Germany, this time at the European U23 Championships in Gavle, Sweden. Schmidt was once more part of the women's 4×400 meter relay squad. As in 2017, Schmidt ran the third leg, but this time the German team was one place back, working hard to win the bronze medal.
Tokyo Bound
Over the next two years, Alica Schmidt has continued to progress on the track, bringing her 400 meters personal best time down to 52.21. This progress and her previous achievements for the national team have seen her selected to represent Germany in the 4×400 meter relay at the delayed Tokyo Olympics.
Schmidt had dreamed of representing Germany at the Olympics, and the Tokyo games will provide an additional chance of a medal for the relay runners. The Tokyo Games will hold mixed 4×400 meter relays for the first time as an Olympic event. Alica Schmidt will compete for Germany in this mixed event, an opportunity she has said she is thrilled to have been given.
Indoors
Alica Schmidt also participates in the indoor track season. Ahead of the Olympic games, she ran an indoor personal best time for 400 meters indoors. In February 2021 Schmidt ran 53.53, half a second quicker than she has run the distance before on an indoor track.
Similar to outdoors, Alica Schmidt also runs a range of other distances on the indoor tracks, helping build both speed and endurance for the 400-meter event. Over the last few years, Schmidt has improved her indoor times at 60 meters, 200 meters, 400 meters, and 800 meters.
Social Media
While athletics remains her prime focus, Alica Schmidt has a large presence on social media, with 1.8 million followers on Instagram alone. She is a social media influencer and a model and often posts workout videos as part of her keen interest in healthy eating and wellness.
She promotes brands she is happy to work with through her social media channels. These include the German food company Frosta, as well as protein powders from the organic sports nutrition company Food Spring. Schmidt highlights the importance of nutrition for her athletics training on her Instagram channel, detailing her eating habits to offer an insight into how athletes eat right to perform well.
The Borussia Dortmund Connection
In 2020 Alica Schmidt was invited to the training complex of top Bundesliga side Borussia Dortmund. Schmidt led the team through an athletics-based fitness workout session, before taking part in a 400m race against Dortmund's Mats Hummels, a race she comfortably won.
The connection between the athlete and the soccer club is Puma who sponsors Schmidt and is also a provider of equipment to Borussia Dortmund. It is hoped Schmidt will be able to help the overall fitness levels of the Borussia Dortmund squad.
Alica Schmidt Video
Alica Schmidt wins her first major medal, silver as part of the women's 4×400 meter team at the European U20 Championships in 2017:
Alica Schmidt follows up her 2017 silver by winning the bronze in the 4×400 meters final at the European U23 championships in 2019:
Taking on Borussia Dortmund's Mats Hummels over 400 meters:
Alica Schmidt Family
The details of Alica Schmidt's family are kept very private by the athlete. It is assumed she is a single child. Her parents were both influential in Schmidt's love of sport and in impressing the importance of hard work. Her father was a former track and field athlete and has been a driving force behind his daughter's career.
Alica Schmidt is far more open about her relationship with her boyfriend, Fredi Richter. The couple has been dating for over three years. Richter is a proficient German bodybuilder and the couple shares a strong interest in fitness and well-being. They both post pictures of themselves at the gym while working out. Fredi Richter has a strong social media presence and is considered an influencer.
Freddi Richer is also a photographer, and one of his Instagram channels, @richter.raw, displays portraits of Alica Schmidt. The couple first made their relationship public through social media and they often post pictures of one another on their individual channels. The couple does not have any children.
Alica Schmidt Net Worth and Career Earnings
Alica Schmidt's net worth is estimated between $500,000 to $1 million. A major proportion of her net worth comes from endorsements and as a model and social media influencer. As an up-and-coming athlete, Schmidt's income on the track is likely to be a fraction of her earnings away from the track.
As her career progresses Alica Schmidt will likely start to earn more in prize money and appearance fees from athletics. The top athletes can make a good living out of the sport, but for many on the circuit, grinding out a living can be tough without endorsements.
Alica Schmidt's major endorsement is with Puma, the German athletic clothing and footwear company. As one of the best young talents in German sport, Puma recognized the potential benefits of a sponsorship deal with Schmidt early in her career.
Schmidt will often be seen wearing Puma branded gear on her Instagram channel and has the company name on her Instagram bio. Puma offered Schmidt a contract for an advertising campaign to model their clothing when they became her principal sponsor. They expanded this further by including Schmidt in a television commercial.
Alica Schmidt currently has 1.8 million Instagram followers, with her bio also including another of her endorsements from Food Spring. It is estimated that for every post-Schmidt makes on Instagram she can earn up to $4,300. She also has her own YouTube channel where she posts training videos and athletics-based vlogs.
Alica Schmidt's stated focus remains on athletics and the Tokyo Olympics. Going forward her income from the track will depend on future development and individual success. This would also raise her profile higher and open the way for further endorsement opportunities.
FAQS
Question: How Fast is Alica Schmidt?
Answer: Quick! Her best time for 400 meters is 52.21, while she has also run 12.03 for 100 meters and 24.14 for 200 meters. At just 22 years of age, as long as she stays relatively injury-free, Schmidt should be able to continue to bring these times down further over the coming years.
Question: How Tall is Alica Schmidt?
Answer: Alica Schmidt is 5ft 9" tall (1.75m).
Question: What is Alica Schmidt's World Ranking?
Answer: Alica Schmidt is currently ranked number 201 in the world for the women's 400 meters and 796 in the world over 200 meters. Her best ranking for 400 meters to date has been 160th in the world, while over 200 meters she has been ranked number 655.
Question: Which Country Does Alica Schmidt Represent?
Answer: Alica Schmidt runs for Germany where she was born. To date she has represented Germany in the women's 4×400 meter relay, winning silver and bronze at the European U20 and U23 championships in 2017 and 2019. She has been selected to represent Germany in the 4×400 meter relays at the Tokyo Olympic Games.
Question: Is Alica Schmidt Single?
Answer: No, she has been dating bodybuilder and social media influencer, Freddi Richter, for over three years. People first became aware of their relationship when they posted photos of themselves together on Instagram.
Research
Continue reading related bios of Racing personalities: