Latest posts by Katrina Dent
(see all)
Damion Lee is a pro-basketball player who currently players for the Golden State Warriors. Lee was added to the United States national team during the 2019 FIBA Cup qualifications and has won multiple awards throughout his short career.
He is currently an undrafted free agent who aspires to continue his basketball career for years to come.
Damion Lee Quick Facts
Full Name: Damion Lee
Birth Date: October 21, 1992
Birth Place: Baltimore, Maryland
Nick Name: DLee, Iron Man Nationality American
Siblings: N/A (Brother-In-Law: Stephen Curry, Seth Curry)
Children: Expecting
Partner / Spouse: Sydel Curry-Lee
Profession: Pro-Basketball Player, Businessman
Salary ≈ $1.5M-$1.8M
Net Worth ≈ $1M
Social Media: @dami0nlee (Instagram), @Dami0nLee (Twitter)
Awards:

CAA Rookie of the Year (2012)
CAA All-Defensive Team (2015)
Second-team All-CAA (2013)
First-team All-CAA (2015)
Second-team All-ACC (2016)

Last Updated: 06/25/2021
Damion Lee Birthplace and Early Life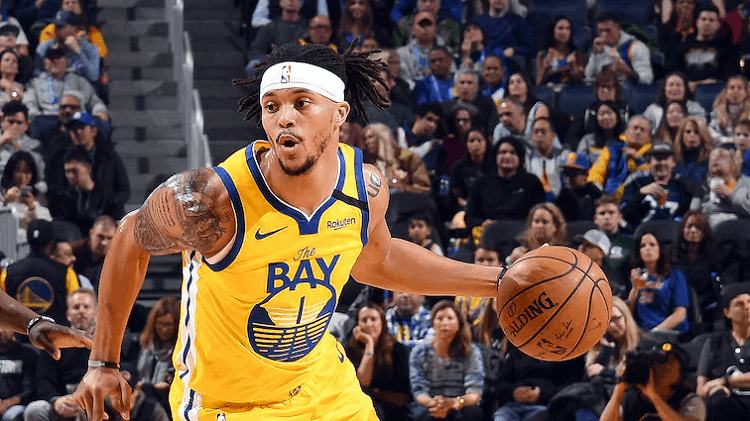 Damion Lee was born to Dean Lee and Michelle Riddick on October 21, 1992. He grew up in Baltimore, Maryland, with his mother, who he's fond of. He frequently posts pictures of him and his mother on social media, wishing her a Happy Birthday and Mother's Day.
Not much is known about Lee's personal life beyond his basketball career. He graduated from Calvert Hall College High School in Towson, Maryland, where he was a First-Team All-Baltimore Catholic League and a Second-Team Baltimore Sun All-Metro Selection.
Lee went to St. Thomas More prep school in Oakdale, Connecticut, and in his 2010-11 season, he averaged 17 points, 5 assists, and 6 rebounds each game.
At that time, he became a First Team All-New England Preparatory School Athletic Council selection. His 2010-11 season was successful, as he was about to lead his team to the National Prep School Championship with a 30-7 record.
In his college basketball career, Damion Lee played for the Drexel Dragons and the Louisville Cardinals.
Damion Lee had an incredible start in his 2011-12 Drexel Dragons season by averaging 12 points and 4.4 rebounds. Lee became the CAA Rookie of the Year in 2012 and was named the CAA All-Tournament team when in 3 tournament games, he averaged over 15 points.
In 2013, he became the Second-Team All-CAA with an average of 17 points a game, an almost 83% free throw percentage, and a 34 point career-high.
While still with the Drexel Dragons, he was selected into the Preseason CAA All-Conference First Team. Unfortunately, he had to sit the rest of the season out after he tore his ACL during a game against the Arizona Wildcats.
His redshirt year was delayed to lengthen his eligibility period. He was named the Preseason CAA All-Conference First Team once again in his second year but fractured his right hand.
Even with those injuries, he managed 21.4 points a game, ranked fourth in the nation, first in CAA, and ranked 14th in the nation for his 88.7% free throw percentage. He nearly won Player of the Year but did go on to win multiple awards in the CAA like the All-Defense Team, Conference First Team, and All-Academic Team.
Damion Lee transferred to the Louisville Cardinals at the University of Louisville for his final year in university. He quickly became the top scorer. Lee went on to pass the 2,000 point mark, led his team to 13th best ranked in college basketball, and was put on the watchlist for the Naismith Trophy.
However, the postseason ban in the 2015-2016 seasons caused the team to rank #16. The Louisville Cardinals didn't play the NCAA Tournament of the ACC Tournament due to the ban.
Damion Lee graduated with a degree in social science and general humanities at Drexel.
Damion Lee Professional Career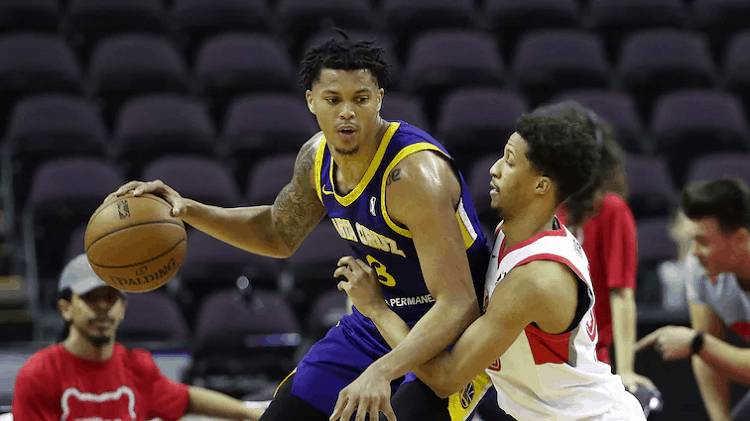 Maine Red Claws (2016-2017)
Damion Lee began his professional career in 2016 as an undrafted player. He played for the Miami Heat during the Summer League and the Boston Celtics in September 2016 but was waived after two preseason games on October 20. On Halloween day, he joined the NBA Development League as a player for the Maine Red Claws.
Although Lee was swapped around significantly during his pro debut, he still had an almost 18 point, 3.4 assist, 6.3 rebounds, and 1.1 steals in 16 games, all accomplished in 34 minutes.
Santa Cruz Warriors (2017-18)
Damion Lee was acquired by the Santa Cruz Warriors of the NBA G League in his 2017-2018 year on August 24, 2017. He averaged 15.8 points, 2.6 assists, and 4.9 rebounds during this season.
Atlanta Hawks (2018)
At the start of Damion Lee's 2018 season in March, he was signed to the Atlanta Hawks for a 10-day contract which was renewed for another 10-days. In April, Lee was signed as a guard for the rest of the season.
During his time in Atlanta, he averaged 10.7 points, 1.9 assists, and 4.7 rebounds.
Golden State Warriors (2018-Present)
In the middle of his 2018 season with Atlanta, Lee joined the Golden State Warriors by signing a two-way contract. This contract eventually put him back into the Santa Cruz Warriors Roster.
His 2018-2019 season with the Santa Cruz Warriors earned him an average of 20.3 points, 2.2 assists, and 6.0 rebounds. His 2018-2019 season with Golden State gave him an average of 4.9 points, 0.4 assists, and 2.0 rebounds.
Damion Lee recorded a double-double twice in his 2019-2020 season with the Golden State Warriors. Lee was able to play multiple games that season due to the large number of injuries incurred by the Warrior's roster.
Lee also became injured at this time with a hand fracture. After his two-way contract came to an end, Damion Lee was signed to a multi-year contract with Golden State.
During his 2019-20 season, he averaged 12.7 points, 2.7 assists, and 4.8 rebounds.
Damion Lee's current season with the Golden State Warriors earned him a current average of 6.5 points, 1.3 assists, and 3.1 rebounds. One of his notable games was against the Chicago Bulls on December 27, 2020, where he clinched the win for his team by a one-point margin (129-128). Lee scored the winning 3-pointer and another 12 points during the game.
Lee has had to sit out multiple games due to contracting COVID-19 and therefore had his point average suffer.
Damion Lee Video, Highlights
Damion Lee earns 22 points during a Houston vs. Golden Street game.
Damion Lee hits a three-pointer-winning shot against the unbeatable Chicago Bulls.
Damion Lee Family (Spouse, Kids Ect)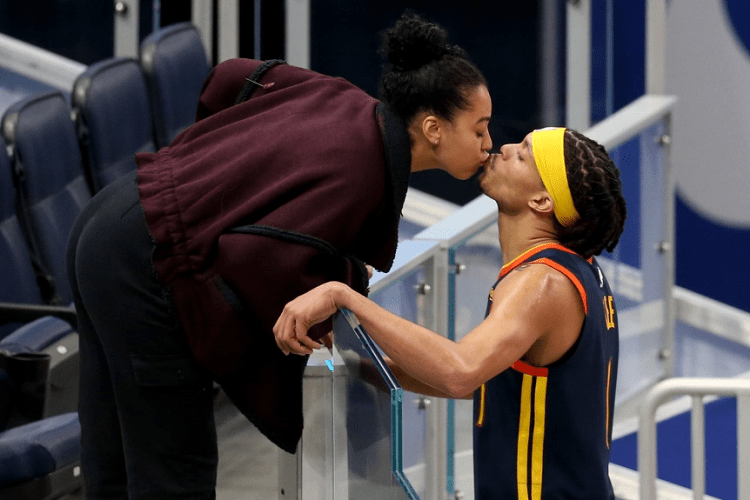 Damien Lee is married to Sydel Curry-Lee, who is the sister of Seth Curry (Philadelphia 76ers) and fellow teammate Stephen Curry. The Curry's are related to father Dell Curry, a former basketball player.
Although Damien Lee and Sydel Curry-Lee do not currently have children, the married couple announced in June that they're expecting.
Damion Lee Net Worth and Career Earnings
Although Damion Lee is still a fairly young player, he has amassed a significant net worth and salary earning in only 5 years.
His professional career has earned him a salary of ≈ $1.5M-$1.8M per year, and his current estimated net worth is likely around $1M, although this isn't backed up by sources. Judging on his current salary, he likely takes home or owns at least $1M in assets.
Damion Lee Famous Quotes
When Damion Lee was hassled from various news sources about his step-brothers Stephen Curry and Seth Curry about the alleged rumors of how his relationship with his step-brothers cinched his spot in the Golden State Warriors, Lee responded with:
"I want people to respect me," he said. "I work hard for this shit. At the end of the day, I've battled. I'm battle-tested. I've gone through a lot of shit during my career to get to this point.
I don't want anyone in the media, whether it's here, whether it's across the country, to disrespect me, to disrespect my family, to respective the front office here in Golden State for believing in me, for knowing my abilities, for knowing what I can do." – Damion Lee, KXSF Sports.
Damion Lee is a player in his own right and earned his spot on the Golden State roster. He wants respect for his skills and feels that his talents shouldn't be undermined based on who he's married to.
FAQs
Question: Is Damion Lee a Good Basketball Player?
Answer: Damion Lee is one of the best basketball players in the league and has won multiple awards. Lee is a strong defender and capable of holding multiple defensive positions. He's also an incredible shooter who averages 35% of his shot from a three-point distance.
Question: Why is Damion Lee Missing Games?
Answer: Due to COVID protocol, Damion Lee has had to be sidelined for 10-14 days. He also has bad luck when it comes to injuries and frequently breaks his toe or his hand.
Although Lee has worn a mask, kept a distance of 6-feet, and is fully vaccinated, he was unfortunately diagnosed with COVID in May 2021 and may sit out the rest of the season.
Question: How did Damion Lee Meet Sydel Curry?
Answer: Damion Lee met his now wife, Sydel Curry, at a college basketball game where both of them made eye contact. Lee knew he would "never forget her face." They eventually exchanged numbers.
When Damion Lee married Sydel Curry-Lee, he became a part of the Curry family, including current and past basketball players Stephen Curry, Seth Curry, and Dell Curry.
Citations
Continue Reading Related Bios from NBA Personalities: